RIBA Events 2018, Architecture Debate London, UK Building Talk, British Architects News
RIBA News & Events 2018
Royal Institute of British Architects Exhibition + Talks + Events: Housing Discussion
RIBA News & Events in 2018
RIBA Events 2018
30 Nov 2018
Professor Murray Fraser to receive 2018 RIBA Annie Spink Award
The Royal Institute of British Architects announces Professor Murray Fraser as the recipient of the 2018 RIBA Annie Spink Award for excellence in architectural education:
Alejandro de la Sota Discussion, RIBA, London, England, UK
27 Nov 2018
The work of Spanish architect Alejandro de la Sota will explored at RIBA on Tuesday, 27th November.
Reflections on Alejandro de la Sota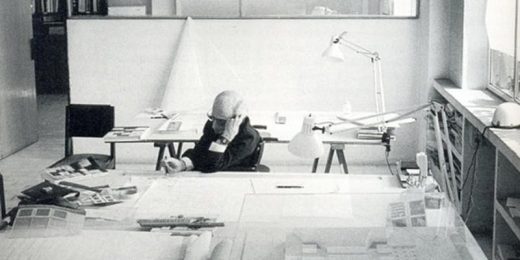 photograph courtesy of Instituto Cervantes
DETAILS:
Tuesday, 27 November
19:00 – 20:30
Tickets
£12 Standard Ticket.
£6 RIBA Members, Students, RIBA Friends and Docomomo UK members.
LOCATION:
Royal Institute of British Architects
66 Portland Place
Westminister
London
W1B 1AD
SUMMARY:
RIBA panel discussion on the work of Spanish architect Alejandro de la Sota. Historian William Curtis will present an overview of de la Sota's career. Curtis will be joined by the architect William Mann, Witherford Watson Mann, as well as de la Sota's son, Alejandro de la Sota Jr. and Prof. Judi Loach, of Docomomo UK, who will chair the discussion.
De la Sota is recognised as one of the foremost Spanish architects of his time, Alejandro de la Sota (1913-1996) made an important and enduring contribution to architecture in Spain, including the Civil Government Building in Tarragona (1956-61) and the Maravillas Gymnasium in Madrid (1960-62).
The relative isolation of the Spanish regime under Franco proved a barrier to the international dissemination of de la Sota's work until later in his career and he remains less well known in Britain than elsewhere.
This event is organised by Docomomo UK with support from the Instituto Cervantes and the Fundación Alejandro de la Sota.
Website: http://bit.ly/SotaCervantes
11 Sep 2018
New RIBA book Happy by Design demands greater emphasis on mental wellbeing in the built environment
Do buildings have the power to heal us? Responding to increasing concern for the effects of design and architecture on our overall wellbeing, Happy by Design: A Guide to Architecture and Mental Wellbeing examines how we can build happier, healthier spaces, from the ground up.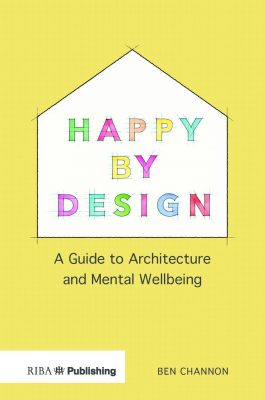 "We spend 80% of time indoors," says author Ben Channon, "but we give little thought to how bricks and mortar impact us physiologically. Most building design prioritizes cost efficiencies and overheads, rather than paying attention to the nuances of human experience."
Published by the Royal Institute of British Architects (RIBA), Happy by Design aims to inspire and motivate architects to design for the human experience, while also appealing to the wider public. Through a series of design tips and hand-drawn diagrams, this accessible guide can be used by everyone from employers looking to boost office morale or homeowners looking to DIY their way to a happier home.
Also known as The Mindful Architect, Ben explains his own motivation for producing the book: "I wanted to create something that was accessible, functional and empowering. There are so many changes we can make to our surroundings – from minor adjustments to those on an urban scale -that will have a palpable effect on our mental wellbeing for the better."
As Mental Health Ambassador and senior architect at London architectural practice Assael, Ben's relationship with mental wellbeing in design is both personal and professional. During the final part of his architectural studies, his mental health took a turn for the worse. From this experience, he realised that mental health issues are universal and that anyone can find themselves struggling.
Since then, he has worked tirelessly: researching and designing buildings that will improve people's mental and physical health. The result is Happy by Design.
Regarded as "inventive and forward looking," Happy by Design has been praised by New York Times bestselling author Shawn Achor, who commented: "Channon takes happiness research into an important new domain, to help us rethink and design environments that help make the choice of happiness an easier and more sustainable one."
Grand Designs presenter and creator of HAB Housing, Kevin McCloud, also commended Happy by Design, saying that "anyone building a house should read this first, as should every single developer."
Follow the conversation on Twitter: #RIBAHappyByDesign @MindfulArchi
About Ben Channon
Ben Channon is an architect at Assael Architecture, where he is the Mental Wellbeing Ambassador for the practice, and is also an accredited mindfulness practitioner with the Mindfulness Association. He coaches mindfulness at the practice and in his free time, and in 2017 founded the Architects' Mental Wellbeing Forum, which is focused on improving mental health within the industry. He has also lectured on wellbeing and architecture at Liverpool University, and writes for a number of publications on this subject.
24 Aug 2018
RIBA announces new talks series in partnership with VitrA Bathrooms
The Royal Institute of British Architects (RIBA) is pleased to announce a new partnership with VitrA Bathrooms: the RIBA + VitrA Talks series.
Over the next two years this new flagship series will showcase the best in contemporary, established and emerging voices in architecture, both in the UK and internationally with talks taking place in London, Istanbul and other UK cities.
Kazuyo Sejima, Sir David Adjaye and Assemble will open the talks series this autumn, talking about their recent and upcoming projects. The first Intergenerational Dialogues talk will be between Kate Mackintosh and Mary Duggan. This is a theme which will run throughout the series – conversations about ideas, inspiration and ways of working between architects of different generations.
Smithsonian Institution National Museum of African American History and Culture building by David Adjaye: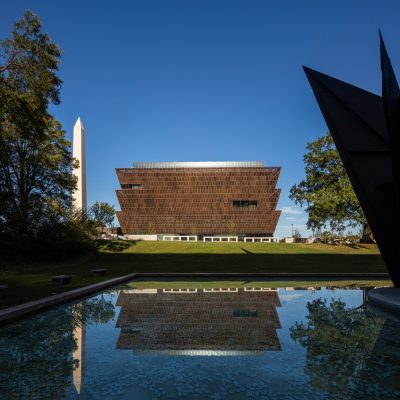 photograph © Darren Bradley
Ben Derbyshire, RIBA President
"RIBA is delighted to be partnering with VitrA on this exciting new talks series that will be rich in talent and ideas. In keeping with the themes in the series VitrA is a contemporary design brand with a long history of ingenuity and an international reach. We look forward to two fruitful years of programming inspiring events together"
Levent Giray, Managing Director, VitrA UK
"At its core, VitrA promotes social and economic development, encourages cultural and scientific collaborations and preserves scarce resources through responsible business practices. VitrA aims to reinterpret bathroom excellence in collaboration with contemporary design and architecture. The partnership with the RIBA Talks Series 2018/19 further elevates this commitment and VitrA are proud to be supporting such an inspiring initiative."
RIBA + VitrA Autumn 2018 talks
RIBA + VitrA Talk: Kazuyo Sejima
Wednesday 5 September, 7pm, RIBA
Kazuyo Sejima will be talking about her recent and current projects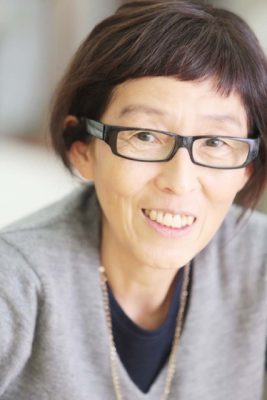 photo : Aiko Suzuki
Kazuyo Sejima is principal of the Tokyo-based architecture practice SANAA, which she founded in 1995 with Ryue Nishizawa. SANAA's projects are distinctive in style through their lightness of touch, exceptional buildings include the 21st Century Museum of Contemporary Art in Kanazawa, Japan; the Rolex Learning Centre in Switzerland; New Museum of Contemporary Art in New York and the Louvre-Lens in France. In 2010 Kazuyo Sejima was appointed the first female director of the Venice Architecture Biennale, and in the same year Sejima and Ryue Nishizawa were named Pritzker Prize Laureates. Other honours include the Japan Architecture Award, Venice Biennale Golden Lion Award, Officier de l'Ordre des Arts et des Lettres, and Medal with Purple Ribbon. She is currently a professor at the Polytechnic University of Milan, University of Applied Arts Vienna, Yokohama Graduate School of Architecture, and teaching at Japan Women's University as a visiting professor.
RIBA + VitrA Talk: Sir David Adjaye in conversation with Lesley Lokko
Wednesday 19 September, 7pm, RIBA
The leading architect of his generation, Sir David Adjaye will discuss his broad range of influences with Lesley Lokko, author and Head of School at the Graduate School of Architecture, University of Johannesburg.
Sir David Adjaye: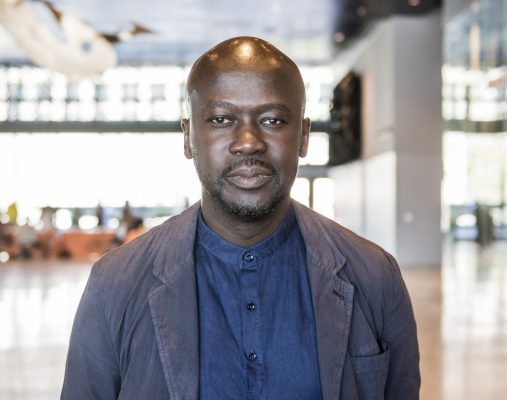 photo : Alex Fradkin
Lesley Lokko: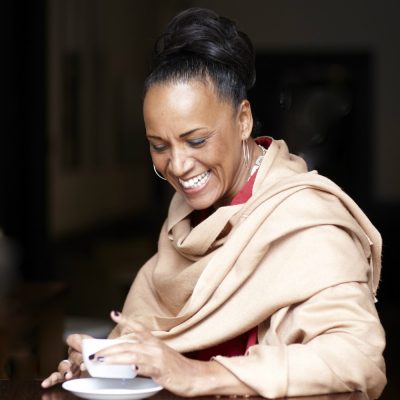 photo courtesy of RIBA
Sir David Adjaye OBE is the principal and founder of Adjaye Associates. Born in Tanzania to Ghanaian parents, his broadly ranging influences, ingenious use of materials and sculptural ability have established him as an architect with an artist's sensibility and vision. His largest project to date, the $540 million Smithsonian Institution National Museum of African American History and Culture, opened on the National Mall in Washington DC in fall of 2016 and was named Cultural Event of the Year by the New York Times.
Smithsonian Institution National Museum of African American History and Culture building: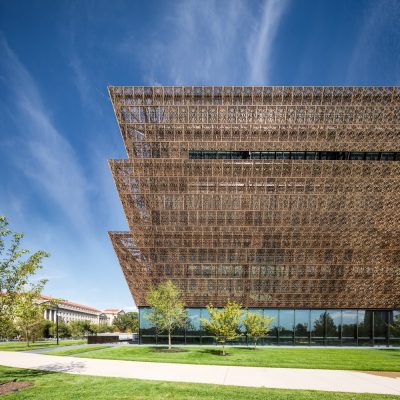 photo © Darren Bradley
In 2017, he was knighted by Queen Elizabeth II and was recognized as one of the 100 most influential people of the year by TIME magazine.
RIBA + VitrA Talk: Assemble
Tuesday 23 October, 7pm, RIBA
Turner Prize-winning collective Assemble will discuss recent projects including the major commission, Goldsmith's Centre for Contemporary Art which opens in September 2018.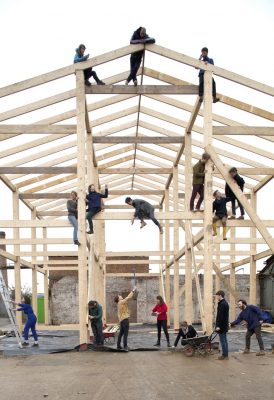 photo courtesy of RIBA
Assemble is a multi-disciplinary collective working across architecture, design and art. Founded in 2010 to undertake a single self-built project, Assemble has since delivered a diverse and award-winning body of work, whilst retaining a democratic and co-operative working method that enables built, social and research-based work at a variety of scales, both making things and making things happen.
RIBA + VitrA Talk: Intergenerational Dialogues – Kate Macintosh and Mary Duggan
Tuesday 27 November, 7pm, RIBA
Intergenerational Dialogues is a new talks theme giving a platform to discursive conversations between pioneering architects of the past and the future, through pairing an established seminal architect with a younger emerging architect.
Kate Macintosh: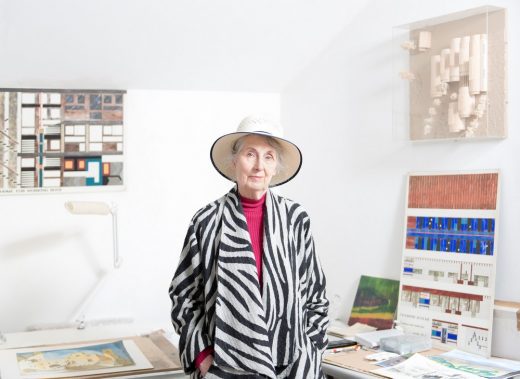 photo © Ivan Jones
Mary Duggan:


photo courtesy of RIBA
Edinburgh-born architect Kate Macintosh is best known for her 1960s social housing projects, the first of which she designed at the remarkably young age of 26. After graduating from the Edinburgh School of Art in 1961, Macintosh spent three years working and studying in Warsaw, Stockholm, Copenhagen and Helsinki before returning to the UK where she commenced work under Denys Lasdun on designs for the National Theatre in London.
In 1965, aged 26, Macintosh began work for the Southwark architecture department, where she designed the distinctive Dawson's Heights estate in Dulwich. Following its completion, Macintosh embarked on a project in Lambeth, tasked with designing a housing facility for the elderly, and went on to work on similar housing projects in East Sussex and Hampshire.
Later, Macintosh established a private practice with her partner, the architect George Finch also known for his post-war social housing projects. Macintosh has been described by Rowan Moore in the Observer as "one of Britain's great unsung architects of social housing."
Mary Duggan is the Founding Director of Mary Duggan Architects. She graduated from the Bartlett School of Architecture in 1997 with Distinction and was a founding director of Duggan Morris Architects from 2004-2017. Mary Duggan Architects was established in March 2017.
During her time at Duggan Morris Architects, the practice attained numerous industry awards for design excellence including ten RIBA National and Regional Awards, three Civic Trust Awards, three Nominations for the European Union Prize for Contemporary Architecture – Mies van der Rohe Award, The Stephen Laurence Prize, The Manser Medal and achieved consideration for the RIBA Stirling Prize for three buildings.
The work of Duggan Morris Architects is widely published in many international journals including the Architectural Review, Domus, Detail and Baumeister and nationally the Architects Journal, Architecture Today & the RIBA Journal. Her current project include an event space in the Science Museum and a project to deliver 120 new homes for the London Borough of Croydon.
Talks in London will take place at the RIBA headquarters at 66 Portland Place, London, W1B 1AD. For more information on the RIBA + VitrA talks series and to book tickets go to
National Museum of African American History and Culture building: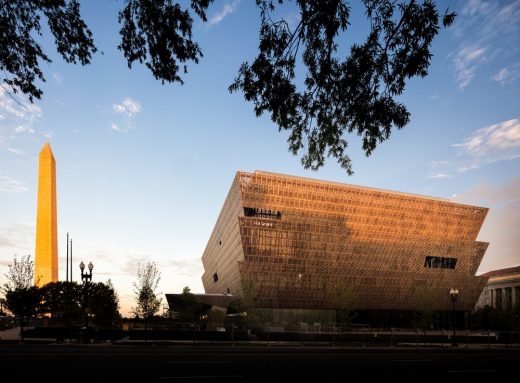 photo © Darren Bradley
Background:
Talks in London will take place at the RIBA headquarters at 66 Portland Place, London, W1B 1AD. For more information on the RIBA + VitrA talks series and to book tickets go to https://www.architecture.com/ribavitra
VitrA Bathrooms
VitrA is part of the Eczacıbaşı Group, one of Turkey's most prominent industrial groups. Founded in 1942, VitrA is Turkey's leading bathroom manufacturer. In recent years VitrA has expanded into international markets and over 50% of VitrA's total output is sold outside of Turkey. From 16 production facilities in Turkey, Germany, France and Russia, VitrA produces a full range of bathroom products including over 5 million pieces of sanitaryware along with complementary bathroom furniture, baths, brassware and bathroom accessories, which are distributed to over 75 countries on five continents. VitrA UK, based in Didcot Oxfordshire, has been supplying the UK bathroom market for over 25 years and is an active member of the Bathroom Manufacturers Association.
VitrA
VitrA at @VitrABathrooms
Follow @RIBA on Twitter for regular updates www.twitter.com/RIBA
10 Aug 2018
Alan Jones elected RIBA President 2019-21
Alan Jones FRIBA Hon RIAS who has been elected the next President of the Royal Institute of British Architects (RIBA).
Alan will take over the two-year presidential term from Ben Derbyshire next year (1 September 2019); from 1 September 2018 he will officially become RIBA President Elect.
RIBA Brexit Survey for Non-UK Nationals
As the UK prepares to leave the European Union, the RIBA would like your help to better understand the main issues facing those from outside the UK who are working in architectural practice. Please give five minutes of your time to complete this survey. All data will be recorded anonymously and kept completely confidential. Your response will only be seen by the survey team.
26 Jul 2018
RIBA responds to revised NPPF
The Royal Institute of British Architects (RIBA) makes an initial response to the publication of the National Planning Policy Framework (NPPF) by the Government on 24 July 2018.
RIBA President Ben Derbyshire says:
"The RIBA's welcomes the publication of the revised National Planning Policy Framework (NPPF) by Government yesterday. Time and the fulfilment of these proposals will be the real test for the NPPF. But we are pleased to see commitments to the Climate Change Act, to Garden City principles and that our call for increased transparency in viability tests has been formally incorporated. We will now be urging Government to closely monitor confidentiality exemptions to ensure this is not abused.
"The Government have also highlighted the importance of quality design to address any
concerns about the potential impact of higher density development and the importance of well-designed housing generally. The RIBA welcomes this awareness and urges further action on how to design high density homes that are desirable. This includes urging the Government to give planners the resources, tools and power to raise the bar of quality design in the system.
"It is vital that we now ensure these proposals make a real impact on the quality of the built environment. The new NPPF must be accompanied by appropriate guidance for local planning departments on proactive placemaking that delivers sustainable wellbeing as well as aesthetic quality. We will continue to work with the enhanced team now at the Ministry for Housing, Communities and local Government to help get this right."
21 Jul 2018
RIBA responds to the Government's publication of the Brexit White Paper
RIBA Chief Executive Alan Vallance says, "With just nine months remaining until the UK leaves the European Union, the RIBA are pleased that the Government has finally published its long called-for Brexit White Paper.
We welcome the proposals for continued Mutual Recognition of Professional Qualifications for architects – a measure that has been consistently highlighted as a top priority for the sector. However, the White Paper concedes that the UK and EU "will not have current levels of access to each other's markets" and the Government must, as a priority, spell out what the trade-offs will be.
The announcement made today will count for little unless the Government delivers an agreement with the EU that furthers UK architecture's global reputation for quality, innovation and high standards and ensures a secure post-Brexit future for our profession."
17 Jul 2018
UK transport infrastructure exacerbates housing crisis says RIBA
• 70% of British adults are more likely to support new housing developments in their area if there is a clear plan to improve transport links
The dire state of the UK's transport infrastructure is contributing to the housing crisis, according to a new report published today (17 July 2018), by the Royal Institute of British Architects (RIBA). Joining the Dots: a new approach to tackling the UK's infrastructure challenges, makes the case for addressing the UK's transport issues as part of the solution to the housing crisis. Alongside the report, RIBA commissioned ComRes to survey public opinion on transport infrastructure and housing.
The RIBA report concludes that the UK's transport infrastructure problems go beyond a simple lack of investment and are systemic. Opportunities to maximise the return of investment in transport, for example by encouraging the delivery of high quality new housing alongside transport to meet local needs, are missed because there are no common guidelines or holistic view. Infrastructure is dealt with by central Government and favours a flawed analytical system that fails to respond to local circumstances.
ComRes/RIBA survey results suggest there is a perceived lack of political power and resources in the English regions due to this centralised decision-making process and that it is fuelling local discontent. Residents in Yorkshire and the Northwest of England, for example, are less than half as likely as residents in London to believe their area receives a fair amount of transport funding (16% and 19% respectively agree with this sentiment, compared to 41% in London).
The ComRes/RIBA research showed that local and regional, not national politicians, are seen by the public as best placed to tackle the major infrastructure and housing challenges. 55% of people favour local and regional leaders – such as local councils, MPs and Local Enterprise Partnerships – to "develop plans to improve local transport networks" (compared to 18% who favoured national authorities).
The RIBA report sets out a new decision-making framework for local and central government, with a number of recommendations for infrastructure investments. The framework aims to:
• Ensure that housing and employment are given greater importance in the decision-making processes for transport infrastructure projects;
• Deepen the devolution of power and resources over infrastructure and housing to local and regional leaders;
• Raise the bar for design by including design guidance in national and local infrastructure policies.
RIBA President Ben Derbyshire says:
"This report should alert Government to the reality that ploughing money into transport infrastructure in isolation is not enough. We are gripped by an escalating housing crisis and we need a new approach that links government's disparate systems and processes together at a local and national level.
We want to see simple but significant reforms to infrastructure decision making to maximise the economic and social impacts of public spending and to ensure that new transport infrastructure raises the bar for good design and long-lasting quality. We encourage the Government to take heed of these common-sense recommendations and eradicate the barriers to improving our infrastructure and housing."
14 Jun 2018
RIBA announces partnership to support growth of commercial arm
The RIBA has agreed a partnership with LDC, the private equity arm of Lloyds Banking Group, to support the future growth of their commercial arm, RIBA Enterprises Ltd, which trades as NBS.
This news has no impact on RIBA membership or access to any RIBA Enterprises/NBS products. the institute remain focused on delivering the highest quality activities, products and services to enable members to thrive.
"The RIBA is pleased to have agreed this significant partnership on behalf of our members. In NBS, we created a highly attractive market-leading business, and as an Institute prioritising support for our members and the delivery of our wider charitable objectives, the trustees agreed it is the right time to work in partnership with an experienced investor to ramp up its potential.
LDC's investment will enable NBS to further develop its products and support its overseas growth, and our members will continue to benefit from our ongoing involvement in the business."
For RIBA Members, what does this mean for…
…my membership
Your membership is with RIBA, not RIBA Enterprises/NBS, so there will be no change to your membership status.
…my Institute
This partnership provides welcome investment in NBS and enables the Institute to focus on delivering our ambitious strategy in support of the architecture profession in the UK and internationally.
…RIBA Enterprises
This arrangement will support NBS's future product development and international growth plans.
…my NBS ID
Your NBS ID is unaffected.
…my BIM subscription
Your subscription and service for BIM will not change.
…my RIBAJ subscription
Your subscription will not change. The RIBA Journal continues to be wholly owned by the RIBA (RIBA 1834 Ltd).
…my RIBA CPD
There will be no change to the way in which you access RIBA CPD or to the high level of CPD that we offer.
…accessing the RIBA Product selector
Nothing will change – you will still be able to access the Product Selector site as normal.
For any further questions about your RIBA membership, please contact [email protected]
12 Jun 2018
20/20 Visions Book
New RIBA book looks to the future of urban planning by looking back- Introducing 20/20 Visions
At a time when most of the world's population live in cities and a new urgency is being felt in the midst of a housing crisis, 20/20 Visions: Collaborative Planning and Placemaking debates participatory democracy and how best to create sustainable places that support healthy, enterprising communities.
2 May 2018
RIBA Exhibition on Perspective opens in London
28 Apr 2018
RIBAJ 2018 Eye Line Competition
This competition seeks the 'best' architectural images. This year there is a new category for practitioners and a link with the RIBA's world-famous Drawings Collection.
RIBAJ 2018 Eye Line Competition
24 Apr 2018
RIBA exhibition on Perspective
Disappear Here: On perspective and other kinds of space
A new commission by Sam Jacob Studio
Venue:
The Architecture Gallery, RIBA, 66 Portland Place, London, W1B 1AD
Exhibition dates:
2 May to 7 October 2018
Proportion, distortion, geometry, distance, power, the infinite, the divine – perspective traverses truth and illusion, linking the disciplines of art, architecture and mathematics. For this new exhibition, sponsored by Arper and Colt, RIBA has commissioned Sam Jacob Studio to explore how perspective drawing has been applied to the art of building for centuries and used as a tool to evoke illusory architectural spaces.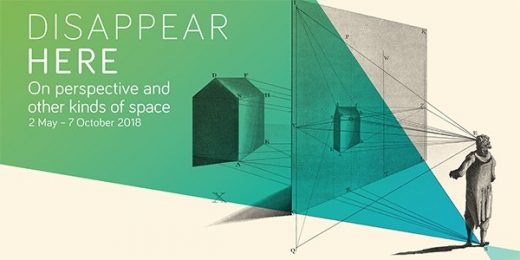 The Disappear Here installation will include original drawings and early writings by some of the most talented designers in history. Visitors will become active participants within the space where deceptive murals, playful architectural structures and a newly commissioned film will trace the lineage of perspective from the Renaissance to present day. In a further twist, the system of perspective will dictate how everything in the gallery is arranged.
Design for a ceiling with columns and coffered arches, Italy circa 1700, unknown designer © RIBA Collections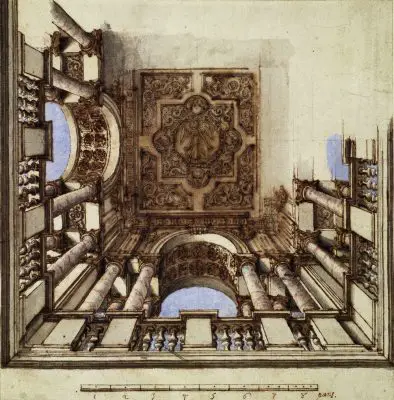 Speaking about the commission, Sam Jacob:
"Since its invention in the 15th century perspective has been a fundamental tool in the way we imagine space and design architecture. But perspective is also a kind of tyranny too, forcing its own logic onto the worlds we create. This commission gave us the opportunity to explore how perspective has not only been used to illustrate the world but also how it creates and organises the world. This continues the studio's longstanding interest in how ways of drawing shape the architecture we create. For this installation we wanted to create a space where visitors can experience the essentially illusory nature of perspective and question the making and breaking of rules."
Malton James (1765-1803)_examples of perspective delineation: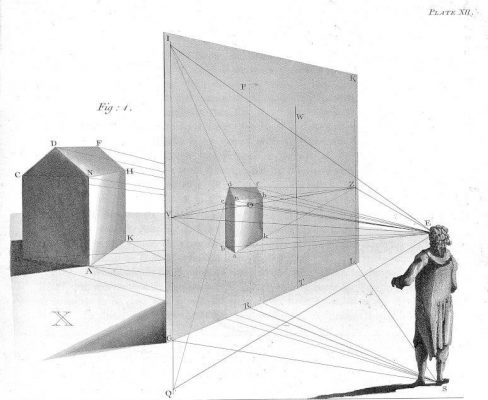 Sam Jacob Studio was invited by RIBA to draw on RIBA's historic collections for inspiration to create a site-specific installation. The Studio has selected a diverse range of items, from rare books dating back to the Renaissance to contemporary works. Highlights vary from John Smythson's early 17th Century Jacobean designs to a colourful modern interior by Max Clendinning and from Sebastiano Serlio's architectural treatise 'Seven Books of Architecture' to Etienne-Louis Boullee's intricately drawn perspectives of neo-classical buildings. Other original drawings on display include works by Andrea Palladio, Edwin Lutyens and William Talman. Additional material on loan from Drawing Matter include modern works from the radical Italian architecture firm Superstudio, French-born American industrial designer Raymond Loewy and British architect James Gowan.
Sir Edwin Lutyens, a record sketch of the unexecuted design for the Memorial to the Missing at St Quentin, Nord, 1918 © RIBA Collections: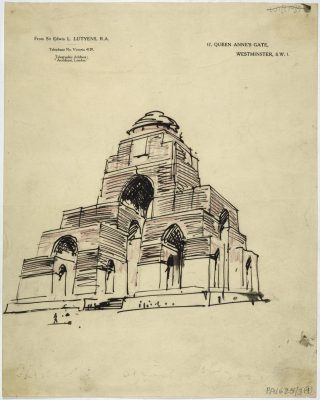 The material on display represents some of the most distinguished examples of perspectival drawing, depicting vast imaginary spaces and imposing mega structures on a single sheet of paper. Alongside these textbook examples, the show will reveal imperfect versions; drawings that more easily reveal their constructed nature and provide an insight into the strategies employed to achieve an illusory space.
Hans Vredeman de Vries, from his book Perspective (1604-5) (c) RIBA Collections: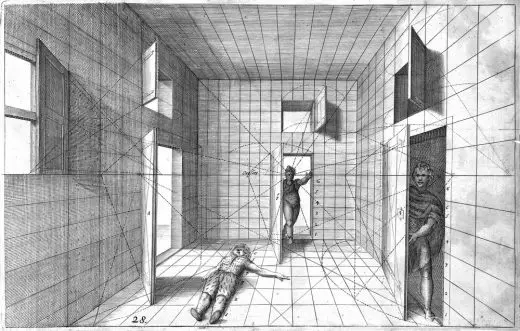 The perspectival system plays an important role in how the collection objects are shown. Spanning two walls in the gallery, the drawings are displayed according to their vanishing points and perspective lines. Geometrical shapes drawn from 16th century publications and modern era drawings are used to design new furniture and a quarter of a structural shape will in part be completed by three-sided mirrored panels, referencing the work of Robert Smithson.
Drawing by or after Galli Bibiena, 1755. Design for stage set of Clemenza di Tito in the Opera House, Lisbon(c) RIBA Collections: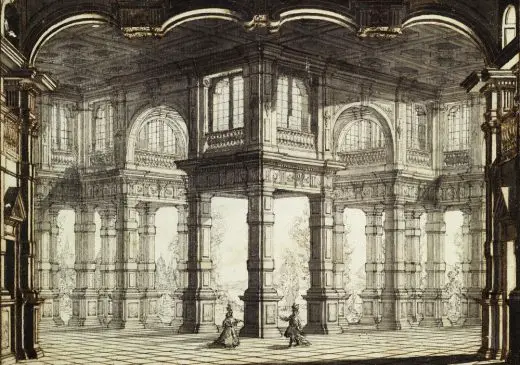 To end the exhibition, the specially commissioned film takes the theme of perspective into a contemporary reality. Sam Jacobs Studio has worked with game developer Shedworks to devise an algorithm that places 50 deconstructed architectural assemblies, taken from various architectural treatises, within an endless moving grid. The film, with no beginning or end, challenges ideas around perspectives in a digital age and interrogates notions of space, infinity and vanishing points.
John Smythson, Design for a house with a castellated wing_ perspective view, 1600 (c) RIBA Collections: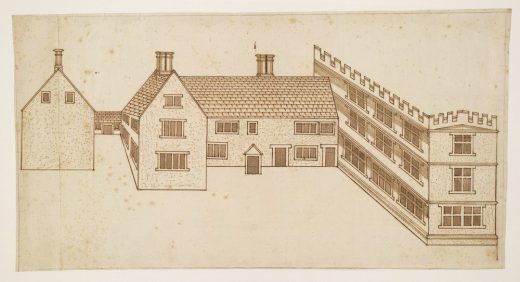 Marie Bak Mortensen, RIBA Head of Exhibitions
"We are thrilled to have commissioned Sam Jacob Studio to develop an installation on the theme of perspective. The studio is well regarded for its highly original approaches to designing across many disciplines but with a consistent rooting in architecture. Its ability to create unique and visually compelling projects for large audiences underpinned by a rigorous attention and awareness of architectural history and theory is an asset that makes the studio perfectly suited to explore our collections for this new commission in the Architecture Gallery."
Etienne-Louis Boullee, 1782, Project for a metropolitan cathedral in the form of a Greek cross with a domed centre: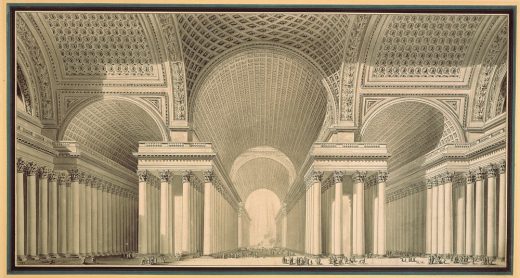 31 Jan 2018
The Royal Institute of British Architects presents two panel discussions on housing
Royal Gold Medal 2018 – Neave Brown: Building a Legacy
Social Housing Debate
Thursday 1 February, 7-9.30pm, RIBA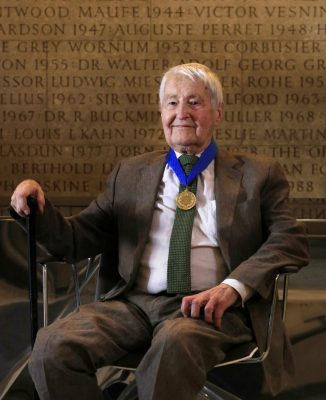 Neave Brown Royal Gold Medal © Morley von Sternberg
Pioneering British architect Neave Brown very sadly passed away earlier this month. He was awarded the RIBA Gold Medal Architects 2017 Winner in 2017, the UK's highest honour in architecture, in recognition of his unparalleled contribution to public housing. His ground-breaking designs for high-density, low-rise social housing in London in the 1960s and 70s, including the visionary Alexandra Road estate near Swiss Cottage, with its striking stepped concrete terraces and spacious flats, shops, workshops, public park and community centre. It remains, in Neave's words, a 'piece of city.'
Alexandra Road Estate, Camden, London building: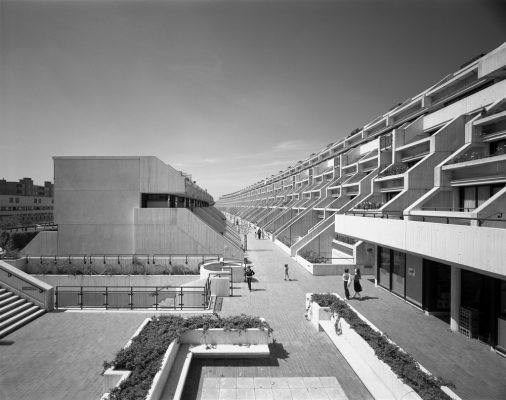 Photos courtesy of RIBA
In the midst of a growing housing crisis, our panel will look back at Neave Brown's housing ideals and innovative architectural philosophy to address the current urgent social relevance of his work and offer solutions for today. What is the legacy of Neave Brown? How can housing succeed in the public sector? And what role can architects play in creating the sustainable, community focussed housing solutions that Neave championed?
Alexandra Road Estate, Camden, London building by Neave Brown: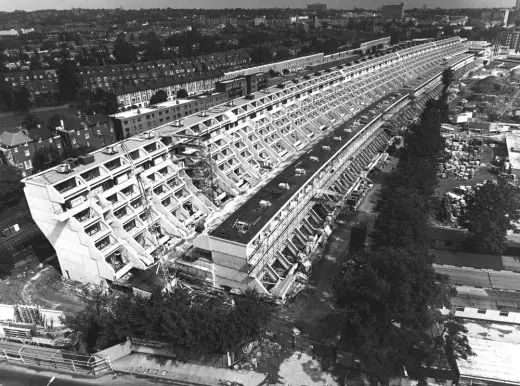 The event will begin with a new short film, specially commissioned by the RIBA, celebrating the life, work and legacy of Neave Brown. We will also welcome Neave's son and daughter Aaron and Zoe Brown, who will pay tribute to their father in a personal reflection.
The panel features:
Cany Ash, Founder and Partner of Ash Sakula Architects, where she runs Adaptable Neighbourhoods, a strand of Ash Sakula that researches the ingredients of sustainable and neighbourhoods. Cany has previously worked for the GLC Architect's department and has taught at a number of architectural schools
Jo McCafferty from Levitt Bernstein. A champion for inventive design in housing, Jo has extensive experience of designing and delivering innovative housing projects of all scales across the UK
Dr Janice Morphet, Visiting Professor at The Bartlett School of Planning. Janice has conducted a series of major research projects on Effective Practice in Spatial Planning, infrastructure delivery planning, the British Irish Council, major infrastructure projects, local authority housing and smart cities
Finn Williams from Public Practice, a social enterprise placing a new generation of planners within local government to shape places for the public good
Chaired by Oliver Wainwright, The Guardian architecture critic
The ticket price includes a glass of wine, a beer or a soft drink after the event.
The Royal Gold Medal is sponsored by Arper.
Building Britain's Ideal
Tuesday 6 February, 7-8.30pm – RIBA
Building Britain's Ideal – RIBA Discussion
In this discussion, architects, developers, planners and heritage consultants will consider the enduring value of building in historic styles: is the pseudo-Georgian style an homage, a pastiche, or a real crowd-pleaser?
The Georgian house is the most enduringly popular and recognisable style of residential architecture in Britain: whether authentically historical or a contemporary new-build the Georgian style has retained its importance to the British people for over 300 years, holding within it deep-seated cultural and social implications.
This event rounds up the RIBA exhibition Pablo Bronstein: Conservatism, or The Long Reign of Pseudo-Georgian Architecture, taking the artist's thesis to the disciplinary sphere. Representatives from across the UK construction industry – from Britain's largest housebuilders, to policy advisors, independent architects and commentators – are invited to reflect on the importance of traditional aesthetics in Britain's architectural fabric and identity.
Using Bronstein's provocative observations as a starting point, 'Building Britain's Ideal' will be a candid discussion around architectural authenticity, artifice, value and meaning within the context of the contemporary built environment.
Confirmed speakers include:
Bob Meanwell, Chief Design Executive at Barratt Homes
Liz Peace, former Chief Executive of the British Property Federation & Chair of the Shadow Government Property agency
Ben Pentreath, architectural designer
Alan Powers, historian, writer & educator, editor of Twentieth Century Architecture for The Twentieth Century Society
Follow @RIBA on Twitter for regular updates
RIBA London Event information from RIBA
Location: 66 Portland Place, London, England, UK
RIBA Events – Archive
RIBA Event London – Archive
RIBA Gold Medal for Architecture
Chartered Institute of Building
24 Feb 2017
'Aeolian Piano' at RIBA
A special evening at the RIBA where they will host Catherine Yass' latest work 'Aeolian Piano'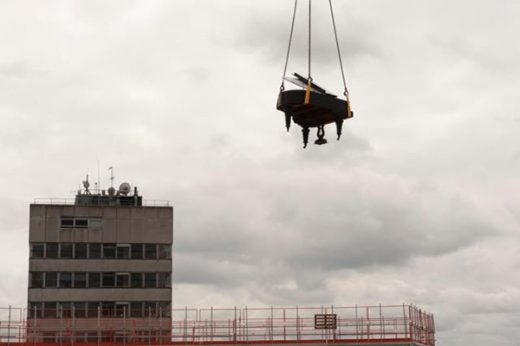 Production stills copyright Hilary Knox
Professor Christine Hawley wins 2016 RIBA Annie Spink Award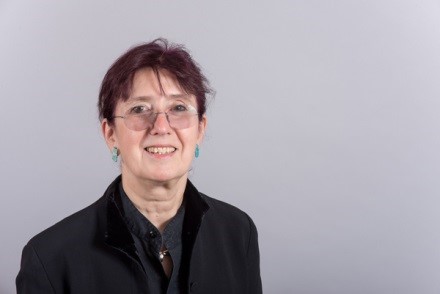 Abode, Great Kneighton by Proctor and Matthews: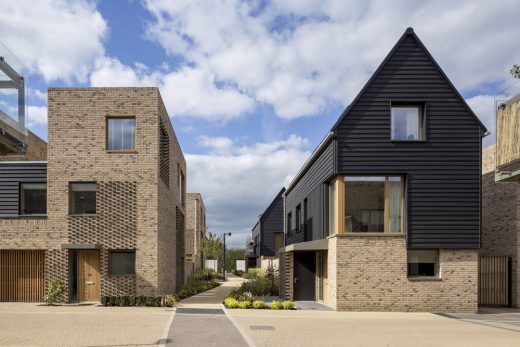 photo © Tim Crocker
Darbishire Place Housing: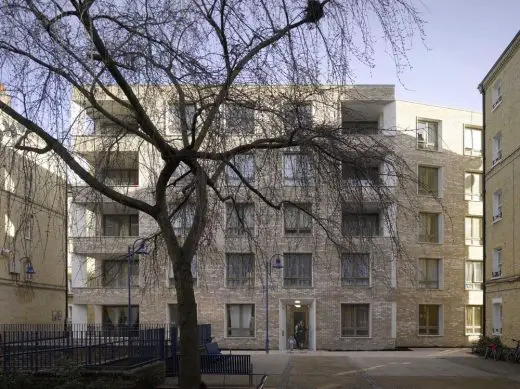 photo © Nick Kane
RIBA Trust Autumn Lecture Series 2009
London Architecture Events:
Bartlett School of Architecture Event
Comments / photos for the RIBA News & Events for 2018 page welcome