WOHA Architects Exhibition, Skyscraper Museum Building Show, Images, Design Studio Projects
GARDEN CITY MEGA CITY
The Skyscraper Museum Exhibition for Singapore Architectural Practice, Southeast Asia
21 Feb 2018
Garden City | Mega City Exhibition in Austin, Texas, USA
Garden City Mega City exhibition 2018
WOHA are excited to announce the opening of our "Garden City Mega City" exhibition, in collaboration with the Austin Central Library and the Austin Parks Foundation.
The exhibition highlights sixteen of the architectural studio's built and unbuilt projects which embody their vision of how cities should evolve in the 21 st Century toward a more sustainable future.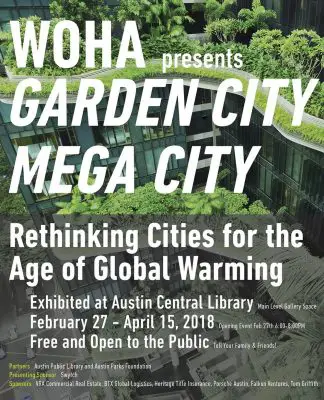 image courtesy of architects
The Opening Reception will take place on Tuesday, February 27, 1800 – 2000 hrs.
1 Mar + 28 Feb 2017
Garden City | Mega City Exhibition by WOHA
Garden City Mega City exhibition travels to Mexico City, 12 March – 16 April 2017
ECOSISTEMAS URBANOS DE WOHA – THE URBAN ECOSYSTEMS OF WOHA
OPENING RECEPTION MARCH 12, 2017, 12:30
MUSEO DE LA CIUDAD DE MÉXIC0 JOSÉ MARÍA PINO SUÁREZ 30, CENTRO, MEXICO CITY
Singapore-based WOHA's first major exhibition in Mexico, the show presents architectural models, videos and renderings of twelve stunning, sustainable high-rise projects in Singapore, Thailand, and China.
Singapore-based architects WOHA announce their first exhibition in Latin America, GARDEN CITY MEGA CITY: Ecosistemas Urbanos de WOHA, opening at the Museum of the City of Mexico on March 12 2017.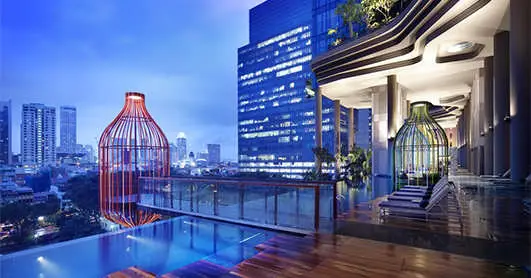 photo : Patrick Bingham-Hall
The architecture of WOHA introduces biodiversity and lively public spaces to overcrowded megacities with climate sensitive design and vertical urban strategies. The architects showcase experimental prototypes for responding to climate change vulnerability and social challenges in the rapidly urbanizing tropics.
The multimedia exhibit presents over two decades of WOHA's award-winning international design. Sixteen intricate architectural models illustrate design strategies for a three-dimensional city; projected skywards to relieve urban congestion. An immersive video installation propels visitors on an experiential journey through WOHA's towering garden cities, which appear as oases of green in dialogue with the dense urban fabric of Singapore. Drawings and large scale photography are supported by interviews with residents and stakeholders, who explain how WOHA's "high-density high-amenity" design can improve their everyday life.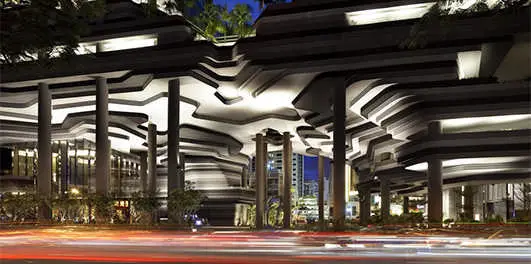 photo : Patrick Bingham-Hall
WOHA design their buildings as "cities within cities" that redefine architectural scale for the megalopolis. The exhibition introduces "Macro Architecture Micro Urbanism" to Mexico City — the largest metropolitan agglomeration in the Americas — as a novel way to look at holistic design at different scales. Despite the scale of their urban habitats, WOHA utilize clever design strategies to domesticate the mega structures. Sky villages and verdant parks form intimate and attractive public spaces across multiple ground levels; a breathing architecture of porous facades and lush vertical landscapes ensures comfortable habitats for all city dwellers — humans and wildlife alike.
WOHA have already shifted urban paradigms in Asia and see similarities in climate and the expanding megacities in Latin America. With this exhibition they begin a dialogue on the applicability of their architectural strategies to the region, sharing their typologies as ideas for architects, designers, and engineers, as well as developers and investors — all those concerned with the future of the Latin American city.
GARDEN CITY MEGA CITY is part of the Mextrópoli International Festival of Architecture and Urbanism (11 – 14 March 2017). An opening reception will be held Sunday, March 12 at 12:30 pm at the Museum of the City of Mexico (Museo de la Ciudad de Mexico), 30 Pino Suarez Street, Mexico City. The exhibition will run until April 16 2017.
PARKROYAL on Pickering, Singapore: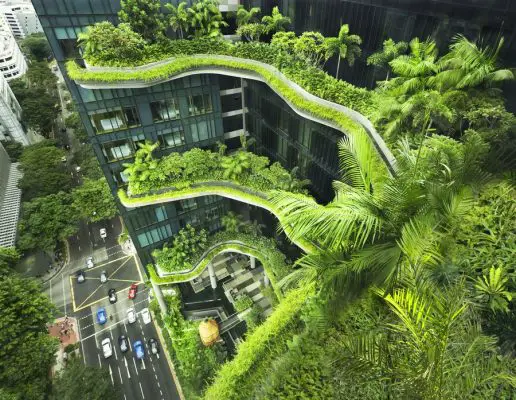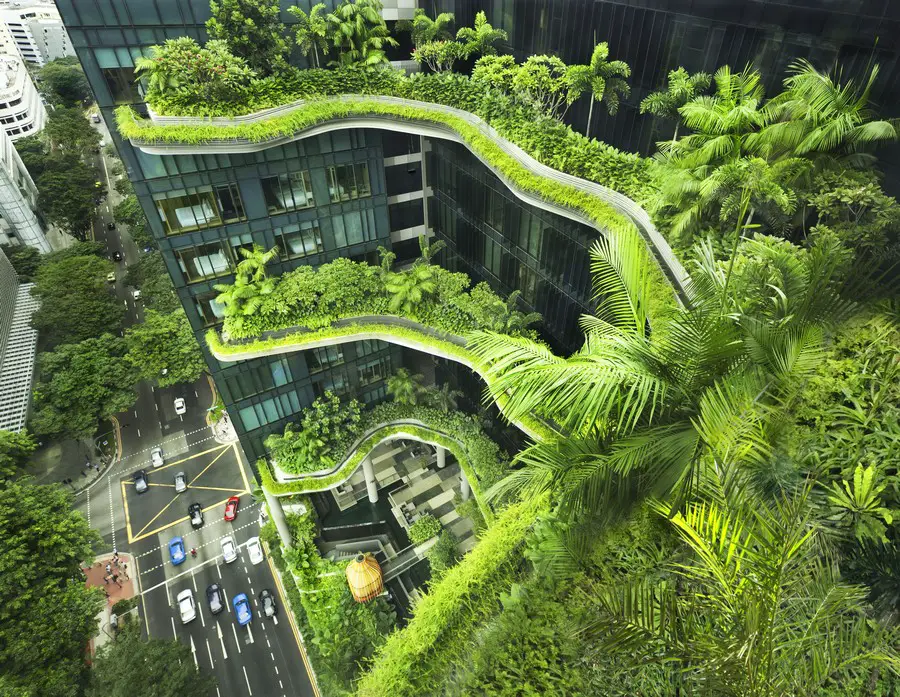 photo : Patrick Bingham-Hall
For over two decades, the 75-person firm has reinterpreted the skyscraper as a prototype for hyper-dense, green urban living. Their award-winning mega-scale works of diverse programs are recognized for integrating 3-dimensional planning, sky gardens, high-density high-amenity living, horizontal and vertical breezeways, screens of green, and topographic architecture.
In July 2016, WOHA's fifth book, Garden City Mega City, was published by Pesaro Publishing (London).
A main feature of the exhibition is WOHA's self-generated social and ecological rating system which assesses and measures projects based on their Green Plot Ratio, Community Plot Ratio, Civic Generosity Index, Ecosystem Contribution Index, and Self-Sufficiency Index.
12 Sep 2016
Garden City | Mega City Exhibition
Closing Soon: Garden City | Mega City on view through Sunday, Sept 18
On View Through Sunday, September 18, 2016
Garden City | Mega City: rethinking cities for the age of global warming
The Skyscraper Museum, 39 Battery Place, New York City, NY, USA
Open Wednesday – Sunday, 12-6pm
Can't see the exhibition in person? Watch this interview with WOHA's founders Richard Hassell and Mun Summ Wong at the opening event:
Garden City Mega City – WOHA Architects from PLANE—SITE on Vimeo.
Closing Soon: Garden City | Mega City, presenting twelve high-rise ecosystems designed by WOHA, on view at The Skyscraper Museum through Sept 18.
"THE INSTALLATION UNDERSCORES THE LUSH AND ENERGETIC NATURE OF THE WORK."
– CLIFF PEARSON, ARCHITECTURAL RECORD
September 12, 2016
Singapore-based WOHA's first major exhibition in the United States, a six-month show.
The firm is currently a finalist for several international awards including the Royal Institute of British Architect's 'International Prize'.
Earlier this year, WOHA completed the 27-story Oasia Downtown Hotel in the heart of Singapore's Central Business District. The $138 million, 209,000-square-foot high-rise achieves an overall Green Plot Ratio of 1110%, a Community Plot Ratio of 300%, a Civic Generosity Index of 100%, an Ecosystem Contribution Index of 60%, and a Self-Sufficiency Index of 60%.
21 Mar 2016
GARDEN CITY MEGA CITY by WOHA
GARDEN CITY MEGA CITY: Rethinking Cities for the Age of Global
Warming opens at The Skyscraper Museum on March 23rd, 2016
The exhibition showcases WOHA's architecture for high-density, high-amenity living.
Permeable Lattice City, Singapore: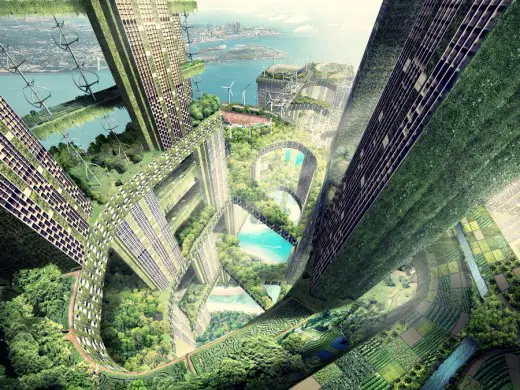 image : WOHA
NEW YORK, NEW YORK—From commercial mixed-use to hospitality and social housing, Singapore-based WOHA reinterprets the skyscraper as a prototype for hyper-dense, green urban living. Their first major exhibition in the United States, GARDEN CITY MEGA CITY, opens March 23rd, 2016 at The Skyscraper Museum, and unveils twelve of their most recent vertical ecosystems.
Featuring architectural models, videos and renderings, the show contextualizes the firm's towering endeavors as a stunning contribution to skyscraper design and a radical response to the Asian megacity. WOHA's projects—in China, Bangkok, and Singapore, among others—address issues such as rampant population growth, preservation of tropical biodiversity, and the desire for lively community spaces.
With airy pathways functioning like living social networks and porous façades of tropical vegetation, GARDEN CITY MEGA CITY makes the challenges of the emerging metropolis feel less like structural hurdles and more like stimuli for creative solutions. At a time of climbing urbanization rates and alarming climate change, WOHA's future prospects for vertical villages serve as an enlightening template for architects, designers, and engineers, as well as developers and investors —all those concerned with the future of our cities.
An opening reception for GARDEN CITY MEGA CITY will be held Tuesday, March 22nd from 6:00-8:00 pm at The Skyscraper Museum, 39 Battery Place, New York City. Regular museum hours are 12:00-6:00 pm, Wednesday-Sunday. General admission is $5, $2.50 for students and seniors.
ABOUT THE SKYSCRAPER MUSEUM
Founded in 1996, The Skyscraper Museum is a private, not-for-profit, educational corporation devoted to the study of high-rise buildings, past, present, and future. Through exhibitions, programs and publications, the museum explores tall buildings as objects of design, products of technology, sites of construction, investments in real estate, and places of work and residence.
GARDEN CITY MEGA CITY Exhibition at The Skyscraper Museum
EXHIBITED PROJECTS
Duxton Plain
Singapore, 2001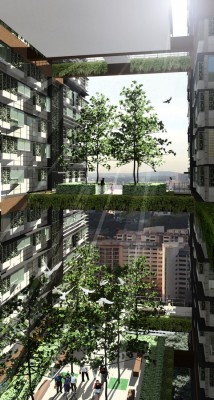 image : WOHA
A thorough exploration into high-density living in a high-rise tropical environment, WOHA's proposal for the Duxton Plain public housing competition conceptualized a new vision for Singaporean public housing. In return for subsidized housing, a higher degree of community exposure —built into the block's typology, external spaces and circulation paths—was proposed to promote social interaction. At city level, a strong image on the skyline of the cluster of towers with hanging gardens was proposed. At the neighborhood level, a strong street edge was created with commercial activities close to the popular Duxton Plain Park.
Oasia Downtown
Singapore, 2011-16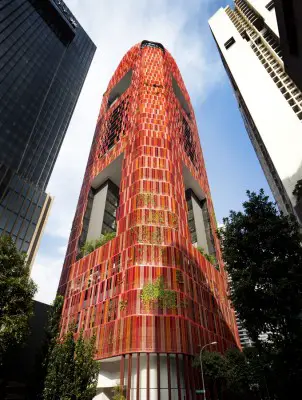 photo : Patrick Bingham-Hall
A verdant tower of green in the heart of Singapore's dense Central Business District, Oasia Downtown is a prototype of land use intensification with a tropical approach. Instead of a fully glazed and air-conditioned building, the tower contains three well-ventilated atria surrounded by L-shaped blocks of hotel rooms and o!ces. These provide naturally cross ventilated spaces and dynamic internal views. Each elevated ground level is treated as an urban scale veranda, sheltered by the one above. Landscaping forms a major part of the development's material palette, creating an alternative image that is distinct from the surrounding curtain-walled towers of the CBD.
PARKROYAL on Pickering
Singapore, 2007-13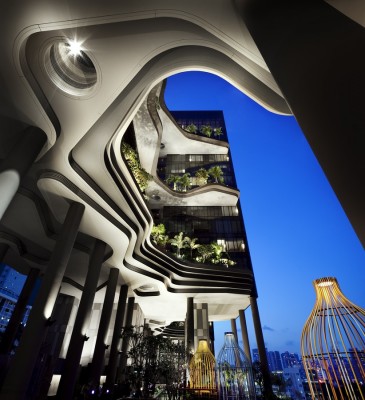 photo : Patrick Bingham-Hall
Based on the concept of a hotel-and-office-in-a-garden, PARKROYAL on Pickering investigates the potential of green intensification in a dense metropolis and transforms the abstract building-as-silhouette into one with rich detail and tactility. Its topographic architecture podium is designed as a land form for landscape that extends the green of the adjacent public park vertically into the building as one continuous sweep of urban parkland. Facilitating the public life of the city, the building's porte-cochere opens up as a gateway that physically and visually links Singapore's business and historical districts.
Sky Forest City Tower
Singapore, 2015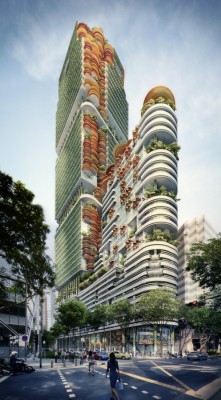 image : WOHA
In contrast to the typical skyscrapers of Singapore's downtown, the Sky Forest City Tower is a highly dense and vertical mixed use development that reiterates a human scale over the full height of the building. Conceived as a rock with planted waterfall crevices, the podium adopts a horizontal expression with layered stratums of programmes, complemented by an office tower with its height accentuated by vertical planter poles. A hawker center within the podium provides a spaces cooled by cross-ventilation and large ceiling fans, and enclosed by vegetation. Breezes are drawn through the tower, rising through a hollow central core to cool the stack of o!ces.
Sky Resort Hotel
Singapore, 2015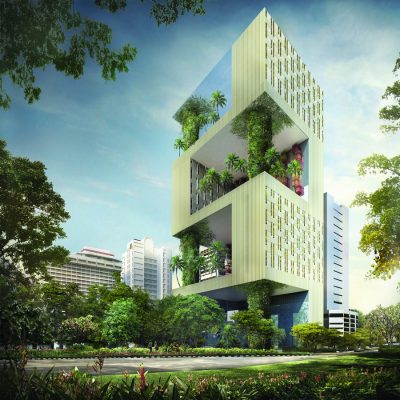 image : WOHA
A new prototype for hospitality high-rise projects, this urban hotel combines ways to intensify land use and integrate tropical thermodynamic approaches. Four distinct strata are designed to provide hotel guests with multiple ground levels of amenities and recreational spaces. All guest rooms are configured in L-shaped blocks that have naturally ventilated corridors, located around three open-sided atria that facilitate cross ventilation, day lighting and internal views.
Large living columns of tropical creepers are juxtaposed against the mass of the towers, creating human-scaled spaces that render the urban hotel with a touch of resort.
SkyVille @ Dawson
Singapore, 2007-2015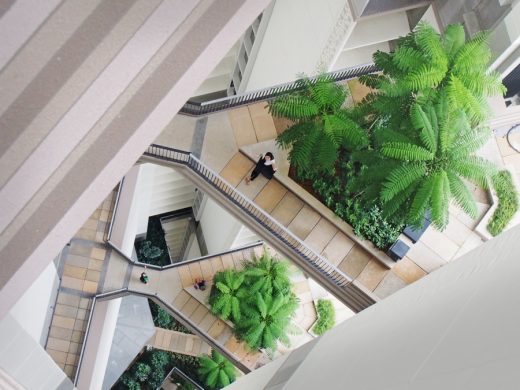 image : Terence Chew
SkyVille @ Dawson is a public housing project that addresses the themes of community, variety and sustainability. Three 47-storey towers are designed with breezeway atria that are cooled and ventilated by horizontal and vertical breezeways. Every dwelling unit belongs to a 'Sky Village' that comprises 80 homes. A total of 12 villages are stacked in four layers across the 3 inter-connected blocks. To maintain a sense of human scale, every village shares community spaces and a communal terrace. A publicly accessible park on the roof, and extensive public parkland at ground level, further contributes to the high-density high-amenity development
Stacked Garden Boutique Offices
Singapore, 2015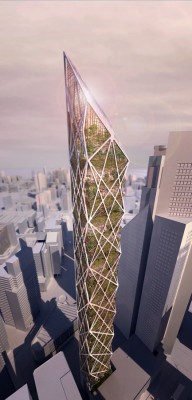 image : WOHA
Maximizing its small site area and building height limit, this tropical high-rise's work spaces are expressed as seven glass volumes with lobbies and terraces. Each stack is comprised by o!ce suites surrounded on three sides by gardens that can be adapted to include a variety of landscape features, informal break out areas and formal event spaces that support a creative working environment. An exoskeletal structural approach results in column-free interiors and integrates environmental filters into the facade in the form of full height trellis and louvers supporting creepers. The tower harvests renewable energy through photovoltaic panels and the use of heat assisted stack turbines.
The Met
Bangkok, Thailand, 2003-09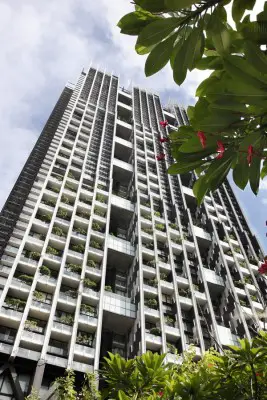 image : Kirsten Bucher
Offering a new model for high-density tropical housing in dense Asian cities, The Met is a prototype of a naturally ventilated, perforated, indoor-outdoor, green tower that is a sustainable alternative to sealed, glazed curtain wall buildings in the tropics. Six 69-storey Breezeway Towers are placed on a staggered plan, with horizontal and vertical breezeways facilitating cross ventilation and daylight penetration through the blocks. All apartments are designed as one-unit-thick, making tropical living without air-conditioning possible.
Tropical Urban Business Park
Penang, Malaysia, 2014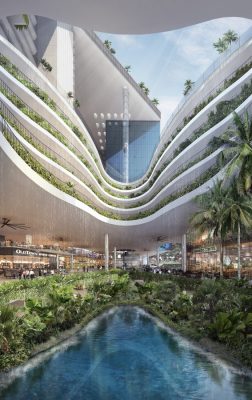 image : WOHA
Located within the land scarce and highly built-up island of Penang, the Tropical Urban Business Park is an extremely high density mixed use development that dfferentiates itself through its vertical greenery and public spaces. A massive Sky Park shelters a mix of apartments, o!ces, recreation areas and shopping malls. Every component is visually and socially interconnected, so that the entire minicity complex possesses a neighbourhood-style vibrancy.
Vanke Cloud City
Shenzhen, China, 2014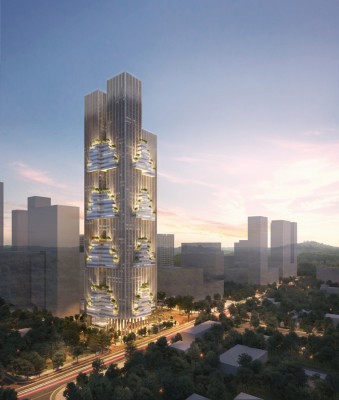 image : WOHA
Inspired by the natural mountain parks in Shenzhen, Vanke Cloud City is designed with twelve "floating hills" that connect three office towers configured around a centralized core.
Accommodating amenities for workers, the hills serve as the refuge and lift transfer floors of the tower. Designed as large internal atria with pockets of cascading sky gardens and planted waterfall valleys, the hills function as naturally ventilated outdoor spaces that are shielded from the wind and rain. This opens up the common lift lobby areas to daylight, greenery and fresh air, creating a comfortable micro climate and biophilic working environment within the tropical high-rise.
Permeable Lattice City
Singapore, 2011
For the Vertical Cities Asia program organized by the National University of Singapore (NUS), WOHA envisioned a vertical city with a modular arrangement in a staggered alignment to create a high degree of perforation and porosity resulting in cross-ventilated breezeways at city scale.
These "City Columns" free up the real ground level for nature reserves and heavy industries, and are held together structurally by a network of "City Conduits" that serve as elevated ground levels. They are connected by "City Community Spaces" and multi-cabin lifts and circulation systems that map out a fully pedestrianized city, encouraging a highly sustainable and livable city.
Vertical Stacked City
Shenzhen, China, 2014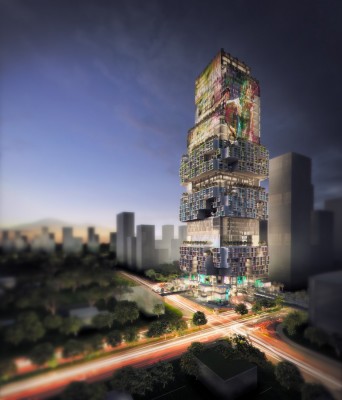 image : WOHA
As the new city of Shenzhen in southern China has no historic urban grain or pattern of settlement, the Vertical Stacked City sets out to create a sense of sociable street-life by stacking finescaled community clusters of Small and Medium Enterprises (SMEs) between urban-scaled stacks of corporate offices at Multiple Ground Levels.
Instead of a typical enclosed shopping mall, the Vertical Stacked City rises above a collection of individual shops within a ground level urban plaza, sheltered by the tower above. Comprising a mixture of home o!ces, small o!ces, and cafes, these naturally ventilated villages aim to recreate the street-life of the crowded precincts of traditional Chinese cities.
WOHA
WOHA architects

In 1994, architects Wong Mun Summ and Richard Hassell founded Singapore-based WOHA. As one
of Southeast Asia's preeminent architectural o!ces, WOHA integrates environmental principles
at every stage of the design process. Their strategies champion biodiversity, sustainability, and
the local vernacular to design responsive building solutions for the city of tomorrow. The firm's
awareness of context and tradition is intertwined with an ongoing exploration of contemporary
architectural questions, uniquely fusing practicality and invention.
WOHA's architectural repertoire—throughout Southeast Asia, China, and Australia—ranges
from residential towers and hotels to transportation hubs and public institutions. Their designs
reconfigure the elements of a building, breathing smart design into the dense landscape of the
megacity. WOHA's blueprint for sustainable development imagines a biophilic future where
towering structures evolve in harmony with native ecosystems and urban communities.
Underscoring WOHA's contributions to the advancement of architecture, the practice has
received numerous international awards, including the International Highrise Award (2010), the
prestigious Aga Khan Award for Architecture (2007), the renowned RIBA Lubetkin Prize (2011),
and most recently, the Urban Habitat Award (2015). The firm's most acclaimed projects have been
featured in many international publications, including Tropical Energy E!cient Systems (2015),
Best Tall Buildings (2015), Green Walls in High Rise Buildings (2014), and The Phaidon Atlas of
21st Century World Architecture (2011). In 2011, a traveling exhibition devoted exclusively to their
work opened at the Deutsches Architekturmuseum in Germany. Garden City Mega City (2016)
follows the publication of four substantial monographs—WOHA: Selected Projects Vol. 1 (2011) and
Vol. 2 (2014), WOHA: Breathing Architecture (2011), and WOHA: The Architecture of WOHA (2009).
Blending practice and pedagogy, Hassell and Wong also teach at the National University
of Singapore and have lectured widely at universities around the world such as the Harvard
University Graduate School of Design, the University of Hong Kong and the University of Western
Australia.
WOHA Directors:
Wong Mun Summ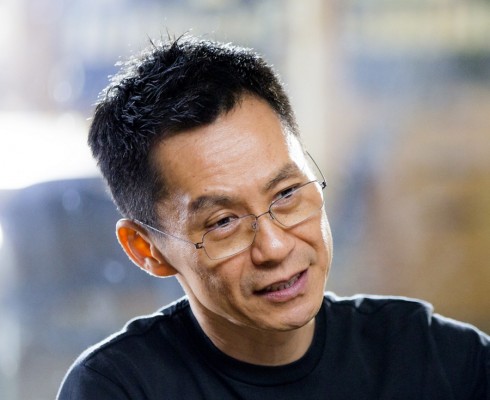 image : WOHA
Wong Mun Summ is Founding Director of Singapore-based
WOHA, one of Southeast Asia's best known and most awarded
architectural practices. Wong graduated with Honors from the
National University of Singapore in 1989. He has been heavily
involved in urban and civic a"airs in his native Singapore, serving
as a board member of the Urban Redevelopment Authority (URA)
from 1999 to 2005, as well as part of the Board of Architects'
Design Panel. He has also contributed to the International Design
Consultancy for the Waterfront at the Downtown at Marina Bay,
and served as a member of URA design advisory panels for major
developments throughout Singapore.
Weaving practice and pedagogy, he has mentored students
under the National University of Singapore's Embedded Studio in
Practice program and, together with Richard Hassell, has served
as Studio Master for the University's Integrated Sustainable Design
Masterclass since 2011. In 2015, he was appointed Professor in
Practice at the National University of Singapore.
Richard Hassell
Richard Hassell is Founding Director of WOHA Architects, formed
in partnership with Wong Mun Summ in 1994. He graduated from
the University of Western Australia in 1989 and was awarded
a Master of Architecture degree from the RMIT University,
Melbourne in 2002. Both a practicing architect and educator,
Hassell has lectured widely at various universities around the
world, and is currently an Adjunct Professor at the University of
Western Australia. Together with Wong Mun Summ, he has been
Studio Master for the National University of Singapore's Integrated
Sustainable Design Masterclass since 2011.
Hassell is a member of Singapore's Urban Redevelopment
Authority's (URA) Design Advisory Committee and has been
a member of the Housing and Development Board (HDB)
Architectural Design Panel. He has served as a board member of
the Building and Construction Authority of Singapore, as well as
committees for the URA and the DesignSingapore Council.
Buildings by WOHA
Nest House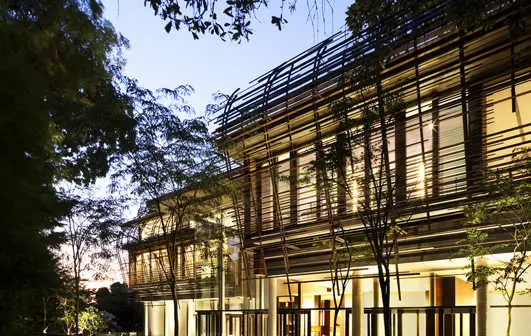 photo : Patrick Bingham-Hall
Nest House Singapore
48 North Canal Road, Singapore



photo : Patrick Bingham-Hall
48 North Canal Road
Parkroyal On Pickering, Singapore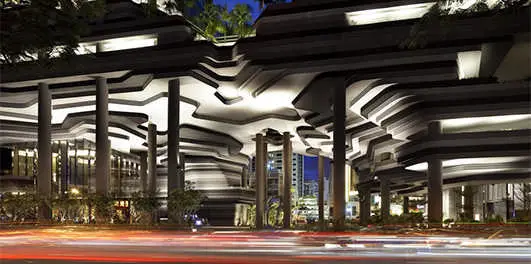 photo : Patrick Bingham-Hall
Parkroyal On Pickering
The Met Tower, Bangkok, Thailand – new info + images
Design: WOHA Architects



photo : Patrick Bingham-Hall
The Met Tower by WOHA Architects
WOHA Taichung Exhibition – Breathing Architecture, China



image from WOHA
Recent Building Designs by WOHA
Hansar Bangkok, Thailand



photograph © Patrick Bingham-Hall
Hansar Bangkok
Space Asia Hub, Singapore



photo from Space Furniture
Space Asia Hub
The Met in Bangkok



photograph © Patrick Bingham-Hall
WOHA Architects : RIBA Lubetkin Prize winner 2011
Vertical Park Hotel



picture from architect
Vertical Park Hotel
iluma, Singapore



photograph : Patrick Bingham-Hall
iluma Singapore
School of the Arts, Singapore



photo : Patrick Bingham-Hall
School of the Arts Singapore
World Architecture Festival Awards WAF : World's Best Learning Building, 2010 –
Alila Villas Uluwatu, Bali, Indonesia



photo : Tim Griffith
Alila Villas
Moulmein residential tower, Singapore



image from the architect
1 Moulmein Rise : 28 storeys
Newton Suites, Singapore



image: Tim Griffith
Newton Suites
Singapore Stadium MRT Station



photograph : Tim Griffith
Stadium MRT Station
More WOHA Architects buildings online soon
Location: Singapore
Architects Practice Information
WOHA studio based in Singapore
About WOHA
WOHA is a design practice focused on the built environment. WOHA's philosophy is to explore the potential of culture, context, history, nature, climate, sustainability and social behaviour to evolve innovative design.
Formed in 1994 by Singaporean Wong Mun Summ and Australian Richard Hassell, the practice is based on the model of the creative industries, rather than traditional construction services. With a mix of designers from diverse backgrounds, WOHA explores integrated design for the built environment, encompassing masterplanning, architectural, landscape, interior and lighting and furniture design. WOHA has received numerous international awards for excellence in design, and has been featured in international professional publications.
Architectural Exhibitions – chronological list
Singapore Architecture Designs



photo © Tom Ravenscroft
Buildings / photos for the WOHA Architects page welcome
Website: woha.net