Salone del Mobile Milan 2018, Design Week Installation, Italian Furniture Fair Collection News
Salone del Mobile di Milano 2018
Contemporary Furniture Design Event at Fairgrounds, Rho, Milano, Italy
28 Apr 2018
Salone del Mobile di Milano 2018 News
Milan Design Week 2018
From April 17th to 22nd April 2018
Contemporary Furniture Event in Italy
28 Apr 2018
Platek @ Milan Design Week 2018
Collaborations of PLATEK during the Milan Furniture Fair: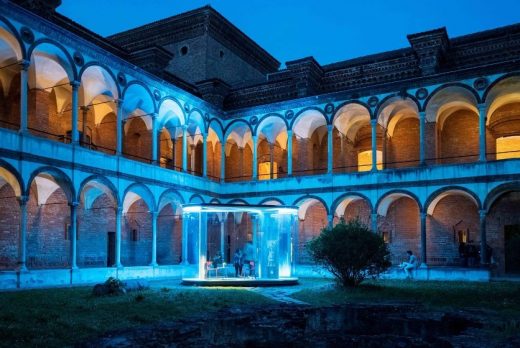 photo courtesy of Platek
"CELLS" by Filppo Taidelli Interni House in Motion
Università degli Studi di Milano, Via Festa del Perdono (above picture)
Cells at Salone del Mobile di Milano 2018
"ROBERTO SEMPRINI AND THE SEARCH OF BEAUTY"
Istituto Lombardo, Via Borgonuovo 25 Milano – angolo Via Fiori Oscuri
"THE WOOD SENSES" – by SLOW WOOD
Foro Bonaparte 40
"ABLE TO DESIGN + ART" within San Marco Project, by Marco Migliari
Via San Marco, 1 Milano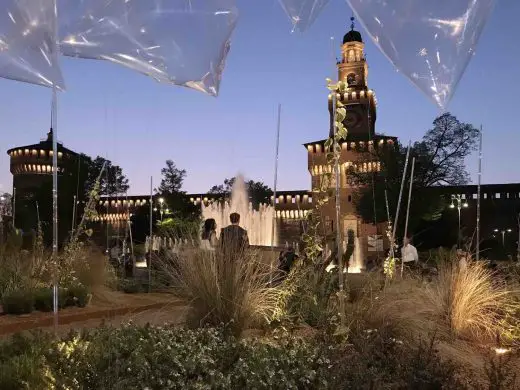 image courtesy of Platek
INHABITS, by Studio PIUARCH in collaboration with Bianchi&Rossi
Piazza Castello (pictured above)
Inabits at Salone Internazionale del Mobile Milan 2018
23 Apr 2018
Carl Hansen & Søn @ Milan Design Week 2018
Carl Hansen & Søn invites you to escape the everyday at their Milan Retreat. A place to awaken our senses and reconnect with the space around us.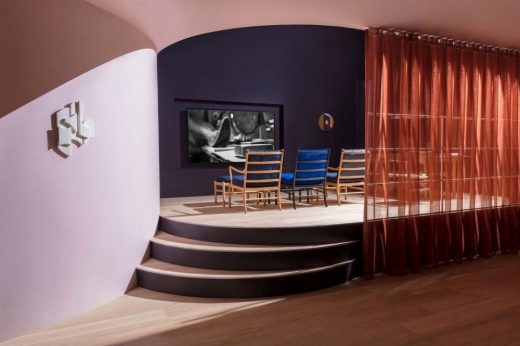 photos courtesy of designers
In the world of today, we are over-connected and overwhelmed. The lines between work and home life are becoming increasingly blurred, and our new dependence on technology has made us afraid of 'switching off'. Our conscious minds are never allowed to be still and the idea of contemplation is rejected, often confused with boredom.
So how can we nourish our soul and how can the spaces we inhabit act as a retreat to quiet racing minds? How can they offer balance? How does our environment affect our ability to be inspired, to be creative or calm? For the Milan Furniture Fair 2018 Carl Hansen & Søn introduces the Milan Retreat – inviting you to escape, get away from the distractions of the city and revel in a moment of peace.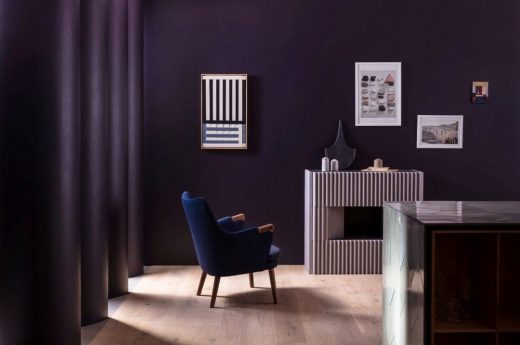 A retreat is defined as a quiet or secluded place in which one can rest and relax: a refuge, haven or sanctuary. It may be somewhere we leave our homes to go to, but more and more, we still want to feel 'at home' in this place – somewhere to 'retreat' to without leaving. If modern escapism is to distract our minds with endless social media or the next stimuli available to us, then we are perhaps disconnected from the environment and objects around us.
The Carl Hansen & Søn philosophy is anchored by timelessness, comfort and craftsmanship and through our Milan Retreat, we explore how space, design and tactility can work together to create a form of escape. A place to awaken our senses and reconnect with the space around us. One where we can find time for personal reflection or inspiration, and communally to reconnect with loved ones, or meet new friends.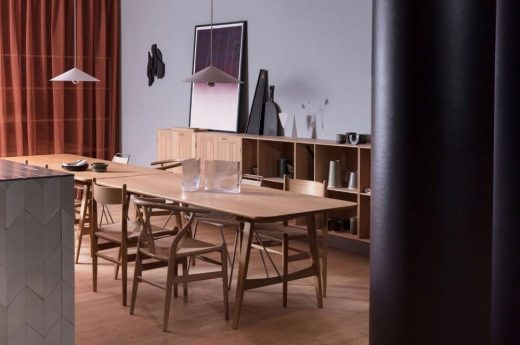 LET'S MAKE TIME TO 'BE'
Designed as a destination for a weekend getaway, our retreat is as comfortable and familiar as home, but with a more tailored focus on luxurious features, warm materials and contemporary design anchored by crafted detail. Architecturally, curved walls create a feeling of being enveloped, which floor to ceiling windows in key communal areas support the connection to nature and its sense of peace.
Soft, inviting colors including dark burgundy, russet, emerald green, warm greys and earthy neutrals mix with rich woods, textiles and tiles, accented by an eclectic collection of objects that add intrigue and invite conversation. Rooms are mostly open plan, sectioned over multiple levels to create a change of pace from space to space. By prioritizing warmth, comfort and tranquility throughout, it is a place that encourages hibernation and escapism.
COMMUNICATION | OPEN KITCHEN
The open kitchen was designed to put connection at its heart. Guests can mingle and chat, helping themselves to drinks and snacks from the central island, sitting informally on Wegner bar stools. Meals are eaten communally on the large Børge Mogensen Hunting Tables, flanked by PK1wicker chairs; spaces to share good food and good stories. A dedicated casual seating area allows guests to linger after dinner, talking late into the night on Wegner lounge chairs
RELAXATION | LOUNGE & LIBRARY
A cozy lounge embraces hygge with a choice of lounge chairs, sofas and daybeds on which to curl up with a book or have the ultimate luxury of the time-poor: a chance for mindful meditation. A central fireplace creates a soothing atmosphere, complemented by the warm woods, plush leathers and luxurious fabrics of the furniture, from the Kaare Klint sofa to Hans J. Wegner's iconic Wing Chair.
The lounge adjoins the library, a flow of space softened by partitioned walls, allowing guests to relax in the company of others, or find their own hideaway in which to rest and recuperate. The library offers a retreat into literature, creating a quiet space for guests to escape into a favorite book, write at the Arne Jacobsen Society Table or enjoy pre-dinner cocktails served from crystal ware on the Mogens Koch bookcase.
CONTEMPLATION | SPA SANCTUARY & TERRACE
Our spa and wet room is a sanctuary: cocooning guests in tiled and wood paneled curved walls. Moments of solitude and peace can be experienced in carefully selected chairs, including Kaare Klint's Safari Chairs and Propeller Stools.
An outdoor partially-enclosed terrace promotes the virtues of fresh air and highlights the natural flow between indoors and outdoors. It is the perfect space for the modernist Bodil Kjær Indoor/Outdoor series, conceived to complement the aesthetic and functional interplay between buildings and outdoor space. At the same time, each piece offers the highest degree of comfort; ergonomically designed and ideal for both relaxing and socializing.
INSPIRATION | COMMUNAL STUDY & FILM ROOM
A retreat from daily life and work doesn't mean a retreat from creativity, thoughts or inspiration. The first floor has a choice of communal areas in which to work, exchange ideas and have the mental and physical space to reflect. One of Carl Hansen & Søn's newest collections is showcased here: the Preludia Series by American designer Brad Ascalon. The series focuses on functionality, quality, comfort and aesthetics, designed with a human-centric approach, making it ideal for a flexible, versatile environment.
At the end of the day, guests can retreat to the film room, a raised platform tucked behind the open kitchen. Here, Ole Wanscher's comfy Colonial Chairs and Footstools are the unassuming yet timeless focus; beautiful, stable chairs with a simple and refined expression, ideal for a long sit down for guests wanting to escape into their imaginary film world.
Discover our design novelties presented at this year's Milan Fair, including Hans J. Wegner's CH71 lounge chair and CH72 sofa, as well as the Indoor-Outdoor Series by Bodil Kjær.
Website: Carl Hansen & Søn furniture @ Milan Design Week 2018
21 Apr 2018
Works by Stefano Boeri Architetti @ Milan Design Week 2018
In a subterranean space in the heart of the Innovation Design District, Stefano Boeri Architetti will curate a set-up of space&interiors, the MADE Expo exhibition space at the Fuorisalone 2018, under this year's title "The Future of Living and the Planet of the Future".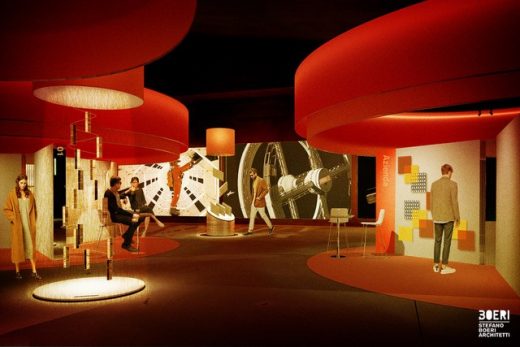 image courtesy of architects
Stefano Boeri Architetti at Salone del Mobile di Milano 2018
18 Apr 2018
New Chair @ Milan Design Week 2018
MAD Architects Presents "Gu" Chair – Collaboration with Sawaya & Moroni During Milan Design Week
"Gu" is Ma Yansong's contemporary interpretation of the traditional wooden armchair. Drawing reference from skeletal structures ("gu" translates to "bones" in Chinese), the design's joints create a network of sinuous forms – similar to that of connective fibrous tissue.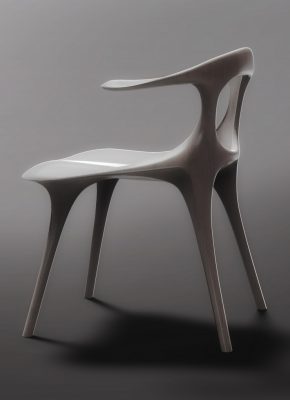 photo © MAD Architects
Thus, each surface of the chair fuses into one another, forming elegant seams that mutate from something natural into something more futuristic, making it seem more like a growing organism than a chair.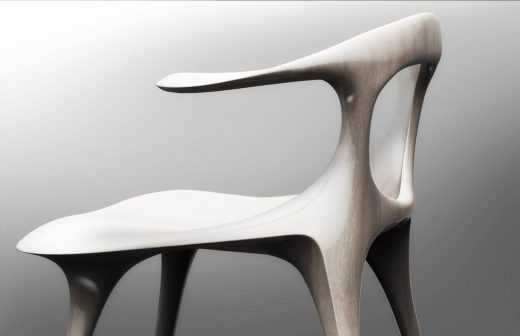 photo © MAD Architects
MAD Architects Chair at Milan Design Week 2018
17 Apr 2018
Claesson Koivisto Rune @ Milan Design Week 2018 Preview
Swedish furniture maker Claesson Koivisto Rune present their news for Milan Design Week 2018
DROPLETS seating islands by Claesson Koivisto Rune for Capdell
Hall 06 Stand B23
Capdell
www.capdell.com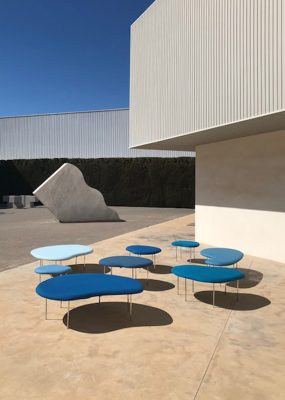 DROPLETS seating islands image courtesy of Claesson Koivisto Rune
Selected furniture products:
TOKIO sofa system by Claesson Koivisto Rune for Arflex
Hall 05 Stand B07
Event, April 18, 19.00-23.00, via San Marco 1, Milano
Arflex
www.arflex.it
INFINITY coffee table by Claesson Koivisto Rune for Arflex
Hall 05 Stand B07
Event, April 18, 19.00-23.00, via San Marco 1, Milano
Arflex
www.arflex.it
BIBLIOTHÈQUE bookshelf by Claesson Koivisto Rune for Really / Kvadrat / Asplund
Really Press preview, April 18, 16.00-17.00, via Palermo 1, Brera
Cocktail event, April 18, 18.00-21.00, via Palermo 1, Brera
Really / Kvadrat / Asplund
www.reallycph.dk / www.kvadrat.se / www.asplund.org
PICOS small tables by Claesson Koivisto Rune for Baleri Italia
Hall 10 Stand D18
Press preview, April 17, 14.30-17.30, Hall 10 Stand D18
Baleri Italia
www.baleri-italia.it
MISS MATCH sofa system by Claesson Koivisto Rune for Baleri Italia
Hall 10 Stand D18
Press preview, April 17, 14.30-17.30, Hall 10 Stand D18
Baleri Italia
www.baleri-italia.it
ROUNDEL table collection by Claesson Koivisto Rune for Baleri Italia
Hall10 Stand D18
Press preview, April 17, 14.30-17.30, Hall 10 Stand D18
Baleri Italia
www.baleri-italia.it
ANDREA chair by Claesson Koivisto Rune for Artifort
Hall 16 Stand E26
Milan Toast, April 17, 16.00-17.00, Hall 16 Stand E26
Artifort
www.artifort.com
Walter Knoll launch new furniture at the Salone in Milan
Walter Knoll has launched the Onsa Chair by Mauro Lipparini and the Ishino Table by Daï Sugasawa at the Salone Internazionale del Mobile (Hall 7, Stand A27/A31) in Milan.
The new EOOS Bundle sofa, the 375 dining chair and the Moualla Table are also on display.
Design is under the spotlight in Milan. Every year in April, on the occasion of the Salone Internazionale del Mobile, the city opens the doors of its fairgrounds in Rho, its palazzos, and its gardens to introduce new and innovative furniture. Here, at the world's most important furnishing and design fair, Walter Knoll is presenting its "Premieres 2018": quality interiors for living and contract.
Masterly craftsmanship, finest materials, awe-inspiring shapes – each new product matches the company's DNA. Two new designers premiere their creations for Walter Knoll: Mauro Lipparini with the Onsa Chair – a relax chair balancing aesthetics and comfort, and Daï Sugasawa with the Ishino Table whose organically hewn, pebble-like bodies look as if they've been dipped in liquid metal.
Also new and debuting in Milan: the Bundle Sofa designed by EOOS, which takes the word softness to a whole new level. The Moualla Table from Neptun Ozis – a solid wood table with an unusual yet elegant silhouette. New in the successful 375 range are the variants with seat and back shell covered in a combination of fabric and soft nappa leather as well as the 375 Chair. There's more. New carpets made of 100% finest Chinese silk, elaborately dyed and hand-knotted, and new carpet cushions – the Badawi Pillows – extend the "Legends of Carpets" collection.
New fabrics and leathers have been added to the Walter Knoll family expanding the philosophy "Natural Elegance". Inspired by the colors and shapes of nature – like the fine, soft desert sand of the Sahara and its distinctive rocky formations – the materials highlight the value of the products. Elegant, tactfully appealing qualities in cultivated colors as a sign of the Zeitgeist and today's lifestyle.
MAD Architects @ Milan Design Week 2018 Preview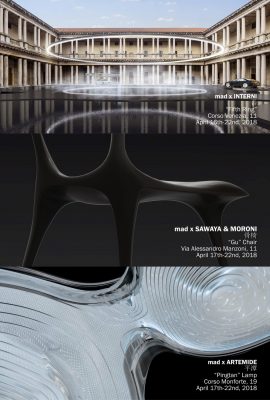 16 Apr 2018
GROHE DESIGN presents the ATRIO Experience Cube at Fuorisalone in Milan
GROHE, the world's leading manufacturer of sanitary fittings, unveils an immersive ATRIO installation for guests at its newly renovated GROHE Milan showroom (Via Crocefisso 19) at Fuorisalone.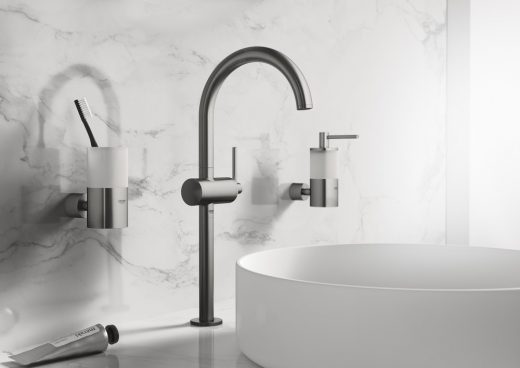 photo courtesy of designers
The monumental black experiential cube allows visitors to immerse themselves into a multimedia experience depicting an abstract narrative of the new collection – a story of ATRIO's two distinct characteristics: elegance and precision. By standing in the middle of the cube, the spectators experience ATRIO with all their senses. The video plays in combination with music, and a special water installation allows the guests to dive into the two defining attributes of GROHE's latest design.
The GROHE showroom is open to the public from the 17th until the 22nd of April between 10 am and 8 pm, except for Wednesday, the 18th of April, when the opening hours are 11 am to 2 pm.
16 Apr 2018
Hospital of the Future at Milan Design Week
"Cells": the healthcare of the future at the Milan Design Week 2018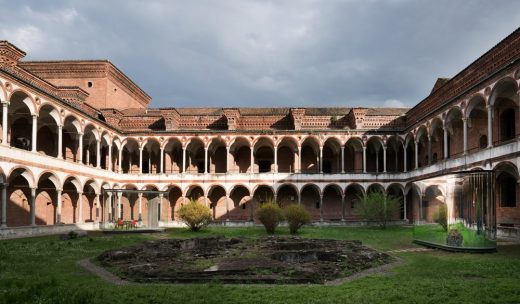 photos : Andrea Martiradonna
A site-specific installation, designed by the architect Filippo Taidelli, investigates the relationship between architecture, technology and healthcare, where once Milan's most ancient hospital was.
Vitra at Salone del Mobile Milan 2018
With Milan Design Week only a few days away, Vitra turn to Robert Stadler, a former Milan resident and the curator of Vitra's installation "Typecasting. An Assembly of Iconic, Forgotten and New Vitra Characters", for his unique take on the city. From unexplored galleries, to picturesque restaurants via secret gardens, Vitra invite you to discover his favourite places in the capital of design.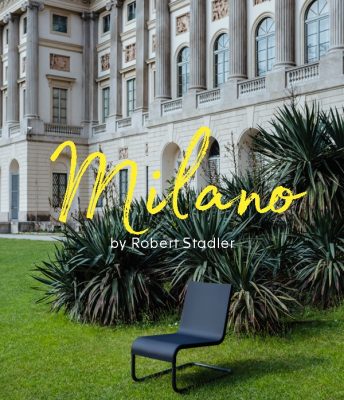 Read more: Robert Stadler Guide to Salone del Mobile Milan 2018
Typecasting
An Assembly of Iconic, Forgotten and New Vitra Characters
Over 200 objects, 9 communities and an exploration into communal living. The film-set-like display of "Typecasting" is as much about furniture as it is about us. Visit us at Via Palermo 10 in Milan from 17 – 22 April.
Naamanka Finland
NAAMANKA is a young Finnish brand presenting collection of furniture for public and private spaces. The whole collection is designed by Interior Architect, MA, Samuli Naamanka ̶ the result of the furniture collection is long lasting high quality products with a strong identity. All the Clash products in the collection are produced in Finland.
ENVIRONMENTAL FRIENDLINESS
A new surface treatment in the collection nitriding is now a new option on the Clash 200 series furniture; black nitriding is a possibility on the metal parts of the furniture bases. In addition of the durability of the finish, the process does not cause any kind of waste as well emissions into the air. As a process, black nitriding has replaced in many industries other surface treatments.
NOVELTIES
The wooden Clash 300 range chairs are now a novelty in the Naamanka furniture collection. The serie includes five differet type of chairs: an universal chair, two different height of stools and a lounge chair with two different type of bases. All of these products suit well both for homes as for the public spaces.
Valentina Outdoor of Diabla al Salone del Mobile – Milán
A NEW BRAND FROM GANDIABLASCO WITH A HUGE EXPERIENCE BEHIND IT
A powerful jolt of colour for an outdoor relaxation area, with a look that are laid back and casual yet elegant at the same time.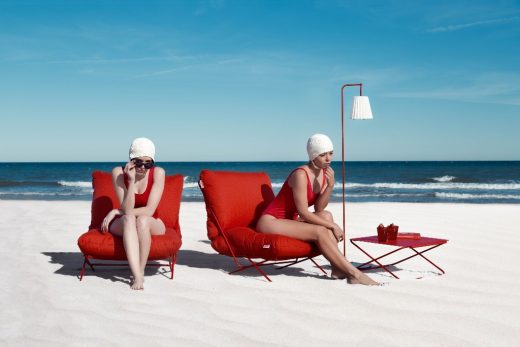 This is the kind of setting that can be created with Valentina Outdoor, a collection that more than any other is the most authentic expression of the Diabla style.
Conceived for enjoying the outdoors in an informal way with its ground level chairs and loungers that allow multiple combinations and improvised uses, a raised single-seater sofa version of the Diabla collection is being launched at the 2018 Salone del Mobile.
SALONE DEL MOBILE
Hall 20 Stand B01/C06.
Thursday 19th of April at 1:00 pm launch with a special cocktail.
www.diablaoutdoor.com
#diablaattitude
#diablaoutdoor
Giopato & Coombes @ Salone del Mobile Milano
Giopato & Coombes present Supernatural Daydream
Giopato & Coombes will also be protagonist of a special installation designed for the Hi-Lite showroom in the heart of Brera, presented on occasion of the Salone del Mobile.
HI LITE Next Showroom – via Brera 30, 20121 Milan
Some of the most iconic pieces by Giopato & Coombes will be part of exhibitions in and out of the Salone del Mobile:
Cassina Showroom – via Durini 16, Milan
Molteni&C – hall 20, stand A01 B04 C02, Rho fiera
Alias – hall 20, stand C21 D18, Rho fiera
Budri – hall 03, stand G29, Rho fiera
Vincenti&Volonté @ Salone del Mobile Milano
Discover the novelties of La Tavola, Milano Bedding and Bartoli Design that will be exposed at the Salone del Mobile.Milano, stand details below:
– La Tavola
EuroCucina – hall 13 stand E08
– Milano Bedding
hall 6 stand B29
– Bartoli Design
Laurameroni hall 7 stand C21
Fiam hall 5 stand B11
Riva 1920 hall 6 stand A23 B20
Kristalia hall 20 stand E07 F10
Bonaldo hall 5 stand F01 F05
Rexa Design – Fuorisalone, Rexa Store p.za S. Stefano 7 Milan
Icon Design Talks at Milano Design Week 2018
Six days of encounters with the protagonists who are redesigning our cities, our homes, our lifestyles.
A format launched last year, which repeats this year from April 17 to 22.
A cycle of conferences, masterclasses and debates whose objective is to investigate the world of design from different experiences and assumptions. A stage that counts world-famous architects and design studies that have distinguished themselves over the past years by their innovative, distinctive and irrepressible approaches.
This year, the theme identified and developed for the talks is Common Future, the same chosen to identify the activities that will alternate over the course of 2018 in Milan's Innovation Design District. What are the challenges that we will face in the near future? Which themes and which solutions? The cycle of scheduled meetings will respond to these questions, touching on these themes and various commodities sectors.
54words
c/o Fabbrica del vapore
Via G.C. Procaccini, 4
20154 Milano
Tel +39 0236513132 – 0236513235
www.54words.net
ARLEX Salone del Mobile 2018
Arlex launches the new designs of home furniture in the Salone Internazionale del Mobile de Milano 2018
Serena:

ARLEX will participate in the 57th edition of the Salone Internazionale del Mobile that will take place from April 17th until April 22nd 2018 in Milano, where the company will launch its latest news of home furniture. One of this news will be the Grid modular shelves collection, designed by Eduard Juanola. There will be news also in the successful Serena and Shelves collections.
Shelves: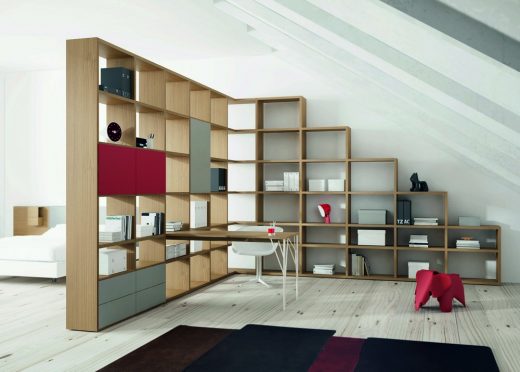 In the Milano fair Arlex will be placed in the Hall 10 Stand D10, where in addition to those news the company will show other collections from the Arlex Home Collection
Hall 10, Stand D10
From 9:30am to 6:30pm
FARAM @Milano Design Week 2018
During the Milan Design Week 2018 we will exceptionally open the doors of our showroom in Milan. Come and meet Bubble Meet, the new acoustic island designed by Faram 1957 for private meetings and conversations in both public and private open spaces.
RSVP: [email protected]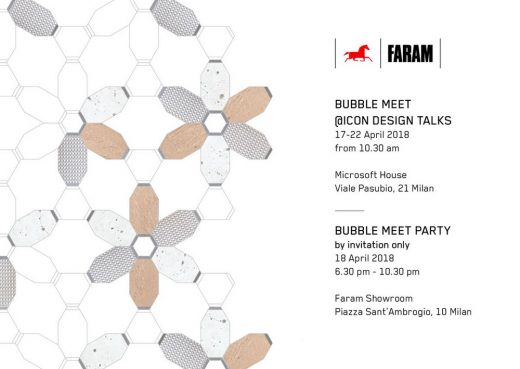 For the Icon Design Talks Bubble Meet will turns into Media Bubble and becomes a privileged space where TGCOM24 and Designboom speakers' interviews take place. Architects, designers and outstanding personalities will sit in a hushed atmosphere to tell their vision of the design.
Danish Furniture at Milan Design Week 2018
Among the Danish companies that will participate, you will find Fredericia Furniture, Mater, OeO, Republic of Fritz Hansen, and House of Finn Juhl. Each of them will be displaying new products or relaunching iconic pieces, and organising events within the fair, to make the entire experience memorable.
Read more: Danish Furniture at Salone del Mobile di Milano 2018
ASPLUND Collection at Milan Design Week 2018
ASPLUND Collection (Sweden) will be showing selected pieces during the Design Week. On behalf of the project; Swedish Design Moves, set up by the Swedish Government, welcome you to the exhibition "HEMMA – Stories of a home". Curated by Joyn Studios, learn more about the project at www.swedishdesignmoves.com. ASPLUND, amongst other prominent Swedish design brands, will be displaying parts of our collection at an interesting location in the heart of Brera Design District.
The Program April 16 – 22, 2018
Press preview Monday 16 April 09.00-17.00
Opening hours 
17 – 22 April 09:00 – 19:00
Opening Party Tuesday 17 April 18.00-22.00
Visit HEMMA at Milan Design Week, Brera Design District Via Eugenio Balzan 4, Milan.
BASE Milano at Design Week 2018
A critical exploration of city making, smart cities and new forms of city planning and urban regeneration, at the heart of Fuorisalone in the ex-Ansaldo complex:
> "Trouble Making. Who's making the city?" exhibition curated by Raumplan
> Unveiling of BASE's brand new services and facilities: neighbourhood portineria (concierge), shared officina (workshop) and regenerated cortile (courtyard)
> spaces under renovation are set to double BASE's total area to 12,000m2
April 17 – 22 2018
Milano, Via Bergognone 34
www.base.milano.it
Tuesday April 17 opening party with live set organised by Threes
To mark Design Week 2018, BASE Milano – one of Europe's most important regeneration projects – is offering a critical exploration of city making and new forms of urban transformation.
Everything kicks off with "Trouble Making. Who's making the city?", an exhibition commissioned by BASE and curated by Raumplan about mass phenomena and the virtual networks which are changing the face of our cities. By looking at the work of artists, photographers and videomakers, the exhibition will provide an interpretation of several group phenomena at work in the urban sphere: from the boom in courier work, to the new circuits of mass tourism, and the processes set off by the sharing economy, home-sharing and do- it-yourself information online.
Some of the exhibited projects are: Calibro, Donato Ricci and Òbelo, who will analyse photos of Airbnb accommodations, pinpointing the cornerstones of a conforming aesthetic which characterises the interiors of the houses and rooms for rent on the platform; Delfino Sisto Legnani's photos will feature devices such as Amazon buttons, remote controlled smart locks for parcel delivery; Louis De Belle and Giacomo Traldi's project will lay out the routes that tourist buses chart around cities, and Louis De Belle will also present a photographic investigation into food delivery couriers, created together with Nicolò Ornaghi; Giga Design Studio and Superinternet will offer a look at the consequences that the traffic of online information has on the urban realm. The exhibition will end with a sculpture by Ayr which will incorporate one of Achille Castiglioni's most famous products.
Right in the midst of these city planning study cases, BASE Milano will present its very own project to the public. This newly regenerated 6,000m2 space brings the total BASE area to 12,000m2, with brand-new services and facilities: a fresh concept of the neighbourhood portineria, a shared renovated in-house officina, and a cortile transformed from an industrial loading area into a cultural entertainment venue for the city.
On the eve of its third Fuorisalone, BASE once again proves its status as a fixed landmark for innovation, creativity and culture, offering ample inspiration as a model of urban regeneration: a public space, managed by a private, self-financing, non-profit social enterprise, the result of a consortium of charities and private businesses, which lives in the market place and involves a whole range of cultural players from the city in its eclectic and participatory programme.
An ecosystem in continuous transformation, it is one of a kind, and, at the same time, part of a greater process of transformation affecting a large number of metropolitan areas in the West, where the retreat of manufacturing is freeing up space for new industries and urban facilities.
The choice to investigate urban and regenerative processes springs from the evolutionary phase that currently sees BASE occupying the role of Learning Machine: a machine for learning, a permanent training workshop devoted to the needs of the city, the neighbourhood and professionals employed in the creative industries. And yet it is also a machine that learns, a huge organism with the ability to establish a dialogue between different creative communities so as to absorb, share and transform each other's content and contaminations.
MUSIC NIGHTS
Sounds of regeneration
In fitting with the themes chosen for this year's Fuorisalone, the week's music line-up is a celebration of musical scenes and subcultures that have an impact on urban transformation.
Every evening features music at aperitivo hour in the newly transformed ex-Ansaldo cortile (weather permitting), which from an industrial loading area has been transformed into a social, cultural venue, with a bar and dancefloor. The nights then carry on inside the former industrial building.
The sound profile comes courtesy of Radio Raheem, Milan's independent online radio station who are bringing their line-up of music and interviews with key players from the world of design and beyond to the Ex-Ansaldo's Portineria.
BASE Milano
With the patronage of Milan City Council
Partners: ARCI Milano, Avanzi, esterni, h+, Make a Cube3
With support from: Fondazione Cariplo
Partner: iGuzzini Illuminazione
Technical Partner: Azienda Grafica Italiana, COEX Naturally Fireproof, Duravit, Dyson, PRESTO, Redaelli Velluti, RIVO interior, Sikkens – AkzoNobel, Venber – Geo Hydrica, Zumtobel Group
Design Week 2018 Partner
Media partner: Domus, Zero
With support from: Tortona Design Week
Partner: Ageas UmbertoPiedi, AmicoBlu, Desamanera, 90×100 FERRO
BASE Milano Information
Via Bergognone 34
base.milano.it
fb: https://www.facebook.com/BaseMilano.aplaceforculturalprogress/
twitter: @basemilano
instagram: base_milano
hashtag: #basemilano
Da 'epicureo' a 'mutante' at Salone del Mobile di Milano 2018
13×13 Words of Living: talk con Jasper Morrison
Partecipano: Johanna Agerman Ross, Victoria & Albert Museum Londra Maria Sebregondi, Moleskine Foundation
Coordina: Roberto Andreotti, Alias D –Il Manifesto
Schiffini Milano, Via Visconti di Modrone, 12
Omp Porro at Salone del Mobile di Milano 2018
OMP PORRO, with its Enrico Cassina handles of 30s and 50s Collections is pleased to be present at the booth of the prestigious Company ESSENZE ART STUDIO, which celebrates the special connection between contemporary design and historic Italian excellence of wood manufacture.
Luxury marquetry and inlay applied to entirely customized projects. A tailored approach to design and manufacture to create exclusive furniture solutions, with timeless features, at the summit of style and quality. These are the cornerstones of ESSENZE ART STUDIO.
Concepts that perfectly combine with the mission of the ENRICO CASSINA Brand, founded in 1850 and renovated thanks to the competence, the modern technologies and the craftsmanship, distinguishing the whole OMP PORRO production.
Italgraniti Group: First Flagship Store Opening – Salone del Mobile di Milano 2018
The first Italgraniti Group Flagship Store opens in Milan
Milan, February 2018 – Italgraniti Group, a dynamic and innovative company that has been the undisputed protagonist of the ceramic industry for over twenty years, has chosen Milan for the opening of its first Flagship Store, master expression of the company's technological evolution, aesthetic culture and technical excellence of "made in Italy".
Italgraniti has always been synonymous with highly technological porcelain stoneware, an exceptional, resistant material suitable for interior and exterior covering with precision and absolute beauty, which is the result of decades of experience and constant investments accompanied by a long-sighted look towards the future.
Italgraniti Group Flagship Store at Salone del Mobile di Milano 2018: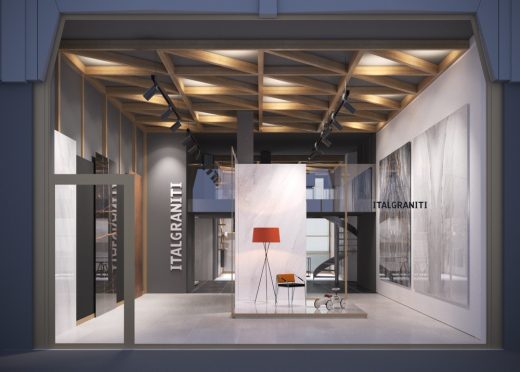 The space, designed by Centro Stile Milano, an architectural studio which the company has been collaborating with for several years, will be inaugurated during Salone del Mobile 2018 and located at number 21 of the central Via Statuto, one of the city's best places to host the excellence of Italian furniture.
The exhibition space, in 165 square meters, on two levels, will be dedicated to the new collections designed for the architectural panorama and contemporary interior design, but also a place to create relations, meeting and experimentation around new decorative languages, close to the designer and to the final consumer to whom Italgraniti will propose an innovative way of conceiving and using ceramics.
In order to achieve all this, to welcome the public, there will be the new Mega project, the majestic slabs of porcelain stoneware that reach the size of 160×320 cm with a thickness of only 6 mm, interpreting the most exclusive marbles, the finest stones and the authentic energy of metals. By freeing the surfaces from the installation grid, the new slabs give to the space the feeling of expansion with a strong visual impact and, thanks to the minimum thickness, they are easy to use even in the realization of furniture and furnishing accessories such as doors, tables, work tops, bathroom and kitchen tops, shower trays… without drawing the line to the freedom of expression.
In addition, to connect with the new edition of Eurocucina, Mega will be used in the creation of two compositions, which will be protagonists of the new space: a kitchen top with the metal base coordinated with a tool cabinet, an open bathroom with shower and a cabinet with the sink completely made in porcelain stoneware. The result will be extreme aesthetic beauty and high quality, for any type of environment.
Beside the "Mega project" the new Metaline collection will be presented, inspired by the expressive potential of metal surfaces in which the material draws new aesthetic proposals. The porcelain stoneware of this collection combines, as a matter of fact, the high industrial technology with a meticulous research on materials, interpreting at best the new requirements of contemporary architecture.
On the other hand, with Marble Experience, the company will revive the charm of marble through a careful selection of the most refined effects, constant technological innovation and the search for the most exclusive materials for the design of unique surfaces.
An area will also be dedicated to the latest collections that evoke the natural essence of wood, designed to create warm and welcoming spaces with a contemporary feel and a vintage warm and natural mood.
An internal staircase will lead to the mezzanine where a work area is set up to offer professionals and final public all the tools necessary to get to know the company better, the excellence of its products and the efficiency of the service offered.
The company's first Flagship Store aims to be a showcase of the continuous passion, research and innovation that have always characterized the group's history, capable of developing performance surfaces that are ideal for interior and external covering with absolute precision and beauty and satisfying, and often anticipating, the needs of the market.
Italgraniti Group Flagship Store
Via Statuto, 21
20121 Milano
Mail. [email protected]
www.italgranitigroup.com
Piuarch @ Milan Design Week 2018
agrAir installation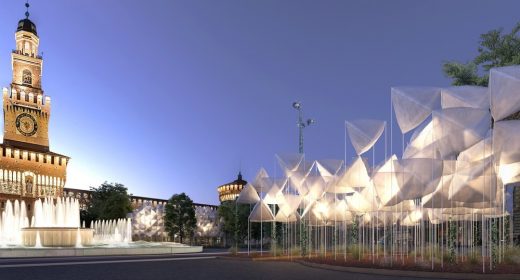 photo courtesy of designers
As part of the Inhabits program at Milan Design Week 2018, the agrAir project by Piuarch outlines the elements which will hopefully be valued for living in the future – lightness, luminosity, careful use of resources, dissolution of contrasts between interiors and outdoors, between natural and artificial spaces – in a balanced relationship between earth and air. These ideas will also be repeated on the rooftop garden of Piuarch's office, thus defining a synergic network at Fuorisalone.
Piuarch at Salone Internazionale del Mobile Milan 2018
Palladio | EleMENTI, il Lab Palladio al Fuorisalone at Milan Design Week 2018
EleMENTI Steel – Wood
Evento Fuorisalone
Giovedì 19 e venerdì 20 aprile
Ore 17:00-21:00
Via Settembrini, 47 – Milano
EleMENTI è un laboratorio creativo dove i materiali e le menti di architetti e designer si fondono per dare spazio a nuove idee con l'aiuto di due esperti del settore: Umberto Boselli di Paràl e Leonardo Valente di Palladio.
Uno spazio nel cuore di Milano, una lavagna bianca, un clima positivo, dove creatività e concretezza si incontrano per creare nuovi concept che potranno diventare realtà e dare forma a prodotti per gli spazi abitativi di domani.
COME PARTECIPARE
La partecipazione all'evento è gratuita, basta inviare una mail di conferma a [email protected] entro lunedì 16 aprile.
DOVE
Showroom Paral: via Settembrini 47 – Milano
QUANDO
Giovedì 19 e venerdì 20 aprile dalle ore 17:00 alle ore 21:00
PER CHI
Architetti, progettisti, arredatori ed interior designer
INFO SU:
https://fuorisalone.it/2018/it/eventi/988/EleMENTI
PALLADIO Srl
Via A. Boito, 25 – 31048 San Biagio di Callalta (TV) – ITALY
TEL +39 0422 7969
WEB www.palladiospa.com
Salone Internazionale del Mobile Milan 2018 News
Milan Design Week 2018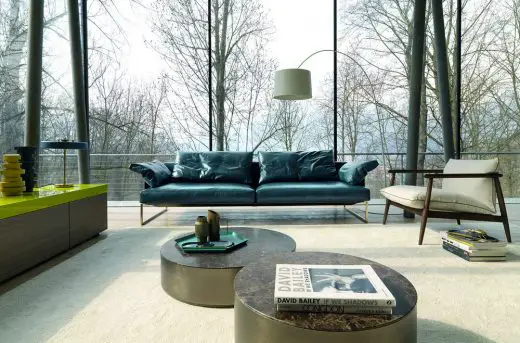 photo courtesy of designers
Salone Internazionale del Mobile Milan 2018 News
Salone del Mobile Milan 2017 – excerpts below: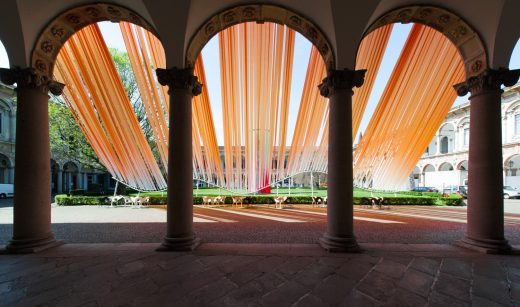 photo : Moreno Maggi
Salone del Mobile Milan 2017 – Trend Research: Shared House. Co-living
Invisible Border Installation in Milan
Design: MAD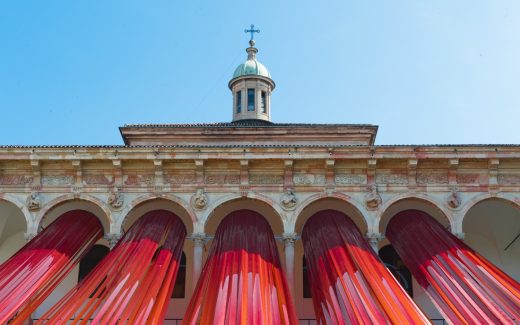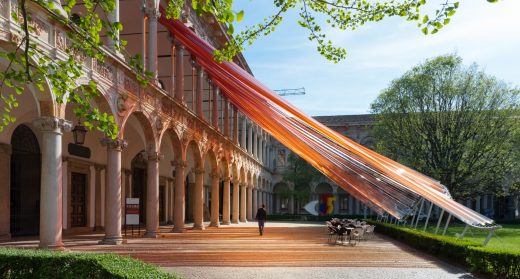 Invisible Border Installation in Milan images / information received 130416
Location: Milan, Lombardy, northern Italy
Milan Architecture
Contemporary Milanese Architecture
Milan Building Designs – chronological list
Milan Architecture Tours – city walks by e-architect
Milan Architects Offices – architectural firm contact details on e-architect
Milan Architecture – Selection
Salone di Mobile Milan Architecture
Aarhus School of Architecture exhibits at Milan Design Week 2016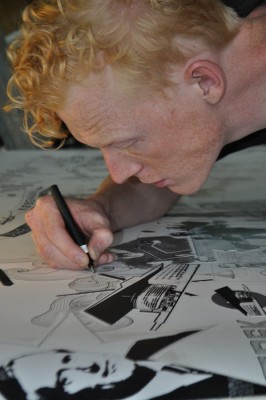 photo : Asbjørn Staunstrup Lund
Aarhus School of Architecture Milan Design Week – 2016
Corian Lounge, Milan
Design: Amanda Levete Architects
Corian Lounge Milan
Karim Rashid @ "Smart-ologic Corian® Living"
Design: Karim Rashid
Milan showroom design
SitTable
Design: Ben van Berkel / UNStudio
The hybrid form of the SitTable in Milan by UNStudio
Salone Internazionale del Mobile – 2008
Design: Zaha Hadid Architects
Milan Furniture Fair
Salone di Mobile Milan pavilion
Design: Mecanoo architecten
Salone di Mobile Milan
House of Stone at Salone del Mobile, Milan 2010
Design: John Pawson, architect
House of Stone Milan
Mutated Panels Milan Installation
New Trade Fair, Rho-Pero
Design: Massimiliano e Doriana Fuksas Architects
New Trade Fair Milan
Website: Milan Furniture Fair (Italian: Salone Internazionale del Mobile di Milano)
Invisible Border Installation in Milan
Comments / photos for the Salone del Mobile di Milano 2018 Furniture Collections page welcome
Website: Salone del Mobile