City Now City Future London, Museum, MoL Event 2018, Finsbury Park Discussion
An Idea for a Future London
MoL News – VoiceOver Finsbury Park, England, UK – Spring 2018
8 Dec 2017
An Idea for a Future London – MoL Event 2018
An Idea for a Future London – City Now City Future
Museum of London
Display 16 February – 15 April 2018
Part of City Now City Future
#CityNowCityFuture
WINNER OF MUSEUM OF LONDON OPEN CALL BRINGS TOGETHER STRANGERS CONNECTED BY A SHARED VIEW OF LONDON
• Project chosen following open call for 'An Idea for a Future London'
• VoiceOver Finsbury Park unites residents to share the future of London
• Hyper-local broadcasts crisscross and connect neighbours in Finsbury Park
In May this year, the Museum of London issued an open call for proposals for An Idea for a Future London – projects that would offer suggestions for positive change in the city. The open call was part of the museum's initiative, City Now City Future, a year-long season of events exploring some of the challenges of urban life and the future of global cities.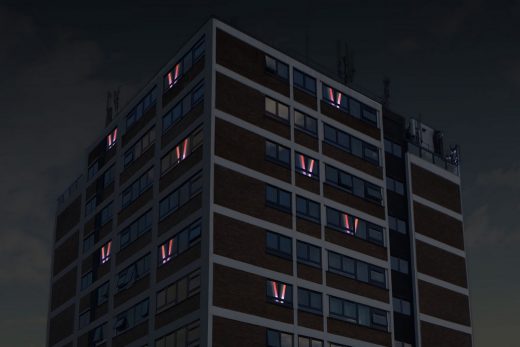 image courtesy of Umbrellium
More than seventy groups and individuals, including artists, designers, architects, community groups and planners submitted proposals to the museum. Among the shortlisted proposals were a celebration of citizen-led projects in Lambeth by Virginia Nimarkoh and Fan Sissoko; a reimagining of London's sewer system by Julia King; a community musical by Janette Parris; and an open school celebrating our common resources, new economies and resourcefulness in the city, by artist Ruth Beale.
The winner of the open call was a project entitled VoiceOver Finsbury Park, a hyper-local social radio project which will allow people to broadcast their stories and discussions about life in London.
Urban housing, Finsbury Park by Sergison Bates architects LLP – Mies van der Rohe Award Nominee 2009:



photograph : Stefan Mueller
The project was produced by Umbrellium in partnership with Furtherfield, based in Finsbury Park and with strong ties to the local community. The winner was chosen by a judging panel comprising Lauren Parker, City Now City Future Curator at the Museum of London, Clare Cumberlidge (co-founder of Thirteen Ways), Asif Khan (architect), Beatrice Pembroke (Director of Creative Economies, British Council), Heather Phillipson (artist) and Finn Williams (architect and planner).
VoiceOver Finsbury Park is a social radio project in which local residents will broadcast monologues and discussions about life in London and express their feelings about the city's future. A series of light antennae, LED nodes and radio boxes designed by Umbrellium will be installed by residents in their homes to create a network of light and sound that can be heard and seen by the whole community. The aim of the project is to give neighbours who may never have spoken to each other a reason to chat and share ideas.
The hyper-local communications network, installed and operated by residents, will enable them to suggest and discuss their ideas, speculations and imaginings about the future of London. VoiceOver Finsbury Park broadcasts will take place at the beginning of 2018, and culminate in a takeover of a gallery in the Museum of London at the end of February 2018, where visitors will be able to listen to the voices, thoughts and interactions from Finsbury Park residents captured by the installation.
VoiceOver Finsbury Park is a development on the Umbrellium project VoiceOver East Durham, commissioned by East Durham Creates and produced by Forma. An Idea for a Future London is co-commissioned by the Museum of London and Thirteen Ways for City Now City Future, and supported using public funding by Arts Council England.
Lauren Parker, City Now City Future Curator at the Museum of London, said: "Living in a global city like London brings with it many joys and benefits but often, human scale interaction can get lost in the hubbub. VoiceOver Finsbury Park will bring communities together to create connections and share their experiences in a new and exciting way. As we look to the future of cities like London, it will be a fascinating experiment to see what comes out of this project."
Usman Haque, Founding Partner, Umbrellium, said: "We want to collaborate on building engaging cities, rather than just 'smart' cities, that put people's needs first. With VoiceOver Finsbury Park we are using technology that gets people meaningfully involved in creating, installing, supporting and bringing to life a cultural infrastructure – one that actively encourages performance, sharing and storytelling."
Ruth Catlow, Co-founding Director of Furtherfield said: "The promise of the web in the 1990s was that we would see ourselves together, connected around the globe, and would cooperate to shape the world for shared interests. We now observe that the very devices and platforms intended to link us to each other, often serve in fact to isolate or even segregate us from the people standing right next to us. With VoiceOver Finsbury Park we hope to recreate a local, communal communication space for people to trust their neighbours with their dreams for their global city. "
Further information: www.museumoflondon.org.uk/citynowcityfuture
#CityNowCityFuture
Finsbury Park Station



photograph © Adrian Welch
About The Museum of London
The Museum of London tells the ever-changing story of this great world city and its people, from 450,000 BC to the present day. Our galleries, exhibitions, displays and activities seek to inspire a passion for London and provide a sense of the vibrancy that makes the city such a unique place.
The museum is open daily 10am – 6pm and is FREE to all, and you can explore the Museum of London with collections online – home to 90,000 objects with more being added.
Museum of London
About Furtherfield
Furtherfield connects people to new ideas, critical thinking and imaginative possibilities for art, technology and the world around us. Through exhibitions, labs and debate people from all walks of life explore today's important questions. Furtherfield's Gallery and Lab are located in the middle of London's Finsbury Park. Adventurous digital arts experiences devised with an international network of practitioners radiate from these venues, transforming the urban park into a platform for experiments in human and machine imagination, where people can explore how they want live in our globally connected world. In this way more people are involved in shaping emerging technologies through an arts-led approach.
Furtherfield
About Umbrellium
Umbrellium designs and builds technological tools to support citizen empowerment and high-impact engagement in cities. We work throughout the world with communities, organisations, urban developments and city councils to deliver projects using a proven methodology that gets people involved in design activities, decision-making and defining project goals. Our aim is for participants to develop a shared sense of technological enfranchisement and ownership in civic outcomes. When people act together, they are more effective.
Umbrellium
30 + 28 Oct 2017
The London Salons
Olympicopolis London: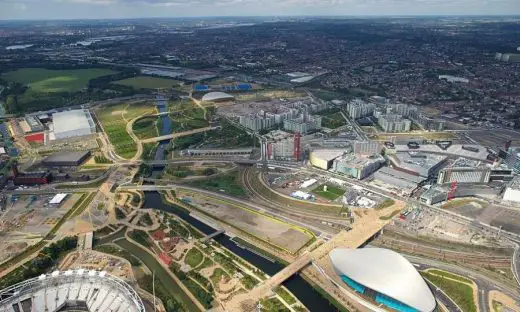 aerial photo © queenelizabetholympicpark.co.uk
MoL The London Salons
Location: Museum of London, London, England, UK
London Building Designs
Contemporary London Architectural Designs
London Architecture Links – chronological list
London Architecture Tours – bespoke UK capital city walks by e-architect
Museum of London West Smithfield International Design Competition Winners
Museum of London West Smithfield International Design Competition Images
Museum of London West Smithfield International Design Competition Shortlist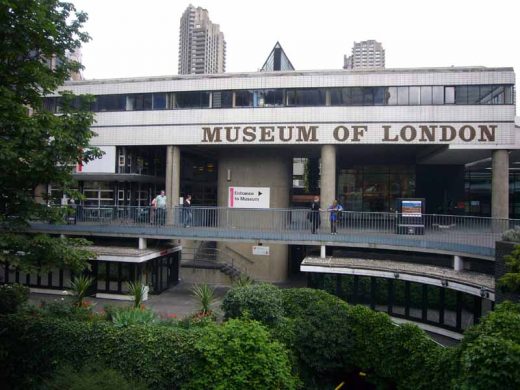 MOL images © Adrian Welch
Finsbury Park Housing, Seven Sisters Road Homes
Finsbury Park, London – City North Site
Architecture near Museum of London


MOL photo © Edmund Sumner
Museum of London Building
Museum Of Architecture Competition London
Museum of London



photo © Adrian Welch
Barbican Centre context :
British Museum Building Extension
Design: Rogers Stirk Harbour + Partners
British Museum Building Extension
Buildings close to the Museum of London
Smithfield Building Development : Charterhouse Place
Comments / photos for An Idea for a Future London page welcome