WOHA Architects, Building Images, Singapore Design Studio, Office Projects News
WOHA Architects : Architecture
Contemporary Singapore Architectural Practice: Southeast Asia Design Studio
post updated 30 September 2021
WOHA News
WOHA Architecture Designs – latest additions to this page, arranged chronologically:
30 Sep 2021
Singapore Pavilion At Expo 2020 Dubai, Dubai, UAE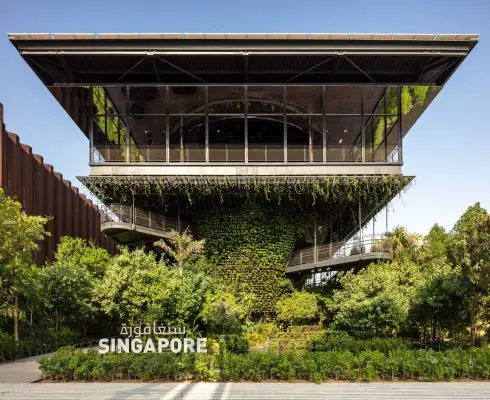 photo © Singapore Pavilion, Expo 2020 Dubai
Expo 2020 Dubai Singapore Pavilion
Singapore's Urban Redevelopment Authority appointed WOHA to design the Singapore Pavilion for the 2020 World Expo, Dubai. The Expo officially opens its doors to the public on 1 October 2021 and will run until 31 March 2022. The Singapore Pavilion will welcome visitors into a sustainable oasis in the desert that integrates nature, innovation and architecture and encapsulates Singapore's vision of becoming a City in Nature.
1 Dec 2018
Kampung Admiralty in Singapore – World Building of the Year 2018 :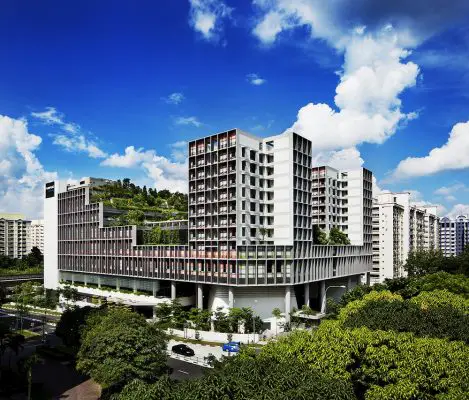 photos : Patrick Bingham-Hall, Darren Soh, Lim Weixiang
30 Nov 2018
WOHA won the 'Mixed Use – Completed Buildings' award, supported by ABB and Busch-Jaegar for Kampung Admiralty in Singapore. The judges were impressed by the way the mixed uses were cleverly layered in a "new and innovative way" and lauded the project for dealing with multiple social and societal issues, including aging populations, wellness and healthcare.
This building is one of the World Architecture Festival Awards 2018 Day Two Winners
30 Jun 2018
Huaku Sky Garden in Taipei Shortlisted at World Architecture Festival 2018 Awards
Huaku Sky Garden, Taipei, Taiwan is one of 536 shortlisted entries across 81 countries:
World Architecture Festival Awards 2018 Shortlist
21 Feb 2018
Garden City | Mega City Exhibition in Austin, Texas, USA
The exhibition highlights sixteen of the architectural studio's built and unbuilt projects which embody their vision of how cities should evolve in the 21 st Century toward a more sustainable future.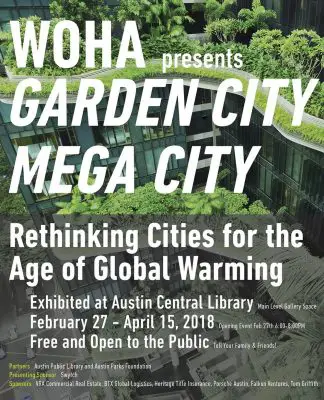 image courtesy of architects
Opening Reception: Tuesday, February 27, 1800 – 2000 hrs
Garden City | Mega City Exhibition
5 Nov 2017
WOHAbeing at the National Design Centre
The design firm launched their new design brand WOHAbeing in September at MAISON&OBJET Paris and are bringing the exhibition back to Singapore.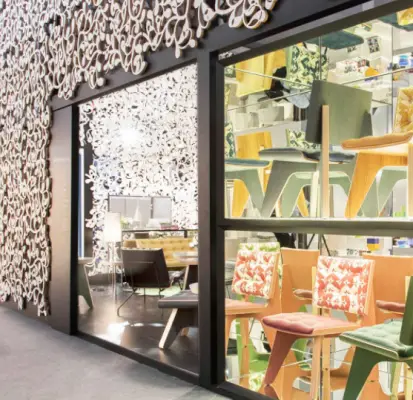 image courtesy of architects
Opening at the
National Design Centre
111 Middle Road
Singapore 188969
on 7 December 2017
The exhibition "Bonjour, WOHAbeing will be on display from 7 December 2017 – 7 January 2018
12 Aug 2017
WOHA at MAISON&OBJET Paris
This Singapore architecture firm will be launching their design brand WOHAbeing at MAISON&OBJET Paris, France.
Their pavilion is located at:
Hall 7 Stand D100/E99
Paris Nord Villepinte
Date: 8th-12th September 2017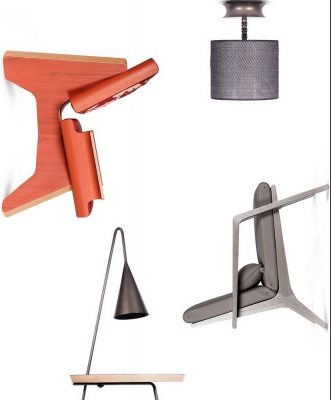 WOHA was named MAISON&OBJET Designer of the Year, Asia.
The award ceremony will take place at 5pm on the 8th of September 2017 in the Hall 7 Conference Area.
11 Oct 2016
WOHA Maison&Objet Asia Designer of the Year 2017
WOHA named 2017 Designer of the Year by Maison&Objet Asia: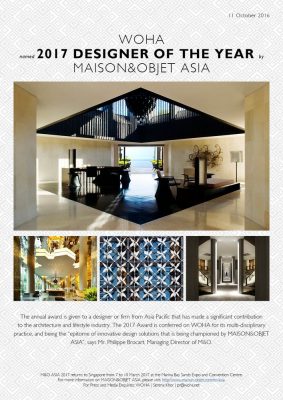 18 Jun 2016
WOHA Architecture News
WOHA AROUND THE WORLD…VENICE, SINGAPORE, NEW YORK
June 17, 2016
'Fragments of an Urban Future,' 270-degree drone footage of three WOHA projects: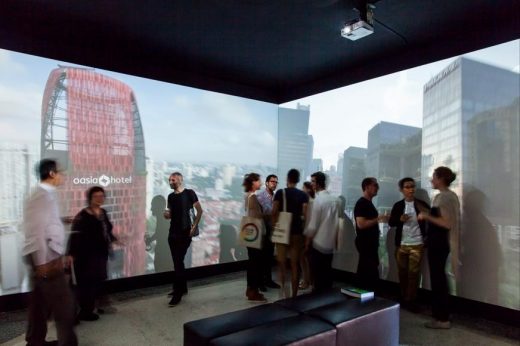 Founders Mun Summ Wong and Richard Hassell, who focus on imagining a built environment for the issues of our time: climate change, density, social norms, and globalization, are being recognized as leading architects for their innovative built works.
WOHA's list of accomplishments includes winning the Aga Khan Award for Architecture, Royal Institute of British Architects' Lubetkin Prize, and most recently being named a finalist for the 2016 RIBA International Prize for the PARKRoyal on Pickering.
Among WOHA's recently completed projects are Skyville @ Dawson, a 960-unit public housing project commissioned by the Housing and Development Board of Singapore as an exploration of the future of affordable housing. WOHA's design address three main themes – community, variety and sustainability.
Most recently, the 27-story hotel Oasia Hotel Downtown opened in Singapore and was reviewed by Curbed in Tower as Trellis: A Plant-Covered High-Rise Reimagines Tropical Buildings.
PROJECT COMPLETIONS
Oasia Hotel Downtown
Singapore, 2011-16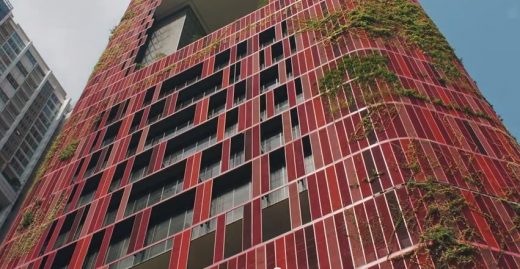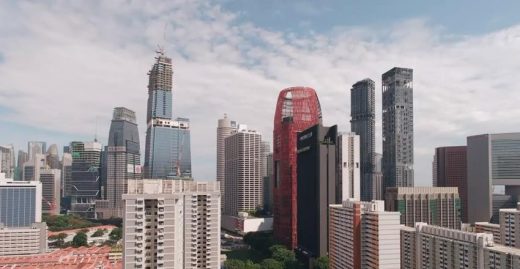 EXHIBITION OPENINGS
GARDEN CITY | MEGA CITY: rethinking cities for the age of global warming
On View at The Skyscraper Museum through September
In March, WOHA opened the first of two major exhibitions in 2016. Located in New York's Battery Park City, "Garden City | Mega City" focuses on the twelve innovative skyscraper designs either built or in design. The New York Times' architecture critic Michael Kimmelmann tweeted "Fascinating show @SkyMuseum on WOHA tropical housing projects in Singapore, w breezeways, sky gardens: green, dense, vertical urbanism."
Dwell covered WOHA as "the architecture firm working to bring nature to the skyscraper." A forthcoming review by the Council on Tall Buildings and Urban Habitat (CTBUH), an international organization focused on planning, design, construction and operation of tall buildings.
Fragments of an Urban Future
On View at the 2016 Venice Architecture Biennale through November
Organized as part of the GAA Foundation's Time Space Existence-themed pavilion for a second time at the Venice Architecture Biennale, WOHA's exhibition captures the real experience of their buildings from multiple points of view. Wallpaper* reports
Designing for humans and nature alike, the standard approach to view buildings in plan, section or from the ground is not always appropriate for 21st century capabilities. WOHA's 270-degree layout of three screens provides visitors with a text and drawing-free immersion into their projects, capturing the indoor-outdoor nature and scale of the works. Interior Design commented that it stands out for "building a brighter future" and ARTINFO recognized it for addressing the six key themes of the Biennale.
BOOK RELEASE
Garden City Mega City: a book with two halves
Author: Patrick Bingham-Hall, Publisher: Pesaro
Released: June 2016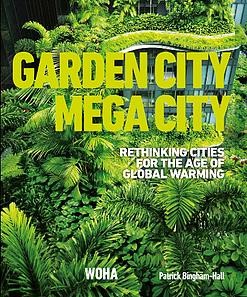 *A limited number of review copies are available*
"One half depicts the mega city problems and when the book is flipped over, the other half provides the garden city solutions.
Packed with photographs, diagrams, and colourful info-graphics, Garden City Mega City presents a compelling case for re-examining and re-planning the mega cities of the 21st century.
Garden City Mega City is a timely and challenging book for anyone concerned by the global consequences of the unsustainable growth of those cities. City planning and architecture are no longer the preserve of specialists, as the biggest decisions must be made by the community at large."
Part One – A Set of Mega City Problems
Garden City Mega City: Deconstruction and Reconstruction
Urban Puberty
A Vicious Cycle: The Bangalore Story
A Virtuous Cycle: A Dhaka Story
Sociable Architecture
Part Two – A Set of Garden City Solutions
Macro-Architecture Micro-Urbanism
Layering Cities
Planting Cities
Breathing Cities
Rating Cities: Ratios by WOHA
Prototypology
Self-Sufficient City
ABOVE THE FOLD
220 Bagley Street, Suite 406
Detroit, MI 48226
GARDEN CITY MEGA CITY: Rethinking Cities for the Age of Global
Warming opens at The Skyscraper Museum on March 23rd, 2016
The exhibition showcases WOHA's architecture for high-density, high-amenity living.
GARDEN CITY MEGA CITY – 21 Mar 2016
Nest House
Design: WOHA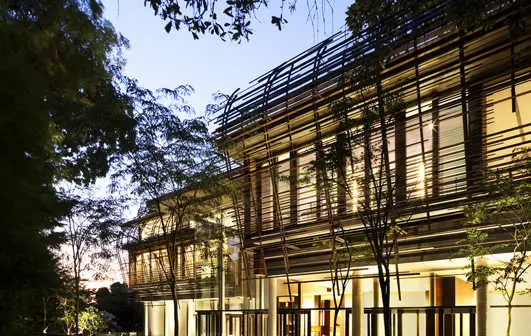 photo : Patrick Bingham-Hall
Nest House Singapore – 25 Jul 2013
Another delightfully sensitive and articulate design from this world-famous Singapore architects studio. This house is part of a family compound, and expresses the owner's close relationship with her grandfather who has his own house within the compound. The design reflects the close bond between the grandfather and granddaughter by orientating the main spaces towards his house and gardens. The living spaces on the ground floor open up to the sprawling gardens, while the elevated private rooms of the owner and her children are sheltered by a gentle curved screen. The shared gardens are akin to a forest with the rooms like bird nests perched amongst the trees.
48 North Canal Road, Singapore



photo : Patrick Bingham-Hall
48 North Canal Road – 11 Jul 2013
The project brief called for a new boutique office and the reconstruction of a pair of heritage-listed shophouses. WOHA was commissioned only after their demolition to reconstruct the shopfront (up to 7.5m depth) in accordance with Singapore's Urban Redevelopment Authority's conservation and planning guidelines, and to design an entirely new, contemporary rear wing.
Parkroyal On Pickering, Singapore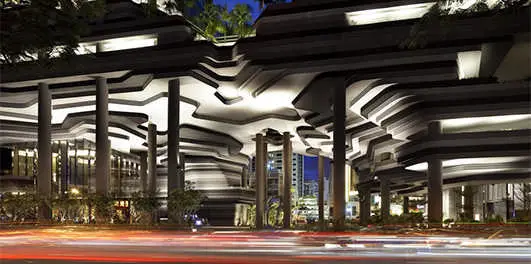 photo : Patrick Bingham-Hall
Parkroyal On Pickering, Singapore – 2 May 2013
Designed as a hotel and office in a garden, the project at Upper Pickering Street is a study of how we can not only conserve our greenery in a built-up high-rise city centre but multiply it in a manner that is architecturally striking, integrated and sustainable.
The Met Tower, Bangkok, Thailand – new info + images
Design: WOHA Architects



photo : Patrick Bingham-Hall
The Met Tower – 1 May 2013
Rather than adopting high-rise models from temperate countries, this 66-storey central Bangkok development adapts aspects of low-rise tropical housing to spaces in the sky. Naturally cross-ventilated, the apartments require no air conditioning.
3 Jul 2012
WOHA Taichung Exhibition
Breathing Architecture, China



image from WOHA
WOHA "Breathing Architecture" exhibition goes to Taichung, Taiwan
Taichung Info-Box, No. 136, Sec. 2, Henan Road, Xitun District, Taichung City 407, Taiwan (ROC).
Share WOHA's excitement as our traveling exhibition goes to Taichung after a successful run at the acclaimed Deutsches Architekturmuseum (DAM) in Frankfurt. Running from 26 Jul – 23 Sep 2012, the exhibition features concepts of open structures which embrace aspects of community and permeability of form in response to climate and nature.
Recent Building Designs by WOHA
Hansar Bangkok, Thailand



photograph © Patrick Bingham-Hall
Hansar Bangkok – 9 Feb 2012
This building by WOHA is located in the heart of Bangkok, surrounded by luxury hotels, shopping areas, and a large city park. The site is small and irregular, with a building plot ratio of 1:10. The design captures the value of the site by maximizing the building area and contributing to the urban environment with its planted facades, sky gardens and sky pavilions.
Space Asia Hub, Singapore



photo from Space Furniture
Space Asia Hub – 15 Dec 2011
Space Asia Hub opens with many first-of-its kind retail concepts – multiplex features flagship galleries of premium design brands from Europe and North America. This is a S$50m multiplex, located in a cluster of three conjoined blocks comprising two unique heritage buildings in Singapore's Arts District at Bencoolen Street.
The Met in Bangkok



photograph © Patrick Bingham-Hall
WOHA Architects : RIBA Lubetkin Prize winner – 2 Oct 2011
The Met, a sixty-six storey residential skyscraper in Bangkok, Thailand by WOHA architects won the prestigious RIBA Lubetkin Prize for the most outstanding work of international architecture outside the EU by a member of the RIBA.
Vertical Park Hotel
2010-



picture from architect
Vertical Park Hotel
Designed as a top tier business hotel and office in a garden, the Vertical Park Hotel at Upper Pickering Street demonstrates how we can not only conserve greenery in a built-up high-rise city centre but multiply it vertically in a manner that is architecturally striking, integrated and sustainable.
iluma, Singapore
2010



photograph : Patrick Bingham-Hall
iluma Singapore
School of the Arts, Singapore
2010



photo : Patrick Bingham-Hall
School of the Arts Singapore
Wolrd Architecture Festival Awards WAF : World's Best Learning Building, 2010
World Architecture Festival Awards
WOHA – Key Projects
Major Developments by WOHA Architects, alphabetical:
Alila Villas Uluwatu, Bali, Indonesia
2008



photo : Tim Griffith
Alila Villas
Moulmein residential tower, Singapore
2007



image from the architect
1 Moulmein Rise : 28 storeys
Newton Suites, Singapore
2007



image: Tim Griffith
Newton Suites
Singapore Stadium MRT Station
2008



photograph : Tim Griffith
Stadium MRT Station
Tan Quee Lan, Singapore
2007
Mixed-use development
More WOHA Architects buildings online soon
Location: Singapore, Southeast Asia
WOHA Singapore Practice Information
WOHA studio based in Singapore
About WOHA
WOHA is a design practice focused on the built environment. WOHA's philosophy is to explore the potential of culture, context, history, nature, climate, sustainability and social behaviour to evolve innovative design.
Formed in 1994 by Singaporean Wong Mun Summ and Australian Richard Hassell, the practice is based on the model of the creative industries, rather than traditional construction services. With a mix of designers from diverse backgrounds, WOHA explores integrated design for the built environment, encompassing masterplanning, architectural, landscape, interior and lighting and furniture design. WOHA has received numerous international awards for excellence in design, and has been featured in international professional publications.
Website: www.wohadesigns.com
Singapore Architecture Designs
Buildings / photos for the WOHA Architects page welcome