Vietnam Architecture News, New South East Asian Buildings Images, Architects, Construction Design Projects
Vietnam Architecture News
Contemporary Vietnamese Architectural + Property Developments – South East Asian Built Environment Updates
post updated 9 February 2022
Vietnam Building News
Vietnam Architecture News
Vietnam Architecture Designs – chronological list
9 April 2022
Kiss Bridge, Phu Quoc
Design: Marco Casamonti / Archea Associati And F&m Engineering Design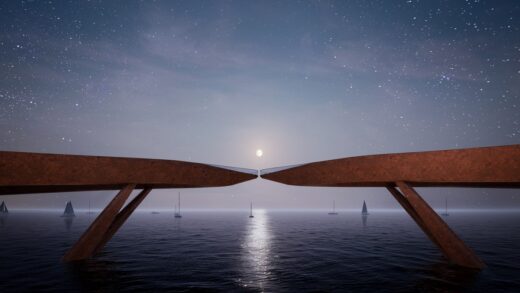 images © Marco Casamonti / Archea Associati
Kiss Bridge Vietnam, Phú Quốc island
A unique infrastructure with a sinusoidal rhythm that, thanks to different levels, allows you to contemplate the landscape from multiple points of view. Kiss Bridge is located on the southwestern coast of the island of Phú Quốc in Vietnam, an iconic and recognizable point for tourism.
24 Mar 2022
Hon Thom Island, Phu Quoc
Architects: 10 Design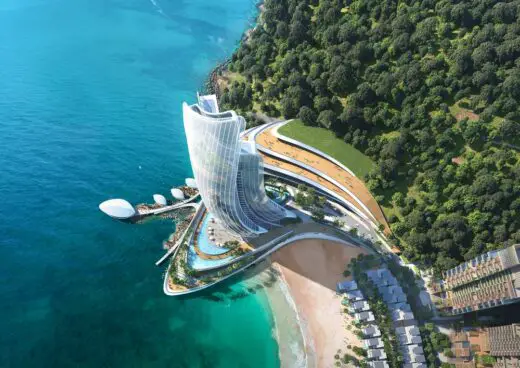 image : 10 Design
Hon Thom Island Resort, Phu Quoc
This is a new prime beachfront hospitality and leisure destination. International architecture practice 10 Design (part of Egis group) has revealed the concept design for Sun Group's Hon Thom Island, an iconic integrated resort and hospitality destination along the vibrant Bai Trao Beach in Phu Quoc, Vietnam.
15 Mar 2022
Piece of Drink Bistro, Ho Chi Minh City
Architects: D1 Architectural Studio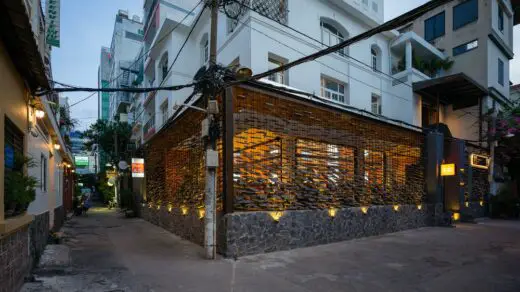 photo : Quangtran
Piece of Drink Cafe Ho Chi Minh City
Believing that art is not something frozen in frames, but an act of living, D1 Architectural Studio created the Piece of Drink Bistro in hope that when coming to this place, guests will be able to apprehend a very simple but delicate aesthetic, and feel a deep connection between the soul and nature. Piece of Drink space is not just bricks, rocks and sands, but rather an unique emotional experience.
2 Mar 2022
Undecided Place, Ho Chi Minh City,
Architects: T4 design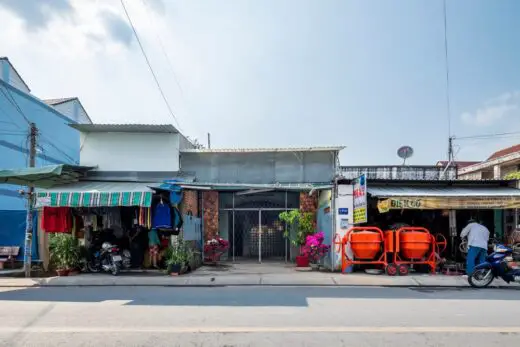 photo : DeconPhotoStudio
Undecided Place, Ho Chi Minh City
The architects wanted to take advantage of the coolness as it is, not scrap and build. They tried to create a unique space that fuses "history and future" by adding new things to the ruined wildness.
1 Mar 2022
The Global City
Architecture: Foster + Partners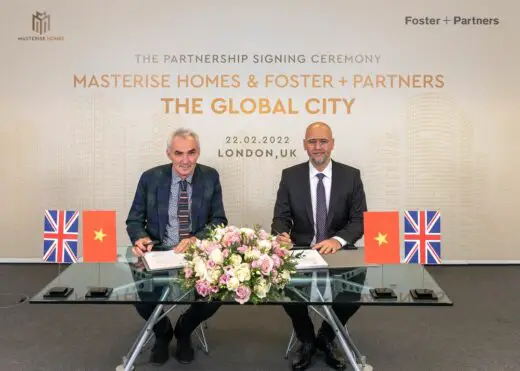 photo © Aaron Hargreaves / Foster + Partners
The Global City, Vietnam masterplan
Masterise Homes – the developer of The Global City announced the appointment of Foster + Partners for the masterplan. The practice will act as Architectural Advisors of the development, providing innovative and sustainable design solutions to create a truly global city in Ho Chi Minh City.
9 Feb 2022
Villa LP, Ba Vi, Ha Noi
Design: Nghia Architect – Architecture and Urban design, Hanoi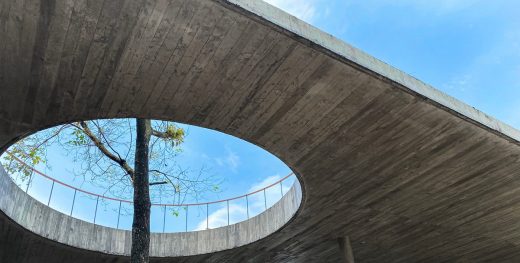 photo : Nguyen Tuan Nghia – Nam Nguyen
Villa LP in Ba Vi: Ha Noi home
Nghia Architect – Architecture and Urban design were set to design a house for a three-generations family with different lifestyles between the family members. While the grandparents are used to the traditional Vietnamese lifestyle, the married couple and their children are familiar with the modern way of living in foreign countries.
8 Nov 2021
FLC City Hotel Beach Quy Nhơn, Quy Nhon
Design: Baumschlager Eberle Architekten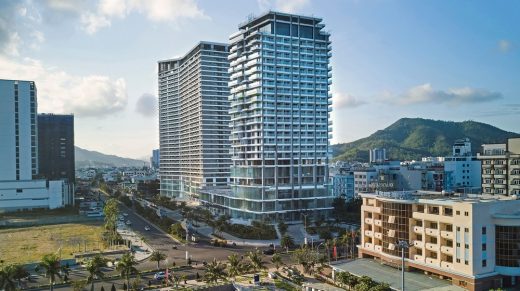 building photos : Mark Farwell
FLC City Hotel Beach, Quy Nhơn
The FLC City Hotel Beach Quy Nhơn has a strategic location, being in the center of Quy Nhon and possessing commanding view towards the beach front. Located on the same street block, the two hotels – Novotel and Seatower – offer a shared shopping center on the first two floors. The ensemble comprises 32,933 sqm of gross floor area.
25 Oct 2021 ; 28 + 27 Jul 2021
Design: D1 Architectural Studio
Hotel Idyllic, 33 Truong Cong Giai Street, Dich Vong Ward, Cau Giay District, Hanoi, Vietnam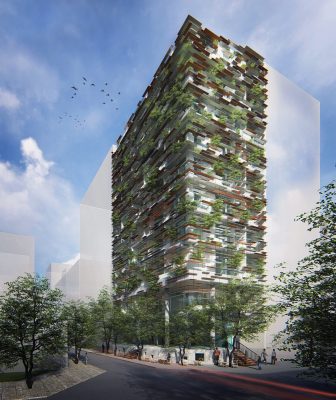 image courtesy of architects practice
Hotel Idyllic Vietnam Building
The Hotel Idyllic in Vietnam was born from the owner's wish to create a boutique hotel that is to be the conjunction of paradoxes: young but cultured, green but not bushy, artsy but not gaudy. From this brief D1 has created a unique design that makes the project stand distinct from the masses, leaving its signature mark on the landscape of the capital.
30 Jun 2021
Thien Thao Building, Tran Quoc Hoan, Dich Vong, Cau Giay district, Hanoi
Architects: PMH Studio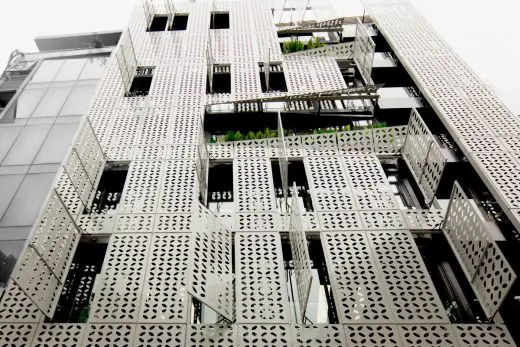 photo : Tuong Huy Studio
Thien Thao Building Hanoi
The building was made by two independent houses, so it has quite long front façade. Along with wide roadway and sidewalks of a new developed area of Hanoi, the building can be approached and seen easily from both sides of the street.
17 Mar 2021
Landmark 55, Starlake Urban Area, Hanoi
Architects: 10 Design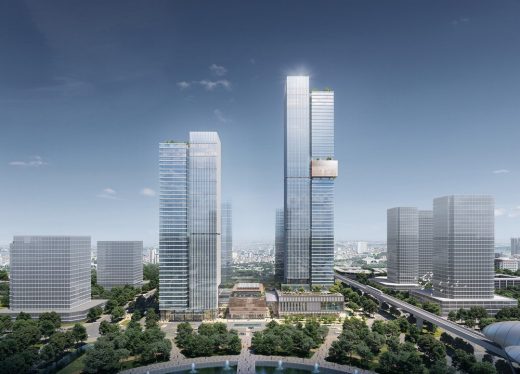 image courtesy of architects office
Taseco Landmark 55
International architecture practice, 10 Design, has won a competition to design Landmark 55 in the emerging Starlake Urban Area of Hanoi, Vietnam. Located in the heart of a prominent district, 10 Design's proposal for this mixed use destination will become a new icon on the skyline of Hanoi.
More Vietnam Architecture News on e-architect soon
Vietnam Architecture News 2019 – 2020
24 Nov 2020
Nocenco Cafe, Vinh
19 Sep 2020
Louvers House in Ho Chi Minh City
25 Aug 2020
SKB House in Quang Nam Province
9 July 2020
Vietnam Ricefield Lodge international architecture competition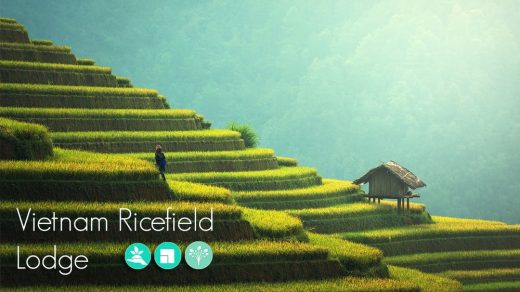 image courtesy of architecture contest organisers
Vietnam Ricefield Lodge Design Competition
The reTHINKING competitions team together with Fran Silvestre arquitectos and Luciano Kruk launch an international competition.
29 Apr 2020
Narra Residences at Empire City, HCMC
Architects: 10 DESIGN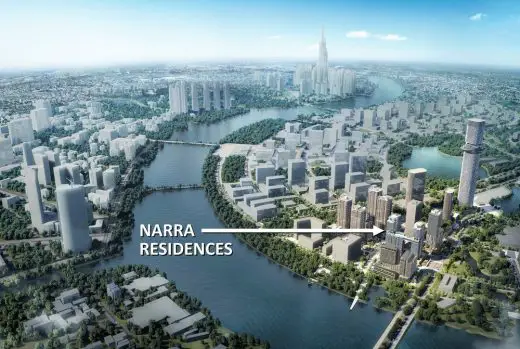 image courtesy of architects office
Narra Residences Empire City, Ho Chi Minh City
Ho Chi Minh City property development wins Asia Pacific Property Awards for the Residential High Rise Architecture category. The 278 unit residential complex will be amongst the most prestigious addresses within the new Empire City in Thu Thiem New Urban Area (District 2).
14 Apr 2020
EcoKid Kindergarten, Vinh, near Hanoi
Architects: LAVA with Module K and Viet Décor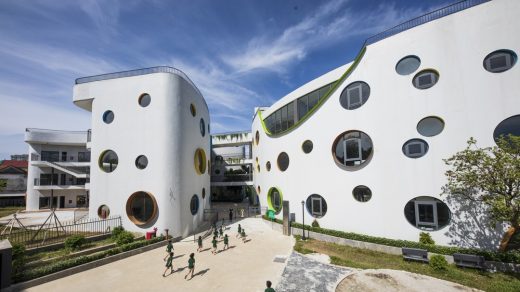 photo : Hiroyuki Oki
EcoKid Kindergarten Vinh, Vietnam
The design of a new eco-kindergarten by LAVA with Module K and Viet Décor features spaces encouraging curiosity, activity-based learning and interaction with nature for the next generation of Vietnamese children.
30 Mar 2020
Pizza 4P's, The Emporium Building, District 11, Ho Chi Minh City
Architecture: Mamoru Maeda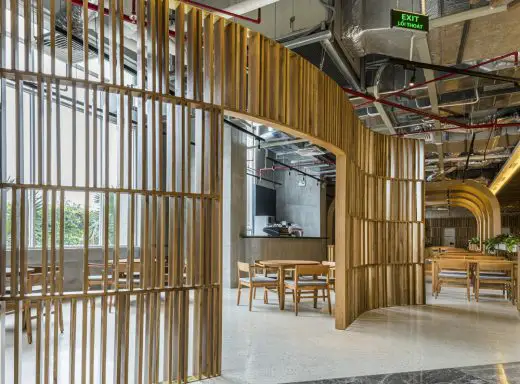 photography : DeconPhotoStudio(大木 宏之 Hiroyuki Oki )
Pizza 4P's Restaurant in Ho Chi Minh City
The material is mainly natural materials such as concrete, wood and terrazzo, and I tried to create an eco-friendly store. In addition, recycled glass is used for the Terrazzo aggregate, and a special board made of compressed waste material is used for the drink counter.
12 Mar 2020
RuTA Vietnam international architecture competition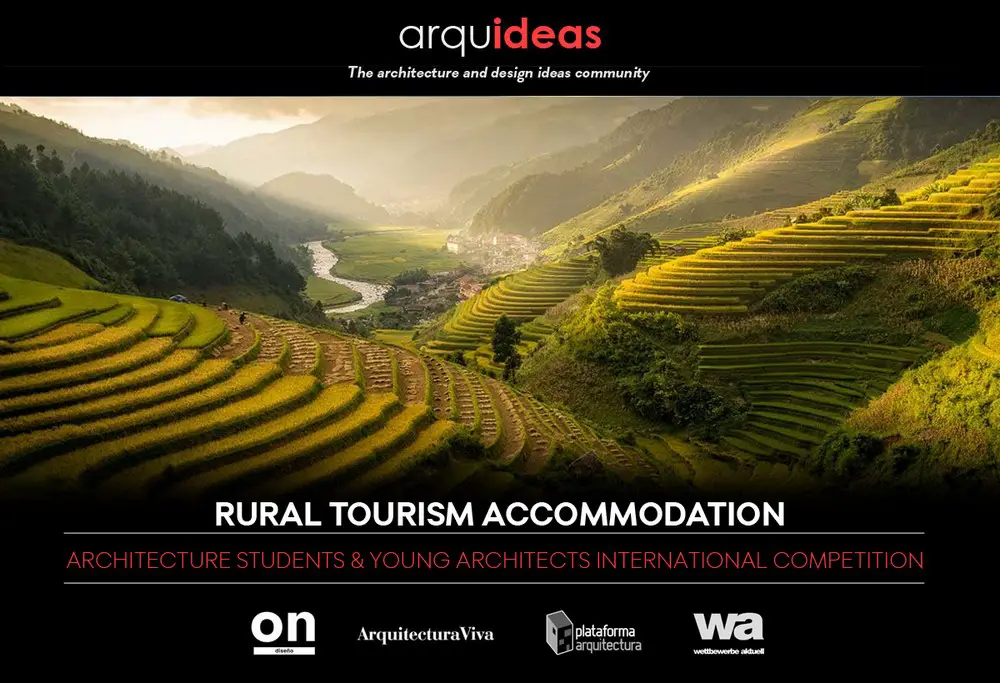 Rural Tourism Accommodation Vietnam Competition
The Jury:
– Huang Wenjing; Founding partner at OPEN Architecture
– Ingrid van der Heijden; Partner architect at Civic Architects
– Adrian Welch; Editor in Chief of e-architect
– Alejandro Beautell; Director at Beautell Arquitectos
– Martín Dulanto; Director at Martín Dulanto Arquitecto
– Juan Verdaguer, Ismael Preti y Carlos Brizuela; HPMP London competition winner team
12 Mar 2020
Japanese Restaurant Robata Dining An, Le Thanh Ton Street, Ho Chi Minh City
Architecture: Mamoru Maeda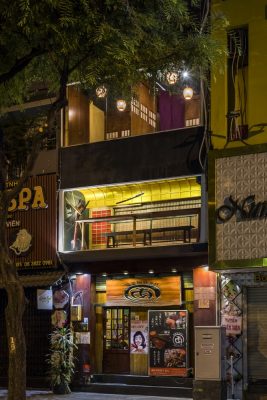 photograph courtesy of mamoru maeda
Robata Dining An in Ho Chi Minh City
Mamoru Maeda has renovated the 3.7 sqm storeroom of Japanese Restaurant Robata Dining An. It has been remodeled into an Instagram-spot on the downtown main street.
2 Aug 2019
Lava Wins Central Park Competition, HCMC
Design: LAVA with partner ASPECT Studio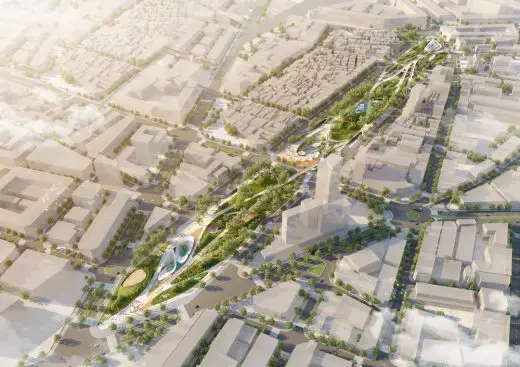 image courtesy of architecture office
Ho Chi Minh City Central Park Competition News
LAVA with partner ASPECT Studio has won the international competition to design the 16 hectare Central Park in Ho Chi Minh City, Vietnam, with construction due to start in 2020.
18 Nov 2018
New Golden Bridge, Ba Na Hills, near Danang, Central Vietnam
Design: TA Landscape Architecture, Ho Chi Minh City
The unusual footbridge structure titled Cau Vang or 'Golden Bridge' is almost 500 feet long. The support system is formed from two giant concrete hands reaching toward the sky.
1 Nov 2018
The Shynh House Centre – Beauty Cosmetic & Spa, HCMC
Design: Module K Architects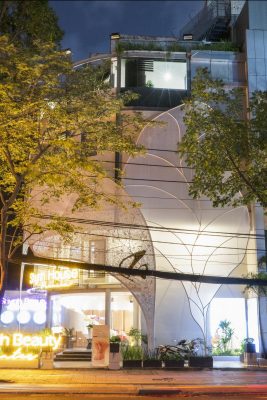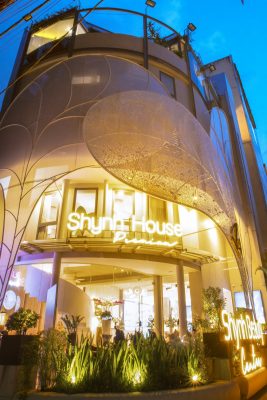 photograph : Do Sy
Butterfly Spa Vietnam
The façade concept, layout, interiors, decoration and branding was designed by Vietnamese interior design company Module K. "The brand identity as well as the look and feel of the building is derived from the idea of transformation, and expressed as stylised butterfly wings. The butterfly becomes the DNA of the building," says Jade Nguyễn Kim Ngọc, design director of Module K.
26 Jul 2018
The Modern Village Office, An Hai Bac Ward, Son Tra District, Da Nang
Design: Ho Khue Architects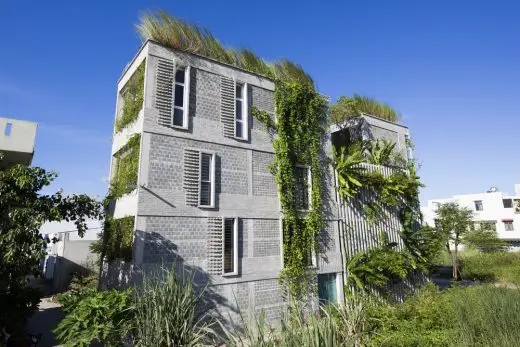 photograph : Hyroyuki Oki
Da Nang Home
This new property is shortlisted at the World Architecture Festival 2018 Awards.
15 Mar 2018
Louvers House, Thao Dien, District 2, Ho Chi Minh City
Architects: MIA Design Studio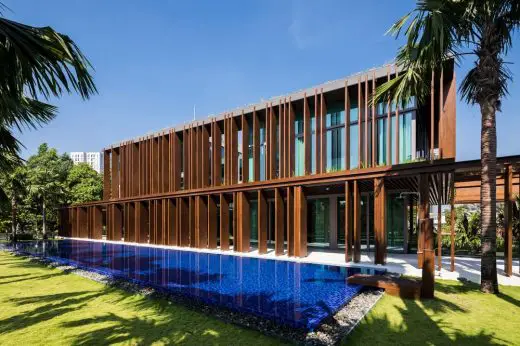 photograph : Hyroyuki Oki
Contemporary House in Ho Chi Minh City
This luxury new property is not only a living shelter but also reflects the client's living style. The client wanted to make a great combination of spaces to keep traditional communication between generations of a traditional Vietnamese family.
21 Feb 2018
Alacarte Halong Bay Condotel Development, Halong
Architects: Aedas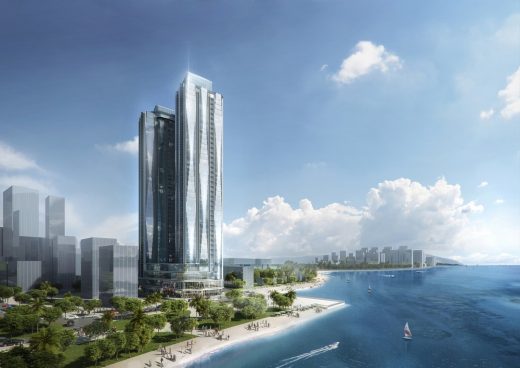 picture from architecture practice
Alacarte Halong Bay Condotel Development
Dotted with limestone pinnacles, the World Heritage seascape of Halong Bay is Vietnam's biggest attraction. Aedas-designed Alacarte Halong Bay Condotel Development occupies a prime seafront plot with large sweeps of unobstructed views towards the heritage site.
LAVA celebrates Lunar New Year with new projects
More contemporary Vietnam Architecture News on here soon
Vietnamese Building Updates 2016 to 2017
19 Dec 2017
Serene House HCMC – an Indochine-Modernist Puzzle, Thao Dien, Ho Chi Minh City
Design: Module K Architects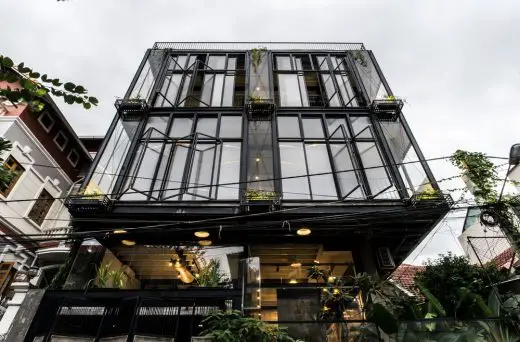 photo : Hiroyuki Okis
Serene House in Ho Chi Minh City
It mixes modern and Indochine, inside and outside, past and future. Its prefab steel structure is (con)temporary, flexible, sustainable and relocatable. And it only took 3 months from concept to completion.
28 Jan 2017
Re-ainbow Community Facilities, Duc Tho, Ha Tinh Province
Design: H&P Architects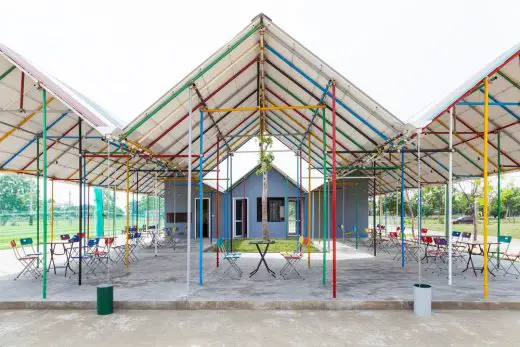 photo : Doan Thanh Ha
Re-ainbow Community Facilities in Duc Tho
Duc Tho district of Ha Tinh province is known as an area prone to natural disasters and climate change consequences. Extreme weather events and shortage of space essential to its community have, in fact, threatened lives and activities of the people in the locality.
25 Jan 2017
Mành Mành Salon, Van Quan urban zone, Ha Dong district, Hanoi
Design: H&P Architects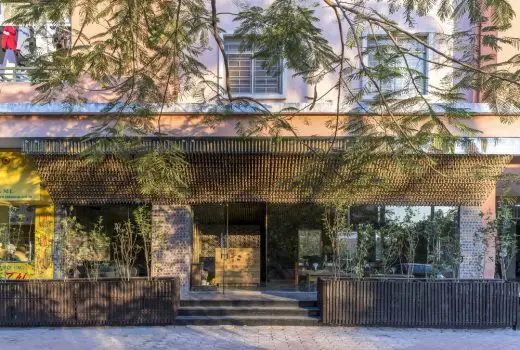 photo : Nguyen TienThanh
Mành Mành Salon in Hanoi
Mành Mành salon is renovated from a deteriorated hair dressing salon in a populous community in Van Quan urban area. The project develops an approach to reuse available materials such as door, glass, table and chair, brick, low-quality wood, to create a fresh and distinctive but friendlier space to the nature.
23 Dec 2016
New House in Phu Nhuan, Ho Chi Minh city, Vietnam
Design: Truong An architecture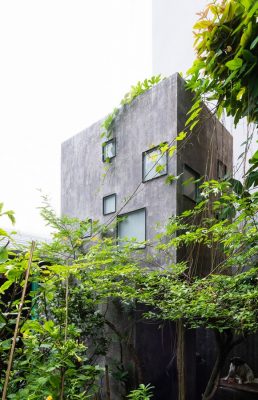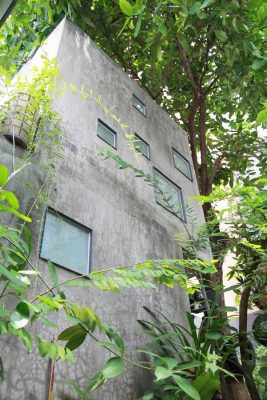 photos : Quang Tran, Gia Hung
AR House in Phu Nhuan
In fact, the well, vegetation, pets – beautiful dog, naughty cat, birds, friendly pig, turtle and specially his creative pictures are regarded as daily closed friends.
11 Dec 2016
The Drawer House, Vung Tau
Architects: MIA DESIGN STUDIO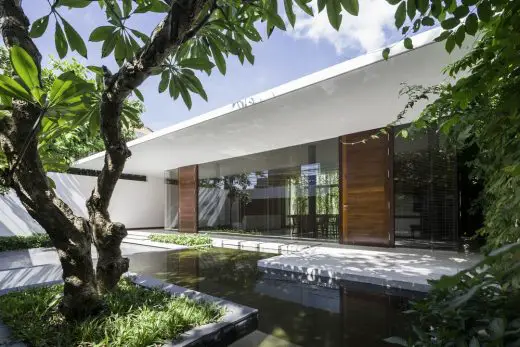 photo : Hirouyki Oki
The Drawer House in Vung Tau
There are reoccurring impressions on the spatial quality – the green of nature struck the eyes every early morning, the rustling of leaves each night. These sensations are brought to the coastal city of Vung Tau through a refreshing concept, a welcoming home for a family of 4 who love the freshness of nature.
4 Nov 2016
German House, HCMC
Architects: gmp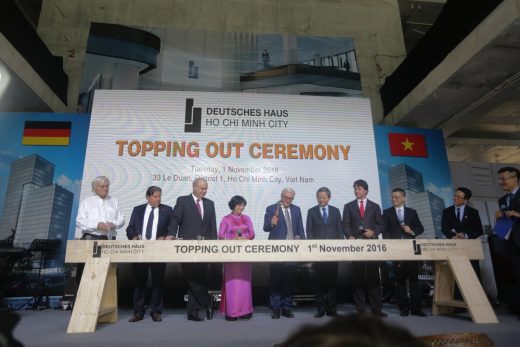 image courtesy of architects
German House Topping-Out in Ho Chi Minh City
The official topping-out ceremony for German House in Ho Chi Minh City in Vietnam took place on 1st November. The high-rise office block reflects its future function of representing the Federal Republic of Germany in Ho Chi Minh City with its succinct architectural pattern language, in which the focus is on transparency and structure.
page updated 30 Oct 2016 with new images ; 22 Apr 2015
New Vietnamese National Assembly Building, Hanoi
Design: gmp – von Gerkan, Marg and Partners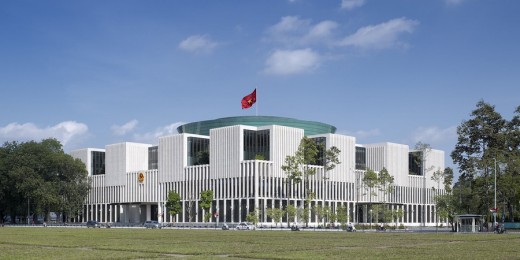 image courtesy of architects practice
Vietnamese National Assembly in Hanoi
"What is Vietnamese building culture?" This question is asked in a country the architecture of which was for many years defined by the former colonial powers, France and Japan, and by the separation of the country into North and South Vietnam with the two capitals, Hanoi and Saigon.
More Vietnam Architectural News online soon
Location: Vietnam, South East Asia
South East Asia Building Designs
South East Asian Architectural Projects
Vietnamese Buildings
Recent Architecture in Vietnam – architectural selection below:
The Chapel Vietnam, Ho Chi Minh City
Oceanique Villas, Vietnam Holiday Houses
International School in Ho Chi Minh City
National Exhibition and Trade Fair Center
Comments / photos for the Vietnam Building News page welcome