Vancouver Homes, British Columbia Residences, Canadian Real Estate Photos, New Building Designs
Vancouver Houses, British Columbia
New Houses in BC – Contemporary South West Canada Properties
post updated 22 October 2022
Vancouver Residences: Real Estate
New Vancouver Houses – latest British Columbia home additions to this page, arranged chronologically:
Vancouver Architecture Designs – chronological list
Vancouver Architecture Walking Tours, BC, Canada city walks by e-architect
21 Sep 2022
Nanton Residence
Architects: Bla Design Group and Campos Studio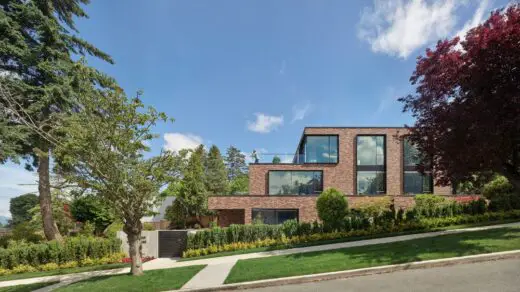 photo : Andrew Latreille
Nanton Residence
BLA Design Group and Wiedemann Architectural create modern brick house which integrates into a long sloping site, and features sweeping views westward over Vancouver. This contemporary BC residence is a modern brick home located in Vancouver, Canada. Designed for a large multi-generational family, this residence makes a bold statement from its position on a highly visible corner lot next to Vancouver's Arbutus Greenway.
16 Sep 2022
Collingwood House
Architects: Bla Design Group and Campos Studio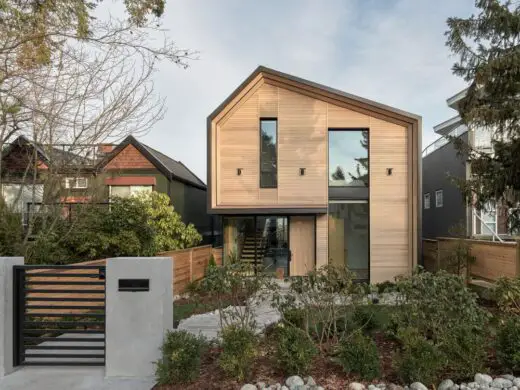 photo : Andrew Latreille
Collingwood House
This British Columbia home is a unique local collaboration between an established practice and an emerging studio to create a living accommodation that is responsive and personal. It is a successful example of small-scale residential architecture which utilizes its immediate context and the local climate to generate a sensitive contemporary house.
2 July 2022
Mountain House
Design: Milad Eshtiyaghi Studio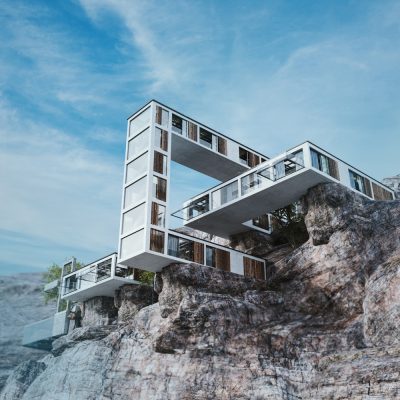 image courtesy of architects practice
Mountain House, Vancouver Concept Home
The idea of the Mountain House design started from the base that was already there – on the site of the four old trees. Milad Eshtiyaghi Studio wanted to build the project without cutting or moving the trees, so they built the design around them and in the space between they made a backyard in front of the trees.
23 Jun 2022
Dunbar Residence
Architects: JHA™ Architecture + Interior Architectural Design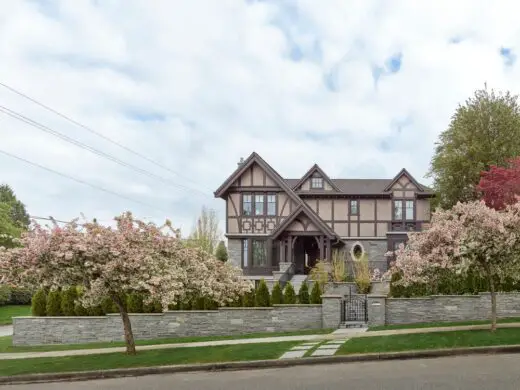 photo : Andrew Latreille
Dunbar Residence
The architecture of the Dunbar Residence pays homage to estate homes seen in the Vancouver historical Shaughnessy area. The dark coloured trims, brackets and oversized wood windows contrast the warms toned stucco and locally sourced granite.
31 May 2022
Starship House, 6028 Eagleridge Drive, West Vancouver
Design: Arthur Erickson Architect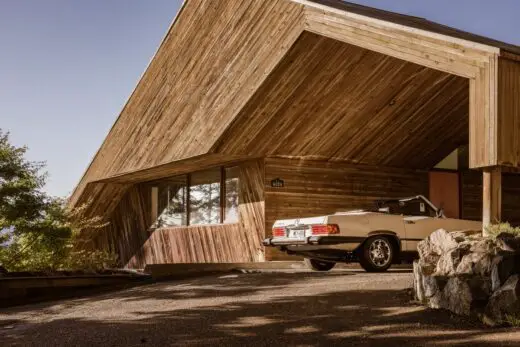 photo courtesy of West Coast Modern
Starship House in West Vancouver by Arthur Erickson
At $4.3 million, this is one of the most significant architectural sales in Western Canada. The buyers of this bold Modern BC property will preserve the home and restore it to its former glory.
More contemporary Vancouver Houses on e-architect soon
Vancouver Houses in 2020 – 2021
29 Sep 2021
546 West 13th Avenue
Design: GBL Architects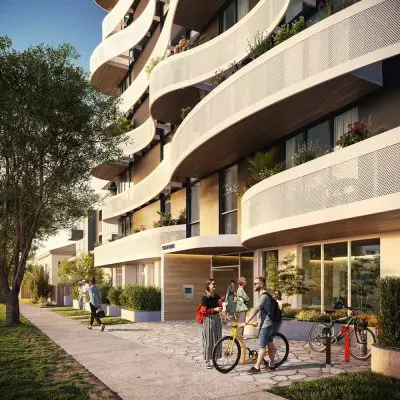 image : GBL Architects
546 West 13th Avenue Apartments
GBL Architects has received unanimous approval from the City of Vancouver Council for their new housing development for the international non-profit organization and global volunteer organization Soroptimist International of Vancouver. The housing project at 546 West 13th Avenue in Vancouver, British Columbia, is the first development project in Canada developed, designed, and delivered by an entirely female team, demonstrating women's leadership in a male-dominated sector.
18 Jan 2020
Prince Albert House in East Vancouver
Architect: Randy Bens Architect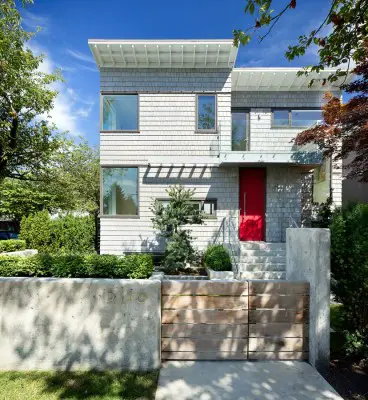 photography : Ema Peter and Ian Lanterman
Prince Albert House in East Vancouver, BC
This residential project is located on the east side of Vancouver, BC.
More modern Vancouver Houses online here at e-architect soon
Vancouver Houses in 2019
15 Aug 2019
Balsam Modern House, West Vancouver, BC
Design: John Henshaw Architect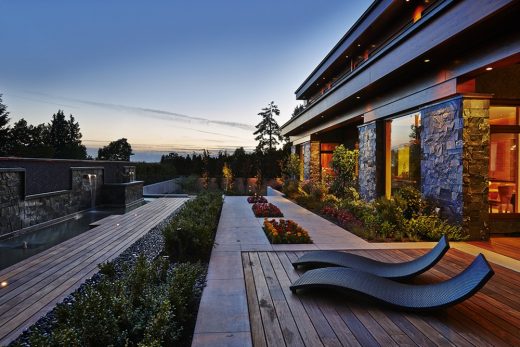 photographer : Erich Saide
Balsam Modern House in West Vancouver
This BC property was inspired by linear architecture: nearby Fraser River and its park like surrounding. The home's interiors continued the architectural scheme of long, linear glulam beams with extensive use of North American black walnut and natural stone.
29 Jul 2019
Deep Cove House, North Vancouver, BC
Design: D'Arcy Jones Architects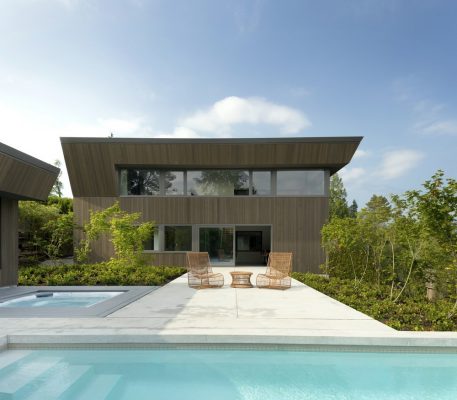 photograph : Ema Peter
Deep Cove House in North Vancouver
A crisply-detailed house for a family is part look-out tower, part courtyard, and part landform. The front of the house wears a simple mask, to set a quiet and private tone even though the project is located near a bustling neighbourhood intersection and commercial area.
24 Jul 2019
Strathcona Village
7 Jan 2019
The Edge House
Design: Vallely Architecture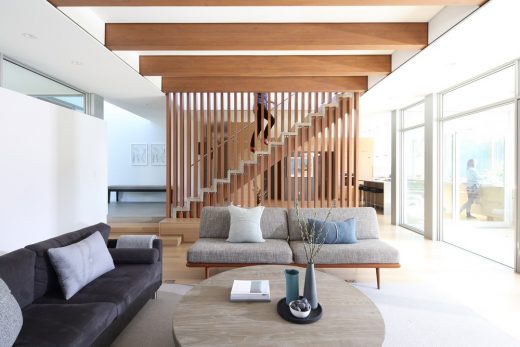 photographer : Ema Peter
House on North Shore Mountains
Situated on the south facing slopes of Vancouver's North Shore mountains, the Edge House pays homage to the tenets of modern architecture while incorporating distinctly regional elements of exposed wood and timber to create a clean, contemporary West Coast esthetic.
Vancouver Houses in 2018
14 Dec 2018
Aperture Apartments, 5688 Willow Street
Design: Arno Matis Architecture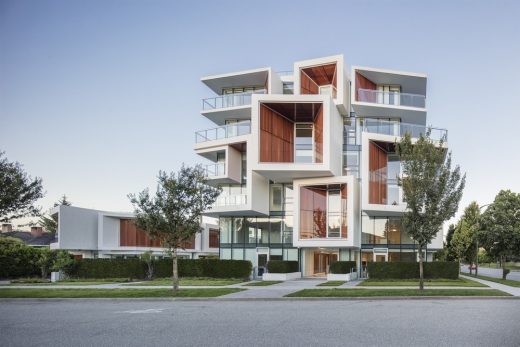 photography : Michael Elkan Photography
Aperture Apartments
Façade openings are programmed to provide passive shading, and act like an Aperture: opening and closing in response to the unique solar exposure of each façade. Apertures are deeper on the south elevation to provide increased sun shading, and more shallow and open to the North, to allow for additional light.
15 Aug 2018
Saint George House
Design: Falken Reynolds Interiors and Randy Bens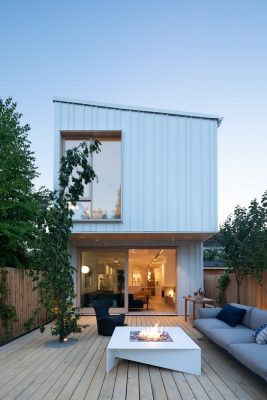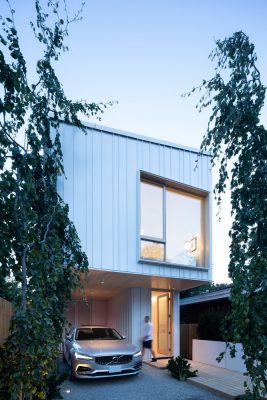 photograph : Ema Peter
Saint George House
Can a home feel spacious through innovative design? Vancouver Interior Design firm Falken Reynolds Interiors opens the doors to their latest modern-home interior design project, the Saint George House, which highlights innovative design strategies to create space and serenity.
31 Jul 2018
Coal Harbour Apartment
Design: Haeccity Studio Architecture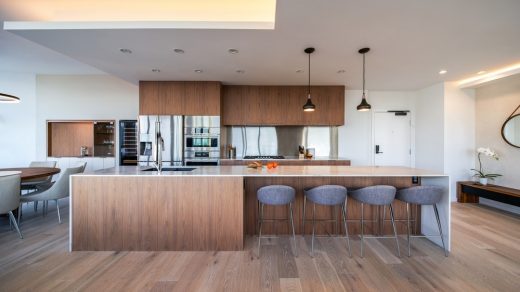 photograph : Andrew Latreille
Coal Harbour Apartment
This spacious apartment in downtown Vancouver's picturesque Coal Harbour was customized to serve as a multi-generational gathering space.
18 Jun 2018
Mingo Residence, West Vancouver, BC
Design: Architecture Building Culture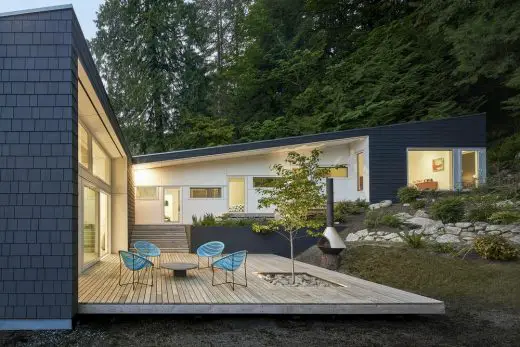 photo : Andrew Latreille
Mingo Residence in West Vancouver
This British Columbia residential project takes its cue from the landscape. It is a single story house that climbs the sloping property in four large steps. Living is at street level and each bedroom is on its own terrace with the master bedroom at the top.
28 May 2018
Sunset House
Architects: McLeod Bovell Modern Houses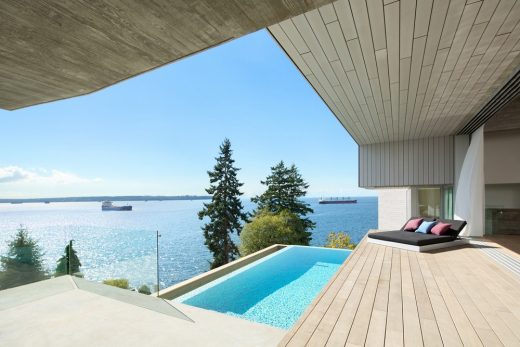 photos : Martin Tessler and Ema Peter
New House in West Vancouver
Located on a steep and technically challenging site in West Vancouver, the Sunset House is designed to capture immediate views of heavy marine traffic and the open sea to the west.
24 May 2018
G'day House
Architects: McLeod Bovell Modern Houses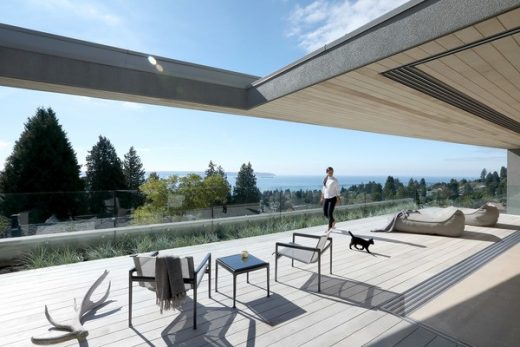 photograph © Ema Peter
Contemporary Vancouver Residence
This British Columbia property resuloted from a commission for an Australian ex-patriate family, who requested a home that would support a relaxed attitude toward daily life and would help them re-connect with a warm-weather lifestyle.
23 May 2018
Esquimalt House
Architects: McLeod Bovell Modern Houses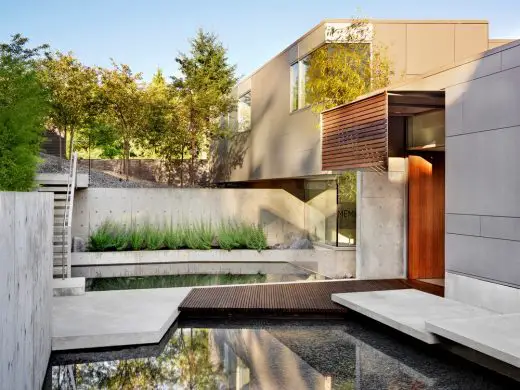 photograph © Martin Tessler
Esquimalt House
This new British Columbia house is situated on an steep and unusually wide property with significant views of downtown Vancouver, the Lion's Gate Bridge and Burrard Inlet.
16 May 2018
Gulf Islands Residence
Architects: RUFproject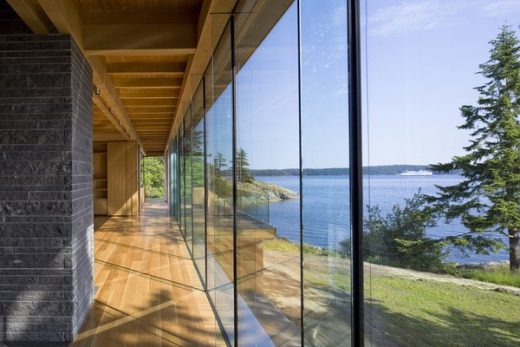 photograph : Ivan Hunter
Gulf Islands Residence
The design of this Gulf Islands' private residence responds to the Client's brief for the creation of a 'modern log cabin' on a precious piece of ocean-front property.
Vancouver Houses Archive
Vancouver Houses up to and including 2016
3 Dec 2016
Backcountry Hut, British Columbia
Architect: Leckie Studio Architecture + Design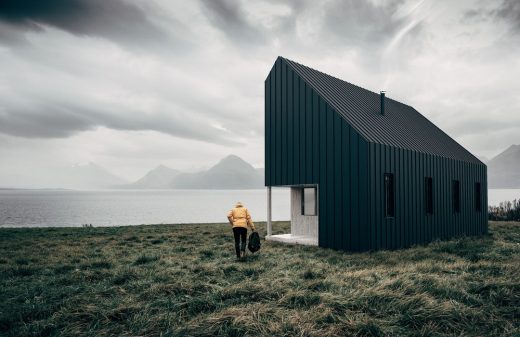 image Courtesy architecture office
Backcountry Hut in Vancouver
The Backcountry Hut Company has been honoured with a 2016 Canadian Architect Award of Merit. "For over 40 years, Canadian Architect has sponsored an annual national awards program, the only national awards that recognize projects in the design stage.
30 Sep 2016
Cadence, Lantzville, Vancouver Island, BC
Design: Keith Baker Design Inc.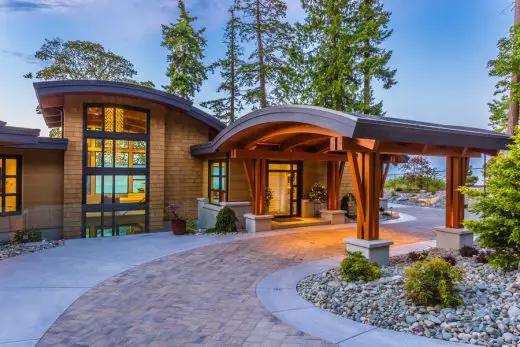 photograph : Mia Dominguez, Artez Photography, Nanaimo, BC
New Residence on Vancouver Island
This property was designed as a series of pavilions, nestled along the sunny shoreline of Lantzville on Vancouver Island, British Columbia. This stunning home was an award-winner even while it was on the 'drawing board'.
14 Oct 2015
St James House, West Vancouver
Architect: Randy Bens Architect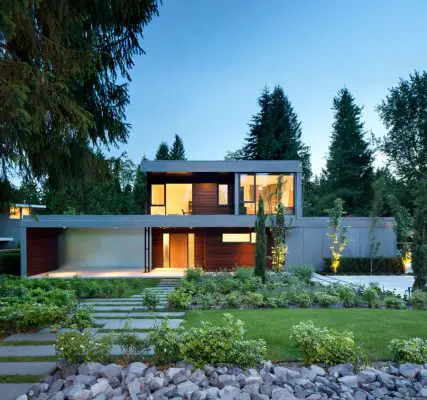 photograph : Ema Peter
St Georges House in West Vancouver
The home's H-shape creates a great variety of exterior spaces (moss garden to the north, and paved surfaces and reflecting pool to the south). The upper floor aligns with the center of the H, and cantilevers over both ends of the lower floor.
14 Aug 2014
Mathers Residence, 3255 Mathers Avenue, West Vancouver, BC, Canada
Design: Eurohouse Construction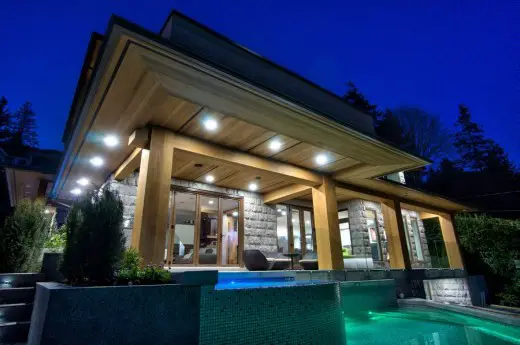 image from architects
Mathers Residence
This spectacular residence is a vivid example of the West Coast style brought to its excellence. Beautiful natural granite envelopes the house exterior together with colossal cedar elements, integrates completely with the natural rock and secular cedar trees around the house.
1 Feb 2015
Groveland House
Design: Mcleod Bovell Modern Houses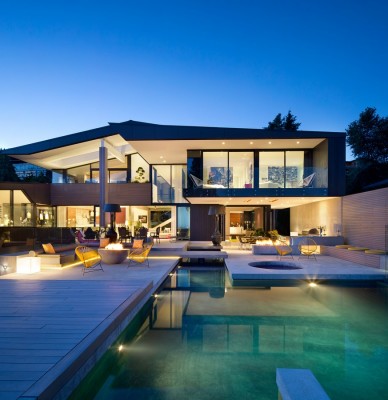 photo : Ema Peter
Groveland House
A gentle three-story sloping site offers significant connections to grade on all levels of this contemporary British Columbia residence: a putting green on the upper floor, pool and entertainment on the middle level and more intimate views to natural bedrock all the lower level.
9 Dec 2014
430 House
Design: D'Arcy Jones Architecture Inc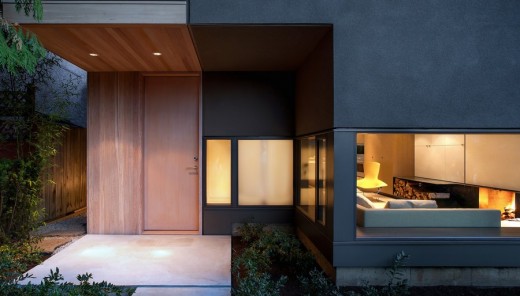 photograph : Sama Jim Canzian
430 House
The renovation of a 1981 Vancouver Special on a 33 foot wide lot retained the entire foundation and structure of the house. The interior layout was flipped, moving the kitchen, dining and living areas from the upper floor down to the main floor, so the most important interior spaces could be at grade.
7 Jun 2014
Choklit Vancouver, The Fairview
Architect: Arthur Erickson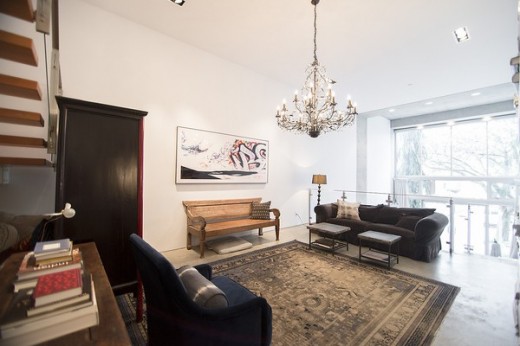 photograph : Kate- Video Open House
Vancouver Town House
Young Canadian architect Arthur Erickson had an office in The Fairview neighbourhood of Vancouver British Columbia. The building also housed Purdy's Chocolates. Many years later when he had the opportunity to design a triplex in the same area he called it "Choklit".
9 Aug 2010
House 23, Surrey, BC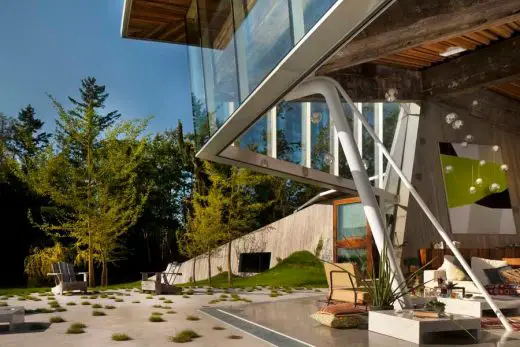 photo courtesy of architects office
House in Vancouver
23.2 is a 500 square metre house for a family built on a large rural acreage. There is a gentle slope from east to west and two masses of old growth forest defining two "outdoor rooms" each with a its own distinct ecology and conditions of light; the house is situated at the point of maximum tension in between these two environments, and as such acts at once to define the two as distinct, and also to offer a focused transition between them.
More Vancouver Houses online soon
Location: Vancouver Canada, British Columbia, western Canada
British Columbia Architecture
New Buildings in South West Canada
Linear House, Salt Spring Island
Patkau Architects



photograph : James Dow
British Columbia House
Montreal Buildings – key buildings + designs
Canadian Buildings – no images
Comments / photos for the Vancouver Homes page welcome