Tokyo Architecture News 2023, Japanese Building Construction Design, Architect, Japan Property Updates
Tokyo Architecture News: Buildings
Contemporary Japanese Architectural Developments: New Built Environment Updates
post updated 9 May 2023
Tokyo Building News – latest additions to this page, arranged chronologically:
Tokyo Architecture Designs – chronological list
Tokyo Architectural News
2 Feb 2023
Tokyo *KIBA, Ikegami, Ota-ku
Architecture: SAKAE Architects & Engineers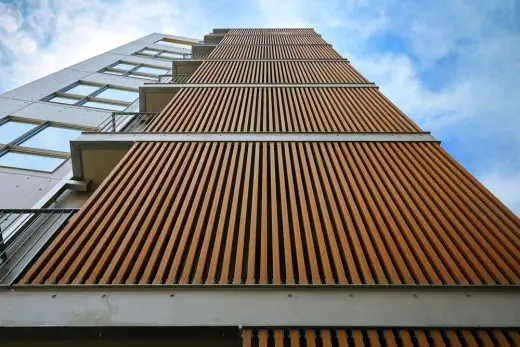 photos by Koji Fujii / Yuichi Higurashi
KIBA Tokyo Residence
More contemporary Tokyo Architecture News on e-architect soon
Tokyo Architecture News 2022, Summer to Winter
19 Dec 2022
TRUNK, Tomigaya – new hotel in Yoyogi Park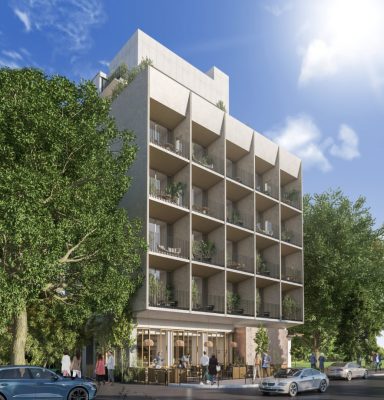 image courtesy of architects practice
Built on a philosophy that values fostering relationships with society, TRUNK offers guests an immersive experience of the most vibrant neighbourhoods in Tokyo. Now the group is set to open its doors to a third location in Tokyo, Japan, in Autumn 2023, just five years after the launch of its first property, TRUNK(HOTEL), in Shibuya.
Located in the trendy and sophisticated neighbourhood of Tomigaya, known for its relaxed and calm atmosphere TRUNK(HOTEL) YOYOGI PARK will be conveniently situated to offer visitors a localised experience of Tomigaya's array of coffee shops, eccentric fashion stores, and traditional tofu shops. Just walking distance from the heart of the Shibuya district, visitors will also be able to easily explore one of Tokyo's most engaging areas, packed with shopping, dining, and sight-seeing.
YOYOGI PARK will feature a relaxed 'Japandi' aesthetic, and showcase unique and bespoke designs by local emerging creators. Fit with a rooftop pool and bar, guests will have the option to dine at the hotel restaurant or simply unwind poolside whilst enjoying 360-views of Yoyogi Park – one of Tokyo's largest city parks, featuring vast greenery, ponds, forested areas, and blossom trees.
TRUNK(HOTEL) is known for its 'live, play and work' environment where the art-filled guest rooms and suites blend in seamlessly with public spaces, dining concepts and a signature retail store. The second property, TRUNK(HOUSE) showcases a private and bespoke hospitality experience – a one-bedroom hotel providing private butler and chef service, bespoke amenities and a generous open plan living area. Now, TRUNK(HOTEL) YOYOGI PARK is set to offer a relaxing yet exciting destination for travellers and locals alike.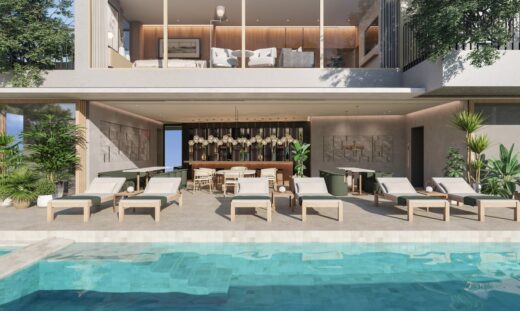 image courtesy of architects practice
Location: Tomigaya, Shibuya-ku; Tokyo
Rooms: 25-30
Facilities: Rooftop pool and lounge, all-day dining
Estimated room price: 48,000 JPY – 200,000 JPY
TRUNK is a new generation of design hotels that are bucking the atypical business and luxury hotel concept in Tokyo/Japan, which surprisingly lacks cutting-edge boutique design hotels. The TRUNK philosophy is all about making sure guests are able to immerse themselves in the most vibrant neighbourhoods in Tokyo and socialise to the fullest.
TRUNK(HOTEL) is the first property, which opened in 2017. Its design is by the acclaimed Mount Fuji Architects and the guest rooms and lounge are by Jamo Associates, with a modern living design pervasive throughout the hotel. The property is located in the trendy Harajuku/Jingumae district in Tokyo and is the first property by TRUNK Co., Ltd., with plans for additional hotels to come soon. Harajuku/Jingumae (within the Shibuya area) has a long history of nurturing diverse cultures, serving as a launching pad for Japanese innovation, thus making it the ideal first location for TRUNK.
Housed in a four-story structure and one basement floor, TRUNK(HOTEL) features a holistic "live, play and work" environment where the art-filled guest rooms and suites blend in seamlessly with public spaces, dining concepts and a signature retail store. The hotel building also features specially made in Japan products including bath amenities, and other items which can be purchased at TRUNK(STORE) on the ground floor.
TRUNK(HOUSE) is the second launch for the brand, TRUNK aims to open 26 new hotels by 2030, with three new hotels already confirmed, including TRUNK(HOTEL) YOYOGI PARK in Tomigaya, Tokyo, scheduled to open in 2023.
Espace House, Shinagawa Ward
Espace House, Shinagawa Ward
13 Oct 2022
Ideareve Ikegami Music Hall, Ota-ku
Architects: Ryuichi Sasaki Architecture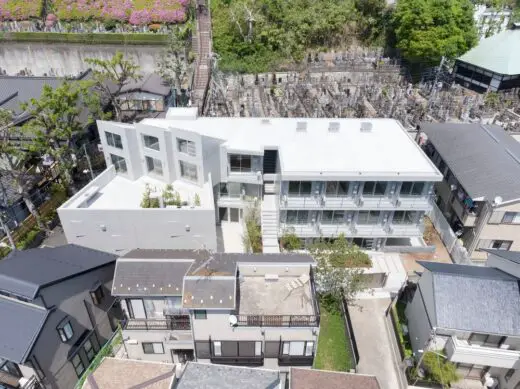 photo : Takumi Ota Photography
Ideareve Ikegami Music Hall
Ryuichi Sasaki Architecture, an award-winning, internationally acclaimed architectural design firm specializing in cultural experiences, is proud to unveil the Ideareve-Ikegami. Completed in 2021 in collaboration with Takayuki Yagi and Yagi Komuten, for the client Yasunori Kamata / K-M-T, the reinforced concrete structure was designed to accommodate a music hall, practice rooms, soundproofed residential rental units, and a penthouse.
5 Oct 2022
Tamagawa Takashimaya Grand Patio, Tamagawa, Setagaya-ku
Design: Yuko Nagayama and Associates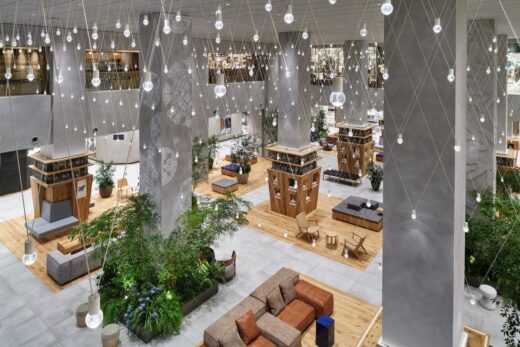 photo : Daici Ano
Tamagawa Takashimaya Grand Patio
Guided by a design concept of "Library & Art," this renovation of a commercial building with a fifty-year history provides a place for community members to rest and relax. The Yuko Nagayama and Associates design transforms the spacious atrium into an intimate enclave that resembles a park in some places and a private library in others, offering opportunities for visitors to encounter books and art.
More Tokyo Architecture News online here soon
Tokyo Architecture News 2022, Winter to Spring
11 May 2022
Sakuragicho Residence, Yokohama, Kanagawa Prefecture
Design: Akira Koyama + Key Operation Inc. / Architects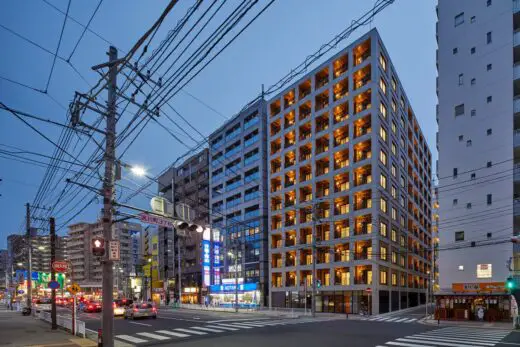 photo : Noriyuki Yano
Sakuragicho Residence, Yokohama Apartments
Apartment blocks sprang up across Japan after World War II, and by 2019, there were over 6.6 million units nationwide. Large buildings with over a hundred units, such as this one, significantly impact the appearance of the urban landscape.
26 Apr 2022
Irumando, Kodenmacho neighborhood, central Tokyo
Design: Senbunnoichi Inc.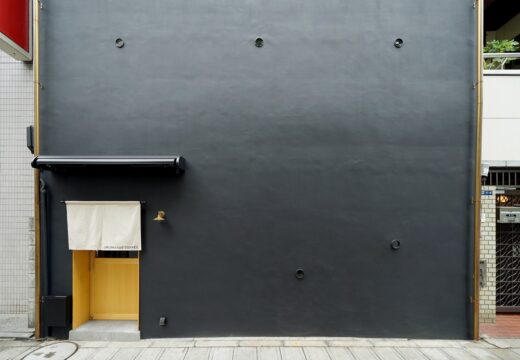 photo : Miho Urushido
Irumando Coffee in Kodenmacho
The Kodenmacho neighborhood of central Tokyo was for over half a century home to a beloved camera store called Irumando. The task for Senbunnoichi Inc. was to convert the camera shop into a modern-day coffeehouse while preserving its history and name.
4 Apr 2022
Tokyo Cross Park Vision, Uchisaiwaicho 1-Chome District
Master design and placemaking strategy: PLP Architecture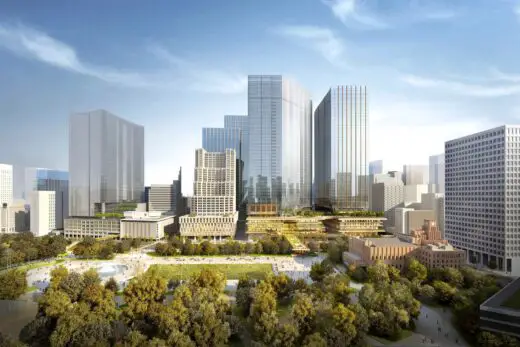 image courtesy of architects practice
Tokyo Cross Park Vision
PLP are the master designer and placemaking strategist for the entire development, as well as the architect for two of the four mixed-use towers on the 6.5-hectare site. The design is for a multi-stakeholder partnership, comprising of ten of Japan's most prominent companies.
22 Mar 2022
Timeless House, Bunkyo ward, Tokyo, Japan
Design: APOLLO Architects & Associates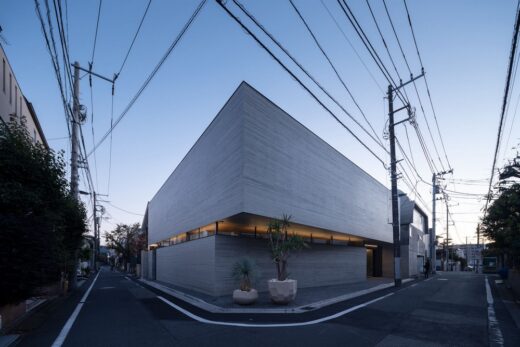 photo : Masao Nishikawa
Timeless House, Central Tokyo
The Timeless house in a quiet residential neighborhood of central Tokyo was built for a couple who had long lived on the property but wanted to rebuild as they entered a new phase of life after their three children left home. The simple exterior design comprised of two massive volumes piled on top of each other takes advantage of the corner lot.
14 Jan 2022
Ibis Sendagaya, Shibuya City
5 Jan 2022
Fragrance with Lotus Flowers Installation
More Tokyo Architecture News on e-architect soon
Japanese Capital City Building Updates 2021
16 Nov 2021
Higashitateishi Nursery School, K3 Chome-14-12 Higashitateishi, Katsushika City
Design: Aisaka Architects' Atelier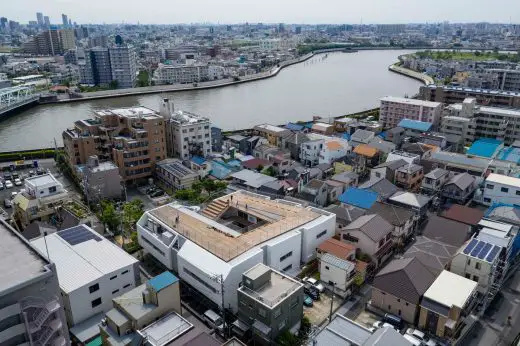 photo : Shigeo Ogawa
Higashitateishi Nursery School, Katsushika
The Higashitateishi Nursery School is located in a dense urban neighborhood in Tokyo's Katsushika ward. A run-down public nursery school was being rebuilt and transferred to private ownership, and a competition was held to select an architect. Aisaka Architects' Atelier submitted a proposal in collaboration with a company applying to take over management.
2 Nov 2021
Escenario Shirokan, Shirokane, Minato
Design: Ryuichi Sasaki/Sasaki Architecture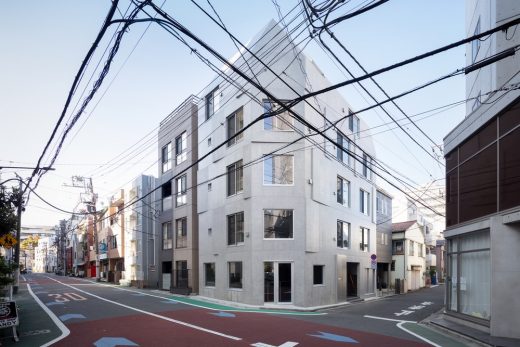 photo : Takumi Ota Photography
Escenario Shirokan, Shirokane
The Escenario Shirokan project has a triple role of residential, retail, and office spaces within the building complex. Located in Shirokane, Minato ward in Tokyo, it may be found at a corner of a four-way intersection on Gonohashidori — a street that extends to the south of Furukawa River.
13 Oct 2021
The Matter of Facts, National Art Center, 7-22-2 Roppongi, Minato-ku
Design: PAN- PROJECTS, London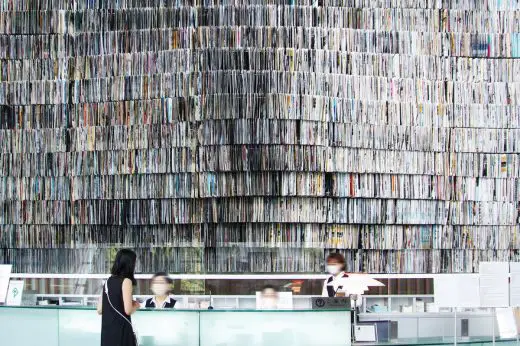 photo courtesy of architects office
The Matter of Facts Tokyo Installation
PAN- PROJECTS is a London-based architectural design practice comprised of Yuriko Yagi and Kazumasa Taka-da. Yagi and Takada develop projects by focusing on the unique culture and history of a given place, and by placing value on the intricately entangled elements they find in these places, they attempt to create harmony.
11 Oct 2021
Square Series #011 Apartment Project
18 Apr 2021
The Playhouse, Aoyama
The Playhouse, Aoyama Tokyo Fashion Store
3 Feb 2021
Burnside Culinary Space
Burnside Culinary Space
More contemporary Tokyo Architecture News online here soon
Tokyo Architecture News 2020
21 Oct 2020
Mado Terrace, Tokyo Apartment Building
Mado Terrace, Tokyo Apartment Building
20 Oct 2020
Rayon Du Soleil, Apartment Building
Rayon Du Soleil
6 Oct 2020
Metsä Pavilion opens in Tokyo – a showcase of elegant design and fast offsite construction with wooden elements
The elegant Metsä Pavilion highlights innovative architecture based on industrially manufactured wooden elements. The pavilion was built fast and is now ready to host events organised by Business Finland and Finnish businesses. During the Summer Olympics and Paralympics, the Metsä Pavilion will serve as a home base for the Finnish national teams. Using Metsä Wood's Kerto LVL as the main material made the construction fast, light and green.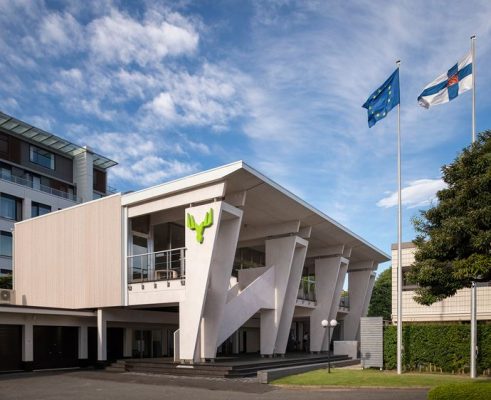 photo courtesy of architects
The official opening of the Metsä pavilion, located on the grounds of Finnish embassy in Tokyo, will be held on 6 October. The Pavilion stays open until the end of 2021, hosting various events organised by Finnish companies and organisations. The Metsä Pavilion is Business Finland's project with Metsä Group as the main partner.
"We are happy that many companies have decided to bring their events to the Metsä Pavilion, where wood meets nature scenery on the walls, world-class audio, and design furniture – all from Finland", says Petri Tulensalo, Head of Sports Cluster at Business Finland.
Industrially efficient wood construction
The Metsä Pavilion is a showcase of how to construct a stylish building quickly and efficiently by using standard elements. The Pavilion was designed by renowned Finnish architectural office Helin & Co. Architects. The designs for all the elements used in the Pavilion are freely available on Metsä Wood's Open Source Wood platform.
"We value the freedom of the architects and engineers to design in an aesthetically pleasing way. With our Open Source Wood Initiative we want to enable them with a variety of options", explains Jussi Björman, Director, Business Development, Construction at Metsä Wood.
The Metsä Pavilion makes the benefits of using prefabricated Kerto LVL (laminated veneer lumber) elements apparent. The elements were manufactured by a Finnish company, Timberpoint. The production of all the wooden columns, beams, and elements took only seven weeks at the factory.
The assembly of the Pavilion at the construction site was quick. It took only ten days, thanks to the lightweight wooden elements. Additionally, the great workability of Kerto LVL brought rapidness to the process. Puurakentajat was responsible for the construction.
The connections of the Metsä Pavilion are designed so that the building can be disassembled and assembled again at a new location.
Sustainably from Finnish forests
The raw materials for the Kerto LVL used in the Metsä Pavilion comes from sustainably managed Finnish forests where the forests grow more than they are used. Every part of each tree is used in the best possible way, therefore almost nothing goes to waste. By-products like sawdust and bark are utilised, for example, as bioenergy in the production of Kerto LVL.
As with all wood products, Kerto LVL stores carbon throughout the whole lifespan of the buildings built with it.
An end-result to be proud of
The Metsä Pavilion has met the expectations of Business Finland and Metsä Wood. The pavilion is proof that stylish buildings can be constructed efficiently from prefabricated wooden elements.  "Historically, the pavilion is one of the biggest investments Business Finland has made in the Japanese market. It is also a great way to contribute to the success of the games, and the Japanese really respect it", says Tulensalo from Business Finland.
5 Oct 2020
RK Flat
RK Flat, Tokyo Apartment Interior
27 Mar 2020
L'OCCITANE Bouquet de Provence, Shibuya Crossing, Suginami City
Architects: AtMa inc.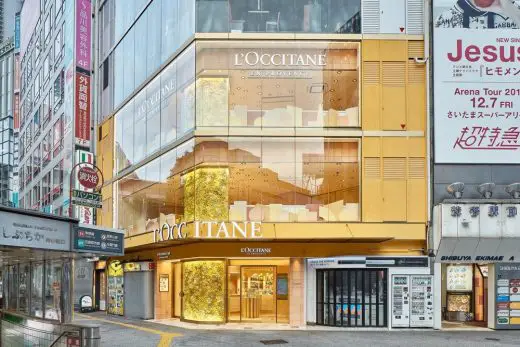 photo : Shigenori Ishikawa
L'OCCITANE Shibuya in Suginami City
This flagship store renovation project is at the world-famous Shibuya Crossing, one of the busiest places in the capital city.
7 Mar 2020
NÔL
Architects: CASE-REAL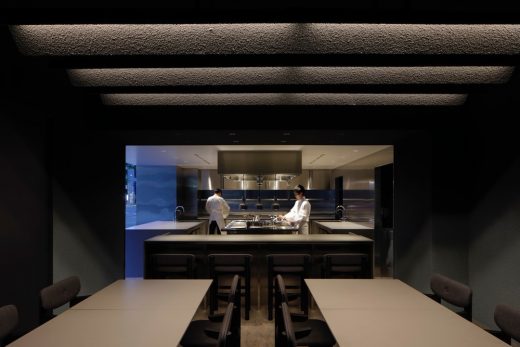 photo : Daisuke Shima
NOL Restaurant Atelier
Located on the ground level this a restaurant atelier with a distinct concept. Functioning as an experimental kitchen, nôl can also be considered as a flexible space freed from the physical restraints of a classical restaurant.
27 Dec 2019
Tokyo 2020 Olympic Stadium – Rainforest Destruction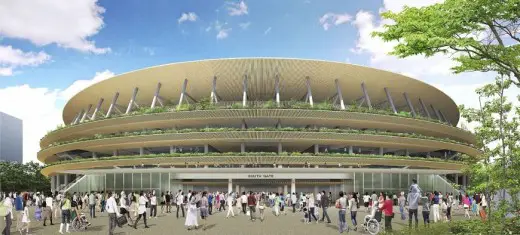 image courtesy of architects
Tokyo 2020 Olympic Stadium Building
To mark the inauguration of the New National Olympic Stadium in Tokyo on December 21st, 12 NGOs issued the following statement, denouncing the Stadium's severe negative impact on the tropical rainforests in Indonesia and Malaysia as a result of its construction.
9 Dec 2019
Shinjuku Miyabi Guest House, -27-15 Yotsuya Shinjuku-ku
Architects: Himematsu Architecture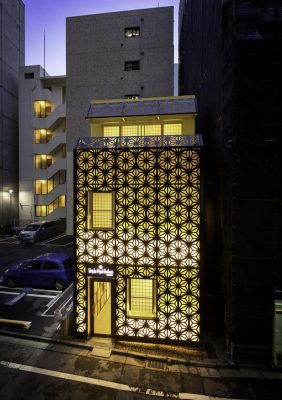 photography: Kota Nakatake & Shinichiro Himematsu
Shinjuku Miyabi Guest House
Himematsu Architecture selected "Hemp Leaf" as concept for the symbol of the hotel. Hemp has very strong growing force and rapid growth speed as seen in nature.
23 Sep 2019
Biffi Teatro di Tsumagata Restaurant, 4-19-21, Shirokanedai, Mitato-ku
Architects: Hiramoto Design Studio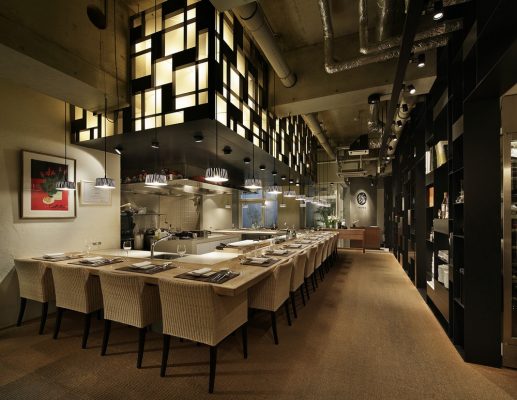 photography: Koji Fujii (Nacása&Partners Inc.)
Biffi Teatro di Tsumagata Restaurant
The architecture studio designed a long counter table around an open kitchen, inspired by Japanese Sushi / Teppan-yaki counter, giving diners a front-row view of all the chef's activities.
2 Sep 2019
Salon Kusuda Restaurant, Ebisunishi, Shibuya-ku
Architects: Hiramoto Design Studio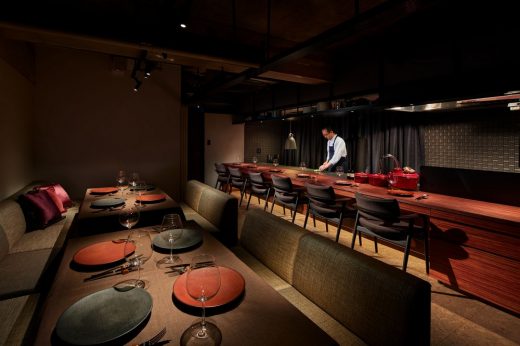 photography : Koji Fujii (Nacása&Partners Inc.)
Salon Kusuda Restaurant
This new restaurant is a result of the collaboration between Mr. Kusuda Takuya, a connoisseur of the Japanese wine scene, and Mr. Miyanaga Hisatsugu, a famous chef.
2 Aug 2019
Angelo Mangiarotti – La Tettonica dell'Assemblaggi, Italian Cultural Institute, 2-1-30 Kudanminami, Chiyoda-ku
Design: tomomi kito architect & associates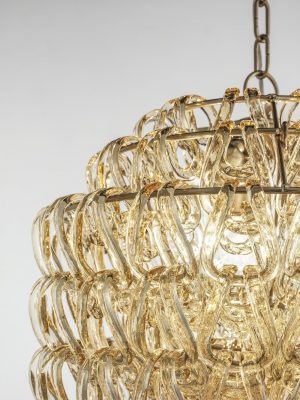 photo courtesy of Vistosi
Angelo Mangiarotti Exhibition
This great exhibition is a tribute to the work and the thought of Angelo Mangiarotti, architect, sculptor and designer.
12 Jan 2019
Furusaki Tokyo Office, Nakano-ku
Design: Hiroyuki Niwa with Yuki Imafuku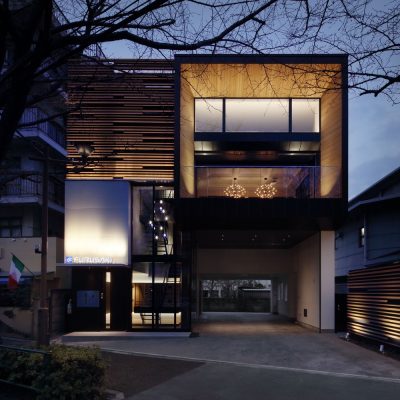 photographer: Hiroyuki Hori
Furusaki Tokyo Office Building
12 Sep 2018
Tokyo Parking Tower Competition
10 May 2018
Tatsumi Apartment House
Design: Hiroyuki Ito Architects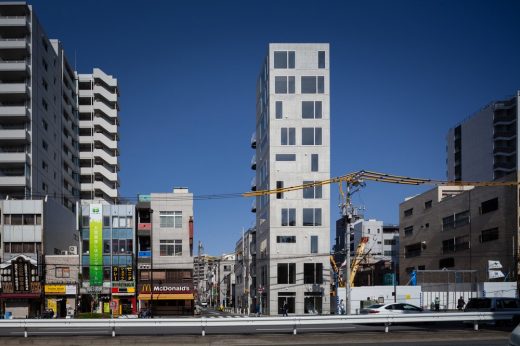 photo © Makoto Yhoshida
RIBA Awards for International Excellence 2018
A minimal residence in Japan, this house is a direct response to the needs of a fast-paced and dynamic population. There is a compelling logic to the use of a limited amount of space that resolves difficulties and creates comfort and calm.
Toho Gakuen School of Music
Design: NIKKEN SEKKEI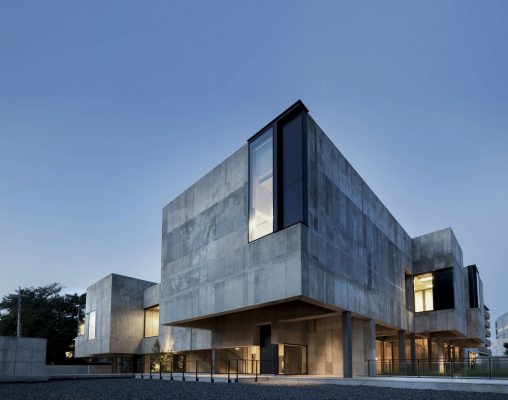 photo © Harunori Noda
This virtuoso piece of architecture has an august almost village like quality with its independent teaching spaces, clever acoustic treatments and neat communal spaces. It adroitly allows for flexibility, adaptation and improvisation by its students whilst retaining an order and formality.
7 May 2018
Musashino Art University Museum & Library Building
3 May 2018
Ota Art Museum & Library, Gunma Prefecture
Architects: akihisa hirata architecture office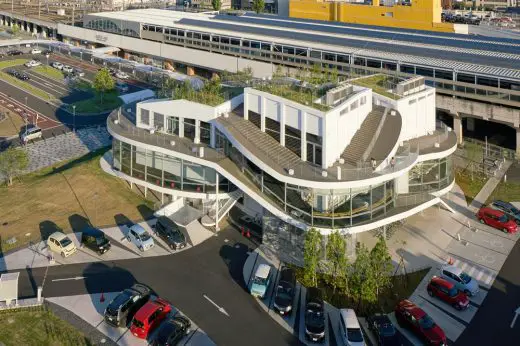 photo : Daici Ano
Ota Art Museum & Library Building
Ota City has a population of about 220,000 people, and the number of users of the station exceeds 10,000 people in a day. But few people walk in front of the station, shopping streets are quiet. To pioneer breakthroughs for such a situation prevailing throughout Japan, it is the purpose of construction to bring life back in front of Ota Station.
30 Apr 2018
Archasm Tokyo Anti Library Competition
18 Feb 2018
The Japanese Sword Museum in Tokyo
2 Jan 2018
Green Triangle – Aoyama 346, Minamiaoyama, Minato
Design: Ryuichi Sasaki + Rieko Okumura/ Sasaki Architecture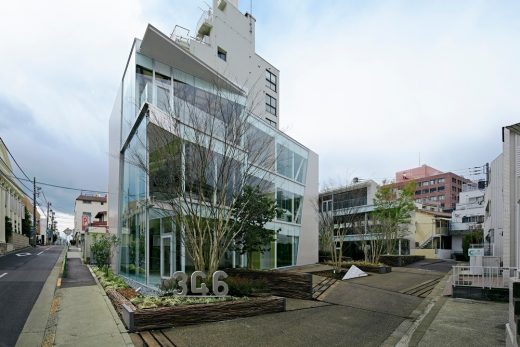 photo © Koichi Torimura
Green Triangle – Aoyama 346 in Tokyo
A three-story office and retail complex in the Minami Aoyama area.
20 Nov 2017
House for Four Generations
Design: tomomi kito architect & associates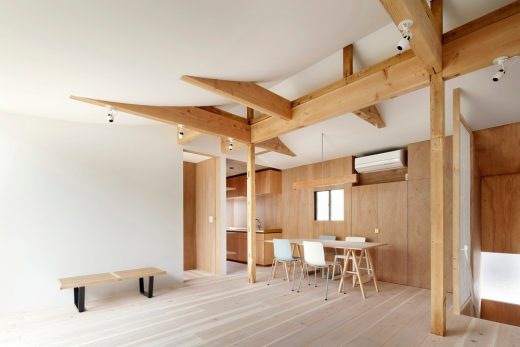 photograph : Satoshi Shigeta
House for Four Generations
This is an interior renovation project of an existing two-story timber structure house in Tokyo which was built approximately 40 years ago. The clients, a young couple and the wife's parents, were already living here before the renovation.
13 Nov 2017
Giant Bubble Installation
Design: studio ENESS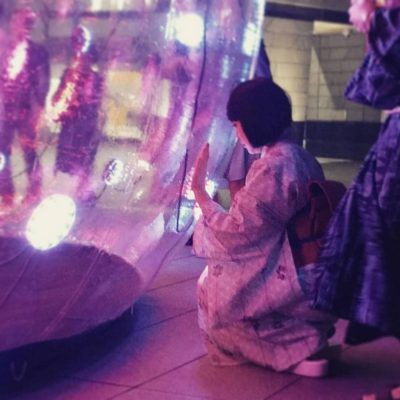 photograph : Larissa LP
Giant Bubble Installation
Mori Art Museum Design recently selected installation design studio ENESS to send their giant Bubble sculpture from Melbourne to Tokyo, Japan. The audience was encouraged to "please touch" the pulsating six-meter-wide sculpture, which responded to human touch and closeness with light and sound.
7 Nov 2017
R・torso・C Residence
Architects: Atelier TEKUTO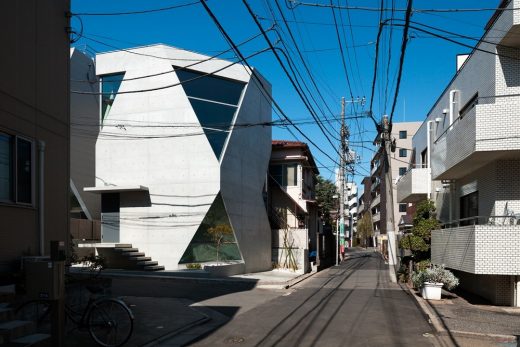 photo : Jérémie Souteyrat、SOBAJIMA, Toshihiro
R・torso・C Residence in Tokyo
This house is located in the center of Tokyo, on a site area of mere 66 sqm. The clients are a married couple both working in the field of chemistry, sharing a passion for architecture and art.
Tokyo Houses – recent contemporary properties in the Japanese capital city
31 Jul 2017
Yoyogi National Gymnasium
Design: Architect Kenzo Tange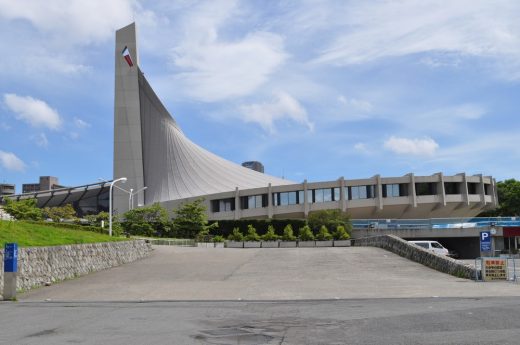 Photo courtesy Japan Sport Council
Yoyogi National Gymnasium
When Japan was preparing to host the first-ever Olympic Games in Asia in the early 1960s, the state commissioned eventual Pritzker Prize-winning architect Kenzo Tange to build a pivotal venue for the event. Tange responded with the Yoyogi National Gymnasium, two elegant concrete and steel buildings that gained immediate international recognition as masterpieces of modern architecture when their doors opened in 1964.
9 Jun 2017
Perrotin Art Gallery, 6-6-9 Roppongi, Minato-ku
Architect: Andre Fu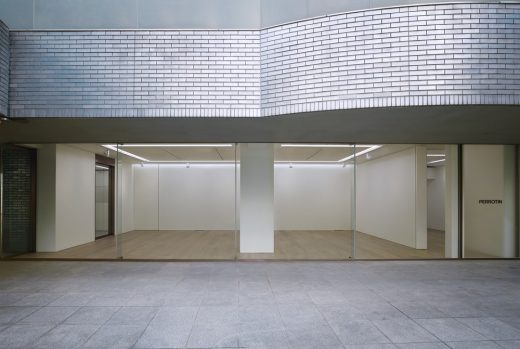 photography: Nacas, courtesy of Perrotin Tokyo
Perrotin Art Gallery Building
Following openings in Paris, Hong Kong, New York and Seoul, contemporary art gallery Perrotin, founded in 1989 by Emmanuel Perrotin, opened its newest gallery in Tokyo on June 7th with a solo exhibition bringing together a collection of recent paintings by 97-year old Pierre Soulages.
20 May 2017
Tropical Forest Timber at New National Stadium Tokyo
Design: Kengo Kuma & Associates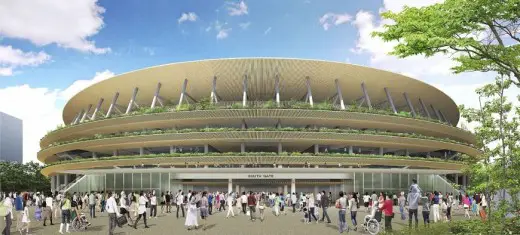 image courtesy of architects
New National Stadium Tokyo Timber
Investigation required as use of plywood likely linked to tropical forest destruction and human rights abuses found at construction site of new Tokyo Olympic Stadium. Ironically the building uses a lot of wood so it can fit into the wooden context, but thereby destroying woods in Borneo, in what appears to be an unsustainable way.
Indigo Waterfall Tokushima LED Art Festival, Japan
Terrazza Shirokane Restaurant in Tokyo
Next Tokyo Mile High Skyscraper by KPF
New National Stadium Tokyo Designs
New National Stadium of Japan in Tokyo
Tokyo Music Centre Competition
More Tokyo Architecture News online soon
Location: Tokyo, Japan
Buildings in the Japanese Capital City
Tokyo Architecture Designs – chronological list
Tokyo Buildings : news + major projects
TBWAHakuhodo offices
Design: Klein Dytham architecture
Tokyo offices
Japanese Architecture – key buildings + design projects
Tokyo Architect : Practice Listings
Buildings / photos for the Tokyo Buildings News – Japanese Architecture page welcome