Tokyo house, Japan property images, Architecture, Architects, Residence photos, Modern homes
Tokyo Houses: Property Designs
Contemporary Japanese Residential Buildings – Best new Homes in the country
post updated 17 August 2023
Tokyo Buildings : property links
e-architect try to feature the latest and best Japanese Residences. The link above takes you to projects posted in the last few weeks and months, below is a historical archive of the best property designs. We aim to include the most interesting properties in the Japanese capital. We cover completed Tokyo homes and new building designs.
Tokyo House – Latest Designs
Japanese Residential Architecture News – latest additions to this page, arranged chronologically:
2 Feb 2023
Tokyo *KIBA, Ikegami, Ota-ku
Architecture: SAKAE Architects & Engineers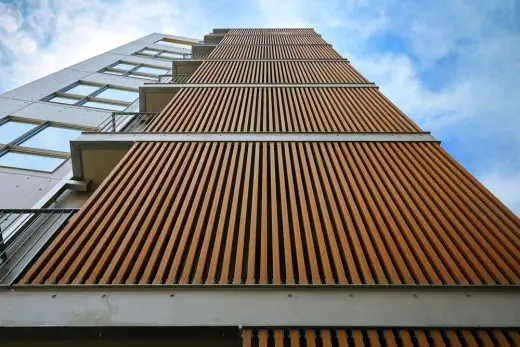 photos by Koji Fujii / Yuichi Higurashi
KIBA Tokyo Residence
The project consists of a rebuild of a residential building on a small site of Tokyo *KIBA. For adaptation of a variety of lifestyles, and to provide added value to the building, the firm designed multiple spaces using maisonnette-style housing as exceptional cases to the building standard law.
More contemporary Tokyo Houses on e-architect soon
Tokyo Houses News 2022
16 Oct 2022
Espace House, Shinagawa Ward
Architecture: Satoshi Kurosaki / APOLLO Architects & Associates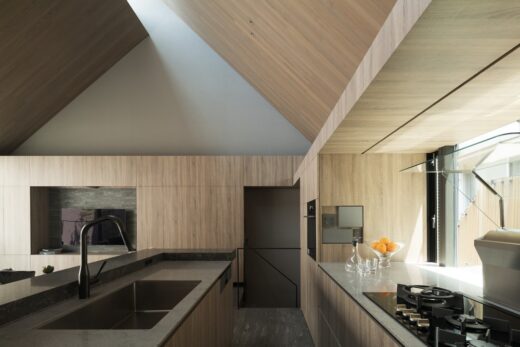 photo : Masao Nishikawa
Espace House, Shinagawa Ward
This small two-story, wood-frame house is tucked into a downtown residential neighborhood. The clients, a couple with minimalist taste and few superfluous possessions, wanted a private home on the compact lot that prioritized a spacious atmosphere over large rooms.
14 Jan 2022
Ibis Sendagaya, Sendagaya, near the National Stadium, Shibuya City
Architecture: Kompas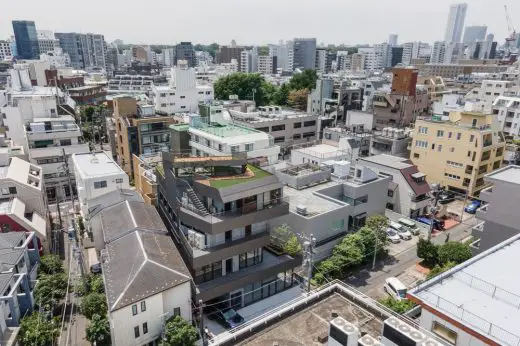 photo : Vincent Hecht
Ibis Sendagaya, Shibuya City
Located in a mixed-use area in Sendagaya, near the National Stadium, the Ibis Sendagaya project is composed of two floors of tenant spaces and the client's two-story residence above them. The main challenge of the project is how to accommodate comfortable residential environments and sufficiently profitable tenant spaces within the site constrains, which allowed only 160% of the maximum floor area ratio due to the narrow front street.
More modern Tokyo Houses on e-architect soon
Tokyo Houses in 2019
19 Aug 2019
Le 49 House, Kamakura
Design: APOLLO Architects & Associates Co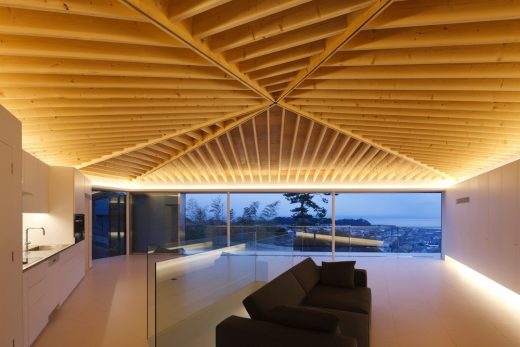 photograph : Masao Nishikawa
Le 49 House in Kamakura
This new Japanese property is located on Mount Kamakura, this site boasts a stunning view overlooking Sagami Bay.
10 Apr 2019
House for Four Generations
Design: tomomi kito architect & associates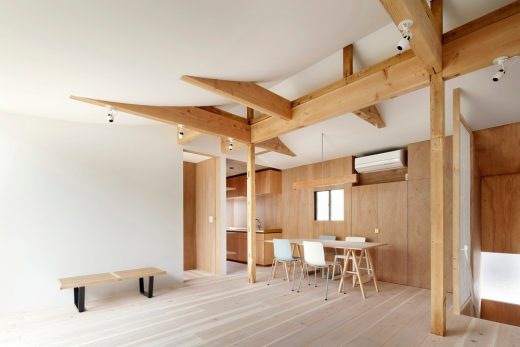 photograph : Satoshi Shigeta
House for Four Generations
This is an interior renovation project of an existing two-story timber structure house in Tokyo which was built approximately 40 years ago.
9 Apr 2019
R・torso・C Residence
Architects: Atelier TEKUTO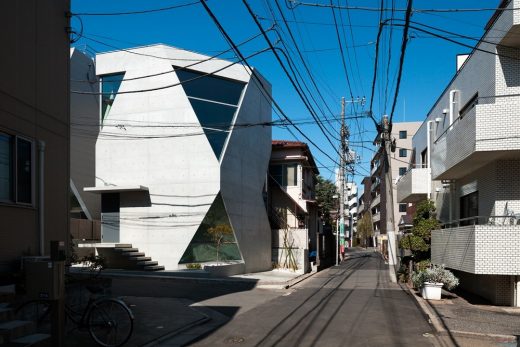 photos: Jérémie Souteyrat、SOBAJIMA, Toshihiro
R・torso・C Residence in Tokyo
This house is located in the center of Tokyo, on a site area of mere 66 sqm. The clients are a married couple both working in the field of chemistry, sharing a passion for architecture and art.
Tokyo Houses from 2017 to 2018
24 Aug 2018
Hopscotch House, Kita-ku, Saitama-shi, Saitama, Saitama Prefecture, Kantō region
Architects: Hideyuki Hiramoto (Hiramoto Design Studio)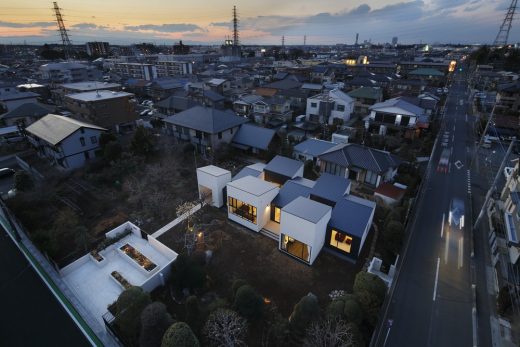 photograph : Koji Fujii (Nacása&Partners Inc.)
New House in Saitama
This family who had lived individually decided to live together under one roof.
18 Oct 2017
House in Yamanashi Prefecture
Design: Takeshi Hosaka architects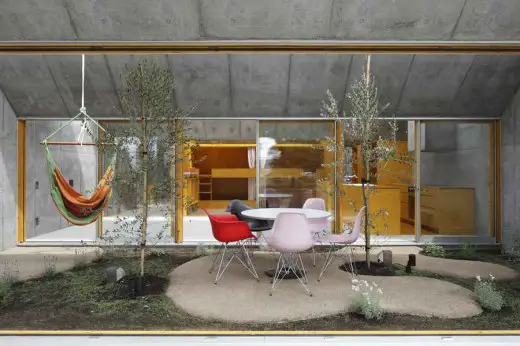 photograph : Koji Fuji / Nacasa&Pertners Inc.
House in Yamanashi
The project was launched when I was commissioned to enlarge a house for a couple in their 30's and their three daughters living in Yamanashi Prefecture. On my first visit there, I found the houses of one story and two stories both stand close together.
15 Sep 2017
Slide House, Koto Ward
Design: APOLLO Architects & Associates Co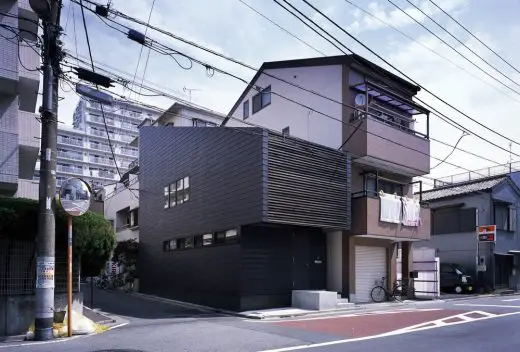 photography : Masao Nishikawa
Slide House in Koto Ward
This small house in a residential district in eastern Tokyo is home to a couple and their young children. The dark grey galvalume cladding blends gently into the surrounding environment, as if it has been there for many years. Because the lot sits across the street from an elementary school, the clients requested a design that ensured privacy yet was as open as possible.
13 Jan 2017
Riverside House, Suginami
Design: Mizuishi Architect Atelier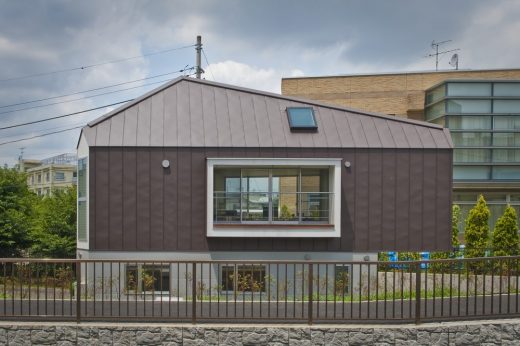 photograph : Hiroshi Tanigawa
Riverside House in Horinouchi
This is a very small house built on the triangle site where the river and the road were crossed and made to the acute angle. For the dead-end road, it became a plan in various regulations for obtaining special permission.
7 Nov 2016
Cave House, Sinjuku Ward
Design: APOLLO Architects & Associates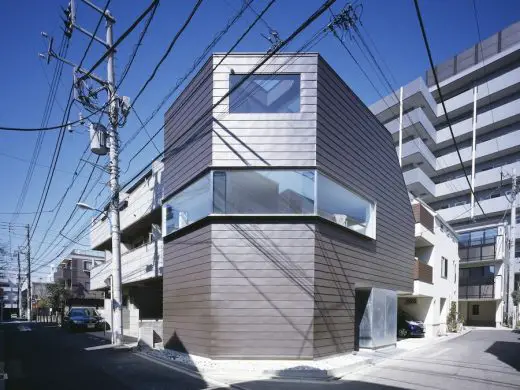 photograph : Masao Nishikawa
Cave House in Tokyo
A new home for a single person, built in a quiet residential area in Kagurazaka.
17 Mar 2014
Shirokane House, Minato-ku
Design: MDS Co.Ltd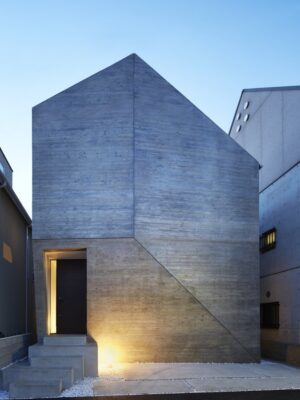 photograph : Forward Stroke inc.
Shirokane House
The small site is located in a typical Tokyo urban residential area, where houses are closely built up. A pursuit of internal spaces in this house, as a result, changes the Tokyo cityscape a little. An area for one floor is usually desired as large as possible, in particular, in such a narrow site. For this house, the first-floor area is small due to the parking space and the second floor is, instead, larger.
7 Aug 2013
House in Mishuku II
Design: Nobuo Araki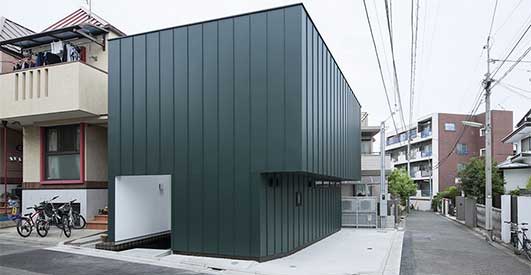 photo : Shimizu Ken
House in Mishuku II
This two-story house stands in a densely populated area of Setagaya, Tokyo. This is the second building of a paired residential unit for the same clients, a married couple in their 60s. The Archetype designed their first residence in 2004. As the family members increased, they had to expand the property. Fortunately, the space right next to the house became vacant and the second residence was built there.
17 Jan 2013
Switch Box in House
Design: Naf Architect & Design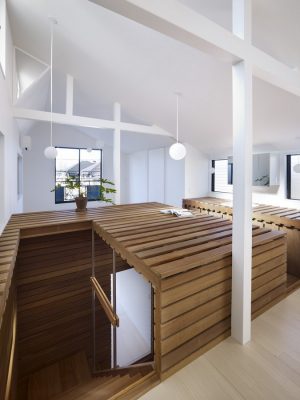 photo : Toshiyuki Yano
Switch Box in House
This is a total interior renovation project of an existing house, installing a box made of deck lumber in the middle of the house. The existing house is 17-year-old, two-story, 4-bedroom wooden structure on top of semi-underground garage. It could serve as home, but we could not see how and for whom the room layout was made.
16 Jan 2013
ZYX House
Architects: Naf Architect & Design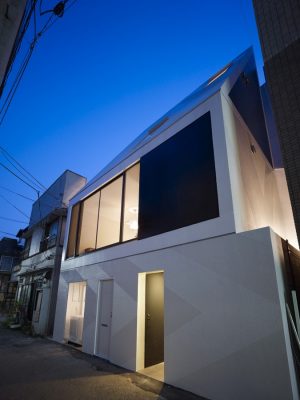 photo : Toshiyuki Yano
ZYX House
This is a house in central Tokyo which is composed of three kinds of space stacked up like toy blocks. Third floor is a private space for a single woman; second floor, a space for her family; first floor, a guest space for her relatives.
Tokyo Homes – archive up to 2012
More Tokyo Houses online soon
Location: Tokyo, Japan, eastern Asia
Tokyo Architecture
Tokyo Architecture Selection
Tokyo Architecture Designs – chronological list
Japanese Architect : Fumihiko Maki
Buildings / photos for the Tokyo Residential Architecture page welcome