Stuttgart Building News 2023, Baden Wurtemburg Property Design, Architect, German Construction Projects Photos
Stuttgart Architecture News
Baden Wurtemburg Architectural Developments, southwest Germany Built Environment Updates
Post updated 12 May 2023
Stuttgart Architecture Designs – chronological list
Stuttgart Architecture Walking Tours
Stuttgart Architecture Tours, Baden Wurtemburg architectural walks by e-architect – experienced building guides
Stuttgart Architectural News
Stuttgart Architecture News – latest additions to this page, arranged chronologically:
10 Jan 2022
Weissenhof in Stuttgart: open urban planning ideas competition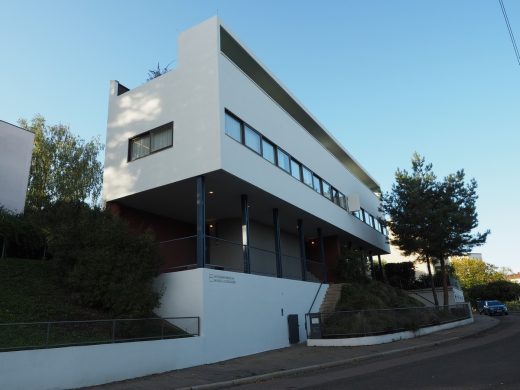 photo courtesy of Internationale Bauausstellung 2027 StadtRegion Stuttgart – IBA'27
Weissenhof Stuttgart open ideas competition
The City of Stuttgart and the State of Baden-Württemberg are organising an open international ideas competition in cooperation with the International Building Exhibition 2027 (Internationale Bauausstellung 2027 StadtRegion Stuttgart, IBA'27). In 2027, the Weissenhof Estate in Stuttgart will be 100 years old.
17 Dec 2021
K30 – Office Complex Kruppstraße
Design: AllesWirdGut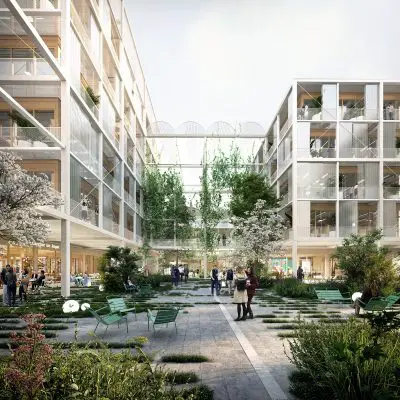 visualization © Patricia Bagienski / AllesWirdGut
K30 – Office Complex Kruppstraße, Stuttgart Building
The design by AllesWirdGut Architektur delivers on the promise of a future of flexible work by creating an office building as an open-shelf system that offers multiple versatile green spaces: Expanded work areas on balconies, terraces, or a garden house not only provide for a perfect setting for collective activity; the office complex also makes a valuable contribution to the local microclimate and biodiversity. Guiding ideas such as resource-saving construction, climate-friendly operation, and foresighted life-cycle planning are the backbone of a design with an attitude.
15 June 2021
City Hall of Baltmannsweiler, Esslingen
Design: Zoll Architekten Stadtplaner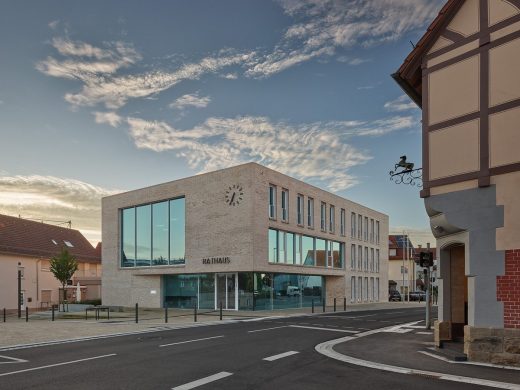 photograph : Zooey Braun, Stuttgart
City Hall of Baltmannsweiler
The street space of the Baltmannsweiler thoroughfare is created by the structure of the new town hall and redefined its striking building corner protruding to the south. The main facade of the town hall the main entrance is oriented towards the redesigned marketplace.
4 June 2021
Quartier Am Rotweg, Rot, north Stuttgart, Baden-Württemberg
Design: Delugan Meissl Associated Architects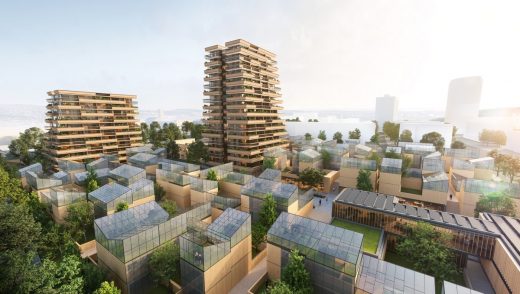 visualization : Toni Nachev
Quartier Am Rotweg
Entries to competitions that form part of IBA 27 should combine high architectural quality, experimental building methods and social and ecological aspects. This concept envisages a dynamic, socially-mixed urban quarter that offers high-quality design to a range of user groups while retaining the existing trees.
1 June 2021
Graf-Heinrich-Schule, Hauptstraße 7, 77756 Hausach, Ortenaukreis, western Baden-Württemberg
Design: Schätzler Architekten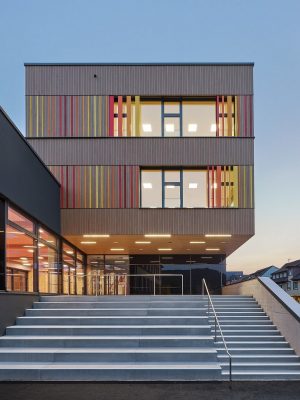 photograph : Zooey Braun, Stuttgart
Graf-Heinrich-Schule Hausach
The starting point for the expansion / new construction of the elementary and comprehensive school was a closed architectural design competition in 2016, which was won by Schätzler Architekten. In 2017 Schätzler Architekten were commissioned with the overall planning for the new construction with a total of five building components.
18 May 2021
Kita Parkstraße Daycare Centre
Design: Birk Heilmeyer und Frenzel Architekten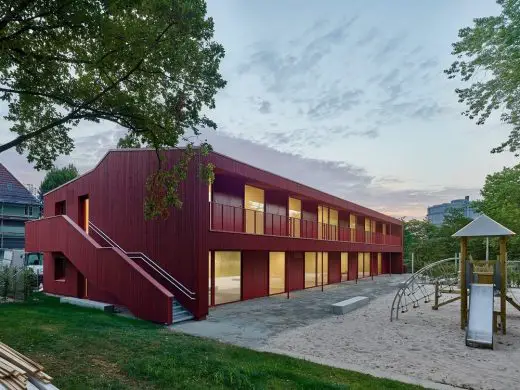 photo : Zooey Braun, Stuttgart
Kita Parkstraße Daycare Centre
In the east of Stuttgart, the four-group daycare center Kita Parkstraße was completed according to plans by Birk Heilmeyer and Frenzel Architects and handed over to the users. The wooden structure was erected on an underground bunker. Shortly before the building was handed over, the day care center received a Hugo Häring award from the BDA.
20 Feb 2021
Ötztaler Straße Daycare Centre
More Stuttgart Architecture News online soon
Stuttgart Architecture News 2019 – 2020
2 Sep 2020
Locomotive Sheds for Artists in Stuttgart
22 Jul 2020
Former Tonhallen Site, Villingen-Schwenningen
3 Jun 2019
Black is Beautiful – Von Helden & Gestalten by SOMAA, Rotebühlstraße 44
Design: SOMAA Architects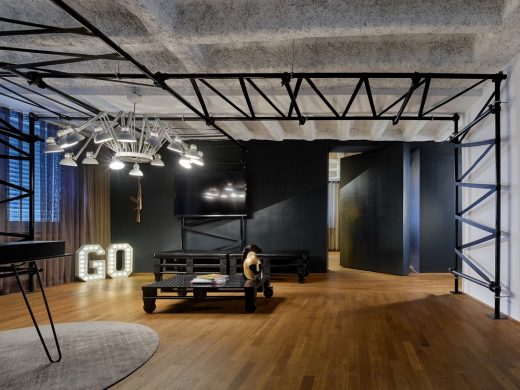 photograph : Zooey Braun, Stuttgart
Space for Heroes
The Stuttgart advertising agency "Von Helden und Gestalten" strengthens the personality of its customers and gives them courage to a new brand appearance.
1 May 2019
House am Oberen Berg
More contemporary Stuttgart Architectural News online soon
Stuttgart Architecture News 2016 – 2018
17 Oct 2018
Dorotheen Quartier, Dorotheenstrasse
Architects: Behnisch Architekten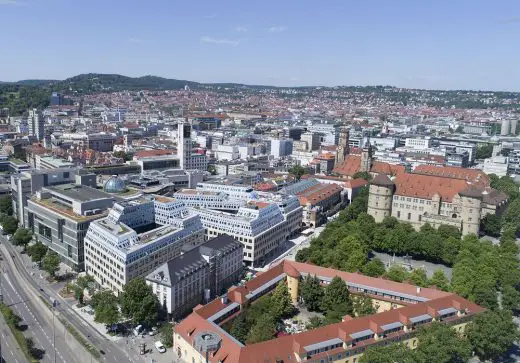 photograph : David Matthiessen
Dorotheen Quartier
This thoroughfare has, until now, always been perceived as the less important "back" of the site, situated behind the Breuninger Department Store, and leading towards Sporerstraße and Karlstraße.
7 Feb 2018
The Milestone Building, Esslingen am Neckar is a city in the Stuttgart Region of Baden-Württemberg
Architects: MVRDV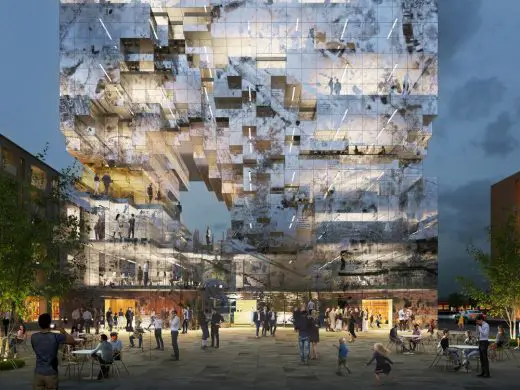 image courtesy of architects
New Building in Esslingen am Neckar
This is a new 6,500 sqm mixed-use office building with a distinct part-reflective façade and open geometric core has been selected by a jury for the city of Esslingen. The building will literally be a milestone, its façade designed like a crystal rock is interactive and carries the topography of the town and messages about the history and people of Esslingen.
5 Feb 2018
Renovation and extension of a semi-detached Wohnhaus
Architects: Holzer Architekten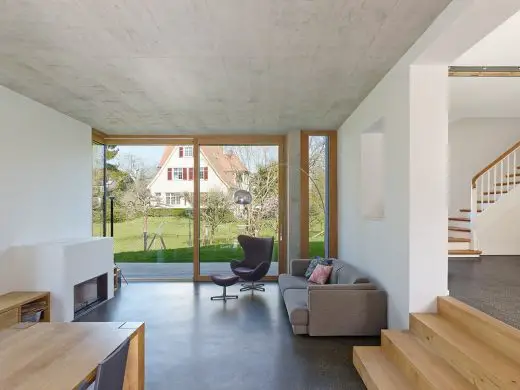 photo : Zooey Braun
House Miki 1 in Stuttgart
Houses that were built in the 20ies usually have quiet a reasonable floor plan and a solid substance – walls made out of brickwork and ceilings supported by wood beam constructions. But nowadays those spaces don't fit modern family's needs anymore – there is a higher claim for comfort and regarding the layout of living spaces in general.
8 Oct 2017
PSLab Studio & Multi-functional Workspace, Wolframstrasse
Design: DELORDINAIRE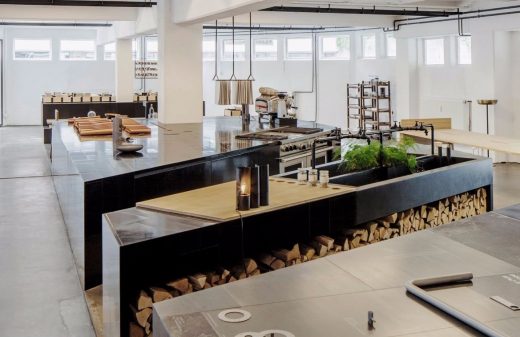 photo courtesy of architects
PSLab Studio & Workspace Stuttgart Building
PSLab designs custom-made and personalised lighting, produced in their in-house factories in Stuttgart and Beirut. Their designers and craftsmen work as partners in a team, in close collaboration with the client. Interaction between design and build is embedded in a fabric of good communication.
23 May 2017
Brunner Innovation Factory, Rheinau, southwestern Baden-Württemberg
Design: HENN, Architekten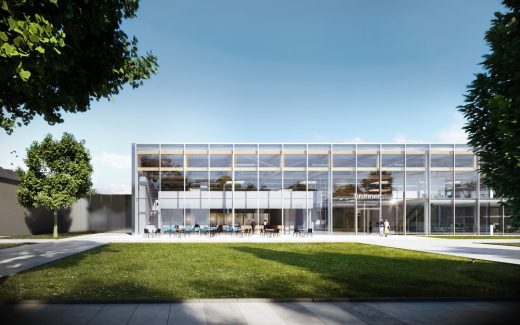 photograph © HENN / HGEsch
Brunner Innovation Factory Building
The innovation building as a hybrid of the most diverse programmes: development, design, prototyping and production encounter open office worlds, showrooms and a canteen.
31 Mar 2017
Research Centre ARENA2036, University of Stuttgart Research Campus, Vaihingen
Design: HENN Architekten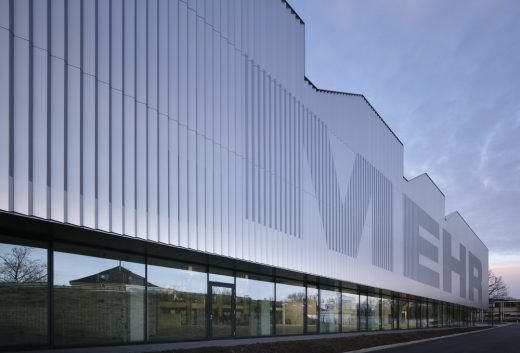 photograph © HENN / HGEsch
Research Centre ARENA2036 Building
ARENA2036 at the University of Stuttgart's research campus in Vaihingen, reveals the architecture of completely digitalised and networked production.
8 Nov 2016
Porsche Design Centre, Weissach, Böblingen, Baden-Württemberg
Design: HENN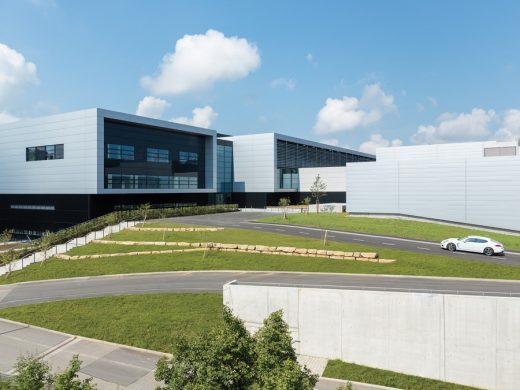 photograph : HG Esch
Porsche Design Centre in Baden-Württemberg
In the new design building of the Porsche AG, functional areas that have to work together intensively in the early phase of product development are combined.
In the basement and in the second level, the models are prepared. A direct access to the adjacent wind tunnel was also created there. Above the workshops, there is the styling area with the two large, double-storey studios. Between the studios runs a spine housing the service functions.
8 Aug 2016
House am Oberen Berg, north east Stuttgart
Architect: Alexander Brenner Architekten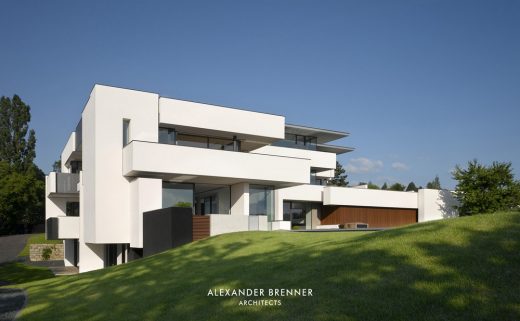 photograph : Zooey Braun, Stuttgart
House am Oberen Berg
When approaching the building via the access road an in-depth layered picture is discernible. The northeast side of the house is an addition, a combination of white cubes. Each of them is recognizable as an individual structure when viewed from close up, but seen from a distance, they merge to form a unified whole.
15 Sep 2016 ; 29 Jul 2015
University of Stuttgart ICD/ITKE Research Pavilion 2014-15
Design: Universität Stuttgart team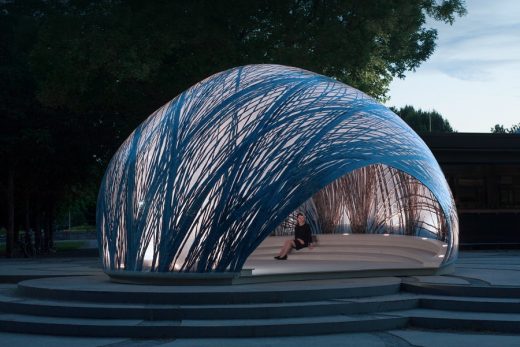 photograph : ICD/ITKE University Stuttgart
University of Stuttgart Research Pavilion 2015
This pavilion demonstrates the architectural potential of a novel building method inspired by the underwater nest construction of the water spider. Through a novel robotic fabrication process an initially flexible pneumatic formwork is gradually stiffened by reinforcing it with carbon fibers from the inside.
13 May 2016
Locomotive Sheds for Artists, Wagenhallen
Design: ATELIER BRÜCKNER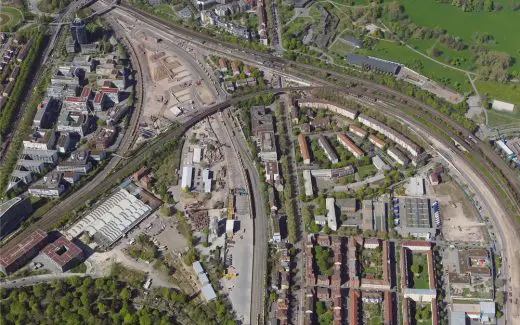 photograph © Landeshauptstadt Stuttgart, Stadtmessungsamt
Locomotive Sheds for Artists
The Wagenhallen in Stuttgart are to be renovated. On 12 May 2016, the municipal council of the state capital declared itself in favour of engaging someone to plan the detailed design of the building.
More Stuttgart Architecture News online soon
Location: Stuttgart, southwest Germany, western Europe
New Buildings in Southwest Germany
Major Ccontemporary Building Designs in Southwest Germany
Locomotive Sheds for Artists in Stuttgart
An der Achalm House in Reutlingen
DHWB University Building
Design: 3XN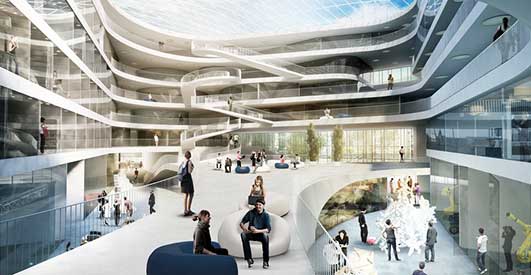 image from architect
DHWB University Building
Centre for Virtual Engineering
Design: UNStudio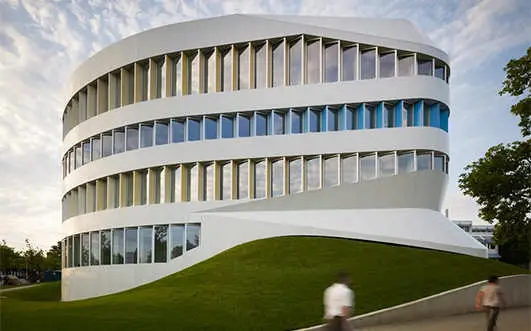 photo : Christian Richters
Centre for Virtual Engineering Stuttgart
SU House
Design: Alexander Brenner Architekten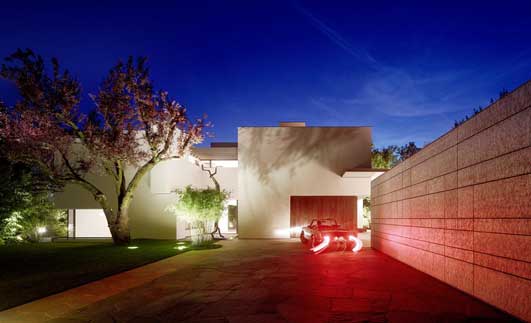 photo : Zooey Braun, Stuttgart
SU House
Haus am Weinberg
Architect: UNStudio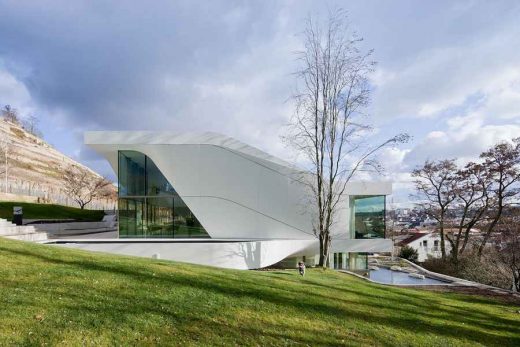 photograph © Iwan Baan
Haus am Weinberg
German Architecture
Buildings / photos for the Stuttgart Building News page welcome