Slovenia architecture news 2023, Building projects, Construction design architects, New property images
Slovenia Architecture News
Architectural Developments + Projects in eastern central Europe: Built Environment Updates
post updated 20 October 2023
Slovenian Architecture Designs – chronological list
Slovenia Architectural News
Slovenia Architectural News + Key New Property Designs, alphabetical:
17 Dec 2022
Hotel Natura, Rogla
Design: Enota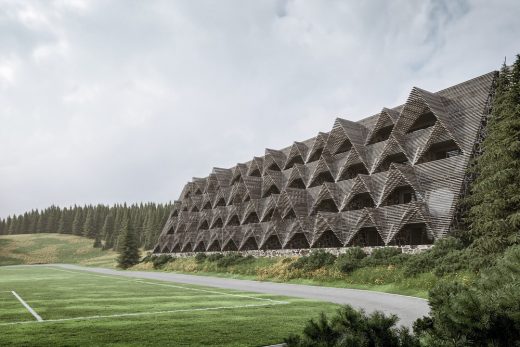 image : visualizations: Spacer
Hotel Natura, Rogla
This new Slovenian hotel building is one of the first points of contact for visitors to the Rogla sports and tourist resort. Built as the final addition to a group of hotels, it represents perhaps the biggest visual departure from the recognizable expression of the previous interventions, which referenced the local, rurally developed landscape to a larger degree.
1 June 2022
Cukrarna Gallery Building, Ljubljana
Design: Scapelab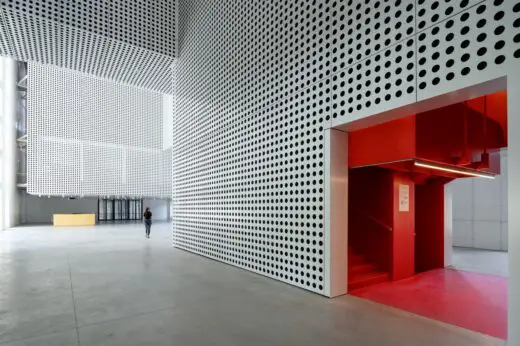 photo : Miran Kambič
Cukrarna Gallery Ljubljana Building
Cukrarna is a former sugar refinery, built in 1828 in Ljubljana, Slovenia. During its' two-hundred-year history, it was a sugar refinery, destroyed in a disastrous fire, and later a tobacco factory, a textile factory, a military barracks, and a homeless shelter.
25 April 2022
Ljubljana Railway Station Hall
Design: SADAR+VUGA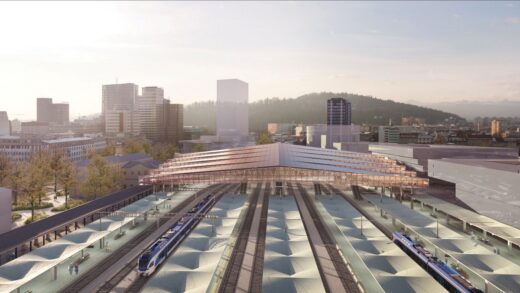 image courtesy of architects practice
Ljubljana Railway Station Hall
The upgrade of the railway infrastructure in the area of the Railway station Ljubljana consists of a new railway station hall, the reorganization of passenger and freight tracks with new covered platforms, refurbished and expanded underpassage, renovation of the early 20th century station building and the new green plazas on the eastern and western side.
8 Mar 2022
Hotel Maestoso, Lipica
Design: Enota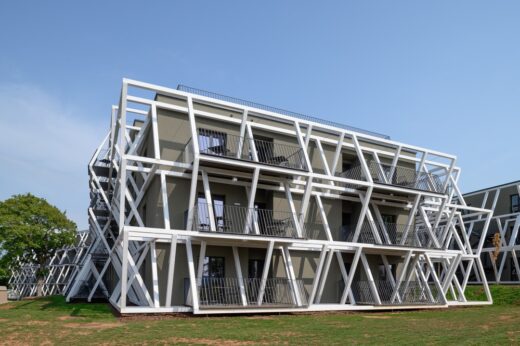 photo : Miran Kambič
Hotel Maestoso
The Stud Farm Lipica is one of the most remarkable natural and cultural monuments in Slovenia. The area of cultivated karst landscape comprises laid-out pastures and meadow areas featuring protective fences, oak groves, and tree lanes.
4 Feb 2021
Petrol Corporate Building
Petrol Corporate Building
16 Sep 2020
ALEJA shopping center, Ljubljana
Architects: ATP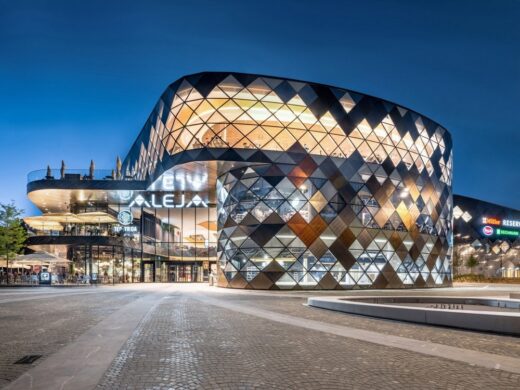 image courtesy of architects
ALEJA Ljubljana shopping center
The powerful and rigorously realized concept of ALEJA shopping center in the Slovenian capital of Ljubljana, which was integrally designed with BIM by ATP, has created the perfect platform for around 80 shops.
30 July 2020
Maestoso Hotel & Spa, Lipica
Design: Enota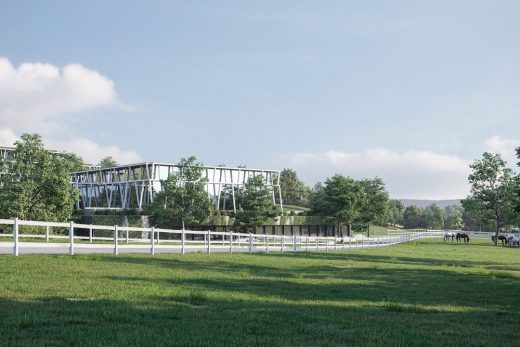 image : Collaborators Spacer
Maestoso Hotel & Spa in Lipica
The stud farm was founded in 1580 when a decision was made at the Habsburg court to raise horses, a key strategic commodity of the time, in their own territory.
20 Feb 2019
Central Park in Koper, Koper
Design: Enota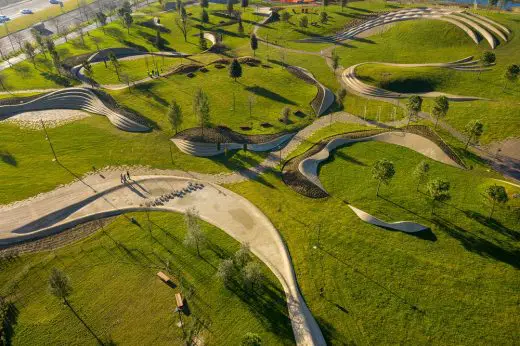 photograph : Miran Kambič
Central Park in Koper
New Koper Urban Park is set between Piranska Road and the Semedela promenade, and between the Grande canal and the area just beyond the city market.
24 Oct 2018
Termalija Family Wellness, Podčetrtek
Design: Enota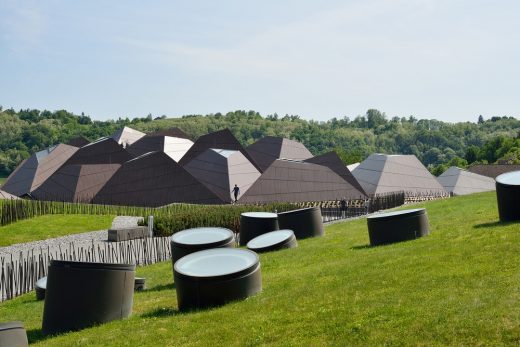 photo : Miran Kambič
Termalija Family Wellness Building in Slovenia
Termalija Family Wellness is the latest in the series of projects which we have built at Terme Olimia in the last fifteen years and concludes the complete transformation of the complex from a classic health centre built in the 1980s to a modern relaxing thermal spa.
12 Apr 2018
Skorba Village Center Building, near Ptuj
Design: Enota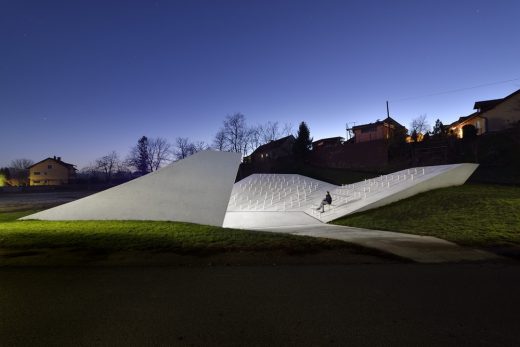 photo : Miran Kambič
Skorba Village Center Building
Skorba is a small village in the vicinity of Ptuj, Slovenia's oldest town. Once a typical village with a clustered settlement pattern, the passage of years and the proximity of the city caused it to grow out of turn, transforming it into a commuter suburb without a clear structure.
28 Mar 2018
Koper Central Park, Koper
Design: Enota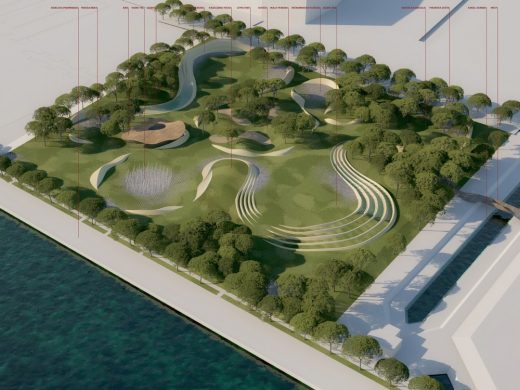 image courtesy of architects
Koper Central Park
Construction has started on ENOTA Architects recent winning proposal for a Central park in Slovenian coastal town of Koper. The basic building blocks of the new city park are monolithic, undulating urban elements.
16 Feb 2018
bistro EK, Ljubljana
Design: dekleva gregorič architects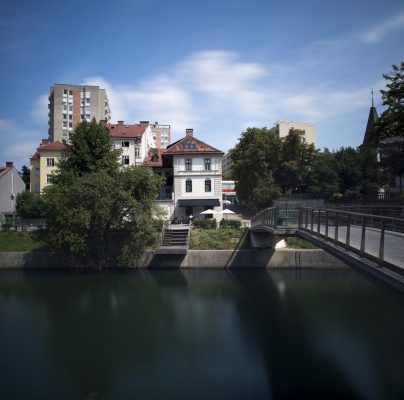 photo : Flavio Coddou
bistro EK, Ljubljana Interior
The empty and forgotten semi-basement space in the 19th century Ljubljana corner building, which faces the riverside and a rarely frequented stairs-street, housed diverse ventures in the past, from a local butcher shop to a wholesale wine store.
12 Jan 2018
Wellness Plesnik Building, Logarska Dolina 10, Solčava
Design: Enota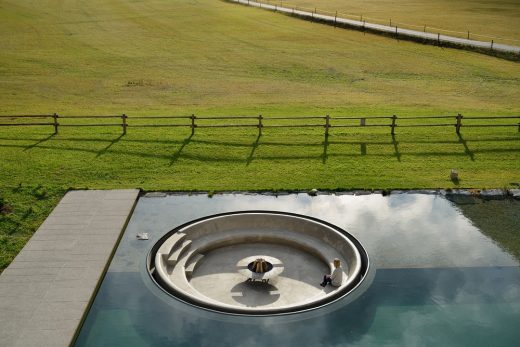 photo : Miran Kambič
Wellness Plesnik, Logarska Valley
Hotel Plesnik is a boutique family hotel found in the heart of a nature park, boasting a tradition spanning over eighty years. Its exceptional location at the end of a glacial valley offers an unforgettable view of the majestic peaks of the Kamnik-Savinja Alps.
Slovenia Building News 2017
3 May 2017
The Wooden House
Architects: studio PIKAPLUS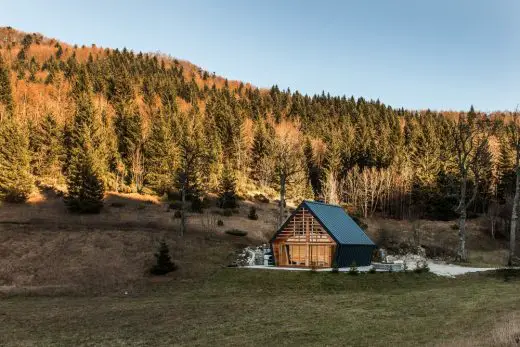 photograph : MIHA BRATINA
The Wooden House in Slovenia: Timber Home
Awarded 1st place nationally in 2016 for the best wooden construction in Slovenia. This timber house is a residential building embodying the elusive architectural quality of blurring the line between external and internal spaces.
30 Mar 2017
Chimney House, Logatec
Design: dekleva gregorič architects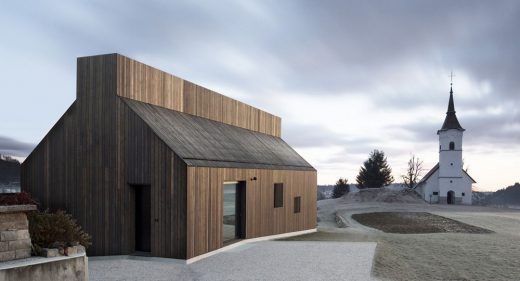 photo : Flavio Coddou
Chimney House in Logatec
The design of the Chimney House in Logatec is primarily based on the rules of local architecture. It respects the morphology of the traditional built context, referring to the prevailing gabled roof type of the house and respecting its volumetric and material parameters. On the other hand the Chimney house marks typological transformation generated by the users' specificity.
4 Mar 2017
AA Visiting School nanotourism at KSEVT Building in Vitanje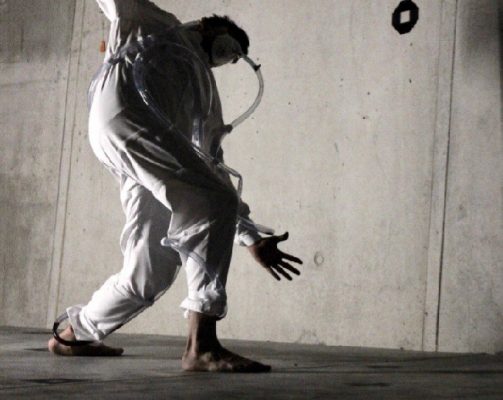 image courtesy of architects
AA Visiting School nanotourism, KSEVT Vitanje
A project called Gastronomy at KSEVT, which was developed as part of the AA Visiting School nanotourism in Vitanje, 2016.
5 Jan 2017
(Un)Curtain Office, Ljubljana
Design: Dekleva Gregoric Architects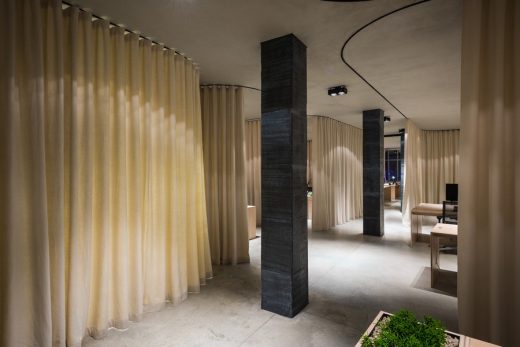 photo : Janez Marolt
(Un)Curtain Office, Slovenia
The business community today operates dynamically, impulsively and diversely. Office environments must respond to the constant changes in working groups' organizations, to their production processes and to the needs for personal comfort and technology development.
4 Nov 2016
Villa Criss Cross Envelope, Mirje Suburbs within the city center of Ljubljana
Design: Ofis arhitekti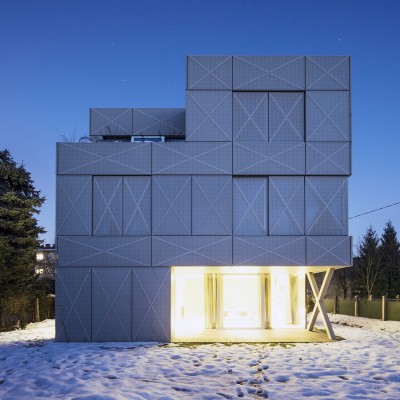 photo @ Tomaz Gregoric
Villa Criss Cross Envelope in Ljubljana
The street of the villa runs perpendicular to the ancient Roman Wall and continues into a pedestrian passageway under the stone pyramid designed by Plecnik (as part his reconstruction project along the wall).
23 Sep 2016
Renovation of Central Lobby at Bank of Slovenia, Ljubljana
Design: SADAR+VUGA architects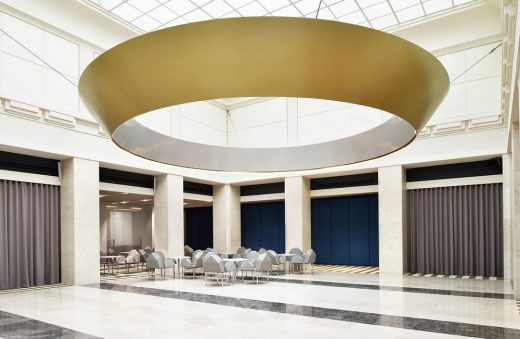 photo : Miran Kambič
Bank of Slovenia Central Lobby Ljubljana
The renovation of the Bank of Slovenia's central lobby was designed at a student workshop at Ljubljana's Faculty of Architecture. The project was executed by SADAR+VUGA in close collaboration with the initial student design team.
14 Jun 2016
Apartment SP, Ljubljana
Design: SADAR+VUGA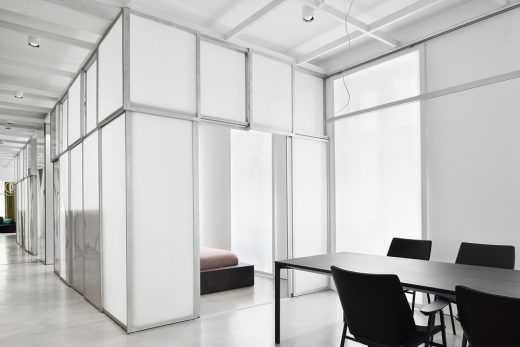 image courtesy of architects
Apartment SP in Ljubljana
Apartment in the 19th century townhouse in Ljubljana is a place of opposites: it is both warm and cold, both soft and orthagonal. It is equally open and closed against its surroundings and both in contact and in conflict with it's past.
6 Jun 2016
Museum of Nordic Disciplines, Planica, Rateče Planica
Design: Trost & Associates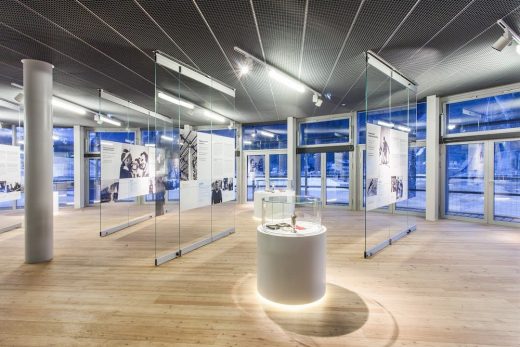 photo : Miha Bratina
Museum of Nordic Disciplines in Planica
Planica, located in a small village Rateče and surrounded by the peaks of Julian Alps and the Karavanke. Planica is best known for one of the largest ski jumps in the world. It was at Planica, that the first human in history jumped over 100 m on skis, later also exceeding the 200 m distance.
19 Jan 2016
Forma Vila, outskirts of Ravne na Koroškem, a small Alpine town close to the Slovenian-Austrian border – Mountain Skuta
Design: Arhitektura Jure Kotnik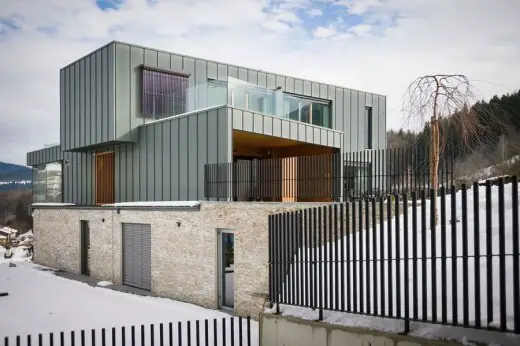 photo : Janez Marolt
Forma Vila in Ravne Na Koroskem
The town has an over 400 year-long tradition of iron-making, and the local ironworks have had a significant social-economic influence on the town, its sports and culture. The latter has been especially evident since 1964, when the factory started supporting sculpture symposiums "Forma Viva" for artists from all over the world.
More Slovenia Architecture News online soon
Location: Slovenia, central eastern Europe
Slovenian Architectural Designs
Slovenian Architectural Projects
Slovenian Architect Offices – design firm listings
Comments / photos for the Slovenia Architecture News page welcome