New Houses in Portugal, Residential Property Photos, Modern Villas Design, Architect, Architecture Images
Portuguese Houses: Properties
Contemporary Residential Buildings – New Properties in western Europe
post updated 22 November 2021
Portuguese Property
We've selected what we feel are the key examples of Portuguese Houses. We aim to include residential properties in Portugal that are of top quality.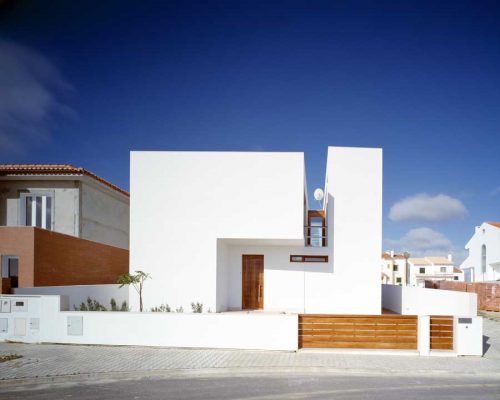 We cover completed houses and new residence designs across Portugal, with a focus on contemporary Portuguese houses
Portuguese Architecture Designs – chronological list
Arquitetura Portuguesa
We have 3 pages of Portuguese Residential Architecture selections.
Portuguese Houses : main page with news + key buildings (this page)
Portuguese Homes : A-K
Portuguese Residences : L-Z
Portuguese Properties – latest additions to this page, arranged chronologically:
22 Nov 2021
Casa Janeira, Sátão, Viseu, northern Portugal
Design: Covo Interiores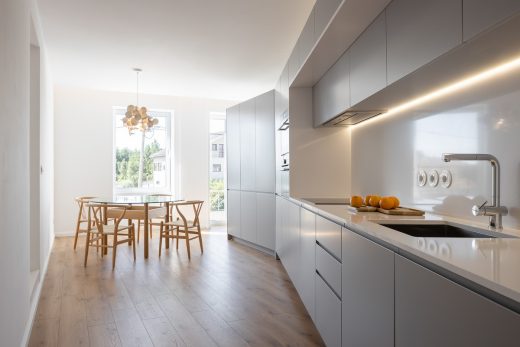 photo : Alexander Bogorodskiy
Casa Janeira, Sátão, Viseu
Casa Janeira is a project design by Covo Interiores and consists of the rehabilitation of the upper floor of a 1940's house, located in Avelal-Sátão, in the interior of northern Portugal.
6 Nov 2021
S.Roque Building, Aveiro
Architects: Sónia Cruz – Arquitectura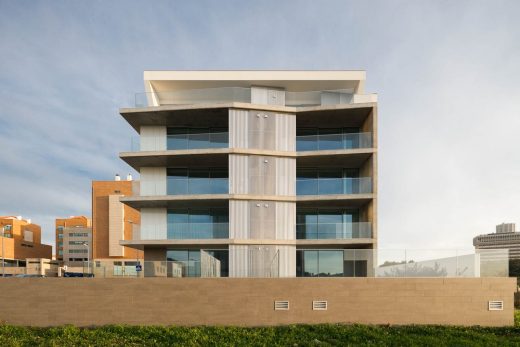 photo : Ivo Tavares Studio
Edifício S.Roque Apartments, Aveiro
The S.Roque Building, appears in an expectant and expanding area of the city of Aveiro. Its location is marked by the proximity of one of the channels of the Ria de Aveiro – Canal de S.Roque, which constitutes a local symbol possible to enjoy on walks, sports and leisure.
2 Nov 2021
TD House, Sintra
Design: ESQUISSOS Arquitectura e Consultoria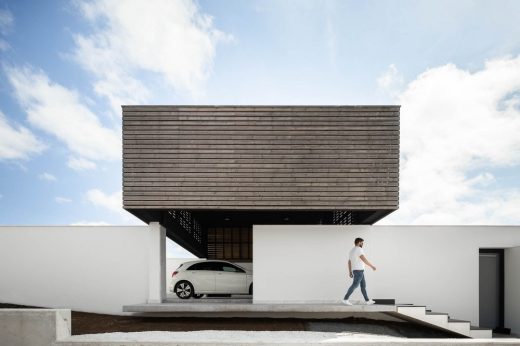 photograph : Ivo Tavares Studio
TD House, Sintra, Portugal Property
The understanding of the area, the relationship of the land with the street and the scale of the street naturally determined the concept of the entire idea. The considerable gap between the ground space and the access route defined the way this new Portuguese property was positioned.
27 Oct 2021
House of the Nuns – Casa Salicos, Lagos, the Barlavento region, Algarve
Architects: Mário Martins Atelier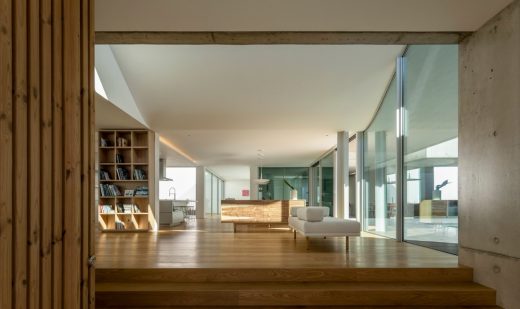 photograph © Fernando Guerra / FG+SG
House of the Nuns, Lagos
The Casa Salicos was built from scratch on the degraded space of a vehicle workshop. A new building appears behind a really massive, powerful wall that is more than a meter thick, guarding the memories of successive occupations and that now plays the role facing onto the street.
6 Aug 2021
Portas São João
Architecture: Meireles Arquitectos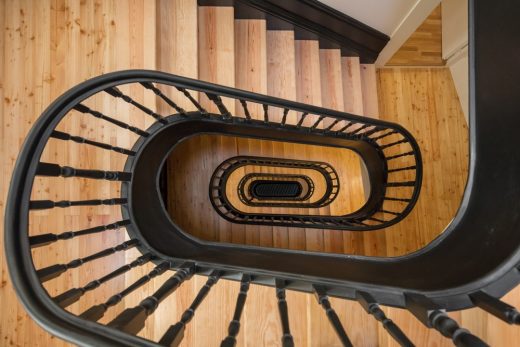 photograph : João Morgado
Portas São João, Porto
The building Portas São João has two street fronts and is located at the historic centre of the city, near the riverside of Porto, classified as a World Heritage Site since 1996.
1 Aug 2021
Torre 261 Apartments, Amarante, northern Portugal
Design: Just an Architect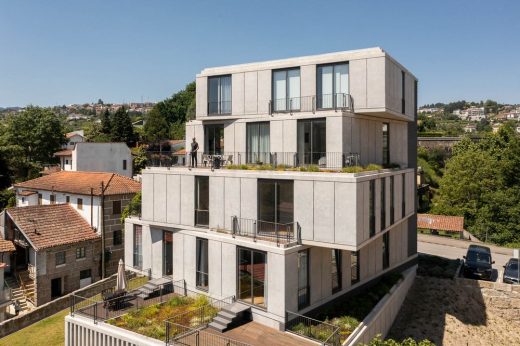 photo : Ivo Tavares Studio
Torre 261 Apartments, Amarante
Urbanistically, the Torre 261 plot meets two distinct scales. To the North, a scale of four and five storey buildings, to the South by the intersection of an access road to Rossio Park, after which the scale changes to a two-storey scale and single-family dwelling typology.
15 Jun 2021
Box House, Romarigães, Paredes de Coura, Northern Portugal
Architect: Tiago Sousa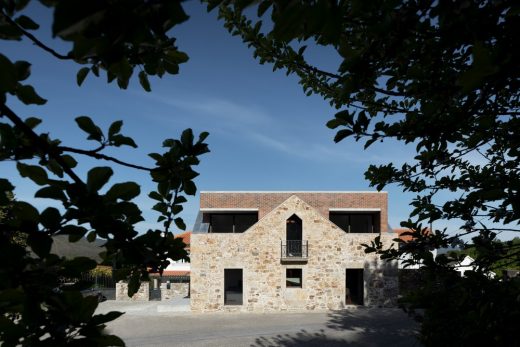 photography : Ivo Tavares Studio
Box House, Romarigães Paredes de Coura
Box House is a rehabilitation project – always representing the conflict between the memory of past experiences and the urges of contemporary living. The existing volume has a singular configuration – rigid in shape and rudely built, similar to the typical Minho house.
31 May 2021
Quinta da Marinha House, Lisbon
11 Apr 2021
Senhora da Hora, Porto
Architects: Raulino Silva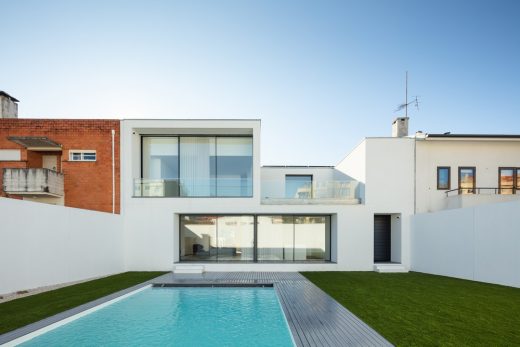 photography : João Morgado
Senhora da Hora House, Porto
The work is inserted in an urban land, in a residential area with several single-family houses on two floors and some buildings of collective housing. The town of Senhora da Hora has a population equivalent to a city, belongs to the municipality of Matosinhos and is very near to the city of Porto, in the north of Portugal.
9 Apr 2021
Calçada House, Vila de Paraíso, north of Portugal
Architects: Ren Ito Arq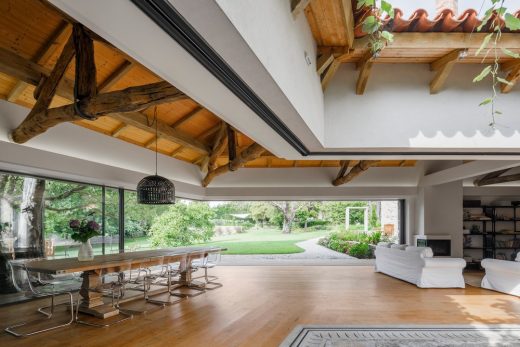 photography : Ivo Tavares Studio
Calçada House, Porto
There was an existing house from 18th century and several annex buildings with several trees in old manor with 5000 sqm. The site was divided by the buildings scattered throughout the project site, and each part was designed as unique place. We refurbished them to serve as a residence and a guest house.
22 Mar 2021
Santarém House, Santarém, central Portugal
Design: dp Arquitectos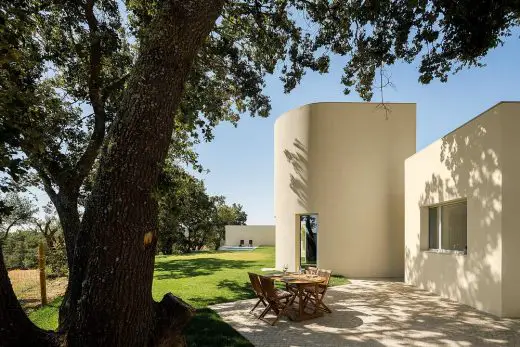 photography : Ivo Tavares Studio
Santarém House, Central Portugal
The Santarém House is located on the perimeter of an allotment, overlooking the countryside. It is organized with service area on the North side, social area in the center, and a bedroom area on the other end, all facing the generous patio with swimming pool.
19 Feb 2021
Casa dos Sobreiros, Celorico de Basto, Braga
Architects: Hugo Pereira Arquitectos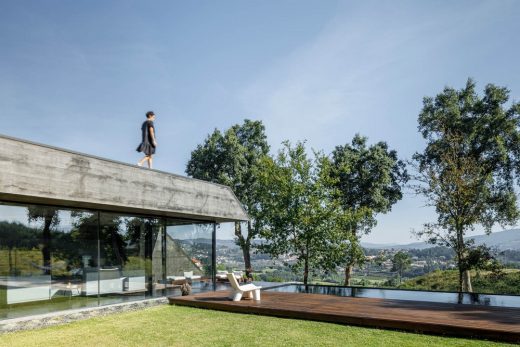 photograph : Ivo Tavares Studio
Casa dos Sobreiros, Braga Property
The objective of the Casa dos Sobreiros project was the construction of a single family house on a plot of extraordinary morphological characteristics, which remained almost intact and unchanged.
5 Feb 2021
Cork Trees House, Braga
Architects: TRAMA arquitetos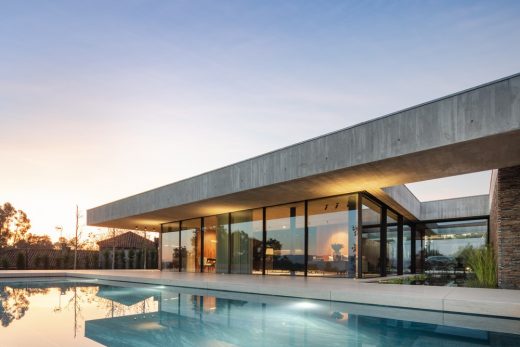 photography : João Morgado
Cork Trees House, Braga
TRAMA arquitetos were approached by a young family, who has a close relationship with architecture, to develop a project that materialized the DNA of the architects.

Casa dos Sobreiros design by Trama Arquitetos from BUILDING PICTURES on Vimeo
14 Feb 2021
Aldoar House, Foz do Douro, Porto
Architects: Raulino Silva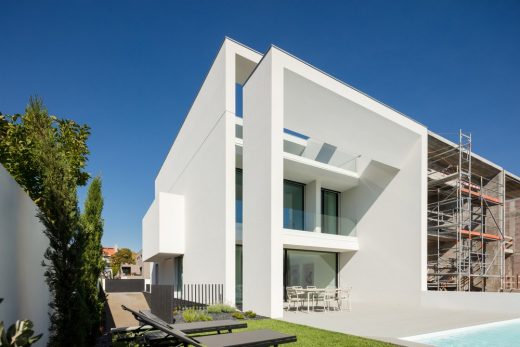 photography : João Morgado
Aldoar House, Foz do Douro
This modern Portuguese property is inserted in the allotment of Monte da Ervilha, near the Foz do Douro in Oporto, in Portugal. The urban land, long and narrow, allows the construction of a basement, two floors and an indentation.
5 Jan 2021
Casa Rio, Gondomar
Design: Paulo Merlini Architects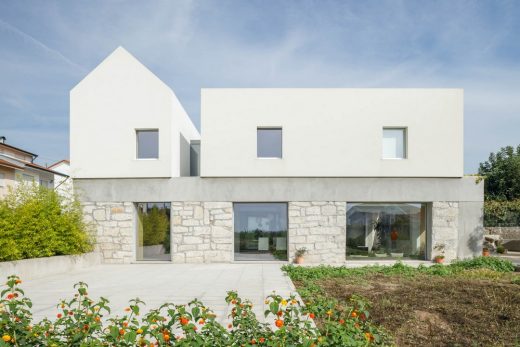 photo : Ivo Tavares Studio
Casa Rio, Gondomar
The Casa Rio project results from the remodeling of an old farmhouse located in a yet very rural city. By disassembling the poor materials of the old facade we discovered that the house was actually made up of three small houses built according to the needs of the former owner.
23 Dec 2020
Beiriz House, Póvoa de Varzim
Design: Raulino Silva Architect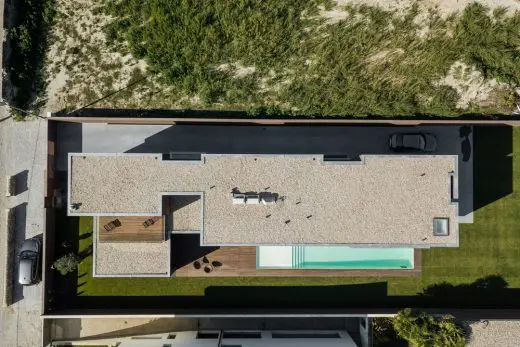 photo : João Morgado
Beiriz House, Póvoa de Varzim
The allotment of Violantas was designed along a street with lots on both sides and is located in the parish of Beiriz. The surrounding area has fields for cultivating corn and grass, but to the west in the distance you can already see the "towers" of the city, in Póvoa de Varzim.
30 Sep 2020
Rio Mau 2 House, Vila do Conde
20 Apr 2020
Matias Alves House in Leiria
12 Apr 2020
Touguinha House in Vila do Conde
3 Apr 2020
Casa Salicos in The Algarve
5 Mar 2020
Contemporary House in Falfosa, north of Faro
Design: AAP Associated Architects Partnership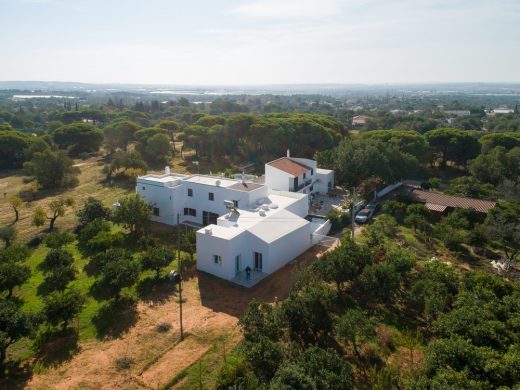 photo : José Campos
Falfosa House, Faro
This small new residential property project is part of a rural settlement in a national agricultural reserve protected area, north of the city of Faro.
9 Feb 2020
Galegos House, Barcelos
Architect: Raulino Silva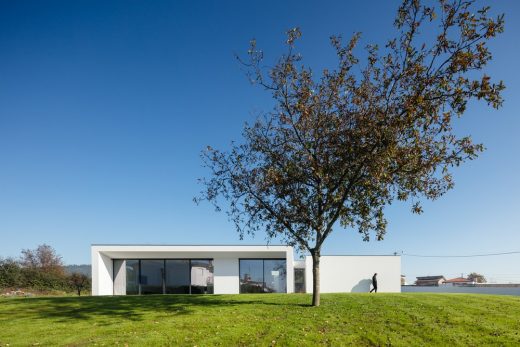 picture : João Morgado
Galegos House in Barcelos
A single-family housing is located in Galegos de Santa Maria, Barcelos, a plot with around 4,000 sqm. The building was implemented near of the corner of 1º Dezembro Street and Trás da Fonte Street, allowing the construction of another house on the remaining ground to the North.
More contemporary Portuguese Houses on e-architect soon
Portuguese Houses 2019
9 Dec 2019
Lamego House, Douro, Northern Portugal
Architect: António Ildefonso Architect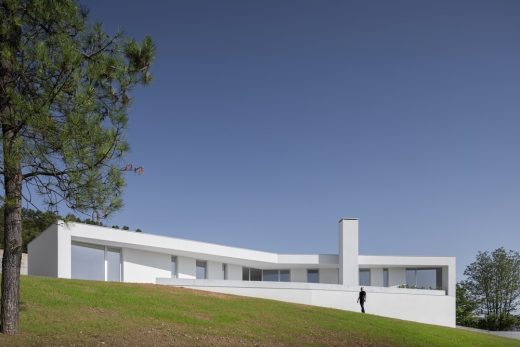 photography : Ivo Tavares Studio
House in Douro, Northern Portugal
The plot for this property is a 70m x 40m rectangle with a difference of 5 m between high and low elevation. Starting at the low elevation, an existing path to the east gives access to a house to the north which was the reference to the chosen site.
3 Dec 2019
Casa A and Pool in Guimarães, Braga District
28 Oct 2019
Touguinhó III House in Vila do Conde
31 July 2019
House MM in Odivelas, Lisbon
25 Jul 2019
Casa Vilarinho, Porto
Architects: João Vieira de Campos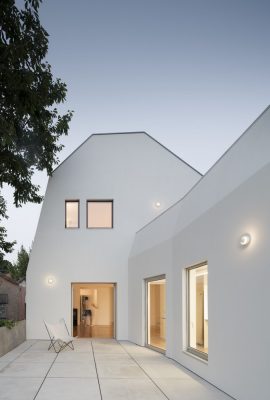 photography © Nelson Garrido
Casa Vilarinho in Porto
Located at the top of the lot, the Vilarinho House is built on a pre-existing house. The new construction preserves the sense and design of the exterior spaces of the site.
18 Jul 2019
Box XL Houses, Braga, Northern Portugal
Architects: Grupo Zegnea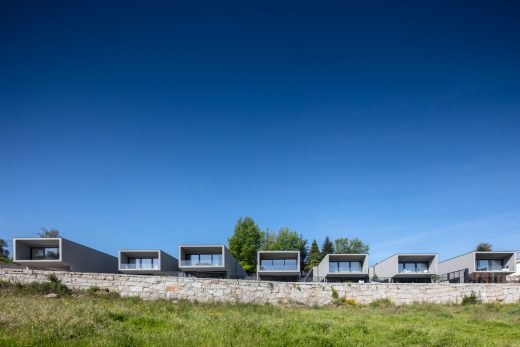 photography © João Morgado
New Houses in Guimarães, Braga
A seven-house development arranged in a diverse way, creating different relationships with the environment.
3 Jun 2019
Sea Front Villa, Quinta da Marinha, Estoril – Cascais
Design: Arq Tailor, Arquitectos, Lisboa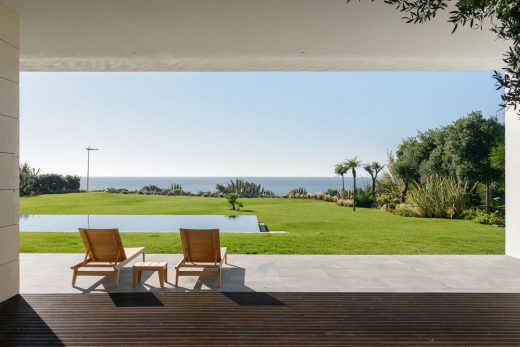 photography © Ricardo Oliveira Alves
Sea Front Villa in Quinta da Marinha
Sea Front Villa luxury property in a well-known selected resort in the Estoril – Cascais area, considered the Portuguese Riviera for its lovely dune extended beaches, ancient enchanting palaces and refined lifestyle.
23 Mar 2019
Coimbra – Steinman House, Lisbon
Design: Fran Silvestre Arquitectos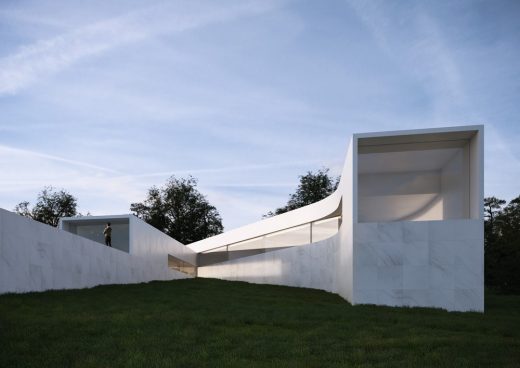 picture from architects office
Contemporary House in Lisbon
Coimbra – Steinman House is placed in the upper part of a field of a golf course with distant views towards the city of Lisbon.
16 Feb 2019
GR House, Sever do Vouga, Aveiro
Architect: Paulo Martins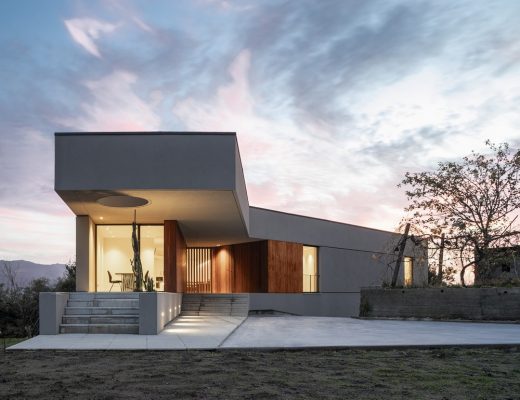 photo ©
House in Sever do Vouga
Inserted in a plot of land of irregular geometry and surrounded by constructions of little architectural value, this villa emerges as a consequence of its constraints.
25 Jan 2019
IF House, Ílhavo, Aveiro
Architects: M2 Senos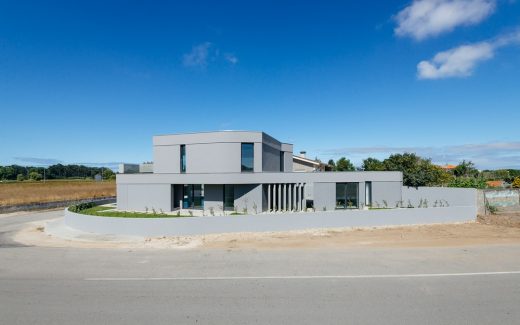 photo © do mal o menos – Eduardo Nascimento
House in Ílhavo
The building site implantation adopts the shape of the land. The two-story volumetry imposes itself on the street but on the back the building follows the length of the ground by losing its scale and subtly fading almost into a single point.
11 Dec 2018
Houses in Calçada dos Mestres neighborhood, Rua Um, Campolide hill, Lisboa
Design: Orgânica architecture office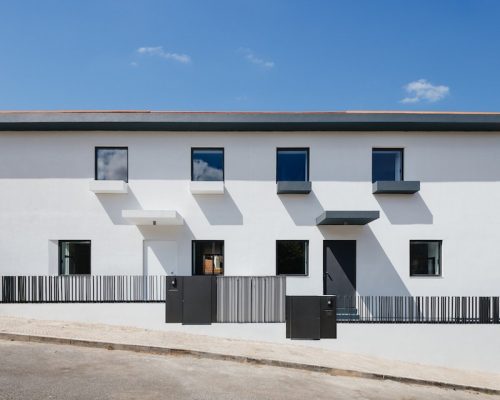 photograph : Do Mal o Menos
Houses in Calçada dos Mestres
Rehabilitation of two semi-detached houses in the Calçada dos Mestres neighborhood, facing 'Águas Livres', the 18th century aqueduct.
22 Nov 2018
Casa Salicos, Carvoeiro, Algarve
Architects: STUDIOARTE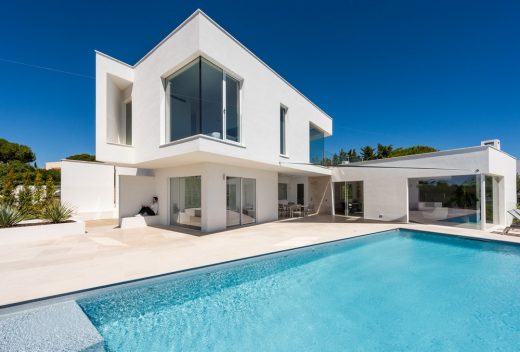 photography : Da Cruz Photo – Luís da Cruz
New House in Algarve
An interpretation of the Mediterranean Modernist Architecture in a balanced fusion with Portuguese Cubist Architecture references.
8 Oct 2016
House with Four Houses in Penafiel
Recent Portuguese Property Designs
Contemporary Portuguese Homes
10 Oct 2013
Villa Escarpa, Praia da Luz, Algarve, southern Portugal
Design: Mario Martins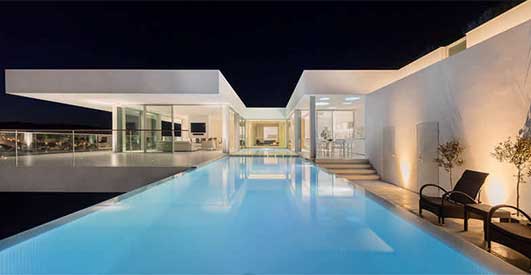 photo : Fernando Guerra [FG+SG]
Villa Escarpa is located near the village of Praia da Luz, in the district of Lagos, Algarve, in the South of Portugal. A condition of the planning permission was that the new house be constructed in the space occupied by a previous building. This had little architectural or technical merit, but was located in an exceptional position on an escarpment overlooking the Algarve coastline and village of Praia da Luz.
23 Sep 2013
House on a Warehouse, Torres Novas, central Portugal
Design: Miguel Marcelino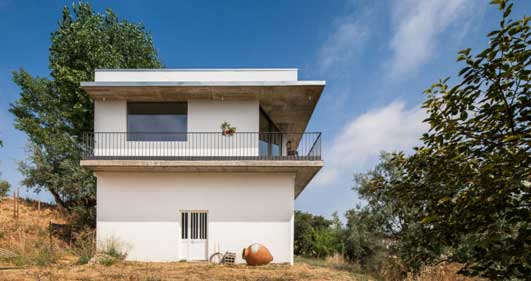 photograph : Joao Morgado
Given the constraints of the existing warehouse, the house shape turns out to be automatically set: a box that rests on the existing structure. The rooms are placed to the east, the toilets to the west, as well as the kitchen, looking to a centennial olive tree. The existing balcony will be maintained and "duplicated" as a shading element.
31 May 2013
Valongo House, Porto, northern Portugal
Design: CNLL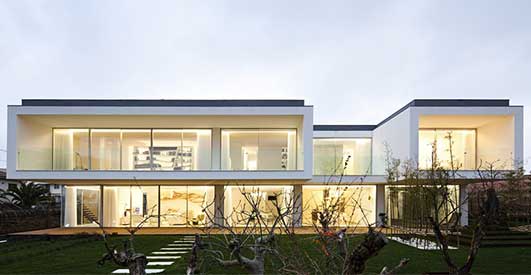 photo : Nelson Garrido
Valongo House
Thought as a large volume that cuts and breaks the house proposing spaces, scales, experiences and distinctive moments. The entrance sharply assumed by a breach or opening between volumes, gives us, a compression accentuated by a sculpture that accompanies the entrance path.
31 May 2013
Casa Paramos, Espinho, northern Portugal
Design: CNLL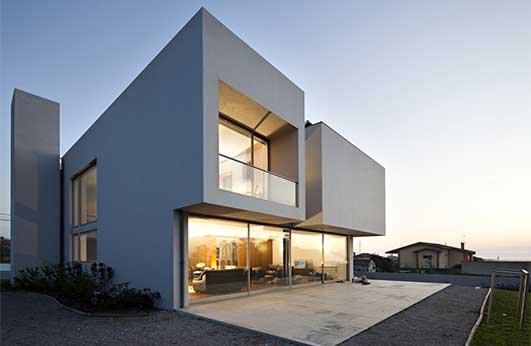 photo : Nelson Garrido
Casa Paramos
The programme is distributed over two floors and a basement. The ground floor is designed to accommodate the social areas and is extended to the outside by means of large glazed areas. The bedrooms and other private areas are on the upper floor. Large glazed areas and balconies are favoured here.
30 May 2013
Montemor House, Alentejo, northern Portugal
Design: CNLL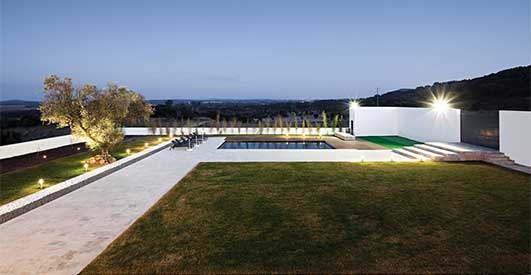 photo : Nelson Garrido
Montemor House
The deployment of the house defines the west edge of an outdoor walled space that constitutes the resting and leisure area, with exterior sober areas and rigorously designed gardens. The white plaster that covers the building pays tribute to the place and history, as well as the shaled walls print a noble and enduring character to the building.
1 Feb 2013
House in Odemira Alentejo, south of Portugal
Design: Vitor Vilhena Architects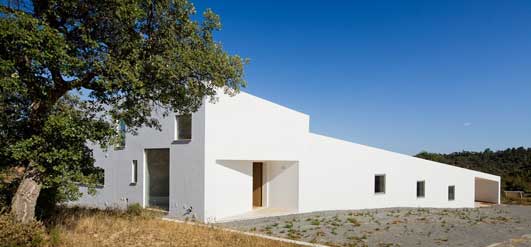 photograph © Joao Morgado
House in Odemira
The arrangement shown, maximizes the southern sun exposure, differing in subtle, non-blocking visual, public and private areas. On the whole, the project was undertaken without sacrificing the natural elements and panoramic tiny cuts between site characteristics and human intervention.
24 Aug 2012
U House, Ericeira, western Portugal
Design: Jorge Graça Costa
New Portuguese House
20 Aug 2012
San Lorenzo North Villa, Quinta do Lago, The Algarve, south west Portugal
Design: Imaestri
San Lorenzo North Villa
9 Jul 2012
House in Ovar, north west Portugal
Design: Paula Santos Arquitectos
House in Ovar
23 Feb 2012
House in Juso, north of Cascais, west of Lisbon, southwest Portugal
ARX Portugal + Stefano Riva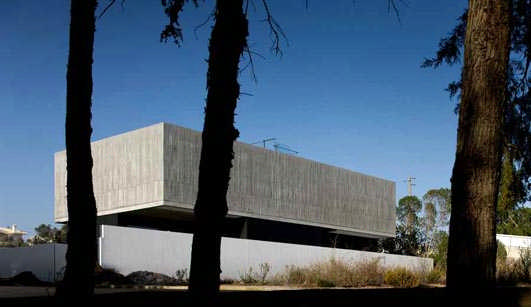 photograph : Fernando Guerra | FG+SG
New Portuguese House
In the concept for this small house in the vicinity of Aldeia de Juso, the tiniest area of flat land and the house' s, as well as the high density of the new houses yet to be built in the surroundings, forcibly draw us to some sort of "obsession" about the possibilities of dilating space.
More Portuguese Houses welcome
Location: Portugal, south western Europe
Architectural Designs
Porto Architecture Walking Tours
Comments / photos for Houses in Portugal page welcome