Portuguese Buildings, Architects, Property, Architecture Portugal, Development, News
Portuguese Architecture
Key Property Developments + Buildings in Portugal, western Europe
Portuguese Architecture Designs – chronological list
Architecture in Portugal
e-architect try to select the best examples of Portuguese Architecture. We cover completed buildings in Portugal but also new building designs. We focus on contemporary Portuguese buildings.
Arquitetura Portuguesa
We have 5 pages of Portuguese Architecture selections.
Portuguese Architecture : main page with news + key buildings (this page)
Portuguese Architecture Designs : A-C
Portuguese Architecture Developments : D-G
Portuguese Building Developments : H-I
Portuguese Building Designs : J-O
Portuguese Buildings : P-Z
Porto Architecture Walking Tours
Porto Architecture Walking Tours – architectural walks by e-architect
Latest Portuguese Building Designs
Portuguese Architecture Designs – latest additions to this page, arranged chronologically:
School of Technology Polytechnic Institute of Beja
Design: Nuno Montenegro Arquitecto Lda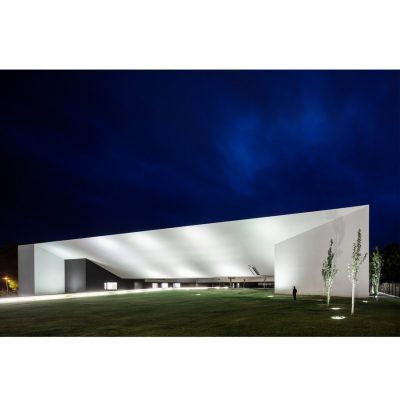 photo : Fernando Guerra [FG+SG]
Polytechnic Institute of Beja School of Technology – 28 Mar 2016
The portico structure arises from the combination of the two programmatic requirements. The need to create a corporate iconic image, and the inclusion of a set of amphitheatres.
House of the Arts, Miranda do Corvo, central Portugal – 3 Oct 2013
Design: Future Architecture Thinking (FAT)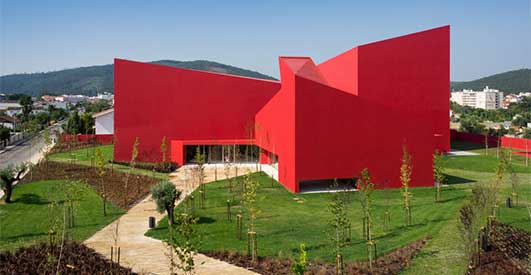 photograph : Joao Morgado
The sloping roofs of this building establish a dialogue with the geometry of the mountain landscape, in an analogy to the village rooftops. The dynamism achieved through the continuity between façades and roof is accentuated by a strong red colour, emphasizing its design and highlighting the building through the surrounding landscaped area vegetation.
Cultural Center of Viana do Castelo, north west Portugal
Design: Souto Moura Arquitectos



photograph : Joao Morgado – Architecture Photography
Cultural Center of Viana do Castelo – 6 Aug 2013
Like a low-level Pompidou Centre with the colour taken out. Eduardo Souto de Moura is a difficult architect to pin down – and that is a good thing. Look at the massive difference between say the highly expressive Estadio Municipal de Braga and the sensitive restoration of Bernardas Convent in Tavira. Or between the bold Paula Rêgo Museum and the discreet Cemetery of Hoog-Kortrijk in Belgium. It is no wonder he has won both the Pritzker Prize and the Wolf Prize, his work is questioning, not always pretty, but probing the edges of current architectural language.
Municipal Library Setúbal – 19 Jul 2013
Design: Jordana Tomé + Filipe Oliveira + Vitor Quaresma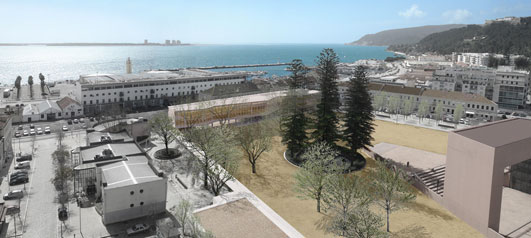 image from architects
The Project designed by the architects Jordana Tomé, Filipe Oliveira and Vitor Quaresma was awarded with the first prize in the Public Competition for the Elaboration of the Project for Setúbal's Municipal Library.
Porto Bakery, Gondomar – 1 Jul 2013
Architects: Paulo Merlini arquitectura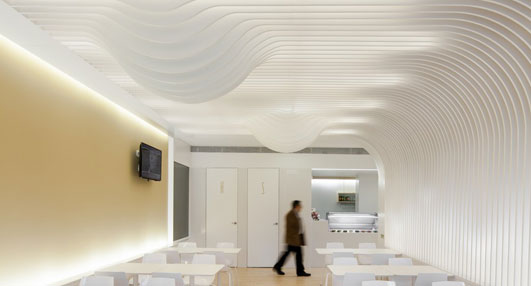 photograph : Joao Morgado
Porto Bakery Building
Mouriz School Center, Paredes, northern Portugal
Design: CNLL


photo : Fernando Guerra
Mouriz School Center – 5 Jun 2013
This is a two-storey school center, including a kindergarten and an elementary school located in Mouriz, Paredes, Northern of Portugal. Formally the school was defined as a longitudinal volume. The longitudinal facades are surfaces mainly sealed, only punctuated by the repetition of the same vertical opening in an apparently randomness, which at a deeper look demonstrates a careful composition instead.
Bernardas Convent Reconversion, Tavira, south east Portugal
Design: Souto Moura Arquitectos



photos : Luis Ferreira Alves
Bernardas Convent Reconversion – 10 Apr 2013
The restoration of the Convento das Bernardas is based on the construction of a resort with 78 residences. The architecture design is divided into two types of intervention, with new construction work and the recovery of the existing building.
Bo Zen Bar, Braga, northern Portugal
Design: Central Arquitectos



photo : Joao Morgado
Bo Zen Bar – 20 Mar 2013
The challenge for the architects was to design a Bar located in a pre-existing building whose concept was to create a space with the characteristics of a private living room.
Volunteer Firefighters Barracks, Santo Tirso, Portugal
Design: Álvaro Siza Vieira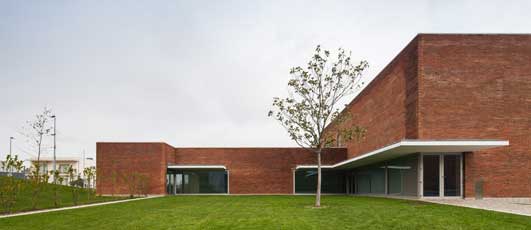 photo : Joao Morgado
Volunteer Firefighters Barracks – 20 Feb 2013
House for Elderly People in Alcácer do Sal, near Lisbon, southern Portugal
Design: Aires Mateus Arquitectos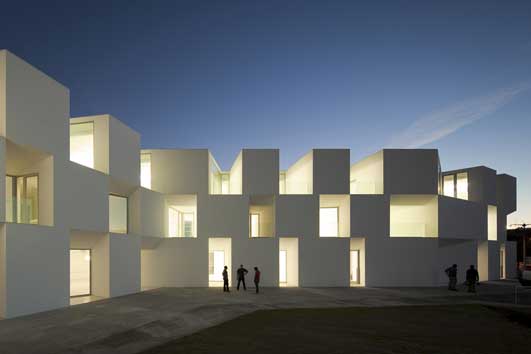 picture : FG SG
House for Elderly People, Alcácer do Sal
Mies van der Rohe Awards 2013 – Shortlisted building news
L´and Vineyards, Alentejo, south eastern Portugal
Interiors: studio mk27 – marcio kogan + diana radomysler + suzana glogowski
Architecture: Promontorio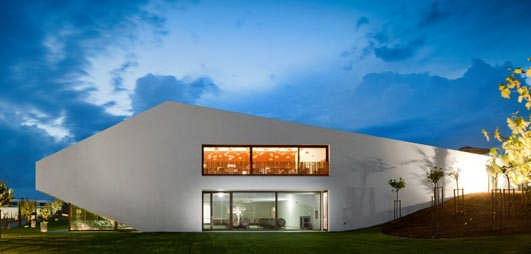 photo : Fernando Guerra
L´and Vineyards – 16 Jan 2013
Five world-renowned architects have lent their work to the award-winning project, bringing a distinct personality to each of the resort's seven clusters, with modern architecture that reinterprets traditional Mediterranean design.
Veterinary Hospital, Portugal
Design: deMM arquitectura



photo : Pedro Lobo
Veterinary Hospital – 12 Dec 2012
The client intended to create a veterinary hospital within the empty space of an industrial warehouse. As it was a rented space and the owners didn't want to modify the existing site, a light construction system, easy to build and to remove was required.
U House, Ericeira, western Portugal
Design: Jorge Graça Costa



photograph : Fernando Guerra, FG + SG
U House – 24 Aug 2012
A sustainable House for a Professional Surfer
The U House located in Ericeira, a World Surfing Reserve, was designed for José Gregório three times national Surf champion and a well known big wave rider, his wife and two daughters. This 300 Square meter house occupies a big lot, surrounded by a dense mesh of trees, on top of a hill overlooking Saint Lorenzo Bay.
San Lorenzo North Villa, Quinta do Lago, The Algarve, south west Portugal
Design: Imaestri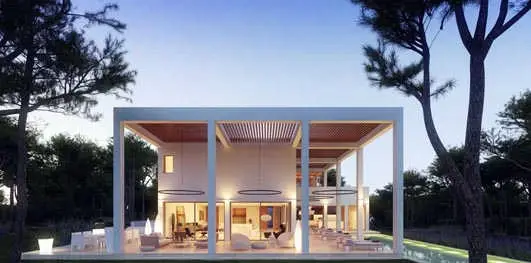 image from developer
Portuguese Villa – 20 Aug 2012
In addition to Quinta do Lago celebrating 40 years of continued success this year, they have launched their final 26 plots for sales in the San Lorenzo enclave of the resort. This crisply designed contemporary house represents the development as a show villa.
Platforma Artes Guimarães, northern Portugal
Pitágoras Architects



photograph : Joao Morgado
Platforma Artes Guimarães – 12 Jul 2012
Ovar House
Design: Paula Santos Arquitectos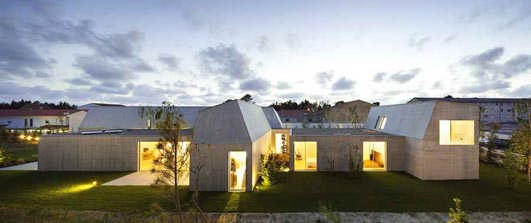 photograph : Nelson Garrido
Ovar House – 9 Jul 2012
The house at Ovar, Portugal, is an exercise where we stretched to the limit a number of ideas and concepts for a long time already contained in other projects, which had never been put in place. It is also – and above all – a project, which allows for thinking with other people about their own way of inhabiting a dwelling.
Vidago Palace Spa, Porto
Álvaro Siza Vieira


photo : Nelson Garrido
Vidago Palace Spa – 2 May 2012
Latest building by Pritzker Prize winning architect Álvaro Siza Vieira: in stark contrast to the main building's Belle Epoque opulence, The Spa is a minimalist oasis of clean lines and white marble.
Portuguese Buildings – Major Designs
Key Architecture Developments in Portugal, alphabetical:
Carlos Ramos Pavilion
Álvaro Siza Vieira



photo : Nelson Garrido
Carlos Ramos Pavilion Porto
Casa da Música, Oporto
Rem Koolhaas Architects



photo : Phillipe Ruault
Casa da Musica
Casa Dos Cubos, Tomar
E M B A I X A D A



photo : DMF
Casa Dos Cubos
Casa Possanco, near Lisbon
ARX Portugal



photo : FG + SG – Fotografia de Arquitectura
Casa Possanco
The Champalimaud Foundation
Charles Correa Associates with RMJM



image from architects
Lisbon Research Center
Church of Marco de Canaveses
Alvaro Siza Vieira



photo from Alvaro Siza
Church of Marco de Canaveses
Habitable Sculpture, Lisbon
Miguel Arruda architect



image : FG+SG-Fotografia de Arquitectura
Habitable Sculpture
House II in Aroeira Caparica
ARX Portugal Arquitectos



photo : FG + SG – Fotografia de Arquitectura
House II in Aroeira
Living Foz – apartment building, Oporto
dEMM arquitectura



image from architect
Living Foz
Olive Oil Factory, southern Portugal
Ricardo Bak Gordon



photo : FG + SG – Fernando Guerra, Sergio Guerra
Olive Oil Factory Marmelo Mill
Palácio de Justiça de Gouveia
Barbosa & Guimaraes



photo : José Campos, architectural photography
Palácio de Justiça de Gouveia
Vodafone Building, Porto
Barbosa & Guimarães



image © Barbosa & Guimarães
Vodafone Building
More Portuguese Architecture online soon
Location: Portugal, southwest Europe
Arquitetura portuguesa : Lisboa
Portuguese Architecture Competition
Alvaro Siza : Alvaro Siza
Note – Oporto is often translated as Porto in English, similarly Lisboa as Lisbon
Comments / photos for the Portuguese Architecture page welcome