Lisbon Architecture, New Buildings in Southern Portugal, Architect Projects Photos, Arquitetos portugueses
Lisbon Buildings: Architecture
Contemporary Portuguese Architecture – Built Environment in Portugal: Arquitetura Lisboa
Post updated 3 January 2023
Lisbon Architectural Walking Tours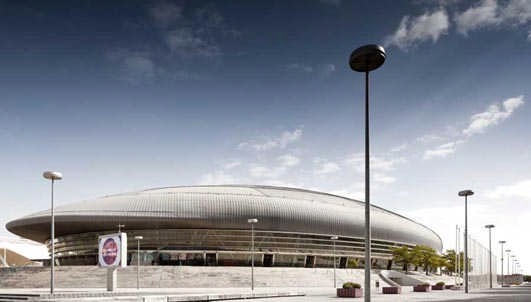 photograph © invisiblegentleman.com
Lisbon Architecture Tours – by e-architect
Our Architectural Tours can focus on traditional buildings, contemporary buildings or both. The Tour can be an introduction to the city's main buildings or can be tailored to your group's interests.
Lisbon Building – Latest Designs
27 Apr 2022
Graça 117
Design: Pedro Carrilho Arquitectos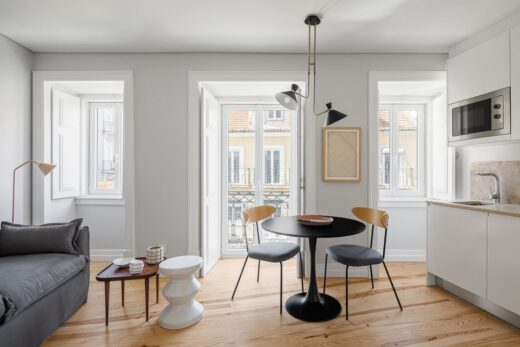 photo : Ivo Tavares Studio
Graça 117, Lisbon Apartment
Graça 117 is one of the rehabilitation projects that contributed to the valorization and preservation of the Graça's street urban unity, in Lisbon, as a part of a set of buildings with history. Like many buildings in Lisbon, this intervention required a general restructuring, with architectural features' recovery, respect for pre-existing references, and reformulation of housing layout.
27 May 2021
Quinta da Marinha House, Cascais
Design: Contacto Atlântico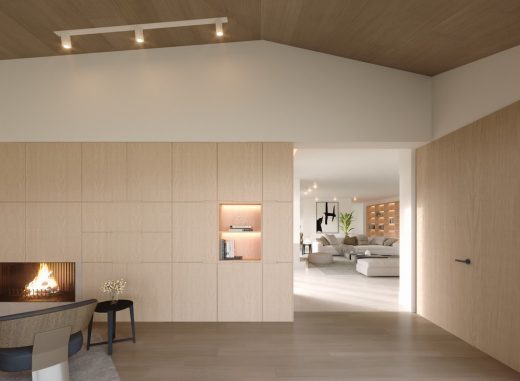 photo : Contacto Atlântico
Quinta da Marinha House, Lisbon
The Quinta da Marinha Houseof 700 sqm is located in the luxurious Quinta da Marinha, in Cascais. The intervention intends to rehabilitate an existing house, changing its deteriorated image and endowing itwith characteristics that are inherent to it, in order to integrate it in the urban and landscape surroundings.
25 May 2021
Dom Luis Offices
Design: Contacto Atlântico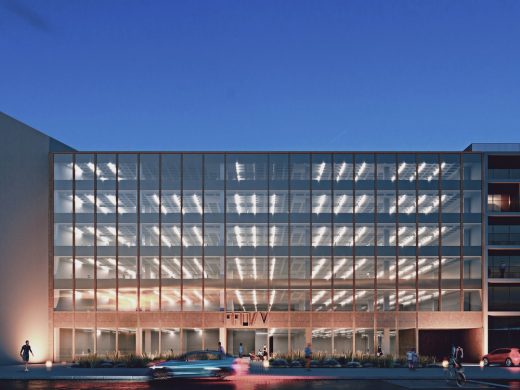 photography : Contacto Atlântico
Dom Luis Offices, Lisbon
The project of Dom Luis Offices, is located in the new trend area of Lisbon, few meters away from the Tagus and surrounded by all the commodities a city can offer: from lovely cafés and shops to a great public transport connection to any other part of the city or beaches around.
3 May 2021
Cascais School Building
Design: hey5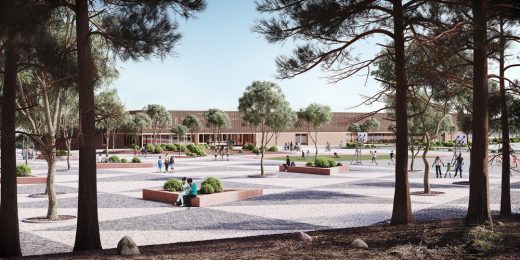 image Courtesy architecture office
Cascais School Building, Lisbon Region
The ambition of the Cascais School Building project is not only to create a smart receptacle for learning, but also to blend in the urban fabric in a relevant way. All the elements of the project are present somewhere in the town: The corridor surrounding all functions is designed like the old city streets, the indoor and outdoor paved floors remind the Portuguese praça, the overall volumetry has the qualities of a real city block.
15 May 2020
Carnaxide Offices
Design: Contacto Atlântico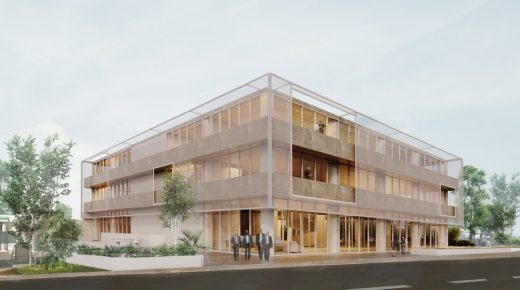 image : Contacto Atlântico
Carnaxide Offices in Lisbon
This new Portuguese building, is located in the surroundings of Lisbon, and houses three functions: a Lusitana beer factory, a small commercial area and some offices.
30 Apr 2020
1000m2 Prefabricated, Vale de Cambra, Vila Chã, northern Portugal – just south of Porto
Architects: SUMMARY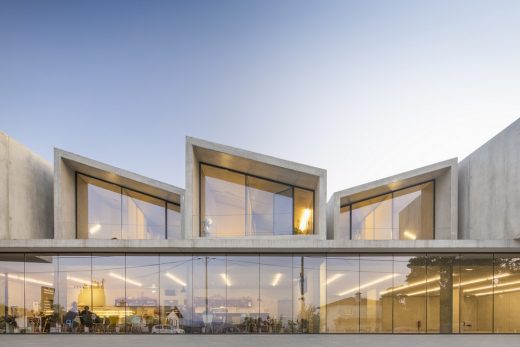 photo : Fernando Guerra | FG+SG
1000m2 Prefabricated in Vale de Cambra
SUMMARY studio unveils this project using their prefab and modular building systems.
16 Apr 2020
Cuf Descobertas Hospital
Design: IDOM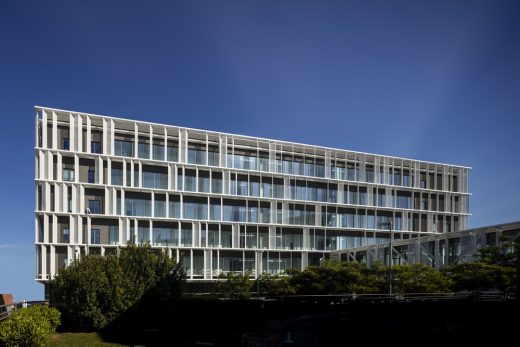 photo : FG+SG
Cuf Descobertas Hospital in Lisbon
The construction of this new building was the consequence of the need to extend the Cuf Descobertas Hospital, property of the Jose de Mello Saude group. It works exclusively as an out-patient's clinic, covering the majority of specialities of modern medicine.
More Lisbon Buildings News on e-architect soon
Lisbon Buildings News 2018 – 2019
26 Nov 2019
Novo Banco
Design: Contacto Atlântico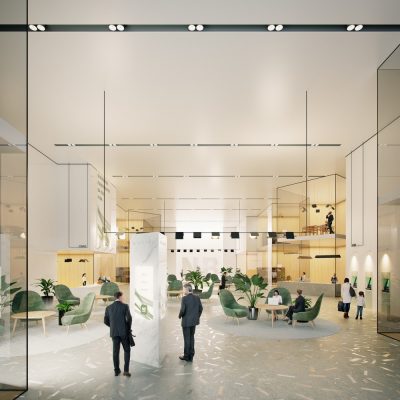 image : Contacto Atlântico
Novo Banco in Lisbon, Bank Building
There is no bank without clients. In regard of their importance, the space occupied by the clients is proposed to be the dorsal spine of the institution, from where all the services are developed.
20 July 2019
Lisbon Wood Edifício de Habitação
Architects: Plano Humano Arquitectos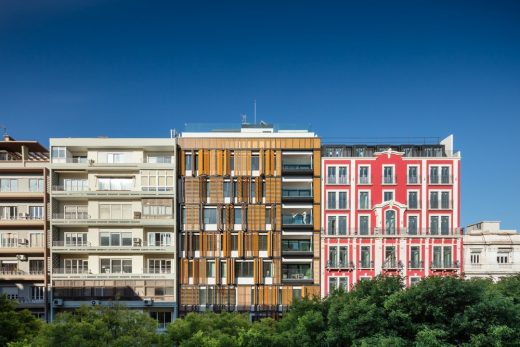 photo : João Morgado
Edifício Lisbon Wood
Rebuild to revive. Renew to continue. To give a new life to an existing building, within it´s story and excellent location. The pre-existence was a state service, the tourism general offices.
18 July 2019
Alcantara Gardens, Lisbon
EAA-Emre Arolat Architecture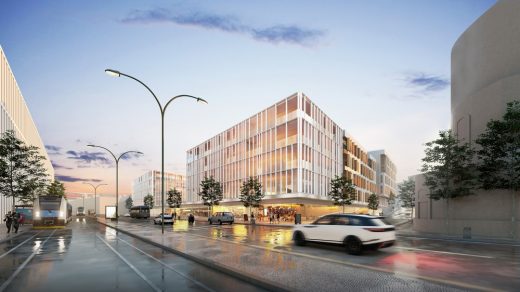 photo courtesy of architects practice
Alcantara Gardens Lisbon
A 23,000 sqm complex comprised of residential apartments and office spaces, with 93 residential units in total, ranging from large apartments for families to small units for short term stays.
23 Mar 2019
Coimbra – Steinman House
Design: Fran Silvestre Arquitectos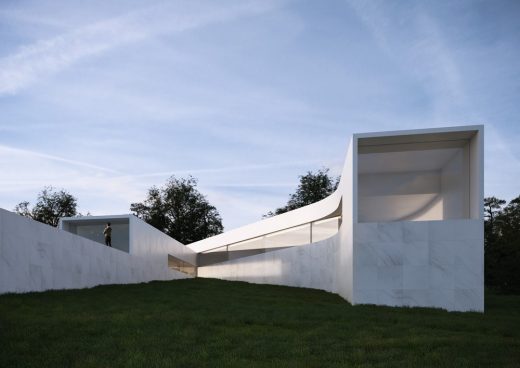 picture from architects office
Coimbra – Steinman House
Coimbra – Steinman House is located in the upper part of a field of a golf course with distant views towards the city of Lisbon.
11 Dec 2018
Houses in Calçada dos Mestres neighborhood, Rua Um, Campolide hill
Design: Orgânica architecture office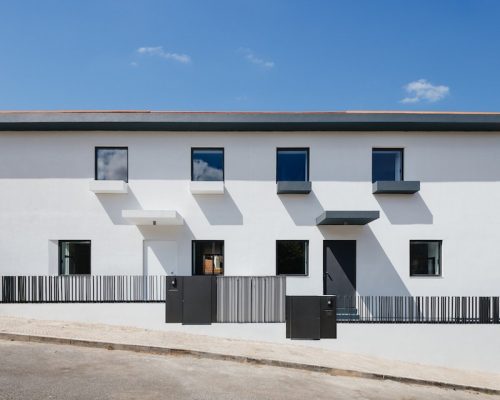 photo : Do Mal o Menos
Calçada dos Mestres Houses
20 Jun 2018
Lisbon Architecture Triennale 2019 News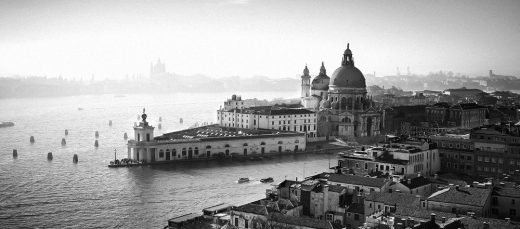 photo courtesy of Trienal de Arquitectura de Lisboa
Trienal de Arquitectura de Lisboa
'The Poetics of Reason': this title states that, for all its subjective and non-scientific dimension, architecture does rest on reason, and its aim is to shed light onto the specificity of this reason.
8 Mar 2018
Sabrab Office Interior, Alameda dos Oceanos, nº61 – 0.1 Lisboa
Design: SABRAB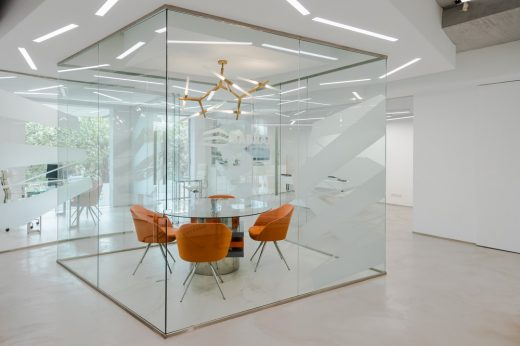 photo : João Morgado – Fotografia de Arquitectura
Sabrab Office Interior in Lisbon
Letting natural light enter in the space was the concept for the development of this space.
9 Feb 2018
MAAT – Museum of Art, Architecture and Technology, Lisbon, Belém
Design: AL_A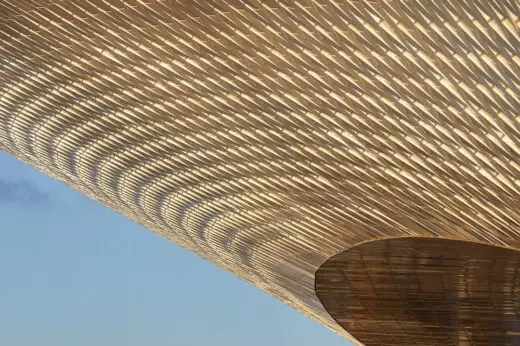 photo courtesy of architects
Museum of Art, Architecture and Technology in Lisbon
More Lisbon Buildings News online here at e-architect soon
Lisbon Buildings News 2016 – 2017
10 Jan 2017
Claus Porto Store
Architect: João Mendes Ribeiro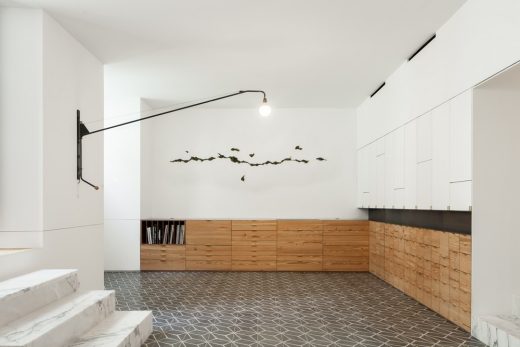 photograph : José Campos Photography
Store Building in Lisbon
Claus Porto is a portuguese scents brand whose 130 years history had to be summoned in the project of the first flagship store to open in Lisbon downtown. A heritage built not just by their impressive material assets, but also by their intangible patrimony, linked to the objects' symbolic quality and value.
10 Jan 2017
Espaco Espelho d'Agua, Avenida Brasília, Belém, central Lisbon
Design: Vertical Garden Design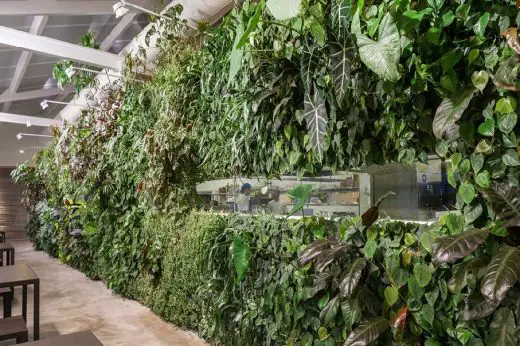 photography : Bruno Lopes
Espaco Espelho d'Agua
A 113sqm vertical garden – a new restaurant/gallery/concert venue located next to the river in Belém.
29 Nov 2016
Lisbon Architecture Triennale Event
Chief Curator or Curatorial Team sought for the fifth international edition to be held in the city from October to December 2019:
Lisbon Architecture Triennale Event
12 Feb 2016
Urban Platform Flexible Structure
Design: Bumjin Kim & Minyoung Kim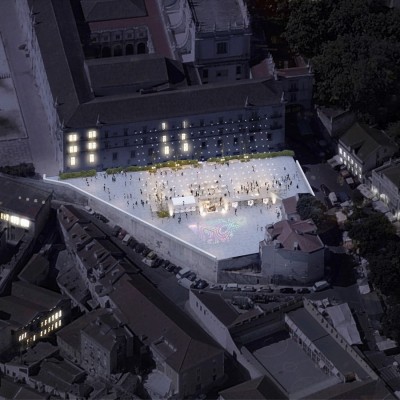 images : Bumjin Kim, Minyoung Kim
Urban Platform Flexible Structure Lisbon
Scaffolding has been used for a very long time, across the globe. Essentially, it is a temporary structure that supports people or materials during the construction process. There is no reason scaffolding structure can't be just as efficient, if not more efficient than other materials, and provide a more flexible space, even if it is only used for temporary structures.
More contemporary Lisbon Buildings online here soon
Lisbon Buildings News 2006 – 2015
11 Nov 2015
Cinema Ideal
Design: José Neves Architect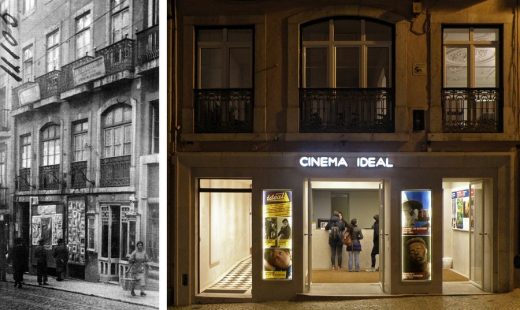 photographs : Laura Castro Caldas & Paulo Cintra; Fernando Freire
Cinema Ideal Building
This was the first cinema in Portugal. The building is located in the heart of the Portuguese capital city, between Loreto and Horta Seca streets. The property occupies the ground floor of two buildings built in the 19th and 20th centuries respectively. The building had suffered multiple interventions, becoming degraded and architecturally weak.
6 Feb 2014
Single house at Belas Clube de Campo, Sintra
Design: Estúdio Urbano Arquitectos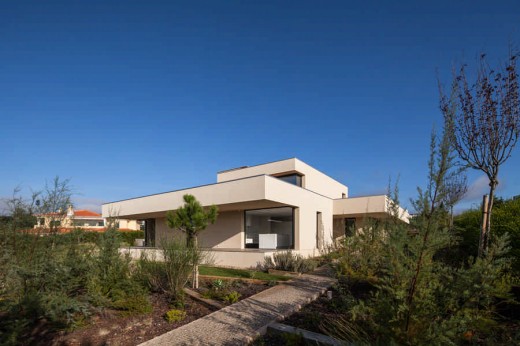 photograph : Joao Morgado – Architectural Photography
Belas House
The house is located inside the Belas Clube de Campo, a private condominium, where topography allowed to maximize exterior areas and offer privacy to the users.
13 Sep 2013
Lisbon Architecture Triennale
Lisbon Architecture Triennale
1 Aug 2013
Portuguese National Pavilion – Pavilhão de Portugal, Parque das Nações-PARQUE EXPO
Design: Álvaro Siza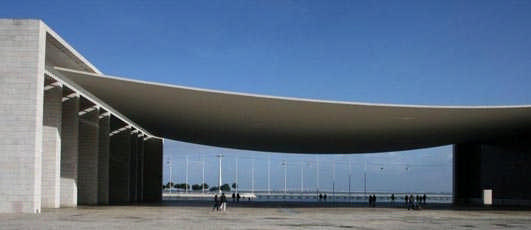 image : ZA
Portuguese Pavilion Expo Lisbon
Lisbon Architecture Photos
Photographs of various key designs in and around the city: Lisbon Architecture Photos
9 Oct 2012
Arroios Apartment, Lisbon, southern Portugal
Design: Tiago Filipe Santos



photo : invisiblegentleman
Arroios Apartment
The apartment is part of a typical Lisbon old building. It's long proportion produces a set of spaces on which the presence of natural light is the main challenge. The apartment is refurbished having the courtyard/garden as a central area that is totally open to the living room and adjacent spaces. The courtyard is the main source of natural light for the apartment.
14 Jun 2012
Ajuda Housing, Lisbon, southern Portugal
Design: atelierBASE



photo : invisiblegentleman
Ajuda Housing Lisbon
"This project is very special to us. First, because the client is special – enjoys architecture, understands our proposals and modifications, and above all, is enthusiastic with the project as much as we are!"
24 Apr 2012
Calçada do Lavra Building, Lisbon, southern Portugal
Design: Jorge Mealha



photo : João Morgado
Calçada do Lavra Building
The Project concerns the rehabilitation of an old building, presumably built at the end of the XIX century, but that was only registered in 1906. A cost-controlled operation, proposed by the owner, Santa Casa da Misericórdia de Lisboa, intended to rehab this building that was at risk of collapse.
29 Mar 2012
Francisco de Arruda School
Design: José Neves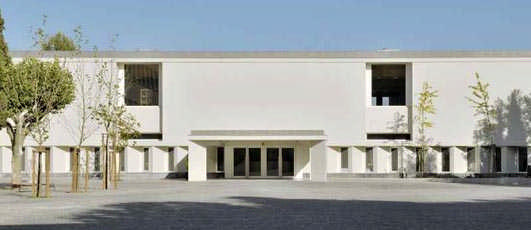 photos : Laura Castro Caldas & Paulo Cintra; João Dias
Francisco de Arruda School
It is a project within the "School Modernization Program" sponsored by the Parque Escolar, for a school originally designed by architect José António Pedroso in 1956. The three bodies that constitute the school are situated on the hillside in the continuity of the Faculty of Agronomy fields, overlooking the district of Alcântara.
22 Mar 2012
Santa Isabel House
Design: Ricardo Bak Gordon



photo : FG + SG – Fernando Guerra, Sergio Guerra
Santa Isabel House
This is a simple residence designed by Portuguese architect Ricardo Bak Gordon to fully use landscape – a mature tree, a small pool of water – to bring the property to life.
19 Mar 2012
Marquesa de Alorna School
Architect: José Neves



photo : Laura Castro Caldas & Paulo Cintra
Marquesa de Alorna School
The existing Marquesa de Alorna School, designed by architect José Sobral Blanco in 1956, was one of the 50 schools built in Portugal according to the type promoted by the Construction Board for Secondary and Technical Education in the 1950's. Like many of these schools, it had two main bodies, one containing the academic and administrative areas, the other containing the gym and cafeteria.
22 Feb 2012
French Gourmet Pastry, Rua da Escola Politécnica, São Mamede, central Lisbon
Design: 71 Arquitectos



photo : Joao Morgado
French Gourmet Pastry Lisbon
Halfway between the garden of the Principe Real and the Botanical Garden, we can find on the ground floor of a eighteenth century building the most specialized French pastry in the capital, "Poison d'Amour."
23 Jun 2011
Casa Possanco, near Lisbon
ARX



photo : FG + SG – Fotografia de Arquitectura
Casa Possanco
The cultural meeting point joining the house owners and the architects was based on their common interest: an undoubtedly contemporary architecture, but one whose nature and final expression would also be the outcome of a research of the paradigms figuring in the traditional architecture of the region, the Alentejo.
Lisbon Buildings
Alphabetical list of major Lisbon Architecture / Developments:
Alcântara-Marx redevelopment
2006
Jean Nouvel Architects
Altis Belém Hotel
Risco



image from architect
Altis Belém Hotel
The Champalimaud Foundation : Cancer Centre
Charles Correa Associates with RMJM Hillier & Consiste



image from architect
Lisbon Research Center
Chiado Fire Site Development, Chiado, Lisbon
–
Alvaro Siza Architects
Escola Secundária D. Dinis
2008
Bak Gordon, arquitectos
Estação do Oriente – Gare do Oriente
1998
Santiago Calatrava Architects



photograph © invisiblegentleman.com
EXPO '98 – Portuguese Pavilion
1998
Alvaro Siza Architects



photograph © invisiblegentleman.com
Habitable Sculpture
Miguel Arruda architect



image : FG+SG-Fotografia de Arquitectura
Habitable Sculpture
Harbour Control Tower
2002
Gonçalo Byrne
Museu do Farol de Santa Marta, Cascais
2007
camara municipal de cascais
Onion Pinch
Caterina Tiazzoldi, E. Benamor Duarte



photo : Sebastiano Pellion di Persano
Onion Pinch
Rossio Station
Design: Broadway Malyan



photograph : Fernando Guerra
Rossio Station
Sao Gabriel towers – Vasco da Gama centre
–
BDP
School of Music of the Polytechnic Institute
2008
João Luis Carrilho da Graça, JLCG arquitectos lda.
Vodafone HQ
2007
Alexandre Burmester Arquitectos Associados



photograph © invisiblegentleman.com
Note – Lisboa is often translated as Lisbon in English
Location: Lisbon, Portugal
New Portuguese Architecture
Contemporary Portuguese Architecture
Portuguese Architectural Designs – chronological list
Portuguese Architecture – Selection
Portuguese Architecture Studios
Comments / photos for the Portuguese Architecture page welcome