Melbourne Building, Victoria Architecture, Architect, Australia, Property News, Photos
Melbourne Architecture : Buildings
Key Australian Architectural Developments in Victoria: Built Environment News
Buildings in Melbourne
We've selected what we feel are the key examples of Melbourne Architecture. We aim to include buildings that are either of top quality or interesting, or ideally both.
New Melbourne Buildings : current, chronological list
We cover completed buildings, new building designs, architectural exhibitions and architecture competitions across Victoria. The focus is on contemporary Melbourne buildings but information on traditional buildings is also welcome.
Our architectural news page for the city:
We have 3 pages of Melbourne Architecture selections with links to hundreds of individual project pages.
Melbourne Architecture : news + key projects (this page)
Melbourne Buildings : A-K
Melbourne Building Designs : L-Z
Melbourne Architecture News
Architecture in Victoria – latest additions to this page, arranged chronologically:
29 Mar 2017
Ivanhoe Grammar Senior Years & Science Centre, Doreen, Melbourne, Victoria, Australia
Architects: McBride Charles Ryan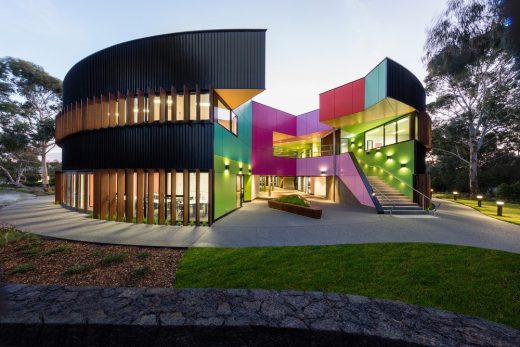 photo : John Gollings
New School Building in Melbourne
McBride Charles Ryan of Melbourne, Victoria, Australia, has been announced as the winner of the WAN Colour in Architecture Award 2016 for their Ivanhoe Grammar Senior Years & Science Centre, a project that places a vibrant and engaging use of colour at the heart of the design concept.
29 Mar 2017
Meakins Road Residence, Flinders, Victoria
Design: B.E Architecture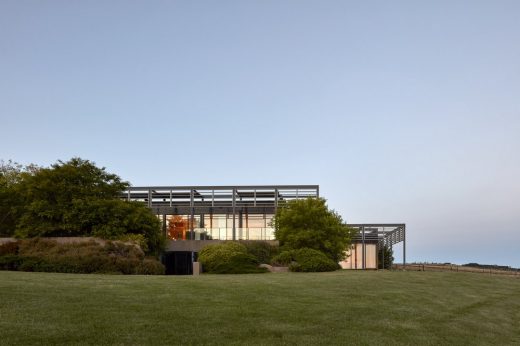 photo courtesy of architects
New Residence in Flinders
Set on 100 acres in coastal Victoria, this site was bare of vegetation except for a 100-year-old row of Cypress trees. The design was based around a series of sunken walled courtyards to create immediately useable outdoor areas in the windswept environment.
8 Mar 2017
Pond House, 'Marrandillas'
Design: Nic Owen Architects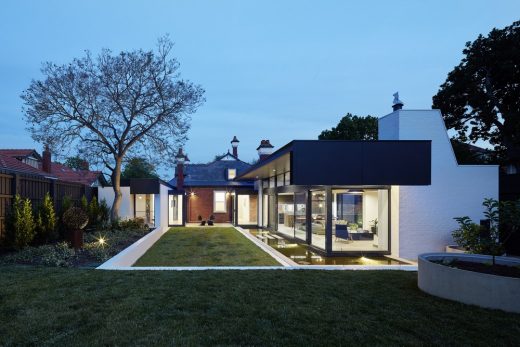 photograph courtesy of architects
Untouched for over 50 years this grand old Edwardian manor in Camberwell was a museum piece when recently purchased by the new owners. The family of 5 loved the period details and had dreamed of living in this street and exact house for many years.
Camberwell Edwardian Residential Property
MPavilion Melbourne, Queen Victoria Gardens
Design: Bijoy Jain Architect, Studio Mumbai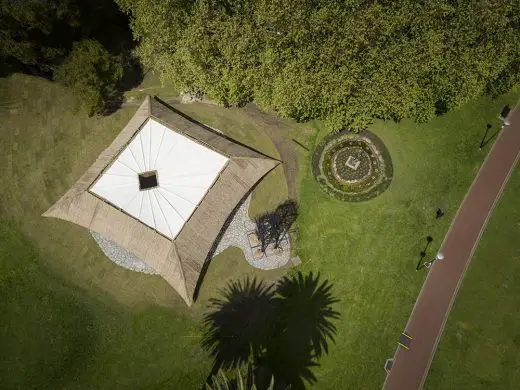 photograph : John Gollings
MPavilion Melbourne – 4 Oct 2016
Chadstone Shopping Centre, Malvern East
Design: The Buchan Group / CallisonRTKL architects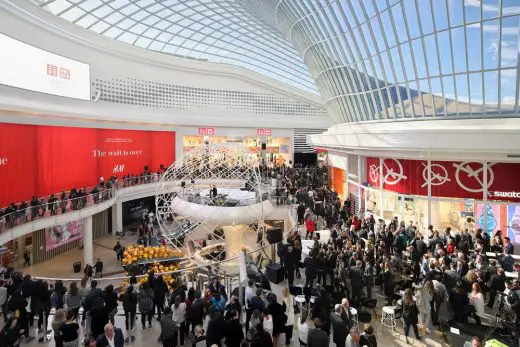 photo from architect
Chadstone Shopping Centre – 13 Oct 2016
The first stage of Chadstone's $660 m redevelopment has been unveiled, reinforcing the retail centre's infinite capacity for reinvention.
2 June 2016
383 Latrobe Street Tower
Design: Ateliers Jean Nouvel / Architectus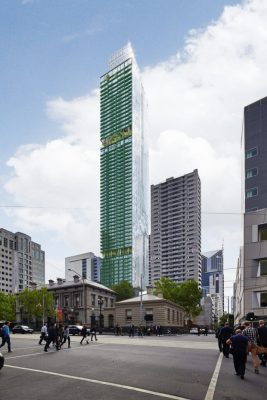 images Courtesy Sterling Global
Developer Sterling Global has submitted a planning application for a 70-storey, AUS$700 million mixed-use tower in Melbourne CBD's northern edge, designed by Ateliers Jean Nouvel (design architect) and Architectus (executive architect).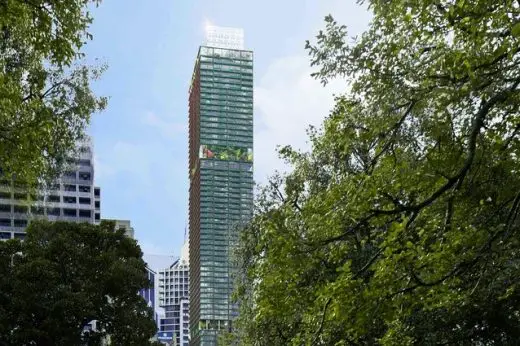 French architect Jean Nouvel is also the designer for Sydney's One Central Park.
Sterling Global lodged plans on May 18 for the tower. The building will include 488 apartments and a 196-room luxury hotel on the 388 La Trobe Street site it purchased from Investa Office Fund in 2015.
The planned building has a plot ratio of 29:1, meaning its 82,000-plus square meters of space will be 29 times the area of the site. It exceeds both the 18:1 limit Victorian Planning Minister Richard Wynne proposed last month and the 24:1 interim ratio set last year, but the developer is hoping for leniency as a result of the design by Nouvel, which will create a laneway through an otherwise impenetrable block as well as a public arcade that permits large-scale digital artworks to be shown across its surfaces.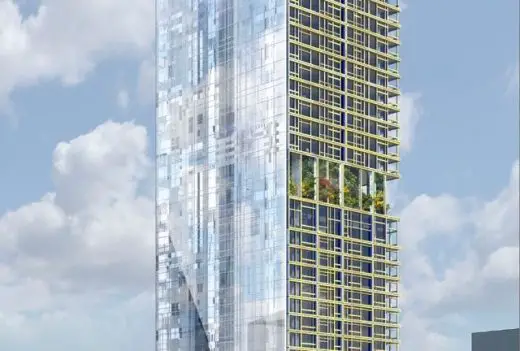 In procuring a design for the tower, the developer worked with local, independent experts including Andrew Hutson, associate dean of architecture at the University of Melbourne, and a retired director of Woods Bagot, to generate a long list of 30 international practices for the project. From the long list, 12 expressions of interest were sought and four practices were shortlisted to participate in a competitive design process.
Ateliers Jean Nouvel beat major architects studios Büro Ole Scheeran, Skidmore Ownings and Merrill, MAD Architects to win the project.
If constructed, the tower will be Ateliers Jean Nouvel's first project in Melbourne and the second project in Australia following the One Central Park apartment project in Sydney.
Merricks House in Melbourne –
2 Feb 2016
Design: Robson Rak Architects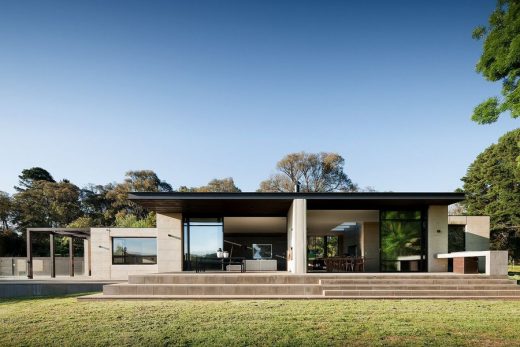 photo from architects
The site is a 10-acre rural farm block with a little farmhouse in Merricks, 50 minutes drive from Melbourne.
699 Bourke Street, Melbourne – 15 Dec 2015
Design: Grimshaw, Architects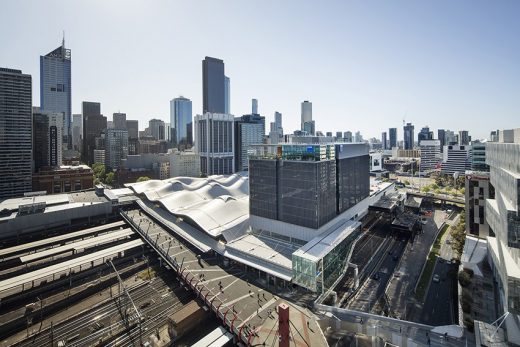 photo : John Gollings
When building in the air, a new ground plane needs to be constructed and this was done for this new building. Aligned with the western edge of the existing Southern Cross Station roof, this ground plane sits 24m above the train tracks.
Imperial Doncaster – 17 Nov 2015
Design: The Buchan Group, Architects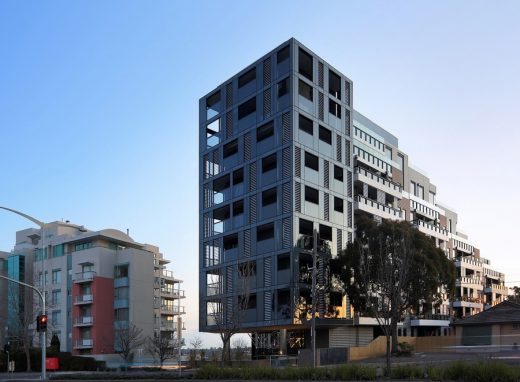 photo © Michael Gazzola
The development, featuring a range of one to three bedroom apartments with a series of large penthouses, is set on a steeply sloping site opposite Westfield Doncaster.
Kew House, Melbourne – 19 Aug 2013
Design: Nic Owen Architects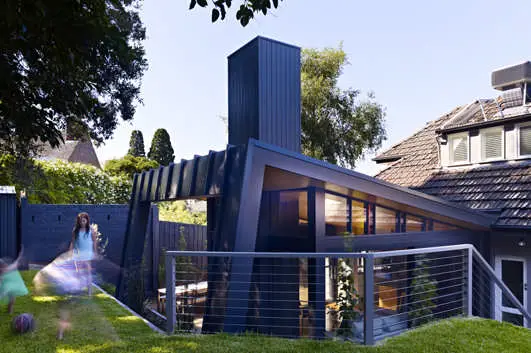 photo : Rhiannon Slatter
The design solution resulted in little change to the overall footprint, consisting of the removal of a late rear extension 'meals room' and replacing it with 'the claw'. Aptly named by the owners the new family-room embraced the sloping land reaching up to the rear raised garden. The claw-roof was conceived to provide solar protection to the north while allowing the winter sun indoors. The claw is surrounded on 3 sides with full height glazing, extending the living environment into the rear landscaped yard.
Flinders St Station, Melbourne – 8 Aug 2013
HASSELL, Herzog and De Meuron win Flinders Street Station Design Competition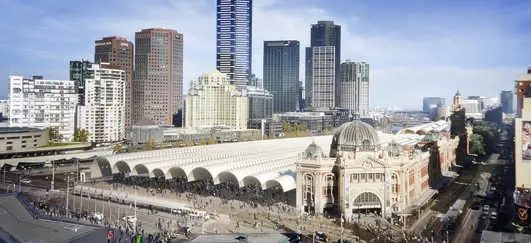 image by architects
The Australian/Swiss design team of HASSELL, Herzog and De Meuron has won the Flinders Street Station Design Competition. "The jury was unanimous in its decision to award first prize to HASSELL, Herzog & De Meuron, describing their design as 'a beautiful and compelling integration of aspects of the original station design, strongly reinforcing its gateway status'," Dr Napthine said.
Wyndham Harbour Project Expansion, Melbourne, Victoria, Australia – 18 Jul 2013
Development Expansion news
Approval for the expansion of one of the most exciting redevelopments in Melbourne's west gaied: extensions to the Wyndham Harbour project announced. Planning Scheme Amendment C156 will allow Wyndham Harbour to grow to a community of almost 1,400 residents. Approval will also assist in fast tracking a ferry service link to the Docklands and the CBD.
Highpoint Shopping Centre – 16 Jul 2013
Design: Grimshaw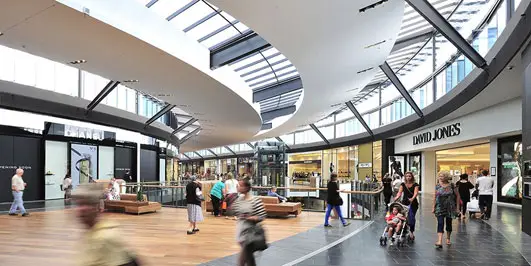 photo : Phillip Noller
This 30,000sqm extension to the existing shopping centre building is the first retail centric project by the British architects practice since their acclaimed Sainsbury's building in Camden, London. The architects "challenged existing retail perceptions by breaking down the traditional inward-looking approach. Importantly, the new Highpoint creates a vibrant public realm with strong connections to the surrounding environment, landscape and community".
The Yardmaster's Building – 28 Jun 2013
Design: McBride Charles Ryan Architects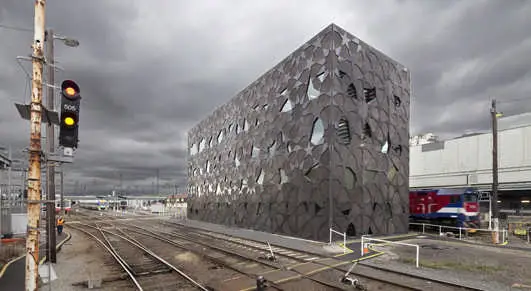 photo : John Gollings
Within the gritty rail yard environment, squeezed between a space formed by the divergence of V-Line tracks at the end of platforms 5 and 6, the Yardmasters Building is a multi-use facility for the various workers and operations associated with the Southern Cross Rail Yard. A service building that in years passed may have been treated in a pragmatic and unremarkable way.
Prahran Hotel, Windsor, Victoria – 20 Jun 2013
Design: Techne Architects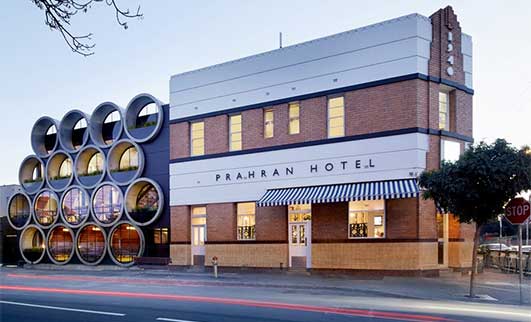 photo : Peter Clarke Photography
The Prahran Hotel is a substantial two storey corner pub with a striking streamlined art deco facade. The rear of the venue had a poorly proportioned, internalised single storey extension and the clients brief for the project called to demolish and replace it with a dramatic double height space with a central courtyard.
Avenue Apartments, Melbourne – 29 May 2013
Design: Elenberg Fraser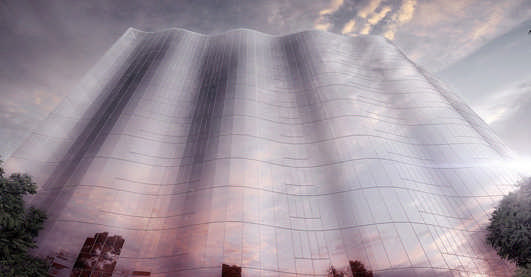 image from architect
We've all heard of a liquid lunch, but liquid architecture? Well, Elenberg Fraser have done it again with Avenue, their latest residential building for Fridcorp, situated on the corner site of Alexandra Avenue and Chapel Street.This is a building of pure phenomena. Like the ripples that spread outwards from skipping stones across a creek, Avenue is a series of pillowy curtain walls that radiate out over the surface. This ripple effect helps the building turn the corner, giving it a picturesque planning outcome; the fluid surface reflects and refracts the suns rays. Like a pool of water, Avenue's surface is cool in the shade, but flares in the warmth of the afternoon sun.
33M Vertical Village, Melbourne, Australia – 29 May 2013
Design: Elenberg Fraser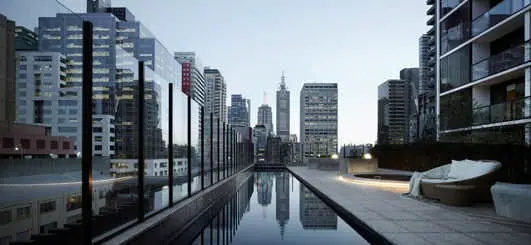 image from architect
Elenberg Fraser's new residential project, perfectly positioned at the edge of Melbourne's CBD, creates a vertical village that follows a story of ascendance and transcendence, inspired by the ancient myths of the angel Metatron (or Enoch, or Elijah) and Pandora's Box.
Tower Melbourne, Melbourne, Australia – 29 May 2013
Design: Elenberg Fraser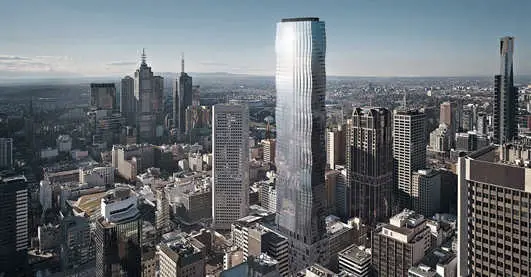 image from architect
Right at the top of the hill of the Western end of the CBD, our new residential tower for CEL Australia sits on a corner with pedigree – the great modernists Barry Patten and Hugh Banahan also grace the intersection with their presence and next door is Osborn McCutcheon.
Luna Apartments, St Kilda
Design: Elenberg Fraser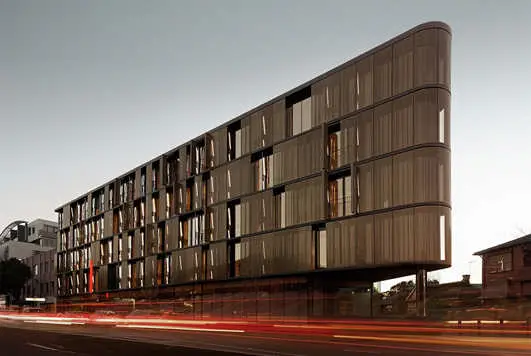 image from architect
Luna Apartments – 28 May 2013
It has inspired a dedicated fan web-site, generations of fancy-dress costumes and countless YouTube tribute videos, and now a building. That's right, Luna, Elenberg Fraser's new four storey residential project on Barkly St, St Kilda, is based on Princess Leia's infamous 'dancing girl' gold bikini, featured in Star Wars, Episode VI: Return of the Jedi.
The Infinity Centre, Melbourne
Design: McBride Charles Ryan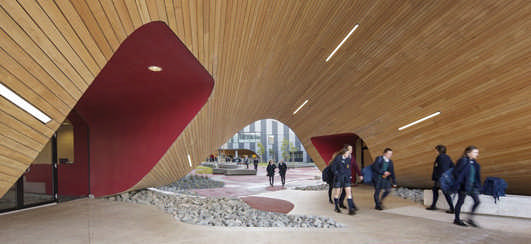 photo : John Gollings
The Infinity Centre Melbourne – 22 Apr 2013
The idea of infinite learning became the mantra. Radiating out from the library, along the length of the form, are specialist precincts and a variety of learning spaces.
Federation Square East – Submission Invitation News



image from University of Melbourne
Federation Square East Melbourne – 2 Apr 2013
Search on for Fed Square East development ideas: The Victorian Coalition Government is exploring options to develop one of Melbourne's missing links – businesses will be invited to submit proposals to cover the rail lines at Federation Square East.
AAMI Park Stadium Bridge
New sports precinct bridge open for Melbourne Derby



photo from Victoria Government
AAMI Park Stadium Bridge – 20 Dec 2012
Melbourne Park's new Edwin Flack Bridge is to open this weekend, just in time for Saturday's grudge match between Melbourne Heart and Melbourne Victory. Minister for Major Projects Denis Napthine said pedestrians will now be able to walk direct from the MCG and Yarra Park to AAMI Park via the fantastic new Edwin Flack Bridge over Olympic Boulevard.
Swanston Academic Building
Lyons



image : John Gollings
Swanston Academic Building – 26 Nov 2012
This new building is an idea about building a vertical campus and drawing the diversity of the city deeply in to the design conception.
Mash House, North Fitzroy, Melbourne, Australia
Design: Andrew Maynard Architects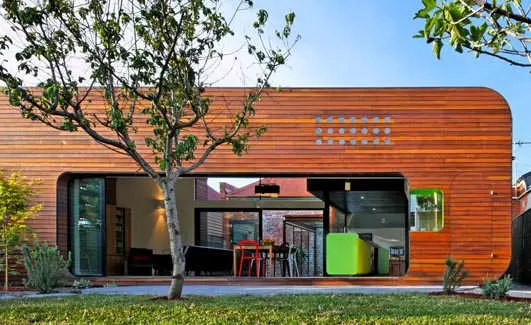 photo Kevin Hui (C) 2010
Mash House North Fitzroy – 14 Nov 2012
The approach taken for the Mash House is one which, despite first impressions, celebrates the backyard. Or perhaps less so the traditional notion of the backyard, and more so just plain, outdoor space. The original deep and dark, double-fronted Victorian house offered a plethora of challenges; not least of all, it's lack of solar access.
Dandenong Government Services Offices, Melbourne, Victoria, Australia
Design: HASSELL



photograph : Peter Bennetts
Dandenong GSO – 5 Oct 2012
The Government Services Offices development is one of the key projects of the Revitalising Central Dandenong initiative, a major urban renewal project being led by Places Victoria and the Victorian State Government. Developed and built by Grocon, the challenge of this landmark development was to create a high standard of urban design and quality workplace in this outer-suburban region, and to assist in the rebirth of the precinct as a major mixed-use activity centre.
Princes Pier Restoration, Port Melbourne
Architect: Lovell Chen



photo of the restored project
Princes Pier Port Melbourne – 28 Sep 2012
The restoration of Port Melbourne's historic Princes Pier was awarded the Outdoor Timber prize for a stand alone structure at the 2012 Australian Timber Design Awards held in Sydney.
Melbourne Architecture Studios : Melbourne Architect Office Listings
Melbourne Buildings
Melbourne Buildings, alphabetical:
A'Beckett Tower
Elenberg Fraser Architects



image © Elenberg Fraser Architects
A'Beckett Tower Melbourne
ANZ Centre
HASSELL architects



photo : Earl Carter
ANZ Centre
Crown Metropol Hotel
Bates Smart



image : John Gollings / Shannon McGrath
Crown Metropol Hotel
Flinders St Station Architecture Competition
Shortlisted Architects



photo from Victoria Government
Melbourne Design Competition
Hilton South Wharf
Woods Bagot



photograph : Trevor Mein – meinphoto
Hilton South Wharf
La Trobe Institute, near Melbourne, Australia
Lyons



picture from architects
La Trobe Institute
Letterbox House
McBride Charles Ryan



image © John Gollings
Letterbox House
Melbourne Park Western Precinct
NH Architecture with Populous



photo from Victoria Government
Melbourne Park Western Precinct
Myer Bourke Street
NHArchitecture



image from FD
Myer Bourke Street
Monaco House
McBride Charles Ryan



photograph : Trevor Mein
Monaco House Melbourne
Southern Cross Station Expansion
Grimshaw



building photo from Grimshaw Architects
Southern Cross Station Building
Webb Bridge
Denton Corker Marshall / Robert Owen, Sculptor



photo : Shannon McGrath
Webb Bridge
More Melbourne Buildings online soon
Location: Melbourne, Victoria, Australia
Architecture in Melbourne
Klein Bottle House nr Melbourne
Website: Visit Melbourne
Melbourne Architects : Woods Bagot
University of Melbourne Building Competition
Melbourne Building Competition : Faculty Architecture Building & Planning
Buildings / photos for the Australian Architecture page welcome