MPavilion 10 Victoria concrete building, Modern Melbourne architecture, Australian real estate images
MPavilion 10 in Melbourne, Victoria
15 November 2023
Architect: Tadao Ando
Location: Hawthorn, Melbourne, Victoria, Australia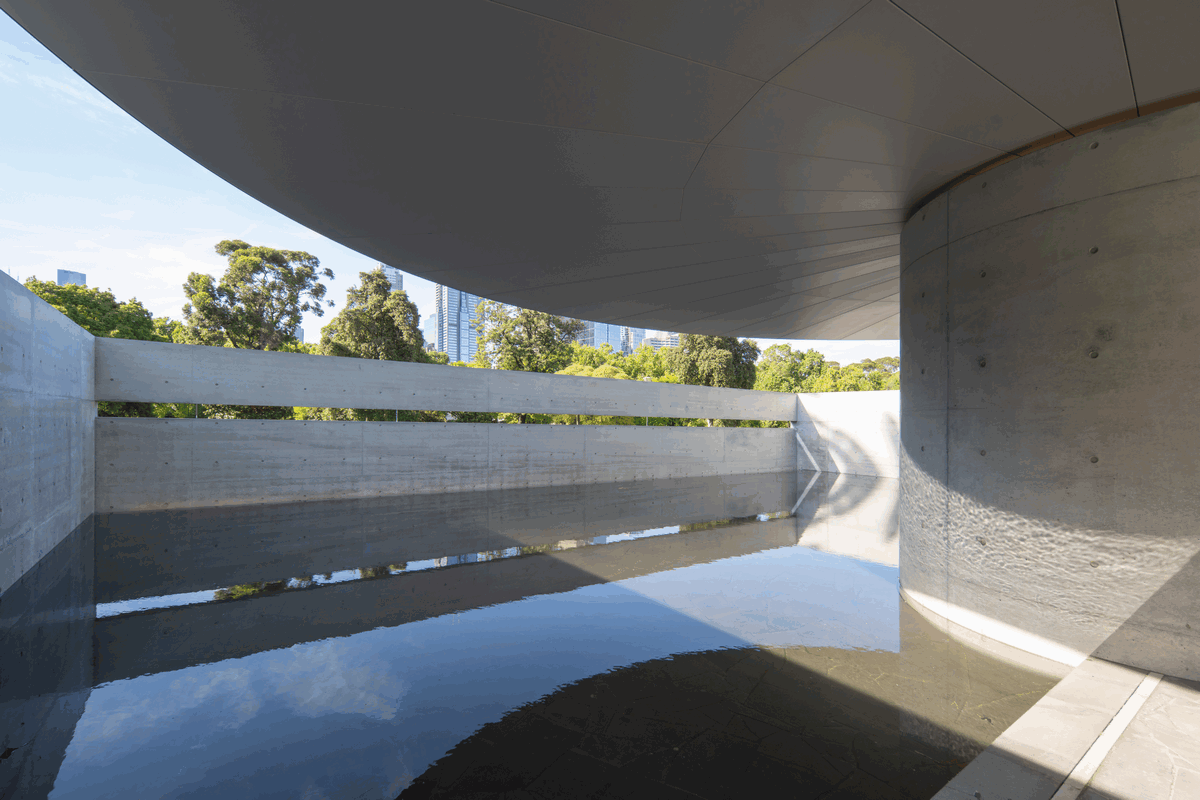 Photos by John Gollings courtesy of MPavilion
MPavilion 10, Australia
MPavilion opens Tadao Ando-designed pavilion, kicking off milestone tenth year. The Pavilion Creates an Oasis in the Heart of Melbourne, Australia, and Serves as dynamic site of a free five-month design festival offering more than 150 events inspired by Ando's Iconic Pavilion – MPavilion, the flagship initiative of the Naomi Milgrom.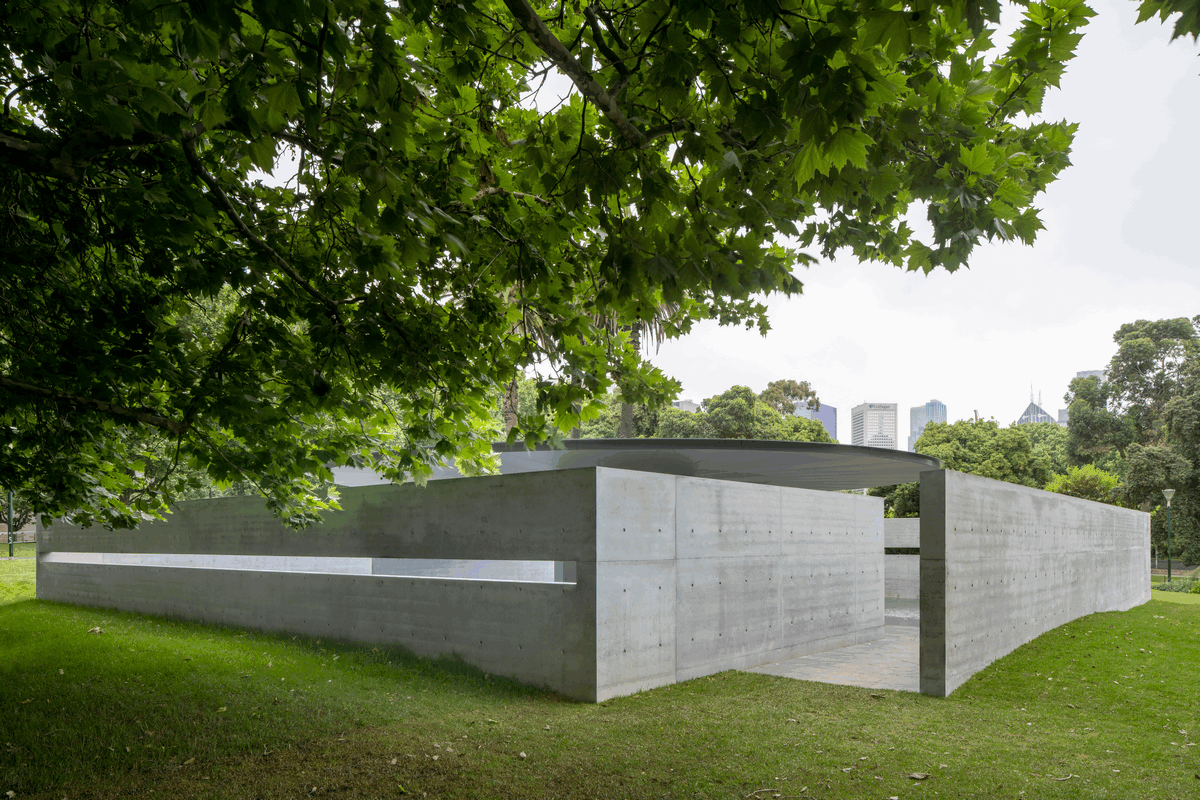 Foundation, opens its milestone MPavilion 10, designed by internationally renowned, Pritzker Prize winner Tadao Ando, in Queen Victoria Gardens on 16 November. Ando's design for MPavilion 10 — his first ever project in Australia—reflects his signature use of striking geometric interventions in nature and his precise, assured use of concrete.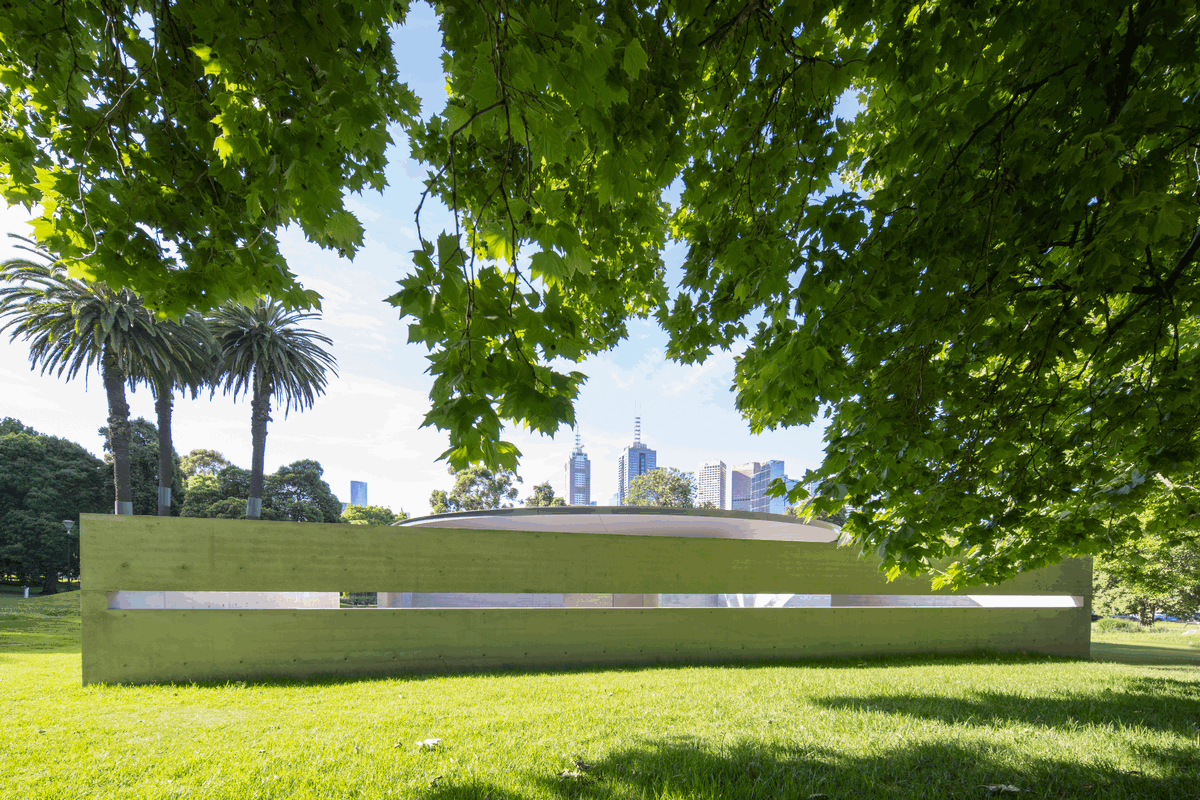 The opening kicks off the five-month design festival of public programming offering over 150 events. Every event is free. MPavilion, which first began in 2014, has grown to become one of Australia's most visited and impactful festivals, attracting more than 350,000 people during its ninth season.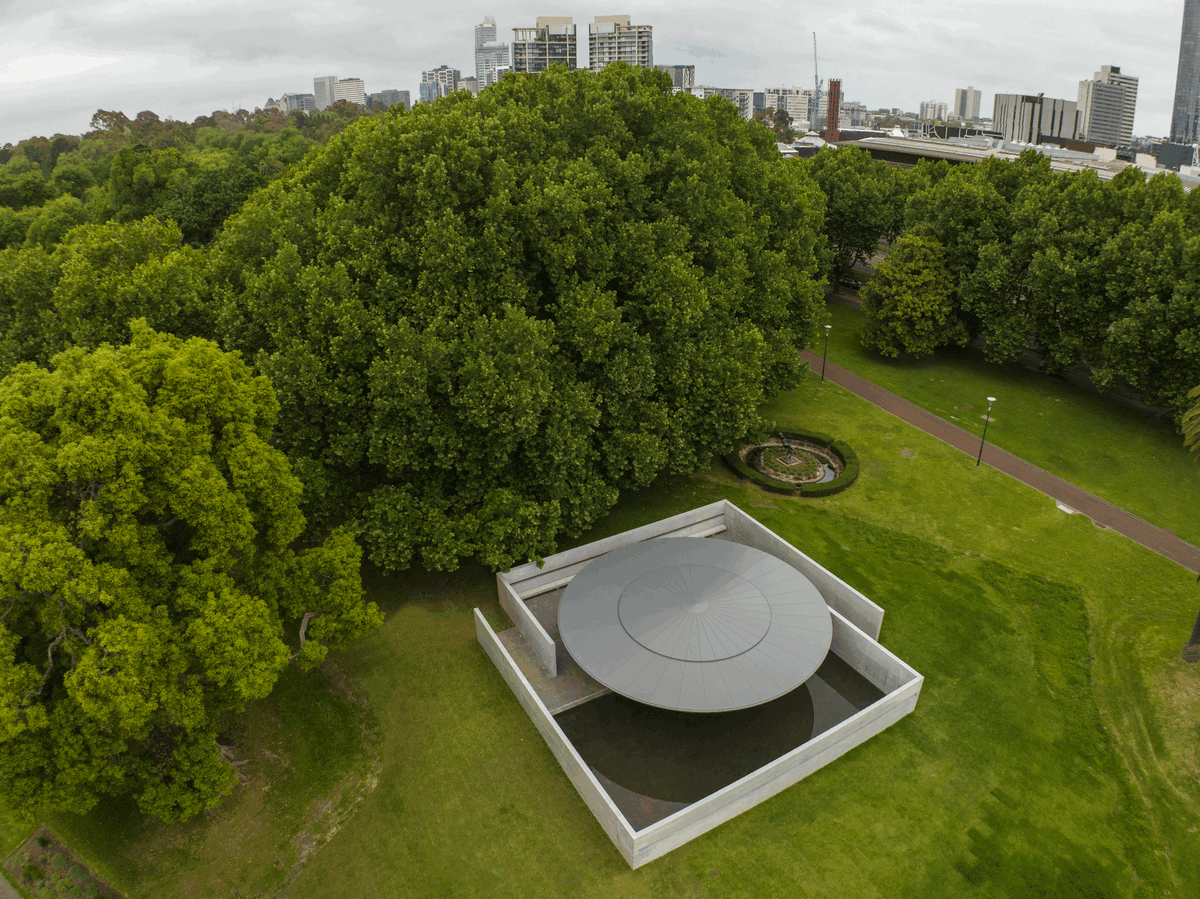 "There is a magic moment each season when an architectural vision becomes built reality, and when we welcome the public who gets to engage directly with the innovative space created by inspired architects," said Naomi Milgrom AC, MPavilion Commissioner. "Tadao Ando has designed a new, iconic destination in Melbourne, one that will serve as both a contemplative spot, a temporaryrefuge from the bustle of the city, and as a dynamic site for creative discovery and vigorous discussion for those attending our public programme."
Positioned within Melbourne's cultural and botanic garden precinct, MPavilion 10 offers a memorable structure that is in dialogue with the park setting to create a space in harmony with nature. MPavilion 10 features a large canopy, a 14.4-metre aluminium-clad disc resting on a central concrete column. Two offset squares create two entrances that lead to the centre of the pavilion.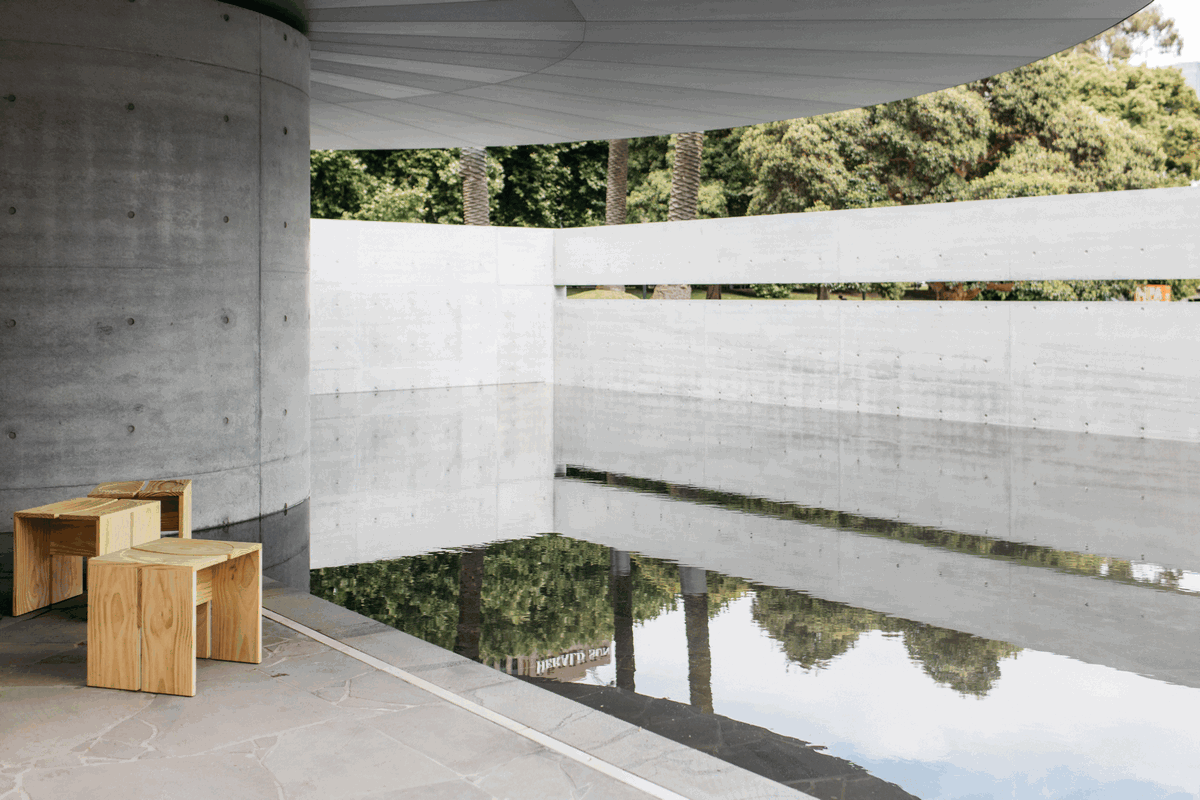 Concrete walls of varying lengths partially enclose the space to create a tranquil sanctuary reminiscent of a traditional Japanese walled garden. A long (almost 17 metre x 225 metre) horizontal opening running both the length of the north and south walls frames views of downtown Melbourne and the parklands, connecting the city and lush greenery of Queen Victoria Gardens to MPavilion 10's interior. The geometric forms and symmetry are reinforced by an internal arrangement that is half paved, and half reflecting pool, which mirrors the pavilion canopy, sky, city, and surrounding nature.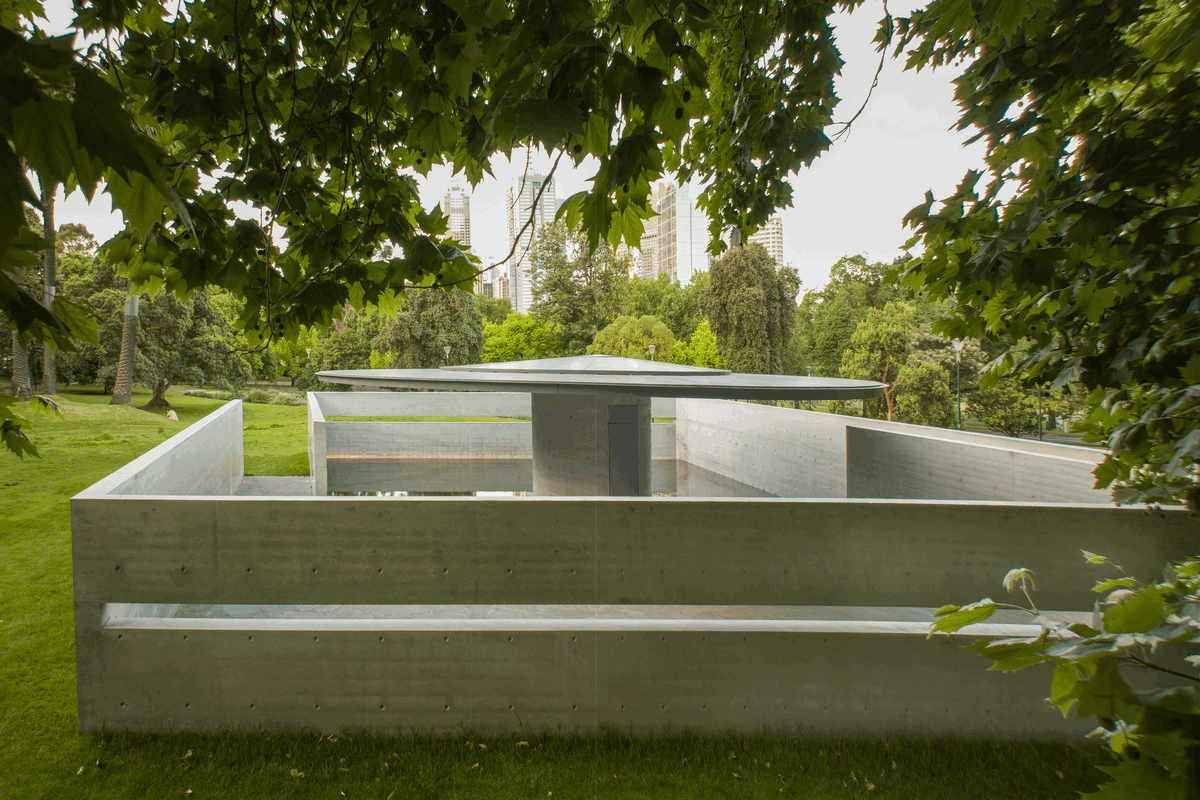 "I am honoured to have completed my first project in Australia, and to have created a piece of living architecture that will have such an important role in the cultural life of Melbourne this summer," said Tadao Ando. "I hope that as people visit, they allow this space to enter their hearts, and allow their senses to tune into the light and breeze interacting with them and this space. I hope for them an experience of harmony with nature, with themselves, and with others."
As always, commissions lie at the heart of MPavilion's programming. Since the first edition in 2014, the Naomi Milgrom Foundation has selected extraordinary architects, artists, creatives and designers to produce new works for each season. Using the pavilions as inspiration, MPavilion's commissions create a cohesive designed environment, adding to the rich conversations taking place across the season. For its tenth anniversary, MPavilion has selected ten creatives and artists to create new works marking this
milestone season: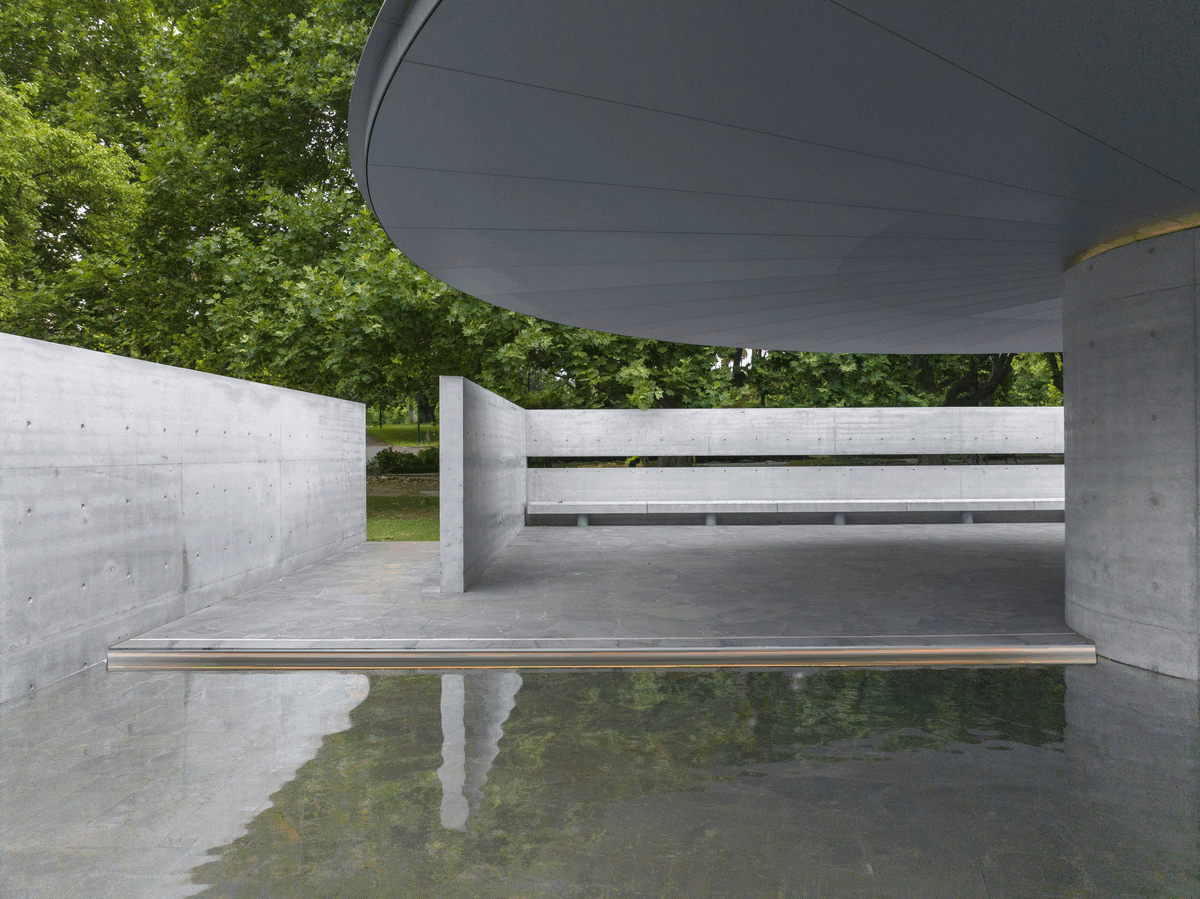 Chair Commission: Davidov Architects
Melbourne-based Davidov Architects, with a team comprised of Wendy Chen, Robert Davidov and Ben Schmideg, have created the MPavilion 10 Chair, available for all to use during the Festival. Titled Circle | Square, the lightweight durable square responds to Ando's spatial purity and use of circles and squares in the design of the Pavilion.
Uniform Commission: DNJ Paper
Led by fashion designers Daphne Mohajer va Pesaran and Jake Nakashima-Edwards, the collaborative research project and micro-label is known for their paper clothing and have designed a work uniform inspired by a Japanese-style work jacket called a samue. Worn by MPavilion attendants throughout the season, the uniform is composed of a jacket made of green linen with a pink paper vest, made from one large sheet of paper, worn on top.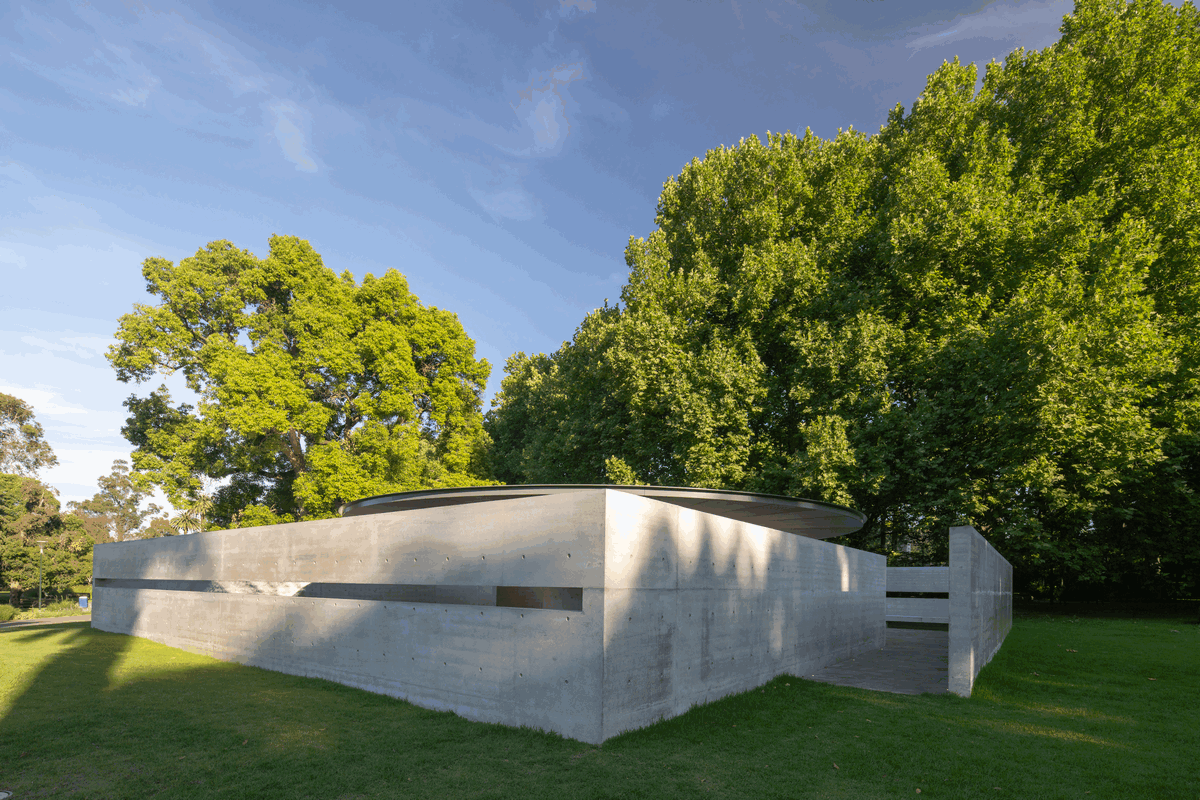 Music Commission: Deborah Cheetham Fraillon AO (November 2023)
A continuous thread across the decade, visitors will hear the tenth song of the Wominjeka Song Cycle, composed by distinguished Yorta Yorta soprano and composer Deborah Cheetham Fraillon AO in collaboration with Yaluk-ut Weelam and Boon Wurrung elder N'arweet Carolyn Briggs AM. Each song sonically represents a particular pavilion, and the full cycle celebrates an enduring yet dynamic place and the knowledge we share and create in it.
Food Commission: Minako Asai (November – December 2023)
Expanding the horizons of design, Japanese wagashi maker Minako Asai introduces visitors to these beloved Japanese sweets. Asai's edible creations are works of art inspired by nature through the seasons.
Writing Commission: Michael Gentle (November – December 2023)
Nyoongar man, writer and curator Michael Gentle will describe the ephemeral and unearth the invisible. Stationed at MPavilion 10 for the duration of his commission, he will conjure a written record of what the pavilion entails. Working in an iterative approach, Michael's work will be presented in a physical format at MPavilion 10 and shared digitally to a wider audience.
Children's Commission: Polyglot Theatre (January 2024)
Expanding on a long-standing collaboration with Polyglot Theatre, MPavilion has commissioned the company to create a family-friendly installation. With FLOAT, Polyglot Theatre will invite children aged 3–8 years and their families to make boats using leaves, then float them in the pavilion's reflecting pool. A live musician will improvise as the boats bob and drift.
Unity Lab Commission: Ilianna Ginnis (January 2024)
Ilianna Ginnis will bring her activism, creativity and research to MPavilion with a week-long program creating rich experiences for non-verbal communicators. The program will feature family-friendly installations, workshops and an all-inclusive party.
Craft & Design Commission 1: Qaymi Arts and Craft (February 2024)
Qaymi Arts and Craft will bring their ancestral Somali weaving techniques to MPavilion and invite audiences to co-create a collaborative artwork during a week-long workshop. The result: a large-scale installation comprised of natural materials such as grass, bamboo and recycled fabric sourced in Melbourne.
Craft & Design Commission 2: Yoko Ozawa (March 2024)
Japanese ceramicist Yoko Ozawa will create an in-situ installation that seeks to adapt the Zen garden to the Australian context. The installation will change daily during the week-long residency and connect with the Queen Victoria Gardens surrounding the pavilion.
Photography Commission: John Gollings AM (March 2024)
Australia's most respected architectural photographer and MPavilion 10 commissioned artist John Gollings AM will share his world view, leading two unique workshops – at dusk and dawn – on the craft, using the pavilion as a model. He will also produce a series of images of MPavilion, capturing the design for perpetuity.
MPavilion 10 is free and open to the public in Melbourne's Queen Victoria Gardens from 16 November to 28 March 2024. The programme of more than 150 free events with hundreds of collaborators is curated along three themes. In November and December 2023, programming will consider Memories of Place, the links between water, gardens and changing landscapes and how we benefit from nurturing their existence and stories. In January and February 2024, the festival will honour Craftsmanship, platforming those who practice it and the artistry and devotion involved. A Blank Canvas in March 2024 will close out MPavilion 10 with a celebration of Ando's design philosophy, sparking creativity through his minimalism, masterful conception of space and use of light, shadow and water.
MPavilion is a flagship initiative of the Naomi Milgrom Foundation supported by the Victorian Government through Creative Victoria, the City of Melbourne, ANZ and Bloomberg Philanthropies.
About Tadao Ando
Born 1941 in Osaka, Japan. Self-taught in architecture. Established Tadao Ando Architect & Associates in 1969. Major works include the Church of the Light, Pulitzer Arts Foundation, and Chichu Art Museum. Awarded the Architectural Institute of Japan (AIJ) Annual Prize for the Row House in Sumiyoshi in 1979, Japan Art Academy Prize in 1993, Pritzker Architecture Prize in 1995, Person of Cultural Merit (Japan) in 2003, International Union of Architects (UIA) Gold Medal in 2005, The Kennedy Center International Committee on the Arts Gold Medal in the Arts in 2010, Shimpei Goto Award in 2010, Order of Culture (Japan) in 2010, Commander of the Order of Arts and Letters (France) in 2013, Grande Ufficiale dell'Ordine della Stella d'Italia (Italy) in 2015, and Isamu Noguchi Award in 2016. Held solo exhibitions at the Museum of Modern Art (MoMA) in 1991 and Centre Pompidou in 1993. Taught as a visiting professor at Yale University, Columbia University, and Harvard University. Professor at the University of Tokyo from 1997. Professor emeritus of the University of Tokyo since 2003.
About Naomi Milgrom AC & the Naomi Milgrom Foundation
The Naomi Milgrom Foundation champions art, design and architecture that improves Australian lives – empowering creation, collaboration and education. Established in 2014 by Naomi Milgrom AC, the not-for-profit organisation pivots on a central purpose: to enhance the presence and influence of creative culture in Australia. This is accomplished through the active support of artists, designers and creative institutions; the fostering of collaborations between bodies and disciplines;
the promotion of art and design education; and an overarching commitment to increasing access to the arts.
The Naomi Milgrom Foundation's ongoing flagship projects include MPavilion and the Living Cities Forum. It proudly supports extraordinary projects with extraordinary creators that would otherwise not be realised, spanning architecture and urban design fora; art, design and music commissions; art and design exhibitions; education, research and publication projects; dance and music performances; First Nations cultural projects; and theatre productions.
Naomi Milgrom AC is an Australian business leader, fashion entrepreneur, philanthropist and arts patron with an international reputation for initiating and supporting cultural innovation. In 2020, she was awarded the country's highest honour – the Companion of the Order of Australia – for eminent service to the community through philanthropic leadership and support for the promotion of the arts
About MPavilion
MPavilion is Australia's leading architecture commission: a place for debate around the design of today and tomorrow. Conceived and created by Naomi Milgrom AC as an initiative of the Naomi Milgrom Foundation, MPavilion celebrates a decade as the country's cultural laboratory in 2023. Since 2014, the Naomi Milgrom Foundation has invited extraordinary architects from Australia and
across the world to design a meeting place for the Queen Victoria Gardens in Melbourne's heart.
From this MPavilion, a five-month design festival of free events is launched – prompting locals and visitors alike to consider how architecture, art and design can change lives. When its season draws to a close, the Naomi Milgrom Foundation gifts each MPavilion to the people of Victoria – relocating it to a permanent home in the community where it can remain as a catalyst for conversation.
In its first decade, MPavilion has become one of Australia's most anticipated design festivals — attracting over 1,250,000 visitors, with 350,000 in 2022 alone. Accessible and open, MPavilion is both of and for the community: hosting 3,400 events with 4,000 individuals and organisations during this period. MPavilion's myriad collaborations are a testament to Melbourne's status as a local and global centre of design. Its ambitious program is made possible through the visionary support of its partners, principally the Victorian Government through Creative Victoria, the City of Melbourne, ANZ and Bloomberg Philanthropies.
Since its inception, MPavilion has won or been shortlisted for 69 national and international architecture and design awards, including:
• Gold, Architectural Design, Good Design Awards (2023)
• Winner, Public Space, International Architecture Awards (2023)
• Jury Winner, Architecture+Colour, Architizer A+Awards (2023)
• Winner, Excellence in Community Engagement, Urban Developer Awards for Industry
Excellence (2022)
• Winner, Architectural Design – Urban Design & Public Spaces, Good Design Awards (2019)
• Winner, Landscape Architecture Award, Australian Institute of Landscape Awards (2018)
• World's Top Temporary Structures, Designboom (2016); Winner, Detail Prize (2016)
Past architects include: Rachaporn Choochuey, all(zone), Thailand (MPavilion 9); Francesco Magnani & Traudy Pelzel, MAP studio, Italy (MPavilion 8); Glenn Murcutt AO, Australia (MPavilion 6); Carme Pinós, Estudio Carme Pinós, Spain (MPavilion 5), Rem Koolhaas & David Gianotten, OMA, Netherlands (MPavilion 4); Bijoy Jain, Studio Mumbai, India (MPavilion 3); Amanda Levete, AL_A,
United Kingdom (MPavilion 2); Sean Godsell, Sean Godsell Architects, Australia (MPavilion 1).
Architect: Tadao Ando – http://www.tadao-ando.com/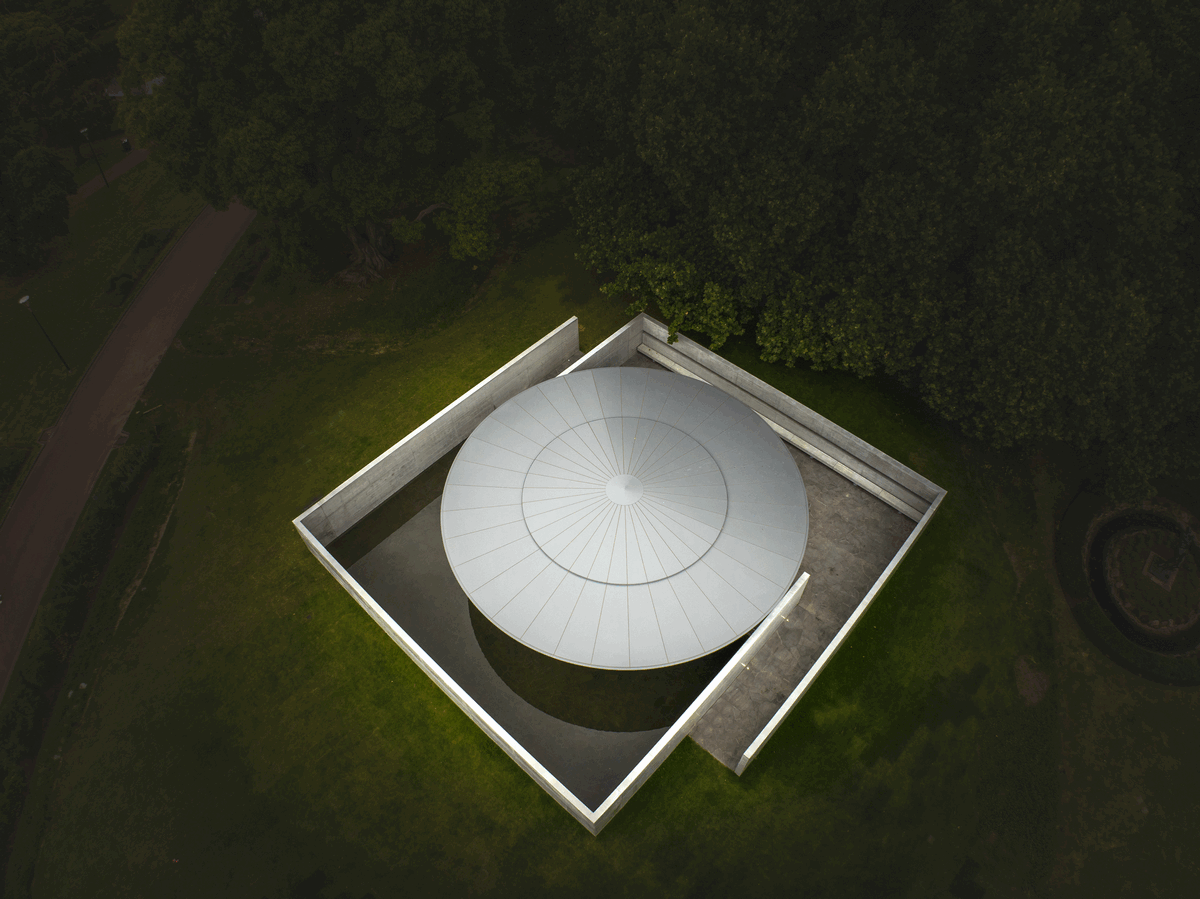 Photography: John Gollings courtesy of MPavilion
MPavilion 10 in Melbourne, Victoria property images / information received 151123
Location: Hawthorn, Melbourne, Victoria, Australia
Architecture in Melbourne
Melbourne Architecture Designs – chronological list
New Melbourne Properties
Ivanhoe House Extension
Architects: Modscape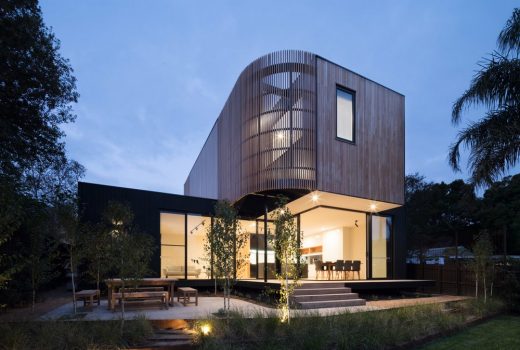 photograph : John Madden
Ivanhoe House Extension
Brooks House
Design: Bryant Alsop Architect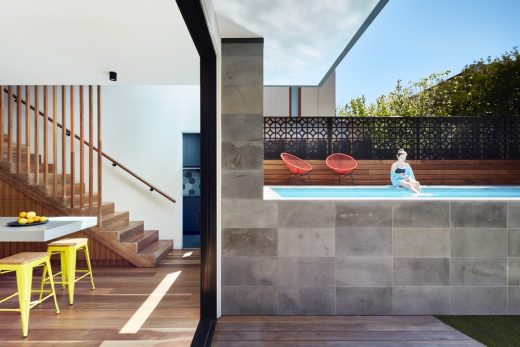 photo : Rhiannon Slatter
Brooks House
Melbourne Architect – design studio listings
Architecture in Australia
Ivanhoe Black House
Design: Chiverton Architects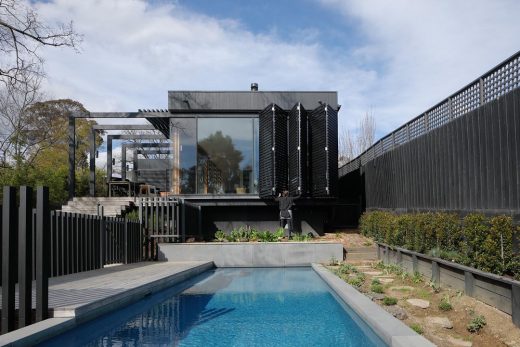 photograph : Tatjana Plitt
Comments / photos for MPavilion 10, Melbourne, Victoria designed by Japanese architect Tadao Ando page welcome.