MPavilion 2017 OMA Rem Koolhaas + David Gianotten, Naomi Milgrom Foundation Victoria Building
MPavilion 2017 OMA Rem Koolhaas + David Gianotten
Contemporary Building for Naomi Milgrom Foundation in Victoria, Australia Design News
30 Jun 2018
MPavilion 2017 Shortlisted at World Architecture Festival 2018 Awards
MPavilion 2017 by OMA is one of 536 shortlisted entries across 81 countries:
World Architecture Festival Awards 2018 Shortlist
14 Feb 2018
MPavilion 2018 by Carme Pinós Architect
MPavilion 2018 by Carme Pinós Architect
20 Jun 2017
MPavilion 2017 Building Design by OMA
OMA's design revealed for 2017 Australia's MPavilion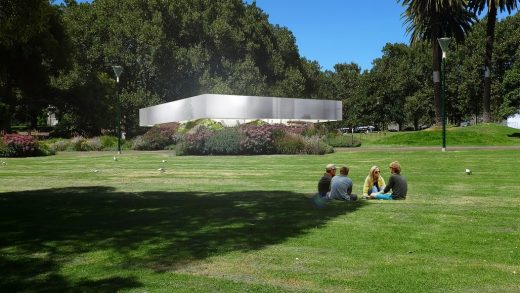 MPavilion 2017 will be the first building designed and constructed by OMA in Australia.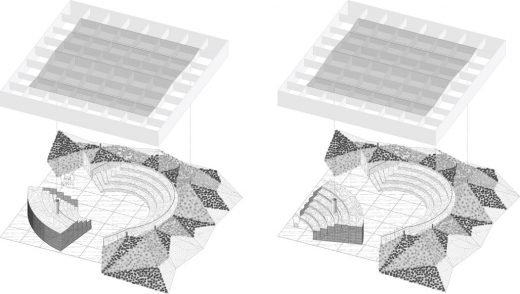 This year's structure is inspired by ancient amphitheaters.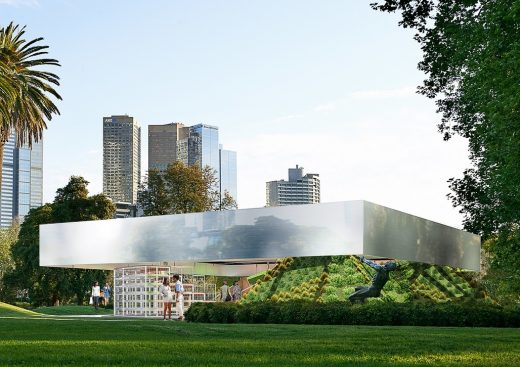 Construction of MPavilion begins in August. It is due to open to the public from October through to February 2018.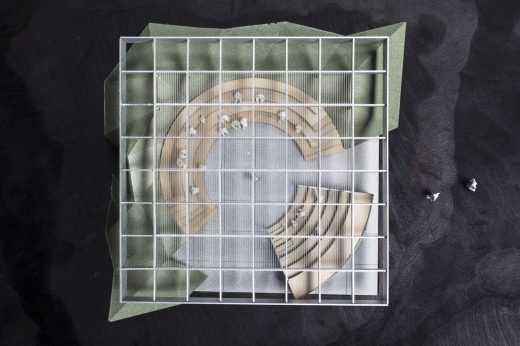 Of the MPavilion 2017 design, Rem Koolhaas and David Gianotten add: "MPavilion is a project that hopes to provoke discussion around what architecture can do both globally and in an Australian context. We're interested in treating this pavilion not just as an architectural object, but as something that injects intensity into a city and contributes to an ever-evolving culture."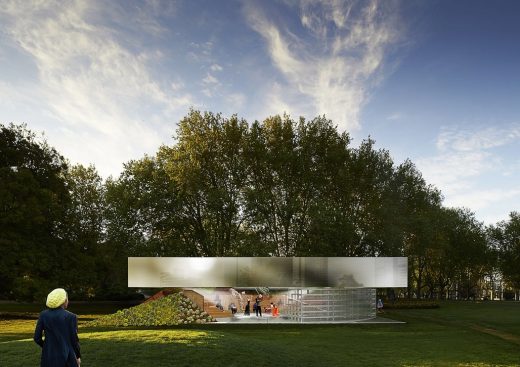 The main infrastructure of the pavilion, such as lighting and hanging points is placed in the floating roof, a 2-meter-high mechanical grid structure made of aluminum-clad steel. The mechanics in the canopy can be activated per the type of event taking place; an open-air venue for performances, entertainment and sports.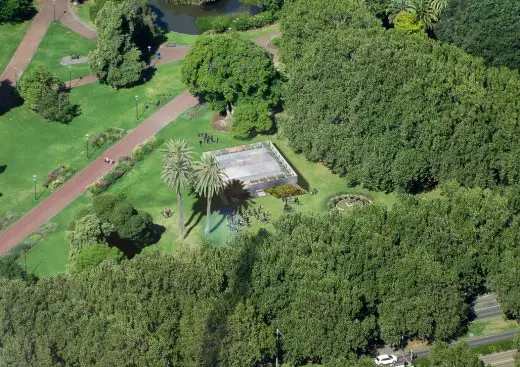 20 Feb 2017
MPavilion 2017 OMA Rem Koolhaas + David Gianotten News
Design: OMA Rem Koolhaas + David Gianotten
Location: Queen Victoria Gardens, Melbourne, Victoria, Australia
MPavilion 2017 Building
at Queen Victoria Gardens
OMA / Rem Koolhaas & David Gianotten
To Design Mpavilion 2017
Leading Australian Architecture Commission Mpavilion 2016 Attracts 94,000 Visitors To 487 Free Events
Melbourne, Australia: The Naomi Milgrom Foundation today announced the commission for the fourth annual MPavilion has been awarded to internationally renowned Netherlands-based OMA and will be designed by Rem Koolhaas & David Gianotten. MPavilion 2017 will be the first building designed and constructed by OMA in Australia.
The announcement comes as MPavilion 2016 closed on Sunday 18 February having welcomed more than 94,000 visitors and hosted more than 487 free events over 139 days within the temporary architectural pavilion designed by acclaimed Indian architect Bijoy Jain of Studio Mumbai.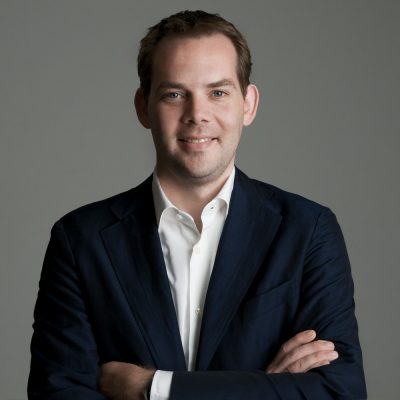 photo Andrew Tang, courtesy OMA
Naomi Milgrom AO, Chair of the Naomi Milgrom Foundation who commissioned OMA to design MPavilion 2017 commented: "Rem Koolhaas is one of the world's most provocative and influential architects. His contribution to the cultural landscape as an urban thinker together with OMA's multi-disciplinary approach to architecture reflects MPavilion's desire to inspire debate about the role of design in building equitable and creative cities."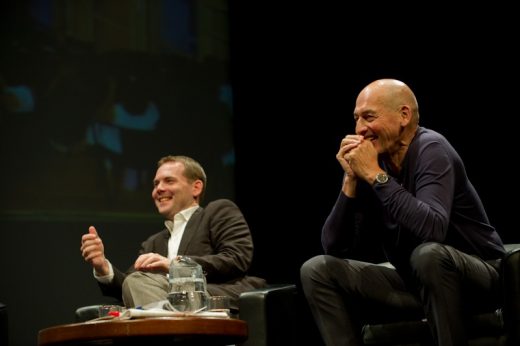 photo : Jane Hobson, courtesy Barbican Art Gallery
Commenting on their commission for MPavilion 2017, Rem Koolhaas, Founder and David Gianotten, Managing Partner of OMA said: "The Naomi Milgrom Foundation's MPavilion is now a project of international significance and we look forward to contributing to the architectural legacy it has engendered. We are excited by the brief of designing a cultural heart for the city – a space of public engagement that will spark creativity and discussion, and that will act as a theatre for ideas.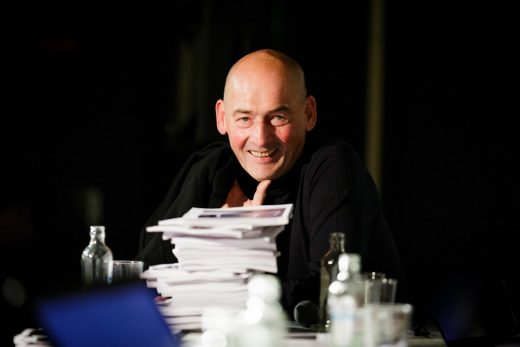 photo : Fred Ernst, courtesy OMA
MPavilion continues OMA's history of successful cultural projects – Fondazione Prada in Milan, the Garage Museum in Moscow's Gorky Park, Casa da Musica in Porto, the Seattle Public Library – all which have become important civic centers and independent spaces for the public."
Axel Springer Campus building by OMA in Berlin: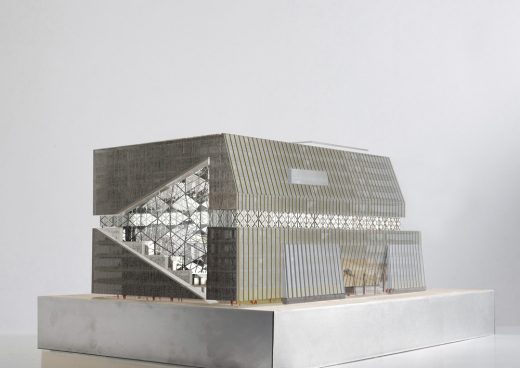 picture : Frans Parthesius
OMA (Office for Metropolitan Architecture) are prolific architects, designers and theorists and was founded by visionary Rem Koolhaas, a Pritzker prize-winning architect. Together with 8 partners Koolhaas heads the work of both OMA and AMO, the research branch of OMA, operating in areas beyond the realm of architecture such as media, politics, renewable energy and fashion.
David Gianotten is OMA's Managing Partner – Architect; responsible for the management and growth of OMA worldwide and is the responsible partner-in-charge of numerous projects in Asia, Australia and Europe including the New Museum project in Perth and Rotterdam's new Feyenoord football stadium. Together Koolhaas and Gianotten are responsible for the design and execution of the Taipei Performing Arts Centre.
De Rotterdam building by OMA: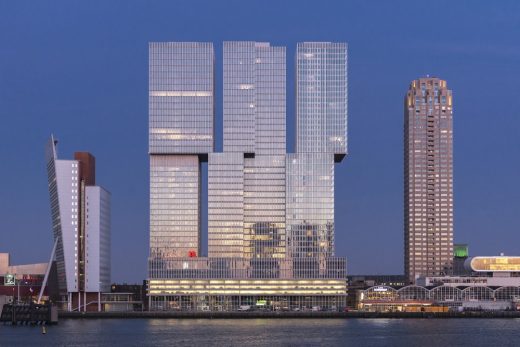 picture : Frans Parthesius
OMA completed large scale projects in recent years include the Qatar Foundation Headquarters in Doha; Faena District in Miami; London's Design Museum; Garage Museum of Contemporary Art in Moscow; Fondazione Prada in Milan; Shenzhen Stock Exchange; De Rotterdam; and CCTV Headquarters in Beijing.
New Museum – Museum Street entrance: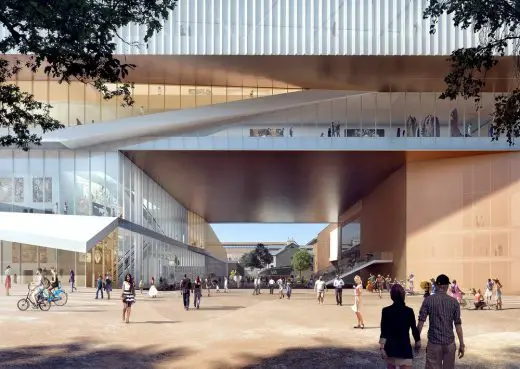 image courtesy HASSELL + OMA
Its strong collaborative approach, MPavilion 2016 worked with more than 350 collaborators including cultural institutions, architects, artists, musicians, dancers, choreographers, scientists and designers to develop the four-month free cultural program and contributed to numerous festivals and public events including the Melbourne Festival, Confluence: Festival of India, Asia-Pacific Triennial of Performing Arts (Asia TOPA), Melbourne Music Week, White Night and the India Leadership Summit.
Faena District Miami building by OMA: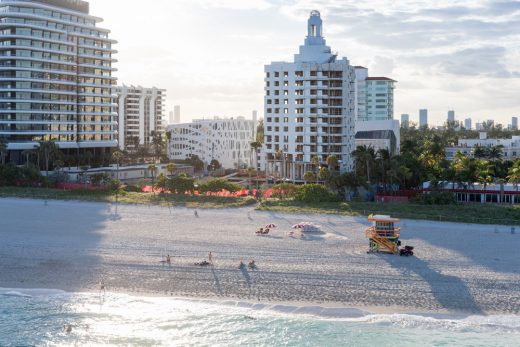 picture : Iwan Baan
MPavilion 2016 presented: 63 talks and public lectures; 39 music performances; 60 gatherings and public workshops; 53 educational events focused on design and architecture and 31 children's events. Events were spread across a number of themes including handmade architecture, creative cities, citizen science and collaboration. In summary:
• Attended by 94,000 visitors
• Presented 487 free events with 350 collaborator organisations
• 30 international guests including Bijoy Jain, Aneesh Pradham, Chris Sanderson, Danh Vo, Julia Kagansky, SHOWStudio, Aric Chen, Chiharu Shiota, Christian Thompson, Sir David Adjaye OBE and Jan Gehl.
Garage Museum building by OMA: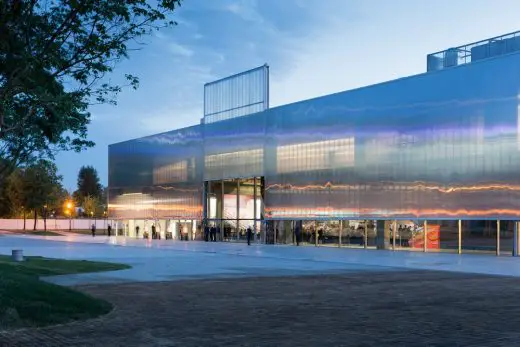 picture : Iwan Baan
MPavilion is Australia's leading architecture commission and design event made possible through the vision of the Naomi Milgrom Foundation — and Australian philanthropist Naomi Milgrom AO. MPavilion is a philanthropic success story that has seen government, business and private sectors collaborate to bring an important new civic space to Melbourne with a strong public, industry and educational component.
New Museum Francis Street facade: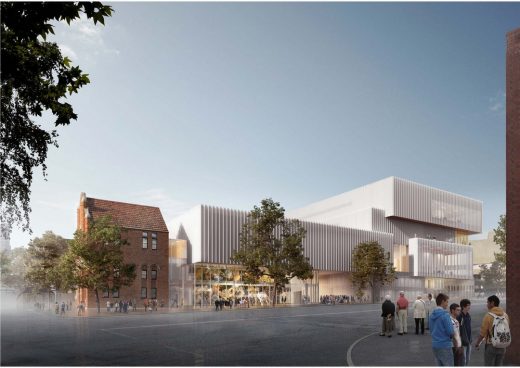 image courtesy HASSELL + OMA
MPavilion receives the generous support from the City of Melbourne and the Victorian State Government and has received over 224,000 visitors since it's inception in 2014.
MPavilion 2017 will open free to the public on 3 October 2017. For further details please visit www.mpavilion.org
Feyenoord City The Strip by OMA: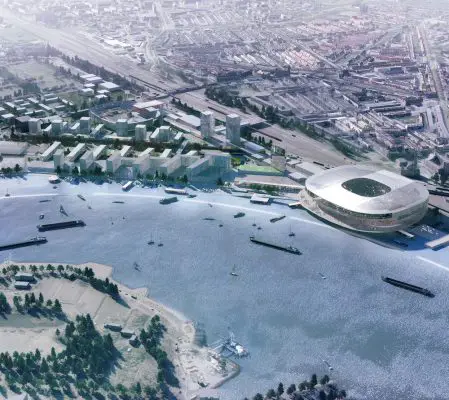 About OMA
Rem Koolhaas founded OMA in 1975 in collaboration with Madelon Vriesendorp, and Elia and Zoe Zenghelis. Today OMA is an international practice led by 9 partners operating within the traditional boundaries of architecture and urbanism with offices in Rotterdam, New York, Beijing, Hong Kong, Doha, Dubai and Perth.
TPAC perspective approach from north: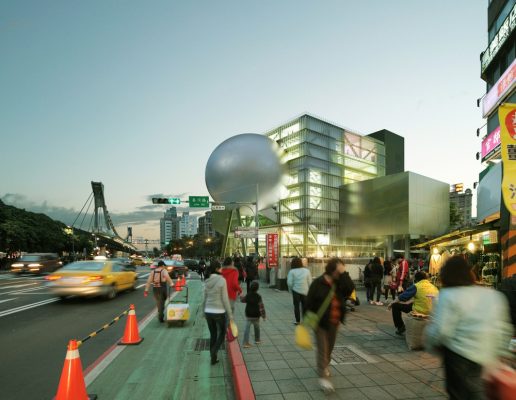 photo Courtesy of OMA / ArtefactoryLab
OMA-designed buildings currently under construction include Taipei Performing Arts Centre; the renovation of Kaufhaus des Westens (KaDeWe) in Berlin; Qatar National Library; Bryghusprojektet in Copenhagen; Fondation d'Entreprise Galeries Lafayette in Paris; and Prince Plaza in Shenzhen.
Faena District building by OMA: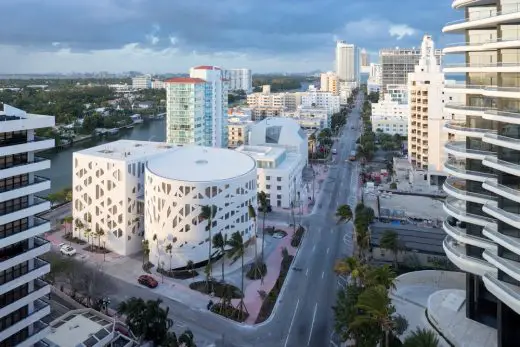 picture : Iwan Baan
Rem Koolhaas with AMO, the research branch of OMA, was responsible for the research and curation of the 14th Venice Architecture Biennale; the European Union's Image of Europe project; and a Strelka Institute education program in Moscow. OMA has also collaborated with Prada for more than a decade on graphic design, store design and fashion shows.
Based on the commission of the New Museum project in Perth, acquired in 2016 with HASSELL, OMA established a branch office in Australia, which is led by David Gianotten and director Paul Jones. Currently this branch office works on several assignments in Perth, Melbourne and Sydney.
Axel Springer Campus building: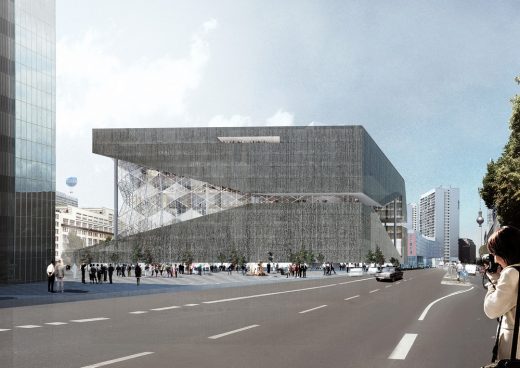 picture : OMA
About MPavilion
MPavilion is Australia's leading architectural commission and design event conceived and created by the Naomi Milgrom Foundation in 2014. Every year, one new temporary pavilion designed by a leading international architect, is erected in Melbourne's historic Queen Victoria Gardens. From October through February, the MPavilion becomes a design and cultural laboratory and home to a series of talks, workshops, performances and installations. Australian architect Sean Godsell designed MPavilion 2014 and in 2015 designed by British architect Amanda Levete of AL_A. Indian architect Bijoy Jain of Studio Mumbai designed MPavilion 2016.
Australian philanthropist Naomi Milgrom AO initiated MPavilion. She is also the Commissioner for the Australian representation at the 57th International Art Exhibition Venice Biennale, Tracey Moffatt exhibition 2017.
• MPavilion will open free to the public on 3 October 2017
• For further information please visit www.mpavilion.org
TPAC facade completion: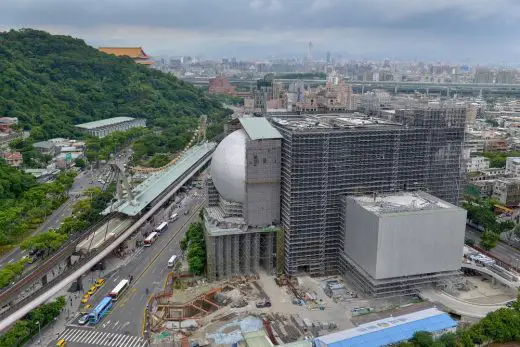 photograph © OMA by Chris Stowers
David Gianotten of OMA
David Gianotten is the Managing Partner-Architect of OMA. In this role he is responsible for the management, business strategy, and growth of the company worldwide. As partner-incharge he also oversees design and construction of various projects, including the Taipei Performing Arts Centre, the masterplan of Feyenoord City and the new Stadium Feyenoord, the CIFCO building in Beijing, the Prince Plaza Building in Shenzhen, the KataOMA resort in Bali, and now the New Museum for Western Australia. In his role as acting partner-in-charge of OMA's Hong Kong, Beijing and Perth offices and director of OMA Asia, David leads the firm's large portfolio in the Asia Pacific region.
Garage Museum building by OMA: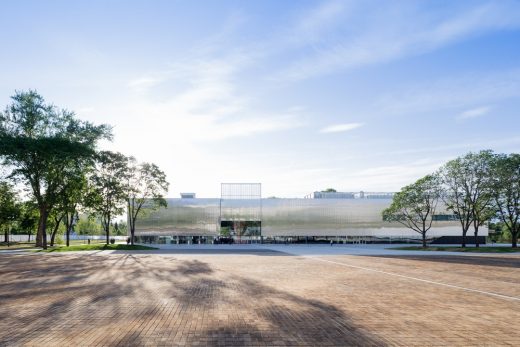 picture : Iwan Baan
While stationed in Hong Kong he was responsible for the in 2013 completed Shenzhen Stock Exchange headquarters in Shenzhen, the final stages of the CCTV headquarters in Beijing, and OMA's conceptual masterplan for the West Kowloon Cultural District in Hong Kong. David is also one of the two directors of the recently opened branch office of OMA in Australia.
David joined OMA in 2008, launched OMA's Hong Kong office in 2009, and became partner at OMA in 2010. Before joining OMA he was Principal Architect at SeARCH in the Netherlands. David studied architecture and construction technology at the Eindhoven University of Technology, where he is also a professor in the Architecture Design and Engineering department.
MPavilion 2016
Design: Bijoy Jain of Studio Mumbai
MPavilion 2016 Building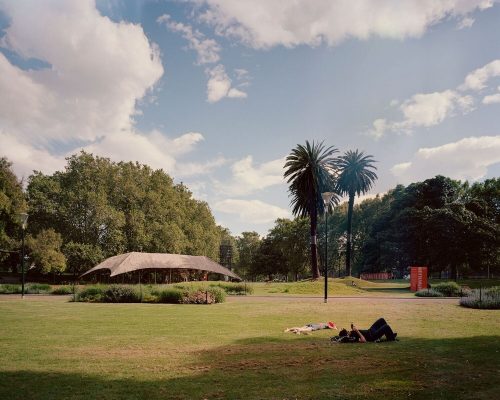 MPavilion releases a new series of photographs of MPavilion 2016 by Bijoy Jain.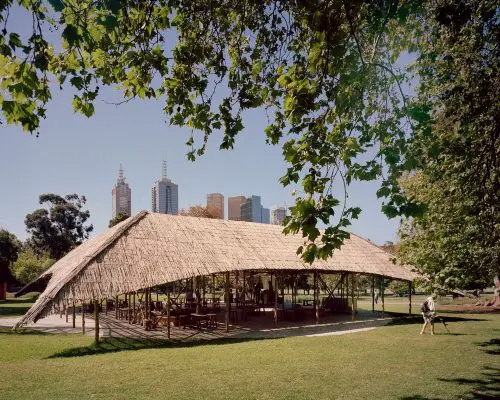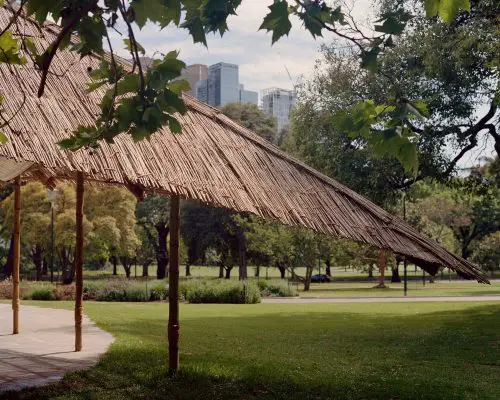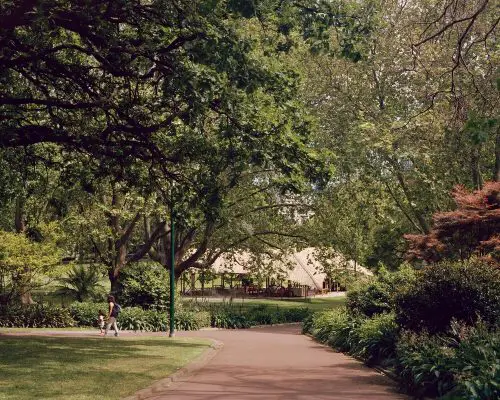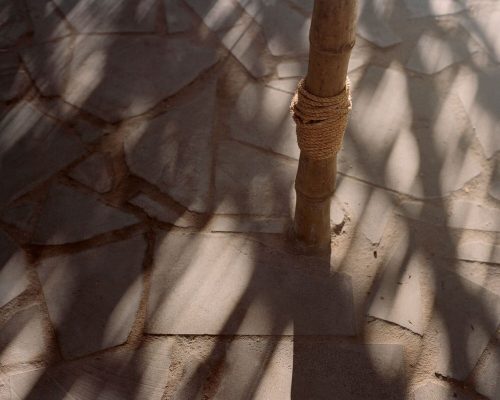 Celebrated London based architectural photographer Rory Gardiner reveals an intimate response to the handmade structure capturing Melbourne's much-loved summer pavilion in the Queen Victoria Gardens.
Naomi Milgrom: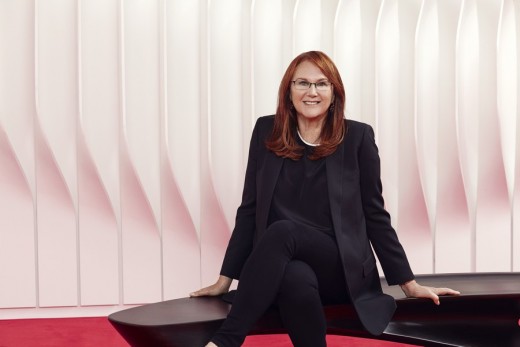 AL & NM photo © Peter Guenzel
More info + images at:
MPavilion 2016 Pavilion by Bijoy Jain
Naomi Milgrom and Bijoy Jain at MPavilion 2016: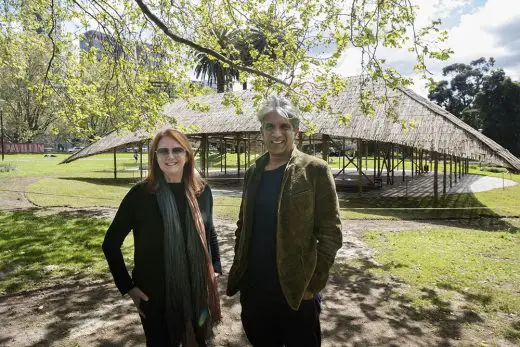 MPavilion 2016 Melbourne by Bijoy Jain
MPavilion by Bijoy Jain of Studio Mumbai
Photographs: Nicholas Watt
MPavilion 2016 architect Bijoy Jain and Naomi Milgrom speak about MPavilion's third foray into Melbourne's Queen Victoria Gardens:
Naomi Milgrom AO, MPavilion founder said: "Bijoy Jain's practice is unique in that it focuses on honouring age-old crafts and building-techniques, which resonate strongly in this technologized world. As an architect, Bijoy thinks like an artist. His buildings are realised around a central idea, and are then fleshed out through an extensive process of collaboration, and always, careful consideration of the surrounding environment."
Architect Bijoy Jain and Naomi Migrom AO: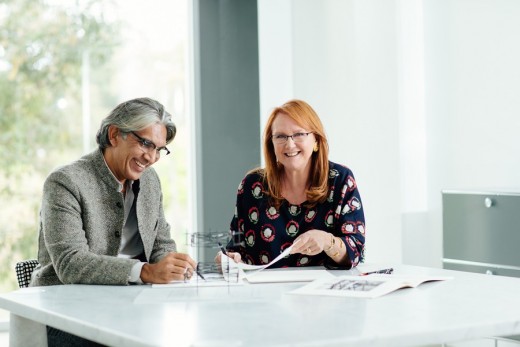 photo : Timothy Burgess
MPavilion 2015, Amanda Levete of AL_A: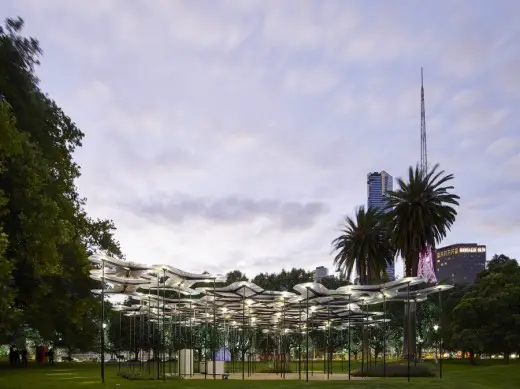 photo : Richard Powers
MPavilion Melbourne by Amanda Levete
MPavilion 2015 Melbourne by Amanda Levete – 3 Mar 2016 relocation news update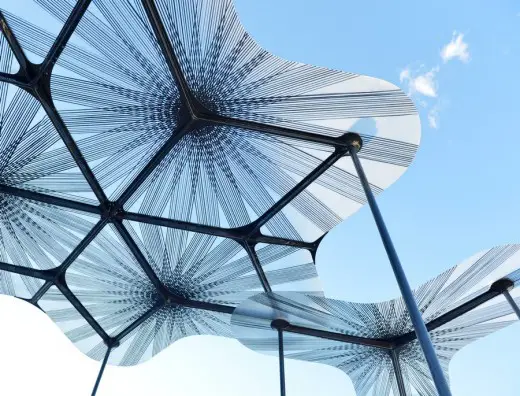 MPavilion 2015 prototype photo © Kane Jarrod
Amanda Levete + Naomi Milgrom: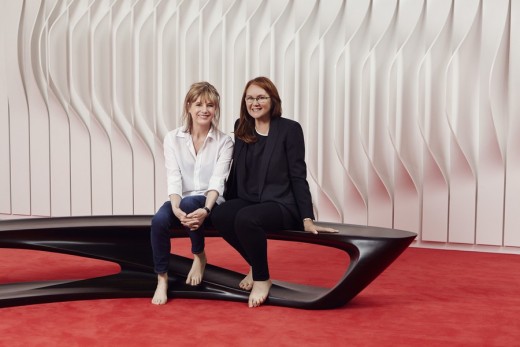 AL & NM photo © Peter Guenzel
Website: www.ala.uk.com
Location: Queen Victoria Gardens, Melbourne, Victoria, Australia
MPavilion 2015 videos on YouTube:
Naomi Milgrom:

18 Feb 2019
MPavilion 2019 by Glenn Murcutt Architect
MPavilion 2019 by Glenn Murcutt Architect
Architecture in Melbourne
Melbourne Architecture Designs – chronological list
Melbourne Architect – design studio listings
Australian Unity
Design: Bates Smart Architects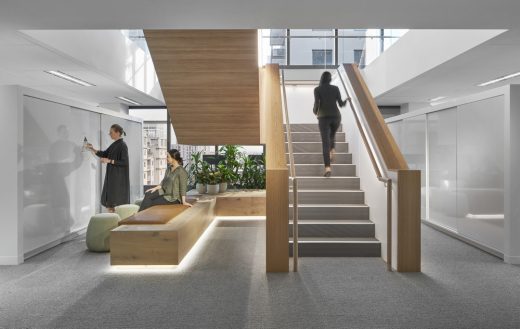 photo © Bates Smart
Australian Unity Melbourne Workplace
Architecture in Australia
Website: Naomi Milgrom Foundation Melbourne
Cloud House North Fitzroy
Architect: McBride Charles Ryan
Website: Queen Victoria Gardens Melbourne
Comments / photos for MPavilion 2017 OMA Rem Koolhaas + David Gianotten page welcome