MPavilion Melbourne, Naomi Milgrom Foundation Victoria Building, Australian Architecture Images
MPavilion Melbourne Building News
Contemporary Building for Naomi Milgrom Foundation in Victoria, Australia design by AL_A Architects
MPavilion 2017 Pavilion – news, 20 Feb 2017
MPavilion 2015 Melbourne by Amanda Levete of AL_A – 3 Mar 2016 relocation news update
13 Jul 2015
MPavilion in Melbourne
Design: AL_A, Architects
Location: Queen Victoria Gardens, Melbourne, Victoria, Australia
Amanda Levete designs for MPavilion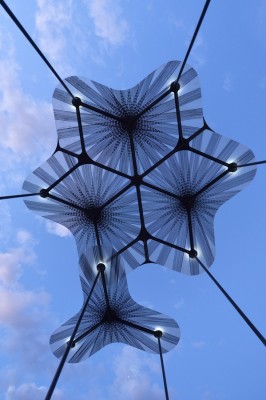 MPavilion 2015 prototype photo © Kane Jarrod
ABOUT MPAVILION
MPavilion is a unique architecture commission and design event for Melbourne. The Naomi Milgrom Foundation commissions a new temporary pavilion each year from a leading international architect. Each structure takes shape in the city oasis of Queen Victoria Gardens housing talks, workshops, performances and installations from October until February. Building on collaborations, MPavilion is a catalyst and meeting place – an intriguing form, a temporary landmark, a spontaneous detour, a starting point, a base to explore design's role in the creative city.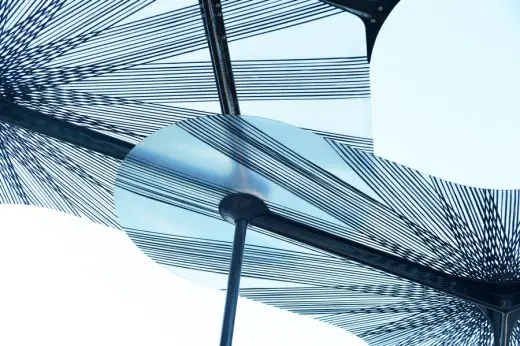 MPavilion 2015 prototype photo © Kane Jarrod
2015 ARCHITECT
Amanda Levete is a Stirling Prize winning architect and founder and principal of AL_A, an international award-winning British design and architecture studio, widely regarded as laying down the agenda for architecture in the twenty-first century. Responding to climate and landscape; she will bring a career-long fascination with organic forms to the challenge of designing Melbourne's 2015 MPavilion. Her ground-breaking projects include the Media Centre at Lord's Cricket Ground, Birmingham's Selfridges department store, and Tokyo's sinuous Comme des Garçons flagship. AL_A are currently designing the new galleries, courtyard and entrance at the V&A Museum, the biggest building project at the Museum in over 100 years.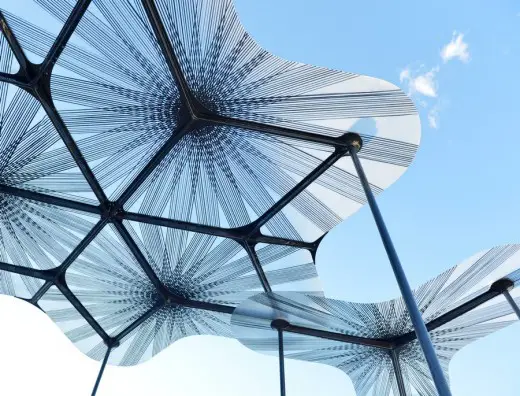 MPavilion 2015 prototype photo © Kane Jarrod
2015 DESIGN
Designed by AL_A, the studio of British architect Amanda Levete, the temporary structure will engage with its setting: "I wanted to exploit the temporary nature of the pavilion form and produce a design that speaks in response to the weather." The MPavilion is the product of an Anglo-Australian collaboration led by AL_A, working with Arup's London and Melbourne offices, alongside MouldCam and Kane Construction.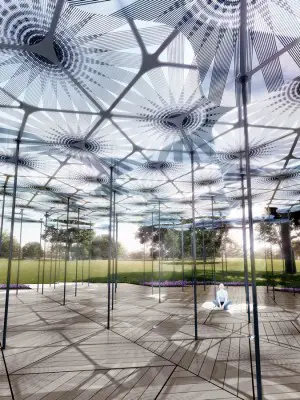 MPavilion 2015 render by AL_A
NAOMI MILGROM FOUNDATION
MPavilion is commissioned by the Naomi Milgrom Foundation—a not-for-profit organisation that was established to initiate and support great public design and architecture projects. The Foundation champions projects that explore design's close interconnection with contemporary culture. In doing so it seeks to create new public and private partnerships in the civic space—a goal that its chair, Naomi Milgrom AO, has always passionately pursued.
In 2014, Naomi Milgrom Foundation commissioned Sean Godsell to design the inaugural MPavilion. This year projects include the highly anticipated second MPavilion commission to be designed by AL_A as well as supporting the V&A Museum's David Bowie is… exhibition at the Australian Centre for Moving Image (ACMI) in Melbourne, and the new Australian Pavilion in Venice designed by Denton Corker Marshall.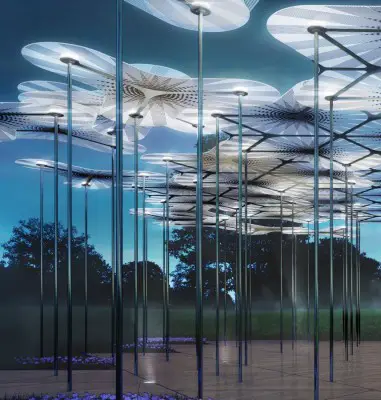 MPavilion 2015 render by AL_A
CRITERIA & LEGACY FOR THE CITY OF MELBOURNE
The architect for each pavilion is chosen by the Naomi Milgrom Foundation on the strength of their international profile and ability to encourage design debate and make a meaningful contribution to Australian creative industries. One of the unique features of the project is that each of the four pavilions is gifted to the people of Melbourne as part of an ongoing contribution to the architecture of the city. The City of Melbourne will help create a legacy of architectural masterpieces that will become part of the cultural heritage and public amenity of Melbourne, attracting tourism and community pride.
Amanda Levete: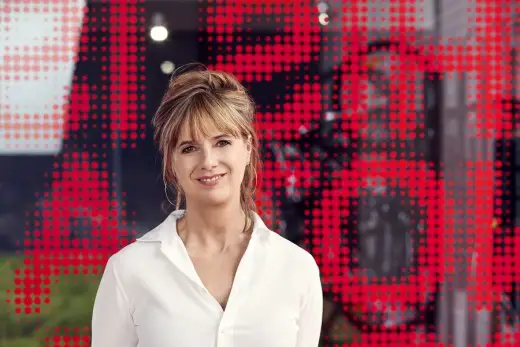 AL & NM photo © Peter Guenzel
2014 ARCHITECT
Australian architect Sean Godsell designed the inaugural MPavilion — a form inspired by iconic outback sheds and verandas. First constructed in the Queen Victoria Gardens for MPavilion's 2014/15 season, Sean's commission "A simple 12m by 12m steel structure with glazed roof and fully automated outer skin," opens and closes to echo the way plants respond to the sun. The inaugural Sean Godsell-designed MPavilion has been gifted to the City of Melbourne by the Naomi Milgrom Foundation and will be relocated to a new permanent home in the gardens of the Hellenic Museum in Melbourne's CBD.
Naomi Milgrom: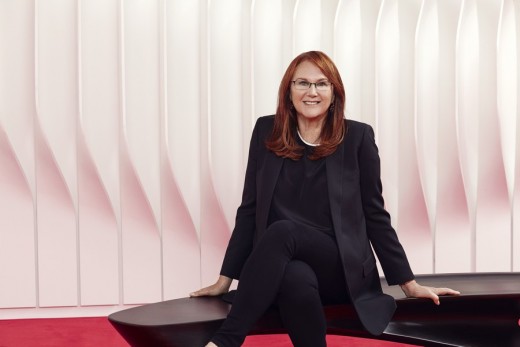 AL & NM photo © Peter Guenzel
OUR PARTNERS
City of Melbourne, Victorian State Government, ANZ, Australia Council for the Arts, Crown Resorts Foundation, Hugh Williamson Foundation, Melbourne Festival, Deloitte, Arnold Bloch Leibler, Kane Constructions, Fabio Ongarato Design, Arup and The Good Copy.
Amanda Levete + Naomi Milgrom: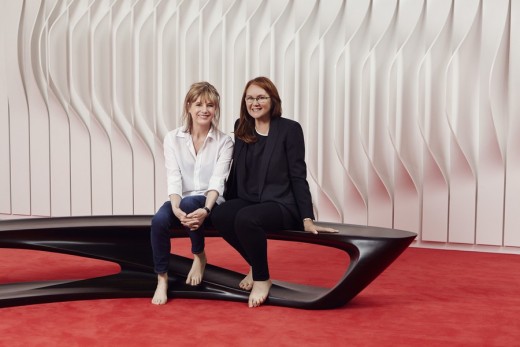 AL & NM photo © Peter Guenzel
Key Dates & Information:
• MPavilion will be open to the public from 5 October 2015 until 7 February 2016
• Entry to MPavilion will be free to the public
• All programmed events presented at MPavilion will be free to attend
• Details of the public program for MPavilion 2015 will be announced in August and September 2015
• For further information and sign up to the newsletter for updates please visit: www.mpavilion.org
MPavilion Melbourne images / information received 130715
Website: www.ala.uk.com
Location: Queen Victoria Gardens, Melbourne, Victoria, Australia
MPavilion 2015 videos on YouTube:
Naomi Milgrom:

Martin Roth:

MPavilion Melbourne Building – 2016 design
MPavilion 2016 Building – opening news
Location: Melbourne, Victoria, Australia
Architecture in Melbourne
Melbourne Architecture Designs – chronological list
Melbourne Architect – design studio listings
Architecture in Australia
Website: Naomi Milgrom Foundation Melbourne
Cloud House North Fitzroy
Architect: McBride Charles Ryan
Website: Queen Victoria Gardens Melbourne
Comments / photos for MPavilion Melbourne page welcome