MPavilion 2019 by Glenn Murcutt Architect, Naomi Milgrom Foundation Victoria Building
MPavilion 2019 by Glenn Murcutt News
Contemporary Building for Naomi Milgrom Foundation in Victoria, Australia – Design News
26 July 2019
MPavilion 2019 Design by Glenn Murcutt Architect
18 Feb 2019
MPavilion 2019 by Glenn Murcutt Architect
Design: Glenn Murcutt
Location: Queen Victoria Gardens, Melbourne, Victoria, Australia
MPavilion 2019 Building
GLENN MURCUTT ANNOUNCED MPAVILION 2019 ARCHITECT
Melbourne, Australia: The Naomi Milgrom Foundation today announced the commission for the sixth annual MPavilion has been awarded to Pritzker Prize-winning Australian architect Glen Murcutt AO.
The announcement comes as MPavilion 2018, designed by Barcelona's Carme Pinós of Estudio Carme Pinós closed on Sunday 17 February, having received an overwhelming public response with 133,000+ visitors and 520 free events over 139 days.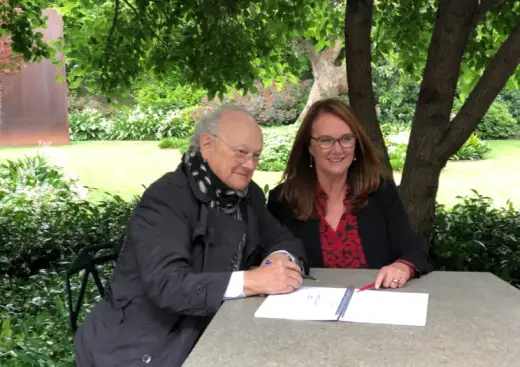 photo courtesy of Naomi Milgrom Foundation
Naomi Milgrom AO, founder of the Naomi Milgrom Foundation commented: "I'm thrilled to be working with Glenn Murcutt. He's been at the forefront of contemporary architecture for decades with groundbreaking designs that are sensitive to landscape and cross-cultural collaboration.
"Quintessentially Australian and ahead of his time, Glenn's thoughtfulness about people, place making and the environment continues to inspire us all."
Glenn Murcutt, commented on his commission for MPavilion 2019: "It's extraordinary what Naomi has achieved with MPavilion. She's one of the great people in this country for supporting the arts, and more than just art but architecture, with a special understanding of city life. MPavilion is an interesting and assiduous project, and I'm honoured to be commissioned."
Architect Glenn Murcutt: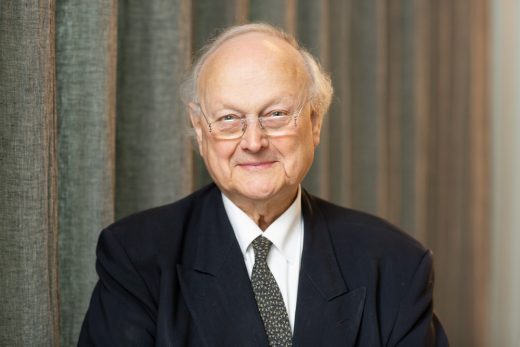 photo : ImagePlay
Arguably Australia's most recognised architect, Murcutt is a recipient of the Pritzker Architecture Prize and is internationally respected for his environmentally sensitive, distinctly Australian architecture. Glenn has received the Alvar Aalto Medal, the Australian Institute of Architects and the American Institute of Architects Gold Medals and is highly regarded as a teacher and commentator.
His most significant works include the Australian Islamic Centre, Melbourne undertaken in equal collaboration with architect Hakan Elevli, the Arthur and Yvonne Boyd Education Centre Riversdale Shoalhaven NSW designed equally with architects Wendy Lewin and Reg Lark, the Simpson-Lee House, Mt Wilson NSW, and the Marie Short House, North Coast NSW.
The MPavilion 2018/19 program season was the largest to date, from 9 October 2018 until 17 February 2019. Events were spread across a number of themes inspired by Carme Pinós, including: building resilient communities, inclusivity, women in leadership, landscape and nature, visual languages—fashion and architecture, and design and science.
Glen Murcutt Architect, NSW, Australia
Glenn Murcutt Architect: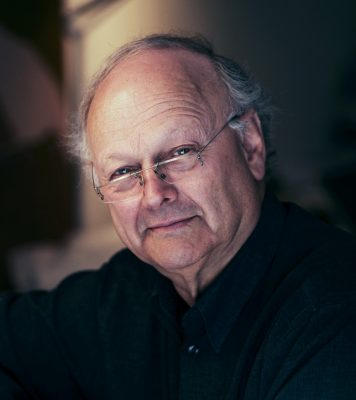 photo : Anthony Browell
In summary:
• 133,000+ visitors
• 520 free events: 74 talks and public lectures; 65 music performances; 25 design meetings and gatherings; 53 workshops; 35 kids events; 42 health and wellbeing events; 8 projects and installations and 250+ morning and evening rituals.
• Engaged more than 500 collaborators including cultural institutions, architects, artists, musicians, dancers, choreographers, scientists and designers to develop the four-month free cultural program. This year's program contributed to numerous festivals and public events, including Melbourne Festival, Melbourne Music Week, Multicultural Arts Victoria's Mapping Melbourne and more.
• International guests included architects Carme Pinós, Carlo Ratti and Sir Peter Cook; former Tate director Sir Nicholas Serota; Google USA director of user experience Elizabeth Churchill; 10th Berlin Biennale curator Gabi Ngcobo; V&A curators Marie Foulston (vigeogames) and Rory Hyde (contemporary architecture and urbanism); Future Laboratory's Chris Sanderson; Singapore's SA Collective; and Hyphen-Labs co-founders Ece Tankal and Carmen Aguilar Wedge.
• MProjects and MMeets site-specific works took place by Fixperts in conjunction with RMIT's School of Design, sound artist Lisa Greenaway, Monash University's immersive listening and virtual reality experience SensiLab, MPavilion's Writer in Residence Maddee Clark, Artist in Residence Esther Stewart, and Hyphen Labs, a global team of women of colour furthering the participation of women.
• MPavilion's own curated MRelay series of tag-team talks focused on fostering inclusive and equitable cities. The greatly expanded Indigenous architecture forum series BLAKitecture, also took place curated by MPavilion's Sarah Lynn Rees.
• For the first time ever, MPavilion engaged with the community behind the scenes. Community Hubs supported migrant women with young children and Northcote Penguins /Arts Project Australia, supported artists with an intellectual disability. The Fixperts community engagement intervention allowed student designers and their tutors to engage with differently abled local community members in need of assistance, sharing their successful design outcomes worldwide through the Fixperts online network.
• Also new in 2018 was MPavilion's Writer in Residence program, which welcomed recipient Maddee Clark, a Yugambeh writer, editor and curator who investigated the intersections between architecture and the written word. Presented in partnership with CAL Cultural Fund and supported by State Library Victoria, Maddee received access to archives and funding to develop their emerging critical practice and lead a workshop and panel on Indigenous representation during the season.
• MPavilion's 2018 Artist in Residence was award-winning Melbourne artist Esther Stewart, who created an interactive children's installation inspired by Carme Pinós' geometric pavilion design. Esther's installation engaged the community in an accessible and hands-on discussion about architectural practice and designing civic spaces.
• MPavilion's inaugural STEM program for teenage girls, in partnership with the Victorian Office for Women, welcomed leaders in science, technology, engineering and mathematics, including members of Hyphen-Labs. Hyphen-Labs led two workshops for high-school students.
• Highlights from MPavilion's public call for proposals included the Public Art Field Guide by Public Assembly, HERitage by the National Trust, Creating Space for Women: Designing for Safety and Power, and Asialink Arts' artist talk series. Out of 120 proposals submitted, 38 events were initiated, with this figure expected to grow next season.
In 2018, MPavilion was awarded the Melbourne Award by the City of Melbourne for its 'contribution to profile by a community organisation'. It was also awarded by the Australian Institute of Landscape Architects (AILA) the Victorian Landscape Architecture Award.
MPavilion is Australia's leading architecture commission and design event, made possible through the vision of the Naomi Milgrom Foundation and Australian philanthropist Naomi Milgrom AO. MPavilion is a philanthropic success story that has seen government, business and private sectors collaborate to bring an important new civic space to Melbourne with strong public, industry and educational components.
MPavilion is supported by major partners City of Melbourne, the Victorian State Government through Creative Victoria, and ANZ, and has received over 480,000 visitors since its inception in 2014.
MPavilion 2019 will open free to the public on 12 November 2019. For further details please visit www.mpavilion.org
Glenn Murcutt Architect
Glenn Murcutt AO is often referred to as Australia's most famous architect. Murcutt's motto, 'touch the earth lightly', leads him to design his works to respond to the Australian landscape. His works are highly economical and multi-functional, and give attention to aspects of the environment such as wind direction, water movement, temperature and light.
His work is internationally acclaimed and he is highly regarded as a teacher, critic, and lecturer around the world. He has been a visiting professor at Yale and Washington universities in the United States. Murcutt currently teaches architectural studies as a professor at the UNSW Faculty of Built Environment.
Prestigious awards include: American Institute of Architects Gold Medal 2009; Kenneth F. Brown Asia Pacific Culture and Architecture Award 2003; Pritzker Architecture Prize 2002; Thomas Jefferson Medal for Architecture 2001; 'Green Pin' Award from the Royal Danish Academy of Architects 1999; Richard Neutra Award for Teaching 1998; Officer of the Order of Australia 1996; Alvar Aalto Medal and RAIA Gold Medal of the Royal Australian Institute of Architects 1992.
MPavilion
MPavilion is Australia's leading architectural commission and design event conceived and created by the Naomi Milgrom Foundation. Every year one new temporary pavilion, designed by a leading international architect, is erected in Melbourne's historic Queen Victoria Gardens. Over summer, MPavilion becomes a design and cultural laboratory, and home to a series of talks, workshops, performances and installations.
At the end of each season the MPavilion is then gifted by the Foundation to the people of Victoria and relocated to a new permanent home to be engaged by the community. MPavilion 2017, designed by Netherlands-based duo Rem Koolhaas and David Gianotten of OMA, can now be found on the grounds of Monash University's Clayton campus; MPavilion 2016, designed by Bijoy Jain of India's Studio Mumbai, is located at Melbourne Zoo; MPavilion 2015, designed by AL_A, the studio of British architect Amanda Levete, has a permanent home in Melbourne's Docklands; and MPavilion 2014, designed by Australian architect Sean Godsell of Sean Godsell Architects, can be found at Melbourne's Hellenic Museum.
The Naomi Milgrom Foundation was founded in 2014, and its purpose is to enrich Australian cultural life by engaging new audiences with exceptional art, design and architecture. The Foundation, led by Naomi Milgrom AO, has become a model for public-private collaboration by enabling new projects with a focus on public, industry and education components.
MPavilion Key Dates and Useful Links:
• MPavilion 2019 will open free to the public on 12 November 2019 until 15 March 2020
• For further information please visit www.mpavilion.org
Previously on e-architect:
14 Feb 2018
MPavilion Designs
MPavilion 2018 Building
Design: Estudio Carme Pinós
MPavilion 2018 by Estudio Carme Pinós
MPavilion 2017 Building
Design: OMA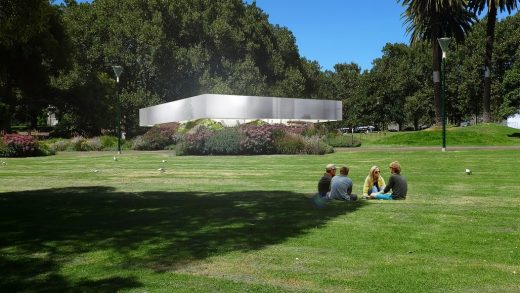 MPavilion 2017 Building Design by OMA was be the first building designed and constructed by OMA in Australia.
MPavilion 2016 Building
Design: Bijoy Jain of Studio Mumbai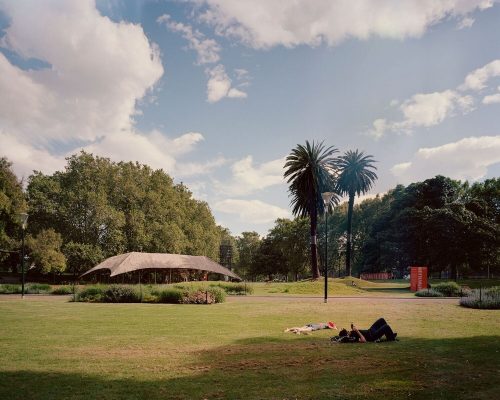 MPavilion 2016 Pavilion by Bijoy Jain
Naomi Milgrom and Bijoy Jain at MPavilion 2016: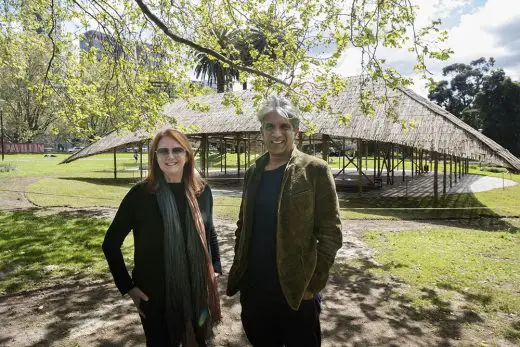 MPavilion 2016 Melbourne by Bijoy Jain
MPavilion by Bijoy Jain of Studio Mumbai
Photographs: Nicholas Watt
MPavilion 2016 architect Bijoy Jain and Naomi Milgrom speak about MPavilion's third foray into Melbourne's Queen Victoria Gardens:
Architect Bijoy Jain and Naomi Migrom AO: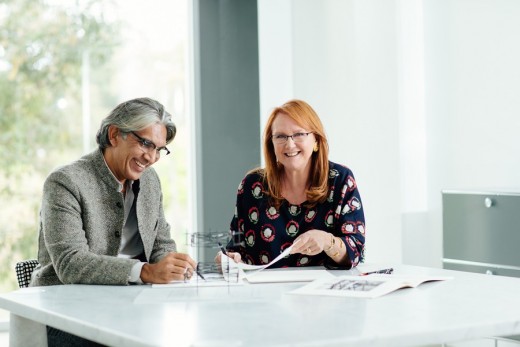 photo : Timothy Burgess
MPavilion 2015, Amanda Levete of AL_A: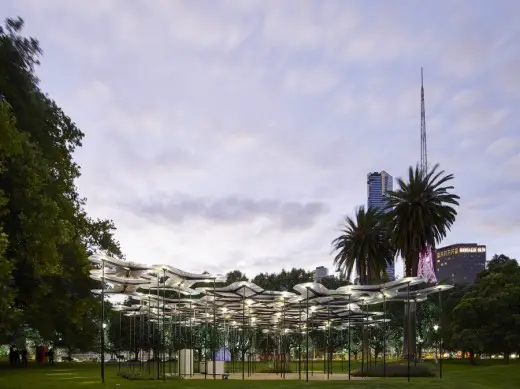 photo : Richard Powers
MPavilion Melbourne by Amanda Levete
MPavilion 2015 Melbourne by Amanda Levete – 3 Mar 2016 relocation news update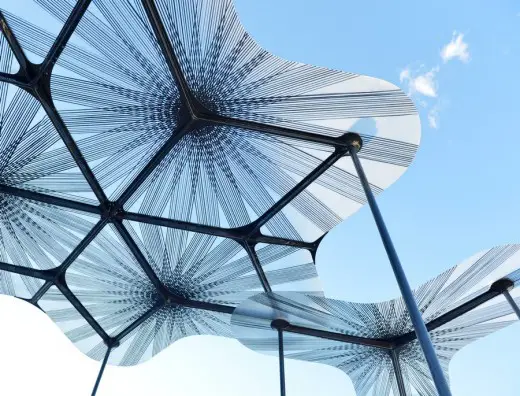 MPavilion 2015 prototype photo © Kane Jarrod
Amanda Levete + Naomi Milgrom: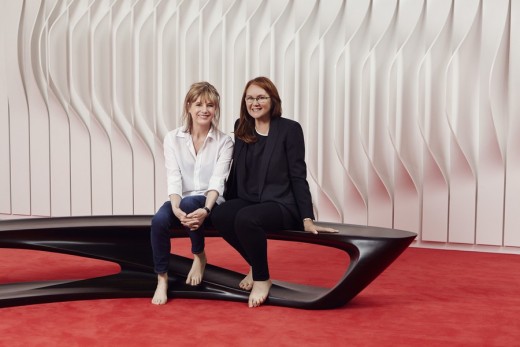 AL & NM photo © Peter Guenzel
Website: www.ala.uk.com
Location: Queen Victoria Gardens, Melbourne, Victoria, Australia
MPavilion 2015 videos on YouTube:
Naomi Milgrom:

Architecture in Melbourne
Melbourne Architecture Designs – chronological list
Melbourne Architect – design studio listings
The Uber Shed, Mornington Peninsula, Victoria
Design: Jost Architects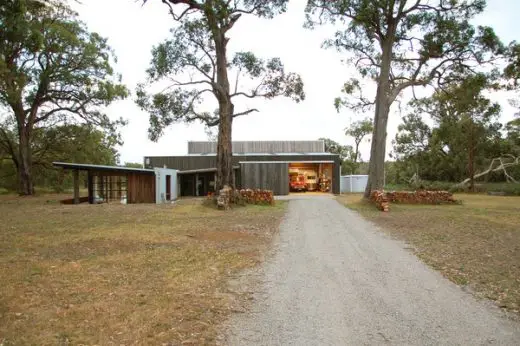 photograph : Patrick Jost
The Uber Shed
Tanderrum Pedestrian Bridge in Melbourne, Batman Avenue
Design: John Wardle Architects & NADAAA in collaboration with Oculus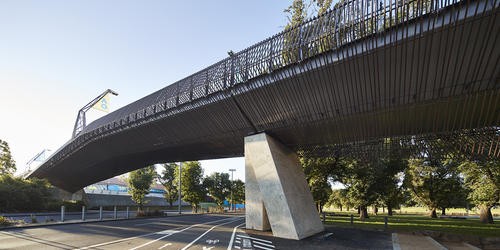 photographers : Kristofer Paulsen, Nils Koenning, and Peter Bennetts
Tanderrum Pedestrian Bridge
Architecture in Australia
Website: Naomi Milgrom Foundation Melbourne
Website: Queen Victoria Gardens Melbourne
Comments / photos for MPavilion 2019 by Glenn Murcutt page welcome