Glenn Murcutt MPavilion 2019, Naomi Milgrom Foundation Victoria Building Architect
MPavilion 2019 Design by Glenn Murcutt Architect
Contemporary Building for Naomi Milgrom Foundation in Victoria, Australia Design News
26 July 2019
MPavilion 2019 Building by Glenn Murcutt Architect
Design: Glenn Murcutt
Location: Queen Victoria Gardens, Melbourne, Victoria, Australia
MPavilion 2019 Building Design Unveiled
Image of design – artist's impression: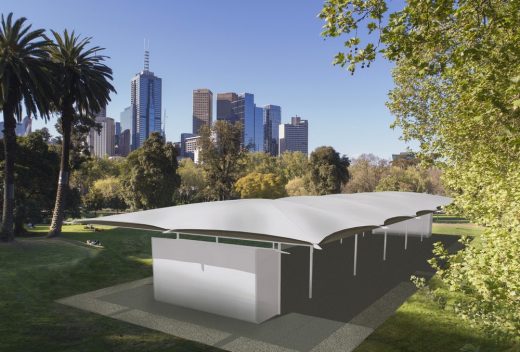 photo courtesy of Naomi Milgrom Foundation
GLENN MURCUTT MPAVILION 2019 DESIGN REVEALED
MELBOURNE, AUSTRALIA: The Naomi Milgrom Foundation has released the design for MPavilion 2019, the sixth MPavilion in an ongoing series, by Australia's only Pritzker Architecture Prize laureate, Glenn Murcutt AO. The refined, white minimal design reflects Murcutt's significant contribution to climate-responsive architecture. Celebrating the fiftieth year of Murcutt's globally influential design practice, MPavilion 2019 will be a milestone summer attraction built in the Queen Victoria Gardens.
Naomi Milgrom, Glenn Murcutt: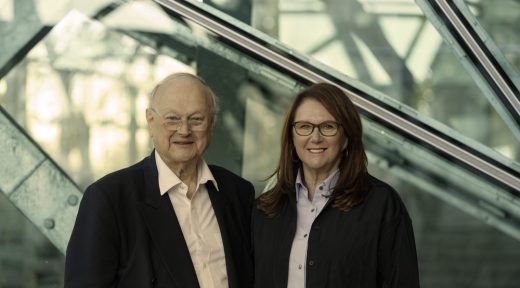 photo : Timothy Burgess
MPavilion 2019 relays Murcutt's longstanding interest in buildings that make efficient use of site and climatic conditions. Prioritising a view of the river and city skyline, the MPavilion consists of a climate responsive rectangular plan with steel frames supporting wing-like trusses covered in tensioned translucent fabric, resulting in a buoyant white roof that will be lit from within at night. The result will be a sleek and adaptable MPavilion, resting on the landscape.
Architect Glenn Murcutt: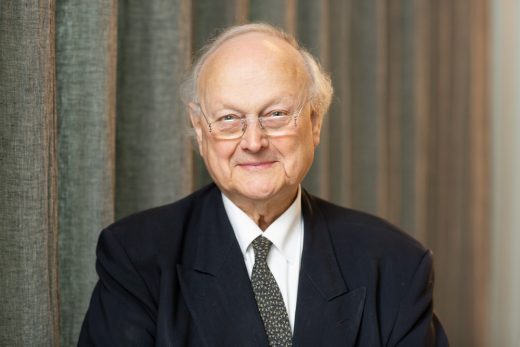 photo : ImagePlay
Naomi Milgrom AO, founder of the Naomi Milgrom Foundation, which commissions each year's MPavilion, said: "Glenn's very thoughtfully considered MPavilion reflects everything the world has come to love and appreciate about his distinctly Australian design practice over fifty years. I'm excited to bring a new Glenn Murcutt design to life for the community to share."
Glenn's beautiful sketches of the MPavilion: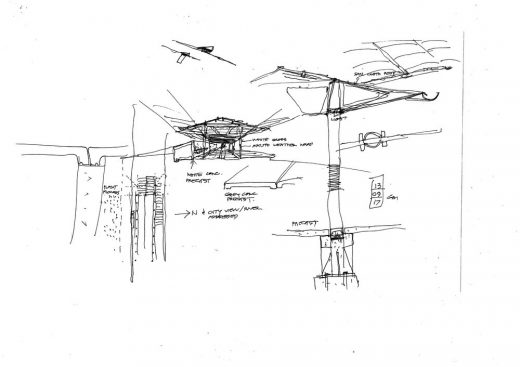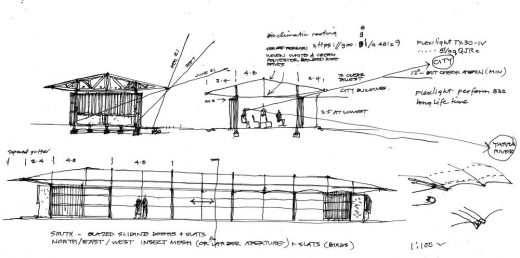 Commenting on his MPavilion design, Glenn Murcutt AO said: "The MPavilion design is a crisp white building that will be lit at night like a lantern, giving the pavilion a feeling of lightness. For me it was central to establish a sense of 'place' for visitors—to view from within the building, the gardens, the river, and the city."
Influenced by a memory of using a light aircraft's wing as a temporary shade during a trip to Mexico to visit the Yaxchilán ruins, Murcutt's MPavilion makes use of a membrane lined curved roof and aileron-like flaps to allow for shade and rain pathways. Open along the north and south elevations, the MPavilion's south elevation is fitted with retractable fabric blinds to provide a level of wind protection when required. At each end of the MPavilion there are alcoves, membrane lined externally, and timber-slat pivot doors internally.
Glenn Murcutt Architect: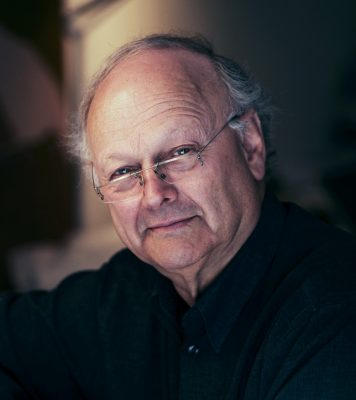 photo : Anthony Browell
Murcutt's design has inspired MPavilion's program themes for its 2019/20 season of free events and will open in the Queen Victoria Gardens, Southbank Arts Precinct, on 14 November 2019 until 22 March 2020.
Glenn Murcutt Architect sketches of the MPavilion 2019 building: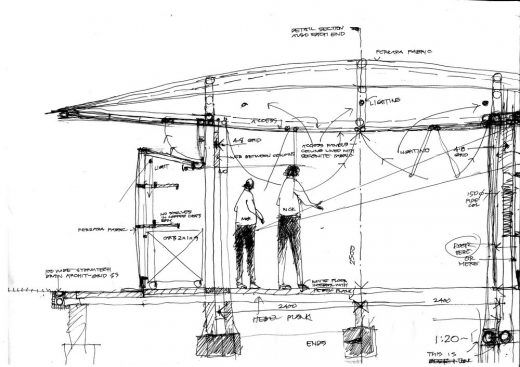 Taking on a second life, the MPavilion at the end of each season is then gifted by the Foundation to the public. Becoming a legacy of architect-designed pavilions for the state of Victoria, the series enables design awareness to continue into new communities for years to come.
MPavilion is supported by major partners City of Melbourne, the State Government of Victoria through Creative Victoria and Development Victoria, and ANZ. Bringing the pavilion to fruition, design and construction partners include structural engineers AECOM, specialist tensile roof fabric advisor Temple Architecture, surveyors AAM Group and builders Kane Constructions.
MPavilion will open free to the public on Thursday 14 November 2019 until Sunday 22 March 2020
Previously on e-architect:
18 Feb 2019
MPavilion 2019 by Architect Glenn Murcutt
Design: Glenn Murcutt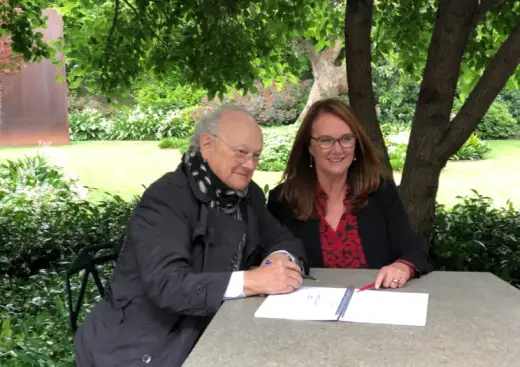 photo courtesy of Naomi Milgrom Foundation
MPavilion 2019 by Glenn Murcutt Architect
Glen Murcutt Architect, NSW, Australia
Location: Queen Victoria Gardens, Melbourne, Victoria, Australia
MPavilion Designs
MPavilion 2018 Building
Design: Estudio Carme Pinós
MPavilion 2018 by Estudio Carme Pinós
MPavilion 2017 Building
Design: OMA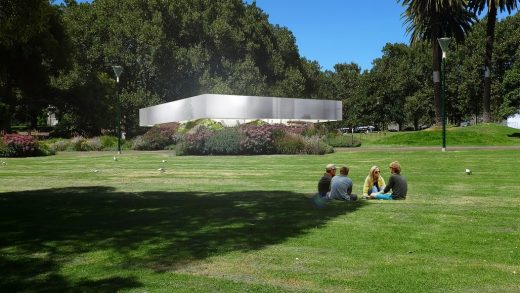 MPavilion 2017 Building Design by OMA was be the first building designed and constructed by OMA in Australia.
MPavilion 2016 Building
Design: Bijoy Jain of Studio Mumbai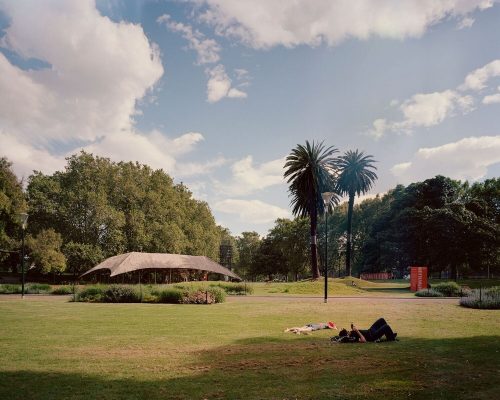 MPavilion 2016 Pavilion by Bijoy Jain
Naomi Milgrom and Bijoy Jain at MPavilion 2016: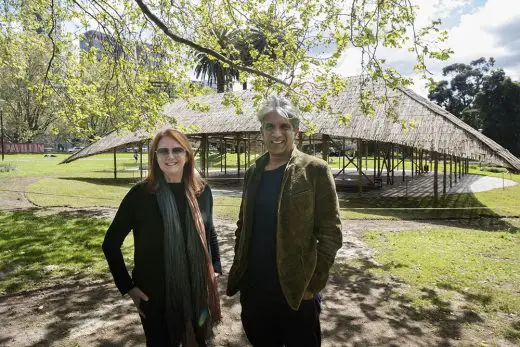 MPavilion 2016 Melbourne by Bijoy Jain
MPavilion by Bijoy Jain of Studio Mumbai
Architect Bijoy Jain and Naomi Migrom AO: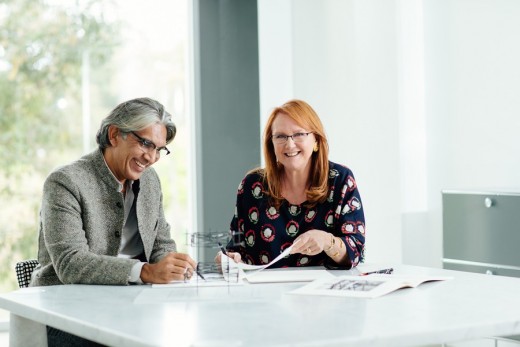 photo : Timothy Burgess
MPavilion 2015, Amanda Levete of AL_A: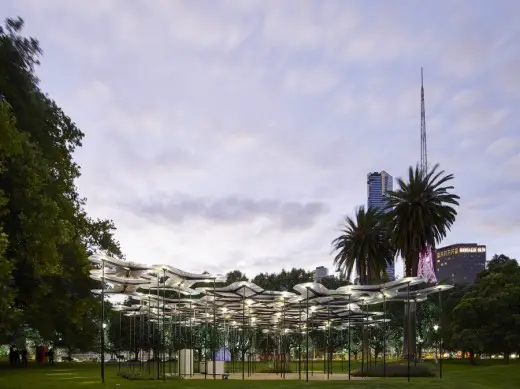 photo : Richard Powers
MPavilion Melbourne by Amanda Levete
MPavilion 2015 Melbourne by Amanda Levete – 3 Mar 2016 relocation news update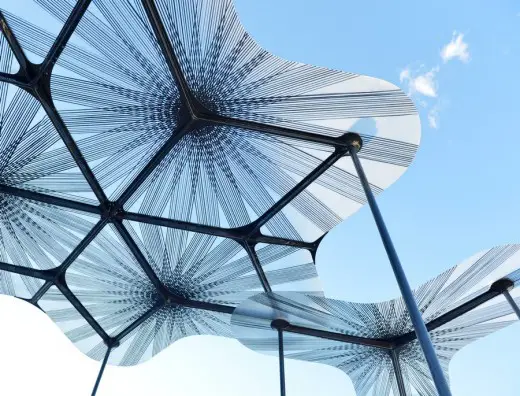 MPavilion 2015 prototype photo © Kane Jarrod
Amanda Levete + Naomi Milgrom: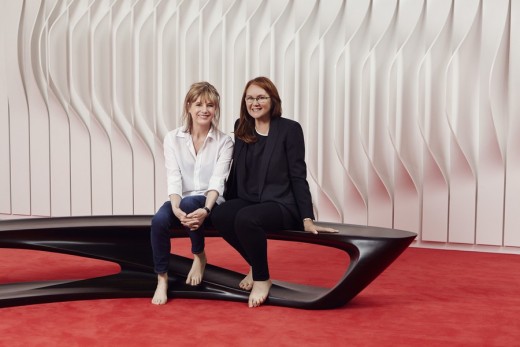 AL & NM photo © Peter Guenzel
For further information, please visit www.mpavilion.org
MPavilion 2015 videos on YouTube:
Naomi Milgrom:

Architecture in Melbourne
Melbourne Architecture Designs – chronological list
Melbourne Architect – design studio listings
Architecture in Australia
Website: Naomi Milgrom Foundation Melbourne
Website: Queen Victoria Gardens Melbourne
Comments / photos for MPavilion 2019 by Glenn Murcutt page welcome