Madrid Architecture News 2021, New Building, Construction Design, Spanish Capital Built Environment
Madrid Architecture News
Arquitectura España: Major New Buildings + Architectural Developments in central Spain
post updated post updated 17 November 2021
Madrid Architectural News
Madrid Architecture News – latest additions to this page, arranged chronologically:
Madrid Architecture Design – chronological list
17 Nov 2021
Banco Sabadell Space Madrid, Calle Serrano 18
Design: Josep Lluís Mateo – Mateo Arquitectura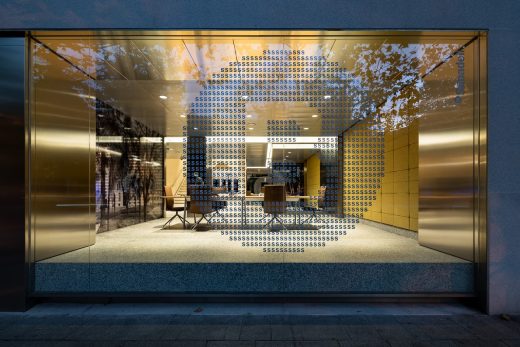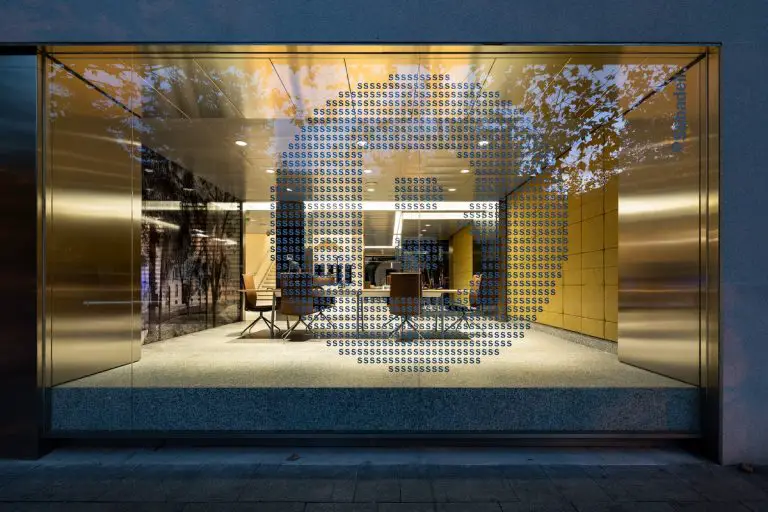 photo © Pedro Pegenaute
Banco Sabadell Space Madrid bank building
"Our intervention in a pre-existing space sets out to enhance it, to dialogue with it, not just to add an indifferent new layer to the underlying base. In a central place, open to the city and to an incredible courtyard at the centre of a street block, with large trees and vegetation, dialogue with the outside (with the city and with nature) also constitutes a thread in the design."
22 Oct 2021
Abril, La Moraleja Business Park, North Madrid
Design: Rafael De La-Hoz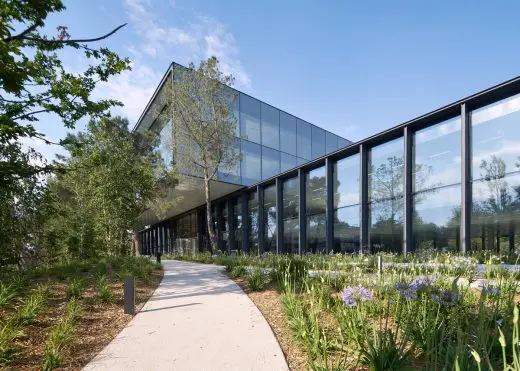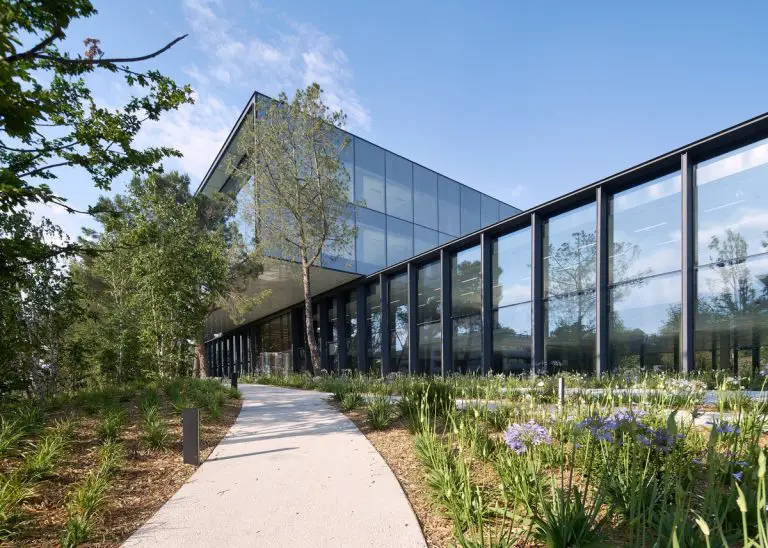 photo © Alfonso Quiroga
Cancer Research and Treatment Centre, Bogotá
The project, named Abril, is part of La Moraleja Business Park located in one of the most prestigious areas in the north of Madrid and has been promoted by the financial firm Arcano Partners, through its first real estate fund, ASOREF. Fully capable of combining flexible and contemporary workspace with spacious social areas, the building delves into capital costs and challenging construction strategies to enhance sustainability, making a unique, commercial building that considers the #health of its users and promotes #wellbeing.
10 Sep 2021
Mediabrands Office Headquarterss, Paseo de la Castellana
Design: Ruiz Pardo – Nebreda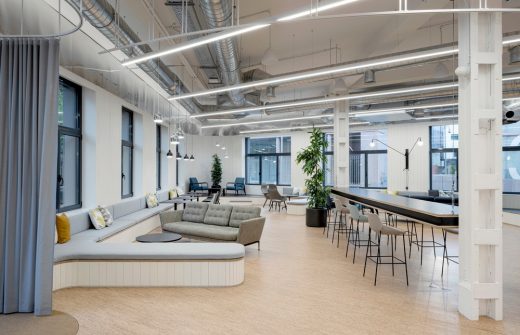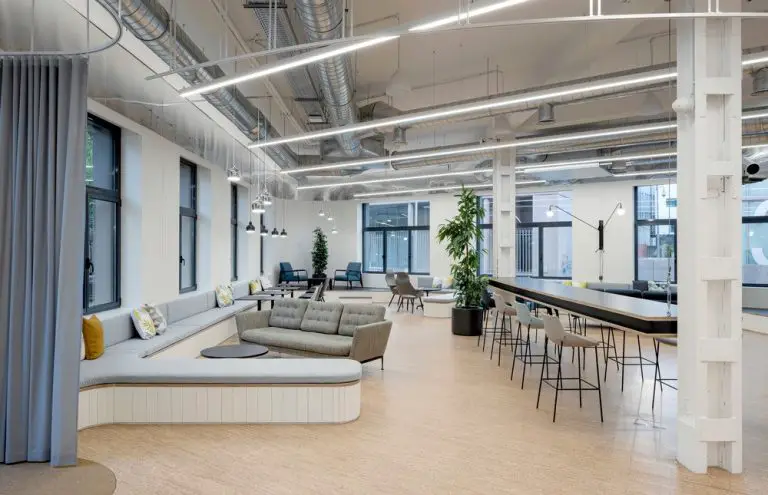 photo courtesy of architects office
Mediabrands Office Headquarters
The new Mediabrands offices in Madrid successfully tackle the unprecedented challenges facing company workplaces brought about by the pandemic. This project conceives the work environment as a catalyst for encounters prioritising user-client relationships, and fostering creativity beyond teleworking.
31 Jul 2021
Norman Foster Foundation Madrid
25 Jun 2021
Plaza Ruiz Picasso Building News
MERLIN Properties, the Madrid-based largest and most technologically advanced REIT and a leading developer and operator of green assets, announced today a long-term strategic partnership with EDGE Next.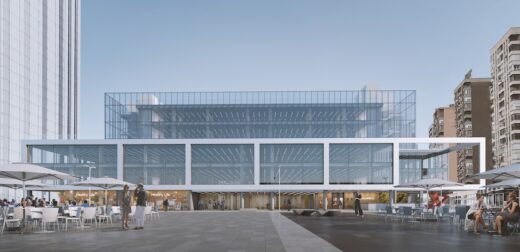 The project will begin with the last major project of the Landmark plan, Plaza Ruiz Picasso in Madrid, with a total GLA of 36,899 sqm. Plaza Ruiz Picasso plans to incorporate the latest in smart technology, including EDGE's own platform – EDGE Next – to optimise the office building's performance, and to make it smarter, healthier, and more sustainable.
The platform uses multiple sensors and data sources to not only gather information, but also to deliver valuable and actionable insights to enable buildings, companies, and people to thrive. Tenants can also make use of a building app, which enables users to efficiently control basic features of their work environment, such as light and temperature. The asset is set to achieve LEED Platinum and WELL Core & Shell Gold certifications. In addition, it aims to become one of the first buildings in Spain to obtain both the WiredScore and the SmartScore certification, a certificate that represents the smart connectivity of the building
Furthermore, EDGE Next will help MERLIN implement sustainable and technological initiatives in their office portfolio, rolling out a multi-year project that will optimize their developments through the use of EDGE Next's smart technology. As part of this strategy, the EDGE Next platform will be piloted in one of MERLIN´s existing buildings starting in 2021, with further rollouts expected in the near-term future.
ABOUT MERLIN Properties
MERLIN Properties SOCIMI, S.A. (MC:MRL) is the largest real estate company trading on the Spanish Stock Exchange. Specialized in the acquisition and management of commercial property in the Iberian region. MERLIN Properties mainly invests in offices, shopping centers and logistics facilities, within the Core and Core Plus segments, forming part of the benchmark IBEX-35, Euro STOXX 600, FTSE EPRA/NAREIT Global Real Estate, GPR Global Index, GPR-250 Index, and MSCI Small Caps indices.
ABOUT EDGE
EDGE puts the people and planet first when developing and redeveloping buildings for global companies. Our buildings are developed with the highest levels of sustainability using the best solutions offered by modern technology. EDGE continues to learn from the people who work in our buildings, ensuring the most healthy and productive work environments in today's market.
17 May 2021
REE Campus Tres Cantos Technology Park – news
30 Apr 2021
Norman Foster Foundation Centre Of Excellence
18 Mar 2021
Torre Azca Skyscraper Building, Paseo de la Castellana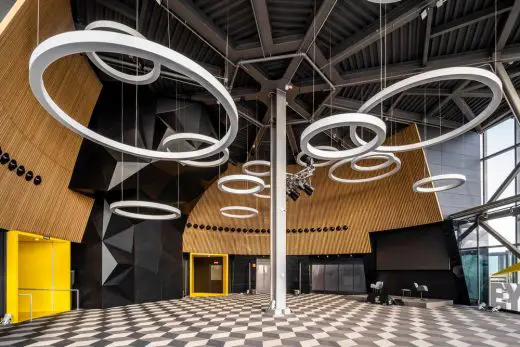 photograph : Javier Bravo
Torre Titania Madrid Financial District
Torre Titania, also known as Torre Azca, has already become a landmark building within Madrid financial district. Located in Paseo de la Castellana, this architecture built on the remains of Torre Windsor (destroyed in a fire in 2005), houses a shopping centre and office spaces in 27 floors raising 103.7m from the ground.
12 Mar 2021
Acciona Ombú Madrid office building
1 Mar 2021
La Maruca de la Castellana
8 Dec 2020
Valcotos Madrid Compound
10 Nov 2020
BUS House
4 Nov 2020
Freshly Cosmetics
30 Sep 2020
La Vaca Y La Huerta, Recoletos Street
Architects: Zooco Estudio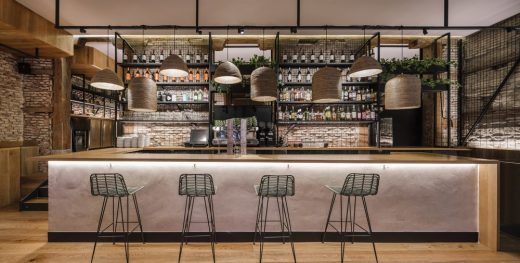 photographer : Imagen Subliminal. Miguel de Guzmán – Rocío Romero Rivasz
La Vaca Y La Huerta Restaurant
The name means "The cow and the orchard" and it talks about the main product of the restaurant and the starting point for us to start with the project.
26 Jun 2020
K House in Parque Conde Orgaz
9 Jun 2020
6House in North West Madrid
17 Apr 2020
REE Campus
Architects: IDOM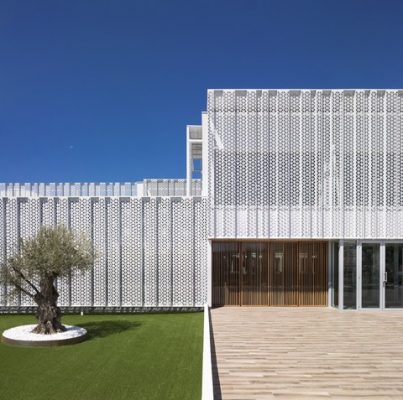 photo : Aitor Ortiz
REE Campus
Red Eléctrica de España has commissioned IDOM for the comprehensive rehabilitation of two buildings in the Tres Cantos Technology Park (Madrid). The action includes a comprehensive adaptation to the new training and technological needs of the company, modernizing the set of buildings through an envelope that enables compliance with energy efficiency requirements.
19 Mar 2020
University of Navarre Clinic
Architects: IDOM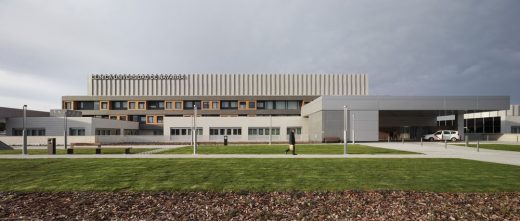 photo : Aitor Ortiz
University of Navarre Clinic
The project for the new University of Navarre Clinic in Madrid follows a high specialization, teaching and research hospital model, in which the patient is at the centre of all care.
18 Feb 2020
Complete Apartment Renovation in Madrid
Design: OOIIO Architecture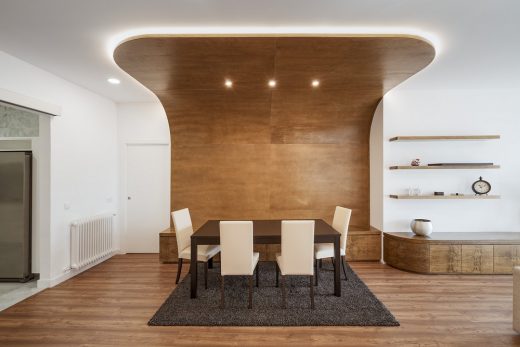 image Courtesy architecture practice
Complete Madrid Apartment Renovation
The key to the comprehensive reform project would now be to bet on natural light.
24 Nov 2019
Miski Restaurant in Malasaña District
20 Nov 2019
Studio in the Woods by selgascano – refreshed post on this amazing Spanish architecture office
3 Jun 2019
B&B hotel in Getafe, Madrid metropolitan area
Architect: CuldeSacTM Custom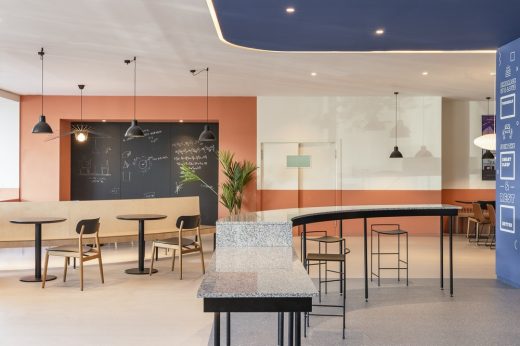 photo : David Zarzoso
Getafe Hotel Building
17 May 2019
Castellana 77, AZCA district
Architects: luis vidal +arquitectos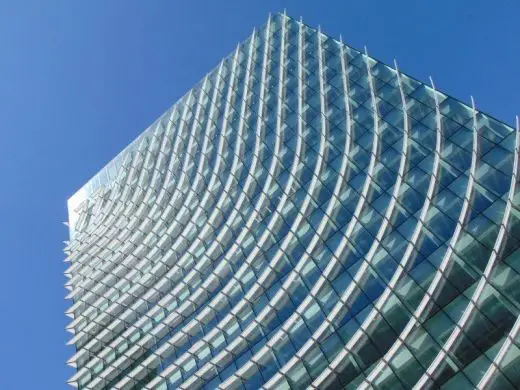 photo © luis vidal + arquitectos. All rights reserved
Castellana 77 Building
The original 1977 tower is now a 62-metre-high office building and has received the prestigious LEED Platinum certification.
28 Apr 2019
SOM's Exhibition, Calle de Hortaleza
Architects: SOM
Beyond the Structure Exhibition
10 Apr 2019
Atletico Madrid Wanda Metropolitano Stadium
Architects: Cruz y Ortiz Arquitectos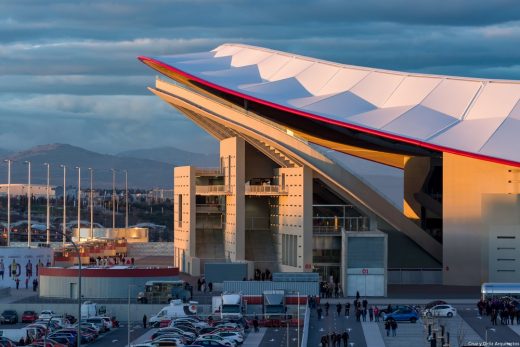 image Courtesy architecture office
Wanda Metropolitano
The new Club Atlético de Madrid Stadium results from the expansion of the old Athletics Stadium of the Community of Madrid, completed in 1994.
28 Mar 2019
Bala Perdida Club, Calle de Atocha, 49 — 28012
Architects: EL EQUIPO CREATIVO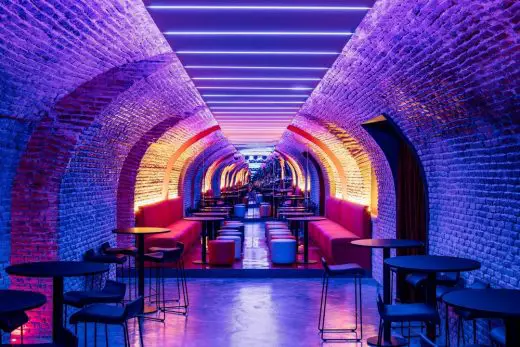 photo ©
Bala Perdida Club
Hidden in the underground of the Madrilenian neighborhood "Barrio de Las Letras" (today a neuralgic point of the city), under a refurbished palace of the eighteenth century where Hotel Axel Madrid is located, we find two vaulted spaces built in brick.
18 Mar 2019
Las Chicas, Los Chicos y Los Maniquies Restaurant, AXEL Hotel, Calle de Atocha
Architects: EL EQUIPO CREATIVO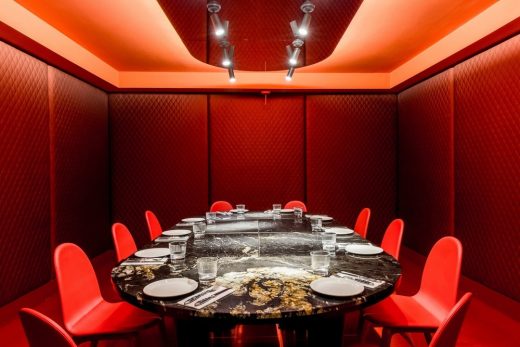 photo © Paco Montanet
Las Chicas, Los Chicos y Los Maniquies Restaurant in Madrid
The design of the AXEL Hotel on Atocha Street superposes a series of historic references forming a complex and explosive tandem. Firstly, the privileged location in the very midst of Madrid's literary neighborhood. Secondly, the palatial 19th-century building in which it is located.
5 Feb 2019
A House for Contemplation
Design: Ramón Esteve
La Finca
5 Feb 2019
Casa Miga
24 Jan 2019
Norman Foster Foundation Madrid
Madrid Building News 2018
15 Oct 2018
MAX&Co. Flagship Store, Calle de Serrano 18
Design: Ciszak Dalmas, Andrea Tognon, Studio Pepe and the Max Mara design office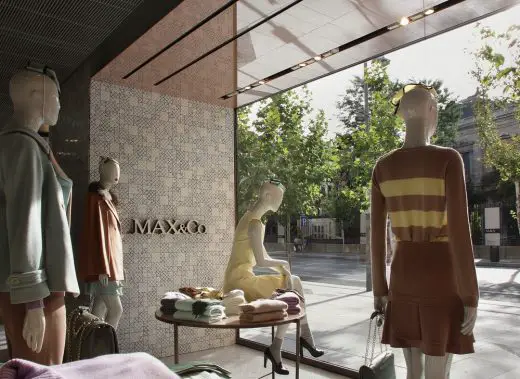 photograph : Ciszak Dalmas
MAX&Co. Flagship Store
The first flagship store in Spain for the Italian fashion brand Max Mara Group opens at Calle de Serrano 18 – featuring the firm's new store concept.
24 Sep 2018
Vinoteka Ardoka Madrid Bar
20 Jun 2018
Axis Madrid – Plaza Colón Building Refurbishment
Architects: Foster + Partners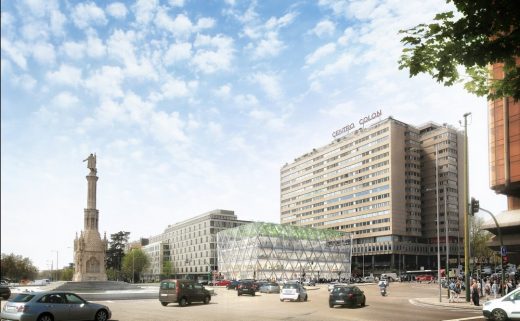 image Courtesy architecture office
Axis Madrid
The comprehensive refurbishment of the Plaza Colón building, at one of the most major intersections in the city, the project seeks to completely transform and revitalise the existing structure to create a new iconic landmark that reflects the prestige and importance of the site.
9 May 2018
Horse Riding Field in Cattle Farm
Design: OOIIO Architecture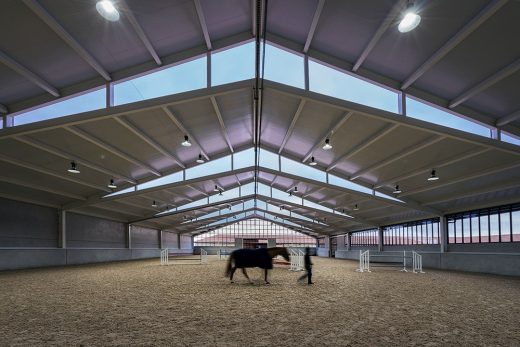 images : OOIIO Architecture, Josefotoinmo
Horse Riding Field in Cattle Farm
The architects task consisted of integrating a horse riding field into a large traditional country house and reforming old stables to bring them up to date, so the new group of buildings will become first class riding horses facilities, at the service of some beautiful competition horses.
16 Jan 2018
Museo Arqueológico Nacional, Calle de Serrano
Design: Frade Arquitectos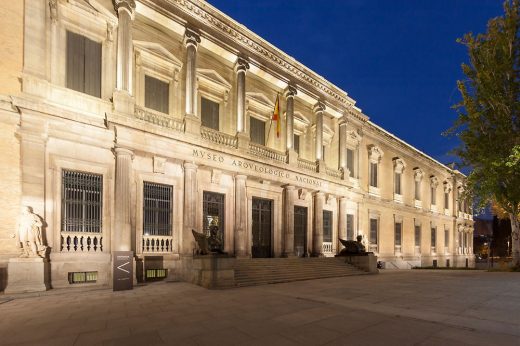 photo © ERCO GmbH, www.erco.com, photography: Frieder Blickle
National Archaeological Museum of Spain
The contextual focus of the Archaeological Museum in Madrid is placed on Iberian art – such as the Lady of Elche. Precise accent lighting from ERCO lends the historical exhibits an expressive and contemporary appearance.
Updated Images added 15 Jan 2018
Caixa Forum, Paseo del Prado, 36
Architects: Herzog & de Meuron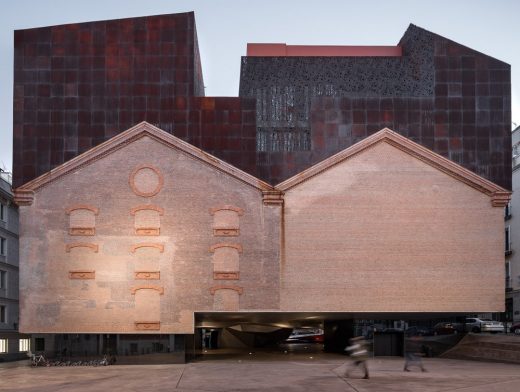 photo : Simon Garcia | arqfoto.com
Caixa Forum
This major building in the Spanish capital was opened in 2008 by King & Queen of Spain. The museum and cultural center was designed by the world-famous Swiss architects Herzog & de Meuron. The building combined an old abandoned electrical station with new construction of floors which are encased with oxidized cast-iron.
8 Jan 2018
The Norman Foster Foundation presents its annual Digital X Workshop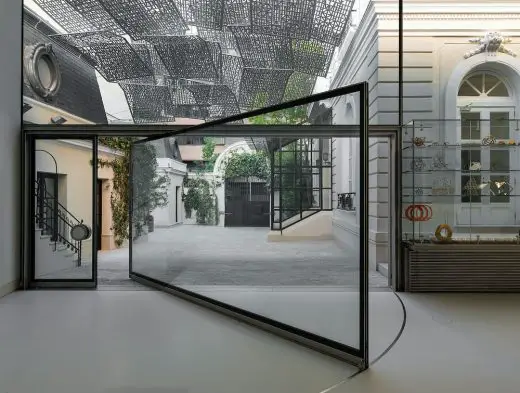 photo © Luis Asín © Norman Foster Foundation
Norman Foster Foundation Madrid
The first Norman Foster Foundation Digital X Workshop – explore the kinship of Architecture and the Digital World in a week-long event -will take place on 15-19 January, supported by Future Planet Capital.
After reviewing applications submitted by hundreds of candidates from around the world, the selection committee awarded ten scholarships to students from various universities and institutions. This year's Atelier mentor is Nicholas Negroponte, cofounder and former director of MIT Media Lab.
More Contemporary Madrid Architecture News online soon
Building Updates 2017
14 Nov 2017
Blue Building, Alcobendas, north of Spanish capital
Design: Rafael de La-Hoz Arquitectos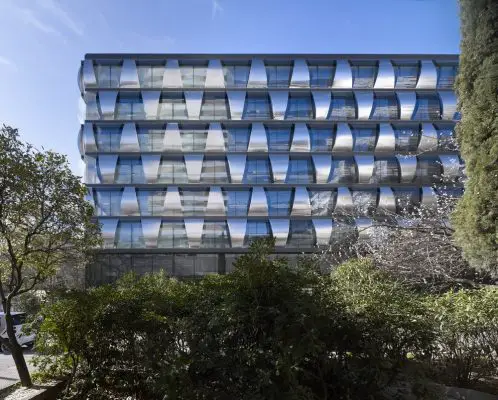 photographer : Alfonso Quiroga
Blue Building in Madrid
20 May 2017
New OOIIO Office in Madrid Rio
Design: OOIIO Architecture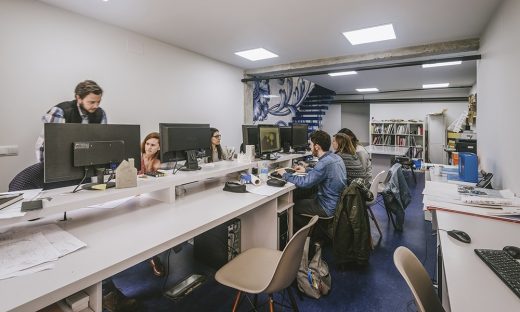 picture from architecture office
New OOIIO Office in Madrid Rio
OOIIO, an emerging architecture studio based in Madrid with projects in Spain and Latin America, decided to move its headquarters because the team is growing thanks to a series of new commissions and some competitions won.
16 Feb 2017
La Finca House
Architect: Ramon Esteve Estudio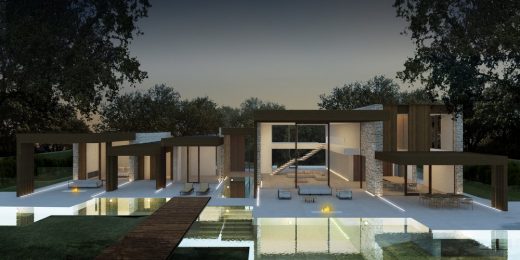 photo from architecture office
House in La Finca
24 Jan 2017
Camarines House, Aravaca
Design: A-cero, architects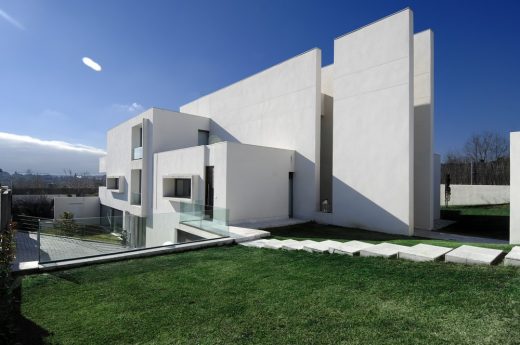 photograph : Luis H. Segovia
House in Camarines
1 Jan 2017
Espacio Miguel Delibes in Alcobendas – approx. 13 km north of Spanish capital
Design: Rafael de La-Hoz Arquitectos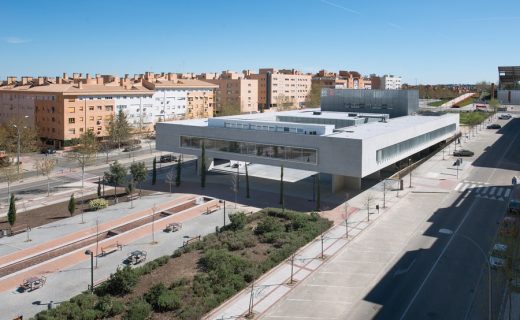 photograph : Alfonso Quiroga
Espacio Miguel Delibes Building in Madrid
The new building hosts the Universidad Popular, the headquarters of the PhotoEspaña International Centre in Alcobendas, as well as a media library and a citizen's advice service of the City Council.
More New Madrid Architecture News online soon
Building Updates 2016
13 Dec 2016
COAM exhibition – "The Why Factory: Research, Teaching and Public Engagement (2006-2016)"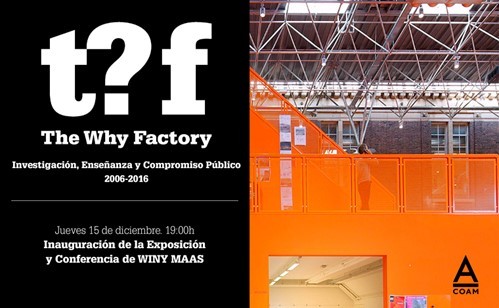 picture from architecture firm
Why Factory COAM Exhibition
The Official College of Architects of Madrid (COAM) in collaboration with The Why Factory and TU Delft announce the opening of the exhibition "The Why Factory: Research, teaching and public engagement (2006-2016)" reflecting on a decade's research on the future of cities.
28 Nov 2016
Museo del Prado Madrid Design by Gluckman Tang Architects
Design: Gluckman Tang Architects – Estudio Álvarez Sala – Arquitectura Enguita y Lasso de la Vega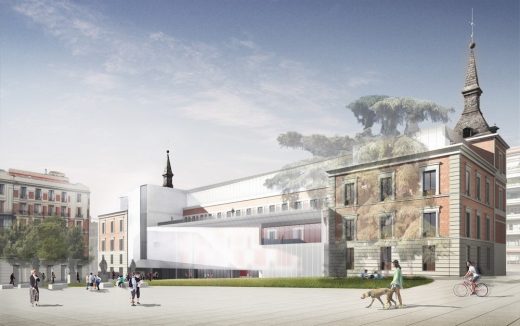 image Courtesy Gluckman Tang Architects
Museo del Prado Building Design by Gluckman Tang Architects
After an international architecture competition, the only American firm on the final shortlist of eight teams has released its design for the Museo del Prado's new expansion. The design teams were asked to reimagine this former wing of a 17th-century palace, which was acquired by the Prado in 2015.
25 Nov 2016
Museo del Prado – Salón de Reinos, Salón de Reinos, Museo del Prado
Design: Foster + Partners with Rubio Arquitectura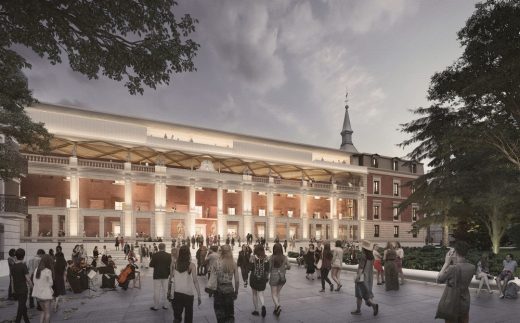 image from architects
Prado Museum in Madrid
Foster + Partners and Rubio Arquitectura have won the international competition to revitalise and refurbish the historic Hall of Realms (Salón de Reinos) as a new addition to the Museo del Prado campus in Madrid.
Mariturri School in Vitoria-Gasteiz
23 May 2016
New York Burger Restaurant, Almagro
Design: Isabel Lopez Vilata + Asociados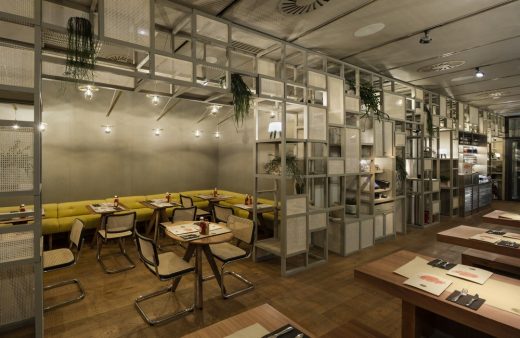 photography : Alejo Bagué
New York Burger Restaurant Madrid
Cultual Center La Gota – Tabacoo Museum in Navalmoral
Cultural and Leisure Center in Getafe Village
More Madrid Architecture News online soon
Location: Madrid, Spain
Madrid Architecture
Madrid Architecture Walking Tours by e-architect
Madrid Architect – design office listings
School of Architects of Madrid – Montevideo Biennial
Moka House, Pozuelo de Alarcón
Design: A-cero Architects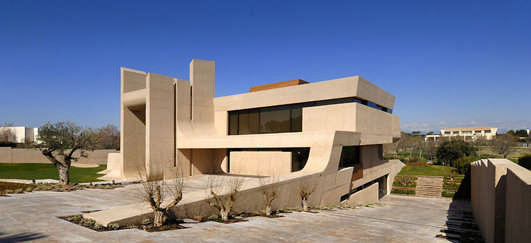 photo : Luis H. Segovia
Moka House Madrid
B&N House, Madrid
Design: A-cero Architects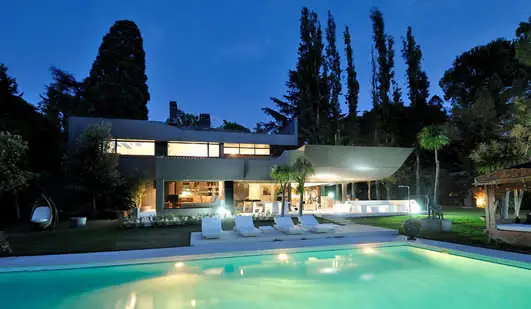 photo from architects
B&N House Madrid
Repsol Headquarters
Design: Rafael de la-Hoz Architect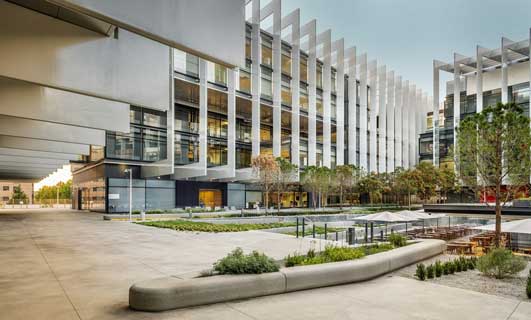 photo from architects
Repsol Madrid Building
Idom Office, north west Madrid
Design: ACXT Architects
Idom Office
Madrid Architects' Association
Design: Gonzalo Moure
Madrid Architects' Association
Casa C
Design: ABIBOO Architecture
Casa C Madrid
Buildings / photos for the Madrid Building News page welcome
Website: Madrid