Madrid residences, New Spanish property, Residential architecture Spain, Building design architects
Madrid Houses : Spanish Residential Architecture
New Residential Buildings in central Spain – Contemporary Properties in the capital city
post updated 12 September 2023
Madrid Architecture Design – chronological list
Madrid Houses
Madrid Residential Architecture News
5 July 2023
Álamo House
Design: Fran Silvestre Arquitectos, Valencia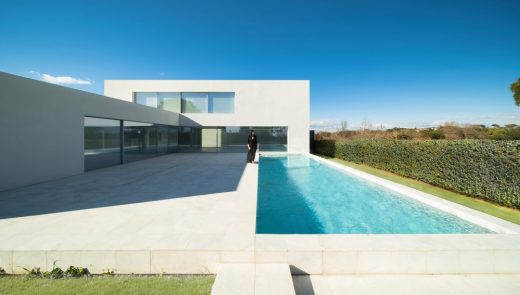 photo : Jesús Orrico
Álamo House
The Álamo House is built on a plot with a significant elevation and an escape towards the landscape on its diagonal direction. The impossibility of accommodating the entire program on a single floor makes a two-level design necessary for the house.
9 Nov 2020
BUS House, Bustarviejo
Design: OOIIO Architecture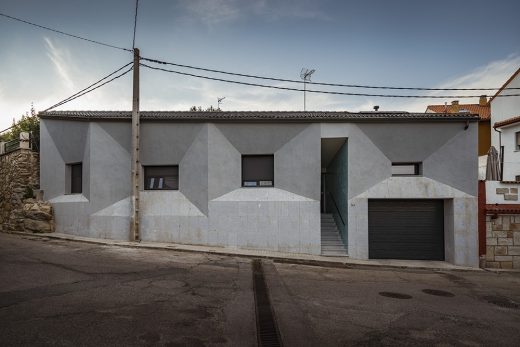 photograph : Josefotoinmo
BUS House
"Sierra de Madrid" is the name of the mountainous region near the Spanish Capital. For those who do not live in the Spanish capital, is very popular among locals thanks to its great landscape and natural value. In winter its peaks are still covered with snow. This contemporary Madrid property design is by OOIIO Architecture.
25 Jun 2020
K House, Parque Conde Orgaz
Architects: AQSO arquitectos office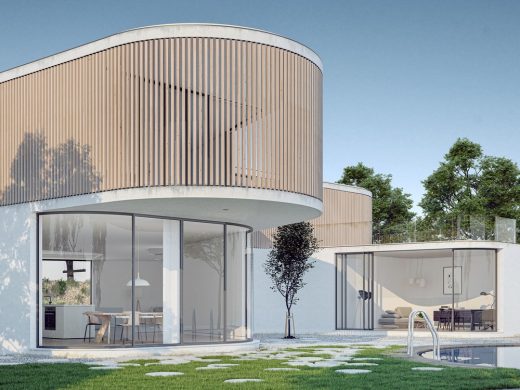 image Courtesy architecture office
K House in Parque Conde Orgaz
K House is located in Parque Conde Orgaz, a low-density residential area in the northeast of Madrid, on a large and remote plot that is barely visible from the street. The architecture responds to this hidden and slightly sloping setting, with soft curves and fluid spaces, transforming the terrain into terraces according to the site views and orientation.
5 Jun 2020
6House, north west of Madrid
Architects: ZOOCO ESTUDIO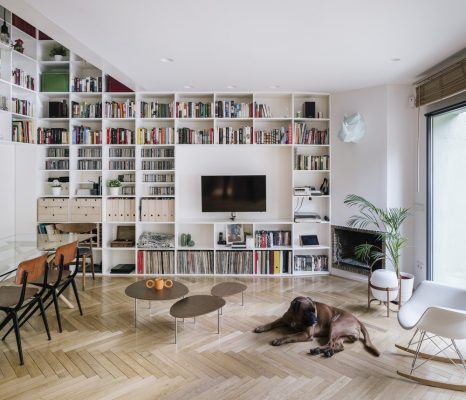 image Courtesy architects studio
6House in Northwest Madrid
Complete renovation of a detached single-family dwelling, 6House is located at the north-west of Madrid. The main intervention consists in generating a double height around the living area of the house; this organizes the lobby in the upper floor. As a unifying element, a shelf rises colonizing both living and lobby spaces.
More contemporary Madrid Houses on e-architect soon
Madrid Houses 2019
5 Feb 2019
A House for Contemplation
Architects: Ramón Esteve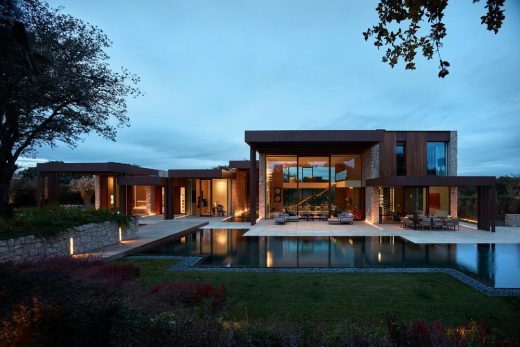 picture from architects office
A House for Contemplation
This house is located in a residential area of the mountains of Madrid, where the vegetation is so lush that it becomes very important. The plot borders a lake that the house opens to.
5 Feb 2019
MIGA House in Madrid Rio
Design: OOIIO Architecture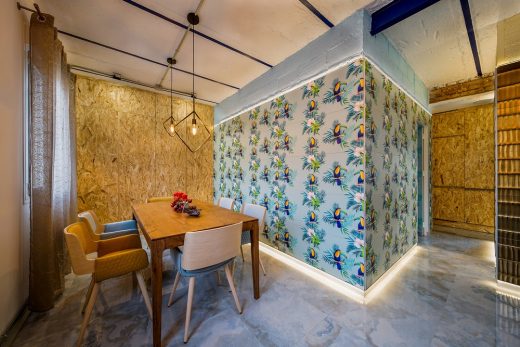 photograph : Josefotoinmo
Casa Miga
The large urban Masterplans that result in large-scale major city interventions in the end, over time, directly influence the small scale.
More current Madrid Houses online here at e-architect soon
Madrid Houses 2017
16 Feb 2017
La Finca House
Architect: Ramon Esteve Estudio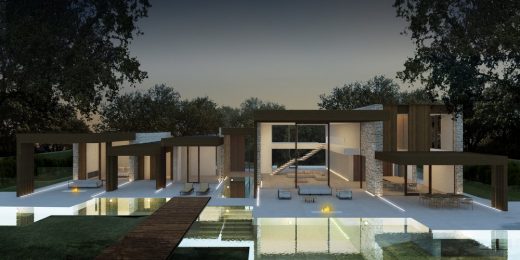 picture from architects office
La Finca House
This house is located in a residential area of the mountains of Madrid, where the vegetation is so lush that it becomes very important. The plot borders a lake that the house opens to. The presence of some ancient holm oaks spread over the plot generates the location and shape of the dwelling. Tus the design process is thoroughly bound to the place.
24 Jan 2017
Camarines House, Aravaca
Design: A-cero architects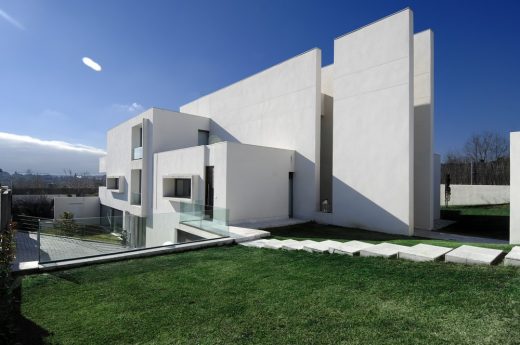 photography : Luis H. Segovia
Camarines House
This 632sqm property is located in an exclusive residential neighbourhood. Two parallel planes in a totally vertical line go through the construction as a double architectural skin that turns into the residence´s leitmotif. The house is developed around this axis by a group of linked cubes making a harmonic series of volumes.
More new Madrid Houses online here soon
Madrid Houses 2016
13 Nov 2016
Park House
Design: A-cero architects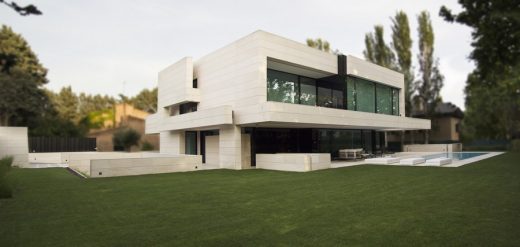 photography : Roi Alonso
Park House
A single family home of 1250 sqm, built on a plot of 1,700 sqm. Access from the street is produced by an entrance for vehicles and people but with separate application. All the limit of the plot is enclosed with a fence designed by A-cero made in the stone itself housing and black galvanized steel.
20 Jul 2016
Casa Arm
Design: OOIIO Architecture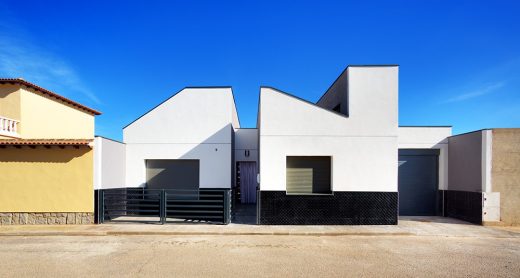 photo from architecture office
Casa Arm
House ARM is a game of extrusions and sections, caching the natural sun light. The property as an exercise to get a good house, non expensive and functional, in a large enough plot, able to get all the client brief in only one level.
6 Jul 2016
House H in Madrid
Design: Abiboo Architecture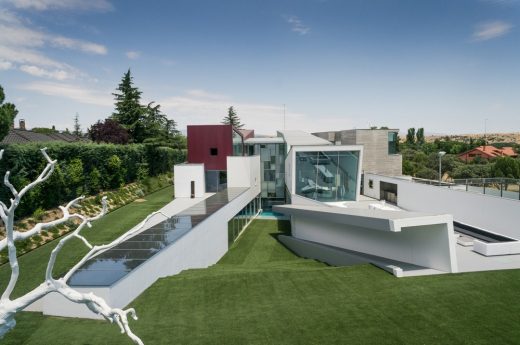 photography : Joao Morgado
House H
In the residence, growth occurs in a non-hierarchical order, each space has different characteristics but similar importance. House H in Madrid is designed as a sponge, with multiple micro-spaces designed especially in relation with sensorial experiences and inter-related to each other.
27 Jan 2016
Two houses in Oropesa 13th century town walls, Toledo, Castile–La Mancha
Design: Paredes Pedrosa Arquitectos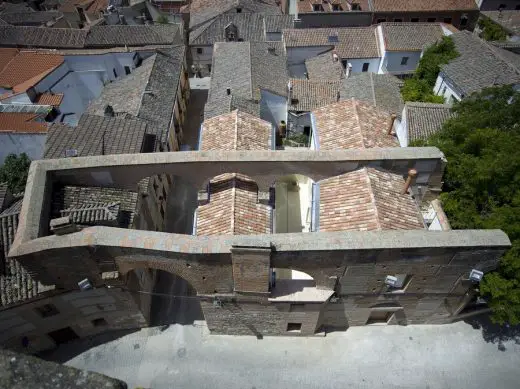 photography : Luis Asín
Two Houses in Oropesa
Sitting in the foothills of the Sierra de Gredos in Spain, Oropesa commands an extensive view encompassing snow-capped peaks and olive trees.
11 Jan 2016
Cala House in Madrid
Design: Alberto Campo Baeza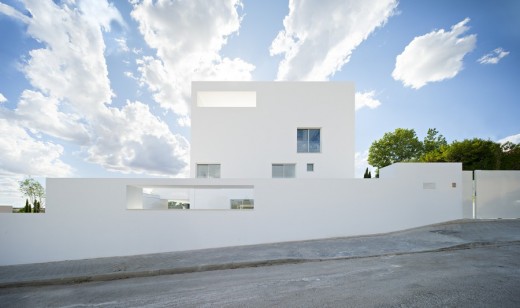 picture : Javier Callejas Sevilla
Cala House
The house is located on a sloping plot with a landscape of distant horizon none other than Madrid's western mountain range viewed from Camarines.
20 Nov 2013
Aluminium House
Design: Fran Silvestre Arquitectos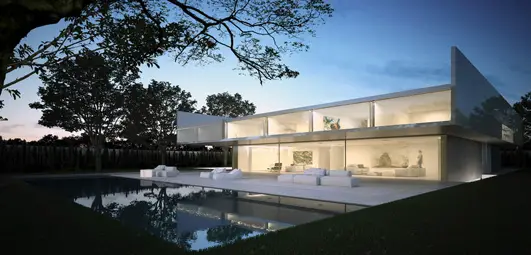 picture : Diego Opazo
Aluminium House in Madrid
A consolidated landscape surrounded by gardens with big trees within the metropolis of Madrid is the fortunate starting point of this house. The piece, of metallic and horizontal nature, produces the effect of having just one storey. With its proportions and materiality it both contrasts and blends with the tall trees of its environment.
29 Aug 2013
Balcony House
Design: A-cero Architects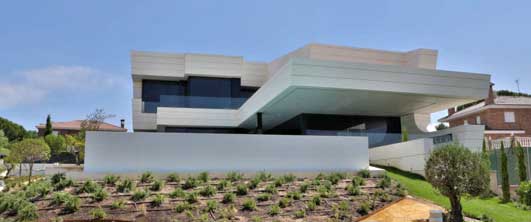 photo from architects
Balcony House
This single family house has an area of 952 sqm arranged on 3 levels and seated on an independent plot of 2,000 sqm with a prime location in a natural environment, and only 14km from the city center.
23 May 2013
Casa Moka, Pozuelo de Alarcón, Madrid, Spain
Design: A-cero Architects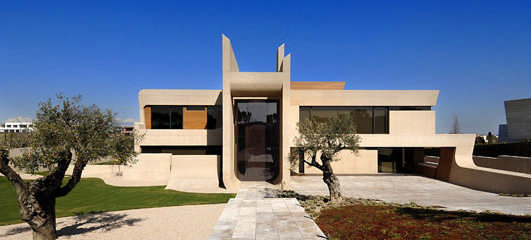 photo : Luis H. Segovia
Moka House
This modern Madrid property is a house renewal on the outskirts of the Spanish capital city. The residence is intended to respond to customer needs in terms of distribution, placement and surfaces.
21 May 2013
B&N House
Design: A-cero Architects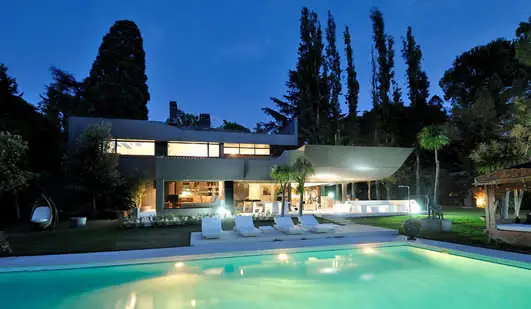 photo from architects
B&N House Madrid
A-cero presents one of its latest projects of single – family detached house. It is a comprehensive reform of existing home whose owners found the need to reform both externally and internally to update its image. This is a magnificent home originally, but had charged over time both aesthetically and functionally needed a change. The work focuses on two points. Providing housing for renewed external image and create a modern interior full of light.
Madrid Houses Designs
Madrid House Designs from 2012
30 Sep 2012
Casa H
Architect: ABIBOO Architecture



picture from architects
Casa H Madrid
House H is located in an exclusive area in Madrid next to a prestigious golf course. The building is the answer to the broad and diverse functional needs of the client, a well-known international sportsman. The villa is "designed as a sponge", with multiple micro-spaces that inter-relate to each other. The ground floor has the typical program associated with a villa along with many patios ; the first floor includes all the temporal spaces like office, hotel and playgrounds.
22 May 2012
Casa C
Design: ABIBOO Architecture



picture from architects
Casa C Madrid
House C is raised as an introvert – extrovert element and at the same time rooted to its territory. It is open for visitors but at the same time keeps with wary spaces for privacy and reflection. It has duality in the forms and the global functioning of the building.
29 Apr 2012
Casa Syntes Pinto
Design: dosmasuno arquitectos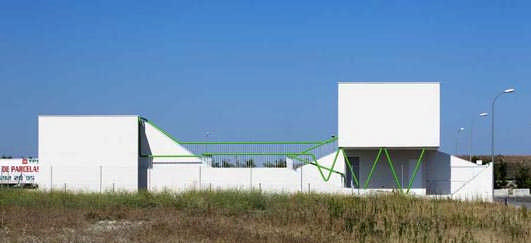 photograph : Miguel de Guzmán
Casa Syntes Pinto
A garden house. A house between courtyards. The project had to face two preliminary constraints: a surrounding area burdened by the aesthetic and cultural tradition of the Spanish row-house concept and, on the other hand, the plot's exposure to solar radiation during the hottest months of the year.
2 Feb 2012
House A+O, Alberto alcocer, north Madrid
Design: GEA Architects



photo : Ignacio Marqués
Madrid House
The project is to restructure two townhouses located in a central area of Madrid. The initial intentions are two: Sew the urban structure to create city and generate an interior protected from the noise and the outside views.
Madrid Home Designs
Madrid House Designs from 2011
15 Apr 2011
Casa Pitch, northwest of Madrid
Design: Iñaqui Carnicero



picture from architects
Casa Pitch
13 Sep 2010
Pozuelo de Alarcón House
Design: A-cero



photograph from architect
Pozuelo de Alarcón House
Madrid Homes
Residential Architecture in the Spanish capital, alphabetical:
108 house
A-cero / Joaquin Torres Architect



photograph : Santiago Cobreros
Pozuelo de Alarcón Housing
360 HOUSE in Galapagar
SUBARQUITECTURA



photo : David Frutos Ruiz
360 house
Casa Madrid
A-Cero Architects



photograph from architect
Casa Madrid
Clip House, St Angel St/Sta Natalia St
Bernalte-Leon y Asociados



European Copper in Architecture Awards
Clip House
Concrete House, Pozuelo de Alarcón
A-Cero Architects



photograph : Luis H. Segovia
Concrete House
Hemeroscopium residence
Ensamble Studio



photo : Ensamble Studio
Hemeroscopium residence
House 4
A-cero



photo : Luis Segovia
House 4
House in Somosaguas
Joaquin Torres Architect



picture from architect studio
Somosaguas House
More Madrid Residential Buildings online soon
Location: Madrid, Spain, southwestern Europe
Madrid Architecture Photos
Madrid Architecture Photos
Madrid Architecture Tours
Madrid Architecture Walking Tours
Madrid House by A-cero
Projection Mapping by Onionlab
Madrid House
Madrid Housing
Carabanchel 16 – housing
Design: Foreign Office Architects



photograph © Sérgio Padura
Carabanchel Housing
Carabanchel housing – blocks
Dosmasuno Arquitectos



image from architect
Madrid housing
Celosia, northeast Madrid
MVRDV



photo from architect
Celosia Madrid, PAU de Sanchinarro
Colonia de los Angeles residential complex
A-cero



image from architect
Colonia de los Angeles building nr Madrid
Mirador Sanchinarro
MVRDV / Blanca Lleó Associates



photo : Rob't Hart
Mirador Sanchinarro
Buildings / photos for the Contemporary Madrid Houses – New Spanish Capital Residential Architecture page welcome