Roca London Gallery Drawing Attention Exhibition London, Harvard, Carnegie Mellon, Rhode Island, Chelsea
Drawing Attention, Exhibition at Roca London Gallery
Retail Interior at Imperial Wharf, West Brompton / Chelsea Harbour design by Zaha Hadid Architects, UK
17 & 16 Aug 2019
Roca London Gallery Exhibition 2019-2020
The Digital Culture of Contemporary Architectural Drawings
DRAWING ATTENTION: The Digital Culture of Contemporary Architectural Drawings
Curated by Jeremy Ficca, Carnegie Mellon University Amy Kulper, Rhode Island School of Design Grace La, Harvard University Graduate School of Design
17 September 2019 – 11 January 2020
Roca's autumn exhibition examines the state of contemporary architectural drawing, revealing its potential to describe so much more than simply the detailing of a building's construction.
Ron Witte and Sarah Whiting – Form = Program, 2019: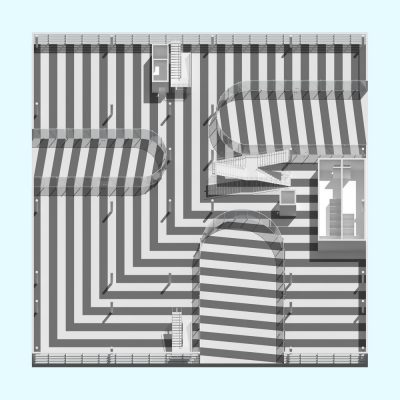 In what is now being referred to as the 'postdigital era' – a time when technology is so pervasive that it is the basis of all we create and the medium through which we think – contemporary architects are wielding the digital as an ever more powerful tool.
CJ Lim – Ocean Cleaning, 2019: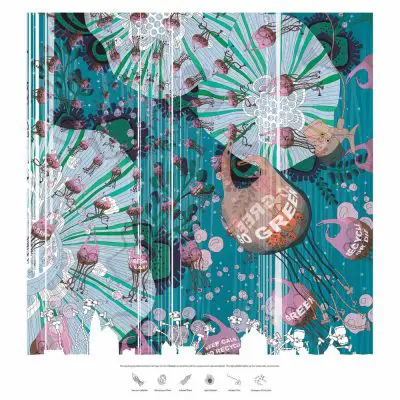 Jeremy Ficca, Amy Kulper, and Grace La, Professors at Carnegie Mellon University, Rhode Island School of Design, and Harvard GSD respectively, have curated a diverse and surprising collection of some seventy contemporary drawings from established and emerging practitioners around the globe. This work is stimulated by a wide range of inputs: from waste, to olfactory cloud patterns; from political borders to airflow.
Petra Kempf – BLACK BOX, 2015: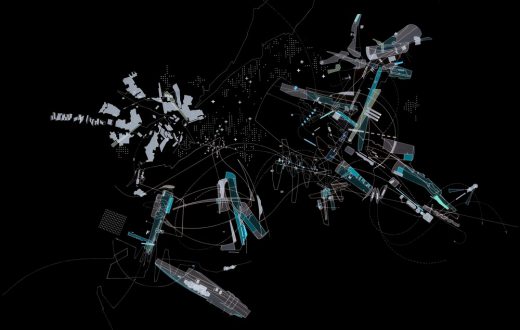 The curators say "Historically, the explicitness of the architectural drawing resided in its capacity to directly communicate the building it anticipated. Contemporary digital culture liberates the architect from these demonstrative constraints, creating a context in which the architectural drawing possesses an unparalleled freedom of expression and latitude of operation."
Marjan Colletti – Dr Spikey, 2014: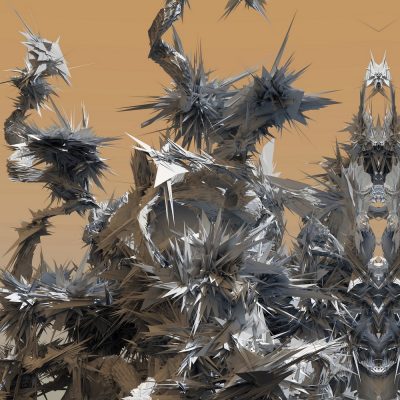 Whilst many of the drawings on display do relate to actual buildings – from O'Donnell + Tuomey's unfolded façade study for the V&A East Museum, to Jimenez Lai's proposal for the Guggenheim Helsinki – others trace a fine line between the real, the imagined, and the virtual. UK architect Neil Spiller's image represents a sky garden, only accessed in augmented reality, above the site of an actual garden.
Association Mapping – Johanna Just: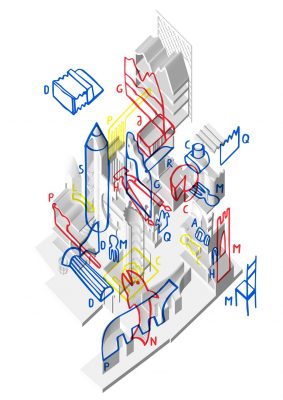 Neil Spiller says "I wanted the Garden to have another virtual side, a side that would augment the simple world of walled space, trees, conic forms and statues I had created. This I saw as a new area of architectural detailing, one barely explored by contemporary architects, I wanted the drawings to explore this juxtaposition of virtual and actual, of points of view, ghosts, light and black."
Mark Smout – LA Recalculated – WatcherOfTheTar, 2015: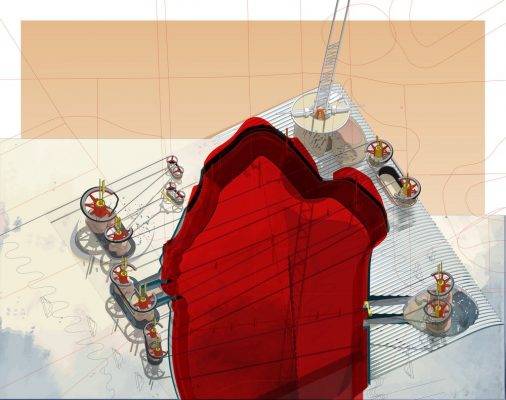 The Reinvention of Jakob K by Thomas Pearce refers to a collaboration between performance scholars, performers and architects about fictional Bauhaus choreographer Jakob Klenke where conflicting versions and states of entangled historical proof generate a quasi-reality.
Roca London Gallery showroom, Chelsea Harbour: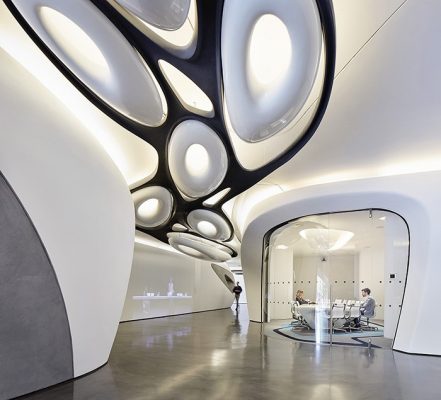 photo © Hufton+Crow
Many of the works on display re-awaken an interest in the hand-drawn: Catty Dan Zhang's Measured Drawings of the Sculpted Air – renderings of the airflow generated by a robotic thermal device – appear to be charcoal on paper, but are in fact computed pixels, an homage, of sorts, to traditional drawing methods. Carl Lostritto's Storm uses data from a weather log file – six million characters charting the development of a storm – to instruct a vintage pen plotter, creating a non-linear and inaccurate, but aesthetically convincing, onomatopoetic image of storm clouds above the sea.
Adam Dayem – Patterns Projections Sections, 2019: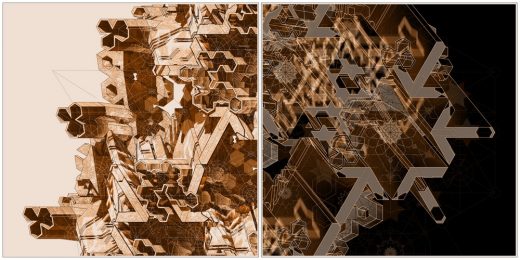 Adam Dayem's starting point for Shimmer House is the Hudson River School painters, who created a sublime aesthetic as a counterpoint to emerging urbanism in North America, reappraising nature in a way that Dayem sees as crucial to dealing with today's ecological problems. The drawing takes imagery from the Hudson River School, glitches it in two dimensions and projects it into three dimensions, creating a 'shimmer'.
C J Lim's propaganda-comic Ocean Cleaning shows another approach to architectural drawing as an environmental campaigning tool, 'drawing attention' to the plastics threat to marine life with its alluring childlike imagery; Lim's stated aim is "to help deliver change", well beyond buildings and urban infrastructure.
Jelena Pancevac – Office 171 Crematorium, collage, Elevation winter © OFFICE Kersten Geers David Van Severen:

The curators say "at the crossroads of architecture and information environments, resides the promise and the speculative future of the drawing. Its capacity to structure, imagine, realize, speculate, transform, politicize, and activate makes the drawing an enduring vehicle for the discipline.
Matthew Butcher – Monument to Superstudio, 2019: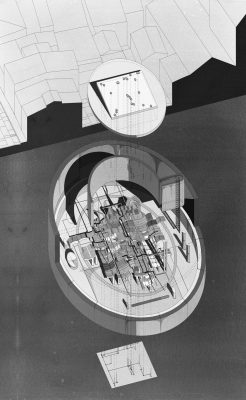 DRAWING ATTENTION poses the question: can drawings posit possible futures that eschew vaporization and establish architecture as an agile and critical agent in contemporary digital culture?"
Exhibition design by Cellar Door
Location and opening times Roca London Gallery, Station Court, Townmead Road, London, SW6 2PY W: www.rocalondongallery.com T: 020 7610 9503 @rocalongallery
Mondays to Fridays from 9am to 5.30pm; Saturdays from 11am to 5pm;
Admission Free
Events Tuesday 17th September, 18:30 – 21:00 Opening Event: Drawing Attention – Private View in the presence of the curators.
Exhibition Opening Event: Drawing Attention – Private View
Free admission
Roca London Gallery images / information received 160819
Roca London Gallery at Chelsea Harbour: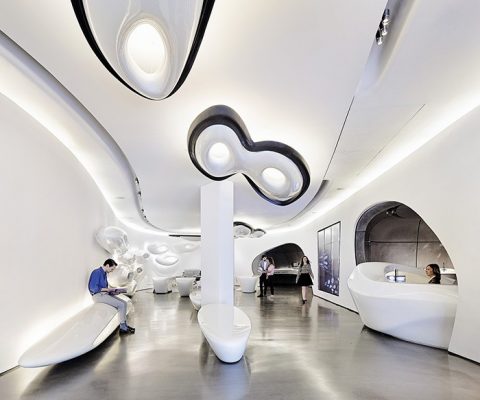 photo © Hufton+Crow
Location: Chelsea Harbour, London, UK
Zaha Hadid – Roca London Gallery designer
Roca London Gallery Exhibitions
Regenerating Capital: Healthy growth, healthy city?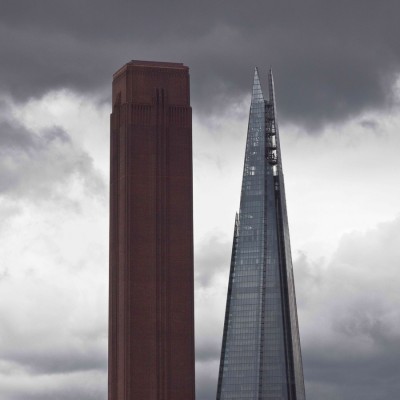 photo : Richard Brine
Roca London Gallery Exhibition 2014
Timber Rising: Vertical visions for the cities of tomorrow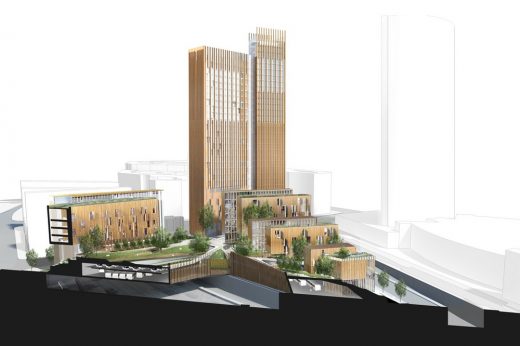 image : Michael Green Architecture
Roca London Gallery Exhibition 2018
London Architecture Walking Tours
Beijing Roca Gallery
Design: MAD Architects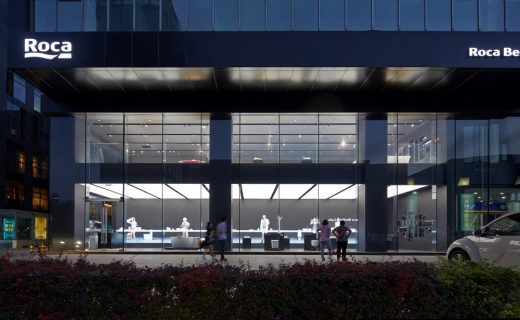 photograph : Shu He, Action Media
Beijing Roca Gallery
Zaha Hadid Designs – London Selection
Evelyn Grace Academy Brixton : winner of Stirling Prize
Comments / photos for the Drawing Attention, Exhibition at Roca London Gallery page welcome
Website: www.rocalondongallery.com