V&A Museum of Childhood London Renewal, Planning Approval, Bethnal Green Architecture Photos
V&A Museum of Childhood Renewal
Bethnal Green Building Refurbishment, east London design by De Matos Ryan & AOC, Architects
29 September 2021
Young V&A
Building Design: De Matos Ryan ; Redevelopment lead designers: AOC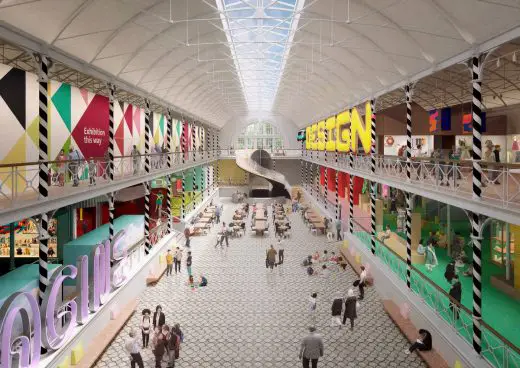 image : Picture Plane © Victoria and Albert Museum, London
Young V&A
19 Oct 2019
V&A Museum of Childhood Planning Approval
V&A Museum of Childhood Redevelopment Approval News
Building Design: De Matos Ryan ; Redevelopment lead designers: AOC
The Grade II-listed Victorian building in Bethnal Green has won planning approval for a fit-out designed with the help of local schoolchildren, teachers and community groups.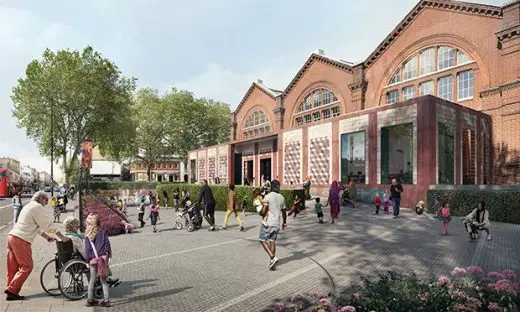 image © Pillar Visuals
The V&A Museum of Childhood is set for a huge renovation that it describes as a "significant milestone" in its ambition to become an "international powerhouse of design and creativity" for families.
The base stage, work on which is to begin in late 2020, includes a reimagining of the museum's surroundings that will see visitors greeted by a more welcoming entrance and a space for relaxation.
The V&A Museum of Childhood is beloved by its local community with a unique and wonderful story to tell as East London's first museum. In October 2018, Director Tristram Hunt announced a major redevelopment project to become a museum of design and creativity for children, families and young people and unlock its huge potential to fire imagination and spark ingenuity.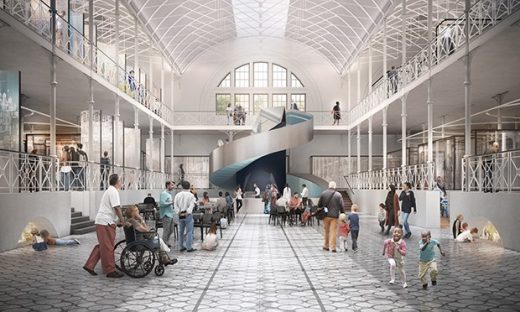 picture © Darc Studio
The V&A's world-class collections are at the heart of this new mission. The redevelopment will draw on the full scope of the V&A's collections of art, design and performance.
Statement by De Matos Ryan:
V&A Museum of Childhood Concept Statement
Winning the competition for the V&A Museum of Childhood was for us a thrilling
opportunity to reimagine and celebrate one of East London's most iconic and
beloved institutions. We have always championed and practiced co-design as a
process for creating meaningful change. This has sat at the heart of our work from
the start. This has involved identifying a wide range of user groups, including
children, teachers and non-museum goers of different ages and backgrounds,
who are working alongside us to shape the project's evolution. They will continue
to do throughout the project, establishing a legacy of community participation,
pride and ownership.
Our co-design approach to date has delivered three broad concepts:
'In & Out', reconnects the museum with the street, improving physical access and
importantly providing immediate engagement, stimulus and welcome from the
moment of arrival. Under-developed land to the front of the museum will be relandscaped to allow visitors two points of entry, both fully accessible. The new
entrance will house a buggy park, lockers and WCs, enabling families and schools
to better prepare themselves for their journey through the museum.
'Up & Down', the Kaleidoscope is a dramatic new installation that draws visitors
through the central hall and creates an interactive route to the upper levels,
encouraging visitors to explore all areas of the museum. Conceived by local
children through co-design workshops, and further inspired by the magic of the
museum's collection of optical toys, it is enveloped by a spiralling staircase and
new ramp, with a new café at its base. Over the next few months, co-design
workshops with various user groups will explore the mesmerising potential of the
'Kaleidoscope'.
'Around & About', sets out to reconnect all areas of the museum, bringing
learning spaces and displays into direct dialogue. The current offices will become
studios for all types of learning and events activities, with direct access to the
museum's surrounding lawn and arched openings between the central hall and
studios. The library and archive will move towards the front of the building, where
visitors can access the museum's rich resources more easily, with staff working
directly between this research material and new areas for object handling and
exhibition preparation.
Our vision is to preserve and enhance the V&A Museum of Childhood as a Grade
II* heritage asset, treating new interventions as distinctly modern, carefully
considered additions to complement the architectural aesthetic of the historic
building. Functioning rooflights to the barrel-vaulted roofs will be reinstated and
the central hall decluttered of additions made over the years, to give a clear view
of the magnificent original volumes. By revealing and restoring the original fabric,
and introducing bold new elements, the project will promote the entire 'Building
as a Teaching Tool', complementing the reimagined experience of the Museum
of Childhood as a place for celebrating imagination and ingenuity
16 Mar 2019
This Autumn, AOC will reveal concept designs that reimagine how visitors experience this much-loved institution, including three new gallery spaces, to transform it into a world-leading museum of design and creativity for children, families and young people.
As lead designers for the redevelopment project, AOC are engaging a team of sub-consultants including a materials specialist, a digital strategist and a furniture designer and will work closely with the appointed architects for the base-build, De Matos Ryan.
Geoff Shearcroft, Gill Lambert and Tom Coward, AOC in the V&A Museum of Childhood: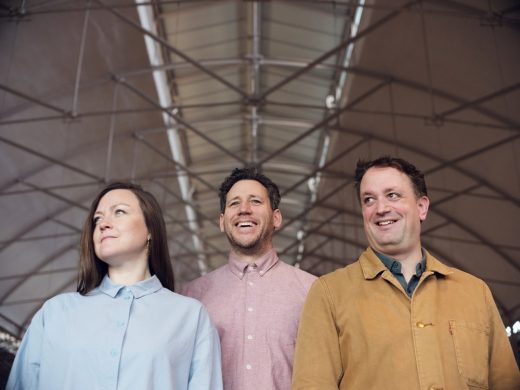 photo © Phil Sharp
V&A Museum of Childhood Renewal News
Thursday 14 March
AOC win competition to lead fit-out of V&A Museum of Childhood redevelopment
Building Design: De Matos Ryan
Redevelopment lead designers: AOC
East London-based architecture and design practice AOC have won a competition for the fit-out of the most ambitious transformation of the V&A Museum of Childhood in its 145-history.
AOC will develop their plans to meet the needs of young people in the 21st century, to build creative confidence and equip them with skills and knowledge critical in today's fast-changing world. The V&A's world-class collections are at the heart of this new mission. The redevelopment will significantly increase the number of objects currently on display and will draw on the full scope of the V&A's collections of art, design and performance.
Geoff Shearcroft, Gill Lambert and Tom Coward, AOC, at the V&A Museum of Childhood in London, UK: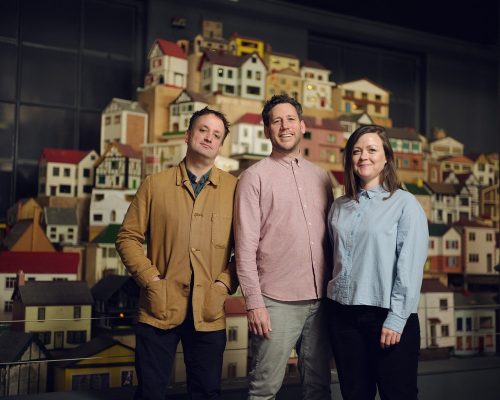 photo © Phil Sharp
Geoff Shearcroft, Director of AOC: "The transformation of the historic V&A Museum of Childhood provides a fantastic opportunity to develop new ways for young people and their families to explore and engage with the V&A's world-class collections in the twenty-first century. We are looking forward to developing a public building that is both an essential civic space for Bethnal Green and a physically and socially interactive museum for multi-generational and inter-cultural audiences."
Philippa Simpson, V&A Director of Design and FuturePlan: "The V&A are thrilled to be working with AOC on this seminal project. Their response to our challenging brief outlined an exciting and ambitious approach to working openly with our community and our wider audience, as well as a deep understanding of the museum as a vehicle for social change. They will play a critical role in realizing the V&A's mission to create a museum filled with joy and optimism, a place where everyone can see the potential of design to change the world."
Photographs below © Adrian Welch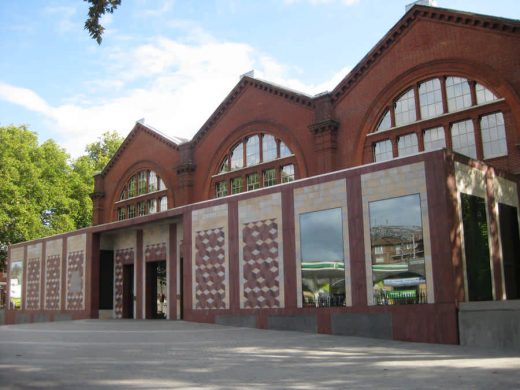 The project to transform the museum is in its second year and is currently in the design and content development phase. Co-design with school children, families, teachers, community groups will continue to be championed throughout the project and carried forward into future programming and operations after the museum relaunches.
It builds on recent initiatives including A Pirate's Life For Me (runs until 22 April 2019), designed collaboratively with children, and Kids Takeover Day in which local primary school children take over operations of the museum for the day.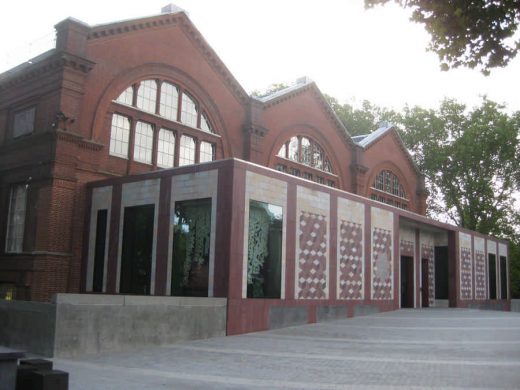 In May 2019, Gina Koutsika will join the V&A Museum of Childhood as Creative and Skills Director. Working within the V&A Learning Department and with the V&A's curatorial and design teams, Koutsika will oversee delivery of the project and develop an expanded and refocused exhibition and events programme to match the ambition of the redevelopment project. Her approach will be informed by the latest research in child psychology, designing for play and education.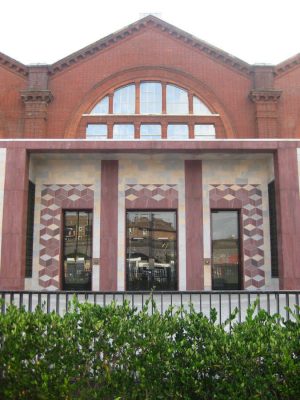 The V&A Museum of Childhood is an integral member of the V&A family of museums and galleries – alongside the V&A in South Kensington, V&A Gallery at Design Society in Shenzhen and V&A Dundee. With two new sites planned for the Queen Elizabeth Olympic Park, including a museum on Stratford Waterfront and Collections and Research Centre, the V&A is defining a new and exciting future in East London.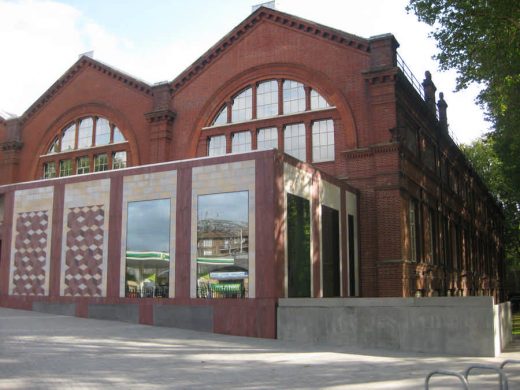 About AOC
AOC is a practice of architects and designers established in 2005. Based in East London, the studio is best known for its public buildings, cultural institutions, educational projects and exhibition designs. The practice has experience working with public and private collections, such as the Reading Room at Wellcome Collection, to create civic spaces that are physically and socially interactive. They have built a reputation for the quality of their designs, winning RIBA, Design Museum Designs of the Year and New London awards. Current projects include the redevelopment of The National Archives' brutalist icon in Kew; and Somerset House Studios, the transformation of the Grade I-listed former Inland Revenue offices into a contemporary arts centre.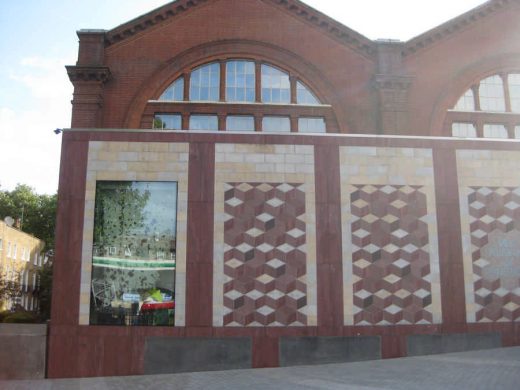 About the V&A Museum of Childhood
The V&A Museum of Childhood in Bethnal Green is part of the V&A family of sites and the UK's National Museum of Childhood. It is the largest institution of its kind in the world and holds in trust the nation's childhood collections, with a unique story to tell as East London's first museum. In October 2018, the museum announced plans for a transformative redevelopment project that will enable the much-loved institution to become a world-leading museum of design and creativity for children, families and young people. This new vision and purpose will address a growing deficit in design education, crisis in play and highlight the essential role that creativity plays in developing skills needed for the future.
V&A Museum of Childhood London Redevelopment in Bethnal Green information / images from V&A 140319
18 Feb 2020
V&A Museum of Childhood Redevelopment News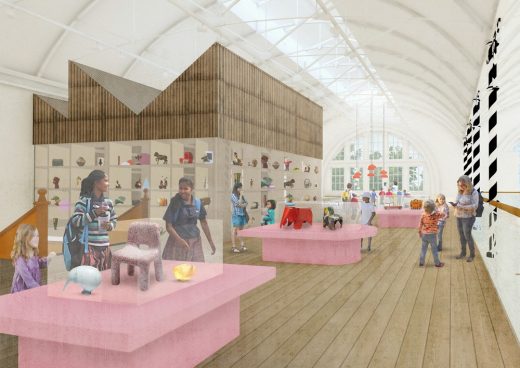 image courtesy of architects
V&A Museum of Childhood Redevelopment
17 Sep 2011
Museum of Childhood Bethnal Green
Museum of Childhood Refurbishment – V&A
Cambridge Heath Road
Renewal date: 2006/07
Design: Caruso St John Architects
Location: just north of Bethnal Green tube station
Address: Cambridge Heath Rd, London E2 9PA
Hours: 10:00 am – 5:45 pm, check with operators
Phone: 020 8983 5200
Opened: 1872
Original Architect: James William Wild
Location: Museum of Childhood, Bethnal Green, London, UK
Architecture in London
Contemporary Architecture in London
London Architecture Links – chronological list
London Architecture Walking Tours
V&A Collection and Research Centre in London
Architects: Diller Scofidio + Renfro with Austin-Smith:Lord
V&A Collection and Research Centre London
Victoria & Albert Museum Boilerhouse Yard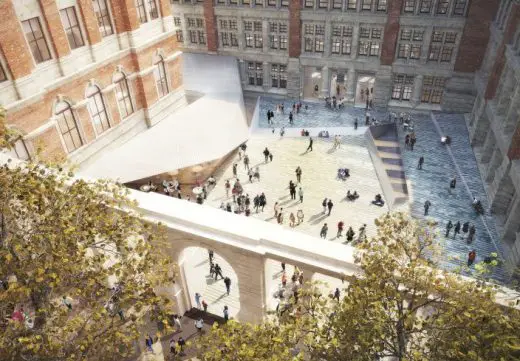 image © AL_A
V&A Members' Room
Architects: Carmody Groark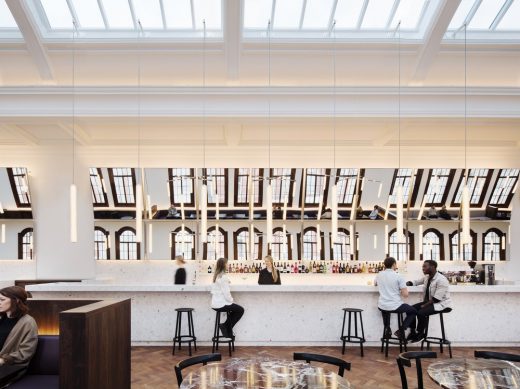 photograph : Rory Gardiner
V&A Members' Room
Elytra Filament Pavilion by Achim Menges at the V&A
Design: Achim Menges with Moritz Dörstelmann, Jan Knippers and Thomas Auer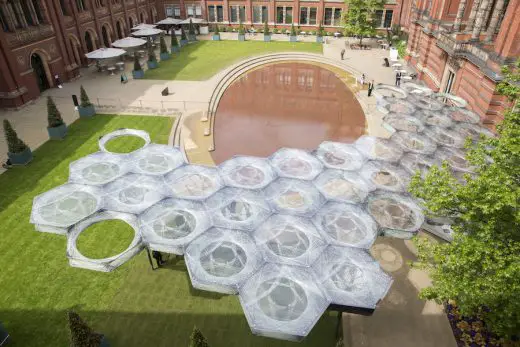 photo courtesy of V&A
V&A Installation by Achim Menges with Jan Knippers
Crest
Design: Zaha Hadid Architects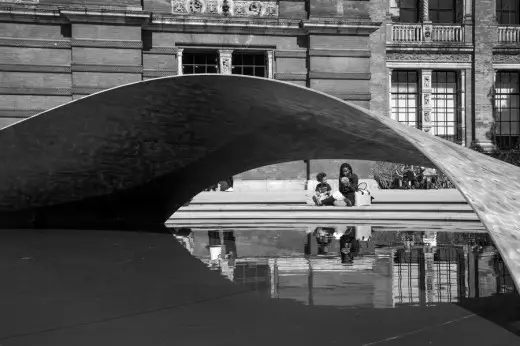 photo ©
Crest Installation, V&A in London
Victoria & Albert Museum Boilerhouse Yard Project : Exhibition Road Design Studies
Victoria & Albert Museum London, South Kensington, west London
V&A Medieval and Renaissance galleries
Design: McInnes Usher McKnight Architects
V&A European Galleries – Europe 1600-1800 galleries
Design: ZMMA
V&A Booktower
Design: Rintala, Eggertsson, Jenssen
Victoria & Albert Museum Jewellery Gallery
Eva Jiricna Architects
Victoria & Albert Museum Architecture Gallery
Gareth Hoskins Architects
V&A Museum Women's Amenities
Glowacka Rennie Architects
Triumph Pavilion Bethnal Green – Architecture Competition : Summer Showcase Pavilion
Buildings close by to the Museum of Childhood in Bethnal Green include:
Geffrye Museum, Kingsland Road, Shoreditch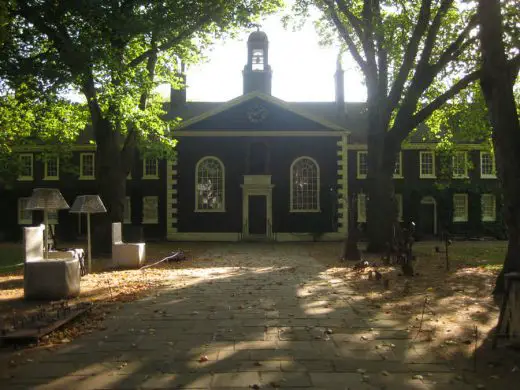 photo © Adrian Welch
Town Hall Hotel & Apartments, Tower Hamlets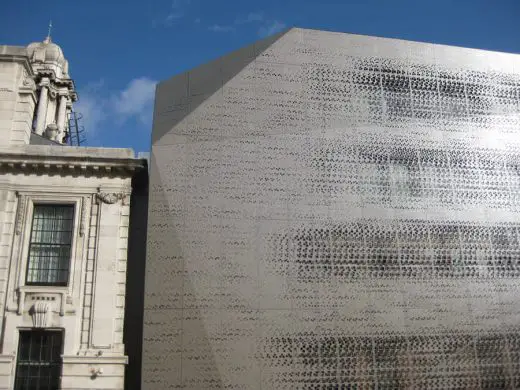 photo © Adrian Welch
Keeling House, Bethnal Green
The Blue house, Garner Street, off Hackney Road
London Building Projects by Caruso St John
Tate Britain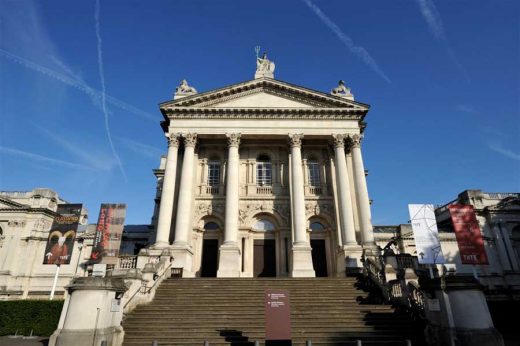 photo © Nick Weall
Tate Britain Renewal
Chiswick House Gardens Cafe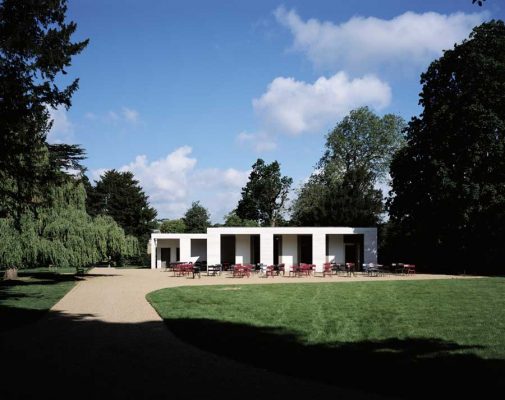 photo © Hélène Binet
Chiswick House Gardens
Key Caruso St John Project
Centre for Contemporary Arts Nottingham – Lace Market, Nottingham, England
Centre for Contemporary Arts Nottingham : English building – RIBA Award 2010
Website: V&A
Comments / photos for the Museum of Childhood Renewal – Cambridge Heath Road Building page welcome
London, UK