Japanese houses images, Residential architecture, Architects, New property design, Homes photos
Japanese Houses – Property Design
Key Contemporary Residential Buildings in Japan, New Homes in Far East Asia
post updated 14 September 2023
Japanese Architecture Design – chronological list
Japanese House Designs
New Properties in Japan – latest additions to this page, arranged chronologically:
6 July 2023
Sumu Yakushima, Yakushima Island, Kagoshima prefecture
Design: tono Inc.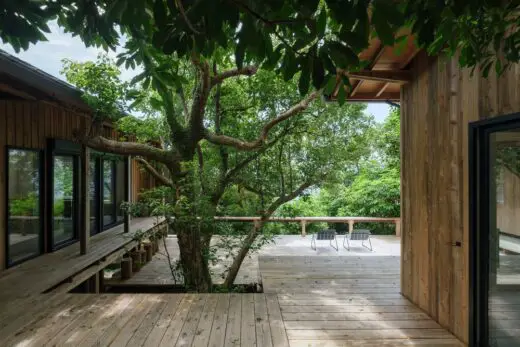 photo : Rui Nishi
Sumu Yakushima, Kagoshima Prefecture
tono Inc. presents Sumu Yakushima, a design that has won 2 of the highest distinctions in the world – the iF DESIGN AWARD 2023 "GOLD" , and A+Awards "Jury Award".
6 June 2023
Knit House, Nagano
Design: UID architects



photo © Koji Fujii(toreal)
Knit House, Nagano, Japan
The Knit House is built on a slope stretching from the mountainside to the base of the mountain, where there has been residential development since the 1970s. While the site is located near the city center, the area is abundant with greenery and nature.
2 Jun 2023
Y-House, Fukui
Architects: Baum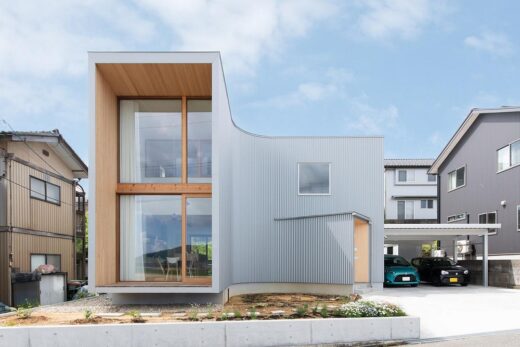 photo : Naoki Myo
Y-House in Fukui
This is a new Japanese residence on land surrounded rice fields and mountains to the northern side. The unique curled exterior and galvalume make the building look light and airy and the poach area was built so that part of the wall is rolled up to work as a windbreak room.
19 Jan 2023
PeacoQ House, Hiroshima
Architecture: UID Architects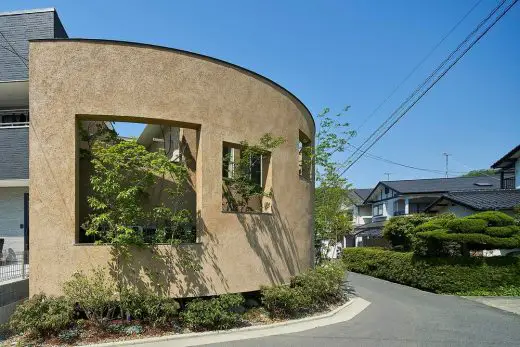 photo : Koji Fujii / TOREAL
PeacoQ House, Hiroshima
The PeacoQ House is for a family of three built on the northern corner lot of a gently-curving, tiered residential land. The site is in a residential neighborhood and enjoys views of the peaceful landscape over the bank on its eastern side.
8 Jan 2023
House for G, Chiba
Design: kurosawa kawara-ten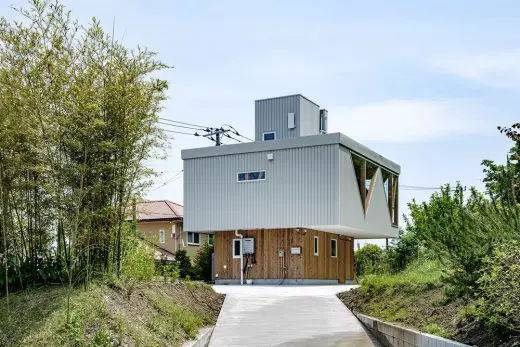 photo : Chiba Masato
House for G, Chiba
kurosawa kawara-ten planned thus new weekend house for an elderly couple on a site with a steep slope which was the edge of a suburban detached housing complex in Kisaradu, Chiba.
Contemporary Japanese Properties
We have various pages of Contemporary Japanese House selections with links to hundreds of individual project pages. We aim to select projects that are either of top quality or interesting or ideally both.
We cover completed Japanese homes, new house designs, architectural exhibitions and competitions across Japan. Comments on the selection welcome. The focus is on contemporary Japanese residential buildings but information on traditional buildings is also welcome.
e-architect have 4 pages of Japanese house designs:
Japanese House : A-C (this page)
Japanese Homes : D-K
Japanese Property Designs : L-O
Japanese House Designs : P-Z
More Japanese Houses on e-architect soon
Japanese Houses in 2022
24 Mar 2022
Courtyard House, Otsu city, Shiga
Architects: design it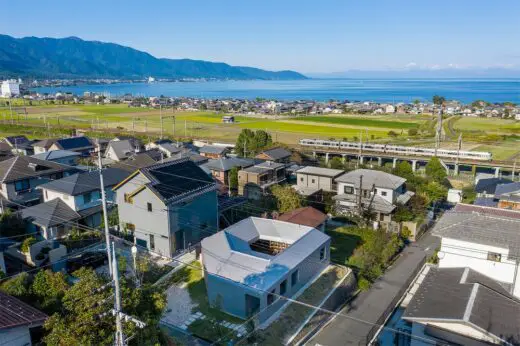 photograph : Hiroyuki Hirai
Courtyard House at Wani, Otsu City
Wani is located in the northern Otsu City, which is between Lake Biwa and the Hira Mountains. It is a suburban residential area where people live leisurely, with JR Kosei Line running north and south, giving good access to Kyoto and Osaka. design it designed Courtyard House – a small house on a hill in Wani.
31 Oct 2021
Hara House, Niigata, Niigata Prefecture, Chūbu region
Design: Takeru Shoji Architects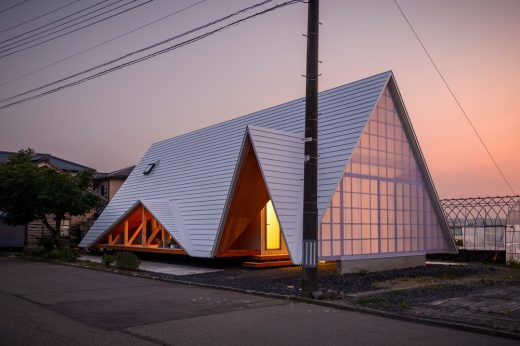 photo : Shinkenchiku-Sha
Hara House, Nagaoka City Niigata
Hara House is located in an agricultural village in Nagaoka city, Niigata prefecture. Most functions that are required in a fully self-reliant house were already present on-site, such as a parents' house, storage areas, and private rooms.
17 Jul 2021
House in Minohshinmachi, Osaka, Kansai region, Honshu
Design: Yasuyuki Kitamura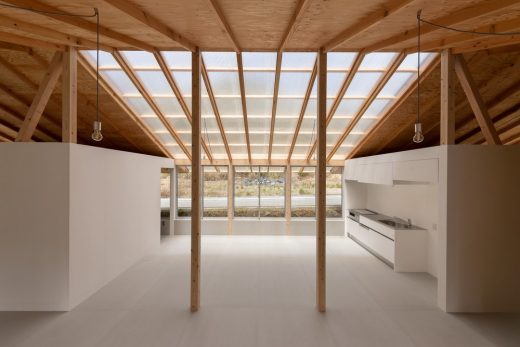 photo : Masashige Akeda
Minohshinmachi House, Osaka
House in Minohshinmachi expresses the idea that it is possible to build a beautiful, interesting house that is also economical. This Japanese residential project was designed for a young couple by Japanese architect, Yasuyuki Kitamura.
5 July 2021
H House, Miyama, Fukui Ken
Architects: BAUM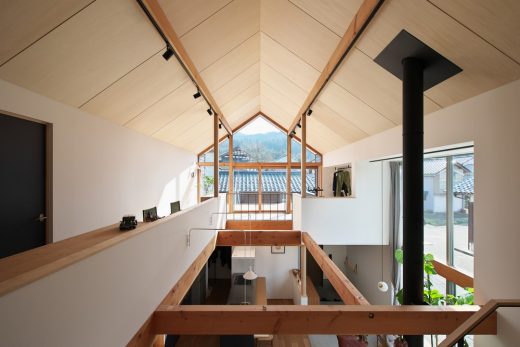 photo : MOv
H House, Fukui Ken
Baum designed H House for a couple with their two kids in Sanmagaya-cho, a valley surrounded by the forest in Fukui Prefecture, Japan. The challenge was to ensure privacy and to deal with the low sunshine hours and the heavy snow that is unique to this area.
16 Mar 2021
Haus O, Abeno-ku, Osaka, Kansai, Honshu
Design: Peter Ruge Architekten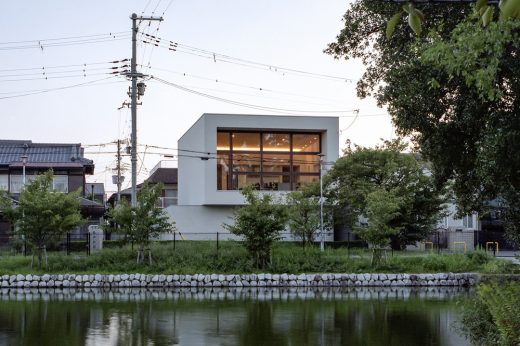 photo © REM
Haus O, Abeno-ku Osaka Property
New construction of a detached house in hybrid construction as an energy-efficient house. Haus O is a pioneering hybrid construction of steel-reinforced wooden frames forms an earthquake-resistant lightweight for a sustainable, family-friendly home in central Osaka.
More contemporary Japanese Houses on e-architect soon
Japanese Houses 2020
12 May 2020
Continuous Plate House 2.0, Fukui
Architects: Ryumei Fujiki + Yukiko Sato / F.A.D.S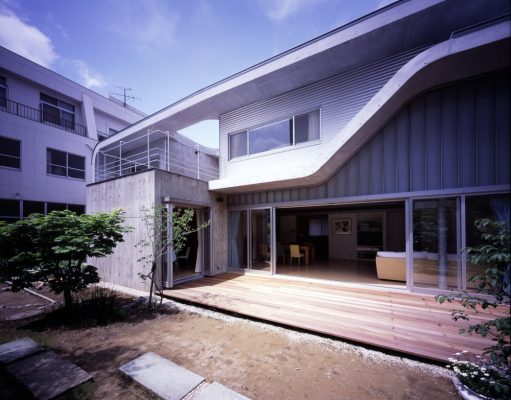 photo © Takeshi Taira
Continuous Plate House 2.0 in Fukui, Japan
This contemporary residential property was honored as the Bronze A' Design Award Winner in the Interior Space and Exhibition Design Category in 2019-2020 (Italy).
31 Jan 2020
M house, Katsuyama, Fukui ken
Architects: BAUM ; Lead Architects: Daisuke Kishina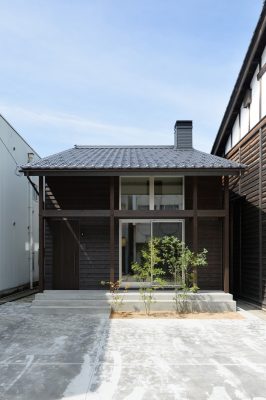 photo : MOv
M house Katsuyama, Fukui ken
M house is a two storey-residence for a young couple and their son. The site, bounded on the north and south by a three storey-apartment bulding, is located in a traditional Japanese setting in Katsuyama, Fukui prefecture.
More current Japanese Houses online here at e-architect soon
Japanese Houses 2019
18 Nov 2019
Concrete Square Tube House, Kyoto City
Architect: Eastern Design Office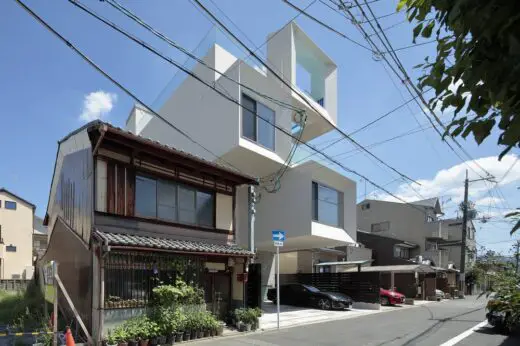 photograph : Koichi Torimura
New House in Kyoto City
This bold contemporary Japanese property is located in a residential area containing rather modern houses, old wooden houses and middle size apartment houses are lined up next to each other.
22 Oct 2019
Le 49 Residence, Mount Kamakura, Kanagawa, southeast Japan
Design: APOLLO Architects & Associates Co., Ltd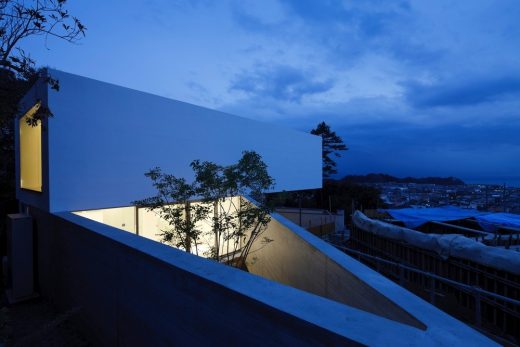 photography: Masao Nishikawa
Residence on Mount Kamakura in Kanagawa
This new Japanese property is located on Mount Kamakura, with stunning views overlooking Sagami Bay. The clients, a husband-and-wife couple who had been living in a high-rise condominium in downtown Tokyo, fell in love with the location at first sight.
17 Apr 2019
Australia House, Niigata Prefecture
Design: Andrew Burns Architecture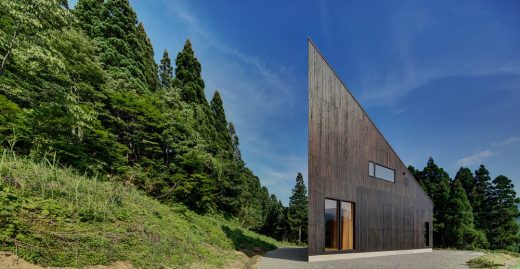 photography : Brett Boardman
Australia House, Niigata Prefecture
Set in the 'snow country' of Niigata Prefecture Japan, Andrew Burns Architecture has completed a gallery, studio and atelier, creating a setting for production and exhibition of work by Australian artists in collaboration with local community.
5 Mar 2019
FU House in Shunan City, Yamaguchi
Design: Katsufumi Kubota Architect, Kubota Architect Atelier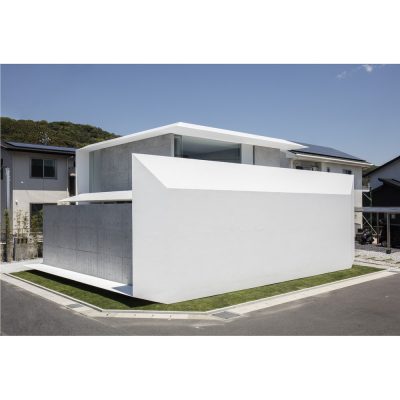 photography : Katsumasa Tanaka, Kenji Masunaga
FU House, Shunan City, Yamaguchi Property
Shunan City, Yamaguchi is one of a series of industrial zones situated around the Seto Inland Sea, where the coastline bristles with industrial complexes. It is a surreal and abstract world.
More new Japanese Houses online here soon
Japanese Houses 2016 – 2017
15 Nov 2017
The Clearwater Building, Niseko, Hokkaido, Northern Japan
Design: Seshimo Architects + Peter Hahn Associates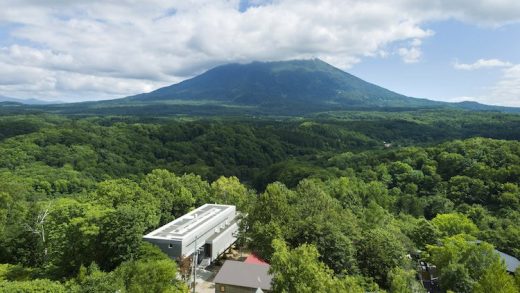 photography: Junji Kojima / 45gPhotography, Aaron Jamieson
Hokkaido vacation home
This vacation home on Japan's northernmost island of Hokkaido sits on a bluff with a view of Mt. Yotei (also called Ezo Fuji for its resemblance to Mt. Fuji), overlooking a river that meanders slowly along the base of the mountain. The structure cantilevers out over the bluff as if to float amidst the surrounding nature. Its name, The Clearwater, is derived from the pure snowmelt from Mt. Yotei that flows in the river below.
5 Sep 2017
House in Matsuyacho, Osaka
Design: Shogo Aratani Architect & Associates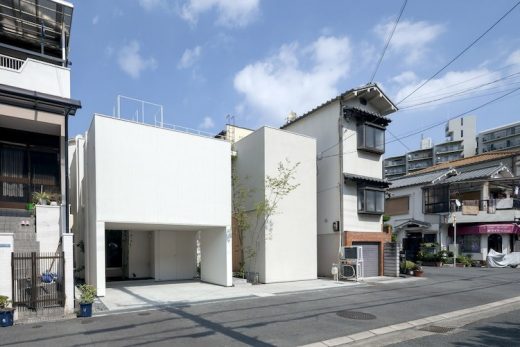 photo : Shigeo Ogawa
House in Matsuyacho
The solution arrived at by the architects was to build out as close as possible to the neighboring houses, tracing the silhouette of the previous structure, but to also carve out small gardens on three sides.
28 Aug 2017
House in Hoshigaoka, Hirakata-shi, Osaka
Design: Shogo ARATANI Architect & Associates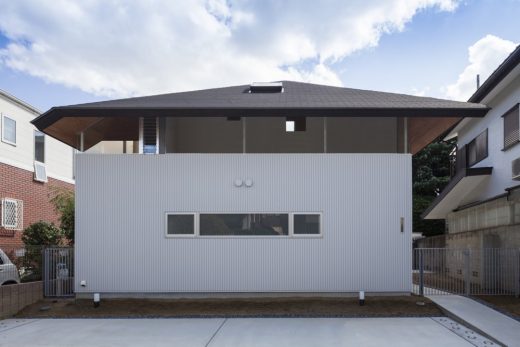 photograph : Shigeo Ogawa
House in Hoshigaoka
The site is located in Northeastern part of Osaka prefecture, where its surrounding neighborhood in mature residential quarter remains quiet, even though it is just a little away from a main road. This is a project to design a small house for three adult residents – an elderly couple and their grown-up child.
11 Jun 2017
Contemporary Residence in Muko, Kyoto
Design: Fujiwara Architects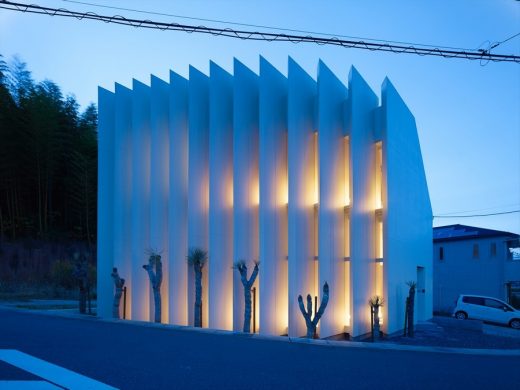 photo : Yano Toshiyuki
Kyoto Residence
A mezzanine-floored residence consisting of a single-roomed space, located on a fan-shaped site.
4 Jun 2017
House in Kaga City, Chūbu region, Honshū island
Design: KELUN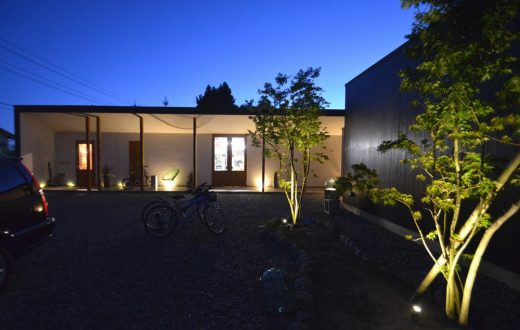 photo : Yasuhito Inamori
House in Kaga City
The request from the client was "a house that can feel the resort feeling". In order to look at the beautiful scenery, the architects created terraces at residential buildings and shops and direct the resort. The outer wall is cedar boarded and has a calm finish according to the surrounding environment.
17 Feb 2017
Hafye House, Odawara City, Kanagawa
Architect: CUBO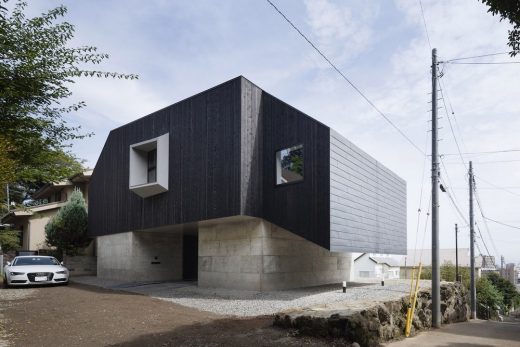 photo : Hiroshi Ueda
Hafye House in Odawara City
Located in a terraced residential district, the lot for this project was half flat and half sloping. Nearby is Odawara Castle, built in the 15th century. The property looks down on the neighborhood that grew up around the castle, and beyond that Sagami Bay and Enoshima island in the distance.
18 Nov 2016
House Wago, Shizuoka
Design: msd-office, architects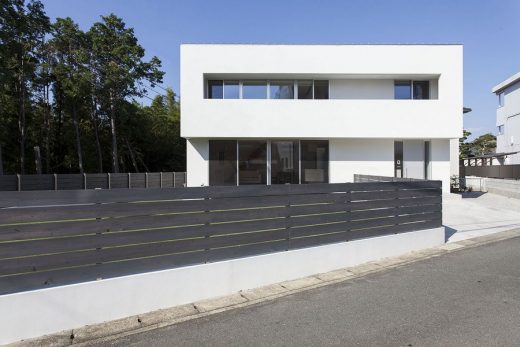 photos : Tadafumi Masuda / msd-office, Yasutaka Shimizu / NINE SENSE
Contemporary House in Shizuoka
This Japanese residential building consists of a two stories high rectangular box with a meter deep balcony, which functions both as a semi-outdoor corridor connecting the rooms on the upper floor, and as a roof over the ground floor entrance porch and veranda.
27 Oct 2016
Kakko House, Osaka
Architect: YYAA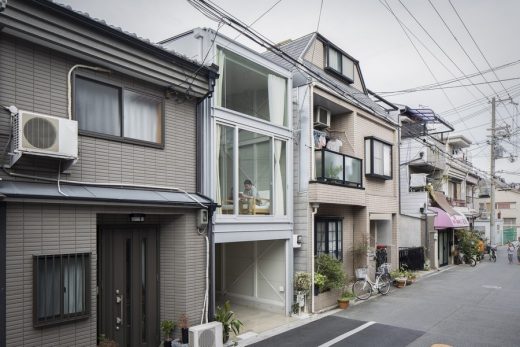 photo : Keishiro Yamada
Kakko House in Osaka
The expanded metal stair connects each floor and spreads the sun light inside. In this house, occupants are living like birds swinging from branch to branch.
Recent Japanese Houses
Japanese Homes – Archive
6 Sep 2013
House in Akiya, Yokosuka city, Kanagawa, central-southern Japan
Design: Nobuo Araki/The Archetype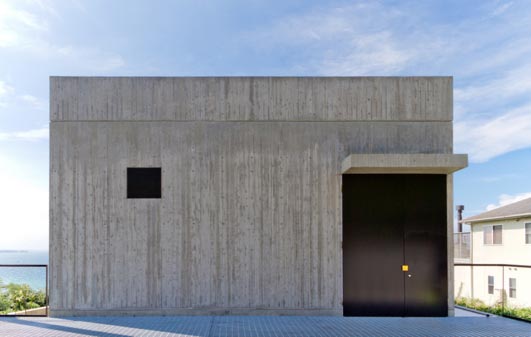 photo : BAUHAUS NEO
House in Akiya
This is a two-story weekend house with a rooftop deck near Tokyo. The house is structured in order for the owner, a photographer based in Tokyo, and his family to fully enjoy the environment during the weekends. The house includes several points that can help refresh their minds after their busy work week. At the entrance, they have the options to go directly to the living room or to take the stairs to the rooftop deck.
29 Jan 2013
House in Abiko, Chiba Prefecture, southeast Japan
Design: Shigeru Fuse Architects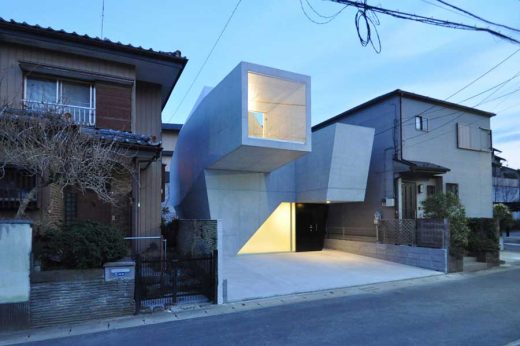 photo from architect
House in Abiko
This project is a residence for a couple in their thirties, built in Abiko City. The client desired a gallery-like concrete-made space where their pleasure of designed furniture stands out.
30 Nov 2012
House in Yamasaki, Hyogo, central Japan
Design: Tato architects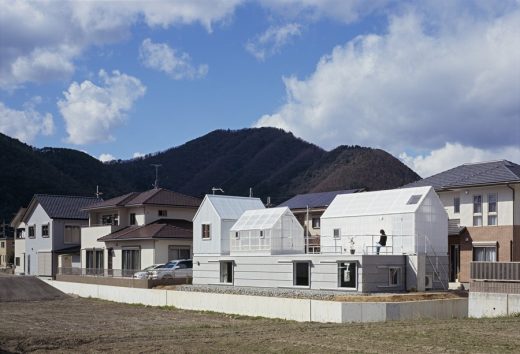 photo : Ken'ichi Suzuki
House Yamasaki
This is a house in the northern part of Hyogo Prefecture for a couple and their two children. The construction site is a part of a place surrounded by mountains and the sky is overcast most of the days. I wanted to create light, stable indoor climate and came up with a plan of three sheds of house type arranged on a 1.8 m high, grey foundation platform.
23 Oct 2012
House in Asamayama, Nagano, central Japan
Design: Kidosaki Architects Studio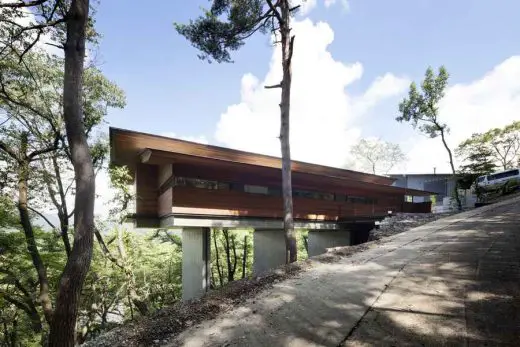 photo : 45g Photography
House in Asamayama
Stunning new Japanese house that floats out over a steep slope. The architects describe it like this: "The owner spent quite a few years for found this site, therefore my main concern was to link the beautiful vast sea of trees spread out to Mt. Asama (Asamayama in Japanese) with internal space. First of all, we can enjoy a sea of trees from the approach deck to the entrance.
2 Jun 2012
Nest, Kichijouji, Tokyo
Iida archiship studio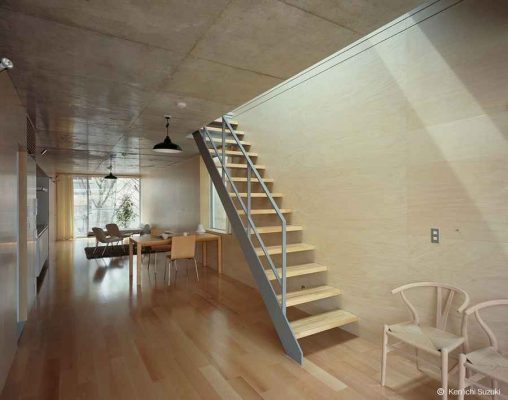 photo : Ken'ichi Suzuki
Nest Kichijyoji
The site is located on south-west area of on Kichijyoji train station facing a beautiful Zelkova street which runs through Inogashira Park in a direction perpendicular to Inogashira Street which is one of major streets in Tokyo.
22 Apr 2012
House in Senri, Suita, Osaka
Shogo Iwata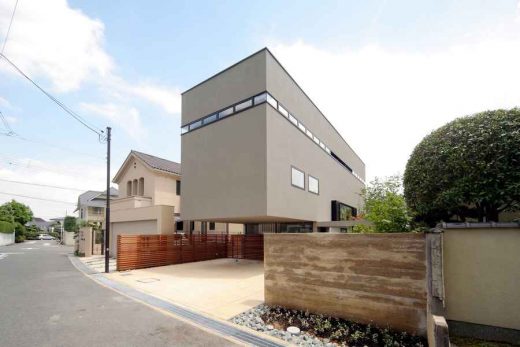 photograph : Nagaishi Hidehiko
House in Senri
This residence is planned for a family, husband, wife and their son.
25 Mar 2012
Atelier Tenjinyama, Gunma
Takashi Fujino / Ikimono Architects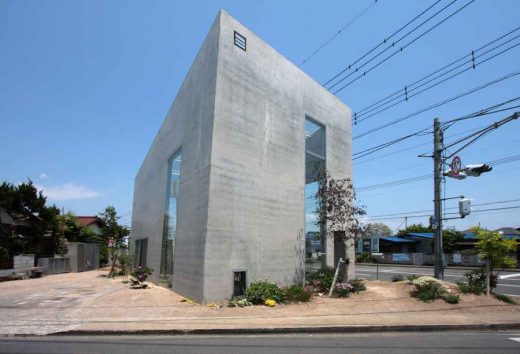 photograph : Takashi Fujino / Ikimono Architects
Atelier Tenjinyama
2 Mar 2012
Complex house, Nagoya, central Japan
Tomohiro Hata Architect and Associates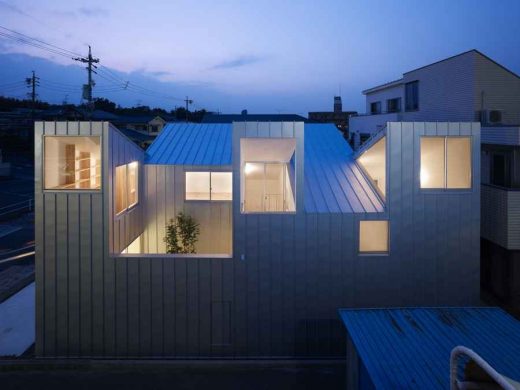 photo from architects
Nagoya house
The client family of this house needed many small rooms within a relatively small space. So, the architects firstly examined the possibility of a row of small, deep rooms. After the concept was fixed, the architects considered different widths depending on suitable scales for each of the rooms. Then they edited the composition of the sections.
17 May 2011
The black floatings, Chiba, southeast Japan
STUDIO・NOA architect & associates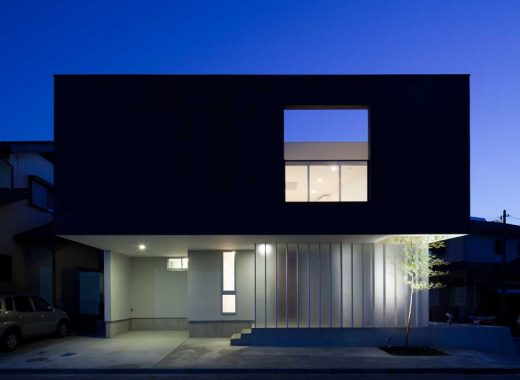 photograph from architect
House in Yotsukaido
Located in suburb area, House in Yotsukaido is a residence that looks to merge the boundaries between private interior space and the context. A non-transference glass terrace connects to the home. Thick walls surround the outdoor area, shielding the owner from outside eyes, while maintaining a sense of exposure to the nature. a single square opening cuts through the enclosure, framing a nearby retention basin and the neighborhood beyond.
Japanese House Architecture
Houses in Japan, alphabetical:
Black House, Kobe-city, Hyogo Prefecture
Tadashi Suga Architect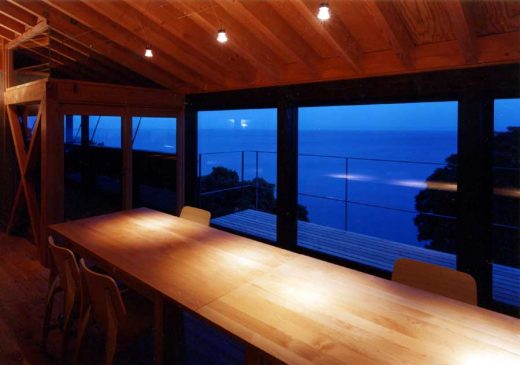 photo : Yoshiharu Matsumura
Black House
Boukyo house
Nakayama Architects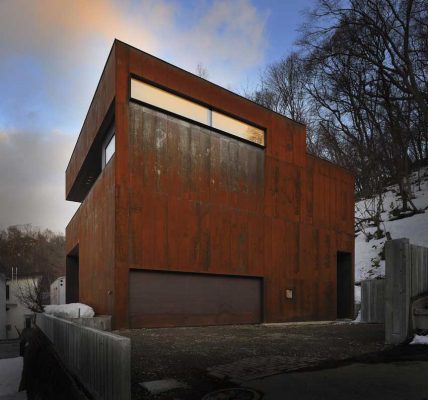 image from architect
Boukyo house
Casa Wakasa, Osaka
wHY Architecture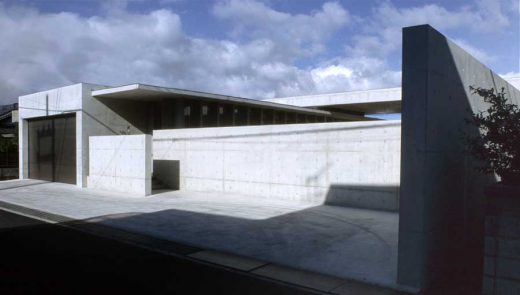 image : Koji Nagasawa
Casa Wakasa
Column and Slab House, Tokyo
FT Architects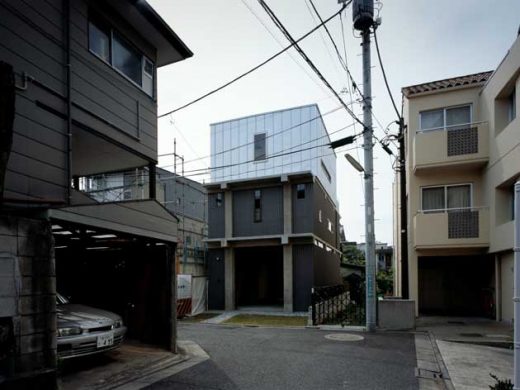 photograph : Koichi Torimura
Column and Slab House
The Covered House
Naoi architecture & design office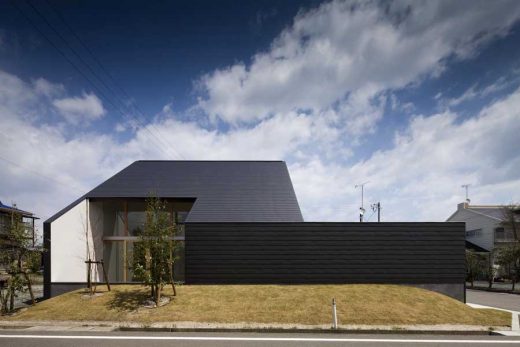 photo : Hiroshi Ueda
The Covered House
Crystal brick house – housing, Tokyo
Atelier Tekuto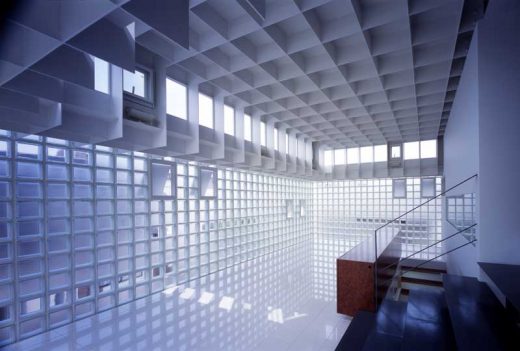 photograph : Makoto Yoshida
Crystal Brick House
Japanese Houses – No Images
Chiaroscuro House, Tokyo
1993
Ushida Findlay Architects
More Japanese Houses online soon
Location: Japan, Asia
Japanese Architecture
Japanese Architectural Designs – chronological list
Comments / photos for the Japan Residential Buildings page welcome