3deluxe Architects, Building, Wiesbaden Design Studio, German Architecture Office, Project News
3deluxe Architects Office
German Designers: Contemporary Architecture Practice Wiesbaden, Germany, Europe
3 Mar 2021
3deluxe News
3deluxe Architects News
FC Campus, Karlsruhe, Baden-Württemberg, south west Germany
Design: 3deluxe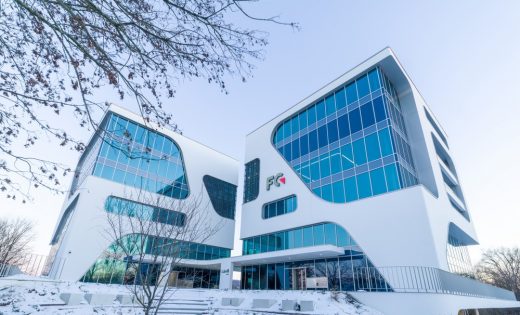 photograph : Sascha Jahnke
FC Campus Karlsruhe
A building is intelligent if it does not just stand there but can respond not only to the requirements of its users but also to external factors. At best, it can make people more comfortable while simultaneously optimizing energy efficiency. The FC Campus building's intelligent architectural element is a sheet of foil, something normally used in Apple smartphones, integrated into its glass structure. In the context of a building façade, this is a global first.
25 Nov 2017
3deluxe win a WAF Award for the Mleiha Desert Observatory
3deluxe gewinnt WAF Award für Mleiha Desert Observatory, UAE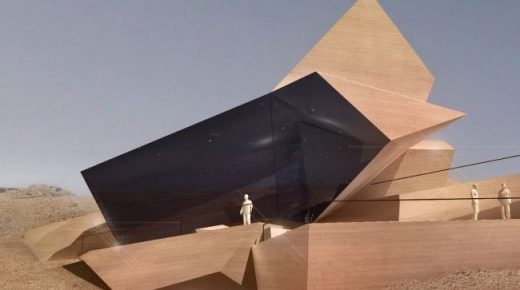 images courtesy of architects
Ausgezeichnet! Das 3deluxe Projekt Mleiha Desert Observatory vor den Toren Dubais wurde beim World Architecture Festival 2017 zum Gewinner der Kategorie "Future Projects – Experimental" gekürt.
3deluxe freut sich zusammen mit seinem mutigen Auftraggeber Shurooq und bedankt sich beim gesamten Kreativteam für die visionäre Arbeit.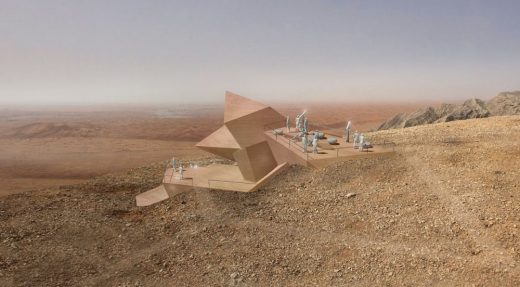 Der Entwurf wagt den Spagat, ein futuristisches Gebäude behutsam und harmonisch in die ergreifend schöne Wüstenlandschaft des Mleiha Desert Nationalparks zu integrieren und erweist sich mit diesem Konzept als zukunftsweisendes, nachhaltiges Tourismusprojekt.
13 Oct 2016
3deluxe in/exterior project news – Golden Autumn 2016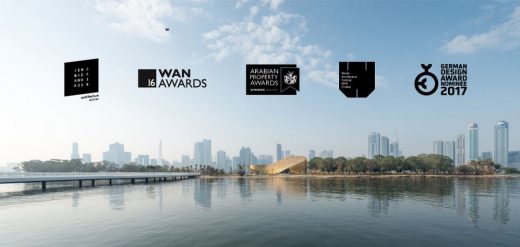 Noor Island – Realms of Imagination
New monograph about the spatial design of 3deluxe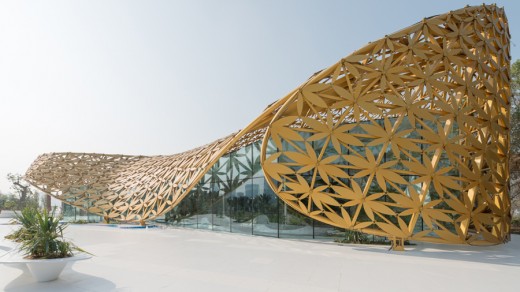 photograph : Joaquín Busch
"Noor Island – Realms of Imagination" varies significantly from traditional architecture books and presents the project in a purely subjective rather than a documentary style. When designing Noor Island, too, 3deluxe proceeded very intuitively and gave precedence to associative and emotional aspects of design. Their main objective was to contribute to the urban quality of living in the centre of Sharjah.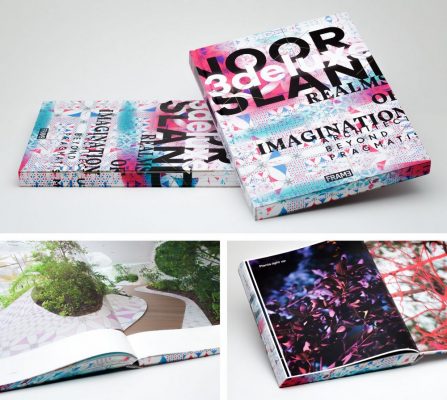 The book demonstrates our design, planning and production processes, our tools for arriving at design and form, our love of rich detail and experimenting with materials, not to mention the precision with which we undertake the planning of our projects. Published by Frame Publishers is generously illustrated, elaborately designed and features essays by renowned guest authors.
This title is available at the Frame store.
2 Feb 2016
Butterfly Aviary in Sharjah, UAE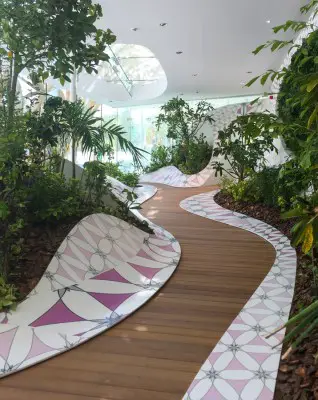 photograph : Björn Asmussen
Butterfly Aviary Building
11 Jan 2016
Butterfly Pavilion, Noor Island, Sharjah, UAE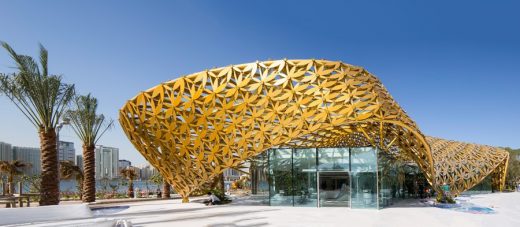 photo : Torsten Seidel
Butterfly Pavilion Sharjah Building
The most striking building on Noor Island is the high-profile Butterfly Pavilion, whose ornamental shading roof characterizes the island. The shape and design of the building's biomorphic outer shell result from an intense formal exploration of parametric design strategies in dialog with traditional Arabian ornamentation.
3deluxe Architecture Exhibition News
3deluxe – Nature Collaborations, Venice, Italy
La Biennale Architettura di Venezia 2012
As part of the 13th International Architecture Exhibition of la Biennale di Venezia, the Collateral Event "TRACES OF CENTUREIS & FUTURE STEPS" presents this Wiesbaden architects firm and other architects from 6 continents, representing 26 countries, brought together in an extraordinary combination with each other as well as with the Chinese artist Ying Tianqi.


image from architects office
Exhibition Title – Traces of Centuries & Future Steps
Venue – Palazzo Bembo (by Rialto bridge, on Canale Grande)
4793 Riva del Carbon, 30124 Venice, Italy
29 Aug – 25 Nov 2012
Opening Event – 27 + 28 Aug 2012
www.palazzobembo.org
28 Jun 2012
3deluxe Building News
Kaffee Partner Headquarters, Osnabrück, northern Germany
Date built: 2010-12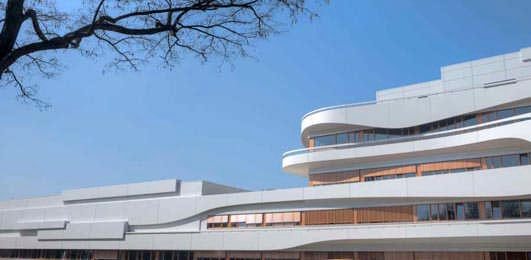 photo from architects
Kaffee Partner
The 100-metre tripartite building complex with 9,800 sqm of floor space was implemented in a very cost-efficient way. The project shows that our preference for expressive design must not be contrary to economical construction. Within a design, planning and construction period of barely 20 months, a friendly and modern working environment could be realised for the about 300 employees of the medium-sized company.
3deluxe Exhibition News
Ampelphase, Frankfurt, Germany
This Wiesbaden architects studio is present at this year's highly regarded Vitra exhibition series Ampelphase from 18 August – 7 September in Vitra's showroom in Frankfurt. Together with five other renowned architecture practices from the Rhine-Main-area the architects studio are presenting their architectural work following the theme stop motion.


photo from architects office
Vitra Ampelphase 5 Frankfurt exhibition
For the exhibition, the architects studio produced a simple, clear object that reflects both the theme Ampelphase as well as their own design preferences: a plain black block with a dynamic light installation. It visualizes the architect studio's design approach to link architectures and spaces with information and content, and to explore the possibilities of vitality and poetry within seemingly inamimate materials.
Architecture Award News
Zeilgalerie shopping centre redevelopment, Frankfurt, Germany



picture from architects
Zeilgalerie shopping centre
August 11th 2011 – At this year's red dot award: communication design the Zeilgalerie façade, redesigned by this Wiesbaden architects office, received an award in the category Information Design / Public Space.
Altogether, 6,468 projects from 40 countries were submitted. The redesign of the Zeilgalerie with its complexly composed façade and the dynamically programmed light installation prevailed within this strong competition.
3deluxe Building Designs
Swatch Pavilion, Venice Art Biennale, Italy
Date built: 2011



photo courtesy of architects
Swatch Pavilion Venice Biennale
Appearing as though an open-air living room, a pavilion at the Venice Biennale's Giardini was an ultra-relaxed setting in the midst of a park landscape. Designed by this German architects studio for label Swatch, the space was dedicated to displaying watches and the brand's philosophies.
Hillside House, Germany
Date: 2010-



picture from architecture office
Hillside House
3deluxe – Key Building
Leonardo Glass Cube, Bad Driberg, North Rhine-Westphalia, Germany
Date built: 2007



picture from architects
Leonardo Glass Cube
Having developed a number of temporary architectures and several virtual architectural concepts, the Leonardo Glass Cube is the first permanent building implemented by this Wiesbaden architecture studio.
As an atmospheric brandworld, the Leonardo Glass Cube conveys to guests and the staff alike the company's philosophy and visions in a stimulating manner. The open floor plan layout of the clearly designed and multi-functional Leonardo building enables an integrative linkage of product presentation zones, seminar and meeting rooms, inspiring work areas and a lot more besides across a total area of 1,200 square meters.
The glass façade of the building represents not only the interface between interior and exterior, but also the passage to a hyper-naturalistic world with heightened aesthetic appeal. A transparent print slides into the insight or outlook as a subtly visible image plane. The graphically illustrated elements displayed on it were derived from the architecture and the surrounding landscape. They create a subtle puzzle, mingling with the reflections of their models in reality.
Visionary Architecture Exhibition – GRAFT / 3deluxe, LUMAS Berlin, Germany
Date: 2009
"BERGEN02"



image © 3deluxe, www.lumas.com
"TianjinHighRise"



image © 3deluxe, www.lumas.com
Visionary Architecture Exhibition
The "renderings" in the exhibition are three-dimensional computer visualizations of the architectural blueprints. The renders are complemented with digital graphics, which make the creative working process of the architects practice comprehensible and which also include classical freehand sketches.
More architecture projects by 3deluxe architects online very soon
Location: Wiesbaden, Germany
Wiesbaden Architects Practice Information
3deluxe Architects, Wiesbaden
German Architect Offices – contact details


photo : Emanuel Raab
The Leonardo Glass Cube photographs (building in Bad Driberg) copyright the architects studio
From left to right: Stephan Lauhoff (head of graphics), Dieter Brell (head of 3deluxe in/exterior), Peter Seipp (commercial management 3deluxe in/exterior), Andreas Lauhoff (head of graphics)



photograph : Isa Schäfer
Architect office based in Wiesbaden, Germany
Contact:
3deluxe transdisciplinary design, [email protected]
system modern gmbh, [email protected]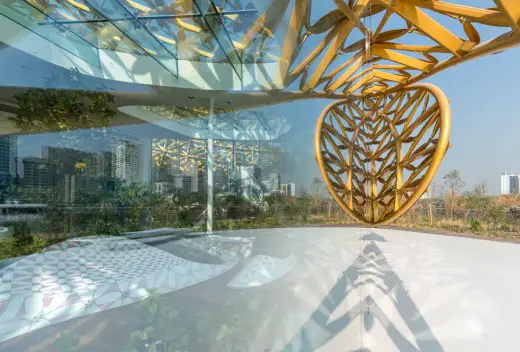 photo : Joaquín Busch
German Architecture
German Architects – key design practices in this country
Architecture Designs in Germany
German Architecture Developments
Building Developments in Germany
Buildings / photos for the 3deluxe Architecture – Wiesbaden Architects page welcome
Website: www.3deluxe.de