Wandel Hoefer Lorch, Saarbrücken Architects, German Studio, München Building, Frankfurt
Wandel Hoefer Lorch Architekten : Architects
Saarbrücken Architect Practice, Germany, Europe: Architectural Office News
Wandel Hoefer Lorch – Key Projects
Recent Building by Wandel Hoefer Lorch Architekten
Ohel Jakob Synagogue, St Jakobs Platz, Munich, Germany
Date built: 2007
Key Architecture Projects by this German architectural studio, alphabetical:
Dresden Synagogue, Germany
Date built: 2002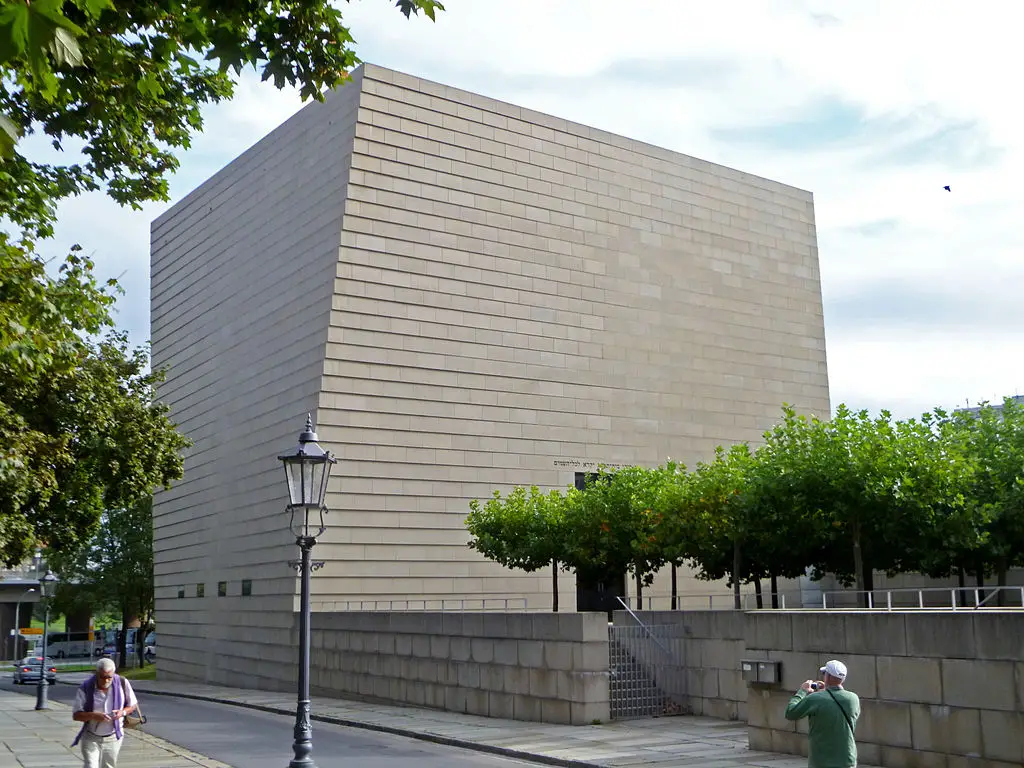 photo : JoJan / CC BY (https://creativecommons.org/licenses/by/3.0)
Hinzert – Museum Archive, Germany
Date built: 2005
Corten steel structure – Architecture Competition win 2003
The Memorial Boerneplatz, Jewish Cemetery, Frankfurt, Germany
Date built: 1998
This was the first architectural project by this German architecture practice.
More Wandel Hoefer Lorch projects online soon
Location: D 66119 Saarbrücken, Germany, northern Europe
Wandel Hoefer Lorch Architects Practice Information
Architect Office based in Saarbrücken, Germany
Architecture practice contact details:
Address: Dolomitenweg 19, 66119 Saarbrücken, Germany
Phone: +49 681 926550
A German office for architecture and urban planning in Saarbrücken and Frankfurt am Main. The office is managed by architect Andrea Wandel and architect Wolfgang Lorch. The office was previously known under the name "Wandel Hoefer Lorch" and appeared in several projects as a joint venture with the Frankfurt architect Nikolaus Hirsch under the name "Wandel Hoefer Lorch + Hirsch".
Andrea Wandel is a professor in the field of design, spatial education and presentation at the Trier University of Applied Sciences.
Wolfgang Lorch is a professor of design and construction at the TU Darmstadt.
Wandel Hoefer Lorch became internationally known for their design for the new Dresden synagogue. This was in 2002 on the XXI. Architecture World Congress UIA receives the World Architecture Award for the best building in Europe. The office had previously appeared in a sacred building, in 1969 with the construction of the war-damaged Dillingen Evangelical Church in Dillingen / Saar under the direction of its founder, Hubertus Wandel.
The current owners of the office had already been able to realize a competition entry for a memorial at Neuer Börneplatz in Frankfurt am Main as a student group. Since the construction of the synagogue in Dresden, the office has appeared in sacral and cultural buildings.
German Architecture
Comments / photos for the Wandel Hoefer Lorch Architekten page welcome
Website -: www.wandel-hoefer-lorch.de