Hans Scharoun, Architect, Buildings, German Organic Style Projects, Design
Hans Scharoun Architecture
20th Century Architecture Practice, Germany, Europe – Building Information
27 Apr 2017
Hans Scharoun Architecture News
Berlin/Los Angeles: Space for Music, Getty Centre, Los Angeles, CA, USA
Celebrating the 50th anniversary of the Berlin and Los Angeles sister-city partnership, the exhibition explores connections between Hans Scharoun's Berlin Philharmonic and Frank Gehry's Walt Disney Concert Hall.
April 25 – July 30, 2017
At the Getty Research Institute, Getty Center
Berlin Philharmonic, Berlin, Germany: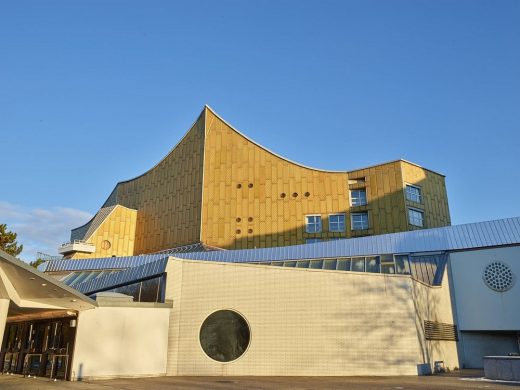 Los Angeles, Getty Research Institute. © J. Paul Getty Trust
Architecture Exhibition with Hans Scharoun Building
Hans Scharoun – Key Projects
Hans Scharoun
(1893-1972)
German architect
Style: organic architecture
Major Hans Scharoun Buildings
Berlin Philharmonic : Concert Hall, Potsdamerplatz, Tiergarten, central Berlin, Germany
Dates built: 1957-63



image © Adrian Welch
Philharmonie building : Berlin Philharmonic concert hall
The Philharmonie lies on the south edge of the city's Tiergarten and just west of the former Berlin Wall, an area that for decades suffered from isolation and drabness but that today offers ideal centrality, greenness, and accessibility. Its cross street and postal address is Herbert-von-Karajan-Straße, named for the orchestra's longest-serving principal conductor. The neighborhood, often dubbed the Kulturforum, can be reached on foot from the Potsdamer Platz station.
The hall opened on October 15th, 1963. It was built to replace the old Philharmonie, destroyed by British bombers on 30 January 1944, the eleventh anniversary of Hitler becoming Chancellor. The hall is a singular building, asymmetrical and tentlike, with the main concert hall in the shape of a pentagon. The seating offers excellent positions from which to view the stage through the irregularly increasing height of the seat rows. The stage is at the center of the hall, with seats surrounding it on all sides.
Schminke House, Löbau, Saxony, Germany
Date built: 1930-33
This 20th Century German house was designed for the manufacturer of pasta Schinken Fritz and his wife Charlotte. It is the most important work of this architect of the period preceding the Second World War, and is comparable in significance to the Villa Savoye of Le Corbusier or the Tugendhat Mansion of Mies van der Rohe. Löbau is a town situated some 150km south of the German capital, Berlin.
The house is situated on a hill with good visuals, and on the other side next to a factory. Scharoun takes these visuals, while not able to get too close to the factory in question.
Neue Staatsbibliothek, Berlin-Tiergarten, Germany
Design: with Edgar Wisniewski



picture © Isabelle Lomholt
Neue Staatsbibliothek
More architecture projects by this architect online soon
Hans Scharoun Buildings, chronological:
located in Germany unless stated otherwise:
Die Wohnung, Weissenhof Siedlung, Stuttgart
Date built: 1927
Wohnung und Werkraum, Werkbund exhibition, Breslau
Date built: 1929
Apartments, Kaiserdamm, Charlottenburg, Berlin
Date built: 1929
Apartments, Hohenzollerndamm, Wilmersdorf, Berlin
Date built: 1930
Schminke House, Löbau, Saxony, Germany
Date built: 1933
Baensch house, Spandau, Berlin
Date built: 1935
Hoffmeyer house, Bremerhaven
Date built: 1935
Moll house, Grunewald, Berlin
Date built: 1936
Mohrmann house, Lichtenrade, Berlin
Date built: 1939
Romeo & Julia, high rise apartments, Zuffenhausen, Stuttgart
Date built: 1959
Charlottenburg-Nord, housing development, Charlottenburg, Berlin
Date built: 1960
Girls School, Lünen
Date built: 1962
Berlin Philharmonic, Tiergarten, central Berlin
1963
Salute, high-rise apartments, Fasanenhof, Stuttgart
1963
Rauher Kapf – housing, Böblingen
1965
School, Marl
1966
Faculty for Architecture, Technical University, Berlin
1970
Orplid – residential tower, Böblingen
1971
German Embassy, Brasilia, Brazil
1971
Wolfsburg City Theatre
1973
German Maritime Museum, Bremerhaven
1975
Prussian Cultural Heritage Foundation library, Tiergarten, Berlin
1978
More architecture projects by this Modern German architect online soon
Location: Bremen, Germany, northern Europe
Hans Scharoun – Practice Information
Architect studio was based in Germany
Architect Hans Scharoun was known for a more fluid style than straightforward Modernism
Bernhard Hans Henry Scharoun
1893 – 1972 – the architect born in Bremen, Northern Germany, and died in West Berlin
Hans studied architecture at the Technical University of Berlin until 1914
Philharmonie Building Berlin – most famous Hans Scharoun building:



image © Adrian Welch
During the Nazi era he remained in Germany, whilst many of his friends and colleagues from the Glass Chain or Der Ring went abroad. In this time he only built a few family houses, one of which is the remarkable Schminke house (publicly accessible) in the city of Löbau in Saxony (1933). Subsequent houses had to adapt outwardly to politically determined construction specifications, while on the inside they displayed the typically Scharounian sequences of spaces. source: https://en.wikipedia.org/wiki/Hans_Scharoun
Modern Architects with links to this architect
Comments / photos for the Hans Scharoun architect = 20th Century German Architecture page welcome