J Mayer H Architects, Building News, Architeken, Studio Projects, Design Office Germany
J. MAYER H. Architects
Contemporary German Architecture Practice, Europe: Design Studio News
post updated 26 February 2023
J. MAYER H. News
J. MAYER H. Architecture News
4 August 2020
n.n. – Residence near Moscow, beside the River Moskva
Design: J. MAYER H. und Partner, Architekten mbB, with Alexander Erman architecture & design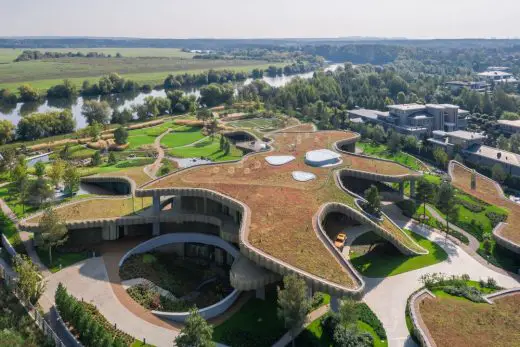 photo : Ilya Ivanov
n.n. – Residence near Moscow
n.n. represents a spatial exploration between concealment and exposure. This layered topography blurs the line separating landscape and construction. It is the private residence of a family in a rural area along the River Moskva.
16 Dec 2017
J. MAYER H. Architects Outlook
Early 2018 marks the completion of Museum Garage in the Miami Design District. Curated by Terence Riley of K/R (Keenen/Riley), the project will feature five dramatically different façades by J.MAYER.H, WORKac, Clavel Arquitectos, Nicolas Buffe and K/R (Keenen/Riley). In Germany several projects currently in development are the office complex Voltaire in Berlin near Alexanderplatz, a 240-unit housing project on Pappelallee in Berlin and a residential high-rise, hotel and parking garage at Grand Central in Duesseldorf. In March we will be part of the German Pavillon at MIPIM in Cannes. And upcoming lectures and exhibitions include Domotex in Hannover, Métropoles Du Sud in Montpellier, India Arch Dialogue 2018 in New Dehli, ETH Zürich.
14 Nov 2017
Construction Start on Pavillon am Ring, Freiburg, Germany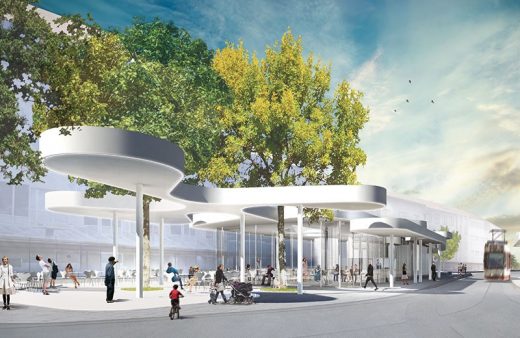 image from architects
Pavillon am Ring A new tram stop with a café will be built on Friedrichring at the edge of Freiburg's historical district. The roof's distinctive shape forms a striking contrast to other structures in the square, creating an attractive space for users of the city's local transport and other visitors to the city center.
FEATURED PROJECT: FOM University, Berlin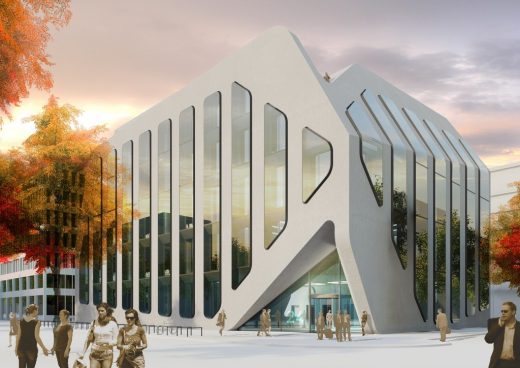 image from architects
FOM Berlin, located in the Tiergarten neighborhood, will be the newest home to Germany's largest private university network, with 24 campuses around the country and abroad.
Exhibition: Chicago Biennial 2017
J. MAYER H. and Philip Ursprung participated in this year's Chicago Architecture Biennial under the theme "Make New History".
The Biennial is showcasing work from around the world examining the underpinnings of a resurgence in historical interest. It addresses the interaction of architecture and the access to historical source material. The 2017 Chicago Architecture Biennial is open to the public from September 16, 2017, through January 7, 2018 at the Chicago Cultural Center, located in downtown Chicago.
27 Sep 2017
Completion of FOM University Düsseldorf, north west Germany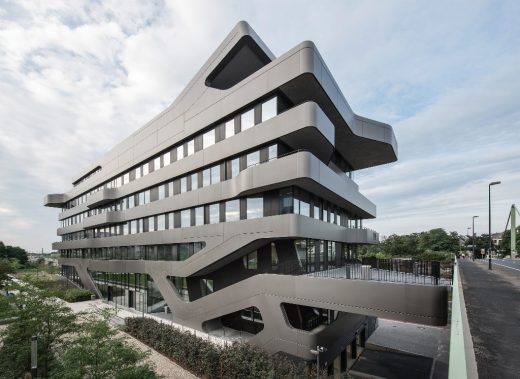 photograph : David Franck
New Institute Building for FOM
J.MAYER.H is celebrating the completion of the new building of FOM University in Düsseldorf. The 8,000 m² academic building with auditoriums, lecture halls, and seminar rooms will accommodate up to 1,500 students and staff. The non-profit FOM University is Germany's largest private university.
22 Jul 2017
Rhein 740, Duesseldorf Heerdt, Germany
Rhein 740 is a 19 storey mixed medical, commercial, and residential building: the project is now under construction.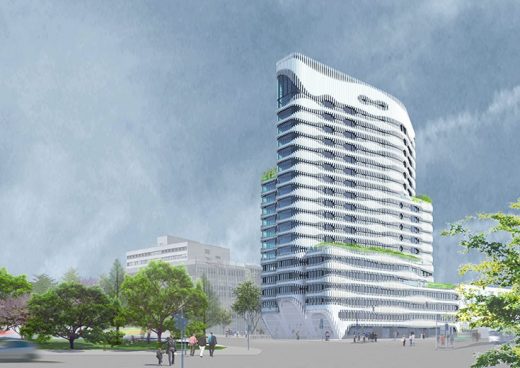 image courtesy of architects
Rhein 740 – Medical Services and Residential Building
19 Jul 2017
J. MAYER H. Exhibitions
– Exhibition: Ways of Life at documenta14, Kassel
J.MAYER.H took part this month in the exhibition "Ways of Life" -Experimenta Urbana – part of documenta14 in Kassel, Germany.
20 emerging offices from around the globe have been asked to develop a prototype dwelling that immerses work in nature while clarifying the relationship between work/ life and the individual / collective.
July 5 – 30, 2017
Südflügel KulturBahnhof (Hauptbahnhof)
Rainer-Dierichsplatz 1, Kassel
August 1 – 17 September, 2017
Foyer Neubau ASL-Gebäude Universität Kassel
Universitätsplatz 9, Kassel
– Exhibition: 16 STATIONEN at Remstal Gartenschau 2019
"16 STATIONEN"
10 July 2017 – 6 August 2017
Remstal Gartenschau 2019
Location: Das Röhm / Tor 2, Weilerstrasse 14 73614 Schorndorf, Germany.
More info: http://www.wechselraum.de
31 Mar 2017
BCDA Iconic Building Design Competition News
J.Mayer.H + Collaborative Architecture are shortlisted for the Iconic Tower in Manila Philippines International competition.
The Bases Conversion and Development Authority aims to develop its new corporate office in the northern portion of Bonifacio Global City, Taguig with an area of 7,275-square meter. Majority of the area will be allotted for open spaces, parks, landscapes, and public arts.

BCDA Iconic Building Design Competition
27 + 25 Mar 2017
New Public Infrastructure, Kehl
As part of the new transnational tram line crossing the Rhine river from Strasbourg, France into Kehl, Germany, J.MAYER.H designed bus and tram stops at the central square in Kehl as sculptural compositions based on organic shaped discs. The different elements are flexible in incorporating various programmatic needs and evoke images of "Rheinkiesel" or the "Rhine Pebbles".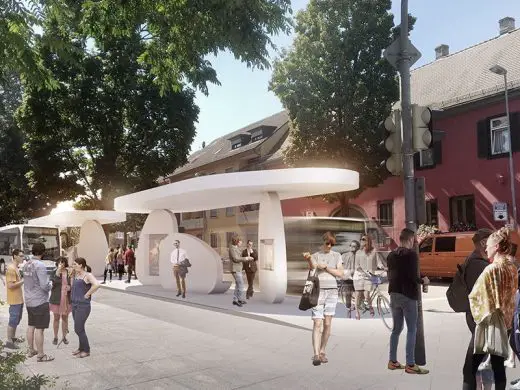 image courtesy of architects
New Public Infrastructure in Kehl by J. MAYER H.
22 Jul 2016
J. MAYER H. – Recent Buildings
The Diago Home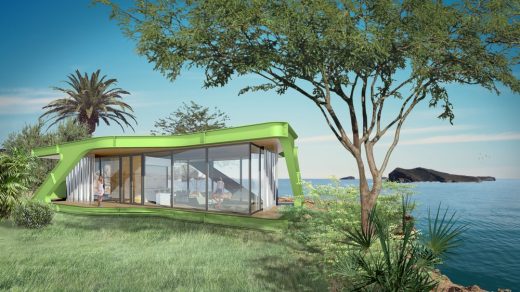 picture from developer
Diago Home by J. MAYER H.
The Diago Home is a comfortable home with large covered terraces. Floor and ceiling undulate around the enclosed rooms, offering a flexible floor plan with generous outdoor areas. The cantilever roof is supported by diagonal columns around the building's outline.
MobiVersum: New Interaction Surface for Young Visitors to Autostadt, Wolfsburg, Germany
22 Mar 2014 – MobiVersum, Autostadt, Wolfsburg
In 2013, J. MAYER H. designed MobiVersum as a new interaction surface for young visitors to Autostadt Wolfsburg, integrated as part of the overall context of Autostadt "People, Cars, and What Moves Them." A playful learning landscape was developed for a wide range of experiences in dialog with the exhibition Level Green shown on the floor above.
MobiVersum provides an active introduction to the subject of sustainability in all its facets for children of all ages: from the issue of mobility, joint learning and understanding, to courses in cooking. In collaboration with Renate Zimmer (professor, Institut für Sport- und Bewegungswissenschaft at Universiät Osnabrück) a large movement sculpture was created that is unique in terms of its design and the challenges it presents to children's motor skills.
Depending on their individual level of development, children can interact freely with the installation on various levels on their own or with their siblings or parents, engaging with the challenges presented by the sculpture for their motor skills. The shape of the imaginative, playful structures of solid wood are reminiscent of roots and tree trunks under the luscious branches of Level Green.
The sculptures, which can be used and entered, structure diversified spatial zones with different thematic emphases and inspire the children's curiosity to discover and explore. Children as tomorrow's consumers can thus learn early on the importance of a responsible approach to the world's resources, for they represent our ecological/economical and social future.
Client: Autostadt GmbH, Wolfsburg
Site: Volkswagen GroupForum, Ground Floor, Autostadt, Wolfsburg
Architect: J. MAYER H. Architects, Berlin
Project: 2012 – 2013
Completion: 2013
Total floor area: approx. 1600 m²
18 Dec 2013 – In January 2014, Andre Santer and Hans Schneider will be joining as partners, bringing their many years of visionary, team-leading experience to help shape and develop J. MAYER H.'s trajectory of success.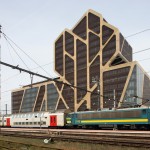 photo : Filip Dujardin
As of 2014, we will be operating under the name "J. MAYER H. und Partner, Architekten."
11 Sep 2013 ; 17 Dec 2012
Court Justice in Hasselt, Belgium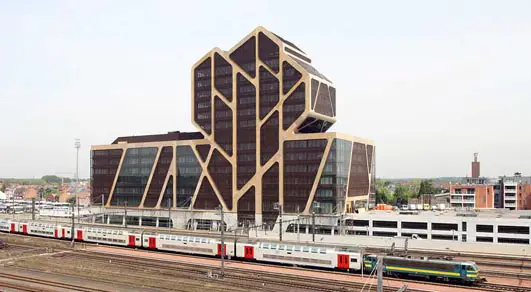 photo : Filip Dujardin
Court Justice in Hasselt
This is the next major building by the german architects J. Mayer H. This imposing design is designed by J. MAYER H. Architects, a2o-architecten and Lensºass architecten.
2 Apr 2013
OLS House – New Stuttgart Property, Germany
Design: J. MAYER H. Architects



photograph : David Franck
New Stuttgart House
The new house is on a plot of land near Stuttgart, on a hillside with a generous view of the valley. The owners wanted a new home that would bring this view to life even inside of the building.
20 Nov 2012
New Institute Building for FOM, Duesseldorf, north west Germany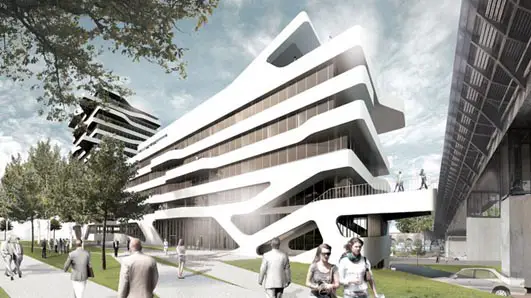 image from architects
Neubau FOM Hochschule Düsseldorf
Le Quartier Central is a lively, newly planned and nearly complete district in the middle of Düsseldorf. Its creative surrounds are the future home of the new university study center for FOM Hochschule in Düsseldorf. The innovative building with approximately 1,400 student seats features an extraordinary exterior façade with curved cantilevered balconies.
22 Oct 2012
Schlump One, Hamburg, Germany



photo : Jan Bitter
Schlump One
The "Schlump ONE" building is located directly at the underground station Schlump in the Eimsbüttel district. The original administration building from the 1950s and 90s was gutted, renovated and expanded, and has now been converted into an office building with four possible rental units per floor.
31 May 2012
JOH 3 – New Apartmenthouse Johannisstraße 3, Berlin, Germany



image : Jürgen Mayer H Architekten
New Apartmenthouse Johannisstraße 3
Property development group Euroboden is realizing a unique residential building at Johannisstraße in Mitte, Berlin's downtown district. J. MAYER H. architects' design for the building, which will soon neighbour both Museum Island and Friedrichstrasse, reinterprets the classic Berliner residential building with its multi-unit structure and green interior courtyard.
4 May 2012
Rest Stops in Georgia
Rest Stop at Wissol:






photographs : Jesko M. Johnsson-Zahn
Completion of Construction
In 2009, the head of the Roads Department of Georgia commissioned J. MAYER H. to design a system of 20 rest stops for the new highway, a thoroughfare that will run through Georgia and serve as a connection between the Republic of Azerbaijan and the Republic of Turkey.
Rest Stop at Wissol:





photographs : Jesko M. Johnsson-Zahn
Two rest stops are now complete, while a third is currently under construction. The new rest stops are located on selected scenic viewpoints along the route and serve as activators for their area and neighbouring cities, including not only nearby a gas stations and supermarket, but also a farmers market and a cultural space for local arts and crafts.
Rest Stop at Socar:







photographs : Jesko M. Johnsson-Zahn
J. MAYER H. Architects
Project Team: Juergen Mayer H., Paul Angelier, Jesko Malkolm Johnsson-Zahn, Marcus Blum, Guy Levy
Preliminary Design: 2009, Completion: 2011
Function: Rest Stop
Clients: JSC Wissol Petroleum Georgia / Socar Georgia Petroleum
Location: Gori, Georgia
Architects on Site: Kobulieli and Partners / Ltd."Alioni 99″
Photographer: Jesko M. Johnsson-Zahn
26 Apr 2012
JOH3 Preview, Berlin, Germany
JOH3 Berlin:



photograph : Rick Jannack
On Gallery Weekend, "JOH3"–J. MAYER H.'s newly-opened residential building in Berlin's Mitte district–will open its gallery space with carpets and furniture from J. MAYER H.'s 2011 exhibition "Rapport" at Berlinische Galerie. The exhibition was organized as a collaboration between the Berlinische Galerie, Euroboden and Vorwerk.
A model of the building will also be on view. Property development group Euroboden has realized J. MAYER H. architects' unique building on Johannisstraße, which neighbors both Museum Island and Friedrichstrasse.With its multi-unit structure and green interior courtyard, the building is an extraordinary reinterpretation of the classic Berliner apartment house.
The sculptural design of the suspended slat facade draws on the notion of landscape in the city, a quality visible in the graduated courtyard garden and the building's silhouette and layout. The integrated design concept, which incorporates everything from façade to stairwells, elevators to apartment interiors, promises a unique spatial and living experience with an eye to high design.
Rapport furniture by J. MAYER H. at JOH3 Berlin:



photograph : Ludger Paffrath
Location: JOH3, Johannisstrasse 3, Berlin Mitte, Germany
11 Apr 2012
Police Station + House of Justice in Mestia, Georgia



photograph : Jesko M. Johnsson-Zahn, Beka Pkhakadze
Mestia Buildings by Jürgen Mayer H Architects
The project is situated in the heart of the old town of Mestia, next to the newly built city-hall. Its towerlike shape pays homage to the medieval stone towers which are traditional to Mestia's mountainside region. The House of Justice serves as a two storey civic centre for the people of Mestia, a village with a strong cultural heritage.
Key J Mayer H Buildings
Metropol Parasol, Seville, Spain
2011



images from architect
Metropol Parasol
Dupli.Casa – House near Ludwigsburg, Germany
2008



www.davidfranck.de
Dupli.Casa
Sarpi Border Checkpoint, Georgia
2011



image from architects
Sarpi Border Checkpoint, Georgia
Jürgen Mayer H Architekten Buildings
Architecture listed alphabetically:
Centre for Dentistry, Hamburg, Germany
2009



photo : Ludger Paffrath
Centre for Dentistry Hamburg
The Curiosity Center, Nordborg, Denmark
2007



picture from Jürgen Mayer H Architects
Danfoss Universe aka Danfoss Interactive
Home.Haus, Hamburg-Bergedorf, Germany
2008
J. MAYER H. Architects + Sebastian Finckh



photograph : Dirk Fellenberg
Home.Haus
Mensa Dining Hall, Karlsruhe, Germany
2006
J. MAYER H. Architects



photo : David Franck
Mensa Karlrsuhe Building
Mestia Airport Building, Georgia
2011



image from architect
Mestia Airport Building
Quartier M, Düsseldorf, Germany
2011-



image from architects
Quartier M
S11 – Office Complex, Hamburg, Germany
2009



www.davidfranck.de
Steckelhoern 11 Hamburg Offices
Scharnhauser Park Town Hall, Pitterpatterns, Ostfildern, Germany
2001



photo : David Franck
Stadthaus Scharnhauser Park : German building
More J. Mayer H. designs / projects online soon
Jürgen Mayer H Architekten : Further information on this Berlin Architects Studio
Location: Knesebeckstrasse 30, D-10623 Berlin, Germany
Berlin Architects Practice Information
J. MAYER H. Architekten office based in Berlin, Germany


image from Jürgen Mayer H.
German Architecture
Buildings / photos for the J Mayer H Architects page welcome
Website: www.jmayerh.de