Henn Architekten, German Building, Munich Architect Office, Images, New Architecture Designs
HENN Architekten Munich
München Architect Practice, Germany, Europe – German Architecture Office News
Post updated 27 February 2023
HENN News
HENN News, chronological:
25 Feb 2023
The CUBE, Dresden, south east Germany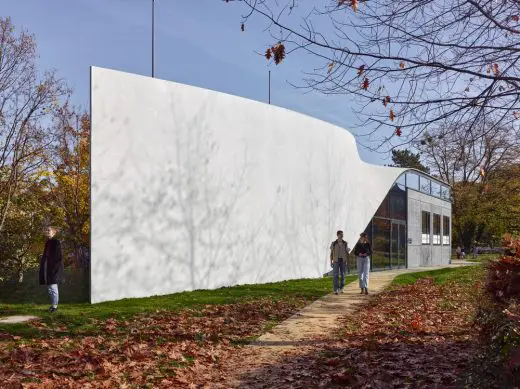 photo © Stefan Müller
The CUBE, Dresden, Germany
3 Oct 2022
Baramundi Headquarters, Augsburg, Bavaria, southern Germany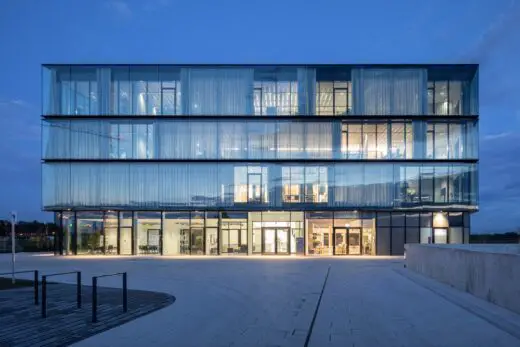 photo : Laurian Ghinitoiu
Baramundi Headquarters Augsburg, Bavaria
17 May 2022
Zoomlion Headquarters, Changsha, Hunan Province, south central China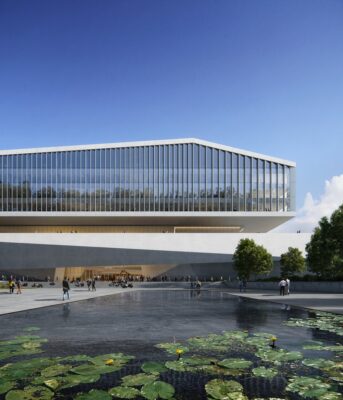 render : HENN
Zoomlion Headquarters, Changsha Hunan
The HENN-designed Zoomlion Headquarters is the heart of the new Smart Industry City, scheduled for completion in 2023. The new industrial park will drive innovation in the field of construction engineering and usher in a new era of intelligent, digital and green construction.
28 Mar 2022
Zalando BHQ-Z Building, Berlin, Germany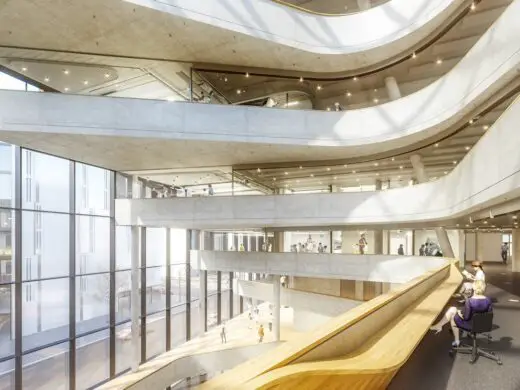 rendering : HENN
Zalando BHQ-Z Building
HENN's Zalando BHQ-Z Building is currently under construction in Berlin. BHQ-Z will complete HENN's three-building headquarter complex for Zalando, one of Europe's leading online platforms for fashion and lifestyle. The design declares the city's identity as a global tech hub, while staying true to its Berlin roots.
21 June 2020
Opticum of Leibniz University Hanover, Germany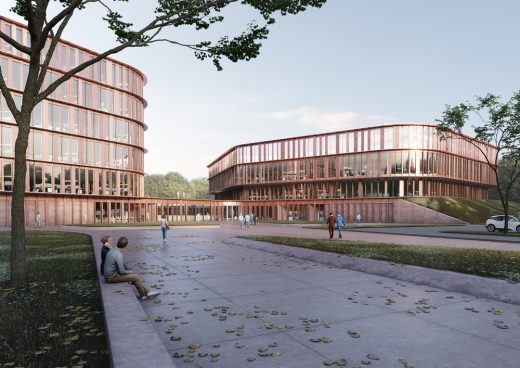 image © HENN
Opticum of Leibniz University Hanover
With the new Opticum research building for Leibniz University Hanover, HENN is creating an identity-giving site and a prominent location for top-class research work, including within the framework of the PhoenixD Cluster of Excellence.
19 June 2020
Medview Regenerative Medicine Innovation Center, Guangzhou, China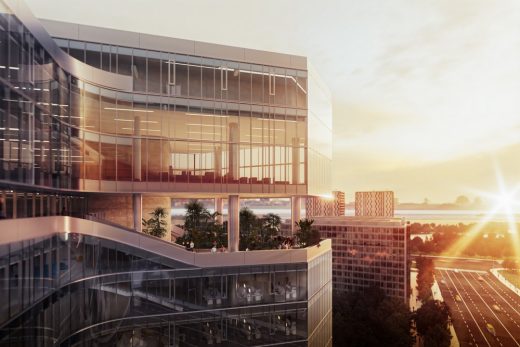 image courtesy of architecture office
Medview Regenerative Medicine Innovation Center in Guangzhou
Hybrid building typology: Vertically-stacked medical technology laboratories and project spaces in the Medview Innovation Center. With the Medview Regenerative Medicine Innovation Center, the company for groundbreaking medical technology is getting a new headquarters.
22 Apr 2020
The Cube Dresden: first carbon concrete building in the World, Dresden, Germany
Architects: HENN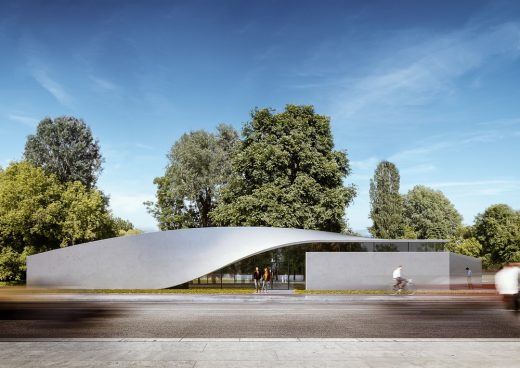 image courtesy of architects practice
The Cube Dresden
HENN has developed the concept design for the world's first building made of carbon concrete, The Cube. The 220-m² experimental building combines a laboratory and event rooms, and sets an example of architectural and structural innovation at the Technical University of Dresden (a German "University of Excellence").
24 Aug 2018
Westlake University in Hangzhou, China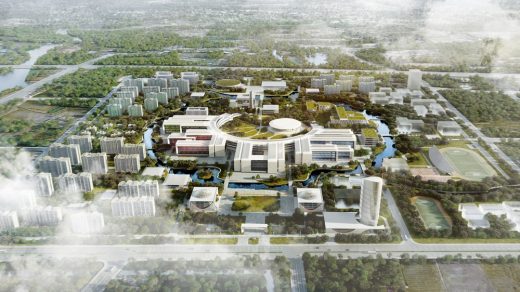 image courtesy of architects office
Westlake University Hangzhou
Forty years after opening itself to the world in 1978, China has established a new educational milestone symbolized by the founding of Westlake University in Hangzhou.
1 Dec 2017
InnoChain Winter School at HENN architectural office Berlin
HENN is pleased to report the recent hosting of the InnoChain Winter School at its Berlin offices. Early Stage Researchers and PhD candidates convened in the context of the European Research Network InnoChain in the Berlin office to discuss how their current research will shape the future of the construction industry.
Innochain Winter School 2017 – Drivers of innovation from HENN on Vimeo.
They were joined, in the framework of the Winter School, by experts in business and innovation development. The researchers and industrial partners of the InnoChain Network enjoyed a week of forward-looking conversations and valuable feedback exchanges. Interested members of the public were invited to attend the final two days of open sessions and visit the accompanying exhibition presenting all of the ongoing research projects.
The InnoChain ETN network is a shared research training environment aimed at examining how advances in digital design tools challenge building culture, enabling sustainable, informed and materially smart design solutions. The network's goal is to train a new generation of interdisciplinary researchers, encompassing a distinct industry focus, in order to effect real changes in the way we think, design and build our physical environment.
Challenging the traditional thinking of design as a linear process of incremental refinement, InnoChain identifies three axes of design innovation potential, namely communication, simulation and materialization, manifesting themselves as distributed and interdisciplinary activities throughout the design chain.
With a core intersectoral focus, InnoChain connects "research in practice" with "research in academia". The programme has assembled six internationally recognised academic research environments, each occupying a leading position in research into computational design in architecture and engineering, together with 14 pioneering industry innovation partners from architecture, engineering, design-software development and fabrication.
This is the unique synthesis that has formed the basis for the establishing of a shared training platform for 15 Early Stage Researchers.
The network creates a structured training programme focussed on the supervision of individual research projects, an intersectoral secondment programme, as well as collective research events, including workshop-seminars, colloquia and research courses. It provides a unique opportunity for young researchers to obtain new knowledge and skills, effectively positioning them by successfully combining strong innovative research practice with a critical industrial impact.
HENNarchitekten buildings, chonological:
12 Jun 2017
New Continental AG Headquarters in Hannover, north Germany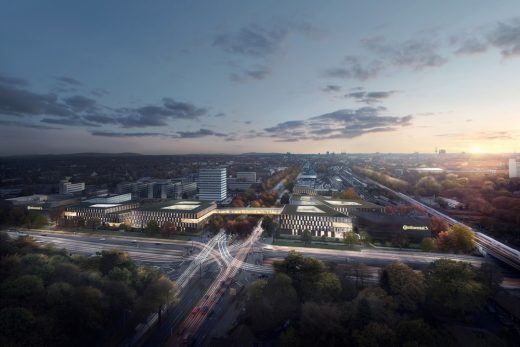 image courtesy of architecture office
New Continental AG Headquarters Building in Hannover by HENN
The new company headquarters of Continental consolidates all the facilities formerly spread across the city in one location, simultaneously marking the eastern approach to Hanover, the capital of Lower Saxony.
23 May 2017
Brunner Innovation Factory, Rheinau, southwestern Baden-Württemberg, Germany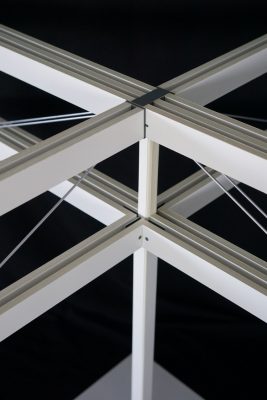 photograph © HENN / HGEsch
Brunner Innovation Factory Building
The innovation building as a hybrid of the most diverse programmes: development, design, prototyping and production encounter open office worlds, showrooms and a canteen.
4 Apr 2017
University Hospital RWTH Aachen Extension
Design: HENN + C.F. Møller Architects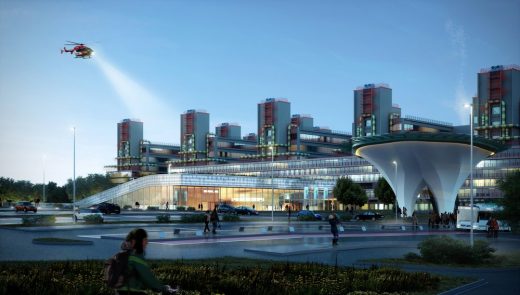 images from architects
University Hospital RWTH Aachen Extension
The hospital complex of RWTH Aachen will be expanded with a new building, containing a central surgery area, including intensive care units and a new public entrance hall.
31 Mar 2017
Research Centre ARENA2036, University of Stuttgart Research Campus, Vaihingen, Stuttgart, Germany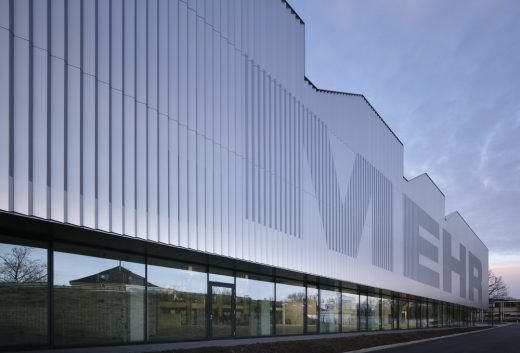 photograph © HENN / HGEsch
Research Centre ARENA2036 by HENN
How will the architecture of Industry 4.0 look? What role will people play in the factory of the future? ARENA2036, which will be handed over to its users on 30.03.2017 at the University of Stuttgart's research campus in Vaihingen, reveals the architecture of completely digitalised and networked production.
12 Oct 2016
Baubeginn Haikou Tower South Building, Hainan, South China
Design: HENN architects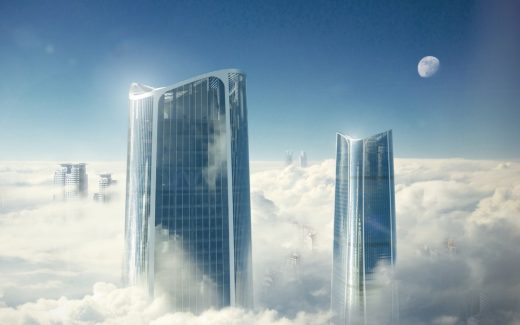 image © HENN
Baubeginn Haikou Tower South Building
15 Feb 2013
Porsche Pavilion, Wolfsburg, Germany
Design: Henn Architekten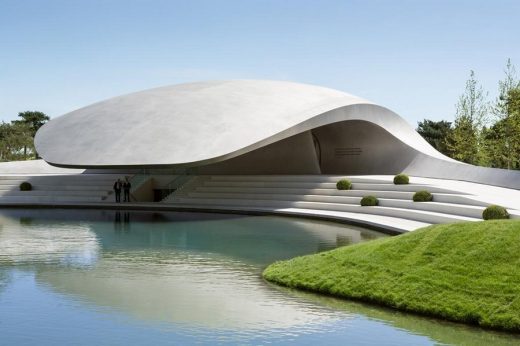 photograph : HG Esch
Porsche Pavilion in Wolfsburg
For the first time since its opening in 2000, the Autostadt in Wolfsburg received another building structure in the form of the new Porsche Pavilion. The organically shaped building is sitting at the central axis of the theme park and offers 400 m² of space for exhibitions and presentations.
HENN Architekten – Key Projects
Featured Buildings, alphabetical:
Aerospace Centre III, Wildau, Brandenburg, Germany
2009-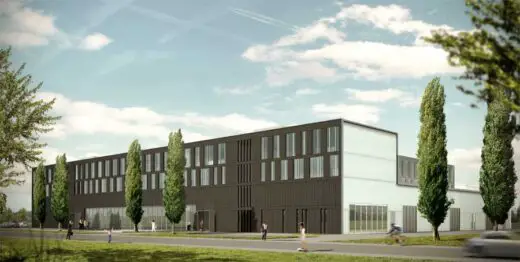 image from architects
Aerospace Centre Wildau
The Aerospace Centre III (ZLR III) in Wildau provides additional space for the numerous growing companies seeking premises in the area around the new Berlin-Brandenburg Airport and Wildau University of Applied Sciences
BMW Projekthaus – Research and Innovation Centre, Munich, Germany
2004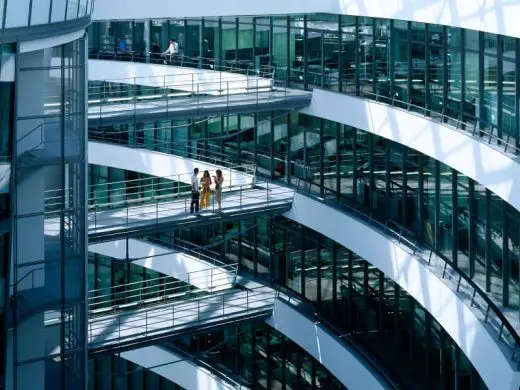 photo: H.G.Esch from Henn Architekten
BMW Projekthaus
The Project House in the Research and Innovation Centre of the BMW Group in Munich opens up a new way of cooperation in the product development process because of the special way its space has been organised.
Centre for Regenerative Therapies Dresden, Germany
2009-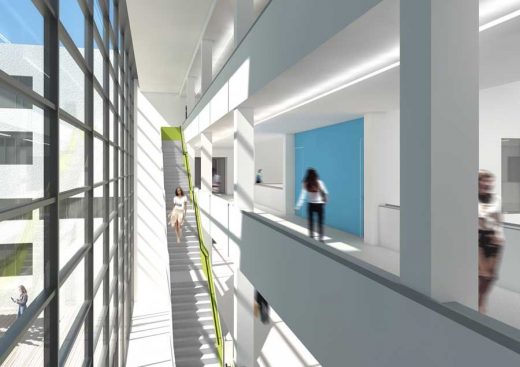 image from architects
Centre for Regenerative Therapies Dresden
Centre for Regenerative Therapies Dresden (CRTD) at the Technical University Dresden Interdisciplinary research and space for communication: the Centre for Regenerative Therapies Dresden carries out interdisciplinary research in the field of stem cell and regeneration.
Die Gläserne Manufaktur, Dresden, Germany
2001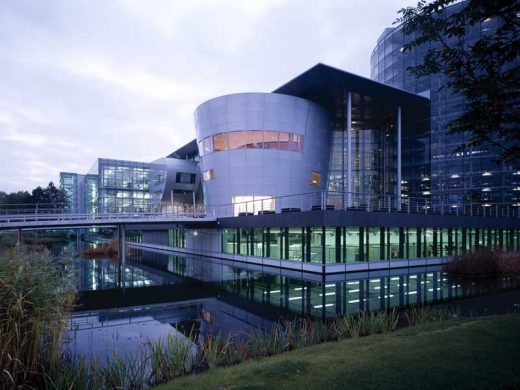 picture : H.G.Esch from Henn Architekten
Die Gläserne Manufaktur
Gläserne Manufaktur is a place of transparency and dialogue and makes the experience of automotive production visible to the outside.
Forschungszentrum Dresden – Rossendorf, Germany
2009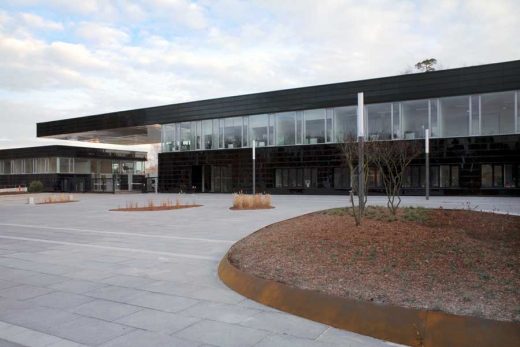 photo : Steffen Michael Gross
Forschungszentrum Dresden – Rossendorf
With its establishment in 1992 the Forschungszentrum Dresden – Rossendorf took over the task of developing a modern, internationally competitive research institution at this location. For this purpose steps had to be initiated to modernize buildings and infrastructure in order to run them on a commercially viable basis.
MobileLifeCampus, Wolfsburg, Germany
2006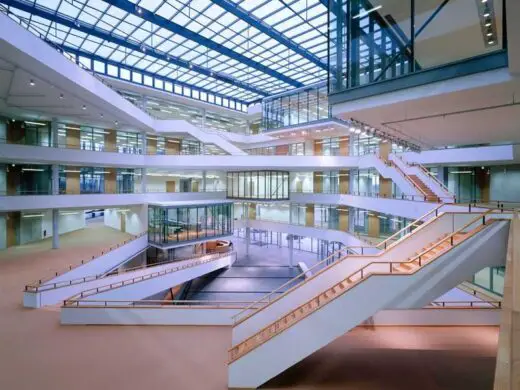 image : H.G.Esch from Henn Architekten
MobileLifeCampus
The central idea behind the design is an encircling, crossed over and apparently never-ending band. Cast in concrete, it picks out the tectonics of the buildings as a central theme.
MTU Aero Engines Polska, Poland
2009-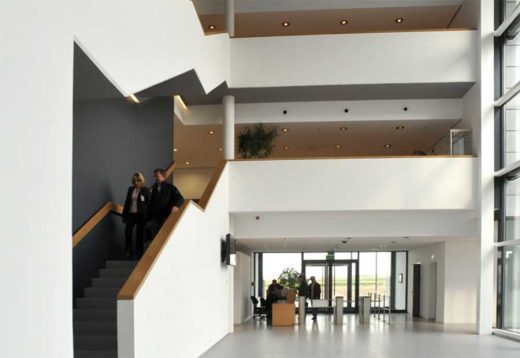 image from architects
MTU Aero Engines Polska
Unity with various functional sections: as a leading company in the field of engine systems, MTU Aero Engines opens up a new production and development location in the Polish town of Rzeszów.
University Hospital Essen – Medical Research Centre, Germany
2009-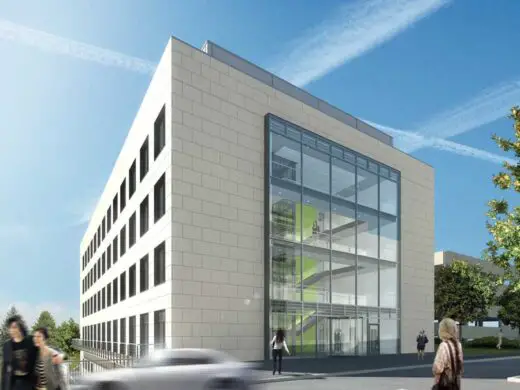 image from architects
University Hospital Essen
The provision of 3,750 m² usable and ancillary floor area will provide the medical and scientific staff the necessary space to carry out their research and teaching activities and to develop new procedures and methods in the field of pre-clinical medicine.
More projects by Henn Architekten online soon
Location: Munich, Germany, western Europe
Henn Architekten Practice Information
Architekturbüro Henn studio based in Munich, Bavaria, southern Germany
German Architect – contact details
Website: www.henn.com
Contemporary German Architectural Designs
Limbecker Platz – retail centre, Essen, Germany
2008



photo © webbaviation
Comments / photos for the Henn Architekten Architecture page welcome