Yangliuqing National Grand Canal Culture Park Master Competition, Chinese Architecture Contest, Tianjin Building
Yangliuqing National Grand Canal Culture Park Master Competition
15 June 2020
Yangliuqing National Grand Canal Culture Park Master Contest
Design: designer Kenya HARA with Liu Yichun ; architect Seung H-Sang
Location: Tianjin, China
Results of Yangliuqing National Grand Canal Culture Park Master Competition
Five Renowned Designers Compete in Re-envisioning the Future Development of Yuanbao Island.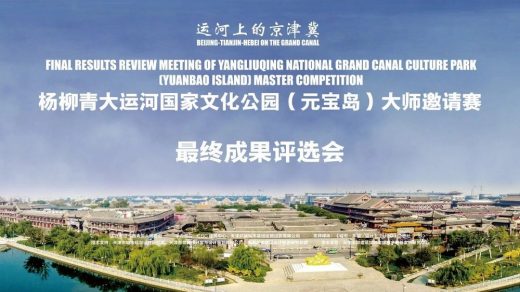 image ©️ CBC
Earlier this month, through careful deliberation between jury comprising of original organizers, Tianjin Xiqing District People's government and CBC (China Building Centre) as well as professionals in planning, architecture, tourist development and management, the finalists of the Tianjin's Yangliuqing National Grand Canal Culture Park Master Competition were awarded to the proposals "Time Light Delta" by joint team between Japanese designer Kenya HARA with Liu Yichun, Chinese architect, and "Y-HARP" (Yangliuqing Historic Area Regeneration Plan) by Korean architect Seung H-Sang.
As an important node on the Grand Canal, the future of Yangliuqing is supposed to be the engine of the overall development of the Western Tianjin. The competition is intended as a new way to kick-start urban planning motions with the competition as a brainstorming platform for future possibilities.
Project Background
In 2019, the development plan of "The Great Wall, The Grand Canal and The Long March National Culture Parks" were approved, to encourage the protection, consideration and adaptive reuse of the Grand Canal's cultural heritage. Yangliuqing Town, located along the Grand Canal, is a key nodal point for urban cultural development, well-known for its rich folk culture and art. It is most renowned for its Yangliuqing New Year Wood-block Prints, amongst the four major new year wood-block prints of China.
The "Beijing-Tianjin-Hebei on the Grand Canal – Yangliuqing National Grand Canal Cultural Park" Master Workshop and Master Competition were organized as an innovative approach to brainstorm and kick-start a new model for Cultural Parks throughout the nation. Tianjin University Professor, HUANG Jingtao was invited as the chief planner, while the director of CBC, PENG Lixiao was invited as chief curator.
The competition invited international master teams from various professions and a variety of cultures to envision a future of the revival of Yangliuqing, an ancient town with thousands of years of history. Cultural Center version 3.0 was to be implemented in Yuanbao Island, which will take planning, operation and design into practice at the same time, becoming a key driving force in the overall development of Yangliuqing, Xiqing district and even the urban development of Tianjin City itself.
Yangliuqing Town locates along the Grand Canal: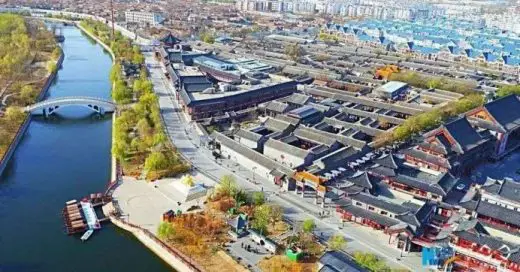 image ©️ NET
Based on the traditional culture of Yuanbao Island and Wenchang Pavilion, Master Competition invited five renowned international master joint teams to participate, including Kenya HARA with LIU Yichun Joint Team, Seung H-Sang Joint Team, Martha Schwartz Joint Team, XIE Xiaoying with QI Xin Joint Team and WANG Xiangrong Joint Team.
The master joint team is supported by specialists in landscape architecture + architecture + planning in a cross disciplinary collaboration, with comprehensive consideration for the spatial design, ecological construction and operational development of Yuanbao Island, to extend and explore the culture of the Grand Canal, and to create the National Grand Canal Culture Park with regional considerations, ultimately to create a carrier of cultural inheritance, a resort for cultural architecture, a platform for cultural exchange, a place for cultural consumption and a home for citizens to relax.
After six months of effort, five unique design proposals based on Yangliuqing's rich history, culture and economical character were presented.
MASTER JOINT TEAM AND PROPOSAL
Yangliuqing National Grand Canal Culture Park design by Kenya HARA X LIU Yichun
Kenya HARA X LIU Yichun Joint Team
'Creation of Precise Voids, Installation for Imagination'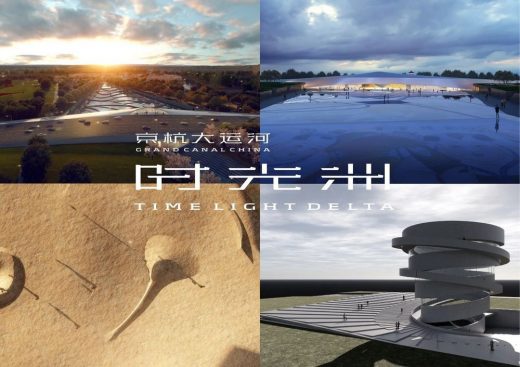 images ©️ Kenya HARA X LIU Yichun Joint Team
Japanese master designer Kenya HARA and Chinese renowned architect Liu Yichun collaborated on the proposal 'Time Light Delta'.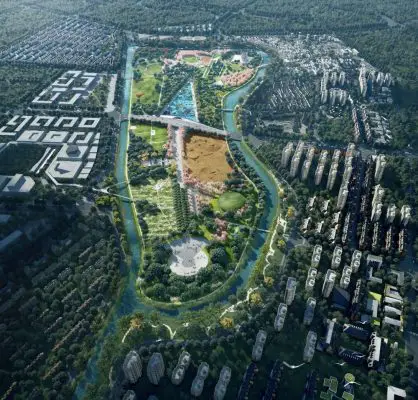 Through the fusion of nature and man-made structures, the proposal includes precise architecture that allows its visitors to experience traditional culture while creating memories for the future.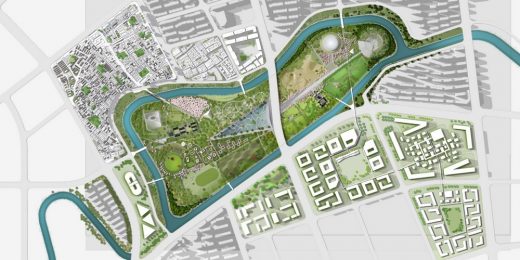 Based on the idea of 'Information Grand Canal', a series of devices catered to photo interactions will create both "destination" and encourage connections to "social media".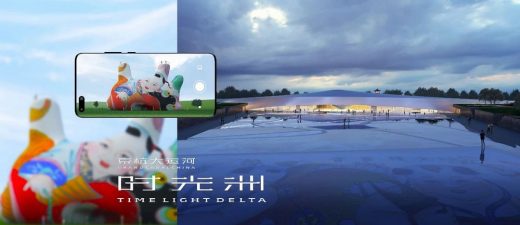 The landscape design integrates land art with Yangliuqing's cultural characteristics, transforms the entire island into a 'photo park' that encourages people to take a step closer to nature with the means of our current information age.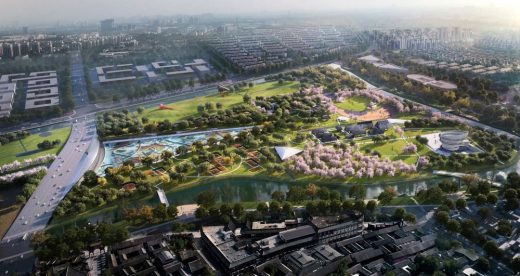 Yangliuqing National Grand Canal Culture Park design by Seung H-Sang
Seung H-Sang Joint Team
"Living Legacy"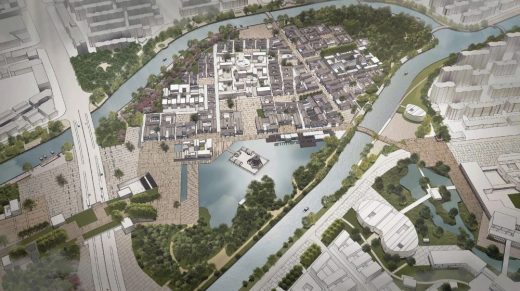 images ©️ KSeung H-Sang Joint Team
'Without Historical Remembrance There Would Be No Beauty. The Past, and with Its Cultural Landscape, Would Be Accorded Guiltlessly to A Liberated Humanity, Free Especially of Nationalism.'
——Theodor Adorno (1903-1969)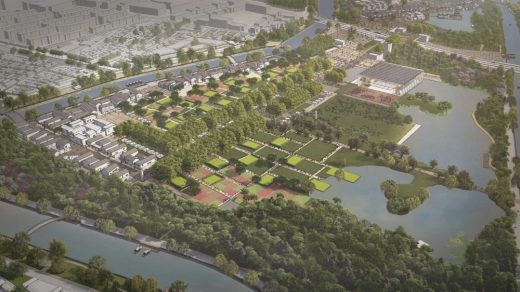 Y-HARP proposed by Seung H-Sang, Seoul Chief Architect, is the English abbreviation for "Yangliuqing Historical Area Regeneration Plan", also the name of a musical instrument.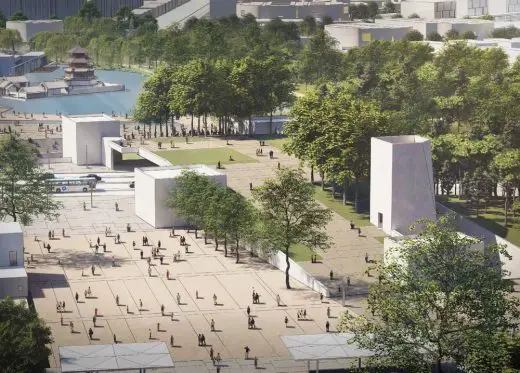 The core of the concept revolves around 'REGENERATION', based on historic photos of the site, new program is installed through an 'urban acupuncture' method, in order to rehabilitate, reorganize and redevelopment the area.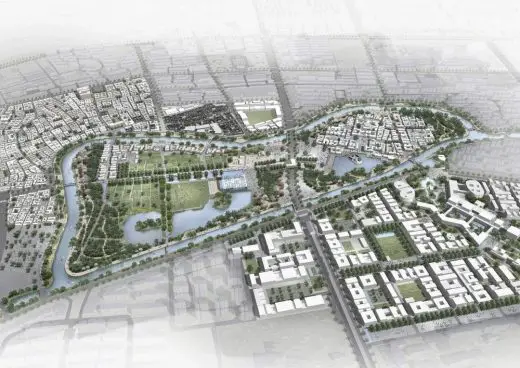 The proposed vision of this 'Living Legacy' contains harmonic beauty while instilling culture and tradition awareness to Yangliuqing.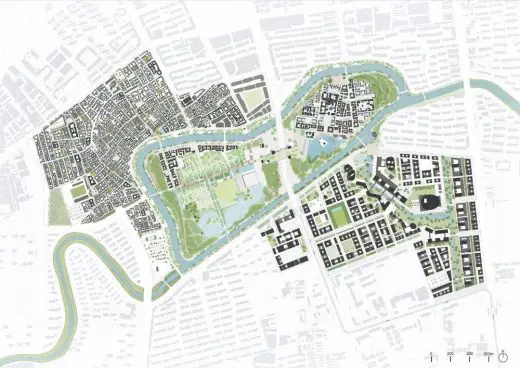 More Finalists:
Yangliuqing National Grand Canal Culture Park design by Martha Schwartz
Martha Schwartz Joint Team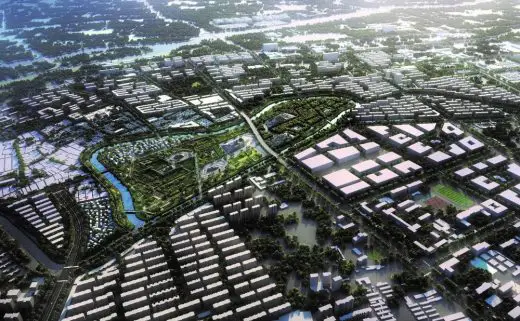 images ©️ Martha Schwartz Joint Team
Sustainable National Cultural Park That Can Cope with Climate Change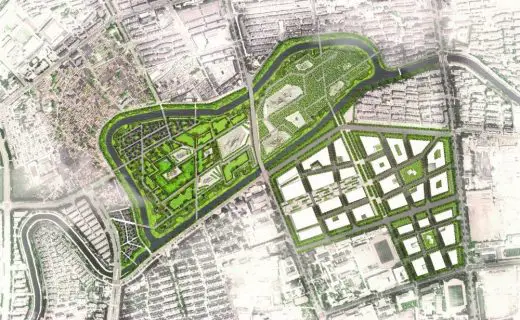 Renowned Landscape Architect Martha Schwartz proposed a park that may influence and improve the climate.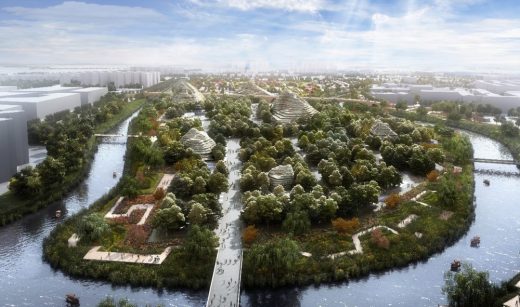 Inspired by traditional Chinese typologies 'village, farm, mountain and forest', these four elements were intersected with the activities of life and work, learn and play, culture, as well as sport and leisure.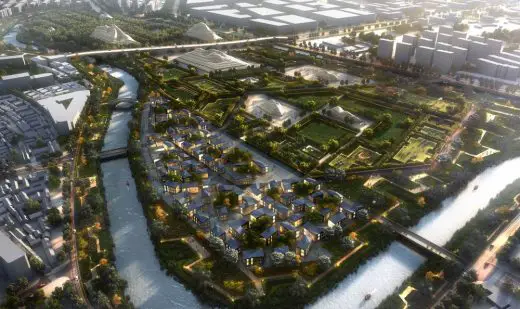 In light of climate changes world-wide, the proposal hopes for a sustainable national culture park that can cope and perchance help with these changes.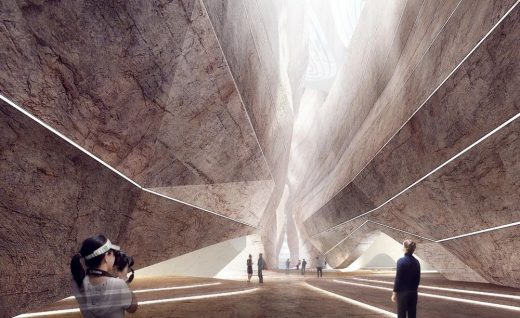 Yangliuqing National Grand Canal Culture Park design by XIE Xiaoying X QI Xin
XIE Xiaoying X QI Xin Joint Team
'Fortune'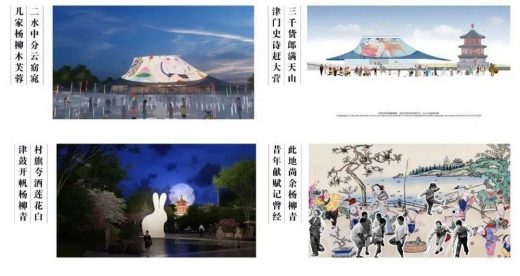 images ©️ XIE Xiaoying X QI Xin Joint Team
Landscape architect XIE Xiaoying joint forces with architect QI Xin formulated the proposal "Fortune".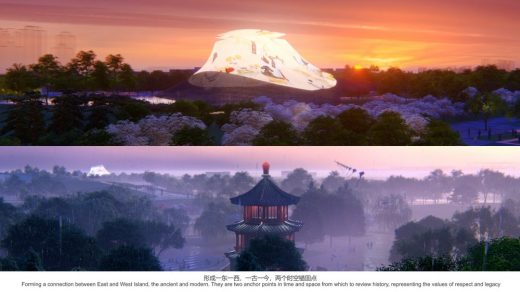 With the "source" as their driving force, they derived the concept of "fortune", fusing the ancient and the current; city and nature; culture; lifestyle.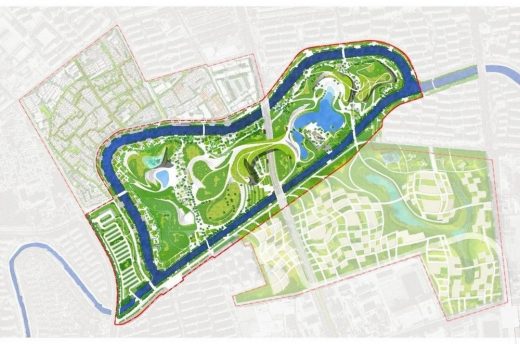 'Cloud Lifestyle Pavilion' on the West Island mirrors the Wenchang pavilion, echo of the ancient and modern, forming two anchor points in space and time.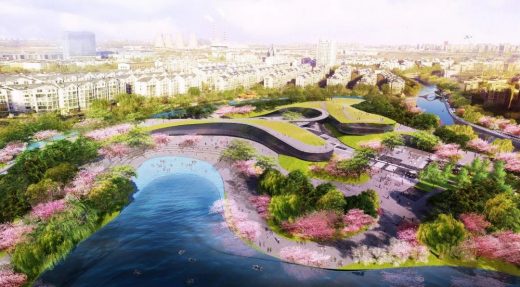 The proposal is dedicated on shaping the IP of Yangliuqing, creating a new cultural center in the west of Tianjin and introducing a new model for the future development of the Grand Canal National Culture Park.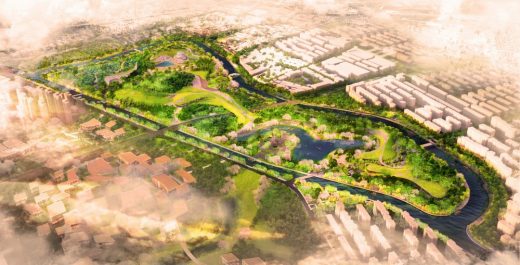 Yangliuqing National Grand Canal Culture Park design by Wang Xiangrong
Wang Xiangrong Joint Team
'Flowing History & Evolving Culture'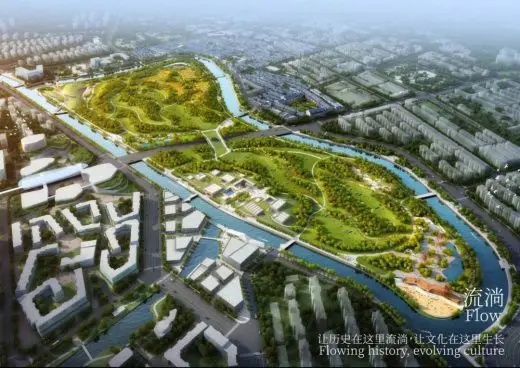 images ©️ Wang Xiangrong Joint Team
Dean of Beijing Forestry University Landscape Architecture Department, WANG Xiangrong, proposed 'Flowing History & Evolving Culture'.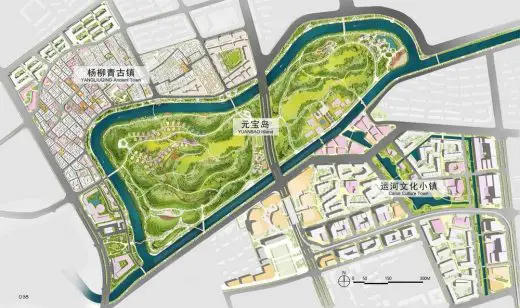 The concept has three main goals, 'inheritance of historical context, inclusion of contemporary life and reserve for future changes', and is carried forward by four methodologies, 'connect, integrate, revitalize and present'.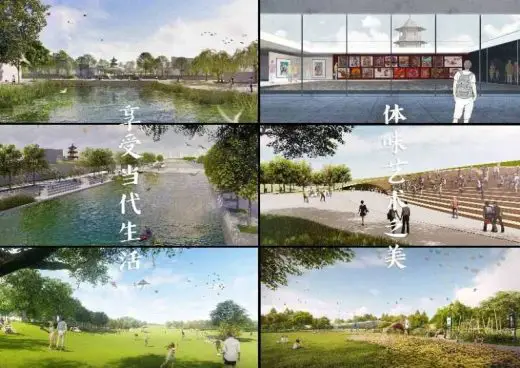 The proposal places focus especially on "culturally integrated zoning, fusion of development and nature, as well as incubation of new creative industries and cultural tourism".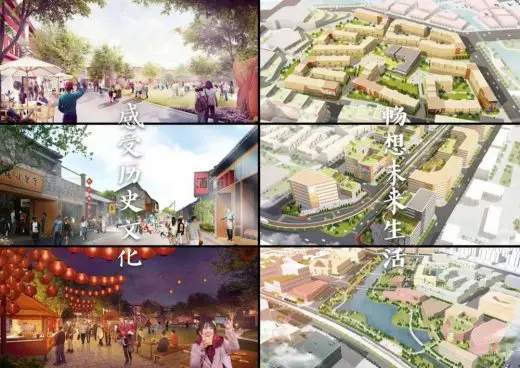 The proposal transforms the Yangliuqing Grand Canal National Cultural Park into a demonstration site for similar future developments.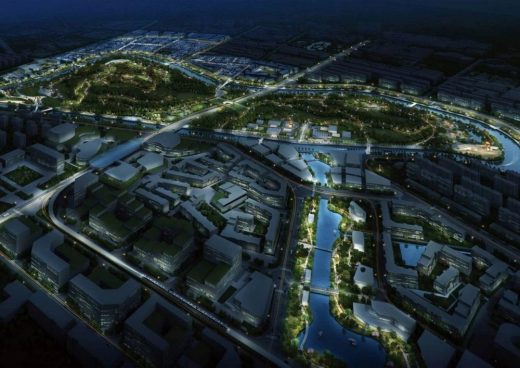 Yangliuqing National Grand Canal Culture Park Master Competition images / information received 150620
Location: Tianjin, China
Tianjin Architecture
Tianjin Architecture Designs
Four Seasons Hotel in Tianjin
Design: WATG, Architects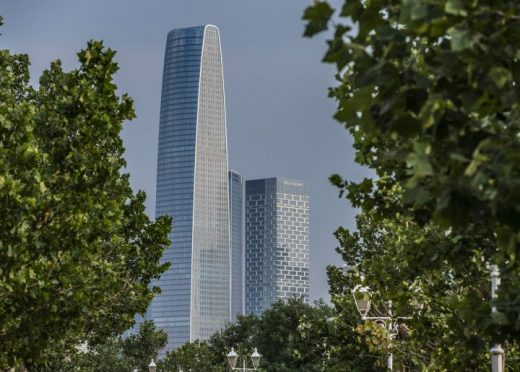 image courtesy of architects
Four Seasons Hotel in Tianjin
Riverside 66 Tianjin
Design: Kohn Pedersen Fox Associates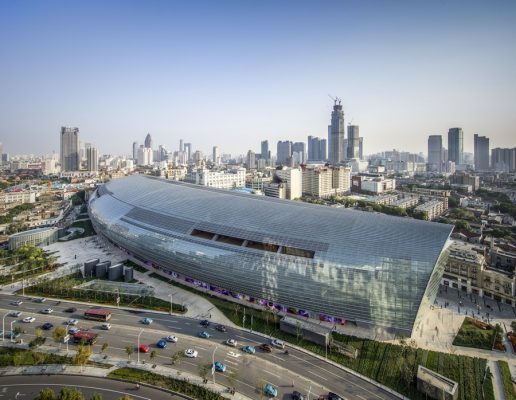 image courtesy of architects
Riverside 66 Tianjin Building
Tianjin National Convention and Exhibition Centre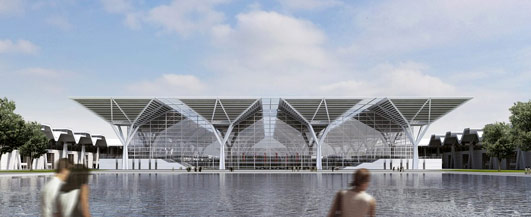 image from architects
Tianjin National Convention and Exhibition Centre
National Maritime Museum Tianjin Building
National Maritime Museum Tianjin design competition
Tianjin Binhai library facade
KDG group, INC
Tianjin Library Facade
Tianjin West Railway Station
von Gerkan, Marg and Partners Architects (gmp)
Tianjin West Railway Station
Tianjin R&F Guangdong Tower
Goettsch Partners
Tianjin R&F Guangdong Tower
Tianjin Xiqing District County Elementary School
Vector Architects
Tianjin Xiqing District County Elementary School
Vantone Center
AS+GG
Vantone Center
China Architecture
China Architecture Design – chronological list
Chinese Architecture Offices – Design Practice Listings
Comments / photos for the Yangliuqing National Grand Canal Culture Park Master Competition page welcome
Website: Tianjin