How to decorate a backyard: Interesting ideas, Building Design Tips, Online Advice
How to Decorate a Backyard: 8 Interesting Ideas
18 Apr 2021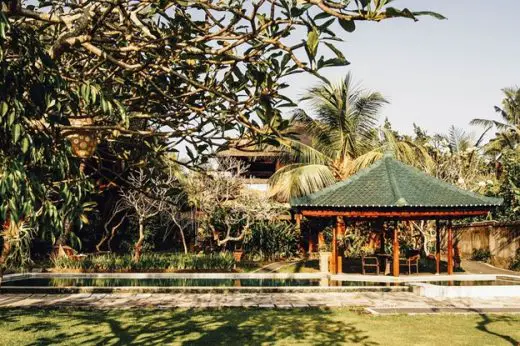 Owning a home with a backyard means you have a space that you can make your own with a bunch of different ideas. You can be as creative, functional or minimalistic as you want to be, considering all the ways you will utilize the space. If you are not sure where you want to start or need some inspiration, here are some interesting ideas to get your creativity going.
Creating A Dining Experience With Tables And Chairs
Your backyard is a great space to entertain, especially when the weather is perfect to do so. This means summer barbeques and parties. This translates to lots of food, and because of this, you ultimately want a space where you can host people to enjoy all the cuisine you have to offer. Ensure that you are set with dining space in terms of tables and chairs to allow everyone to enjoy their meals without feeling too cramped. Consider tables that expand if your family is larger or if you have plenty of friends to invite over. Or simply keep some extra chairs and tables handy to set up if the event calls for it.
String Lighting And Lanterns
Your backyard should be a place you can spend as much time as possible, and this means you should also consider lighting to allow you to spend some late nights in your yard. If you are looking for alternative lights that not only illuminate your yard space, Landscape Lighting Experts in Phoenix AZ provide ideas with a decorative flair and contribute to the visuals of your environment. There are plenty of hanging lights as well as ways to illuminate your yard and pathways. If you don't want to hang up string lights, you could also explore other alternative options like lanterns or even tiki torches. Your backyard provides you an opportunity to be creative, meaning you don't have to make traditional or boring choices, but explore fun options to keep your party going when the sun goes down.
Fire Pit
When the sun does go down, the weather gets a little bit colder. This is the perfect setting to have a fire pit, especially in spring or autumn weather. A fire pit lets you create a more intimate setting for people to gather around, share stories, and toast some marshmallows. There are a wide range of designs you can choose for your firepit as well, ranging in price and size depending on your budget and needs. You can permanently install a fire pit built from stone, or simply use one that is smaller or more portable, made from metal and easy to install. This will take your late summer night get-togethers to the next level.
Sofas And Couches
Most people will outfit their backyard with individual chairs, but one thing you should consider is more comfortable seating for your backyard. This design choice of alternative seating creates a more inviting environment that will make guests feel at home and relaxed. Having a sofa or couch where you can stretch your legs ensures that there is plenty of room for everyone. Furnish them with some pillows and cushions, and keep some blankets handy for when it gets a bit chilly or if you are looking to cozy up. Sofas are the perfect seating as well for custom made fire pits as well if you are looking for ways to combine your decorative ideas.
Flowers And Gardens
Flowers are the perfect aesthetic visual to incorporate in any backyard as the natural beauty fits in with the outdoor feel, but can also compliment any structures and designs you make. You can use a garden of any size or even simply have some pots or planters to bring that natural beauty to your environment if you don't quite have the room for a full fledged garden. Your flowers can provide a highlighted yet natural feel to the space, where it doesn't feel out of place even if you have a more modern look and feel to your backyard.
Hanging Plants And Vines
Speaking of lacking space, another way to incorporate plants in your yard in a more unique style is to hang them. Planters were mentioned as a way to include different plants and flowers to your backyard, but you can take those planters off the floor and elevate them. This allows you to save space while creating a certain aesthetic feel to your yard. If you want to remain more minimalistic or avoid flowers, vines and greenery is a great way to add a natural feel without feeling overly intrusive. Hang some vines or have them run down some ways or wooden slats to create a green and energized space for you to enjoy.
Water Fountain
If you are looking for ways to make your backyard feel natural but incorporate some beautiful design choices, fountains are a perfect design choice for many reasons. Water creates a serene feeling and makes your yard feel more in tune with nature, but you can always explore your creativity with large and uniquely designed pieces. This can create a serene feeling, perfect for exercise, yoga or meditation as well, making the most of your yard space and catering to those that enjoy some health and wellness features in their backyard.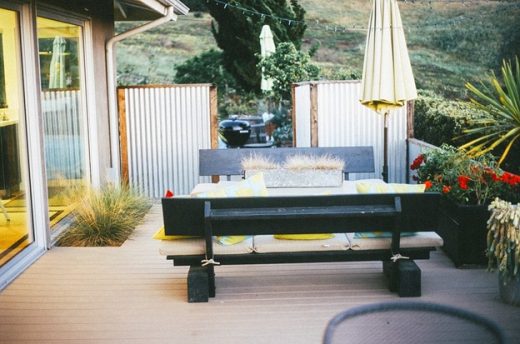 Gazebo Shade And Shelter
Having a backyard, you will often spend a lot of time relaxing or even eating in the company of friends and family. You want to create a gazebo or space where you can enjoy your time in a comfortable setting. A shelter in the form of a gazebo allows you to spend as much time outdoors as possible. During the summer and on many of the sunny days, you will be susceptible and vulnerable to the sun's rays and the heat. The right shelter will provide you the necessary shade to protect yourself. Additionally, if the weather suddenly changes and you find yourself in the rain, your shelter will allow you to still enjoy your backyard without worry.
How to Decorate a Backyard Ideas Summary
Designing a backyard should be a fun experience, keeping in mind all the gatherings you can host, or the idea of creating an oasis getaway to relax and heighten your spirit. No matter the purpose of your backyard space, there are an infinite amount of design choices to consider. Be sure to incorporate both function and flair to ensure you make the most of your backyard.
Comments on this How to Decorate a Backyard: Interesting Ideas article are welcome.
Backyards
Backyards Posts
Create a Relaxing Backyard Landscape Design
Build Your Own Backyard Garden From Scratch – Essential Tips
How to create a backyard oasis
Building
Residential Architecture Articles
Can buildings and rooms in England become spaces of art?
Comments / photos for the How to Decorate a Backyard: 8 Interesting Ideas page welcome