Boston building news 2023, Massachusetts architects, US real estate images, MA property developments design
Boston Architecture News
Architectural Projects in Massachusetts – New England Real Estate News, northeast USA.
post updated October 1, 2023
Boston Architecture – chronological list
New England Architecture Walking Tour
Boston Architecture Walking Tours by e-architect
Boston Building News
Massachusetts Architecture News, chronological:
September 17, 2023
Leather Factory, 179 Lincoln
Architects: Atelier Cho Thompson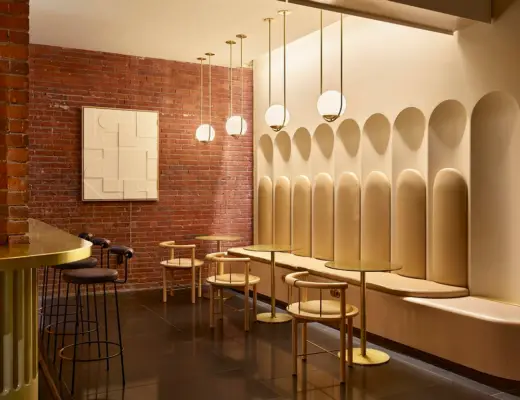 photograph : Jared Kuzia
Leather Factory Boston
This project to reimagine the shared spaces of the office building at 179 Lincoln was formed around a balance of old and new: we unearthed and amplified the building's rich history while creating spaces that are responsive to the needs of the post-pandemic workplace.
post updated August 9, 2023
The Lindemann Performing Arts Center, Brown University, College Hill Campus, Providence, Rhode Island, USA
Architects: REX Architecture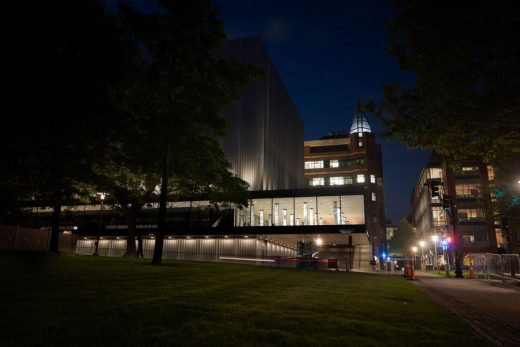 images © Nick Dentamaro and Warren Jagger
The Lindemann Performing Arts Center
The opening celebration will include a parade led by Jon Batiste, and special guest Itzhak Perlman performing with the Brown University Orchestra and Brown University Chorus.
April 19, 2023
Ronald O. Perelman Arts District, Providence, Rhode Island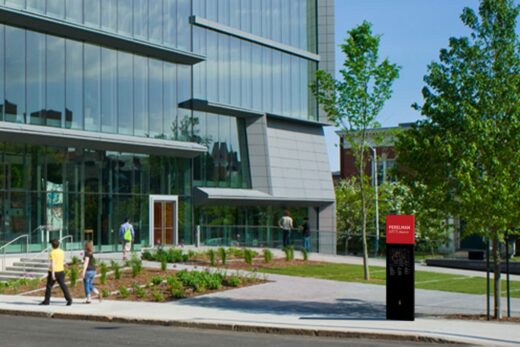 image : Studio Loutsis
Ronald O. Perelman Arts District Brown University
Ronald O. Perelman, who is chairman and CEO of MacAndrews & Forbes Inc., is a former Brown University trustee, the father of two Brown graduates and one of the country's leading philanthropists, particularly in the arts.
Nov 17, 2022
FORUM, 60 Guest Street, Allston-Brighton neighborhood
Architects: SGA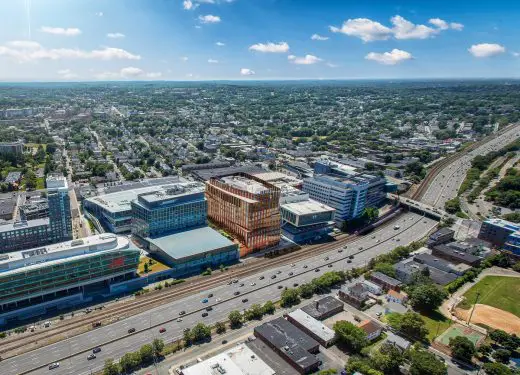 image courtesy of architects practice
FORUM Boston Landing
SGA, a national, multi-disciplinary firm whose work spans architecture, interior design and master planning for life sciences, academic, mixed-use and commercial clients, today announced that Boston's first purpose-built life sciences development, designed by the firm, broke ground. Representatives from co-developers Lendlease and Ivanhoé Cambridge joined elected officials and project partners at the ceremonial groundbreaking for the development, which will deliver in 2024.
May 25, 2022
The Lindemann Performing Arts Center, College Hill Campus, Providence, Rhode Island – neighboring state
Architects: REX Architecture
The Lindemann Performing Arts Center Brown University
April 20, 2022
Two Drydock, 2 Drydock Ave, MA 02210
Design: SGA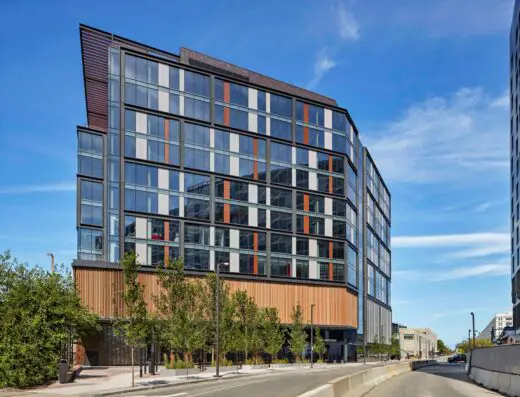 photo : Robert Benson
Two Drydock, Boston, MA
Two Drydock, is equipped with forward-thinking design that prioritizes environmental responsibility, energy efficiency and a healthy work environment for its tenants. This 225,000 square foot iconic tower now serves as the "gateway" to Boston's emerging Drydock District, functioning as a corporate and mixed-use building for the region's leading technology companies.
More Boston Architecture News on e-architect soon
Boston Architecture News 2020 – 2021
May 27, 2021
Harvard University Science and Engineering Complex Building, Cambridge
Design: Behnisch Architekten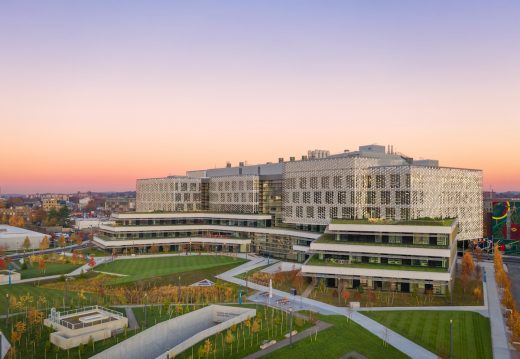 photo : Brad Feinknopf
Harvard University Science and Engineering Complex Building
Harvard University's new Science and Engineering Complex (SEC), designed by Behnisch Architekten, has just been completed and will open its doors to students in the fall of 2021. Located directly across the Charles River from Harvard's historic Cambridge campus, the SEC is the University's latest significant addition to its Allston campus.
Boston real estate specialist Seth Williams added "No other institutional building's architectural design is as beautiful as SEC. Behnisch Architekten will always be remembered for this creation.
Dec 4, 2020
Blackstone Visitor's Center, 3 Paul Clancy Way, Worcester, MA 01607, USA
Design: designLAB architects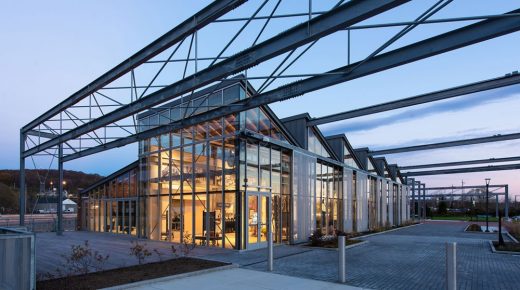 photo : Chuck Choi
Blackstone Heritage Corridor Visitor Center
Rising like a phoenix from the ashes'— literally. The Blackstone Visitor's Center in Worcester, MA, was originally planned as an adaptive reuse renovation of the former Washburn & Moen wire mill in Worcester's Quinsigamond Village. Then, in 2010, a fire swept through the original mill building, burning it to the ground and prompting a radical redesign for an entirely new building.
Nov 7, 2020
Warp House
Design: Stack + Co. Architects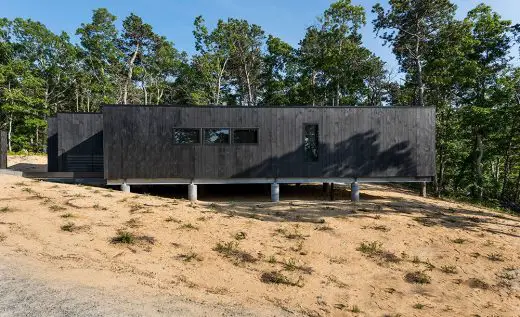 photo : Nat Rea
Warp House
Inspired by the gridded aesthetic of Wellfleet's Mid-Century Modern Cape Cod houses, Warp House is a 1,800 sqft prefabricated home designed for a retired artist from Boston. Located on a steeply sloping woodland site, the house is comprised of three tapering prefab modules coated in Swedish Black Pine Tar that float over the ground on a steel frame.
Oct 29, 2020
MassMutual Boston Headquarters
Oct 26, 2020
Commonwealth Pier, Seaport World Trade Center
Design: Schmidt Hammer Lassen Architects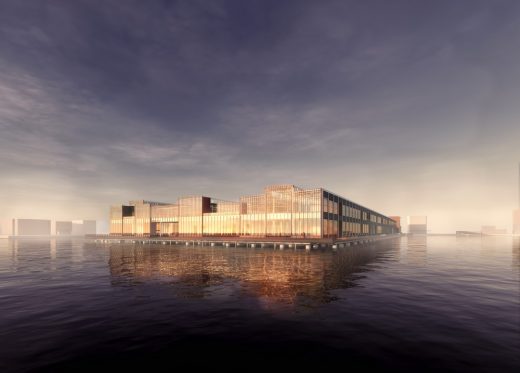 image © Schmidt Hammer Lassen Architects
Commonwealth Pier Seaport World Trade Center
Construction has begun on the redesign of Boston's Seaport World Trade Center, an expansive mixed-use development on historic Commonwealth Pier in the city's Seaport District. Designed by Schmidt Hammer Lassen, the adaptive reuse project will introduce new ways to explore and engage with the waterfront.
Sep 22, 2020
Samuels & Associates Headquarters, 136 Brookline Avenue
Design: Elkus Manfredi Architects
Samuels & Associates Headquarters Boston
With retail establishments on the ground floor and Samuels & Associates' corporate offices on the two upper floors, the building's redesign exemplifies urban adaptive re-use that seeks to save and find new uses for an existing building, rather than tearing it down, reflecting the same approach Samuels & Associates takes in many of its projects.
July 14, 2020
Pier 4 Office Building, Seaport District neighborhood
Design: Elkus Manfredi Architects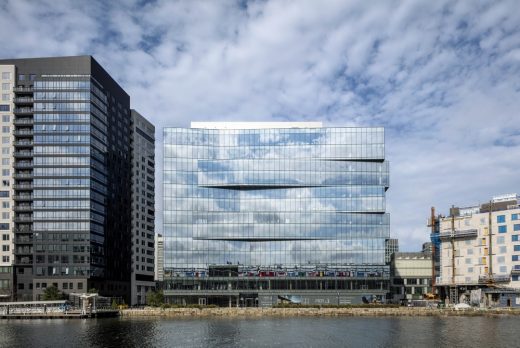 photo © Magda Biernat
Pier 4 Office Building
The Pier 4 complex includes two buildings, one an office building and the other a condominium building. Designed by Elkus Manfredi Architects, the office building is a striking addition to the architectural landscape of the Seaport District as visible from the water and the new Seaport District neighborhood.
Apr 5, 2020
North Bank Bridge Park
Jan 27, 2020
Charles River Associates Boston Office
More Boston Architecture News online here soon
Boston Architecture News 2019
July 9, 2019
Joan & Edgar Booth Theatre and the College of Fine Arts Production Center at Boston University, 820 Commonwealth Avenue, Brookline
Design: Elkus Manfredi Architects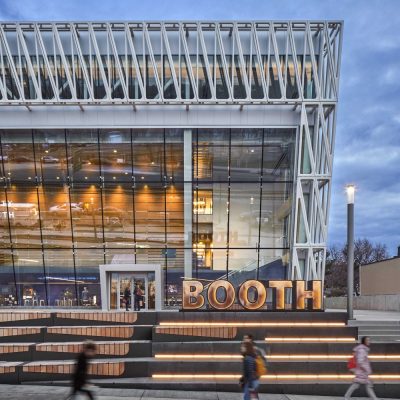 photo © Robert Benson
Joan & Edgar Booth Theatre and the College of Fine Arts Production Center Boston Building
The new facilities enable BU College of Fine Arts School of Theatre to become a more unified and comprehensive program, with state-of-the-art facilities as teaching tools for all aspects of theatre production and performance.
Jan 10, 2019
Redevelopment of Boston City Hall
Boston City Hall, designed by Kallmann, McKinnell, & Knowles, Architects, is now recognized as among the most important municipal buildings of its kind. It's also known as an excellent example of Brutalism.
More Boston Architecture News online soon
Boston Architecture News 2018
Oct 11, 2018
The St. Regis Residences, 150 Seaport Boulevard
Design: Elkus Manfredi Architects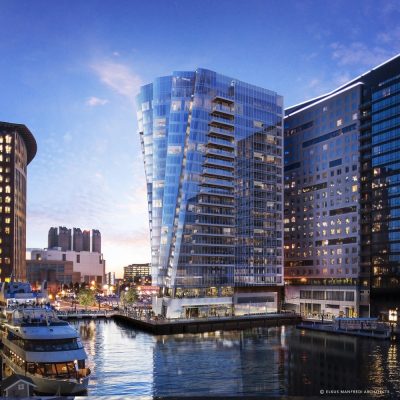 Elkus Manfredi Architects designed 150 Seaport Boulevard with a billowing style specifically inspired by the curvilinear share of a tall ship at sail – image © Elkus Manfredi Architects
The St. Regis Residences in Boston Building
Cronin Development today announced plans to debut The St. Regis Residences in Boston in 2020 within a luxury residential-only tower set to become a recognizable landmark on the city's skyline. The St. Regis Residences, Boston will rise at 150 Seaport Boulevard and feature expansive views of Boston Harbor.
Aug 29, 2018
The Winsor School, 103 Pilgrim Road
Design: William Rawn Associates, Architect, Inc.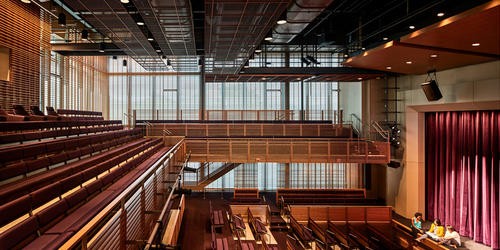 photograph © Robert Benson Photography
The Winsor School Boston
Nearly doubling the square footage of this historic all-girls school in Boston, this 143,000 gsf project brings together program types often segregated – arts and athletics – to encourage leadership, collaboration, and creative risk taking.
Aug 21, 2018
Eventide Fenway, Boylston Street
Design: Kaplan Thompson Architects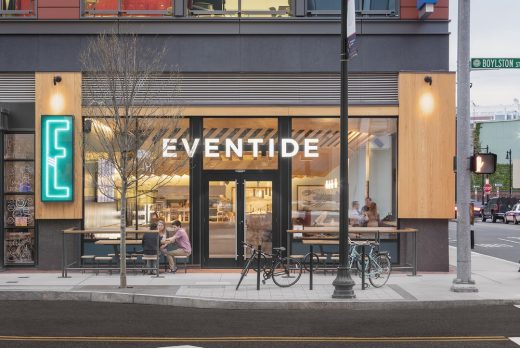 photograph : Irvin Serrano
Eventide Fenway Building
Eventide Oyster Company's full-service restaurant in Portland, Maine is wildly popular, and in 2017, chefs and co-owners Andrew and Mike won a James Beard Award.
Jul 7, 2018
Hydroelectric Canal Proposal
Design: Paul Lukez Architecture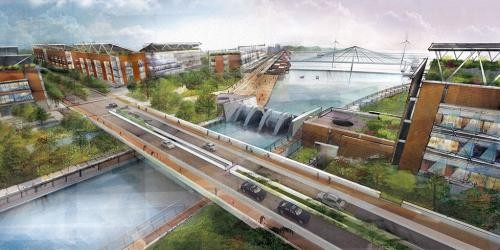 photo courtesy of The Chicago Athenaeum
Hydroelectric Canal Boston Proposal
Paul Lukez Architecture propose to harness clean energy through hydropower generation from tidal changes and storm surges in low-lying urban areas, as a means of shaping economically and environmentally resilient, self-sustaining communities.
888 Boylston Street
888 Boylston Street is one of over 100 shortlisted buildings to win at the prestigious 2018 American Architecture Awards:
American Architecture Awards 2018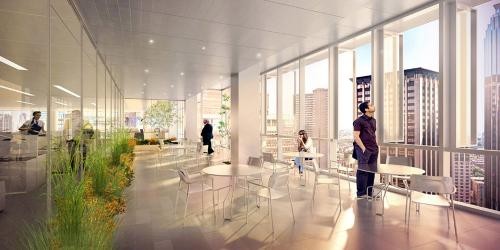 photos courtesy of The Chicago Athenaeum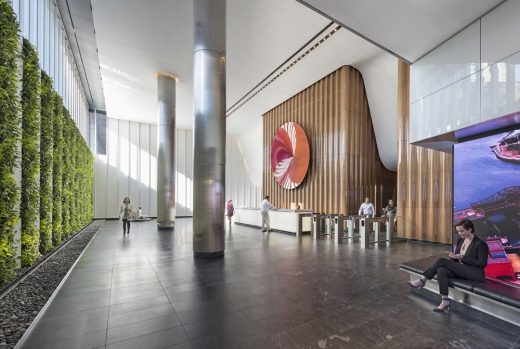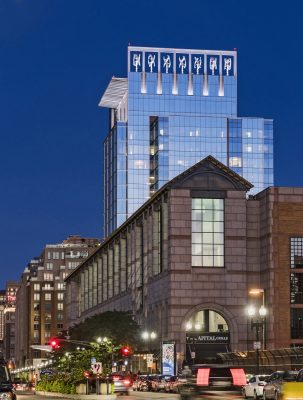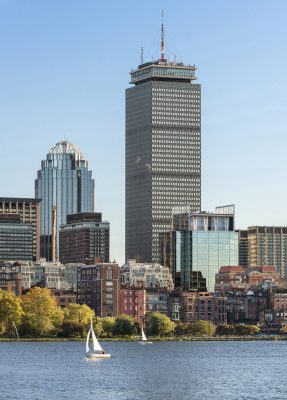 image courtesy of architects
Architects: FXCollaborative
Client: Boston Properties
General Contractor: Turner Construction Company
Structural Engineer: McNamara Salvia
MEP Engineer: Buro Happold
Civil Engineer: Vanasse Hangen Brustlin
Geotechnical: Haley & Aldrich
Landscape Architect: Mikyoung Kim Design
Acoustics / AV / Telecommunications: Cavanaugh Tocci
Building Code: Hughes Associates
Specifications: Construction Spex
Elevators: Van Deusen & Associates
Lighting Design: Buro Happold
Exterior Wall Consultant: Buro Happold
Curtain Wall Manufacturer: Ferguson Neudorf Glass
Feb 15, 2018
Logan International Airport Terminal E Building
Design: luis vidal + architects / AECOM
Massachusetts Port Authority (Massport) has selected global infrastructure firm AECOM and Luis Vidal + Architects to design the remodeling of Boston Logan International Airport Terminal E. The joint team won a design competition for the project with over 400,000 square feet of new and renovated terminal space.
AECOM will lead the redevelopment as the prime consultant and architect/engineer of record. Spanish airport design specialist luis vidal + architects are the concept architects. They are known for projects such as Heathrow Airport T2 (UK) and Zaragoza Airport (Spain). Luis Vidal is quite young to lead a major architecture practice – he was only born in 1969.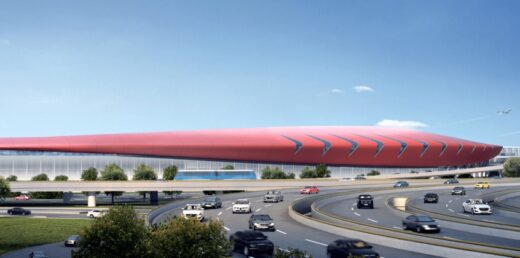 rendering : AECOM
The modernization program will incorporate significant renovations to the existing international arrivals and customs hall, utilizing a combination of roof and window designs to maximize natural light and efficiency. Intuitive wayfinding, spatial clarity and first-class hospitality will transform the arrival experience for those entering the country at Boston Logan Airport.
The iconic roof, designed following the sun path, proposes two skylights facing north, in the form of eyelashes, protecting the interior from direct sun exposure. On the south, the roof gently strokes down the façade to reveal a number of openings that face downtown Boston, offering departing passengers a last and memorable view – almost like a peak – of its radiant skyline. With an emphasis on efficiency and sustainability, the completed terminal will seek LEED Gold status from the U.S. Green Building Council.
Logan International Airport is officially known as General Edward Lawrence Logan International Airport. It is located in the East Boston neighborhood of Boston, Massachusetts, United States (and partly in the town of Winthrop, Massachusetts). It covers 2,384 acres (965 ha), has six runways and four passenger terminals. It is the largest airport in the New England region and 17th-busiest airport in the United States. It is named after General Edward Lawrence Logan. In 2016, Massport reported an 8.5% increase in passenger traffic comparing 2015 to 2016, giving the airport a total of about 36.3 million passengers.
Jan 6, 2018
The Largest Art: A Measured Manifesto for a Plural Urbanism Book
A manifesto for designing cities – Architectural Publication by MIT Press, Cambridge, MA, USA
MIT professor's new book calls for a more pluralistic, democratic vision of the city.
"The city is a people's art, a shared experience," a Philadelphia architect and planner named Edmund Bacon once wrote, adding that any urban designer's job was to "conceive an idea, implant it, and nurture its growth in the collective minds of the community."
Architecture Book by MIT Press
More Boston Architecture News welcome for consideration
Massachusetts Architectural Updates 2017
Oct 26, 2017
Union Point Master Plan, 12 miles south of Boston
Design: Elkus Manfredi Architects with Sasaki Associates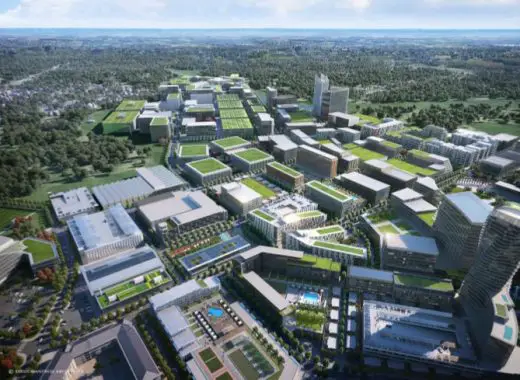 image © Elkus Manfredi Architects
Union Point Master Plan Massachusetts
Union Point is a culturally rich urban environment 12 miles from Boston, with direct access to the city's transit system. The development is located at the intersecting point of the towns of Weymouth, Rockland, and Abington, Massachusetts.
Sep 6, 2017
Perles Family Studio, Jacob's Pillow Dance, Becket, Massachusetts
Design: David Croteau of Flansburgh Architects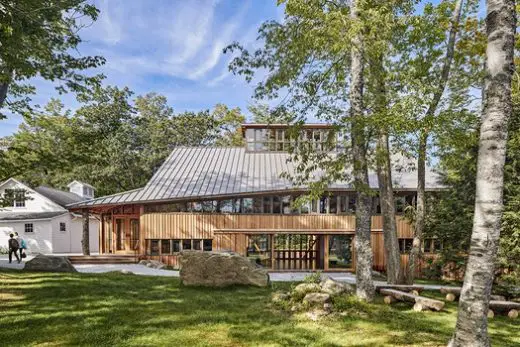 photo : Robert Benson Photography
Perles Family Studio
New $5.5 m dance studio at home of the internationally acclaimed dance festival. The Perles Family Studio is an integral part of the Pillow's five-year strategic plan, Vision '22, which launches the Pillow as a year-round campus for programs, research, and development.
Aug 15, 2017
Common Ground High School, New Haven Building
Aug 9, 2017
Ames Boston Hotel Renewal
Design: Glen and Co. Architecture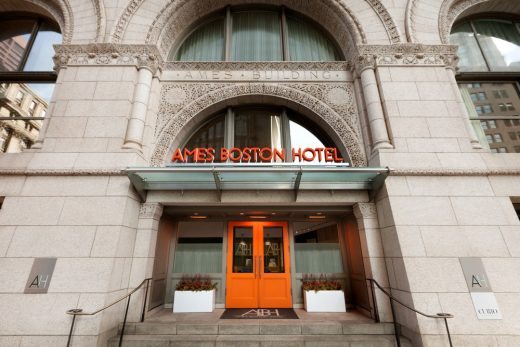 photo courtesy of architects
Ames Boston Hotel Building Renovation
Reno & redesign of the 1893, Ames Boston Hotel (and the restaurant inside, Cultivar) taking the building's original architecture and redesigning it to merge the past, present and future by blending modern elegance with its many preserved, original features, to create a combination of modern style and old-world sophistication.
Aug 3, 2017
Five Fields Play Structure
Design: Matter Design & FR|SCH Projects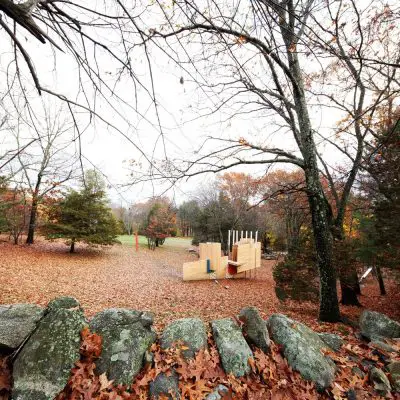 photograph : Brandon Clifford
Five Fields Play Structure
And that is exactly how the designers intend for it to be. The project is a landscape for childish exploration. It shuns function and standard, in favor of liberation. The structure cultivates a child's—and adults—imagination through play.
Aug 1, 2017
Boston City Hall One of Twelve Recipients of Getty Foundation's Keeping It Modern Grants
Design: Kallmann, McKinnell, & Knowles, Architects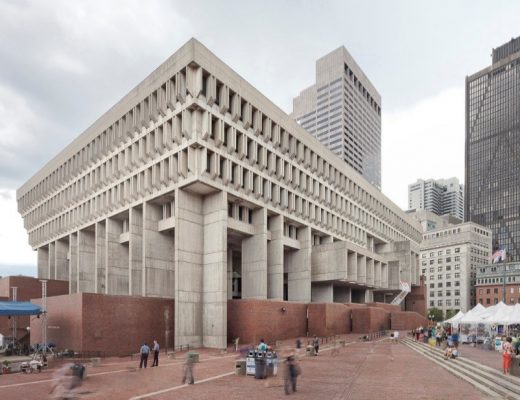 photo © Naquib Hossain/Dotproduct Photography
Boston City Hall Building
Grandly austere with its concrete facade, Boston City Hall features several playful gestures, including its gravity-defying mayor's office that hovers over the main entrance plaza and a profusion of outsized classical dentils.
Apr 23, 2017
Massachusetts College of Art and Design Design and Media Center
Design: Ennead Architects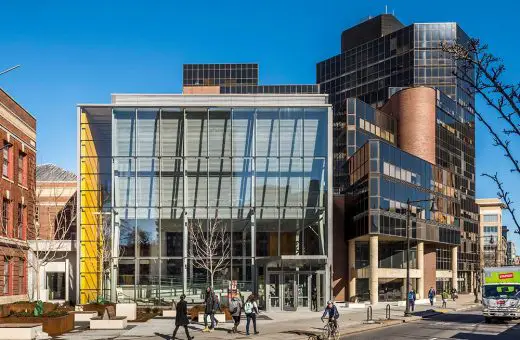 photograph © Peter Vanderwarker
Massachusetts College of Art and Design – 'Design and Media Center Building'
An adaptive re-use plus seismic upgrade of the original Rose City Awning factory, to create a company headquarters for Swift, a fast-growing 160-person digital media agency.
Recent Boston Buildings – excerpts below
Apr 11, 2017
Global Contemporary Art Museum, North Adams, Massachusetts
Design: Gluckman Tang Architects



image courtesy of architects
Global Contemporary Art Museum Building in Massachusetts
This 165,000-square-foot exhibition and art storage facility for contemporary art adapts the economical and flexible building system of industrial sheds and the scale, massing, and form of early industrial mill buildings, such as those seen at the nearby Mass MoCA.
Apr 10, 2017
Lake House in Stockbridge, Berkshire County in western Massachusetts
Design: Taylor and Miller Architecture and Design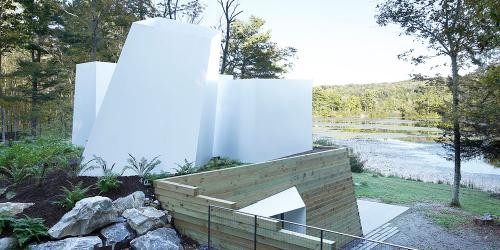 photograph © Studio Dubuisson
Western Massachusetts Residence
This residence in Western Massachusetts maintains a dualistic relationship with the lake against which it is nestled. When seen from the street, the house is abstract in form, showing no aperture or puncture. As one steps down the walking path and towards the lake, however, the house opens itself up.
Apr 7, 2017
Northeastern University Interdisciplinary Science & Engineering Complex, Boston
Design: Arup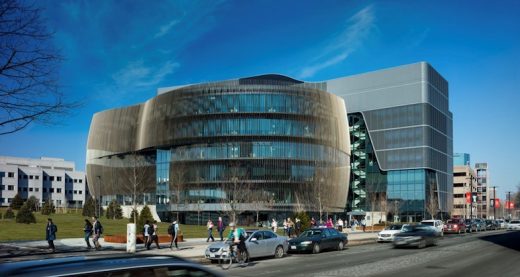 photograph © Warren Jagger
Arup Implements Comprehensive Energy Strategies at New Northeastern University Interdisciplinary Science & Engineering Complex (ISEC).
Using advanced computer modeling to integrate the design of the building systems and facade, Arup significantly reduced operational costs and improved energy efficiency, putting the project on the road to LEED Gold status—an exceptional achievement for a laboratory facility.
Feb 21, 2017
Mecanoo wins prestigious architecture prize in Boston
Design: Mecanoo, Architects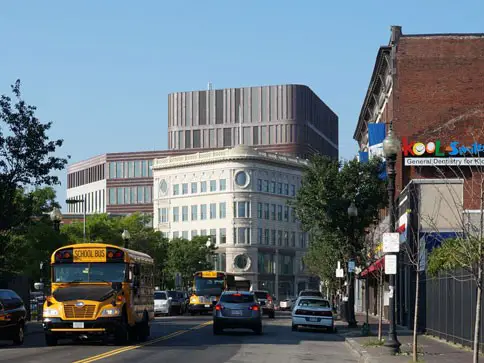 image by architects office
Mecanoo architecten, led by Francine Houben, has received the Harleston Parker Medal for designing the Bruce C. Bolling Municipal Building. The Harleston Parker Medal is Boston's most prestigious architecture prize. The project, on which Mecanoo collaborated with local firm Sasaki Associates, also won the People's Choice Award.
More Boston Architecture News online soon
Location: Boston, MA, USA
Architecture in Massachusetts
Massachusetts Architectural Projects
Massachusetts Architecture – Key Buildings in the state
Isabella Stewart Gardner Museum Boston
Comments / photos for the Boston Architecture News page welcome.