Lindemann Performing Arts Center Brown University, College Hill Campus Providence, Rhode Island building design news
The Lindemann Performing Arts Center for Brown University
University Building, College Hill Campus, RI design by REX, architects, USA
post updated August 9 + 8, 2023
Architects: REX Architecture
Brown University To Celebrate The Opening Of The Lindemann Performing Arts Center On October 21
Location: College Hill Campus, Providence, Rhode Island, USA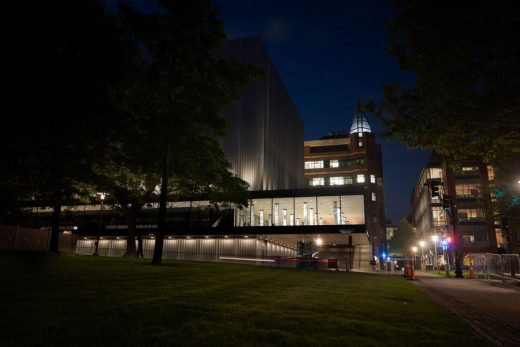 Images © Nick Dentamaro and Warren Jagger
The Lindemann Performing Arts Centre To Open On October 21
The opening celebration will include a parade led by Jon Batiste, and special guest Itzhak Perlman performing with the Brown University Orchestra and Brown University Chorus.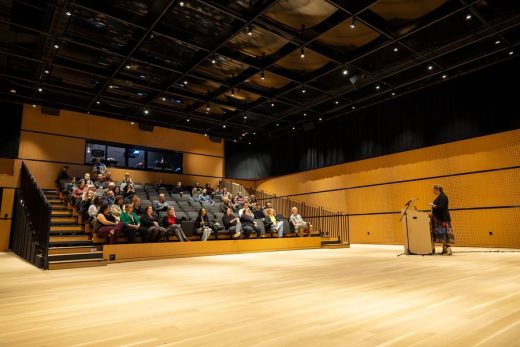 The REX-designed, 101,000-square-foot facility will open to the public as a radically flexible new center for performance and artistic experimentation
Providence, R.I., August 2, 2023 — Brown University will celebrate the opening of The Lindemann Performing Arts Center on Saturday, October 21, 2023, with a full day of special programs led by Brown Arts Institute (BAI), a university-wide arts research enterprise that serves as a campus resource and catalyst for the arts at Brown. The Lindemann Performing Arts Center and Brown Arts Institute are both part of the Perelman Arts district. The day of celebration will welcome the campus community and the public to experience the University's new creative hub, curated by BAI and designed by REX/Joshua Ramus. Featuring a parade led by musician, composer, and bandleader Jon Batiste, arts conversations, building tours, pop-up performances, food trucks, and more, the community-wide gathering will mark the launch of a transformative new chapter for the arts at Brown, with the building poised to enable new forms of artmaking and catalyze new opportunities for creative exploration, innovation, and collaboration across disciplines.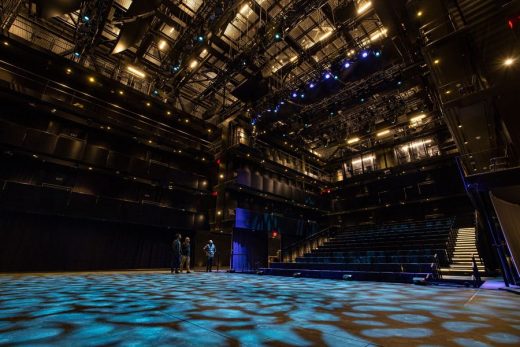 "This truly amazing building promises to inspire innovation and experimentation in ways we can't even yet imagine," said University President Christina H. Paxson. "We're delighted to celebrate The Lindemann with our own campus and the greater community for events that will offer an exciting glimpse at how brilliant performers, artists and scholars will engage with this one-of-a-kind facility to push creative boundaries for generations to come."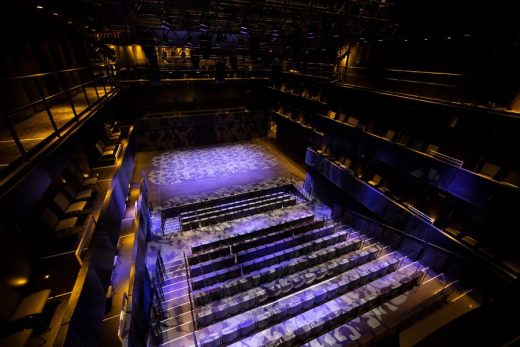 Festivities will kick off at noon with a parade celebrating the research, teaching and art-making that happens in Brown's Perelman Arts District, culminating in a joyful "Love Riot" led by Batiste, where the public is invited to take part in a procession to The Lindemann from the College Green. The afternoon's programs will include guided tours of the building and conversations about the future of the arts with esteemed Brown faculty and alumni. The building's exterior gathering places will provide space for community members to congregate in celebration and conversation, with food trucks available along Olive Street, adjacent to the new center. The day's events will close with the inaugural public performance in The Lindemann's main hall by the Brown University Orchestra and the Brown University Chorus, featuring renowned violinist Itzhak Perlman as a special guest artist, and the world premiere of a newly commissioned work by Associate Professor Eric Nathan (composer, Music) and Assistant Professor Sawako Nakayasu (poet, Literary Arts). Itzhak Perlman appears courtesy of Primo Artists.
"A moment that has been years in the making, the opening of The Lindemann Performing Arts Center will unlock new realms of possibility for performance and artistic innovation, further expanding Brown's role as a leading center for creative inquiry," said Avery Willis Hoffman, Artistic Director of Brown Arts Institute. "We welcome the community with open arms—and doors—to explore this exciting space and all that it has to offer as a crossroads and catalyst for creative exchange."
The 101,000-square-foot facility takes a radical approach to spatial, acoustic, and technical flexibility, with a main hall that can transform into five dramatically different configurations as well as an array of state- of-the-art spaces for classes, rehearsals, and large- and small-scale performances. The Lindemann will serve as a new hub for artistic expression, research, and experimentation at Brown, acting as a critical resource for the campus community and providing opportunities for visiting artists and scholars to develop new work in residence, collaborate with Brown students and faculty, and present year-round programming for the Providence community.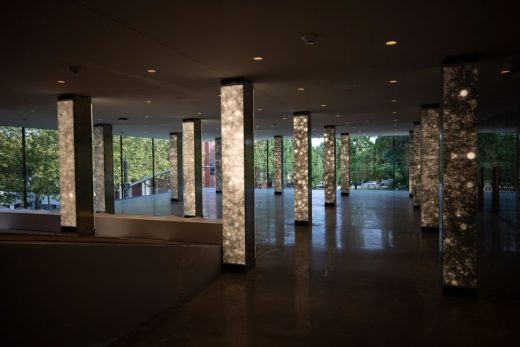 "The campus arts scene has this unique spirit of interdisciplinary collaboration," said Thomas Gotsch, incoming student vice president of the Brown University Orchestra. "All the time, you see dancers collaborating with theater directors, visual artists working with audio engineers, music composers creating with choreographers. From its flexible high-tech spaces to its central campus location, The Lindemann has the potential to foster that spirit of collaboration even more, and I'm really looking forward to experiencing the art that emerges after it opens."
A full schedule for the opening celebrations will be shared in the coming months, with limited public tickets for the orchestra concert available in October.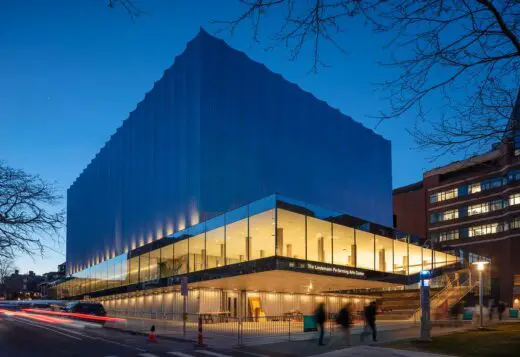 The events on October 21 will launch IGNITE, a series curated by BAI featuring interdisciplinary, collaborative, impactful projects centered around the possibilities of art as a vehicle for societal change. The inaugural series, launching in fall 2023 and running through fall 2024, is anchored by six large-scale imaginings and collaborative residencies: Carrie Mae Weems (fall 2023); William Kentridgeand The Centre for the Less Good Idea (spring 2024); Tanya Tagaq (spring 2024); Chachi Carvalho (summer 2024); Kym Moore, Professor of Theatre Arts and Performance Studies at Brown (fall 2024); and Caridad "La Bruja" de la Luz (fall 2024). IGNITE will also feature work proposed and produced by the arts departments at Brown; Open Call projects by students, faculty, alumni, and Providence based artists; and BAI collaborations with other Brown units, including the Data Science Institute, Brown University School of Public Health, and Carney Institute for Brain Science.
For more information on The Lindemann Performing Arts Center at Brown University, please visit arts.brown.edu/spaces/lindemann.
Previously on e-architect:
Lindemann Performing Arts Center at Brown University
Brown names The Lindemann Performing Arts Center
The name for the center, set to open in 2023, honors Brown Corporation member Frayda Lindemann and her late husband, George Lindemann Sr., a longtime University supporter, business executive and art collector.
PROVIDENCE, R.I. (Brown University) — Brown University will name its new state-of-the-art performance venue The Lindemann Performing Arts Center.
The center's name recognizes a generous gift from Frayda B. Lindemann — a Brown University trustee, proud Brown parent and grandparent, and president and CEO of the board of directors at the Metropolitan Opera in New York — alongside her late husband, George Lindemann Sr., a longtime University benefactor, business executive and art collector who died in 2018.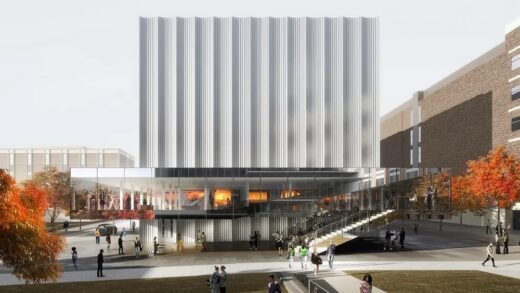 The Lindemann Performing Arts Center, slated to open in the heart of Brown's campus in fall 2023, will build on the University's reputation as a premier destination for cutting-edge scholarship and performance in many artistic disciplines, including music, theater, dance, literary art, visual art and multiple kinds of experimental collaborations.
The Lindemanns are providing crucial support for the construction and operation of the unique, flexible space, which features a state-of-the-art main hall that can transform into five different configurations for a variety of performances and presentations; a suite of modern studios custom-designed for theater, music, dance and other artistic explorations; and a transparent "slice" of windows through the main level that invites the Brown and Providence communities to witness and engage in the artmaking process.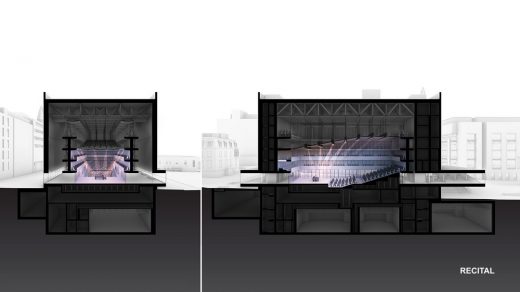 The center's name was unveiled on Tuesday, May 24, during a small celebration with University leaders, faculty and staff from the Brown Arts Institute, and members of the Lindemann family. The building's name is visible to passersby in Providence, etched into the façade of the building where construction continues on Angell Street, adjacent to the Granoff Center for the Creative Arts.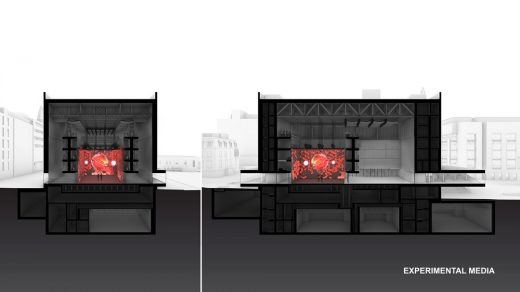 According to University President Christina H. Paxson, with the opening of The Lindemann Performing Arts Center on the horizon, Brown is positioned to become a top destination for world-class arts scholars, students committed to the arts, international artists and regional community members who will be invited to make, present and witness work in the new center. The center's placement next to the Granoff Center creates a strong hub on campus for creativity, expression, experimentation and discovery.
"We see a future where Brown is the primary destination for students who want to fully integrate the arts into a complete education, and The Lindemann Performing Arts Center is an important part of that vision," Paxson said. "By supporting artistic scholarship and innovation in this truly one-of-a-kind space, Frayda Lindemann is helping the University create a distinctive home for generations of talented students, faculty, community members and visiting artists."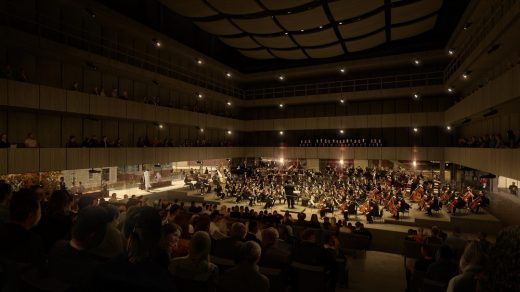 Mrs. Lindemann said that before her husband died, he was looking forward to supporting the Performing Arts Center project, which will expand Brown's ability to create and stage new and existing works, combine art forms and welcome world-renowned faculty and artists to learn from and inspire students across disparate fields of study. She said that she and Paxson share a belief that the arts play a critical role — not only in higher education settings but also in communities everywhere.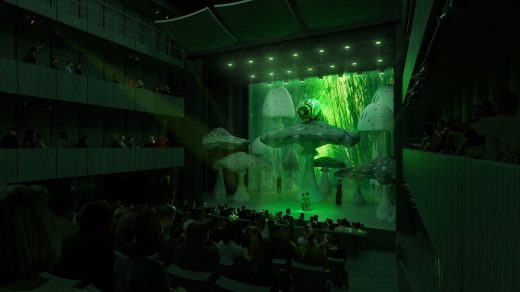 "The arts are what make us human and separate us from other species," Mrs. Lindemann said. "Science, technology and medicine are crucially important to furthering innovation and saving lives, it's true — but music, fine art, dance and theater are equally important, because they help us remember our humanity."
When completed, the center's main hall will boast moveable walls, floors, seats, curtains, ceiling and lights — giving University and community artists the option to have the space tailored to their specific structural, aesthetic and acoustic needs. The building will also feature a 13-foot horizontal windowed "clearstory" that slices through the main level, revealing the interior of the main hall and the Diana Nelson and John Atwater Lobby to passersby in every direction.
"The 23rd-century vision for a performance hall that has walls that move will be a remarkable asset to the boundlessly creative students and arts faculty at Brown," Mrs. Lindemann said. "And I'm intrigued by how the transparent, lit-up main floor will enable community members at Brown and in Providence to see their peers create exciting performances as they walk by. When you see art getting made, you feel something — you leave the day-to-day of our world and enter a special place."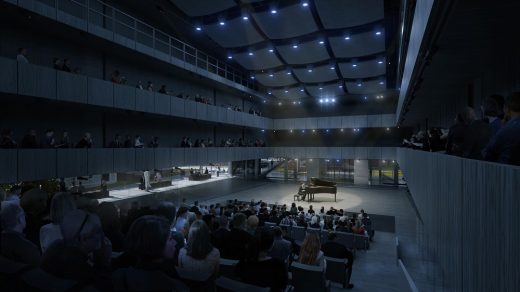 In addition to the range of configurations available in the center's main hall — from a 625-seat symphony orchestra hall, to a 250-seat proscenium theater, to an immersive surround-sound cube for experimental media and a flat-floor configuration for film or visual art installations — a suite of modern studios, rehearsal spaces and intimate performance venues custom-designed for theater, music, dance and other art forms will serve as everyday academic resources for Brown students and faculty.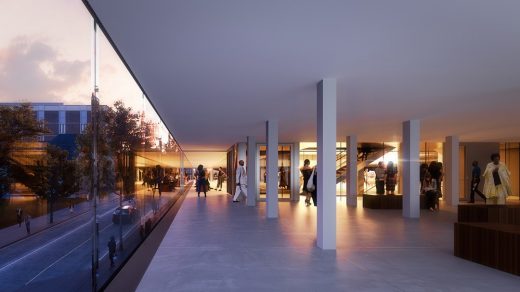 Avery Willis Hoffman, artistic director of the Brown Arts Institute, said that thanks in large part to the Lindemann family's generosity, the center is sure to inspire future generations of student, faculty and community artists to create cutting-edge, original artwork and re-examine well-known works, practices and traditions. Hoffman said that in addition to world-class projects by international visiting artists, The Lindemann Performing Arts Center will host the work of artists, performers and scholars in Brown's six arts departments and Rites and Reason Theatre, all of whom are affiliated with the BAI.
"This investment in the PAC is also an investment in the BAI," Hoffman said. "It enables the BAI to dream even bigger as we fulfill our goals of cultivating creative expression, stimulating discovery and fueling innovative thinking, on campus and beyond."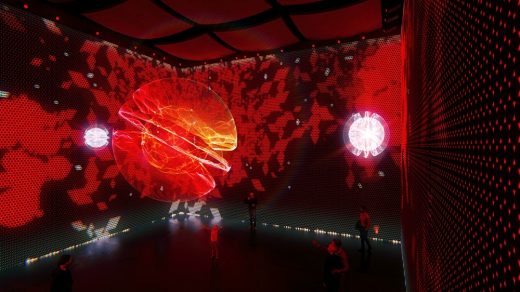 Building on a lifelong passion for the arts
Frayda Lindemann earned a Ph.D. in musicology from Columbia University, and from 1980 to 1991 was an associate professor of musicology and music history at Hunter College, where she completed her bachelor's degree. From 2012 to 2016, she chaired the board of directors at Opera America, an organization that serves more than 150 opera companies across the United States and Canada; she was the first board chair in the organization's history who had never directed an opera company. The Lindemann Young Artist Development Program at the Metropolitan Opera, which nurtures some of the nation's most talented young opera artists through training and performance opportunities is the largest and most prestigious of its kind.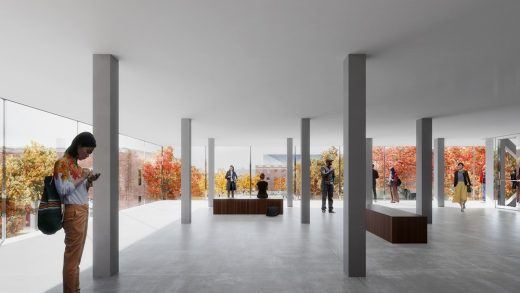 The couple's history with Brown began when two of their children attended the University in the 1980s. Two of their grandchildren also chose to attend Brown, inspired in part by the previous generation's positive experiences on campus.
"All of my children and grandchildren who attended Brown have thrived there — it's such a happy place," Mrs. Lindemann said. "My husband felt very strongly about investing in a place that made our children and grandchildren into such passionate people and creative thinkers. His generosity is the basis of our support for Brown, past and present."
The proposed design of the PAC, with its changeable main hall and welcoming transparent "slice," piqued the Lindemanns' interest in supporting arts scholarship and performance at Brown, she added. The building was designed by the architecture firm REX, led by founder and principal Joshua Ramus, who is himself a musician.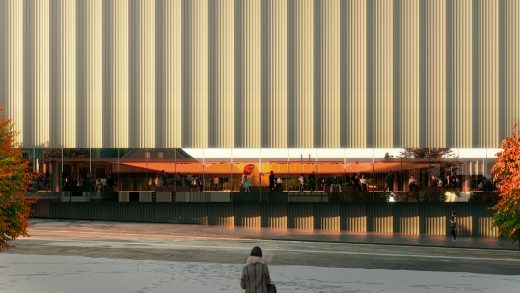 "Frayda is deeply passionate about the arts, and she and I are both committed to supporting performing artists before all else," Ramus said. "She completely understood my vision for the design of Brown's performing arts center. I wanted to create a building that was ambitious — but most importantly, one that didn't get in the way of empowering everyone from performers to artistic directors to stagehands to do their best work."
Mrs. Lindemann said she and George Lindemann Sr. were also impressed by the University's vision for the future of the arts at Brown — a vision in which The Lindemann Performing Arts Center will play a key role.
"President Paxson's plans are ambitious and future-thinking," Mrs. Lindemann said. "She wants Brown to lead the way in changing the landscape of the arts in the Ivy League, to make the arts more accessible to surrounding communities. George Sr. and I admired her deeply for that."
Previously on e-architect:
Feb 14, 2019
Performing Arts Center for Brown University
Brown University Performing Arts Center Building
Design: REX Architecture
Location: College Hill Campus, Providence, Rhode Island, United States of America
Performing Arts Center for Brown University
With a radical, one-of-a-kind approach to spatial, acoustic and technical flexibility, Brown University's planned Performing Arts Center (PAC) is designed to inspire innovative new art-making, enable unprecedented artistic collaboration and serve as a hub for performance at Brown.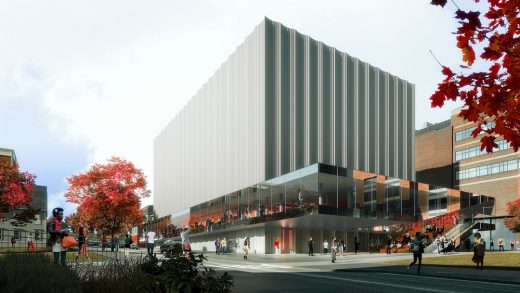 Performing Arts Center for Brown University, Rhode Island
Images © LUXIGON
Performing Arts Center for Brown University, Rhode Island images / information from REX
Private Ivy League research university in Providence, Rhode Island, United States, founded in 1764.
Previously on e-architect:
Apr 19, 2023
Ronald O. Perelman Arts District, Brown University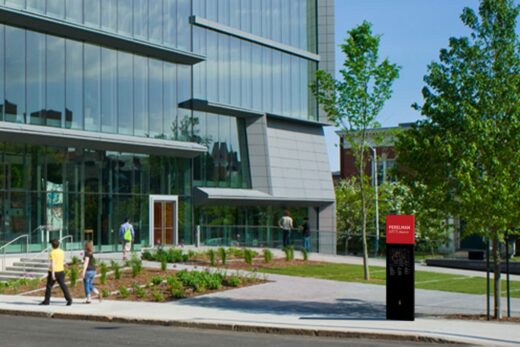 image : Studio Loutsis
Ronald O. Perelman Arts District Brown University
Jun 5, 2017
Brown University Performing Arts Center Building, Providence, RI, USA
Brown University Performing Arts Center
Address: Providence, RI 02912, USA
Phone: +1 401-863-1000
Rhode Island Architecture
Joukowsky Institute for Archaeology and the Ancient World
Design: Anmahian Winton Architects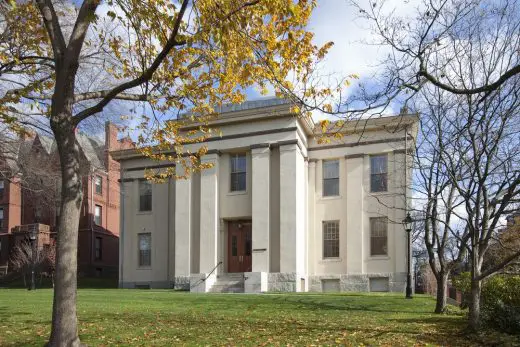 photo © Peter Vanderwarker
Joukowsky Institute for Archaeology and the Ancient World in Providence, RI
A New House on College Hill, Providence
Design: Friedrich St.Florian Architects
Boston Architecture Design – chronological list
American Architecture Walking Tours : city walks by e-architect
Architecture near Providence, USA
Frank Lloyd Wright house : Zimmerman House, Manchester, New Hampshire
Bryant University Building
Gwathmey Siegel & Associates Architects
Bryant University Interfaith Center
New York Architecture Walking Tours
New York University Buildings – Selection
The Roy and Diana Vagelos Education Center, Columbia University
Architect: Diller Scofidio + Renfro ; Executive Architect: Gensler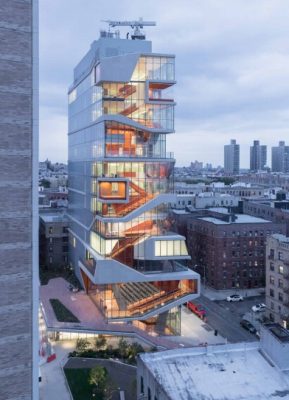 photograph : Iwan Bann
Columbia University Medical Center
Columbia University Extension, West Harlem
Design: Renzo Piano Building Workshop with SOM
Columbia University Extension Building
Northwest Corner Building, Columbia University, NYC
Design: José Rafael Moneo architect
Columbia University Northwest Corner Building
Temple Hoyne Buell Center for the Study of American Architecture
Campbell Sports Center Columbia
Comments / photos for the Lindemann Performing Arts Center, Brown University design by REX architects page welcome