AECOM Architects, Design Offices, Building Developments, US Studio Projects News
AECOM – International Architects
Contemporary Architecture Practice – Los Angeles Head Office, USA
post updated 14 May 2023
AECOM News
AECOM News
1 Jul 2021
Oriel Building Moorfields Eye Hospital, 162 City Road, London, England, UK
Design: Penoyre & Prasad ; White Arkitekter ; AECOM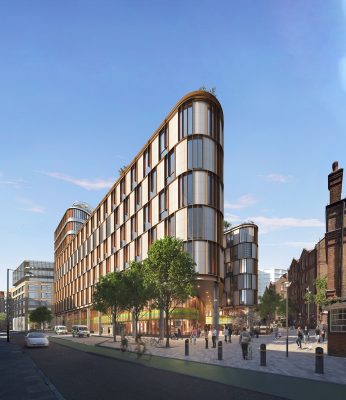 image courtesy of architects practice
Oriel Building Moorfields Eye Hospital Building
12 Jul 2018
AECOM Director for Architecture, Africa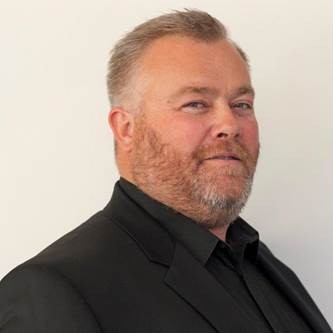 photo courtesy of architects
AECOM Architects News
AECOM has appointed Adriaan Vorster as Director for Architecture, Africa.
4 Jul 2018
AECOM Celebrates Pride
To champion LGBTQ+ inclusion in the engineering field, AECOM will be marching together this London Pride taking place 7th July with networking group InterEngineering. This will be the third year running at the London march for AECOM.
Joining other leading firms from the engineering and construction industry, AECOM will be showing its solidarity in challenging stereotypes associated within the industry. As well as London Pride, AECOM recently took part in both the Edinburgh and Manchester Pride marches.
To align with Pride month, AECOM has launched DiverCity, the company's new employee-led lesbian, gay, bisexual, transsexual, queer plus (LGBTQ+) working group. DiverCity will provide a transparent and accessible support network for staff, as well as organise networking events and discussions around the UK and Ireland.
David Barwell, Chief Executive, UK & Ireland, AECOM, said: "AECOM is proud to be marching this Saturday in celebration of diversity and equality across the construction industry. Understanding and celebrating the diversity we have across our teams is an integral part of what makes our business a success."
AECOM is also holding an event in Manchester on 11th July with InterEngineering to celebrate International Pride in STEM. The day will include guest speakers from Diversity Role Models and London Queer Collective, and presentations about AECOM's Diversity and Inclusion, as well as a great networking opportunity.
19 Feb 2018
AECOM to Engineer 18th Annual Serpentine Pavilion
For the sixth year running, AECOM, in collaboration with David Glover, will deliver engineering and technical design services for the Serpentine Pavilion in London, UK. The Mexican architect Frida Escobedo, celebrated for dynamic projects that reactivate urban space, has been commissioned to design the Serpentine Pavilion 2018. AECOM will work closely with the architect, Gallery and contractor, Stage One, to develop the concept into a finely detailed construction, ready for the public to enjoy upon its opening in June.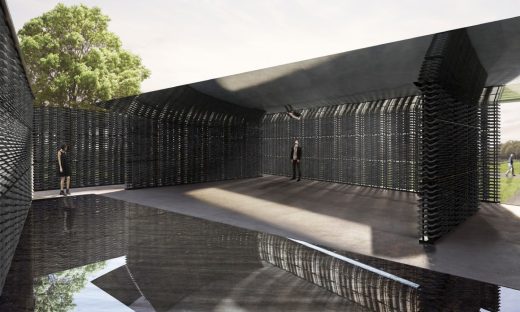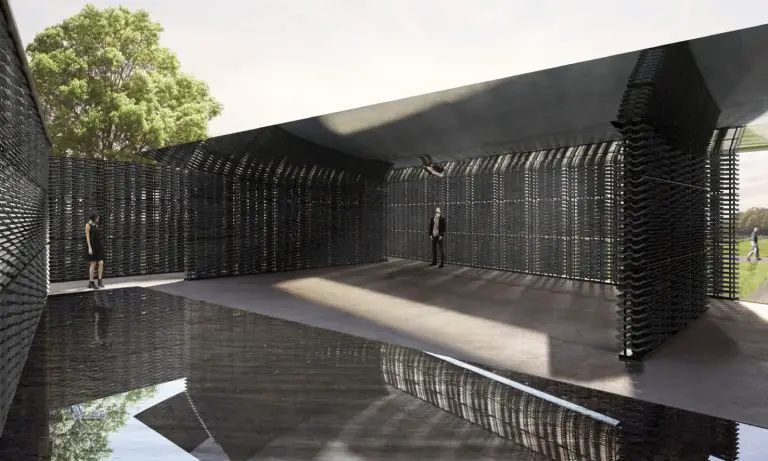 image © Frida Escobedo, Taller de Arquitectura, Rendering by Atmósfera
Serpentine Pavilion 2018 by Architect Frida Escobedo
Escobedo's Pavilion will take the form of an enclosed courtyard, comprised of two rectangular volumes positioned at an angle. While the outer walls will be aligned with the Serpentine Gallery's eastern façade, the axis of the internal courtyard will align directly to the north. Internal courtyards are a common feature of Mexican domestic architecture, while the Pavilion's pivoted axis refers to the Prime Meridian, which was established in 1851 at Greenwich and became the global standard marker of time and geographical distance.
British-made materials will be used in the Pavilion's construction, chosen for their dark colours and textured surfaces. A celosia – a traditional breeze wall common to Mexican architecture – will here be composed of a lattice of cement roof tiles that diffuse the view out into the park, transforming it into a vibrant blur of greens and blues. Two reflecting elements will emphasise the movement of light and shadow inside the Pavilion over the course of the day. The curved underside of the canopy will be clad with mirrored panels, and a triangular pool cast into the Pavilion floor will trace its boundary directly beneath the edge of the roof, along the north axis of the Meridian. As the sun moves across the sky, reflected and refracted by these features, visitors may feel a heightened awareness of time spent in play, improvisation and contemplation over the summer months.
Jon Leach, Director, Buildings + Places, AECOM, said: "The Serpentine Pavilion is always an exciting project to work on, and this year's design will be no different. As engineers, the key to delivering a successful pavilion is to transform the architect's vision into a functional space for people to enjoy. We look forward to our continued collaboration with Stage One and David Glover as part of the design and delivery process."
Serpentine Galleries Artistic Director, Hans Ulrich Obrist and CEO, Yana Peel, said: "We are delighted to reveal the designs for Frida Escobedo's Serpentine Pavilion – a living timepiece in the park, powered by light and the Prime Meridian line. In its beautiful harmony of Mexican and British influences, it promises to be a place of deep reflection and dynamic encounter. We hope visitors of all ages will create their own experiences in the Pavilion this summer as we continue in our aim of bringing the urgency of art and architecture to the widest audiences."
Each year, the Serpentine Galleries commissions an international architect to design a temporary Pavilion for the gallery grounds. Last year, AECOM engineered the dramatic and colourful tree-like Pavilion by architect Francis Kéré and delivered a 'radically simple' place of community, where people could connect with each other and with nature.
21 Aug 2017
Oxygen Park at Education City, Doha, Qatar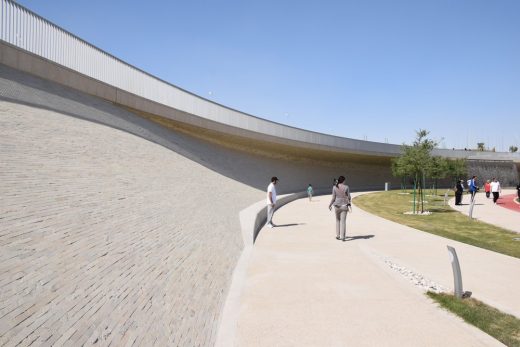 photograph : Markus Elblaus
Oxygen Park at Education City
Taking the elemental life-force of oxygen as its inspiration, Oxygen Park, is a unique public space designed for health and wellbeing in a desert environment. It has been created with the local community in mind, providing an open space in which to exercise, rest, and play.
Jul 11, 2017
AECOM Engineering News
Centre for Music in London Competition Engineers Shortlist, London, England, UK
We are pleased to announce the shortlisted firms for both the Civil and Structural Engineer contract and the Building Services Engineer contract, these are:
Civil and Structural Engineer
– AECOM
– AKT
– Arup
– BuroHappold Engineering
– Ramboll
– WSP UK LTD
Building Services Engineer
– AECOM
– Arup
– BuroHappold Engineering
– Hoare Lea
– Max Fordham
– WSP UK LTD
Centre for Music in London Competition Engineers Shortlist
30 Jun 2017
AECOM UK & Ireland News
AECOM Appoints Jason Pearson as Director of Healthcare Architecture
30 June 2017 – Jason Pearson has joined AECOM as Director of Healthcare Architecture, UK & Ireland.
Formerly with international design practice PM Devereux, Jason has over 10 years' experience delivering high quality, innovative, clinical environments across a range of sectors including acute healthcare, mental health healthcare and laboratory settings. His experience includes complex new build and refurbishment projects across varied procurements routes including Traditional & Procure 21 and P21+.
Jonathan Puddle, head of healthcare UK & Ireland comments: "Jason's appointment reflects our on-going investment in healthcare as we continue to build our integrated capability. Our reputation in healthcare masterplanning and architecture is growing, recently demonstrated by our work determining the future strategic direction of the Oxford University Hospitals NHS Foundation Trust's estate."
Jason Pearson adds: "Accepting this role is an exciting opportunity for me and I look forward to working with Jonathan and the entire healthcare design team to take the business forward across the UK & Ireland."
Jason is based at AECOM's EMIA headquarters at Aldgate Tower, London E1.
26 + 23 Jun 2017
Serpentine Pavilion 2017 by Francis Kéré
British architect Adrian Welch, Founding Editor of e-architect, interviews AECOM directors about their role in this internationally renowned cultural project.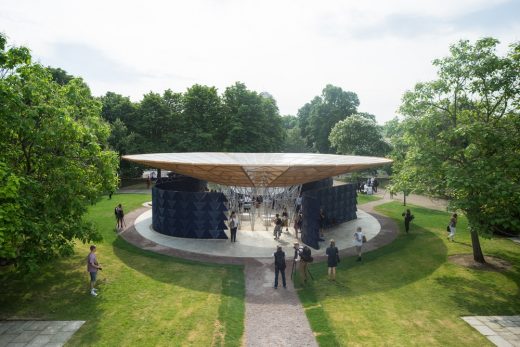 photos Courtesy AECOM
AECOM interview about Serpentine Pavilion 2017 by Francis Kéré
26 Jun 2017
AECOM Midwest News
AECOM appoints James W. Thomson vice president and managing principal of its Midwest region Buildings + Places practice
LOS ANGELES (June 26, 2017) — AECOM, a premier, fully integrated global infrastructure firm, announced today that James W. Thomson, American Institute of Architects (AIA), The National Council of Architectural Registration Boards (NCARB) has been named vice president and managing principal for its Midwest region Buildings + Places practice, part of its Design and Consulting Services (DCS) group.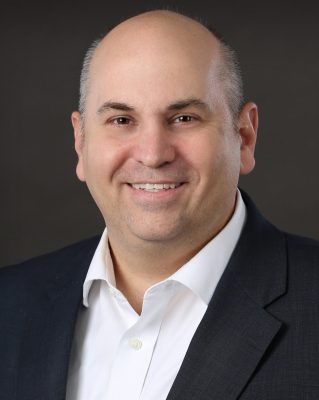 photo courtesy of architects
With a range of expertise from strategy through project realization, the Buildings + Places practice is dedicated to excellence and integrated design solutions. In this role, Mr. Thomson will be responsible for strategic growth and development while providing leadership and overall direction for the division's Midwest region. Mr. Thomson brings 23 years of experience in design and leadership with expertise in healthcare environments.
"Jim knows what it means to be a leader," said Rebecca Nolan, executive vice president, Buildings + Places, Americas. "His ability to nurture and mentor our practitioners aligns completely with our core values to inspire, develop and celebrate our people, elevating the communities we touch. His leadership in the healthcare market, specifically, supports our continued efforts to design and deliver future-ready and innovative solutions for health and wellness environments."
Prior to joining AECOM, Mr. Thomson was with HDR where he led design teams in the development of major healthcare projects across North America. Throughout his career, he has worked with Penn State Hershey Medical Center Allina/Children's Hospital, the Mayo Clinic, United/ Children's Hospital, Mercy Hospital, Etobicoke Health Centre and Sheppard Pratt Health Systems. Thomson holds a Masters of Architecture with High Distinction from Lawrence Tech University and a Bachelor's of Science in Architectural Studies from The University of Nebraska, Lincoln.
"The healthcare marketplace is constantly evolving and we need to stay ahead of it," says Mr. Thomson. "AECOM's integrated and interdisciplinary platform enables us to guide our clients through the market's complex demands and I am truly excited to help lead our teams in the Midwest design real solutions that foster a high quality patient experience."
5 Jun 2017
AECOM Company News
London's status as the global capital of museums confirmed
Findings from the 2016 TEA/AECOM Theme Index and Museum Index from the Themed Entertainment Association (TEA) and the economics practice at global infrastructure services company AECOM.
London's status as the global capital of museums has been confirmed by a new study. With four museums in the global top 20 by visitor numbers in 2016, the capital has achieved first place in the global list jointly with Washington DC, which also has four entries in the top 20.
New York, Paris and Beijing each have two entries in the global league of the most visited museums. Madrid, Seoul, Shanghai, St Petersburg, Taipei, and the Vatican each have one museum in the list.
28 May 2017
AECOM re-landscapes Margate's Dreamland
Landscape design helps transform heritage amusement park ahead of its reopening
Global infrastructure services firm AECOM has created striking new landscaping designs for the redevelopment of Dreamland, a historic amusement park in Margate that originally opened in the 1870s. The park, which reopened this week following a major renovation programme, brings together sensitively restored vintage rides and an array of modern facilities, including a 15,000-capacity open air venue for music events.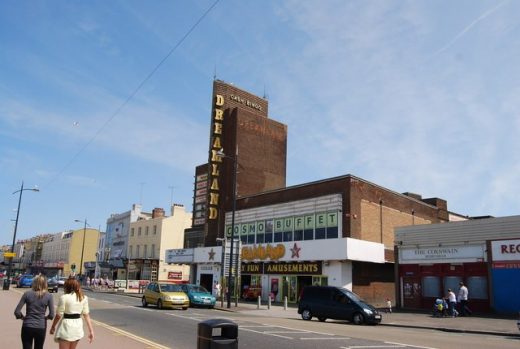 photo By Nigel Chadwick, CC BY-SA 2.0, https://commons.wikimedia.org/w/index.php?curid=12342802
Dreamland Margate Amusement Park by AECOM
18 May 2017
AECOM Becomes Patron of the London Festival of Architecture
18th of May 2017 – AECOM is supporting Europe's biggest annual architecture festival by becoming a patron of the London Festival of Architecture 2017. The event, which runs from 1 – 30 June 2017 celebrates London as a global hub of architectural experimentation, practice and debate.
As a patron, AECOM will share its unique experiences of London, bringing to life the capital's past, present and future through drawings, photography and interactive technologies such as virtual reality headsets.
Jennifer Dixon, Architecture Leader – Europe, Middle East, India and Africa, AECOM, said: "For decades, AECOM has been a part of London's changing landscape – AECOM's collective memory includes many of London's most inspiring designs. Our design and consulting professionals have shaped this city we know and love, from the Shard and the Leadenhall Building to the Tate Modern, Crossrail and the Queen Elizabeth Olympic Park. Our shared vision is to continue to help shape an inspiring and productive city of the future."
The theme of this year's festival will be 'memory', which will be considered through a wide range of events and activities. In exploring the theme of memory, the London Festival of Architecture aims to encourage the public to look at London in new ways and spark debate among designers, developers and decision-makers about how they can make London a better place.
The festival, now in its 13th year, will take place at venues across London.
7 May 2017
AECOM Corporate Workplace Appointment
AECOM appoints Sarah Devine vice president of Corporate Workplace for its Design and Consulting Services group
Ms. Devine will be responsible for partnering with corporate real estate professionals to design and deliver innovative workspaces for AECOM's Buildings + Places practice in the Los Angeles metro area.
LOS ANGELES (May, 2017) — AECOM, a premier, fully integrated global infrastructure firm, announced today that Sarah Devine, International Interior Design Association (IIDA), National Council for Interior Design Qualification (NCIDQ), has been named vice president of Corporate Workplace for its Buildings + Places practice, part of its Design and Consulting Services group. Ms. Devine will be responsible for partnering with corporate real estate professionals in the Los Angeles metro area to design and deliver innovative workspaces. She joins AECOM with 25 years of design, management and strategic planning experience creating solutions for complex corporate workplace environments.
Sarah Devine, AECOM: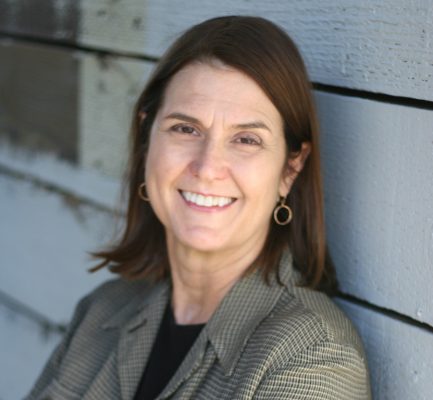 "Sarah brings an impressive track record of leadership and collaborative client relationships to our Los Angeles studio," said AECOM's Brett Shwery, senior vice president of Corporate Workplace. "Her energy and passion for building strong teams truly compliment the culture of our growing workplace practice."
Prior to joining AECOM, Ms. Devine was a practice and account leader at Rapt Studio, where she was responsible for establishing and expanding the firm's Los Angeles practice. Her prior experience includes work with Epstein/ISI, HOK and Leo A. Daly. A leader in the field, Ms. Devine is actively involved with CoreNet Global of Southern California and the IIDA. Most recently, Ms. Devine was appointed as the 2017 Communications Chair for the Southern California CoreNet Board of Directors. Ms. Devine holds a Bachelor of Fine Arts in Interior Design and Minor in Architecture from the University of North Texas.
"The changing nature of how we work and how it impacts corporate environments gives us a unique opportunity to think in new ways about the design of the physical place, organizational performance and their relationships," said Ms. Devine. "I'm thrilled to join the growing corporate workplace team at AECOM where we have an opportunity to offer our clients an integrated approach while making a commitment to design innovation in the Los Angeles market and beyond."
20 Feb 2017
AECOM Architecture News
Singapore High Speed Station Building, Singapore
The Land Transport Authority (LTA) has appointed AECOM Singapore to conduct an advanced engineering study for Singapore stretch of the Singapore-Kuala Lumpur high-speed rail (HSR) infrastructure.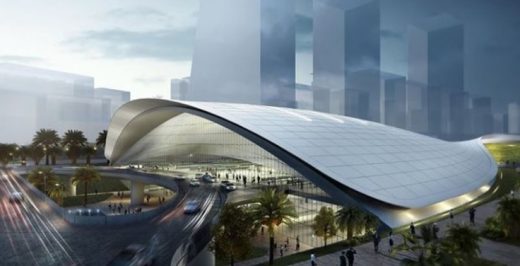 image courtesy of architects
TFP Farrells and Architects 61 have been appointed for the architectural elements.
18 Feb 2017
University of Glasgow Masterplan, Scotland
Design: AECOM and 7N Architects
17th February 2017 – Global infrastructure services firm AECOM and 7N Architects have secured Planning Permission in Principle consent from Glasgow City Council for their masterplan for the University of Glasgow.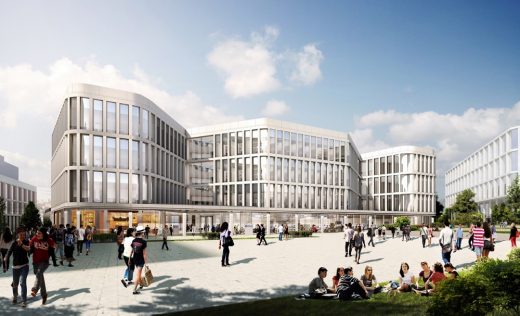 The masterplan provides a development and placemaking framework for a significant expansion of the University's Gilmorehill Campus on the site of the former Glasgow Western Infirmary in the heart of the West End of the city. It will porvide up to 85,000 m2 of learning, teaching and research space within a mixed use quarter, which will integrate the historic core of the campus with the surrounding neighbourhoods to the west and form a new frontage to Kelvingrove Park to the south.
AECOM and 7N Architects collaborated on the design of the masterplan, which is focused on creating an environment that will strengthen the University's position as one of the world's leading research intensive universities. The placemaking approach uses the public realm as the spatial framework to cultivate social and intellectual interaction between colleges and stimulate collaborative learning and research. The AECOM-led team also includes Simpson and Brown, Muir Smith Evans and Spaces that Work.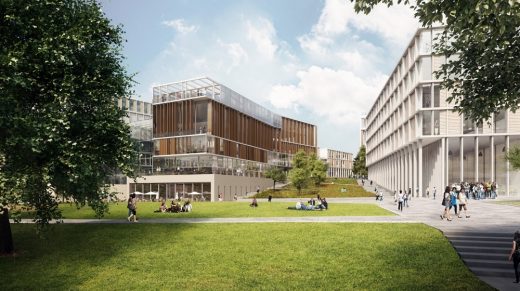 The consented masterplan will be delivered on a phased basis and will be governed by extensive design guidance prepared by AECOM and 7N Architects. The guidance will inform the design of the buildings in terms of form, height, massing, frontages, articulation and materials to give coherency to the new development within the historic context of the Gilmorehill Campus.
Professor Anton Muscatelli, Principal and Vice-Chancellor of the University of Glasgow, said: "We are delighted that Glasgow City Council has endorsed our ambitious plan which we believe will be a major economic driver for the city and for Scotland as well as underpin this University's world-leading position.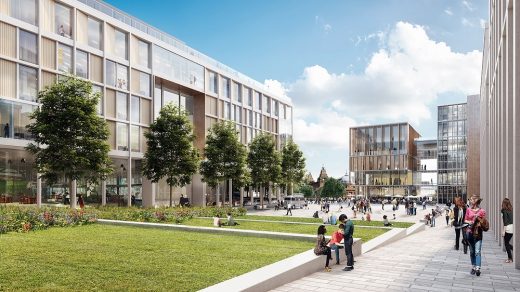 "The decision to approve the masterplan is pivotal to allowing us to start this development. An initial financial envelope of around £430m will be spent over the next five years on the first phase of the project. It is part of a wider £1bn investment which includes significant spend on refurbishing and improving the existing estate. This will be one of the biggest educational infrastructure projects in Scotland's history and is certainly the biggest development undertaken by this University since it moved to Gilmorehill 150 years ago."
Jonathan Rose, Architect and Principal – Design & Planning, AECOM, said: "Our aim for the masterplan was not only to create a collaborative learning and research hub for the University in the West End, but also set a new trajectory for the Gilmorehill Campus within Glasgow, affirming its integral role in the city's life and future economy. Development will transform the campus with world-class facilities while sensitively reflecting the historic character of the city's West End."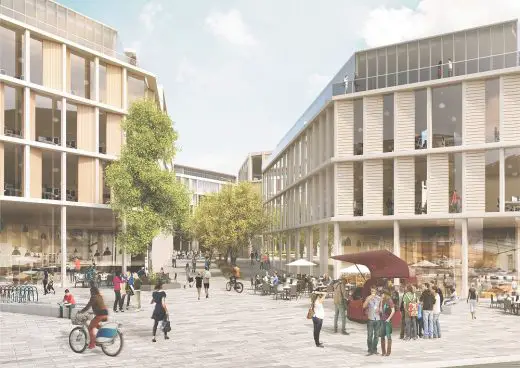 Ewan Anderson, Managing Partner of 7N Architects, said: "The masterplan is principally about making new connections, bringing the University's colleges together, bringing the University and the city together and bringing people together to strengthen the University's student experience, its global research profile and its contribution to Glasgow and beyond. It is very satisfying to see the project reach this significant milestone and we look forward to seeing it evolve as an exciting new place over the next few years."
The Planning Permission in Principle consent was granted at a Glasgow City Council planning meeting yesterday.
Ref. University of Glasgow campus masterplan
1 Oct 2016
Islands at Chester Zoo Building, England, UK
Design: AECOM, Architects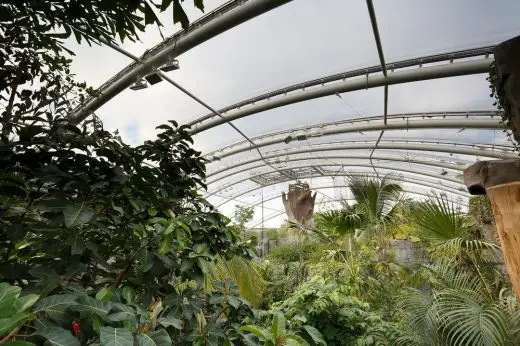 photo courtesy Novum Structures UK
Islands at Chester Zoo Building
8 Jan 2016
Istanbul New Airport's Traffic Control Tower – Winning Architects
Design: Aecom with Pininfarina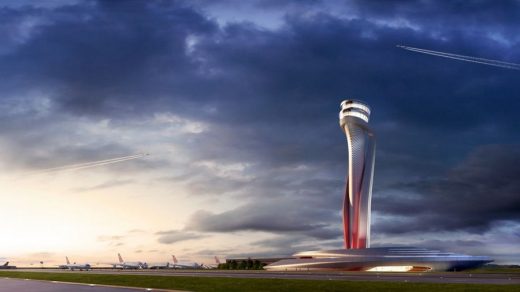 image from architect
Istanbul New Airport's Traffic Control Tower
The shape of the structure is intended to reference the tulip – a symbol of Istanbul.
Golden State Warriors Arena, California, USA
Design: Snøhetta + AECOM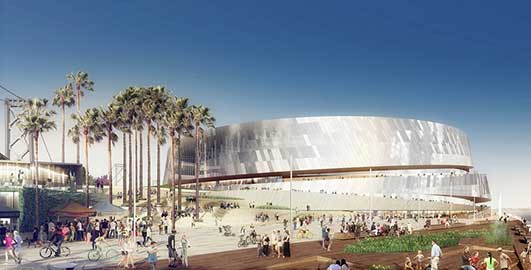 image from architect
Golden State Warriors Arena – 7 May 2013
The Golden State Warriors released the updated design of their new sports and entertainment arena on the waterfront at Piers 30-32 in San Francisco.
29 Jan 2013
AECOM Ranks 1st in World Architecture 100 Survey
World Architecture 100 Survey
AECOM has been ranked the world's first largest architecture practice in the World Architecture 100 (WA100) survey.
Rio Olympic Park Masterplan
Major AECOM Project



image from Brazilian Institute of Architects
Rio Olympic Park Masterplan
23 Oct 2012
AECOM joint venture awarded multiyear contract to renew the Cannon House Office Building on Capitol Hill
LOS ANGELES – Oct. 23, 2012 – AECOM Technology Corporation (NYSE: ACM), a leading provider of professional technical and management support services for public and private clients in more than 130 countries around the world, announced today that a joint venture in which it participates was awarded a multiyear contract from the Architect of the Capitol for the renovation of the Cannon House Office Building in Washington.
The Cannon House Office Building is the oldest congressional office building on Capitol Hill, and houses offices for members of the U.S. House of Representatives and several congressional committees.
The joint venture between AECOM and McDonough Bolyard Peck will partner with the client as construction manager as agent for the project. The Cannon House Office Building will remain fully occupied and operational throughout the renewal program, with the occupants of each wing under construction being temporarily relocated.
"AECOM's experience in delivering intelligent and forward-thinking solutions for the renovation of the Pentagon building as well as for other U.S. government projects positioned us well for this assignment," said AECOM Chairman and Chief Executive Officer John M. Dionisio. "We appreciate that this important client places its trust in AECOM."
8 Oct 2012
AECOM Feasibility Study for Russian Resort
AECOM is underatking a feasibility study for a 250 hectare resort near Moscow, Russia, featuring several theme parks.
The practice's London office was appointed by developer Moschanko Investment Group to assess the viability of the Magic World Russia scheme, located about 50 km from Moscow.
16 Nov 2011
AECOM News from 2011
AECOM and UWA lead Australian-first Indigenous project
An Australian-first project to improve the liveability of Aboriginal communities is underway in the remote town of Warburton in Western Australia, led by professional technical services consultancy AECOM, the University of Western Australia and the Shire Council of Ngaanyatjarraku.
The Sustainable Warburton Project is a research, design and planning project to create new and improved urban spaces with the aim of transforming how Indigenous people live, that could be applied to Indigenous communities across Australia and around the world.
It brings Aboriginal residents of the town, 920km north east of Kalgoorlie, together with a team of AECOM specialists in urban design, ecology, landscape architecture and architecture, and academics and students from the University of Western Australia (UWA).
Warburton project:



photo from AECOM
Projects designed include an award-winning community college and an urban agriculture scheme where orange trees irrigated with treated wastewater are planted throughout the town to provide shade, food, protection from dust and improved health.
Townspeople and community representatives have gathered over the past few months to discuss their needs in formal and informal settings with students and the project team to help identify community-enhancing projects.
Masters and honours students are now finalising design projects as part of their academic requirements which will become the basis for funding application and development. Designs will be presented to the Shire Council in February, when the winner of an AECOM prize for the most outstanding design will also be announced.
Landscape near Warburton:



photo from AECOM
AECOM Project Director, Jon Shinkfield, who established the project's framework with UWA, said it was a ground-breaking model to improve Aboriginal communities. "This is the first tri-partisan relationship between an Australian Indigenous community, academia and industry to build a research and knowledge bank over a longer term with the focus on settlement planning and implementation," Mr Shinkfield said.
"The Sustainable Warburton Project will not only affect the future of the Warburton community but potentially inform the broader agenda of Indigenous settlement.
"We're committed to a program focused on research, practice and realisation of a new spatial order for the town and it is hoped this will lead to major changes in the way Indigenous people can live."
As projects are funded, students will become part of the development team to project-manage and deliver the initiatives for Warburton's 600 residents. Projects focus on sustainability, community, urban planning, water and energy management and agriculture to improve health, education and social engagement, and include:
– Community College – an award-winning design offering spatial opportunities for women's meetings, a library and reading and other informal and formal gatherings.
– Urban Agriculture – planting orange trees irrigated with treated wastewater throughout the town to provide shade, food, protection from dust and improved community health.
– Housing Family Groups – a project looking at accommodation arrangements and clusters that work more harmoniously with how Indigenous families gather.
– Warburton Arts Precinct – a project devoted to Warburton's internationally exhibited art.
– Community Services Facilities – making provision for the specific needs of community.
– Town Spaces – incorporating productive landscapes into the town's spatial structure.
Work is also underway on a separate AECOM project to expand Warburton's Early Learning Centre and Learning Landscape. In an Australian-first, it features a playgroup for Indigenous women and children with structured activities to help school become a more acceptable option for the future.
AECOM is also advising on alternative energy options to help find solutions to the community's reliance on costly diesel fuel to drive the town's generators. Dean of the UWA's Faculty of Architecture, Landscape and Visual Arts, Winthrop Professor Simon Anderson, has commended AECOM and the Shire Council of Ngaanyatjarraku on the project.
"This is a most important community-based planning and design initiative in partnership with our faculty," Professor Anderson said.
AECOM plans an ongoing involvement in Warburton to ensure the proposed projects are delivered to the community as part of its Corporate Social Responsibility commitment.
"AECOM and UWA look forward to coming back to Warburton annually to build the knowledge base, see further projects conceived and help develop and implement them," Mr Shinkfield said.
More projects by AECOM online soon
Location: Los Angeles, California, USA & international
AECOM Offices Practice Information
AECOM offices based around the world
About AECOM
AECOM is a global provider of professional technical and management support services to a broad range of markets, including transportation, facilities, environmental, energy, water and government. With approximately 45,000 employees around the world, AECOM is a leader in all of the key markets that it serves. AECOM provides a blend of global reach, local knowledge, innovation and technical excellence in delivering solutions that create, enhance and sustain the world's built, natural, and social environments. A Fortune 500 company, AECOM serves clients in approximately 125 countries and had revenue of $7.7 billion during the 12 months ended June 30, 2011. More information on AECOM and its services can be found at www.aecom.com.
Website: www.aecom.com
Rio Olympic 2016 Park Venues, Rio de Janeiro
Rio Olympic Park Buildings
Buildings / photos for the AECOM Architecture page welcome