Union Point Masterplan Boston, Massachusetts Smart City Design, LStar Ventures News
Union Point Master Plan Boston
Massachusetts Smart City Development – design by Elkus Manfredi Architects / Sasaki Associates
Oct 26, 2017
Union Point Master Plan – Massachusetts Smart City
Location: 12 miles south of Boston, Massachusetts, United States of America
Design: Elkus Manfredi Architects with Sasaki Associates
MASTER PLAN AND DESIGN
Union Point
Union Point is a culturally rich urban environment 12 miles from Boston, with direct access to the city's transit system. The development is located at the intersecting point of the towns of Weymouth, Rockland, and Abington, Massachusetts.
Size: Approximately 1,500 acres
Team
Project Developer – LStar Ventures
Master Planning and Design – Elkus Manfredi Architects
Planning and Landscape Architecture – Sasaki Associates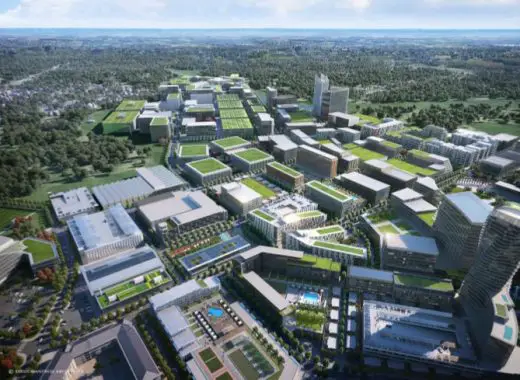 Renders © Elkus Manfredi Architects
THE PROJECT
Overview
LStar Ventures, Elkus Manfredi Architects, and Sasaki Associates have created the master plan for Union Point, a unique city located on roughly 1,500 acres of land 12 miles south of Boston situated within the towns of Weymouth, Rockland, and Abington, Massachusetts. Union Point is a new culturally rich urban environment unlike any other in the United States.
Rooted in 21st-century urbanism, the Union Point master plan vision combines the attributes and energy of a city – elements such as easy access to public transportation, entertainment and sports venues, art and culture, and education – with natural open spaces, pedestrian- and bicycle-friendly roadways, and tomorrow's communications and smart-living technologies. The result will be a community that combines active living with "Smart City" design to offer the advantages of urban density in a supremely livable environment.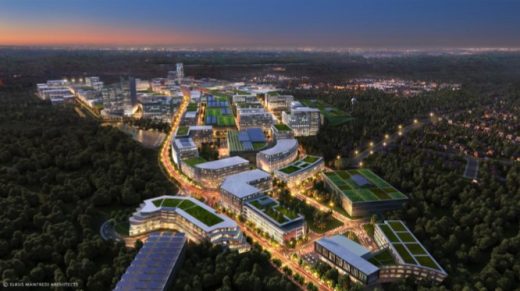 What is "Smart City design"? A Smart City is a connected city. It integrates multiple information and communication technologies to manage a city's assets, improve the efficiency of services, and meet residents' needs.
Embedding this technology from the beginning allows for the sharing of information with real-time monitoring and feedback across all user groups. Because Union Point is a new development from the ground up, it provides unparalleled opportunities for a "smart" community to learn and continue to innovate as it grows into an international exemplar of a Smart City.
Design Details – By the Numbers
 4,000 residential units
 1,000 acres of green space and 50 miles of hiking/biking trails
 Between eight and ten million square feet of commercial development
 Three million square feet of office and innovation space
 120,000 square feet of food and beverage space
 500,000 square feet of retail space
 100,000 square feet of entertainment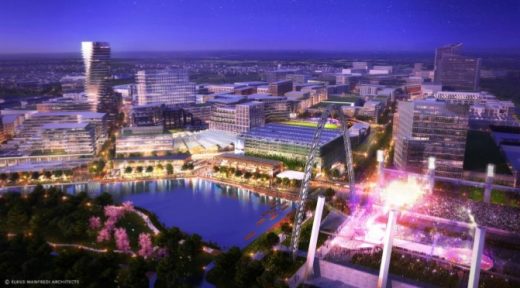 Timeframe
Construction continues on multiple fronts at Union Point including ongoing residential growth with more than 300 new homes and completion this fall of the 25 acre sports field complex. On the larger scale site preparation is underway on the Phase 1 downtown district surrounding the existing hangar building.
Re-imagining the historic structure as an active neighborhood anchor, will provide an important touchstone with the Naval Air Station's past and provide a focal point for Hangar Square, a new programmable public space at the heart of downtown. This mixed-use Downtown District will feature residential, office, retail, restaurant and civic uses, providing a 24/7/365 dynamic hub to serve the local and south shore communities and broaden the awareness of Union Point's unique presence in the greater Boston area.
Accessibility
12 mile drive from downtown Boston
10-minute walk to the Massachusetts Bay Transportation Authority (MBTA) Commuter Rail station from downtown Union Point
A proposed shuttle system to the nearby MBTA 'T' subway station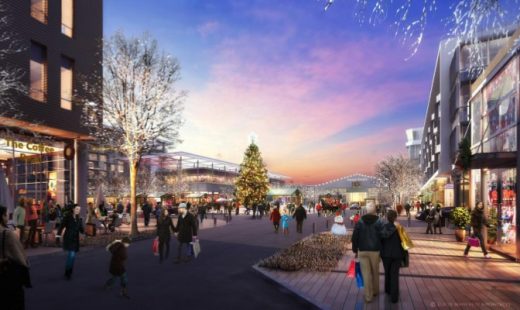 History
Union Point is being developed on the site of the former South Weymouth Naval Air Station, which operated from 1942 to 1997. First established as a Navy blimp base during World War II, it was one of only two Northeastern locations of K-type airship mooring masts.
After the war, the base became part of the Naval Air Reserve Training Command, hosting a variety of Navy and Marine Corps reserve aircraft squadrons and other types of reserve units. Since 2005, over 600 acres were transferred to the towns of Weymouth, Rockland, and Abington for reuse. After changing hands several times, the property was acquired and consolidated by LStar Ventures in 2015.
Community Involvement
LStar Ventures' partner Kyle Corkum's master vision for this project is to improve the lives of the people who will live and work there and provide much-needed economic development to the local communities, all in a beautiful, sustainably-built package. Kyle and his team have developed close relationships with local community members to give them a voice in how Union Point shapes up.
And he's not sending a team to do it – Kyle himself is there on a regular basis speaking to people one-on-one. In addition, corporate social responsibility is built into the contracts signed by incoming tenants; for instance ProDrive, a Dutch robotics company building to 300,000 square foot headquarters on the site, was asked by Union Point to donate laptops to the local school district.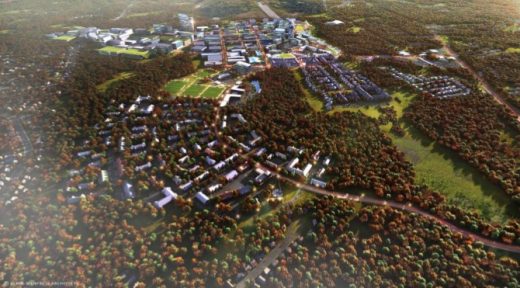 PROJECT GOALS
Envisioned as a new alternative to fractured and stressed lifestyles that take us from home to work via long commutes, Union Point will be a place where people create residences, workplaces, necessities, escapes, and human connections that sustain and inspire.
Development will occupy about one-third of the property, leaving 1,000 acres as natural habitat. A flexible planning framework of buildings, streets, open spaces and greenways has been created as the foundation for the sustainable and healthy evolution of a community over time. Integration of urban density and environmentally tuned open spaces will be further enhanced with areas devoted to arts and culture, community, entertainment, sports, industry, innovation and discovery.
Transportation, infrastructure and utilities systems are being planned as the backbone of a sustainable and evolving urban community. This includes the consideration of pedestrian-centered bike networks, street design and parking structures that will be adaptable to the advent of autonomous vehicles and the future of vehicular use patterns.
Becoming a new paradigm for a smart, and connected cities, Union Point will support all facets of life in one destination that inspires innovation and integrates technology, living, and social systems with long-term environmental, economic, and social sustainability.
This is one of the largest remaining parcels of this size in the highly sought after Boston area. As one of only a handful of projects of comparable scale and ambition in the country – and across the globe – and the first designed as a Smart City, Union Point's creators describe it as the next version of Reston Town Center or as a Smart City version of Columbus, Indiana.
Design Principles
Five principles guided the master plan:
1. Build community
Union Point is designed to bring people together, whether at work, in recreation, or at leisure.
2. Drive innovation
As technology progresses, Union Point is designed to adapt. Examples include electric driverless shuttles, garages retrofitted to other uses, and flexible, multi-use streets.
3. Optimize synergies
Each element is conscious of the whole, including infrastructure, which will be treated with the same thoughtful planning and design approach as the more aesthetic elements.
4. Think both regionally and globally
Meticulously mindful of the health of Union Point's immediate environment, the master plan has created a self-sustaining regional asset.
5. Foster stewardship
Union Point has a rich history that inspired the design of the master plan. This includes an abundance of manmade and natural resources that will be restored and enhanced.
Overall goals included:
1. Blur the boundary between urban and nature to celebrate a vital and inspired integration of natural and built environments.
2. Integrate technology into the design as a supportive and competitive advantage for Union Point businesses and residents.
3. Inspire commitment to innovation.
4. Contribute to the triple bottom line of long-term environmental, economic, and social sustainability.
5. Achieve inherently integrated design across all scales and including technical, living, and social systems.
6. Integrate art in the form of public sculpture, sculptural play structures, and places for artists to work and live.
7. Create a resilient, flexible community that will embrace the future.
8. Develop a robust and resilient energy system.
9. Take advantage of and encourage renewable energy.
10. Reduce dependency on the automobile by encouraging alternative transportation (shuttles, public transit, bicycle, walking, ride-share, etc.)
PROJECT CHALLENGES
1. Environmental contamination remaining from waste stored in three landfills was detected in 1986, and in 1993 the site was put on the National Priorities List of Superfund sites. Numerous remedies and long-term monitoring of groundwater are in place. The developers of Union Point are committed to the health of the site.
2. Previous developers' projects stalled for years, eroding the trust of local communities. A primary goal of the initial stages of Union Point was to build reciprocal and mutually beneficial relationships with Weymouth, Rockland, and Abington.
3. Physical access to the site. Late last year the final phase of the 2.75-mile Bill Delahunt Parkway was completed. This provides a critical link between surrounding corridors, including Route 3 in Rockland and Route 18. There have also been various trail connections that have been completed throughout the project, including one trail that now connects to Rockland at Union Point's southern border.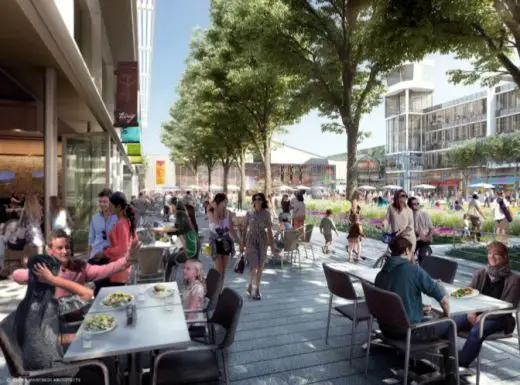 PROJECT SOLUTIONS
In its master plan, Elkus Manfredi and Sasaki have developed a range of design specifications governing the installation of all elements, including street widths, paving, ADA access, building elements and materials, fenestration, lighting, public art, awnings, balconies, services and utilities, and parking. Extensive ongoing monitoring, including Smart Metering, will ensure adherence to high design and environmental standards while providing opportunities to adjust individual systems for optimal performance.
The U.S. Green Building Council's LEED for Neighborhood Development (LEED ND) rating system is an important model for Union Point. Guidelines include:
 Public transportation connections will meet a specified density of trips and coverage.
 Both residential and commercial development will meet specific density, FAR, and mix requirements.
 All buildings will exceed baseline standards for energy and water consumption by 5%.
 A large percentage of street corridors will meet specific guidelines for street amenities and width-to-building-height ratios.
Additionally:
 The master plan for Union Point calls for enhancement of the natural habitat.
 At least 25% of roofs without mechanical function such as solar collection sites will be "green," planted to provide garden spaces and to reduce storm water runoff.
 Solar collectors and heat pumps will be part of the power system.
 Storage batteries will save electric power for future uses.
 Smart Sewer systems, as well as gray water, runoff, and storm water recycling will minimize stress on water and sewerage systems.
 Streets will be designed for pedestrians and bicyclists, not just for cars.
 Structures will be built with a focus on adaptability, for instance garages that will easily convert to other uses as we become less dependent on cars. Electric shuttle buses will help to minimize car dependence.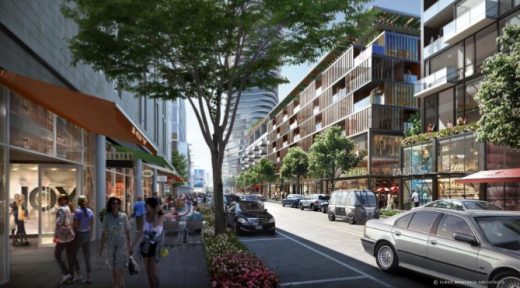 THE TOUR
 Gateways and Villages – Upon entering Union Point, Gateways and Villages will greet with a sense of place, offering a variety of living options for singles, young families, and seniors. Connecting and enriching these villages are the 50+ miles of walking and biking trails that link residents and visitors to Union Point's dual assets: the diverse and dynamic urban districts and the expansive natural beauty of its open spaces.
 Downtown District – At the heart of Union Point is the Downtown District. The street grid forms a new set of blocks and streets that directly connect to the completed William Delahunt Parkway. These new streets become arterials that support pedestrian, bike, and vehicular traffic.
 Hangar Square – The existing aircraft hangar is one of a few historic structures that can provide a touchstone to the past. Connecting this historic structure to the future is a new dynamic public space called Hangar Square, an energized downtown of streets, open spaces, and active ground-floor shops and restaurants. Re-imagining this building and celebrating its special heritage and physical qualities lends an authentic air to this part of the downtown.
 Market Street – A great streetscape and a pedestrian and vehicular thoroughfare, Market Street is the link connecting Hangar Square and the Uptown waterfront district. Market Street is also a downtown destination in its own right, serving Union Point's business, shopping, dining, and everyday needs.
 Sports Complex – The Sports Complex north of the Hangar will create a new state-of-the-art, year-round destination for greater Boston sports enthusiasts of all ages. Complementing the new sports complex is the renovation of the adjacent Fitness Center, another of the existing structures selected to be a symbol for a sustainable and respectful connection to the Naval base's long history. A restaurant will help make this sports park a hub of activity to serve the community.
 UP Town Waterfront – Up Town features a man-made Waterfront(lake), a waterscape that functions as a transitional element between Union Point's two extremes: a new urban scale of buildings and the existing panorama of open space. At the heart of the new Waterfront is the waterside promenade featuring lovely lake views and a collection of dining venues.
 Discovery District – Union Point is founded on a spirit of innovation. The Discovery District is where the soul of Union Point can blossom as companies bring a shared enthusiasm to this dynamic environment. The growth and potential influence of this district will, over time, embody a collective spirit and expand the reach and benefits of Union Point to the three immediate communities of Weymouth, Rockland, and Abington, and beyond to greater Boston and the world.
 North Discovery – The sub-district of North Discovery aligns the north side of William Delahunt Parkway and is served by Endeavor Boulevard connecting it directly to the mixed-use downtown of Union Point. . At the heart of this district will be Discovery Park, an active and flexible open space as a local gathering place for daily use with special programming throughout the year.
 South Discovery – Aligning the south side of William Delahunt Parkway, this district overlooks the large expanse of southern wetlands, with direct access to Union Point's open space habitat and trail system. Adjacent to UP Town and a short walk to downtown, this area is well situated for convenient access to and from the full range of experiences at Union Point.
This district features the "greenway," a linear park system that serves as a cultural amenity and a major pedestrian and biking spine combining urban circulation with a natural landscape corridor for storm water management and exemplifying Union Point's commitment to the resilient development of a healthy urban community.
The greenway serves as an active urban open space corridor around the downtown core, connecting multiple districts and providing a path to the natural wetland open spaces to the north and west. Central Park is equidistant to the Downtown, UP Town, and Discovery districts with its own expansive overlook of the southern wetland habitat. This pivotal section of the greenway is known as "the bend."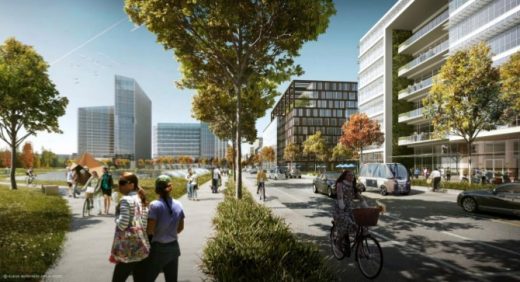 THE TEAM
Union Point brings together global leaders in progressive, multi-function development and urban planning.
 LStar Ventures
A leader in visionary community development, LStar Ventures creates commercial and residential environments that are celebrated for their commitment to sustainable principles, exceptional design standards, and collaborative engagement. A developer of mixed-use communities, the firm understands its obligation to be an exceptional steward of the land. Working in a highly collaborative manner, LStar Ventures aspires to be an exemplary corporate partner with the towns and cities in which it operates.
http://www.lvnt.com
 Elkus Manfredi Architects
Master planning establishes the "bones" of a project, giving organization and structure to the present while also setting the framework for future development. As global pioneers and leaders in the planning and design of mixed-use environments, the award-winning design firm Elkus Manfredi Architects has shaped many of the most important mixed-use projects undertaken all across the world, from Boston's ground-breaking Copley Place to The Grove in Los Angeles, to New York City's Hudson Yards and Miami's new downtown, Miami Worldcenter and to Al Mariah Island, a mixed-use master plan development in Abu Dhabi.
The firm's projects have demonstrated that, when developments are planned and operated in a fully integrated way, no matter what the specific context, the result is greater overall economic and experiential success.
 Sasaki Associates
Sasaki Associates has helped revolutionize the study of landscape architecture by connecting it to the larger issues of planning. The firm pioneered the LEED system of sustainable, eco-friendly building standards. Sasaki's planning and design for new communities includes landmark projects such as Reston Town Center near Washington, DC and The Woodlands Town Center outside of Houston, TX.
Their most recent landscape design work in Boston is the Lawn on D in the Seaport District. Sasaki's landscape design at Union Point incorporates today's best practices for sustainability, created and natural beauty, and ease of use in people-centric spaces.
 Tocci Building Companies
Tocci Building Companies combines over 90 years of building experience with a unique collaborative process to optimize the cost, design, and assembly of buildings that perform efficiently and delight users. The company is known for consistently offering intelligent and creative solutions to address challenging building scenarios of all kinds.
http://www.tocci.com
Renderings © Elkus Manfredi Architects
Union Point Master Plan images / information received Oct 25, 2017, from Elkus Manfredi Architects
Location: South Weymouth, MA, USA
Boston Architecture
New Buildings in Boston
Boston Architecture Design – chronological list
Perles Family Studio, Jacob's Pillow Dance, Becket, Massachusetts
Design: David Croteau of Flansburgh Architects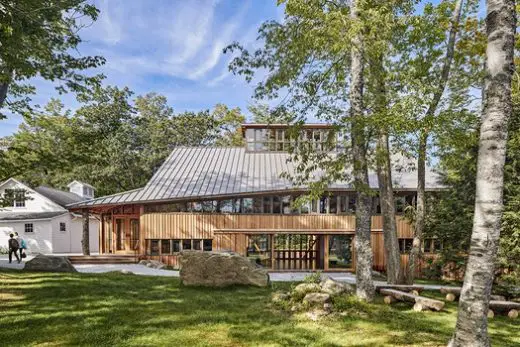 photo : Robert Benson Photography
Jacob's Pillow Dance Building
Ames Boston Hotel Renewal
Design: Glen and Co. Architecture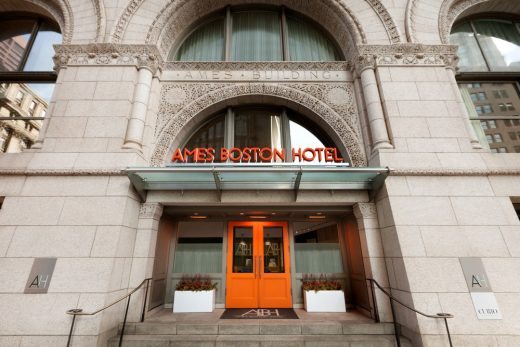 photo courtesy of architects
Ames Boston Hotel Building Renovation
Five Fields Play Structure
Design: Matter Design & FR|SCH Projects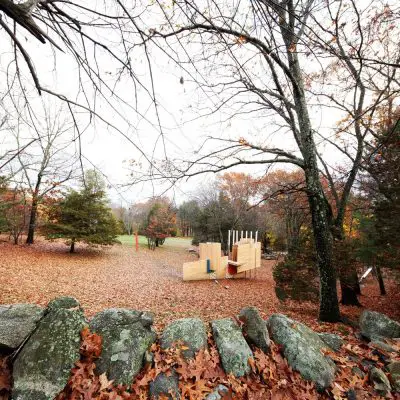 photograph : Brandon Clifford
Five Fields Play Structure
Boston City Hall One of Twelve Recipients of Getty Foundation's Keeping It Modern Grants
Design: Kallmann, McKinnell, & Knowles, Architects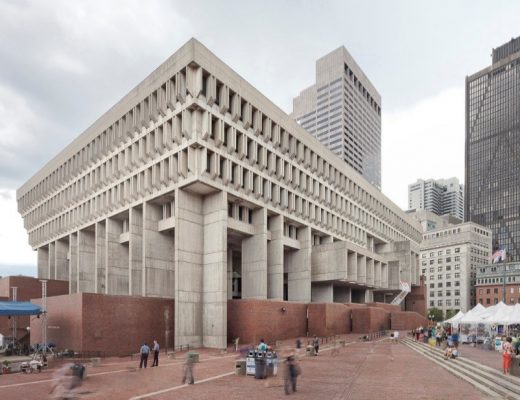 photo © Naquib Hossain/Dotproduct Photography
Boston City Hall Building
Massachusetts College of Art and Design Design and Media Center
Design: Ennead Architects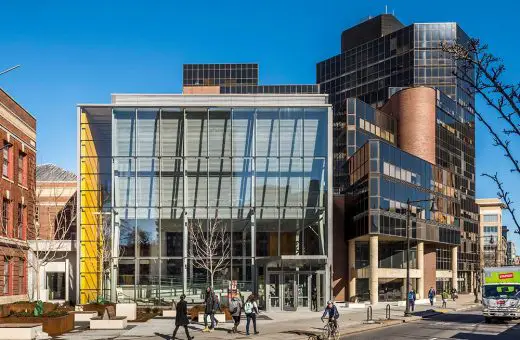 photograph © Peter Vanderwarker
Massachusetts College of Art and Design Design and Media Center Building
Museum of Fine Arts
Design: Foster + Partners



image : Foster + Partners
Museum of Fine Arts Boston
Light Portal, Central Artery Tunnel Authority
Design: JCDA; Architect of Record: Childs Bertman Tseckares



photograph © Andreas Keller
Light Portal Boston
Comments / photos for the Union Point Master Plan page welcome
Website: Boston