Sustainable Architecture Dialogue, Green Building Climate Change, Eco Design
Sustainable Architecture: A Detailed Dialogue
Green Building Debate – CO2 Emissions Reduction Concepts
18 Mar 2019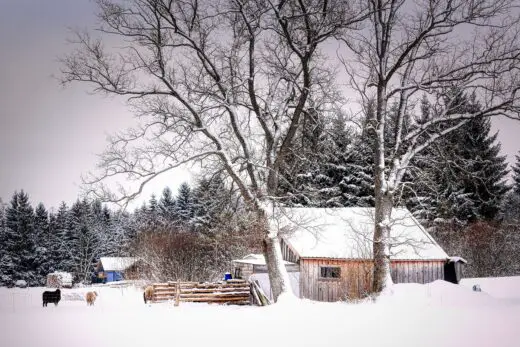 Sustainable Architecture: A Detailed Dialogue
Sustainability is the concept that is being incorporated in most new buildings these days. It has become more of an ideology and architects from all over the world are practicing sustainability in their designs. With the threats of global warming and climate change lingering, it's about time we look at options that leave lower carbon footprints.
The modern-day architecture community is thriving because of the plethora of resources present online. Anyone can share the information they possess about any topic by starting a website. This has encouraged knowledge sharing on a global scale and people are more aware of architecture than they ever were.
Although there are many blogs that talk about the absolute necessity of sustainable architecture, this post will help you understand what is currently going on in the world of sustainable architecture.
A Detailed Look into the World of Sustainable Architecture
From basic definitions to examples of some existing sustainable buildings, we will look at a few different aspects of sustainable architecture. We will also discuss why there is a need to design and build sustainable buildings in the first place.
Understanding Sustainable Architecture
It is the type of architecture that is designed to reduce the negative impacts of buildings on the environment. It is based on the idea that the impacts can be reduced by the right use of space, energy, and materials. This method lays stress on using the existing materials and resources to construct new dwellings that add value to the environment – from an aesthetic and environmental perspective. From waste management to energy use, everything is under focus while looking for sustainable design.
How Can Sustainable Architecture Help?
Over the past decades, nature has suffered because of human developments. The carbon footprint has increased and the ecosystem is now under threat. Things have been further aggravated by the hole in the ozone layer and the melting of polar ice caps.
In order to reverse the damages, the sustainable architecture approach can help. By using strong but natural materials for construction, we can let nature thrive. This type of architecture takes natural factors into consideration – such as shade, orientation, aeration, sunlight, and renewable energy systems. The reason behind using such materials is that they sit in harmony with the surroundings and produce less waste.
Energy Efficiency
The primary goal of adopting the sustainable architecture approach is to construct buildings that are more energy efficient over their lifetime as compared to usual buildings. It requires the implementation of active and passive energy conservation techniques. The purpose of these techniques is to enable the building to capture or generate more energy than usual.
According to sustainable design architects, the crux of designing energy effecting buildings lies in the orientation and overall placement of the building. Similarly, a well-insulated building will require less energy from fossil fuels and would reduce the aerosols emitted by air conditioning. Additionally, solar energy can be harnessed to generate electricity for the home. Similar solar systems can be used to converse energy when it comes to water heating.
Building Material Conservation
Sustainability in architecture also focuses on the use of conservable building materials, as it is important that the materials have a positive impact on the environment. The idea is to use as much recycled material as possible. The re-use of the old demolished building's doors, windows, and hardware are taken under consideration during construction.
If there are new materials to be used for construction, nowadays designers go for rapidly renewed materials like bamboo. They are grown specifically for commercial purposes and offer a great supply of building material. So rather than cutting trees for timber, we can grow our own bamboo to harvest as a building material later. When it comes to installations like insulation, the goal is to use materials with a low environmental impact. Materials with low Volatile Organic Compound (VOC) are preferred. They are having either cellulose or a milk base.
Waste Management Systems
Another important aspect of sustainable architecture is the proper management of waste. Over the years, the Earth has been stuffed with waste generated by humans. Since all the waste is eventually thrown in the water bodies, the aquatic life suffers. The main purpose of incorporating smart waste management principals in architecture is to create systems that manage waste so that its adverse effects are reduced to a bare minimum.
Managing the household by-products in a low-impact manner is the target in sustainable architecture. Reducing water usage, composting toilets, and harvesting water for garden beds are a focus while designing at the present day.
Some Famous Sustainable Buildings Around the World
The real inspiration for constructing a sustainability marvel can be gathered by looking at natural dwellings – after all, nature is the best source of inspiration. Over a period of time, architects have been coming up with brilliant sustainable building designs. Some of the most recently built or proposed designs are as follows:
Wooden Skyscraper – This 18-levels tower is said to be built with timber. It will be using a new wood blend named CLT and will follow a modular construction approach. The tower will look like a giant tree and even have roots.
The Green Hill – this design marvel holds 100 Trees Complex and is said to be built in Shanghai, China. In this building, each tower will be covered by trees and it will include schools, malls, and homes.
The Inside/Outside Hybrid – a Vietnamese star architect adopted a new approach while designing this dwelling. He started with landscaping first and worked on the living space once the trees were planted. This resulted in a unique building that welcomes nature.
Through these examples, we can see that there is a lot going on in the field of sustainable architecture. At the moment, conserving environment is the best thing to do as it will help us build a better world for the generations to come.
Architecture is an art. Buildings are shaped according to their designer's imagination. Therefore, architects can make this world a better place by making their imaginations sustainable.
Sustainable Architecture Archive
Sustainable Development News



image courtesy of Population Matters
Sustainable architecture aims to reduce the adverse effect of human activities on our world, particularly climate change.
Sustainable Design : article by Trevor Tucker
Sustainable Architecture News Scotland : News
Sustainable architects : Bill Dunster Architects / ZED Factory
Sustainable Building Design : article by Trevor Tucker
Sustainable Buildings : Brief informal discussion re some of the issues
Sustainable Architecture Links
Guidance on procuring higher recycled content in construction: www.wrap.org.uk
Forest Stewardship Council – FSC: www.fsc.org
BREEAM: www.breeam.com
Healthy Building Network: www.healthybuilding.net
Sustainable Build: www.sustainablebuild.co.uk
Comments / photos for the Sustainable Architecture: A Detailed Dialogue page welcome