Sustainable Building News, nearly zero-energy buildings, NZEB, Sustainability, Green Projects
Sustainable Building News
Green Architecture Developments: Eco Design News – Tackling Climate Change
post updated 8 April 2022
Sustainable Architecture News
8 Apr 2022
UK Government energy security strategy feedback
Insulate, then generate: energy strategy should put efficiency first, says trade body National Federation of Roofing Contractors. In response to the government's British energy security strategy, James Talman, CEO of NFRC:
British energy security strategy news
6 Apr 2022
Exploring the role of Eco-habitats in the drive for Biodiversity Net Gain
With architects facing greater pressure to improve sustainability and biodiversity measures, Wienerberger UK and Ireland has launched a new specialist report exploring the role of Eco-habitats in the drive for Biodiversity Net Gain.
Eco-habitats: Built Environment Biodiversity
7 Jan 2020
2020: The Year of Net Zero
• 2020 will be a defining year for the built environment
• Cundall is working with industry bodies to revolutionise the UK's approach to net zero buildings and showcase it to the rest of world at COP26
• As a business, Cundall will achieve net zero certification by mid-year
London, 7th of January 2020 – 2020 will be a defining year for the UK's built environment, marking the dawn of a decade of action in which the industry will be transformed by the UN's 2030 agenda for sustainable development. Central to this will be the Intergovernmental Panel on Climate Change (IPCC) special report calling for all new buildings to be net zero within the next 10 years, and all existing buildings by 2050 at the latest.
Sustainable Buildings Research Centre, University of Wollongong, Australia – engineered by Cundall: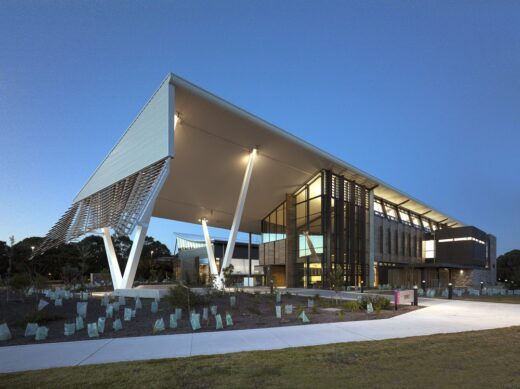 photo © Richard Glover / Matt Estherby
Multi-disciplinary engineering consultancy, Cundall, has named 2020 the 'Year of Net Zero', announcing its resolution to collaborate with industry bodies to revolutionise the built environment's approach to net zero.
Cundall will work alongside the Royal Institution of Chartered Surveyors (RICS), Royal Institute of British Architects (RIBA), the Chartered Institution of Building Services Engineers (CIBSE), the UK Green Building Council, the Greater London Authority (GLA), and the London Energy Transformation Initiative (LETI) to help unify the industry and define targets for achieving net zero carbon in both new and existing buildings.
They will then lobby to set these targets in legislation ready to showcase to the world at COP26 which is taking place in Glasgow in November.
Simon Wyatt, Sustainability Partner at Cundall, said:
"We saw more industry action around sustainability in the second half of 2019 than in the whole preceding decade and I expect this to continue to shape the industry in 2020. With COP26 due to take place in Glasgow, it's an excellent opportunity for the UK building industry to set an example for the rest of the world and lead the conversation on how to achieve net zero carbon in the built environment.
"Ultimately, achieving net zero is an engineering problem that needs a technical solution, and we are dedicated to helping the industry achieve it."
Cundall is currently working with the GLA to launch new standards for whole life carbon for all referable schemes by early February, simultaneously setting out a proposed roadmap and targets for all developments in the next decade. The next step will be to set intensive targets for whole life and embodied carbon and mandate compulsory reporting for all building projects.
At the same time, the practice is also collaborating with the Royal Institution of Chartered Surveyors (RICS) and the London Energy Transformation Initiative (LETI) to help unify the industry on setting operational energy intensity targets for all building types. Once agreed the aim will be to get these included in legislation for both new and existing buildings so that we can meet our net zero carbon targets.
Cundall has also reaffirmed its commitment to achieving net zero carbon throughout its own business operations, incorporating the UN's Sustainable Development Goals into every element and leading the way for others to do the same.
Sustainable Buildings Research Centre, University of Wollongong building interior: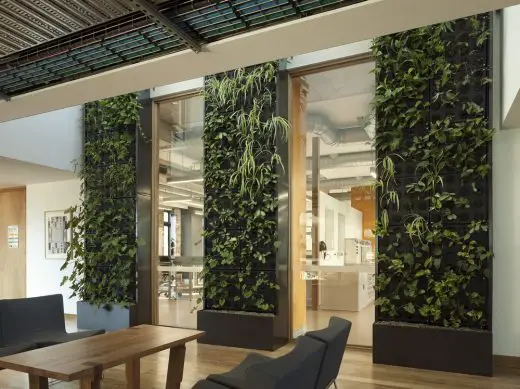 photo © Richard Glover / Matt Estherby
Tomás Neeson, Managing Partner at Cundall commented:
"Sustainability permeates through every aspect of Cundall, achieving net zero is a huge part of that, and with COP26 in Glasgow later this year, we are committed to not only achieving net zero carbon throughout our own offices, but to sharing our learnings and leading the conversation around net zero carbon projects that started in 2019 and will likely only become more vociferous as COP26 draws closer.
"When we launched our latest Sustainability Roadmap in late 2018, we were under no illusions that achieving our ambitious net zero goals would be straight forward. Net zero is a complex issue that needs the type of technical solution that we, as engineers, are best-placed to provide, and it is through the process of continuously learning from our project experience, developing our approach and adjusting our methods that we can succeed."
Cundall Australia has led the charge to net zero, achieving certification in late 2019 and setting the bar for Cundall's other offices around the globe to follow suit by June this year. Once this is achieved, the practice will continue along the path to being 115 per cent carbon positive by 2025.
Cundall's #yearofnetzero campaign will run throughout 2020. The UN's #2030isnow and #decadeofaction campaigns are ongoing.
Established in 1976, Cundall's Founding Partners shared a common vision that the practice would become a leading multi-disciplinary engineering consultancy built on sound ethical principles. For over 40 years, Cundall's engineering expertise, coupled with creativity, innovation and a deep-rooted understanding of people and communities, has allowed the business to develop the best possible solutions for clients' projects.
Harkening back to the founders' roots, sustainability is integral to our approach. We provide our clients with practical advice and solutions, which reduce the environmental impact of developments, and provide better spaces for building users and occupiers, as well as for the wider community.
Cundall is the world's first consultancy to be endorsed as a One Planet Company. As a business, Cundall has implemented several sustainable initiatives on projects around the world, as well as in our offices and homes.
In 2017, Cundall's London office became the first building in the UK and Europe to achieve WELL Certification through the WELL Building Standard™ (WELL), a goal intended to put the health and wellbeing of the occupants at the heart of building design.
Cundall is on track to achieve its goal of being a carbon positive business by no later than 2025, with the Sydney office recently announcing that it had achieved net zero carbon status and other offices around the globe soon to follow.
For more information about Cundall, please go to www.cundall.com.
10 Jan 2020
Leading UK landscape architects declare climate and biodiversity emergency
Climate and Biodiversity Emergency News: Landscape Architects
11 Sep 2019
Sustainable Architecture News Archive 2019
EASAC's Environmental Experts call for international action to restrict climate-damaging forest bioenergy schemes
The international peer-reviewed journal "Global Change Biology – Bioenergy" has just published a paper authored by 15 of EASAC's Environmental Experts on the serious mismatches between science and policy on forest bioenergy. This is based on the extensive work carried out within EASAC since 2015 related to the risks to climate of inappropriate forest bioenergy policies.
Forest biomass used for bioenergy – good or bad for the climate?
Biomass taken from forests was unconditionally classed as "renewable energy" under the EU Renewable Energy Directive (RED) in 2009. It has since been used in many member states to increase the proportion of their energy coming from "renewable" sources. It used to be taken for granted that using biomass is inherently good for the climate because the carbon in the biomass came from the atmosphere and can be reabsorbed as forests grow, so that biomass could be seen as 'carbon neutral'.
That concept may have had some validity in 2009 when the idea was that unused forestry residues would be the main source of bioenergy. However, the large renewable energy subsidies made available in some member states have led to a huge increase in forest biomass use – including the replacement of coal in large power stations.
The process of harvesting forests to produce wood pellets has been industrialised to a scale of many millions of tonnes per year and transported over thousands of kilometres.
Despite much scientific input warning that such practices could be damaging to both the climate and global forests, biomass continues to be classed as renewable under the RED revised in 2018. Moreover, emissions on biomass combustion are rated as zero in the EU's Emissions Trading Scheme.
EASAC has repeatedly pointed out that the climate effects of current large-scale substitution of coal by forest biomass (especially when imported) may be increasing the risk of overshooting Paris agreement targets. The reason is simple – when the forest is harvested and used for bioenergy, all the carbon in the biomass enters the atmosphere in one pulse.
Moreover, since emissions of CO2 per unit of electricity generated are higher (for reasons see the paper), the net effect is that the initial effect of the switch from coal is for emissions to INCREASE. That extra CO2 is only reabsorbed as forests regrow, so there is a time gap between releasing forest carbon and its reabsorption from the atmosphere – called the carbon payback period. Scientific studies show this period to be very dependent on the source of the biomass.
It can be short where unused residues from sustainably-managed forests are involved, but as soon as additional trees start being cut to provide the raw material for pellet mills, the payback periods lengthen considerably, and extend to decades or even centuries depending on the specific case. Yet under the regulations, these important differences are ignored and all types of forest biomass are treated as 'carbon neutral' and the CO2 emitted when burnt counted as zero.
This basic mistake makes it possible to reduce national emissions on paper, because by simply switching from coal (where emissions have to be reported) to biomass (zero reporting) emissions can be reduced immediately. From a climate change perspective however, the reality is the opposite – the increase in emissions persists until the payback period is passed. With the urgency of action following the Paris Agreement to limit warming to 1.5oC, payback periods of more than a decade have become incompatible with climate change goals.
EASAC has thus argued that present practices of large-scale pellet production, transport and use in power stations that cannot show short payback periods should no longer be seen as renewable energy – since they are increasing CO2 in our remaining window of opportunity to avoid overshooting Paris Agreement targets.
As Professor Michael Norton (Environment Programme Director for EASAC) points out, "The large subsidies offered to switch from coal to forest biomass are achieving the opposite of that required for a true renewable energy, which should be to decrease atmospheric levels of CO2. This is bad for the climate and bad for public finances."
This is not just a concern for the EU, because the current accounting rules under the UN Framework Convention on Climate Change (UNFCCC) allows imported biomass to be treated as zero emissions when burned (on the assumption that the exporting country has recorded the forest carbon loss in their land use reporting).
This provides an accounting loophole which allows an importing country to zero-rate its bioenergy emissions – creating the impression that national emissions are reduced while in reality offloading the responsibility for reporting the net increase in emissions to the exporting country. Import of wood pellets is thus spreading to Asia. This international trend led 15 of EASAC's Environment Steering Panel members to set out clearly the perversity of current policies to policymakers globally.
The paper in GCB Bioenergy explains in detail, drawing on both scientific and industry documents, why it is no longer reasonable to see the current large-scale substitution of coal by imported pellets as meeting the criteria for renewable energy. The paper offers a path to steering current unsustainable and counterproductive practices to improved reporting and governance which is more compatible with climate change objectives.
Specifically, regulations must limit subsidies to biomass sources with short payback periods (examples include agricultural and forestry wastes, coppiced trees or fast-growing grasses). At the same time, the UNFCCC reporting guidelines should be urgently revised to remove current perverse incentives to exploit the loophole allowing imported biomass to be zero-emission.
Reforms such as these would allow the industry to evolve to methods and scales which are more compatible with the basic purpose for which it has been supported – to achieve net reductions in GHG emissions in a climate-relevant timescale.
About the European Academies' Science Advisory Council (EASAC)
EASAC is formed by the national science academies of the EU Member States, Norway and Switzerland, to collaborate in giving advice to European policy-makers. EASAC provides a means for the collective voice of European science to be heard. Through EASAC, the academies work together to provide independent, expert, evidence-based advice about the scientific aspects of European policies to those who make or influence policy within the European institutions.
EASAC's thematic programmes (Environment, Energy and Biosciences) are guided by Steering Panels of scientists nominated by EASAC member academies. Further information can be found at www.easac.eu
Source document
Norton M.G., Jones M., Walloe L., Baldi A., Carli B. Cudlin P., Korhola A., Michalski R., Oszlanyi J., Novo F., Santos P.D. Schink B. Shepherd J.S., Vet L. and Wijkman A. (2019). Serious mismatches continue between science and policy on forest bioenergy. GCB Bioenergy
https://doi.org/10.1111/gcbb.12643
Additional documents
Multi-functionality and Sustainability in the European Union's Forests
Forest Bioenergy and Carbon Neutrality
Forest bioenergy, carbon capture and storage, and carbon dioxide removal: an update
Information from European Academies' Science Advisory Council at European Academies' Science Advisory Council, Germany
10 Sep 2019
Sustainable Architectural News
Staying on Target: combining nearly zero energy buildings and low carbon HVAC solutions
All new buildings are required to be nearly zero-energy buildings (NZEB) from 31st December 2020 (according to the EU Energy Performance of Building Directive).
As a result, Part L of the Building Regulations – due to be released this autumn –  is expected to include a shift towards primary energy.
This change could lead to industry changes relating to design, specification and carbon emission targets.
GDHV has produced a report outlining recommendations ahead of these changes, including:
Consider overheating in new build developments
Support heat pump technology
Consider the running costs of specific systems
Maintain air quality
Omitting carbon emissions from Part L could have huge implications for HVAC industry, says GDHV
Southampton, UK – 10 September 2019 : Glen Dimplex Heating & Ventilation (GDHV), the world's largest electric heating manufacturer, is calling for carbon emissions targets to remain a core component within the amended government building regulations due to be released this autumn.
The final consultation paper on the proposed amendments to Part L of the Building Regulations is expected to include a shift towards using primary energy as the main metric for meeting building compliance. This is in response to the European Union (EU) Energy Performance of Building Directive (EPBD) which requires all new buildings to be nearly zero energy buildings (NZEB) from 31st December 2020.
The proposed revisions represent a significant change in the UK's compliance procedures, as the focus will move to primary energy, rather than carbon emissions. The change could result in higher carbon heating, ventilation and air conditioning (HVAC) solutions performing better than lower carbon alternatives in the government's Standard Assessment Procedure for Energy Rating of Dwellings (SAP).
In anticipation of the release of the Part L consultation, GDHV has produced a report outlining a number of recommendations in response to the proposed changes including:
The inclusion of a low carbon emission target alongside primary energy
The introduction of two targets to address the difference in energy consumption between apartments and houses
Consideration of a reward for any futureproofed solutions installed
Apply due consideration to the need for skilled labour and the installation and running costs of specifiable systems
Continue to maintain the trend for improving air quality
Consideration for the growing issue of overheating in new build developments
Support for heat pump technology to help move towards electrification of buildings
Shaun Hurworth, Head of Channel Marketing, Glen Dimplex Heating & Ventilation, says: "It's imperative that the industry changes its approach to the design and specification of heating.  We welcome the move towards including primary energy but urge that this doesn't become a direct replacement for carbon emissions targets.
He adds: "Instead we need a holistic approach that incorporates both primary energy and carbon emissions to ensure that we continue to reduce carbon emissions from new developments, while helping the UK achieve compliance with the EPBD. Policy makers and industry leaders need to work together to ensure that we can reach the nearly zero energy target without increasing the use of higher carbon systems, which could add cost and complication when achieving future, carbon-based targets."
GDHV has been engaging with government and regulatory bodies to better understand the implications of any changes. It has a team of experts committed to understanding the potential impact of future legislation on the specification of HVAC solutions.
Eco Architecture
Contemporary Green Architecture Design
Sustainable Timber Architecture
Sustainable Timber Architecture News
Low Carbon Building Standards Strategy for Scotland : Sullivan Report
Sustainable housing – Donside Urban Village
Buildings / photos for the Sustainable Building News page welcome