Flooding And Climate Change UK, River Damage, Sustainable Architecture, Eco Buildings, Architects
Flooding And Climate Change
El Nino + Storm Frank River Damage – How Can Architects and Planners Help?
4 Jan 2016
Flooding And Climate Change in Great Britain
Storm Damage in the UK
Key architectural impacts around the UK resulting from recent storms – focused on the latest one, Storm Frank.
El Nino has increased the probability of increased frequency of Atlantic depressions crossing the UK and wetter-than-average conditions. There is a clear shift towards above-average rainfall. Climate experts warn that this El Nino will probably become the strongest ever on record.
We welcome readers comments, specifically we are interested in the architectural angle, and planning issues:
– what are the councils with a resettlement plan to move inhabitation away from rivers and flood plains?
– have there been any recent planning approvals for major development on flood plains?
– what are the good examples of architectural solutions, eg Amphibious House by the River Thames that can float on rising floodwater?
Clearly we should immediately halt building flood-prone homes. The tough bit will be relocating communities away from flood-prone zones (the definition of which needs re-assessed but will always be debatable). Government and Community leaders need to engage stakeholders and planning experts to devise a good plan within a short timescale to prevent further loss of life.
Storm Frank River Damage
Abergeldie Castle is just one of the homes at risk after the River Dee swept away land, leaving the historic building feet from disaster.
Abergeldie Castle was almost washed into the River Dee: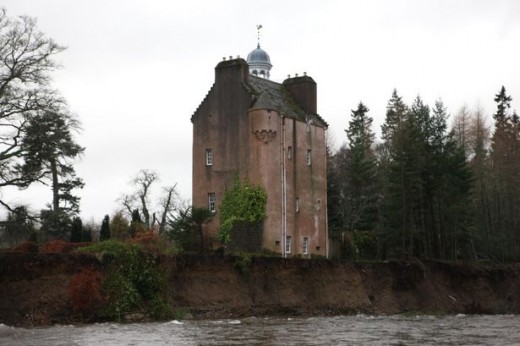 photo : Peter Jolly/Northpix
The Grade A-listed four-storey building is now just feet from the new steep bank to the River Dee. Emergency crews were desperately sandbagging river banks and homes in affected areas. Storm Frank led to the flooding last Wednesday that caused havoc in Ballater and washed away the A93 along the North bank of the River Dee two miles east of Crathie.
Flooding by River Dee damages The Cambus O'May footbridge: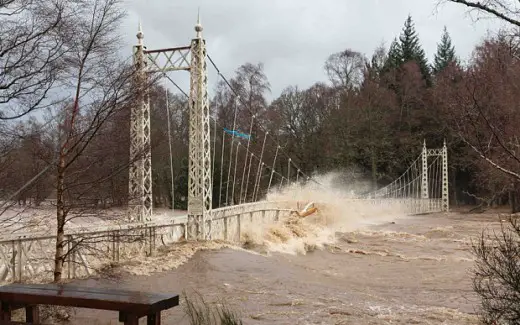 Ballater flooding damage from Storm Frank in Upper Deeside, Scotland – caravan park destroyed: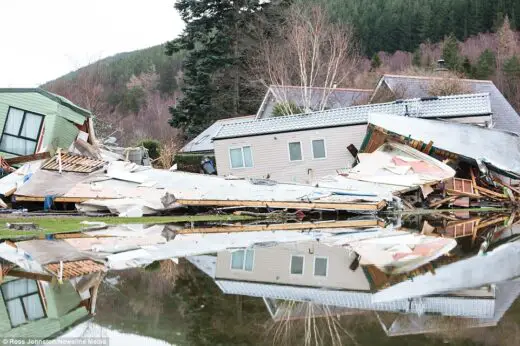 Storm Frank Flooding in Deeside
Tadcaster Bridge over River Wharfe in Yorkshire collapses during Storms:
"Mistakes that cost a town its historic bridge: Locals claim structure could have been saved if officials had listened to 25 requests to remove branches from the water":
Waterside pub in Summerseat (Bury, Greater Manchester, Lancashire, Northwest England) collapses into the River Irwell as water levels rise below:
Building over river damaged by Flooding
Northern English building over river damaged: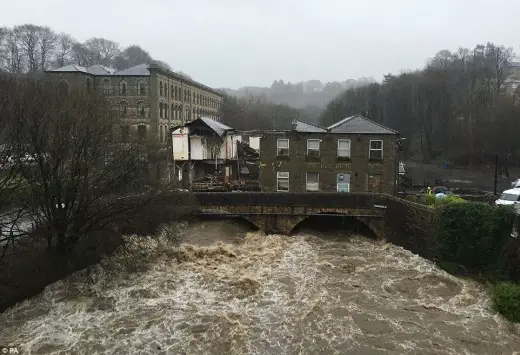 A view of the Ulls Water in Glenridding, Ullswater, Cumbria, Northwest England, as Storm Frank begins to batter the UK.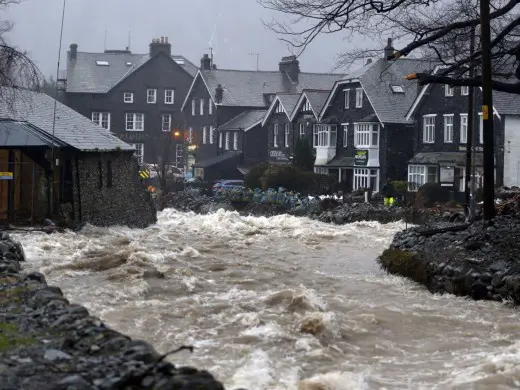 photo : PA
Amphibious House by Baca Architects is a family home on an island in the middle of the River Thames in Southern England. This featured on Grand Designs. The building can float on rising floodwater like a boat:

Our attitude to rising sea levels remains as defensive as ever. With 20% of British homes now at risk, this is a mistake, reports Building Design (BD) in an article from 4 September 2015.
Ten years on from Hurricane Katrina – one of the worst predictable floods in history (unlike the Boxing Day tsunami in 2004) – what has changed?
Designing Against Flooding
10 November 2015
Climate experts warn that El Nino "will more likely than not become the strongest ever on record", reports the Express.
Flooding apparently results largely from the El Nino, which is caused by the warming of the Pacific Ocean. There is clear shift towards above-average rainfall. El Nino moderately increases the probability of increased frequency of Atlantic depressions crossing the UK and wetter-than-average conditions. The last El Nino in 2009 apparently led to the deaths of more than 25,000 people.
Flooding from El Nino – article in The Guardian
3 March 2015
Architectural adaption and government strategy will be essential to tackling flooding, argues an RIBA report on the future of insurance, reports the RIBA Jounal.
"The RIBA believes the government needs to look beyond just building homes and trying to protect them later. Flood prevention measures like water sensitive architecture and green infrastructure should become an integral part of our homes and cities. The current approach is clearly not sustainable…We need a new approach that encapsulates three main principles."
Tackling flooding through long-term planning
Back in 2014 – flooding in England:
After a month of flooding the Met Office has issued further warnings of extreme weather as homeowners assess the damage. The now famous Island house has now fallen victim to the floods after its owner said that the water has gotten into his home and is rising by six inches a day.
20 Jun 2015
Climate Change

Sustainable Architecture & Climate Change
Climate Change Report – BBC news link
2 Dec 2012
Carbon Emissions Too High to Stop Climate Change
Carbon Emissions News – external link to BBC report
So what can architects do to assist?
The RIBA Sustainability Hub includes sustainability information such as design strategies and case studies.
Sustainable architecture aims to reduce the adverse effect of human activities on our world, particularly climate change.
Our buildings and building operations are responsible for 45% of the carbon dioxide (greenhouse gas) emissions in the UK. Architects are a large part of the problem of tackling climate change, and consequently the solution – sustainable architecture.
Long Life, Loose Fit, Low Energy
Sustainable Architecture – external link
Sustainable Design : article by Trevor Tucker. 15 Sep 2009
Sustainable Architecture News Scotland
Example of sustainable architecture:
Panyaden School, Thailand
24H > architecture



photo © Ally Taylor / Panyaden School
Thailand School Building
Sustainable architects : Bill Dunster Architects / ZED Factory
Sustainable Building Design : article by Trevor Tucker. 18 Aug 2009
Sustainable Buildings : Brief informal discussion re some of the issues
Sustainable Architecture Archive
Sustainable Architecture : Lighthouse 'Sust' Programme
Sustainable Architecture Exhibition
Sustainable Homes
Sustainable Housing : Slateford Green, Edinburgh – 'car-free homes'
Sustainable house : Skye, Western Isles, Sctoland by rural design



image © rural design architecture and landscape, scotland
Sustainable Architecture : Lotte Glob House
Sustainable Architecture : David Douglas Centre
Sustainable Architecture Links
DTI Low Carbon Buildings Programme: www.lowcarbonbuildings.org.uk
Greener Homes & Buildings: www.ghb.org.uk
Guidance on procuring higher recycled content in construction: www.wrap.org.uk
Forest Stewardship Council – FSC: www.fsc.org
BREEAM: www.breeam.com
Healthy Building Network: www.healthybuilding.net
Sustainable Build: www.sustainablebuild.co.uk
Comments / photos for the Flooding And Climate Change UK – Sustainable Architecture page welcome