Lotte Glob, Sutherland Home, Durness Building, Photos, Ceramic Art Scotland
Lotte Glob House, Loch Eriboll
Scottish House, Durness, northwest Scotland – design by Gokay Deveci, Architect
Lotte Glob Scotland
Architect: Gökay Deveci
Location: Loch Eriboll, northwest Scotland
House for Lotte Glob, Ceramic Artist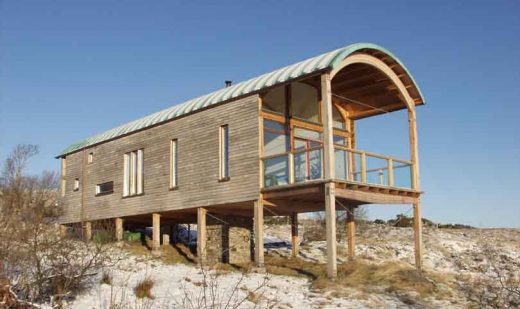 In 2001, Lotte Glob, a Danish ceramic artist whose practice is closely identified with the wilderness landscape in North-West Scotland commissioned me to build a living and working space that would enable her to integrate her practice, her business and her lifestyle. She stipulated that the design should be affordable and context-sensitive as well as complementing her aesthetic vision, reflecting her passion for the light across the hills of Sutherland.
The 110m2 dwelling comprises of a large multi-purpose double-height living/ sleeping/eating space oriented towards to the South, which the client can also use for exhibitions, and a compact service space at the North.
The construction is a timber post and beam structure, sitting lightly on the earth, with a linear plan with a curved roof clad with patinated copper sheets. The external walls are clad with untreated Scottish oak shiplap boarding designed to silver with age.
The East and West elevations use narrow, linear and pocket windows aligned to
the sunrise and sunset. The South elevation is fully glazed with a timber deck which is projected out into the air, hovering like a seagull in the wind, looking directly towards Ben Hope across Loch Eriboll.
Design Rationale
The response to the nature of the site and the context of a sparsely populated mountainous terrain, dotted with small granite cottages with slated roofs was to complement and invent. Choosing a long curved building mass that appears to float on a sloping landscape may appear jarringly non-traditional, but in observing the local vernacular architecture in Sutherland, one sees many traditional croft buildings and agricultural sheds, which settle into the landscape with harmony.
The aesthetic approach was to use visual elements of this intrinsic architecture,
combined with a response to the landscape as a cue to the design solution with the emphasis on the relationship of the individual to landscape. The landscape is both a view, something you take in, and your immediate physical surroundings, something you are taken in by.
The design incorporates local materials wrought by the local workforce. Materials were chosen that would weather in colour and texture, ageing gracefully in harmony with changes in the seasons. Equally important was the visual contrast and formal juxtaposition of rough-sawn shiplap cladding skin contrasting with the highly controlled precision of engineered laminated timber structure.
The chosen construction method has the ability of accommodating super insulation levels for maximum energy efficiency and yet has minimum impact on the landscape, with an inherent ease of assembly and disassembly. The prefabricated post and beam structure provides a flexible, adaptable and buildable form which allows the creation of large multi-purpose space and also accommodates the sloping ground with ease by incorporating an undercroft which also becomes an outdoor exhibition space.
The structure needs to withstand winter winds up to 150kmph which sweep across the loch and which "make the stones fly" according to local residents. Wind resistance is provided by sheathed panels in the longitudinal direction and by a combination of bolted joints, cross bracing and ties using galvanised steel rods and sheathed panels in the lateral direction.
A rigid roof and floor tie these elements together. Wind uplift is also a serious problem and is counteracted by bolting the structure to steel shoes cast into substantial concrete foundations.
Project Realisation
The advantage of using a highly engineered kit of parts, like post and beam construction meant that it was possible for unskilled workers to assemble the affordable structure and components anywhere – an important factor in a remote location like Sutherland. The total construction cost was £75,000 excluding land.
There was only one building contractor in the area who had always used traditional construction techniques. He also doubled as the local funeral director!
Gokay Deveci ARIAS RIBA: Lotte Glob House – text May 2004
RIAS Best Building in Scotland 2004 PR:
Project: Lotte Glob House
Address: 105 Laid Croft, Loch Eriboll, Durness, Sutherland
Architect: Gokay Deveci
Client: Lotte Glob
Project cost: £75k
Completed: Nov 2003
A striking timber house on a stunning location meets the client's requirement to provide an affordable and context-sensitive building which would also complement her aesthetic vision as a ceramic artist. The dwelling comprises a large multi-purpose double-height living/sleeping/eating space oriented towards the South, which Lotte Glob can also use for exhibitions, and a compact service space at the North.
The judges were impressed with the detailing and practicality of the project, achieved on a limited budget. The house nestles into the landscape and offers striking views on the outside and a calm, ordered and open set of spaces to live and working on the inside.
The Scottish Best Building Award was won in late Oct 04 by the Clavius Building
Lotte Glob House: Photos by Lotte Glob
Contact Gökay Deveci on 01224 263 714
Location: Durness, Scotland
Architecture in Scotland
Scottish Architecture Designs – chronological list
Architecture Walking Tours by e-architect
Gokay Deveci, Glasgow
Gokay Deveci is also working in Glasgow with Lochfield Park Housing Co-operative and Scottish Homes. He is developing energy efficient family homes in Easterhouse as a consultant for Page and Park Architects, Glasgow, who were the architects for Maggie's Inverness.
Gokay Deveci is based in North-East Scotland where he teaches and has designed energy efficient homes.
Also by Gokay Deveci: A'Chrannag, Isle of Bute
Gökay Deveci, Isle of Bute
Seven-storey round tower in Rothesay, designed by Aberdeen architect Gökay Deveci, named A'Chrannag ('Crow's nest') is the Isle of Bute's newest housing development. All 14 homes are rental properties for local housing association Fyne Homes Ltd.
A'Chrannag is on the outskirts of town, just outside the Rothesay Conservation Area, on a site that was formerly occupied by the Foley House Hotel, demolished after a fire in 1995. The brief was to build around 15 two and three-bedroom homes for rent to meet local needs for affordable housing. Fyne Homes requested that the dwellings were energy efficient, and that the local community could participate in the planning process.
Lotte Glob, Durness, won the Best Building in Scotland shortlisted in 2004.
Scottish Rural Houses
Scottish Architect Studios
Comments / photos for the Lotte Glob House – Loch Eriboll Building page welcome