C40 Clean Construction Declaration and Pledge, Net Zero Carbon Buildings News, Sustainable Architecture Design
C40 Clean Construction Declaration and Pledge
24 Nov 2020
City Mayors Pledge Sustainable Construction
C40 Cities connects 97 of the world's greatest cities
Oslo, Los Angeles, Mexico City, Budapest Commit to Clean Construction, Moving the Industry Towards a Sustainable Future
Four leading mayors are initial signatories to C40 Clean Construction Declaration, pledging to work with industry to halve emissions from construction projects in their cities by 2030
Construction is responsible for 23% of the world's GHG emissions
London, UK (24 November 2020) – Today, the mayors of Oslo, Los Angeles, Mexico City and Budapest have pledged to halve emissions from all construction activities in their cities by 2030, in collaboration with leading companies and innovative business communities.
Through the targets in C40's Clean Construction Declaration, mayors pledge to revolutionise the global construction industry and shift it towards a more sustainable future, to achieve "a thriving, resilient and healthy life for everyone in our cities, especially our most vulnerable communities."
The construction industry in its current form is responsible for more than 23% of the world's GHG emissions and 30% of global resource consumption. If the construction industry continues to take a business as usual approach, the world is on track for a global temperature increase of 3°C.
The Declaration sets bold, ambitious targets to develop the net-zero emission buildings and infrastructure of the future by:
Reducing embodied emissions by at least 50% for all new buildings and retrofits by 2030
Reducing embodied emissions by at least 50% of all infrastructure projects by 2030
Procuring and when possible using only zero emission construction machinery from 2025
Deichman Bjørvika / Oslo Public Library building, Norway: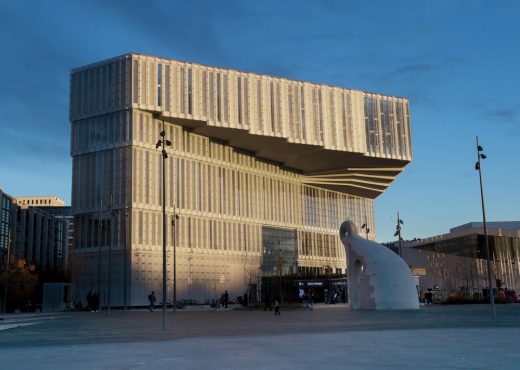 photo : Fredrik Varfjell, C40
Recognising that cities cannot tackle the climate crisis alone, the Declaration places the circular economy as its core and calls for innovation and collaboration across cities, businesses, regional, national and supranational government and industry.
The Declaration commits cities to repurposing and retrofitting building stock to make better use of the buildings and infrastructure that currently exist, which also has huge potential to create new green jobs. Retrofitting reduces the need for raw building materials that have a high carbon footprint — concrete production alone is responsible for 8% of the world's GHG emissions.
The mayors also commit to lead by example on clean construction, using their purchasing power and normalising the use of zero emission construction machinery, and demanding transparency and accountability in their supply chains. They aim to achieve this by embedding clean construction policies into design and planning, procurement and contracting processes, as well as building codes.
Finally, by signing the Declaration, mayors promise to approve at least one net-zero emission flagship construction project by 2025 and to produce annual reports on their progress.
The mayors' shared declaration recognises the need for radical change in how cities approach construction. Clean construction principles can deliver a green and just recovery from the COVID-19 crisis; respond to the pressing issue of the climate crisis; improve air quality; and reduce inequality in the world's cities. If successfully implemented, clean construction will create good, green jobs by investing in local and sustainable businesses and supporting workers. These will be particularly valuable in the recovery from COVID-19 and the associated economic impacts within cities.
The radical collaboration and coalition-building necessary to deliver the Clean Construction Declaration is evidence of the growing impact of C40's Global Green New Deal coalition, first announced by C40 Chair and Los Angeles Mayor Eric Garcetti in October 2019.
Raymond Johansen, Governing Mayor of Oslo, said: "I am proud to announce our firm commitment to collaborate with business and industry to transform construction in Oslo and cities around the world for the better. The climate crisis is a global problem that requires global solutions. We need to unite businesses, industry and government on all levels to advance climate action. We must cut global emissions in half by 2030. The construction sector accounts for up to a quarter of global greenhouse gas emissions. Therefore, it must play a key part if we are to reach this goal.
"We are confident that the C40 Clean Construction Declaration will contribute in shifting the construction market globally. Together, we can remove fossil fuels and reduce emissions from construction sites altogether. This will make them safer, quieter, cleaner places to work, and will ensure that the air in our cities is cleaner and healthier to breathe. We challenge the Minister of the Environment to take action and ask cities worldwide to join us".
Los Angeles Mayor and C40 Chair Eric Garcetti said: "The climate crisis affects every facet of our lives and every sector of our cities – that means we have to fundamentally change the way we operate across the board and revolutionize how we power our neighborhoods, consume natural resources, construct buildings, commute, travel, and lead. With the Clean Construction Declaration, Los Angeles is doubling down on the commitments of our local Green New Deal – and all of the signatories are laying the foundation for sustainable communities, standing up the pillars of green jobs, and drawing the blueprint for a just, healthy, and equitable future."
Dr. Marina Robles García, Ministry of the Environment, Government of Mexico City, said: "Mexico City has a firm commitment to the best international sustainable building practices, not only because of the need to reduce the impact generated by construction and demolition waste, but also because of the potential in energy efficiency that can be achieved, thereby contributing to the achievement of the Sustainable Development Goals and the Paris Agreement from the local agenda. "
Gergely Karácsony, Mayor of Budapest, said: "Budapest is a beautiful and exciting city with an incredible historical heritage and great architecture that we all adore. This, however, means a large building stock with rather poor energy performance and high GHG emissions, which have been worsened by the rapidly increasing traffic during the last couple of years. By declaring a climate emergency as one of our first measures after taking office a year ago, the Municipality of Budapest has committed itself to take active steps to reduce emissions in the city. Embodied emissions in construction activities and materials are uncharted areas, where large mitigation potential can certainly be found. Budapest wants to find its way to mobilise its ecosystem to make significant improvement in this field, which is why the city is delighted to be signing on C40's Clean Construction Declaration."
Nigel Topping, UK High Level Climate Action Champion, UNFCCC COP26, said:
"Cities have a vital role to play in accelerating the built environment transition to net zero through policy, influence, collaboration and advocacy for climate action. Committing to the Clean Construction Declaration is a step cities must take to fulfill this role and show leadership through dramatically reducing embodied carbon emissions from buildings and infrastructure. I implore all cities to commit to this declaration!"
Yu Fu, Director of International Cooperation, China Association of Building Energy Efficiency, said: "CABEE is pleased to be working with the C40 Clean Construction Forum to learn more about relevant policies and innovations, particularly as Chinese cities pilot work in this topic area."
Cristina Gamboa, CEO of the World Green Building Council (WorldGBC), said:
"WorldGBC celebrates C40's Clean Construction Declaration, an extension of our joint Net Zero Carbon Buildings Commitment / Declaration. Promoting leadership from cities that embrace a whole life-cycle approach is crucial to achieving our unified vision of total decarbonisation of the built environment.
"The Declaration, and the bolder leadership from policymakers behind it regarding their decarbonisation efforts, will create more confidence in the industry to deliver at scale the necessary investments to build back better."
Lena Hök, Senior Vice President Sustainability, Skanska Group, said: "Skanska has set an ambitious climate target to reach net zero carbon by 2045, including our value chain, and by 2030 we aim to half our emissions. We have a strong will to work towards a more sustainable transition for the entire industry and cooperate with partners to drive sustainability innovations. The commitment from C40 sets a bold directive for this transition enforcing a life cycle approach for greener, healthier and more energy efficient buildings and infrastructure. We look greatly forward to co-operate on this journey together."
Jocelyn Blériot, Institutions, Governments & Cities Executive Lead, Ellen MacArthur Foundation, said: "A circular economy approach that eliminates waste in all its forms from the built environment can have a significant impact on carbon emissions – whether that is through renewable material selection, modular and flexible design, efficient construction processes, reuse or recycling of building materials, or the increased utilisation of our buildings.
"City governments have a key role to play in this journey, and the Clean Construction Declaration is evidence of city leaders taking bold steps towards shaping a built environment that is resilient, safe, comfortable, cost-effective, and aligned with environmental targets."
Edward Mazria, CEO and Founder, Architecture 2030, said: "Leading by example, C40's Clean Construction Declaration and Pledge is central to decarbonizing the built environment and meeting the Paris Climate Agreement's 1.5°C target."
About C40 Cities
Around the world, C40 Cities connects 97 of the world's greatest cities to take bold climate action, leading the way towards a healthier and more sustainable future. Representing 700+ million citizens and one quarter of the global economy, mayors of the C40 cities are committed to delivering on the most ambitious goals of the Paris Agreement at the local level, as well as to cleaning the air we breathe.
The current chair of C40 is Mayor of Los Angeles Eric Garcetti; and three-term Mayor of New York City Michael R. Bloomberg serves as President of the Board. C40's work is made possible by our three strategic funders: Bloomberg Philanthropies, Children's Investment Fund Foundation (CIFF), and Realdania.
To learn more about the work of C40 and our cities, please visit our website and C40 Knowledge Hub or follow us on Twitter, Instagram, Facebook and LinkedIn.
C40 Clean Construction Declaration and Pledge image / information from Dragonfly
Sustainable Buildings News
Contemporary Green Architecture Design – selection of posts:
Net Zero Carbon Buildings News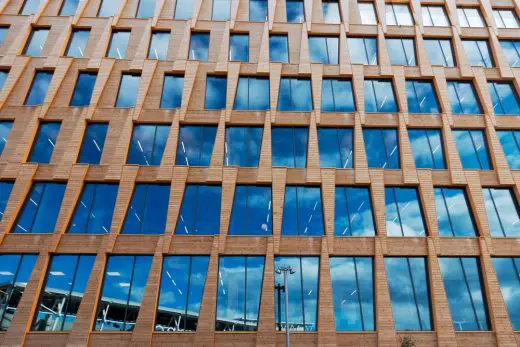 photo courtesy Anders Vestergaard Jensen, unsplash
Net Zero Carbon Buildings
Zero Carbon Buildings 2050 Report
House of Lords Zero Carbon Homes Ruling
2020: The Year of Net Zero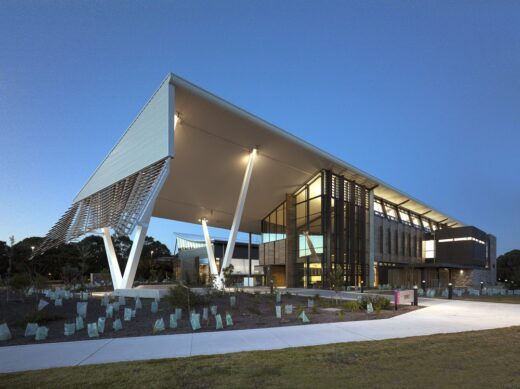 photo © Richard Glover / Matt Estherby
Sustainable Building News: Zero-Energy
Climate and Biodiversity Emergency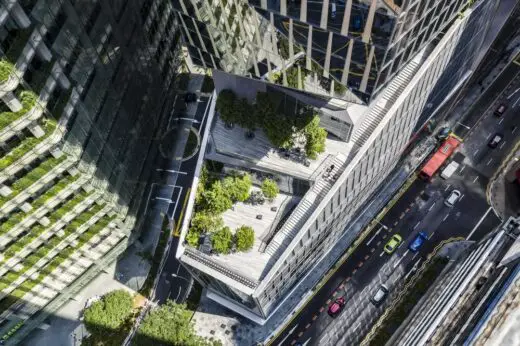 photo : Tim Griffith
Climate and Biodiversity Emergency
Sustainable Timber Architecture
Buildings / photos for the C40 Clean Construction Declaration and Pledge News page welcome