Bennetts Associates Architects, Building, English Design Studio, Projects Photos, Office News
Bennetts Associates Architects Office
Contemporary Architecture Practice UK: Offices in London, England + Edinburgh, Scotland
post updated 2 May 2022
Bennetts Associates News
Bennetts Associates Architecture News
16 Nov 2021
Norton Motorcycles HQ, Solihull, West Midlands, central England, UK
Design: Bennetts Associates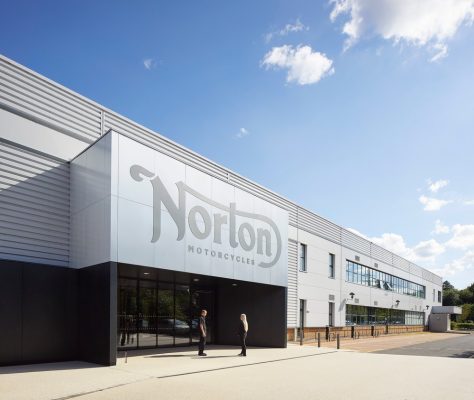 photo © Hufton+Crow
Norton Motorcycles HQ
Re-start of the iconic Norton brand has been marked with the completion of a new HQ in Solihull, at the heart of the UK's automotive hub. Delivered from inception to handover in less than a year during the pandemic, the 7300 sqm facility speaks of reinvigorated brand values and provides state-of-the-art facilities.
10 Aug 2020
King's Cross Sports Hall, London, England, UK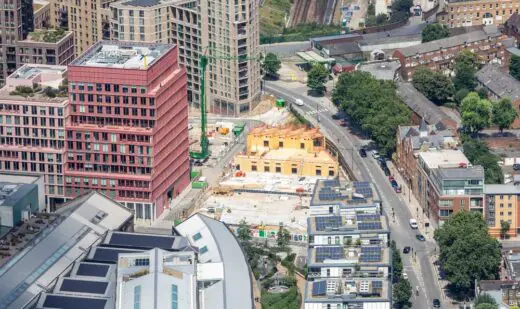 photo © John Sturrock
King's Cross Sports Hall
Construction of the brand-new King's Cross Sports Hall, a community sports centre and gym, located at the north east edge of the 67-acre King's Cross development, has now completed.
18 Dec 2019
Jaguar Land Rover Design Studio, Gaydon, Warwickshire, central England, UK
Design: Bennetts Associates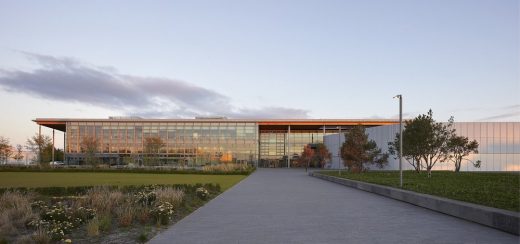 photography © Hufton+Crow
Jaguar Land Rover Design Studio, Gaydon
State-of-the-art advanced product creation centre is now open. The project brings together design, engineering and production purchasing under one roof for the first time, in a new facility that is designed to encourage collaboration throughout the entire vehicle development process.
26 Feb 2019
Royal College of Pathologists HQ, Alie Street, East London, UK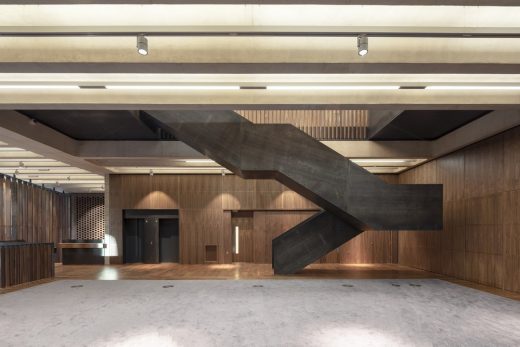 photograph : Peter Cook
Royal College of Pathologists in East London
The Royal College of Pathologists has relocated to a new building designed by Bennetts Associates. The completion of the 4,500 sqm building on Alie Street in East London marks the final step in the college's move from a traditional Grade 1 listed building in St James to contemporary purpose-built premises.
12 + 6 Nov 2018
King's Theatre Edinburgh Redevelopment, Edinburgh, Scotland
Capital Theatres, the charitable trust which runs the Festival and King's Theatres and The Studio, is delighted to officially launch the King's Theatre Edinburgh Redevelopment Campaign with the announcement of the architect for the project, Bennetts Associates and the unveiling of their initial designs for the building's transformation.
King's Theatre Edinburgh building redevelopment design by Bennetts Associates: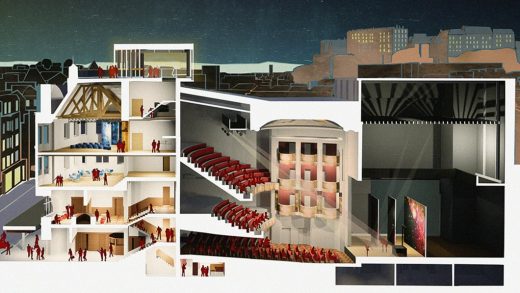 image Courtesy architecture office
The unveiled designs for the redeveloped King's Theatre show a design that retains the majesty of the original building but reimagined for the 21st century. The images, a cross-section of the re-imagined building and a front side view showing the building's depth down Tarvit Street, capture a design that makes optimum use of the space available in the original 1906 building and the scope to create additional front of house space including a stunning roof terrace with views across the city skyline.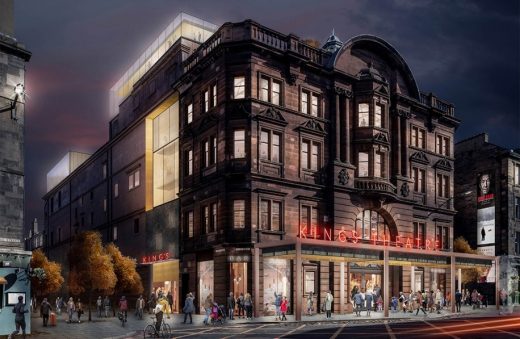 image from architects practice
The transformational project will preserve and revitalise the King's Theatre Edinburgh, one of Scotland's oldest and most loved theatres, making it a vibrant, dynamic and accessible cultural destination for generations to come.
King's Theatre Edinburgh Redevelopment by Bennetts Associates
Bennetts Associates is responsible for several renowned cultural projects including Storyhouse in Chester, a much-loved cultural centre which combines a theatre, cinema and library, and the extension to Shaftesbury Theatre, both of which received RIBA National Awards this year.
Joining Bennetts Associates as the appointed architect on the project will be Theatreplan, global theatre design and technical theatre consultancy specialists. Together Bennetts and Theatreplan are also working on the transformation of Citizens Theatre in Glasgow.
James Nelmes, Associate Director at Bennetts Associates said: "The King's Theatre has a unique place in the hearts and minds of many Edinburgh residents and is a theatre of national architectural importance. We are delighted to be working with Capital Theatres and Theatreplan to bring it to the next stage. The plans to modernise the existing facilities and transform the experiences of visitors, performers and staff will help the theatre to remain a vital part of Edinburgh's cultural provision for years to come."
23 Oct 2018
The Bayes Centre, Edinburgh, Scotland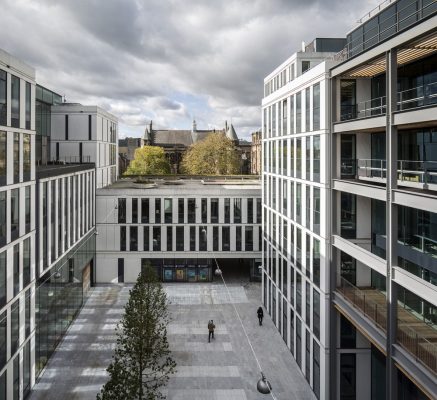 photograph : Keith Hunter
The Bayes Centre Building
A pivotal piece of the University of Edinburgh's estate set to transform Edinburgh city centre into one of UK's most dynamic places for tech, attracting the highest calibre of international experts in data science and artificial intelligence.
27 Mar 2018
RIBA Northwest Awards Shortlisted Buildings
Storyhouse, Chester, is one of 9 buildings have been shortlisted for the 2018 RIBA Northwest (Royal Institute of British Architects) Awards; the winners will be announced at an Awards evening at One Fine Day, Liverpool on 16th May 2018.
Storyhouse, Chester by Bennetts Associates & Ellis Williams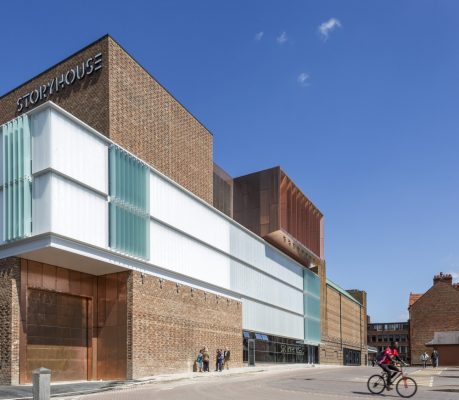 photograph © Peter Cook
RIBA Northwest Awards Shortlisted Buildings
18 Dec 2017
Citizens Theatre Renovation HLF Grant, Glasgow, Scotland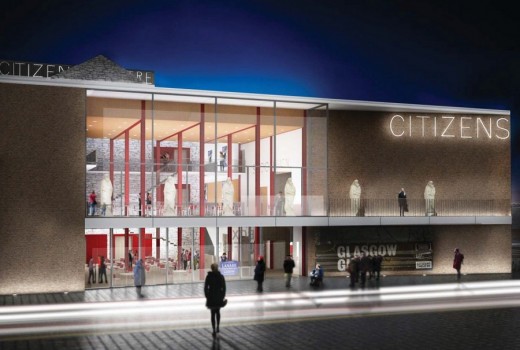 image courtesy of architects
Grant of £4.8 m from the Heritage Lottery Fund (HLF) for transformational renovation and expansion of Glasgow's Citizens Theatre by Bennetts Associates, architects: refurbishing the historic auditorium whilst sweeping away later piecemeal additions to allow a wraparound new build structure.
Citizens Theatre Glasgow Building
30 Nov 2017
Edinburgh Futures Institute Building, Scotland
Edinburgh's former Royal Infirmary Surgical Hospital, a category-A listed building at the heart of the Quartermile development, has received detailed planning permission to become a major new facility for the University of Edinburgh. The design is by Bennetts Associates:
Edinburgh Futures Institute Building
10 Aug 2017
Metropolitan Police Training and Operations Facility, Hendon, North London, UK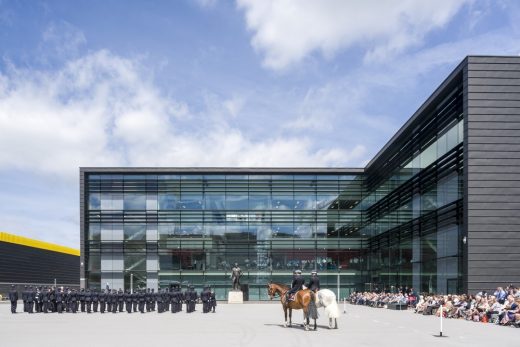 image courtesy of architects
Metropolitan Police Training and Operations Facility in Hendon
Working with Mace to produce a turnkey project, Bennetts Associates has completed a new Training and Operations facility for the Metropolitan Police Service at their historical Hendon site, creating a contemporary, flexible learning and working environment.
3 Apr 2017
One Bedford Avenue, Mount Pleasant, Clerkenwell, London, UK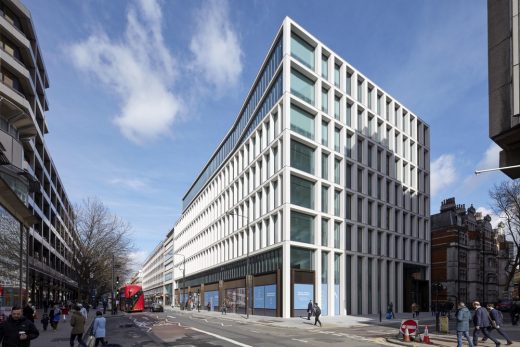 image courtesy of architects
One Bedford Avenue, an office and retail development in London's West End, has been completed by Bennetts Associates for Exemplar, in partnership with Ashby Capital and The Bedford Estates.
29 Sep 2016
JR Smart Office Building in Cardiff, South Wales
BENNETTS ASSOCIATES SECURES PLANNING FOR MAJOR OFFICE DEVELOPMENT IN CARDIFF
Bennetts Associates has secured planning permission to deliver more than 300,000 sq ft of office space in Cardiff city centre for local developer JR Smart.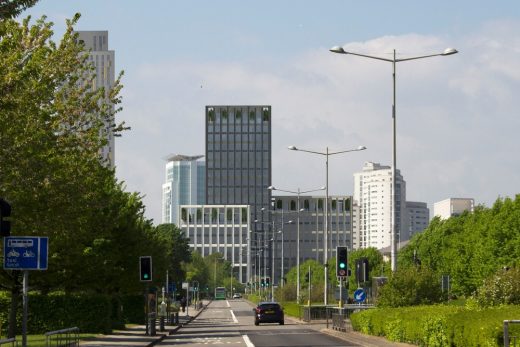 image courtesy of architects
Located on John Street and part of the wider Capital Quarter development, the proposed scheme comprises three blocks of 22, 12 and 10 storeys, with retail units at ground floor and office accommodation above.
The development, which will form a focal point at the northern end of Lloyd George Avenue will link the retail hub to the north and Callaghan Square to the south west and will be a catalyst for local and city-wide regeneration. The project will provide premium quality accommodation to attract high quality occupiers and top-tier retail operators.
The arrangement of the three linked blocks is derived from the site's triangular perimeter and the need to address the external spaces with radically different scales. Each of the three blocks is clad using a subtly different colour to accentuate the concept and break up the overall mass of the building.
Peter Fisher, Director, at Bennetts Associates, said: "This development will be significant for Cardiff. Located on a prominent site and viewed on a primary axis along Lloyd George Avenue from the bay, the scheme consists of three relatively tall, linked blocks against a backdrop of recently consented or completed major buildings. The development will use a restricted palette of high-quality materials, ensuring the building's longevity."
Two welcoming, accessible public squares will animate the development and bring life to this area of the city through carefully positioned shops and restaurants.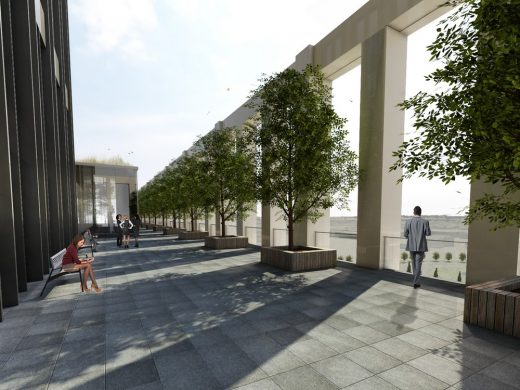 image courtesy of architects
Project Team:
Client – JR Smart Ltd
Architect – Bennetts Associates
Structural Engineer – RVW Consulting Limited
Services Engineer – McCann
Traffic Consultant – ADL
Visualisation Consultant – Buzzbox
Acoustic Consultant – Hunter Acoustic
Landscape Architect – Henshaw Morgan
Planning Consultant – G Powys Jones
Fire Consultant – HNLA
About Bennetts Associates
Bennetts Associates is one of the UK's leading architectural practices, with more than 140 awards for a wide variety of projects.
The firm's ethos is based on architecture that is timeless, humane and elegant. Its work is always meticulously executed and has pioneered long-term sustainability across many sectors.
Projects undertaken by the practice have ranged from around £1m to £200m, including new-build, refurbishment and restoration of listed buildings. Bennetts Associates is responsible for many prominent projects such as Hampstead Theatre, Edinburgh University's Potterrow Development, Jubilee Library in Brighton, the New Street Square Development in the City of London, the Gateway Buildings at St Antony's College in Oxford and the design of the Stirling Prize shortlisted transformation of the Grade II listed Royal Shakespeare Theatre in Stratford-upon-Avon.
The London Borough of Camden's new headquarters at King's Cross, completed by Bennetts Associates in 2014 won the Prime Minister's Better Public Building award at the 2015 BCI Awards.
Bennetts Associates is a founding member of the UKGBC and is especially well-regarded for its pioneering work on sustainability. The practice is involved in research, conferences and government committees associated with sustainability and the wider construction sector.
23 Jun 2016
A Private House in Cumbria, Cumbria, Northwest England, UK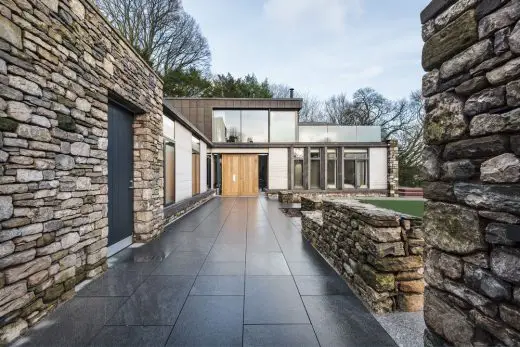 photo courtesy RIBA
A RIBA National Award Winner 2016
25 Mar 2016
Citizens Theatre Renovation Planning Approval, Glasgow, Scotland
Citizens Theatre Glasgow
Redevelopment plans for Glasgow's Citizens Theatre receive planning consent. Work on the £20.5 m project is now set to start in late 2017 or early 2018 and be completed in spring 2020, subject to funding being in place. The 138-year-old theatre will remain open throughout the project.
16 Mar 2016
New Administrative Headquarters for the Royal College of Pathologists, East London, England, UK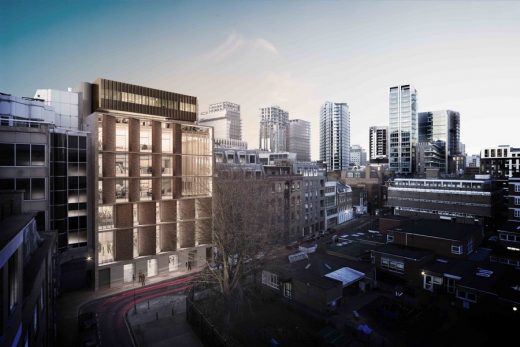 image from architect
Royal College of Pathologists HQ London
Bennetts Associates' new administrative headquarters for the Royal College of Pathologists has been granted planning permission. Located on Alie Street in Whitechapel, Bennetts Associates' design replaces an existing 1980s office building and will become the new home for the College, enabling it to realise its future objectives in advancing the science and the practice of pathology.
16 Dec 2015
Citizens Theatre Building Renewal, Glasgow, Scotland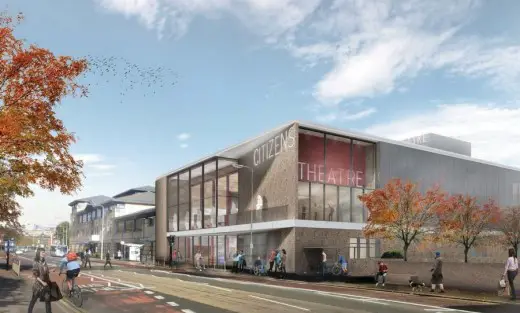 Bennetts Associates have submitted plans for the renovation and expansion of Citizens Theatre Glasgow by refurbishing the historic auditorium.
19 Nov + 9 Oct 2013
The Old Vic Building, London, UK
Architect: Bennetts Associates



photograph : Matt Humphrey
The Old Vic is submitting a planning application for a restoration and redevelopment project in order to sustain the 195 year old London landmark for the next generation of theatre-goers, creative talent, local community and the general public. The Old Vic has appointed award-winning architects Bennetts Associates to devise a restoration scheme, which will be submitted for planning permission to Lambeth Council in November.
27 Sep 2013
Tottenham Court Road, London, England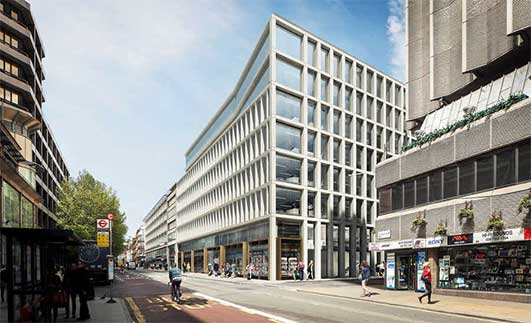 image : Cityscape
Bennetts Associates' design for a mixed-use scheme at One Bedford Avenue for Exemplar and The Bedford Estates was granted planning approval at a London Borough of Camden committee meeting last night. The 115,000 sqft redevelopment will deliver high-quality retail and office accommodation on a corner site on the east side of Tottenham Court Road.
Bennetts Associates opened their award-winning studio on 21 Sep as part of Open House London 2013 – see the practice page for more info:
Bennetts Associates Architects : Practice Information
13 Aug 2013
Bennetts Associates appointed to re-work Edinburgh Library, Scotland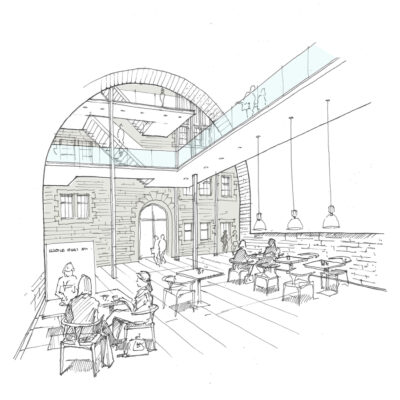 image from architects
Edinburgh Library
Bennetts Associates' Edinburgh studio has been commissioned to undertake a feasibility study for Edinburgh Central Library. The library, housed in a Grade B listed building in the centre of the city has been serving Edinburgh for more than 100 years and has been developed piecemeal over the years to expand and meet changing requirements.
14 May 2013
St Antony's College Gateway Building, south east England



photo © Hufton+Crow
Oxford College by Bennetts Associates
Construction has started on Bennetts Associates' new Gateway Building for St Antony's College, University of Oxford, a graduate college specialising in international relations, economics, politics and specialist areas of history.
12 Mar 2013
The Shaftesbury Theatre Building, The West End, London, UK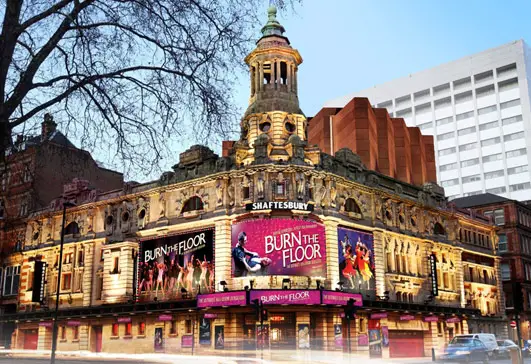 image from architect
The Shaftesbury Theatre Building
Planning consent has been granted for the redevelopment of this Grade II* listed building. The theatre, an iconic landmark on Shaftesbury Avenue in London's West End, has had the proposals of Bennetts Associates Architects granted by Camden Council.
21 Feb 2013
Waitrose King's Cross, London, England



photograph : John Sturrock
Waitrose King's Cross
Waitrose has agreed a deal with King's Cross Central Limited Partnership (KCCLP) to open a full line food and wine shop and cookery school in one of the development's emblematic listed buildings.
18 Feb 2013
Citizens Theatre Renovation, Glasgow, Scotland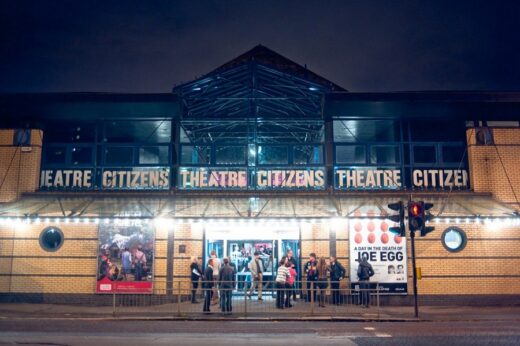 photo : Tommy Ga-Ken Wan
Citizens Theatre Glasgow
The Citizens Theatre announces today that architectural practice Bennetts Associates has been selected to work on the plans for a major redevelopment of its iconic Gorbals home. This will be the most comprehensive redevelopment of the building since it opened as a theatre in 1878.
14 Nov 2012
Camden Council Public Building, Pancras Square, London, UK



image from architects
Camden Council Public Building
This 'green' building is due to cut carbon emissions by over 60%. The new Camden Council public building at Pancras Square, King's Cross, is set to be one of the greenest in the city after achieving a BREEAM sustainable design rating of 'Outstanding'. The building is the first of its kind to combine a swimming pool, leisure centre, library, customer access centre, café and office accommodation and still achieve such a high environmental rating.
17 Jul 2012
Hunterian Museum and Art Gallery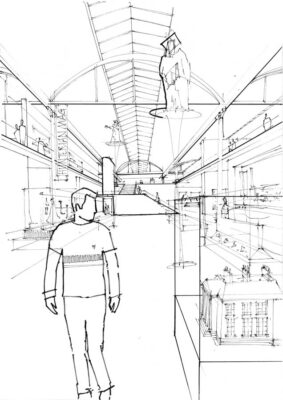 image © Bennetts Associates
Bennetts Associates has prepared the brief for the University of Glasgow's Hunterian Museum that will be housed in the Kelvin Hall.
"Kelvin Hall will deliver The University of Glasgow's strategic vision for The Hunterian as a leading global university museum service. This ambitious partnership between city and university is a first in the UK cultural sector."
Prof David Gaimster, Director, The Hunterian.
For the University of Glasgow with Turner and Townsend Cost Management.
Traverse Theatre
Traverse Theatre
A feasibility design and funding application have been submitted to Creative Scotland for an exciting remodelling of the Traverse Theatre in Edinburgh. The results should be announced in September.
"A remodelled and re-energised Traverse Theatre will be the creative meeting point for artists and audiences to discover and explore, develop and create new Scottish writing work for the stage."
Richard Wakely, RW International Arts.
For the Traverse Theatre with RW Arts International, Charcoalblue, Acies, Atelier Ten, Flip Disability Equality in the Arts and McLaughlin Harvey.
Flowave Test Tank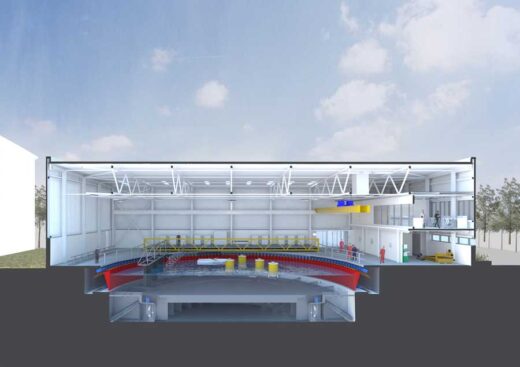 image © Bennetts Associates
Construction work has started on the Flowave Test Tank on Edinburgh University's Kings Buildings Campus, as reported on BBC news. The new facility will be a world first, simulating current and wave conditions for testing scale models of marine renewable energy technologies.
For the University of Edinburgh, with Mace, Arup, Edinburgh Designs Limited, Sweett Group and Graham Construction.
Moray Council Headquarters



image © Douglas Gibb
Moray Council Headquarters has opened. This refurbishment project creates 3000 sqm of new office space inside a former supermarket. It follows the practice's refurbishment of Hampshire County Council's Headquarters and the BD Refurbishment Architect of the Year 2011 award. The project is on the shortlist for the AJ Retrofit Awards 2012.
"That such a space can accommodate daylit and naturally ventilated offices suggests that, given the will, reuse is almost always possible." EcoTech, June 2012.
For The Moray Council with Mace, Buro Happold, Sense, Sandy Brown, Stewart Milne Contracting and implementation architects Acanthus Architects df
Mill Brow, Kirkby Lonsdale



image © Bennetts Associates
Bennetts Associates have designed a modern individual house in the historic town of Kirkby Lonsdale in Cumbria for a friend of the practice. The scheme has recently been submitted for planning.
With David Narro Associates, Max Fordham, Gerald Eve and Bushell Raven.
Bexley Council Headquarters



image © Bennetts Associates
This project reworks a disused 1980s corporate headquarters into a public sector facility that will enable the council to co-locate into one building and drive major efficiency savings. Planning permission has been secured and construction will be complete by the end of 2013. The project continues a tradition of collaboration between the Edinburgh and London offices of Bennetts Associates.
For the London Borough of Bexley Council with EC Harris, Buro Happold and Mace.
Recent Designs + News for Bennetts Associates
17 Jul + 13 Jun 2012
New Chester Theatre Building, Cheshire, north west England



image © Cheshire West and Chester Council
Chester Theatre Building
The award-winning team behind the transformation of the Royal Shakespeare Company's world-famous home at Stratford-upon-Avon is to provide the concept design of Chester's new theatre. Bennetts Associates Architects – one of the UK's leading architectural practices – will work on the concept design, supported by specialist theatre consultants Charcoalblue and multi-disciplinary engineering consultancy Buro Happold.
22 Mar 2012
Queen Hithe Hotel, London, south east England



image © Miller Hare
Queen Hithe Hotel
Plans for Bennetts Associates Architects' new 5-star Queen Hithe Hotel were approved by the City of London this week. The project for Resolution Properties will redevelop a historic, riverside site southeast of St Paul's Cathedral, replacing a disparate group of buildings with a new, elegant piece of architecture.
17 Oct 2011
Royal Shakespeare Theatre, England : wins British Construction Industry Award



image © Peter Cook
Royal Shakespeare Theatre
Canford School Chapel, Dorset, England
2011-



image © Stale Eriksens
Canford School Chapel
9 Jul 2011
Mint Hotel Amsterdam, The Netherlands
2011



photo : Peter Cook
Mint Hotel Amsterdam
The first building by Bennetts Associates Architects outside the UK is the largest hotel in central Amsterdam. The 550-bedroom hotel for Mint Hotel Group is the latest and most prominent element of Amsterdam's Eastern Dock Island regeneration project, sitting within Erik van Egeraat's masterplan, adjacent to Amsterdam Centraal Train Station.
Tower of London Hotel, Pepys Street, London, England
2011



photo : Edmund Sumner
Tower of London Hotel
Manchester Civil Service Campus, England



image © Flashforward
Manchester Civil Service Campus
259 City Road, Islington, London, UK



photo © Tim Crocker
259 City Road London
Suttie Centre Aberdeen, Scotland, UK



photo © Keith Hunter
Suttie Centre Building
New Street Square, London, England



image : Peter Cook
New Street Square : Civic Trust Award, 2009
Bennetts Associates – Featured Buildings
Potterrow, Edinburgh, Scotland, UK
2008



building image © Adrian Welch
Potterrow Edinburgh Informatics
Alexander Graham Bell Building – Offices, South Gyle, Scotland
1999



building photo from Bennetts Associates
Alexander Graham Bell Building
Alexander Graham Bell House represents a serious attempt to produce a passively-ventilated building without losing architectural repose: it follows on ideas from Powergen Headquarters in Coventry
More Bennetts Associates buildings online soon
Location: 1 Rawstorne Place, London, EC1V 7NL, England, UK
Architecture Practice Information
Architect offices based in London, England + Edinburgh, Scotland
Edinburgh architect contact details
Bennetts Associates was founded in 1987.
London Architecture : news + key projects



photo © AJW
Buildings / photos for the Bennetts Associates Architecture page welcome
Website: www.bennettsassociates.com