Radical Architectural Design, Queens Museum of Art Building NYC, New Architecture Tension, Karolina Szynalska
Radical Architecture Tension
Architectural Discussion – article by Karolina Szynalska architect, UK
2 Apr 2013
The Queens Museum of Art (NY) will open its extension in October 2013.
On April 12 it will host a ceremony, marking the commencement of the project, which will double its size.
It is an interesting venture because it highlights the issues relating to the tensions between traditional and more radical art and architecture.
Radical!
The institution, which supports artists who challenge institutions, commissioned an established British architect, to develop a model for the 'urban, American museum of the future' (QMA website).
The Queens Museum of Art Expansion, NY, USA
Design: Grimshaw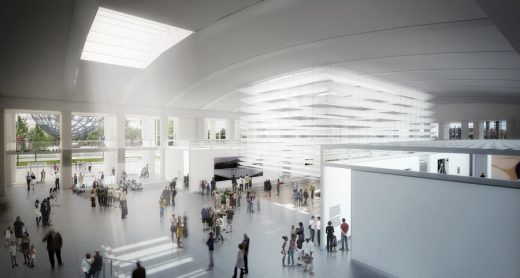 image : Courtesy of Grimshaw and the Queens Museum of Art
The QMA apart from housing an almost 900sqm scale model of New York City (consisting of 895,000 individual structures) is acknowledged as a pioneer of social-practice art programming.
Socially engaged art blurs the lines among object making, performance, political activism, community organizing, environmentalism and investigative journalism. Through these diverse media, it poses self-reflective questions and challenges its own boundaries.
The first exhibitions in the new building will feature an anti-war political puppet theatre installation and performances of mock UN assemblies (in reference to the building's history).
These types of social and artistic pursuits have roots in the tradition of revolutionary Situationist International, anti-capitalist, anti-aesthetics, and participatory practice. And they resonate with some equally radical architectural ideas.
Fifty years ago Cedric Price dreamt of suspending flexible plug-in units in a giant open framework of steel lattice girders and towers – 'to arrange as many forms of fun as possible in one spot (…) in the hopes of an eruption or explosion of unimagined sociality through pleasure' (sic). His projects were intended to be temporary, multi-programmed and reprogrammable.
In spite of the emphasis on the immaterial processes and possibilities, and anti-aesthetic agenda, art and architecture inevitably become objects of new formalism. Socially engaged art means parades, demonstrations, ubiquitous plywood platforms and endless photographs of people. Radical architecture can be recognized by conspicuous plumbing (à la Pompidou Centre) or – more frequently – by not being built (à la Futurism and paper-academic-architecture).
But there is a surprise. The proposed QMA galleries, studios and classrooms do not seem to be radical, and they do not claim to be radical. They do not expose any fetish for temporary building installations. Their white, coherent, logical, 'functional' walls and ceilings – kind of 'beige architecture' – fuse with the 1937 Modernist block.
The authors of the QMA revamp – Grimshaw Architects – refrain from using main stream gimmicks; and the their frontman – Nicholas Grimshaw – has even been called 'professionally reticent'. He is often criticized for focusing on the formal aspects of his buildings. His critics suggest the obsession with 'glorifying construction' sometimes runs the risk of missing the point about the deeper content of architecture. Grimshaw, they suggest, may be brilliant at 'how', but he is not so comfortable with 'why'. But suggesting that the possibly of knowing 'why' exists, foregrounds the unhealthy assumption of architectural determinism.
Some of his architecture reminds one of vintage high-tech, which twenty years ago shaped our understanding of how the future might have looked like, and some are rather minimalistic (although always feature sophisticated solar blinds). Their 'deeper content' is visible not in the architectural objects, but architectural process, i.e. in their strategic breadth, including careful consideration of the projects' whole-life-cycle (especially when you add the social dimension). Architects should not assume they know how the spaces they design will be used (and also unused, modified or damaged). One of Grimshaw's first projects was a children's playground in a rough area. The basic problem was how to stop the children destroying it. He designed it so they could build it themselves, and they could destroy it themselves.
The QMA building is flexible, multiprogrammed and reprogrammable. I dare to say it might be an example of socially engaged architectural practice. The future will show.
It is interesting that in this way the architecturally inconspicuous QMA project appears to be more radical than the visually exciting, sculptural buildings by Libeskind, Hadid, or – featuring this week – Moscow Polytechnic Museum and Educational Centre by Fuksas Architects and Villa L (pictured below) by Powerhouse Company.


photograph : Christian van der Kooys
"0th Century British architect Cedric Price claimed that architects 'talk in platitudes about improving the quality of life, and then get out drawings of the prison they're working on.'
The prison nature of many examples of contemporary architecture is not immediately apparent. Many highly stylised buildings are unlikely to stand the test of time. The wallpaper architecture whilst it charmingly expresses ambitions and personalities of its clients / inhabitants will wear off. Flexible and reprogrammable they are not.
The Queens Museum of Art Expansion Building, NY, USA
Karolina Szynalska


picture from Karolina Szynalska
Karolina Szynalska is an architect and a lecturer in architecture. She practices at Karaolides Szynalska Architects, and teaches at both the University of Lincoln and Hull School of Art & Design. Her main research interest is discourse analysis in context of sustainability, place making and ethical architecture.
Since completing her Masters in architectural history at the Bartlett School of Architecture UCL, Szynalska has continued to develop her interdisciplinary approach to architectural practice, scholarship and teaching. Recent activities include leading RIBA projects in primary schools, MLA Renaissance projects in galleries, and creating academic and professional practice collaborations across the businesses and institutions in which she works.
Location: University of Lincoln, Brayford Pool Lincoln LN6 7TS, UK
Recent articles for e-architect by Karolina Szynalska:
International Architectural Designs
Architecture Economics – 31 Jan 2012
City Analysis – 6 Dec 2011
Public Architecture in London – 25 Oct 2011
Placebo Architecture – 27 Sep 2011
Architectural Articles on e-architect : Selection
Cultural and Contextual Identity : article by Nigel Henbury
Comments / photos for the Radical Building Design – Architecture Tension page welcome