Louis Kahn Iconic Architect, Modern Architecture USA, American Building, Studio, Projects, Office, Houses
Louis Kahn Architect
Major 20th Century American Architecture Practice: US Architectural Information + Images
Oct 22, 2020
e-architect note news of a forthcoming book on Louis Kahn, out of print for decades:
"The Notebooks and Drawings of Louis I. Kahn" to be reissued in a new Facsimile Edition
The influential Modern architect called this 1962 publication his favorite book about his work.
By Steve Kroeter September 30, 2020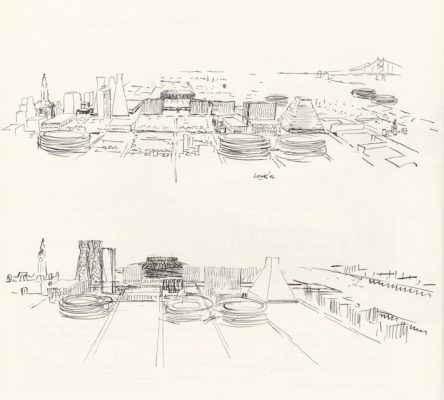 Detail of a 1956 study for center city in Philadelphia, ink on tracing paper, from The Notebooks and Drawings of Louis I. Kahn
We announce that Designers & Books will be reissuing The Notebooks and Drawings of Louis I. Kahn, edited by Richard Saul Wurman and Eugene Feldman.
To learn more, we invite you to visit The Louis I. Kahn Facsimile Project website, which provides all the key details about the forthcoming exact reproduction of Notebooks and Drawings.
Originally issued in 1962, the book was one of the earliest public acknowledgments of the genius of architect Louis Kahn (1901–74) and the first book to present Kahn's work in his own hand.
The print run of 1,800 copies was widely admired and sold out quickly.
In 1973, a second edition of the book was issued, this time by MIT Press. The print run was 3,000 copies.
1 Aug 2016
Louis Kahn Architecture
Louis Kahn – Iconic Architect, 1901-1974
A visionary and philosopher, Louis Kahn explored the ways in which architecture could improve lives and create harmony
Article first published on Houzz
Catherine Macaulay, Houzz Contributor
Architect at a Glance
Name Louis Isadore Kahn, 1901-1974
Design philosophy Kahn was interested in community life and the social responsibility of architecture.
Distinctive style Heavy brick and concrete against more refined surfaces, such as glass.
Major works Yale University Art Gallery, Connecticut, USA (1951-53); Salk Institute, California, USA (1959-1965); Kimbell Art Museum, Texas, USA (1967-72); The National Assembly Building, Dhaka, Bangladesh (1961-1983); Franklin D Roosevelt Four Freedoms Park, New York, USA (1972-2012).
Honours Awarded the AIA Gold Medal in 1971 and the Royal Gold Medal by RIBA in 1972.
Images from Louis Kahn: The Power of Architecture at The Design Museum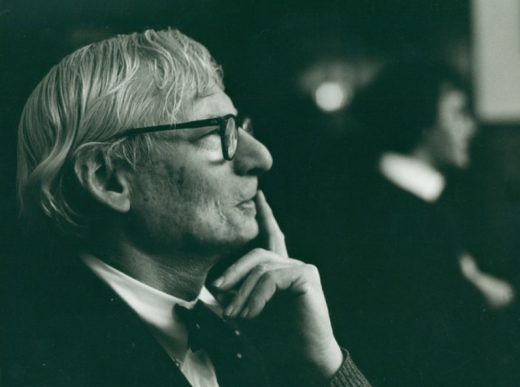 Photo by Design Museum
Childhood
Louis Isadore Kahn was born into a very poor family in tsarist Russia, now Estonia, and emigrated to Philadelphia as a young boy. He excelled at art and music as a young student, and was the art editor of Central High School magazines Mirror and Record. At the age of 19 he won a scholarship to study at the University of Pennsylvania, where he graduated with numerous awards and a Bachelor of Architecture in 1924.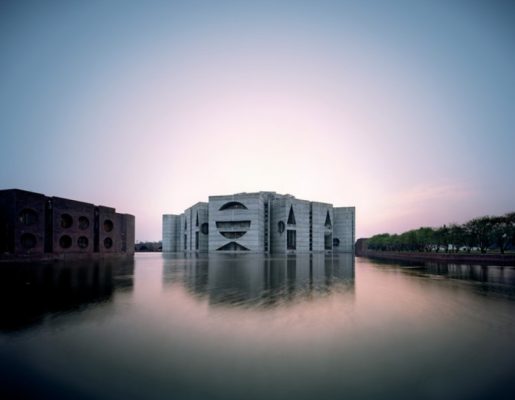 Photo by Design Museum
His early years
Kahn worked for a few architectural practices in Philadelphia before establishing his own in 1935. In the post-war prosperity, he became involved in the urban regeneration of the city, perceiving it as an 'urban laboratory' from which to explore the relationship between architecture and city planning.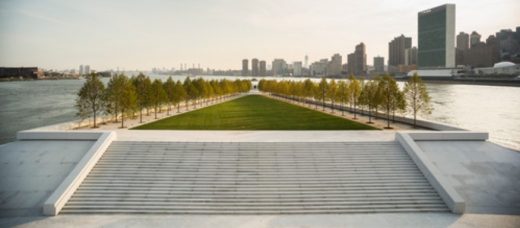 Photo by Design Museum
Architecture and community
Kahn hoped to design enduring forms that would help to facilitate family and community life. 'He saw architecture as a location for community to take place and be created,' explains Alex Newson, curator of Louis Kahn: The Power of Architecture, an exhibition at The Design Museum.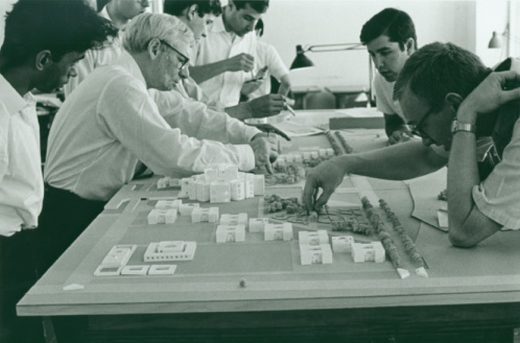 Photo by Design Museum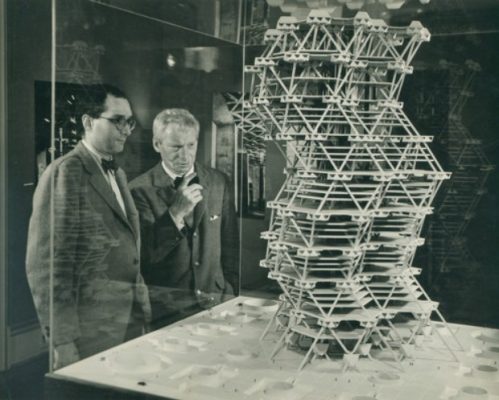 Photo by Design Museum
Architecture and nature
In this model of his City Tower project for Philadelphia, the resemblance with the double helix structure of DNA is unmistakable. Kahn perceived a strong link between nature and design, seeing both DNA and architecture as the building blocks of life.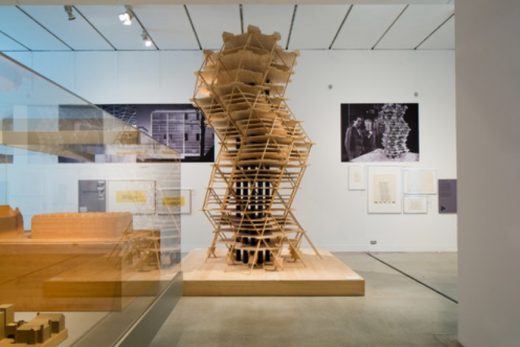 Photo by Design Museum
While the City Tower project remains unbuilt, it influenced and inspired Japanese architect Kisho Kurokawa and the Metabolist Movement, a post-war Japanese architectural movement that highlights the link between architectural megastructure and organic biology.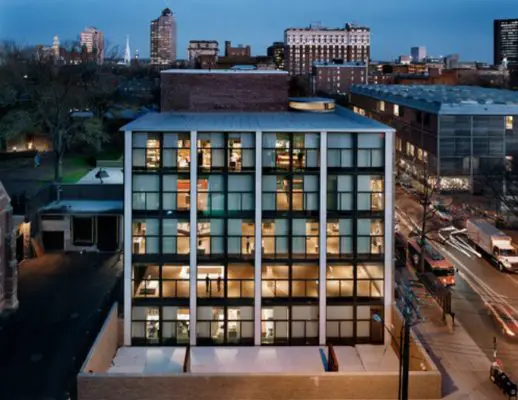 Photo by Design Museum
Teaching
Kahn was a highly respected professor. Across his life, he taught at the Yale School of Architecture, won a fellowship to the American Academy in Rome, was a visiting lecturer at Princeton University, and was a professor at the School of Design, University of Pennsylvania, where he taught until his death in 1974.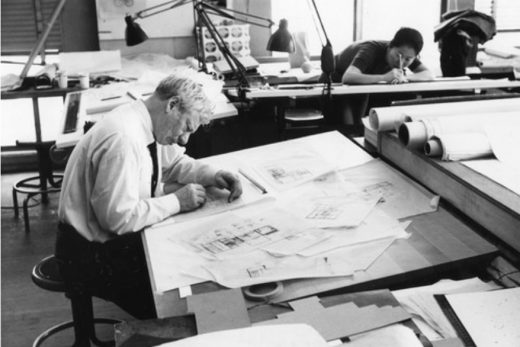 Photo by Design Museum
Distinctive style
The International Style – which emerged during the first decades of modern architecture in the 1920s and 30s – was lightweight and open. Kahn eschewed this, pioneering his own, new style of modern architecture. He valued mass and weight and wanted to bring back the presence of the symbolic and monumental into architecture.
'In many ways, Kahn was the ultimate iconoclast. His buildings look markedly different to that of his Modernist contemporaries. Kahn showed us that there was another way to be modern,' says Alex Newson. 'His buildings are undeniably modern, but they are also elemental, archaic and spiritual.'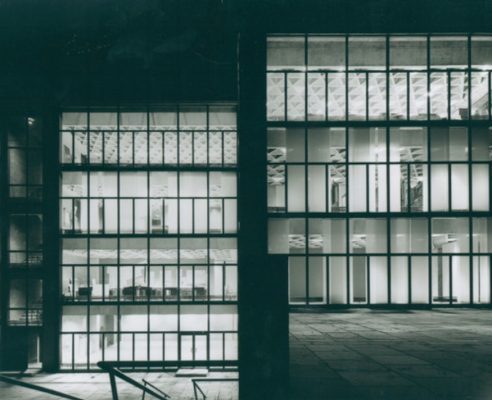 Photo by Design Museum
Yale University Art Gallery, Connecticut, 1951-1953
This was Kahn's first significant commission. The facade is brick and glass, designed to evoke different responses with the changing light of day. The contrast between the solid brick walls at the side of the buildings and the steel-lined glass front is characteristic of Kahn's use of both void and mass in creating structure.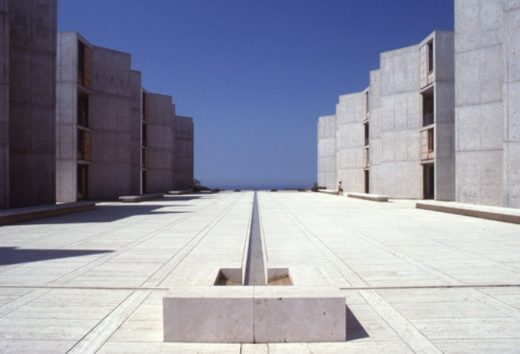 Photo by Design Museum
Salk Institute, California, 1959-65
Jonas Salk (1914-95) discovered the first polio vaccine, and Kahn was recommended to him as the best architect to build his laboratory in La Jolla. The brief was to design somewhere Picasso could be invited. Kahn created an inspiring and functional space for research that would go on to become an architectural masterpiece.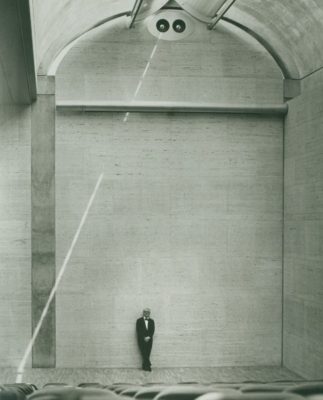 Photo by Design Museum
Kimbell Art Museum, Texas, 1967-1972
Natural light was a key factor in the museum's construction. The building is a compilation of barrel-like structures – Kahn is pictured standing inside one of them here. The skylights at the top of each structure let in plenty of light, which is diffused by aluminium reflectors to protect from direct sunlight. The arches and vaults hint at Roman architecture, perhaps inspired by Kahn's European travels.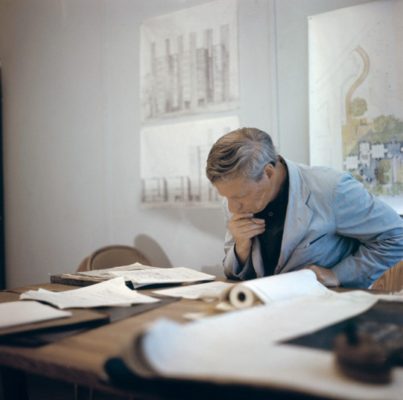 Photo by Design Museum
Kahn's houses
Kahn also completed nine houses, all in and around Philadelphia. Here, he's pictured working on the Fisher House design in 1961. Some of the houses are still owned by the original families, others have been on the market, and others are preserved. Kahn's work considered the shape, format and use of a room carefully – each element was meticulously thought out to facilitate the life and interaction of each individual family.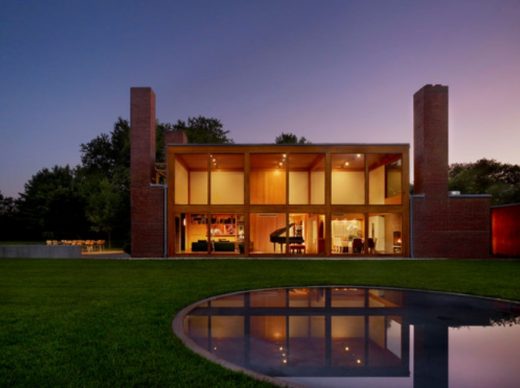 Photo by Design Museum
Korman House, Fort Washington, 1971-73
Clients were required to describe in writing the way in which they wanted to live their life – the Korman House was designed so the family would be able to play football in every room.
Although a father to three children himself, all were from separate women, and Kahn never experienced the close family life he so diligently laboured to create in his nine houses.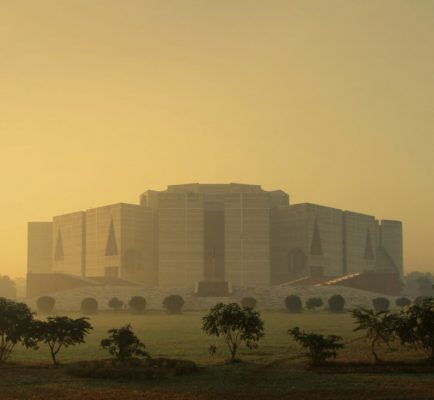 Photo by Design Museum
Jatiyo Sangshad Bhaban, Bangladesh, 1961-1983
The National Assembly Building in Dhaka, Bangladesh, has been described as Kahn's magnum opus, and was completed posthumously in 1983.
The structure, although modernist, is rooted in the culture and architectural style of its surroundings. It used local materials that would withstand the desert climate – poured in place concrete laced with white marble – and has become a symbol of Bangladeshi pride and culture. Alex adds that since Bangladesh declared independence 'the building has taken on additional significance, elevating it beyond just architecture and becoming an icon for a fledgling democracy.'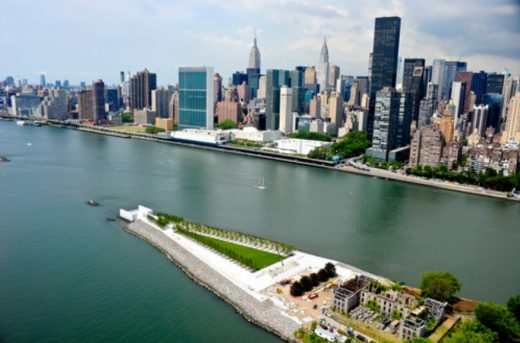 Photo by Design Museum
Franklin D Roosevelt Four Freedoms Park, New York, 1972-2012
New York City's Four Freedoms Park opened to the public in 2012, almost 40 years after it was designed by Kahn, as a memorial to President Franklin D Roosevelt.
The park sits at the southern-most tip of Roosevelt Island. It was Kahn's last work – he was carrying the finished designs with him at the time of his death in 1974 – and now stands as a monument to both architect and president.
Read about Louis Kahn's houses
Louis Kahn Residential Architecture Design – 3 Oct 2016
Location: Philadelphia, USA
Modern Architecture
Major Louis Kahn Buildings
Yale Center for British Art, Chapel St, New Haven, Connecticut, USA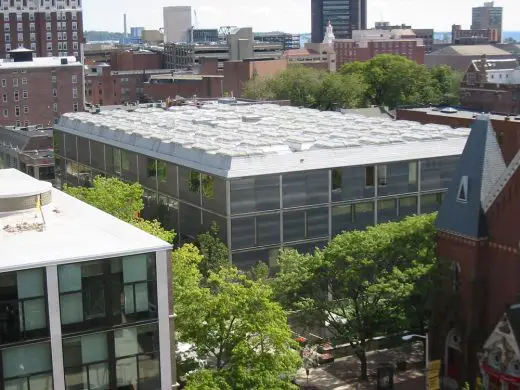 photograph : Public Domain, http://commons.wikimedia.org/w/index.php?curid=1252452
Yale Center for British Art Building
Fine Arts Center, School, and Performing Arts Theater, Fort Wayne, Indiana, USA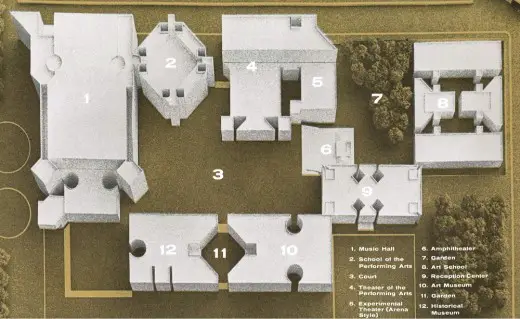 photo courtesy wikimedia commons
Fine Arts Center, School, and Performing Arts Theater in Fort Wayne
Phillips Exeter Academy Library, Exeter, New Hampshire, USA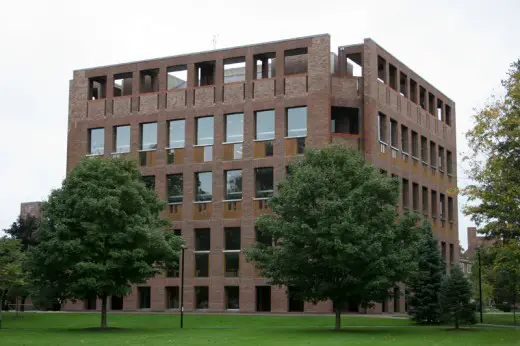 photograph by Rohmer at en.wikipedia
Phillips Exeter Academy Library
Yale University Art Gallery
Louis Kahn / Polshek Partnership Architects, LLP
Yale University Art Gallery
Louis Kahn : Philadelphia Architect
AIA Gold Medal : 1971
RIBA Gold Medal : 1972
Louis Kahn Pupil : Moshe Safdie
American Institute of Architects Gold Medal
Comments / photos for the Louis Kahn Architecture – 20th Century American Architects Practice: page welcome