Placebo Architecture, Karolina Szynalska, Architectural Welbeing, Building Design
Placebo Architecture : Architectural Discussion
Architecture Discussion – article by Karolina Szynalska
27 Sep 2011
Placebo architecture
"Architecture implies building beautifully and well. Great architecture can be profoundly moving, can stir us more deeply than any other of the visual arts, for it is a three-dimensional art into which the beholder may enter and of which he may feel himself to be an integral part." This quote is taken from a dusty little volume titled The Observer's book of Architecture (first published in 1951) I purchased a few weeks ago in an antique shop in rural Lincolnshire. I have a few copies at home; they are tokens to be gifted on special occasions.
Architecture has the capacity to impact our senses, our brains and our lives. Twenty years ago Roger Ulrich discovered that in hospitals, patients who convalesce in rooms equipped with a particular architectural device have shorter hospital stays, fewer complications, and take fewer pain killers. This architectural feature is a window with a view of nature. Simple. Since Ulrich's original research, the investigation of how space influences human beings has progressed.
Today we suspect that architecture might even increase our brains' capacity. Professor Fred Gage, who works in the building designed by Louis Kahn – the laboratory of genetics at the Salk Institute in San Diego (California), has conducted studies which have shown that a stimulating environment increases mice's brain volume by staggering 15%. His lab also has shown that human beings are capable of growing new nerve cells throughout life. How exactly do the buildings impact our senses? We do not know yet; the placebo effect perhaps?
Maggie's Gartnavel, Glasgow, Scotland
OMA – world exclusive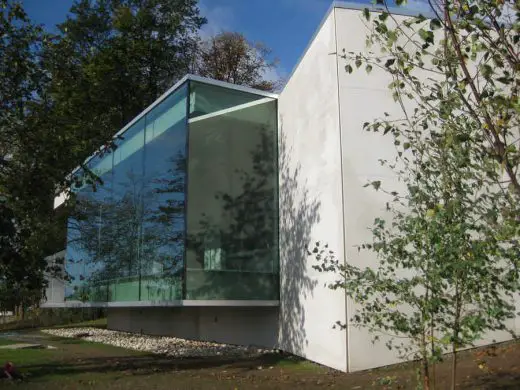 photo © Adrian Welch
Amongst the best examples of the positive impact that architecture can have on users, are the buildings commissioned for Maggie's – Cancer Caring Centres in the UK and soon around the world. The charity was founded by and named after Maggie Keswick Jencks (the wife of architectural writer and critic Charles Jencks), who died of cancer in 1995. She believed in the ability of buildings to uplift people and to provide an antidote to the isolation and despair of cancer.
Since 1996 starchitects such as Frank Gehry and Zaha Hadid (Maggie's friend and fellow student respectively) have created buildings for Maggie's charity; machines for curing. The eighth and the newest centre, designed by OMA Partners Rem Koolhaas and Ellen van Loon, is due to be opened 3rd October. The new minimalist pavilion seems modest, calm and sober. The glass walled network of rooms is immersed in the surrounding landscape designed by Lily Jencks, the daughter of the organization's founders. It is a wonderful demonstration of well principled, sensible and attractive architecture.
People who work in good quality health facilities feel better, care better about their patients, and they are more productive; their patients benefit. Quality buildings irrespective of their purpose can improve people's well-being.
Mecanoo Architecten Exhibition, Netherlands
From Crèche to Campus



photo from architects
In schools and universities stimulating environment can optimise students' performance and abilities, as well as improve academic research achievements. The exhibition that opened 29th September, From Crèche to Campus – Mecanoo's educational buildings, present and future at the ABC Architecture Centre in Haarlem (the Netherlands) presents educational buildings designed by the unorthodox practice based in Delft. Great architecture inspired by social engagement and a humanist philosophy, is shown in context of changes in society, ideas about education and the status of schools. Also this week sees Mecanoo's Amsterdam University College reach an advanced stage of construction; concrete and steel is in place. The authors of this new sustainable structure hope the new faculty will offer an optimal environment to study in; a learning landscape. It will be a place where one can study, learn, debate, work together and relax; a house where talent, ideas and ambitions come together.
Neither Maggie's Centre nor Mecanoo's schools hold any great architectural secrets. They are approached in terms of context and how they relate to the urban and social fabric. They are defined by inarguably positive qualities: light, space, openness, intimacy, views, and connection with nature. Imagine how life could be different if the same principles of design used in Maggie's Centre and Mecanoo's schools could be applied to your daily work place, your home, your cultural retreats and/or you temples.
A study by David Sloan Wilson from Binghamton University (NY) (2011) suggests that one has the capacity to form accurate judgements about a neighbourhood's prosociality, just by looking at its physical structures. The look of the buildings correlates with culture of the occupants. We are indeed integral to the architecture we dwell in. Wilson's current work is focused on modifying school environments so that they select for prosociality; and he is hoping that the student culture will evolve accordingly. Interestingly his experiment has a positive effect even though the underpinning theory might have faults…
In architectural theory, there are still very few authors who build on the findings of neuroscience or psychology (the exceptions are Marco Frascari and Francis Mallgrave). Yet the buildings get designed and built; and they work well. They build better than they know.
Karolina Szynalska


picture from Karolina Szynalska
Karolina Szynalska is an architect and a lecturer in architecture at both the University of Lincoln and Hull School of Art & Design. Her main research interest is discourse analysis in context of sustainability, provincial architects and ethical architecture.
Since completing her Masters in architectural history at the Bartlett School of Architecture UCL, Szynalska has continued to develop her interdisciplinary approach to architectural practice, scholarship and teaching. Recent activities include leading RIBA projects in primary schools, MLA Renaissance projects in galleries, and creating academic and professional practice collaborations across the businesses and institutions in which she works.
Location: University of Lincoln, Brayford Pool Lincoln LN6 7TS, UK
Karolina Szynalska Articles
Recent articles for e-architect by Karolina Szynalska:
Architecture Economics – 31 Jan 2012



picture © GigonGuyer
City Analysis – 6 Dec 2011
Public Architecture in London – 25 Oct 2011
International Architectural Designs
Architectural Articles on e-architect : Selection
Contextual Architecture : article by Roland Wahlroos-Ritter. Sep 2011
Cultural and Contextual Identity : article by Nigel Henbury. Aug 2011
Globalisation Architecture : article by Trevor Tucker. Sep 2010
Sustainable Buildings – Building Issues : article by Adrian Welch
Comments / photos for the Placebo Architecture – Article page welcome