City Architecture, Karolina Szynalska, Architectural Analysis, New Chinese Buildings Design
City Analysis: Built Environment
Built Environment Discussion – article by Karolina Szynalska
6 Dec 2011
City Architectural Analysis
Atrophy or Meandering Metaphors May be Misleading
In the concluding notes to his first pamphlet, Steven Holl quoted the poet Ezra Pound. '[T]hat music begins to atrophy when it departs too far from the dance; that poetry begins to atrophy when it gets too far from music.' In 1980 Holl diagnosed that in the twentieth century we saw architecture beginning to atrophy when it got too far from the city. Rather a bold assertion, but in its original context it did not sound unconvincing.
'Horizontal Skyscraper', the book which was released last week, documents the design and the construction of the most recent (and perhaps the most ambitious) achievement of Steven Holl – Vanke Centre opened in 2009. The Horizontal Skyscraper building is located in the district of Yantian in the city of Shenzhen in China.
Yantian is the location of some of Shenzhen's best-known tourist beaches and mountain parks. It has the density of a small provincial English town. It is six times less dense than the centre of Shenzhen (Futian District), but it is growing rapidly. The Vanke Centre is elevated from the ground to create an open space in anticipation of further unrestrained urbanisation of the vicinity. Too far from the city? The definition of a city is here perhaps irrelevant.
Steven Holl Architects
Publication : Horizontal Skyscraper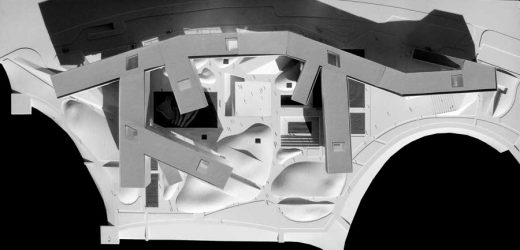 image from architect
Whilst some architectural and urban theories might perhaps… atrophy or become superseded, some other models of understanding develop. (Atrophy can be a part of normal development, not necessarily pathological.)
Holl based his first city analysis (1980) on a dichotomy of urban compositions: grid and meander. Interpreted as an evidence of social and political systems, grid was synonymous with autocracy and meander with democracy and freedom. Even though Holl did not intend his pamphlet to be a manifesto; one may speculate, that one might employ this planning method in order to illustrate certain political intentions. Still we can find plausible examples to support this debatable speculation.
Natural History Museum of Utah, Utah, USA
Ennead Architects, LLP with GSBS



photograph © Jeff Goldberg/Esto
The Natural History Museum of Utah (US) is built on the rugged edge of Salt Lake City. The state capital was planned by the founder of the Latter Day Saints movement according to a grid template of the utopian 'City of Zion'. The sculptural intervention differentiates itself by its off-city-grid location and natural forms inspired by the topography and geology of the surroundings; outside and inside. It promotes evolution and it is promoted by the Facebook group 'Utah. More Than Mormons'.
Jeongok Prehistory Museum Design, Gyeonggi-do, South Korea
Opened earlier this year the Jeongok Prehistory Museum (South Korea) strolls across an undulating landscape along the Hantangang River; a prehistoric relic site where the first east Asian Acheulean hand axe was discovered. (To my eye the building looks suspiciously similar to the 2005 winning competition entry for the Seoul Performing Arts Centre by Vito Acconci.) It is a large tubular silver perforated blob with the exuberance and simplicity of a garden folly; it is awe inspiring. According to the authors 'Living near the river they (primitive men) roamed freely along the country meanders. Their roaming made the paths which gave the site a structure'.
All these buildings are undoubtedly worth celebrating and visiting (after offsetting one's travel carbon footprint). They are very exciting and they contribute to global culture. However their conspicuous locations motivate one to wonder about the long-term social and economic sustainability of the ritual or political statement they represent or facilitate. And they also inspire one to reflect upon the advantages and disadvantages of a dialog of dichotomies in architecture. Is meander better then grid? If one treats meander as a metaphor – maybe so… But metaphors may be misleading. Some architecture does not atrophy when far from the city; some of it may thrive. And the cities expand.
In the Horizontal Skyscraper the border between the architectural and urban scale, the grid and the meander, dissolves. It is like a scribble on a grid. It is a hybrid; and it has an ambiguous relation with its urban setting. 'To create is to recombine' (said the molecular biologist François Jacob); Holl recombined typologies as we know them.
He has not only illustrated or simply applied his theory to his interventions. He has been engaging creatively in a dialog with it. Since over 30 years ago Steven Holl's descriptions and metaphors has changed; the words, classifications and the typologies has atrophied and developed. Architecture evolves. I am looking forward to immersing myself into 'Horizontal Skyscraper'.
Karolina Szynalska
Karolina Szynalska Architect


picture from Karolina Szynalska
Karolina Szynalska is an architect and a lecturer in architecture at both the University of Lincoln and Hull School of Art & Design, UK.
Comments on this City Analysis article by architect Karolina Szynalska are welcome.
Location: University of Lincoln, Brayford Pool Lincoln LN6 7TS, UK
Architectural Articles
Karolina Szynalska Architecture Articles
Recent articles by England-based architect Karolina Szynalska for e-architect:
Architecture Economics – 31 Jan 2012
Public Architecture in London – 25 Oct 2011
Placebo Architecture – 27 Sep 2011
Architectural Articles on e-architect : Selection
Property Articles
Contemporary Architecture Articles
Cultural and Contextual Identity : article by Nigel Henbury. 30 Aug 2011
Resisting Boredom : article by Joyce Hwang. 25 Jan 2011
Comments / photos for the City Architecture Analysis Article by architect Karolina Szynalska page welcome