Economics Architecture, World Economic Forum, Karolina Szynalska, Architectural Design, Building
Architecture & Economics
Discussion re Global Buildings – article by Karolina Szynalska
31 Jan 2012
Architectural Economics
Committed to improving the state of the world
(the motto of the World Economic Forum)
The Swissness of Swiss architecture resides in its pursuit of perfection, spatial control and political correctness. It has been faithfully consistent with the aesthetic ideals of modernism; unlike constructions in many developed countries which reacted against an unhealthy overdose of the formal orthodoxy of the International Style.
Decadent postmodernism has never been fashionable in the homogenised country with the highest wealth per adult in the world. The architecture there has never had to aspire to social change. It did not have to dream about a better future.
Kunsthalle Zürich, Switzerland
GigonGuyer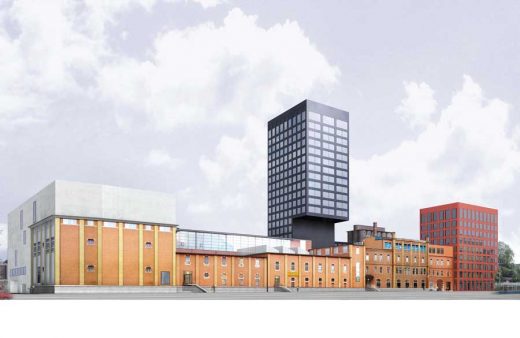 picture © GigonGuyer
'Looking Back for the Future' will be the title of the inaugural art exhibition in the soon to be completed Kunsthalle in Zürich. The project has been co-funded by the Kunsthalle Zürich Foundation, the City of Zurich and Migros (Switzerland's largest employer).
The architects Annete Gigon and Mike Guyer employed to redesign the entire Löwenbräu complex are distinguished creators of art spaces. They deliver beautiful, light-filled 'containers for art'. They are also responsible for a museum, a restaurant, a sport centre and a workshop in Davos, the location of the annual World Economic Forum.
Gigon/Guyer's architecture is like concrete art from the 1930s. As per Theo van Doesburg's definition it is 'formed by the mind before its execution' and it is constructed 'from purely plastic elements, that is to say planes and colours'. Its intention is not to represent the outside world but it is 'self-sufficient'.
Museum of Concrete Art & Design, Germany
Stanton Williams



image from architects
Today's concrete art may seem simple but it is self–consciously simple. Concrete art is popular in German-speaking countries. There are several museums and foundations dedicated exclusively to concrete art. Soon there will be a new one. Stanton Williams (UK) and DFZ Architekten from Hamburg were joint winners of the German Museum of Concrete Art and Design competition.
The new commission is the result of a long-standing partnership between the car manufacturer – Audi and the museum. The English proposal is simple. It is based on the idea that memory can be reflected in the building form and cast materials, in order to unify the new building with its physical and historical context.
Stoaninger Distillery, Austria
HPSA ZT GmbH



photograph from architects
The Stoaninger Distillery in Mühlviertel (Austria) is simple too. The homogeneous sculptural shape was determined by the regional building regulations and the site restrictions.
This week's featured buildings are delightful and photogenic. They have a distinctive and unifying style – a style-less style. They use simple, bold materials and simple, geometric forms. They express nothing new. The term simplicity implies added value. Simple is good, elegant, structurally efficient, modern, pure and timeless. Greater simplicity equals greater sensuousness, write the contributors to Gigon/Guyer's monograph.
Simple is also deceptive. The described simplicity is simply formal. This simplicity does not imply an economy of design nor does it refer to the organisation of the means of production.
It describes architecture which complies and confirms expectations for the modern. It responds to the conditions of the site; its exuberance is limited to the exterior and generously proportioned internal spaces which are finished to a high specification. It is very well organized, precise and pragmatic. It is simple. Looking. It is beautiful.
Austere architecture has nothing in common with economical austerity; it is simply a traditional art of spatial control. It satisfies an institutional appetite for orderliness (Ordnung), perfection and perfectibility. It catches the eye and prompts delight. It addresses the traditional modernist issues of composition, proportions and subtle sophisticated colour of concrete. And traditionally it fails to address any social or political concerns. But then it is hard to live in Rome and strive against the Pope.
Karolina Szynalska Architect
Karolina Szynalska


picture from Karolina Szynalska
Karolina Szynalska has continued to develop her interdisciplinary approach to architectural practice, scholarship and teaching since completing her Masters in architectural history at the Bartlett School of Architecture UCL.
Location: University of Lincoln, Brayford Pool, Lincoln LN6 7TS, England, UK
Recent articles for e-architect by Karolina Szynalska:
City Analysis – Dec 2011



image from architect
Public Architecture in London – Oct 2011


photograph © Luke Hayes
Placebo Architecture – Sep 2011
International Architectural Designs
Architectural Articles on e-architect : Selection
Cultural and Contextual Identity : article by Nigel Henbury. Aug 2011
Planetization Architecture : article by Mphethi Morojele – Aug 2010
Resisting Boredom : article by Joyce Hwang. Jan 2011
Comments / photos for the Architecture Economics Article page welcome