New London Architecture, Karolina Szynalska, Architectural Design, Building with Light
Public Architecture in London : Architectural Discussion
Architecture Discussion – article by Karolina Szynalska
25 Oct 2011
Is beige the new white?
Last week the current home of the Design Museum in London (below) went on the property market. Exhibitions will continue at the site until the new home at the former Commonwealth Institute will open in 2014; after its conversion by John Pawson.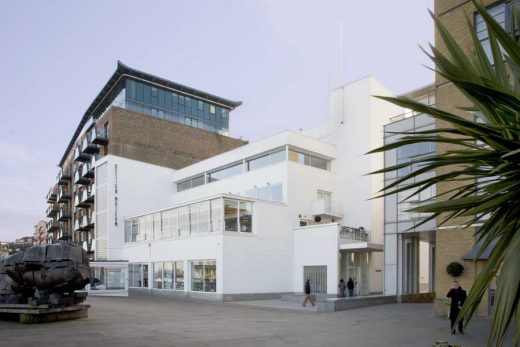 photograph © Luke Hayes
The Commonwealth Institute was designed by Robert Matthew, Johnson-Marshall and Partners (now RMJM Architects). Opened in 1962, it contained a permanent exhibition about the nations of the Commonwealth. The building is a reminder of an almost forgotten, but important moment in Britain's recent history, and its attempt to reconcile its post-colonial future.
It was designed to promote trade between the Commonwealth countries. It showed a kaleidoscope of exhibitions and educational programmes. It was intended as a 'tent in the park'; open, transparent and integral with the surrounding landscape. Its altruistic concerns were also expressed though the medium of the then fashionable hyperbolic paraboloid roof hovering above a light blue glass box. It was an embodiment of social equality and the ideals of engineering (lightness through efficiency).
The Parabola – Commonwealth Institute Design Museum London, former Commonwealth Institute
John Pawson



photo : Luke Hayes
After four years of being redundant, in 2006, this grade II* listed building (one of the highest protection ratings possible in the UK) was threatened with demolition after an unsuccessful government proposal to de-list it. Apparently the roof was leaking. It made me smile when I found a passage from Deyan Sudjic's (now the Director of the Design Museum) book celebrating Pawson's early works. The architect was not interested in technology; he said 'I am not interested in experiments or prototypes, there is nothing more boring than a roof that leaks'.
Pawson's architecture is built primarily with the material called light. He does it in a masterly, correct and magnificent manner (a method dear to Maestro). His interventions are bare, tranquil and conspicuously inconspicuous; their simplicity stands out from the visual background noise. His most well known interventions are white, modest in scale; they are carefully crafted, ascetical and encourage contemplation. They are 'slow architecture'.
The conversion of one of London's most heroic post-war structures might confront Pawson's method with a challenge. How does one sustain poetic neo-purist ideals in a large scale space? How does one reconcile the contrast between the existing dramatic collection of open spaces, and the ethos of minimalist 'voluntary simplicity'?
Central Saint Martins, London
Stanton Williams



photo © Hufton+Crow
The recently opened University of the Arts London campus at King's Cross (home for Central Saint Martins) designed by Stanton Williams Architects offers one possible solution to this dilemma (not without a stylistic compromise though). In 1990 Stanton Williams designed the current interiors of the London Design Museum. Their early work consisted of exhibition and interior design displays (always carefully crafted and simple). The newly opened facility consists of a reused 19th century grade II listed granary building and transit sheds, together with a 200 metre long new building. The complex uses similar architectural tropes to Pawson's spaces.
With an emphasis on order, proportions, rhythm, structure and the human presence (not technology or novelty) it continues the classical and Modernist traditions. There is a difference however. The new Central Saint Martins space is not dogmatic; it provides more of a background for the academic activities. It speaks of finite construction budget. It does not necessarily ask for careful attention to spaces. The building is constructed to enhance students'/users' experience. Interactions and interventions were anticipated. The building almost does not matter – the environment which it creates does.
It seems to be a piece of truly 'public architecture', a user-friendly play of volumes; something that is built around people and which allows people to modify it (even if that risks being inconsistent with the architect's vision!).
Architecture is the set for life's rich pageant. The architectural idiom of new minimalism within the reused urban fabric appears to be a result of a process of knowledge sharing, standardisation and formal modesty. Set up in the midst of contingencies it provides public spaces for shared and private experience alike. It might seem bit beige, but you can ornament it on your own. We need beige, so hyperbolic paraboloids and other curiosities and monuments can stand out. The cultural value does not have to be applied, but might be gained in time.
Karolina Szynalska
Karolina Szynalska architect and lecturer


picture from Karolina Szynalska
Karolina Szynalska is an architect and a lecturer in architecture at both the University of Lincoln and Hull School of Art & Design. Her main research interest is discourse analysis in context of sustainability, provincial architects and ethical architecture.
Since completing her Masters in architectural history at the Bartlett School of Architecture UCL, Szynalska has continued to develop her interdisciplinary approach to architectural practice, scholarship and teaching. Recent activities include leading RIBA projects in primary schools, MLA Renaissance projects in galleries, and creating academic and professional practice collaborations across the businesses and institutions in which she works.
Comments on this Public Architecture in London article are welcome.
Location: University of Lincoln, Brayford Pool Lincoln LN6 7TS, UK
Recent articles for e-architect by Karolina Szynalska:
Architecture Economics – 31 Jan 2012
City Analysis – 6 Dec 2011
Placebo Architecture – 27 Sep 2011
International Architectural Designs
Architectural Articles on e-architect : Selection
Cultural and Contextual Identity : article by Nigel Henbury. 30 Aug 2011
Comments / photos for the Public Architecture in London – Article page welcome