Article 25 Myanmar Cycle Team 2017, Humanitarian Charity News, Burma Building
Article 25 Myanmar Cycle Expedition Team News
International Architecture Fundraising: Built Environment – Humanitarian Charity
30 Mar 2017
Safer Buildings for Communities Across the Globe
Article 25 is calling for cyclists, researchers and sponsors to support its work in Myanmar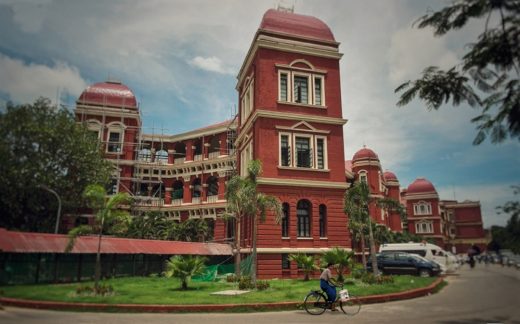 Article 25 Charity News
March 2017 – Leading UK architectural aid charity Article 25 has announced a fundraising cycle expedition to Myanmar (Burma) in Autumn 2017. The charity is calling for cyclists, project partners and sponsors with a background in architecture, engineering and healthcare to join its team to carry out field research on Myanmar's healthcare system, local architecture and building techniques.
The expedition will take place in November 2017 and aims to raise £100,000 to fund the future work of Article 25 in the area. Expected to be completed in 14 days, the expedition includes 500 miles of cycling around the country from Yangon to Mandalay and back, passing via Yangon General Hospital, the site of the charity's biggest project.
Peter Williams, Managing Director of Article 25, said: "We are very excited to launch the cycle expedition in Myanmar and I am confident we will get together a strong team of experts in architecture and healthcare. We are looking for further partners who can fund this research and enable Article 25 to continue helping the people of Myanmar."
Since 2015, the charity has been helping with the regeneration of Yangon General Hospital, one of the largest and most important public healthcare institutions in Myanmar. The nineteenth century hospital is a vital resource for the people of Myanmar who cannot afford private healthcare. However, following decades of low investment in healthcare, the building and facilities have fallen into a state of disrepair with overcrowding.
Article 25 was asked to draw up a masterplan for the hospital and now has teams in Myanmar and London providing technical advice and guidance on the refurbishment. The charity's plan includes using local skills to create a long-term sustainable hospital. The reinvigoration is led by the Parliamentary Committee for the Reinvigoration of Rangoon General Hospital, chaired by Daw Aung San Suu Kyi. The Nobel Peace Prize laureate chose the hospital as the location of her first public speech in 1988.
This expedition is being led by Josine Lambert, Architect at Article 25 and Tom Dollard, Head of Sustainable Design at Pollard Thomas Edwards, who was previously part of a team of architects who cycled in support of Article 25 in Portland to Portland expedition.
In 2013, British riders lead by the chairman of New London Architecture Peter Murray travelled from Portland, Oregon to Portland Place, London while studying how cities are coping with the increasing interest in cycling. The expedition generated over £130,000 for Article 25 and The Architects' Benevolent Society and resulted in the publication of 2 reports for Parliament and the Mayor of London on how cycling infrastructure in the USA is creating better cities.
Background
Article 25 of the Universal Declaration of Human Rights shows that adequate, dignified buildings and housing are fundamental to our human rights Registered Charity Number 1112621
Potential participants and partners are requested to contact Article 25 for more information: [email protected]
Website: Article 25 Myanmar Cycle Expedition Team
Article 25 Charity
About Article 25
Article 25 is the UK's leading architectural aid charity. We design, manage and deliver sustainable buildings in areas affected by disaster, poverty and need for some of the world's most vulnerable communities. We are named after Article 25 of the UN's Universal Declaration of Human Rights, which shows that adequate, dignified buildings and housing are fundamental to our human rights.
Article 25 provides the skills and knowledge needed to make safe and appropriate building projects possible. We leave behind more than just a building, using each project to pass on essential knowledge and skills to local communities and NGOs, increasing their capacity to deliver their own construction projects.
Good buildings and infrastructure are essential for accessing human rights and achieving the Millennium Development Goals (MDGs). You can't halt the spread of HIV without health clinics or provide universal education without building schools and training centres. Through the creation of buildings that deliver essential services and support we place human rights at the centre of our work.
www.article-25.org / [email protected]
Location: Yangon General Hospital, Myanmar, southeast Asia
Article 25 Buildings
Safer Buildings for Communities Across the Globe
Article 25: the built environment's charity
Article 25 Community engagement in construction in Pakistan: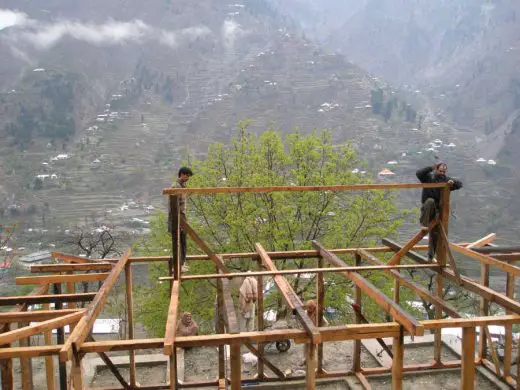 Article 25 International Development
Reports by Article 25
Article 25 in the Caribbean – Clean Water in Haiti
Donate towards Article 25's work worldwide:
www.charitychoice.co.uk – donations
Comments / photos for the Article 25 page welcome.
Website: www.article-25.org