Gola Forest buildings images, Article 25 Africa project news, Sierra Leone Design Property
Gola Forest Development : Article 25 Africa
Conservation Development in eastern Sierra Leone
26 Apr 2011
Author: Michael Ruthenbury, Article 25 team member
'Article 25: the built environment's charity'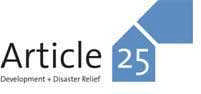 Monthly Report by Article 25
Written for www.e-architect.com
Gola Forest
Technology in the Gola Forest
Sociologists D. Mackenzie and Judith Wajcman argued that the development of technology depends on three qualities; 'human knowledge', 'patterns of human activities' and 'sets of physical objects.' Knowledge is needed for technology to be used correctly and to its fullest potential, patterns of human activity determine how technology will be useful within people's daily routines, objects need to be present to facilitate the type of technology. If these qualities are absent then they will need to be introduced for technology to fulfill a specific need.
Gola Forest Program
The UK's leading built environment charity have designed a Masterplan which will lay the building blocks for sustainable and lasting peace in Sierra Leone's war-ravaged Gola Forest. The first phase of construction is due to commence in May – laying down the infrastructure that is so desperately needed in order to ensure the Forest's survival. The first phase will include a three bedroom house, canteen, toilet block and a water tower. Construction of these buildings will yield vital information about the Gola forest that will inform the project's development. When introducing technology to the Gola forest project it was important to ensure that it was cohesive with existing patterns of human activities and knowledge. This ensures sustainability and increases opportunities for skills development in Gola's post conflict communities.
Plan of Staff Village: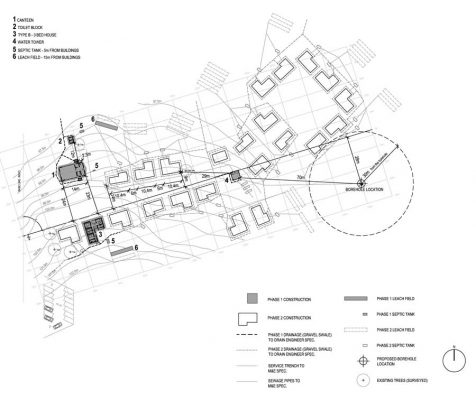 Technology Consultation with the Community
Community consultation produces practical information on the capabilities, aspirations, needs and opportunities that would arise from introducing technology and how to do so appropriately. In Gola the decision to use flushing toilets instead of composting toilets is an example of this. Rainfall in the dry season is fairly low meaning flushing toilets might not be the most appropriate, but culturally they seemed more appropriate as the community saw composting toilets as socially and technically a step backwards.
Another example was the results of a skill audit carried out to assess the capacity of the local villagers to undertake construction and maintenance of the buildings. Many young men were keen to undertake and learn manual work, indicating that construction technology is highly useful and likely to produce opportunities and livelihoods.
Image showing the excavation pit and block making site in close proximity:


Construction Technology
Soil Cement blocks – a new technology in Gola, made by compressing soil and cement together – will be used in the construction. Initial investment from Article 25 provided the tools; as community participation exercises identified that such investment would be beneficial in terms of stimulating further technological advances. But the introduction of objects often requires training for the technology to reach its fullest potential. It also requires a work-force, and this is where the young men of the village can help, gain an income and learn the technology. Catriona Forbes, Article 25's Project Architect, who is volunteering in Gola commented on the initial challenge of using this new technology but highlights the potential rewards that it may bring.
'Perhaps training gained on the Gola Forest Construction site will enable some of the men to make a better living one day working for a local contractor. Through a combination of Mende, Krio, English, and a lot of sign language and demonstrations we communicate with each other to try and make good quality blocks.'
Despite initial challenges, block production has improved and structurally sound blocks are now being produced.
It is possible to manufacture Soil Cement blocks to use underground as part of the sub-structure when the block has compression strength of greater than 6mPa, as recommended by Hydraform – who supply the block making machine. The blocks are tested to ensure they have the required strength.
Image of block in testing machine:


Key factors that affect the block strength are:
1) The ratio of clay to sand in the soil,
2) The ratio of soil to cement,
3) The need for the blocks to be properly cured.
If any factor isn't correct the block will be too weak. In Gola testing different ratios was required to produce 6mPa blocks, which needed a larger ratio of cement to soil than was originally instructed, this was necessary due to the type of soil that is being used. It is still a far more appropriate solution than importing soil to the remote site and reduces costs for the project.
4mPa blocks will be used above FFL, protected from rain by large roof overhangs. Production of 4mPa blocks proved no problem and a large stock has been produced already. In Gola the application of appropriate technology is speeding the process of construction, and professional expertise and knowledge transfer from Article 25's Catriona Forbes is cementing the impact of this technological development.
Image of exploded axonometric of canteen:


Mechanical and Electrical Technology
The average yearly rainfall for Sierra Leone is +/-2,800 mm (white 1972), +/-1880 mm greater than in England and Wales. A low cost object investment for the Gola forest project is to harvest the rainfall in large rainwater tanks that connect to the roofs of the buildings – introducing a new technology of which the benefit is instantly measurable.
As Sierra Leone's tropical latitude, 7° 52′ 36″ N means the sun is almost directly overhead most of the year, there is tremendous potential for solar energy. This technology requires a large object investment, adaptation of building design and proper training. This is an example of how adapting human patterns of activity and developing knowledge of available technologies can harness natural assets as an effective resource.
There is a possibility of a future addition of a biogas plant connected to the toilet block. And yet this investment would be wasted if a plant fails to produce enough gas to be useful through infrequent toilet use. Thus, we learn that technological development is best achieved when initial object investment, such as the bio gas plant, is founded upon rigorous community-driven assessment of activity patterns and context.
Elevations of house:


Conclusion
There are always going to be teething problems when introducing a new technology in to a place. Article 25 uses community participation and knowledge transfer to bring useful and appropriate technological development to a place and is sensitive to the roles of 'knowledge', 'the physical sets of objects' and 'patterns of human activities' in development. Extensive consultation is required to achieve the best technological advancements, advancements which hold the key to the long-term sustainability of the Gola forest program.
Image of block making site:


'Article 25: the built environment's charity'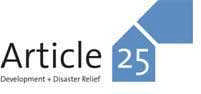 Monthly Report by Robin Cross, Director of Projects for Article 25
Written for www.e-architect.com
3 Aug 2009
Gola Forest Buildings
The Rainforest Canopy:


Article 25, the architectural NGO and charity working in International Development and Disaster Relief, specialises in post-disaster and post-war reconstruction. Already active in Sierra Leone planning the reconstruction of the primary school infrastructure, Article 25 have been invited to provide architectural expertise to an innovative conservation based development in the remote Gola rainforest of eastern Sierra Leone.
Unsustainable Farming Practices Which Challenge the Future of Forests:


So an extraordinary rainforest in the West African state of Sierra Leone was the site of Article 25's work for two weeks in July. The Gola Forest was recently established as a National Park and as a 'Trans-Boundary Peace Park' by the presidents of Sierra Leone and Liberia. This National Park represents a significant and innovative strategy to ally conservation and peace-building in these two nations, both deeply scarred by recent civil wars. The Park is the initiative of the RSPB (Royal Society for the Protection of Birds) and CSSL (The Conservation Society of Sierra) and the Government of Sierra Leone to conserve the habitat and encourage sustainable development. Article 25 are providing the masterplanning and construction design for new conservation facilities and sustainable settlements. The project to protect Gola is funded by the European Union and French Global Environment Facility.
The Future Guardians of Gola Forest Drawing the Animals of the Rainforest:


Gola Forest comprises 74,800 Hectares of primary and secondary rainforest habitat. The forest is home to dozens of endangered and rare species, and is an essential migration corridor for numerous other species. Article 25 were working in a realm of nature red in tooth and claw, an impression reinforced constantly as our guides hacked out paths with their machetes, leaving perfectly severed branches dripping with blood-red tannin. Monkeys catapult through the treetops – usually too quickly to see, while yellow-casqued hornbills take off at intervals like pterodactyls.
Huge, spiral shelled molluscs that look like they belong on the bed of a deep sea ocean are found dragging their shells across the dark and leafy forest floor. The elusive Picathartes bird, which brought David Attenborough to West Africa on his first mission with BBC television 50 years ago, hides out in the deeper reaches of the forest.
Homes Damaged in the 10 year Civil War:


Article 25's construction programme will break ground in November – the beginning of the dry season – with the Headquarters, Visitor Centre and manager's quarters to be completed in phase 1. Staff accommodation to house the conservation staff will follow in phase 2, and building of civic facilities of a school, clinic and market will follow the year after.
Traditional Village Homes of Eastern Sierra Leone:


Article 25 carried out a full suite of participation workshops with both local communities and current project staff who would work and live in the completed project. We trekked through the forest to locate potential construction sites and opportunities for hydro-generation points, until finally a site was chosen for the Headquarters on a wooded hilltop offering vantage points across the surrounding landscape, and a staff accommodation site on an area left derelict by unsustainable slash and burn agriculture. The rehabilitation of land outside the park to allow improved sustainable agriculture will form part of the masterplan.
Traditional and Contemporary Materials of Construction:


Article 25's brief is to develop a masterplan to elevate the Gola Forest to the status of a National Park of international standing, both in the biodiversity of the habitat being preserved and quality of the centre and staff facilities being provided. Opportunities for trade, training, and employment are being sensitively introduced in collaboration with the existing local communities. A wider ambition to generate livelihoods and promote a better understanding of sustainable forestry and agriculture to the local communities will offer an attainable route out of poverty and grant Gola residents a real opportunity for self-determination.
Patchwork of Construction Materials


Robin Cross BA(Hons) DipArch(Dist) ADPP(Dist) ARB
Director of Projects, Article 25
Gola Forest Project, Sierra Leone : Article 25 Report
Location: Gola Forest, Africa
Gola Forest Photos © Article 25
Monthly Reports by Article 25
Democratic Republic of Congo Schools
Article 25 were recruiting more architects to the team – on an interesting project in Africa:
Sierra Leone Architect
African Architectural Designs
African Architecture Designs – chronological list
Contemporary Africa Architectural Designs – recent selection from e-architect:
National Teachers Colleges, near the towns of Kaliro and Mubende, Uganda
Design: Oubuntu-DASUDA & BKVV Architects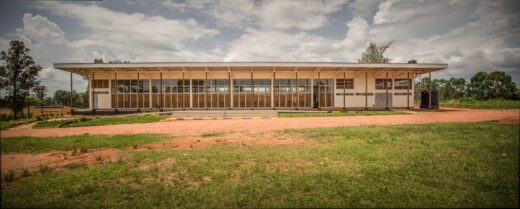 Eppo Karsijn
photos : Eppo Karsijns and Nambasa Sabrina – Frame Media
National Teachers Colleges, Mubende Uganda
Pure Power/Daily Combat Strategy for Water Collection, Rujewa, Tanzania, eastern Africa
Design: Hong-En,Lin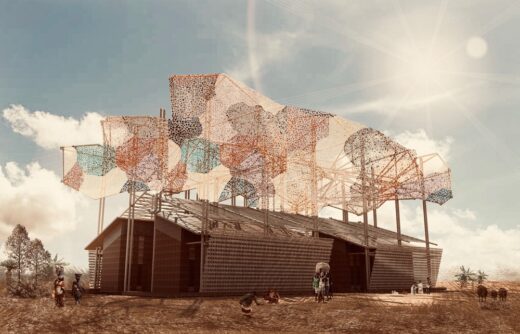 render : Hong-En,Lin
Pure Power, Tanzania, Eastern Africa
Comments / photos for the Gola Forest Architecture – Sierra Leone Conservation page welcome
Website: Sierra Leone